Fever Pitch! The Rise of the Premier League
06/09/2021

45 Comments [Jump to last]
Share:
David Beckham's production company brings a four-part series telling the story of England's Premier League, from its founding in 1992 to its present-day success and its short-lived rival, the Super League.
It opens against the backdrop of a declining interest in football throughout the 1980s, until Rupert Murdoch's new television network Sky took a punt on the breakaway Premier League. Vinnie Jones, Eric Cantona and Alan Shearer provide their memories.
Starts tonight at 9 pm on BBC Two
---
Reader Comments (45)
Note: the following content is not moderated or vetted by the site owners at the time of submission. Comments are the responsibility of the poster. Disclaimer
Danny O'Neill
1
Posted 06/09/2021 at 10:39:37
I mentioned on another thread the very different football scene surrounding why Kendall departed in 1987 above and the parallels with this summer (parallels, not exact comparisons before I get jumped on!!).
Now, I'm getting grumpier as I count down to my 50th (10 days to go). But I was cursing at the BBC this morning to the point my wife left for work early. Okay, they're plugging the documentary "Fever Pitch" that is on this evening. But some of the language "where it all began". Please spare me. To John McFarlane's series of articles, it's as if football didn't start until 1992.
I'm probably now starting to overthink. But to my parallels with Ancelotti. Did Howard see the writing on the wall? Yes, the main narrative of being denied the chance to compete in Europe holds strong. But he went to Bilbao, hardly a giant considering he was manager of the English champions. And with their transfer constraints in mind too. Shortly after, our only transfer outlay as champions of England was Ian Wilson. Yes, Ian Wilson. And then we had that unassuming & uninspiring Dr David Marsh character at the helm just a couple of years later "leading us" into the Premier League era.
The paranoia and conspiracy theories are kicking into my mind, but in true ironic Everton fashion, the rot set in when we were at the top of English football. To my Dad's generation, breaking up the title winning formula of 1969-70.
Only Everton can do that twice. It's only Monday morning! I might need to take the dogs out again!!
John McFarlane Snr
2
Posted 06/09/2021 at 11:27:33
Hi Danny,
It appears that my question of "Did football exist pre-1992?" has been well and truly answered, we are now being informed of the 'All-time Premier League records', no mention of anything that occurred prior to the formation of the 'all-singing, all-dancing' Premier League 29 years ago.
I have been mocked once or twice on this site for clinging on to the past, but I stick to my belief that going to the match in my youth was more enjoyable. We had no idea what was going on in the Boardroom nor did we care, we enjoyed or endured the game, we discussed events in the pub from Matchday evenings until mid-week when our attention then switched to the forthcoming fixture.
The standard of play is undoubtedly superior now but, for me, the enjoyment of the game has been lost. Hoping to see you at The Bramley Moore on the 25th when I can bore you a little more.
Danny O'Neill
3
Posted 06/09/2021 at 11:36:01
You'll never bore me with those conversations, John Senior. Football has existed all my life and long before it. As a player, a coach and most importantly, an Evertonian. We can bore each other over your Guinness and whatever I spot that takes my fancy!
Paul Tran
4
Posted 06/09/2021 at 12:29:59
Danny may have (inadvertently?) stumbled on something here. It's mainly about what we did/didn't do.
In 1970 we had a great team, which Catterick decided to rip up and replace with largely inferior players.
In 1987, Kendall looked at the end of his tether mentally, and the stories of his drinking were becoming increasingly regular. He won our title back and then, in my view, left for his own sanity to try something different.

The board pressed a reluctant Colin Harvey into the manager role and we trod water for a year, before spending big in 1988. There aren't many better Blues in my lifetime than Colin Harvey, but we needed a stronger manager to unite that clique-ridden, talented team. That wasn't Colin.
Given the confines the club pressed on him, Moyes did a cracking job and left for a better offer. That happens.
And so to today. I don't think there's a curse, or anything like that. We've become an ambitious club again under Moshiri. Unfortunately, that ambition has coincided with dreadful, expensive recruitment of managers and players.
In the last year, I'd say we have recruited better and this window was the day of reckoning we knew was coming, though I'd argue we have a stronger squad than at its start.
All of this has been self-inflicted. Of course Heysel had a dreadful impact, but nobody made us split up teams, recruit badly and overspend on poor players.
The present day issues, for me, are down to Kenwright persuading Moshiri that we were a well-run club that just needed 'money', as many on here regularly stated. Like any other badly-run business that gets a large injection of cash, we've just spent more money badly, then spent more to rectify the earlier mistakes.
On the pitch, I'd say we're starting to do things better. Off the pitch? Well, I don't recall any other badly-run business being bought out without significant change at the top, do you?
There's the problem - and that's self-inflicted, too.
Michael Kenrick
5
Posted 06/09/2021 at 13:54:40
Something needed to change. Football had become a pariah sport under Thatcher, with gangs of fans happy to engage in running street battles, while the disasters of Heysel and Hillsborough meant that a pall of death and destruction hung over the game.
The old farts continue to bitch and moan (no offence to present company intended) about The Good Old Days but progress is indeed a wonderful thing, consigning these old ways of thinking and behaving to the annals of history. Football was given a fresh start thanks to the Premier League, followed progressively by all games eventually being televised live (except in the UK itself, remarkably... Covid notwithstanding).
It's a different game, of course – why would it remain the same? Things change, we move on, you can never, ever turn the clock back.
Live in the present. You can't beat it. But that's one thing Everton continue to struggle with. They put far too much effort into remembering the past, into being the very museum that Farhad Moshiri ironically warned us about. But they have so manifestly screwed up the challenge of living in the present, perhaps dwelling in the past is a natural defence mechanism?
Ken Kneale
6
Posted 06/09/2021 at 14:23:07
Michael - I agree with your last paragraph - we have to look at now and look to recreate the good days not have to hark back to them enjoyable as that can be.
Paul 4 - My own 'dwelling points' is what would it have looked like had we won either or both of the March 1971 games and how would it have been if we had signed Archie Gemmill who fitted the style and quality much better than Catterick's subsequent buys. Harry remains my favourite manager but there is no doubt the last 30 months of his tenure dented his rule overall which is a shame.
A further point which I think should be added to your list is the hiatus in the boardroom with the illness of John Moores around 1985/86 - his subsequent house robbery where he was assaulted (it was featured on the BBC Crimewatch programme at the time) and the lack of board leadership 1986-1993 at his death were massive factors - I agree with you that Colin Harvey is a nailed on top 5 of all time but not sadly as a manager - I am sure Mr John knowing him so well would have not appointed him if he was in full health.
Danny O'Neill
7
Posted 06/09/2021 at 14:43:49
Good shout on making this a separate thread Michael as I'm sure it will generate debate.
Totally agree with your point of living in the past. And things needed to change. Absolutely. I remember being a 14 or 15 year old and being punched and beaten over a car on one of those terraced streets just off the Bullens Road by a Southampton fan. I was walking to Queen's Drive to catch the 81d back to Speke. A kid who got knocked out.
And the trips to Manchester. I still recall being called Scouse bastards by the Police and a horse punched punched as they ring-fenced us. Yes the officials who where supposed to be there to police us but were out for a fight themselves and the poor animal who knew know reason why it was there.
I agree, much has changed for the better in terms of the the experience. Now don't get me wrong, I'm as nostalgic as they come when it comes to Everton. But in football, you're only as good as your last game or season. Over history (that's all it is), we've failed to capitalise on success and the opportunity the Premier League presented. Make history. Love it, reflect on it but don't live it.
Taking the dogs out again.
Barry Hesketh
8
Posted 06/09/2021 at 14:48:29
It seems to me that during the 60s and 70s and perhaps through to and including the 80s the fans had a great deal of power, in so much that their absence from the grounds had real economic effects upon the clubs.
Brief history of Football shirt sponsorship
https://footballpink.net/2018-10-22-a-brief-history-of-football-shirt-sponsorship/
Derek Dougan of all people is held responsible, at least according to the link above for the widespread shirt sponsorship that began to infiltrate the English league and thereby start to lessen the power of the match-going supporters.
It could be argued that from that point on Everton began to lose ground, and the European ban may have prevented the club, if it had wished to do so, cash in on its mid to late 1980s success.
I agree with Michael, the structure of the professional game in England was in need of repair during the 70s and 80s and until the TV companies became interested in radically altering the economics of the game, the many traditionalists remained steadfast in their desire to retain the status-quo.
I think many fans wanted to see change too, becoming tired of being herded into and out of stadiums, many of which particularly in the lower tiers were far from fit for purpose.
What we probably didn't expect and possibly should have, is the game became an even greater ruthless business that has sought to exploit every possible commercial route that is available and even the governing bodies both at home and abroad became more interested in the financial bottom line than the outcome of a sporting tournament.
Just today I've read that Arsene Wenger is advocating a World Cup every two years, with qualification games taking place in batches of qualifying groups during the football season, this he explains is not for financial reasons but in order to improve the game, yeah OK Arsene, I'll buy that - not!
It was fantastic for those of us who were fortunate enough to attend the games during the 70s and 80s and the great players and teams that were on show, but we mustn't forget that conditions for most fans during those times were mostly abhorrent and not at all conducive for families to attend.
As a teenager right up until adulthood, I had many an argument with the parents about whether it was safe to attend particular games at particular venues, I doubt that as many parents would have as many concerns in today's environment, although being parents they would still worry.
For better or worse, the game has changed radically, and even in the last decade it has changed completely even without our fully noticing it, players rumoured to be demanding half a million pound a week to play for an English Premier League club show how the game has altered, the players are the modern-day Popstars/Movie stars and they are fully aware of the wealth that they can generate for their clubs and their clubs need and want those star players to generate that wealth, in order to remain competitive, therefore, they by and large accede to the demands.
It's not the game I grew up watching, it's not the same in so many ways, but I can choose to withdraw my support or continue to ride the emotional rollercoaster and hope that somehow Everton FC becomes great again, by having a team that wins stuff - unfortunately the odds on that happening seem to recede with each passing season.
Joe McMahon
9
Posted 06/09/2021 at 15:06:21
I fully agree with you Micheal, its just a pity the powers at Everton FC, didn't move with the times into the Premier League era, and instead do the polar opposite and live further in the past, whilst one trophy since 1987 shows how irrelevant the club has become.
When the club play their first game at BMD, it will be like T Rex (not Marc Bolan) waking up, let's just home the Dinosaur is up for it.
Danny O'Neill
10
Posted 06/09/2021 at 15:12:08
I wish the edit facility would last longer so I could better review my grammar!!
Jay Harris
11
Posted 06/09/2021 at 15:18:17
Michael,
While not denigrating the great memories of our past history there is no doubt that while we had the vision to be one of the big 5 to lead the creation of the Premier League we failed to seize the opportunity to capitalize on the enormous growth in income and commercial opportunity it presented.
With the passing of Sir John Moores, we became run by a bunch of locals who didn't have the vision to build a team (off the pitch) of people of the right calibre.
The marketing at Everton was a joke with Peter Johnson writing things on a torn piece of paper for his overworked assistant Cliff Finch to deal with at Everton and Park Hampers.
They were then succeeded by a bit-part actor who continued the "amateur hour" show at Goodison Park, constantly claiming he had no money but failing to mention he also had no vision for the club.
The record amounts of money rolling in to the Premier League was seized on by the big hitters which unfortunately did not include us because it was still amateur hour at Goodison Park.
Derek Thomas
12
Posted 06/09/2021 at 15:36:08
Danny @1 & Paul @4; That team wasn't 'ripped up', it wasn't 'broken apart'. It both fell apart and imploded at the same time...which takes some doing, but that's Everton.
Injuries, poor form, poor, short sighted off field decisions...Catterick was no longer at the top of his game, which led to poor on field replacements.
As somebody said on here years ago - We Don't do Dynasties.
But for a brief 2yr. spell, I saw the best football ever played...(nods to 1938-39)
Brian Murray
13
Posted 06/09/2021 at 16:19:53
I'll never forget the icy stare Ball gave Rankin after his flap lost us the FA Cup Semi-final in 1971 vs Liverpool. Ball could see the level we was going after the title win as in players signed. Maybe the Catt's ticker going was a big factor as well.
Steavey Buckley
14
Posted 06/09/2021 at 16:21:13
Football has been successful for Everton fans when Everton were doing well from 1962-1970 and from 1984-87.
Apart from the times when Everton were doing well, the Premier League has been a failure apart from one year when Everton finished 4th.
The reason why the likes of Man City, Chelsea have done very well in the Premier League is because of huge financial investment, when Everton have been financially left high and dry except recently when financial investment did not project Everton forward but was wasted by a succession of failed managers.
Their combined failures have put Everton at odds with the FFP, and won't be cleared until the end of the season, when the last of the players unwanted will have left the club.
I hope Benitez will stick around for more than just one season because he appears to know what he is talking about football-wise.
Danny O'Neill
15
Posted 06/09/2021 at 16:47:06
Some great comments on here already and I'm looking forward to watching this even if the wife has already threatened to stay upstairs tonight!
Derek @12; we don't do dynasties. But fortunately like yourself, I've witnessed one of the best football teams I've seen and they wore Everton blue. I can only recall 2 dynasties; Liverpool and then United. Although would you say City are the next one? Who'd have saw that coming in my lifetime (born 1971)? Never say never and keep believing as they say!
Steavey Buckley. You always smack me down with a dose of reality!!! But I agree, we missed the boat. We were late to the game. We lived off our historical laurels and by the time we eventually got the money ladened owner we craved, the rules had changed, which has constrained us despite the wasteful nature of our spending.
We're Everton aren't we? I don't know how else to describe it!!
But he eternal optimist in me still sees us marching into Bramley Moore with a trophy under our belt and challenging once more.
Totally agree on Benitez. Despite my "disappointed" Danny stance when he was named, you cannot dismiss the man's footballing knowledge and professionalism. Maybe what we need instead of all of this romantic ex-Everton influence. If you want that, you could have given me the job.
Don Alexander
16
Posted 06/09/2021 at 17:04:02
Steavey (#14), the way I read Paul the Esk's summary of where we've been "led" I believe it'll take a lot longer than this present season to put the wheel's back on financially.
There's gross negligence, then gross recklessness, then the Everton owner/s-boardroom.
And yet Moshiri's personal fortune sees him now worth well north of £2billion even after all the mis-spending, and Kenwright wallows in the £millions he's squeezed out of all the dodgy contracts/sales he's overseen for thirty years.
You couldn't make it up.
Jeff Armstrong
17
Posted 06/09/2021 at 17:39:55
Look on the bright side, since football only began in 1992, we're only one league title behind the RS (and Leicester)!
Ken Kneale
18
Posted 06/09/2021 at 18:46:33
Don - add in the fact our football 'currency' is at its lowest level in the history of Everton FC thanks to the ineptitude or malpractice or both we have seen for 30 years at so called leadership level and indeed, this is going to be a long campaign to get back to the summit we once occupied.
John McFarlane Snr
19
Posted 06/09/2021 at 18:50:10
Hi Danny [15] as a fully fledged 'Old Fart' I know on two counts that Michael Kenrick wasn't referring to me. [1] he wrote "No offence to present company" and [2] although I have made reference to bygone days on occasion, I have never Bitched or Moaned.
It's my belief that it's a football trait for one generation to pass the judgement of their experiences to their successors, I have no doubt that my Granddad told my uncles of the qualities of Alex 'Sandy' Young, Jack Sharp, and the Balmer brothers, etc. They in turn told me of the exploits of Bill 'Dixie Dean', Warney Cresswell, Alec Troup, etc.
I'm equally sure that the generation behind me will tell their successors that football is not what they witnessed, unfortunately I won't be around to bask in the glory of my prediction, or to be ridiculed for my views. I'll see you on the 25th 'God willing'.
Danny O'Neill
20
Posted 06/09/2021 at 20:51:05
John Senior, it's a passage of rights. My father spoke of the 60s teams and romanticised about Jimmy Gabriel, Brian Labone, Alex Young, Kendall, Ball, Harvey and Joe Royle. It kept my faith in the late 70s / early 80s.
In reflection, I was pleased we both got to watch Howard Kendall play for Everton together. Very early in his Everton manager career when he was player-Manager. I think it was against Coventry and I always remember him barking orders out to Peter Eastoe. We were in the lower Gwladys Street. Even then, you could see the quality and the leadership. In hindsight, as a player, you could also see his frustration at what what around him!
My son has endured my tales of the 80s and I remain of the belief he will have his own tales to pass on.
As suspected, the wife is upstairs. I think the heard enough this morning so can't endure me while I watch this!!
Barry Rathbone
21
Posted 06/09/2021 at 21:10:56
I watch highlights of old games occasionally to rid myself of the notion I'm just an aul 'arse bemoaning things ain't what they used to be. But all I see is players controlling the ball properly, crafting passes, beating defenders with skill AS WELL AS pace and KNOW the game was more skilful and entertaining back in the day.
Beckham is a case in point the walking ad campaign became famous for taking corners and free kicks a fundamental attribute to players of a certain vintage.
I can hardly watch a game for more than 5 mins these days so dreadful is the fayre. if I could take a pill to wash out the interest in Everton and thus football I would. As exciting as Chess on grass the modern game.
Andy Crooks
22
Posted 06/09/2021 at 21:23:41
Barry, I know we should look forward and not dwell on the past, but you are right, here's my argument:
George Best
Alan Hudson
Tony Currie
Frank Worthington
Charlie Cook
Rodney Marsh
Peter Barnes
George Armstrong
Trevor Brooking
Duncan Mackenzie
Dudley Tyler
Keith Weller
Just off the top of my head. In many ways not an athlete among them. However, guile, flair, tons of skill, and a desire to entertain. Some of them wouldn't get a look in today. They simply wouldn't fit the template.
Paul Hewitt
23
Posted 06/09/2021 at 21:46:03
The Premier League, the worst thing that has ever happened to English football. Loved watching Everton and football in general in the late '70s and '80s. Not really enjoy football for about 10 years now.
Danny O'Neill
24
Posted 06/09/2021 at 22:16:10
Well, that was better than I thought and I found it genuinely interesting.
They were right about having to rebrand and reinvent football. Stadiums were empty and wasting away. That's a valid call and we can't deny the standard of stadia has improved markedly. I remember Barnsley away in the cup and being stuck under the floodlight in the corner at Nottingham Forrest. Not to mention the away end at Norwich even though the occasion of seeing us win the league was fantastic.
Sadly, apart from a roof on the Gwladys and the Park End "golf stand" we can't say the same about Goodison. But Bramley Moore is on the horizon.
I was interested in Chris Waddle's comments on English football's mentality. Watching that again, you could see in his eyes, he had no faith and was always missing that penalty. He didn't want it; didn't want to be there taking it. He had no belief.

The Big 5. Everton part of it but not following through and taking their place at the table.
Alex Ferguson. 6 years and "ta-ra" signs. Akin to "Kendall must go" leaflets in 1983. I appreciate timelines are different now, but let's give managers more than 12 months.

The Ferguson & Schmeical comments on Cantona. Free spirit. Let him play. Confidence, arrogance, belief, finds movement & space. When you have players like that, you just have to let them play. They don't need coaching and as much as they'll frustrate you, they'll delight you and win. Let them do their thing.
Cantona's comments on over analysis of the game made me smile. Flair that only certain types of player bring that to a game. You can't teach that. To repeat, let them do their thing.
Sorry, that's a quick rundown. I surprisingly enjoyed that having thought I wouldn't!
Barry Rathbone
25
Posted 06/09/2021 at 22:19:34
Andy @22,
Eddie Gray
Willie Johnson
Cyrill Regis
Stan Bowles
Peter Osgood
Bobby Charlton
Denis Law
Colin Bell
Mike Summerbee
Jimmy Greaves
Trevor Francis
Liam Brady
Glen Hoddle
Trevor Brooking
Kevin Keegan
Kenny Dalglish
Howard Kendall
Alan Ball
Colin Harvey
You could go on forever and that's just the Brits. Don't even go to the Brazilians, Germans and Dutch.
Danny O'Neill
26
Posted 06/09/2021 at 22:27:43
Andy and Barry,
I won't give as extensive a list, but here's a few in my lifetime.
Dalglish - possibly the best British footballer I've seen.
Alan Hansen - the original Jone Stones but better.
Kevin Sheedy
Paul Scholes
Peter Schmeical (one for the Keeper's Union)
Tony Kroos
Muller
Lewandowski
I could be here all night. I'll stop!
Barry Hesketh
27
Posted 06/09/2021 at 22:31:40
Danny @ 2,4
It was an enjoyable watch from a nostalgic point of view, but I wanted a little more meat on the bone as to the reasons why the Premier League was formed and how it has had a detrimental effect on those clubs outside of the top-flight.
There's still time for the series to examine this element, but tonight's show could have been bought and paid for by Sky as it was little more than a celebration of Murdoch and his merry men, having the foresight to buy the rights.
I did however enjoy seeing Cantona in his pomp and the way the players all got bevvied the night before the match after they had secured the title. I disagreed with Alex Ferguson saying that only United fans could recognise the ability and flair of a player such as the Frenchman.
I don't like Shearer now and his appearance on the show, reminded me how much I didn't like him then.
Danny O'Neill
28
Posted 06/09/2021 at 22:43:29
I won't go off on one about the structure of the English football pyramid, Barry, as I have suspicious eyes looking at me and the dogs will have me up in hours few. But I agree and I concur with your views on the Sky Sports / Murdoch generated football world we now live in.
Cantona was a joy to watch. Shearer, clearly a top striker but, as with Mark Hughes in my opinion, just not a likeable character.
Stephen Vincent
29
Posted 06/09/2021 at 23:23:07
Didn't see the programme, but if you want to understand the mechanics of the formation of the Premier League, read Alan Sugar's autobiography which contains a blow-by-blow account.
Dave Long
30
Posted 09/09/2021 at 05:01:13
Disappointing to watch this, knowing we were one of the 5 architects of the Premier League.
Difficult to watch despicable people like Murdoch, Sugar and Andrew Neil making their millions from our attachment to our teams and communities.
Hated the horseback police herding us into Goodison and Anfield in the 70's / 80's, with their obvious contempt for us. I don't remember much violence around Goodison in those days, was I looking the wrong way?
The football was a different flavor to today's. More welly, crunch and thunder in contrast to the bowling green theatrics of today.
It was very affordable. The humor and camaraderie on the packed Gladwys St. was brilliant. Would often spot past and present Everton and Liverpool players driving around the Maghull of my youth. They weren't mega millionaires then.
Cantina wasn't the first interesting person to play football. The characters were there in abundance. Big Bob, Andy Gray, Reidy, Pat van H, Bailey and Mackenzie. That was just us. Contrary to the show, pre-Prem football had some fantastic attributes.
John McFarlane Snr
31
Posted 09/09/2021 at 20:31:09
Hi Dave [30],
I don't want to spend much time on this subject as I find it easier to speak than to write. I am looking forward to The Bramley Moore meeting and I don't want to put all my eggs in one basket. I must however concede that the game today is played at a higher speed than ever, by footballers immensely fitter than the players of yesteryear. but the constant passing of the ball sideways or backwards has lessened the excitement.
A lot of fans, in my opinion, mistake the long ball for kick-and-rush football, but a good long pass can take out four or five opponents. Most clubs appear to have adopted the Barcelona / Manchester City approach, without the Barcelona / Manchester City type of players. I know that my views are not accepted by some on this site but, given the choice, I would take the pre-Premier League attitude all the time (skill plus vigour).
Danny O'Neill
32
Posted 09/09/2021 at 20:40:06
Let's talk this over a drink on the 25th John Senior!!
John McFarlane Snr
33
Posted 09/09/2021 at 21:12:27
Hi Danny [32] it looks as though the Guinness is off the menu due to 'doctors orders,' but a Diet Coke is a satisfactory substitute. I'm quite capable of talking rubbish no matter what I may be drinking, you have been warned.
Danny O'Neill
34
Posted 09/09/2021 at 21:20:41
Doctor's orders are advisory and precautionary. Regardless, we'll catch up and talk all things about the love of our life!
Paul Smith
35
Posted 09/09/2021 at 23:04:24
Just watched it on catch-up – thought I was watching MUTV.
Mick O'Malley
36
Posted 11/09/2021 at 10:20:53
John @31,
I totally agree with you about the long ball. I absolutely hate the monotonous passing sideways and backwards. I always thought Barcelona were boring to watch as I prefer the physical aggressive type of football. I loved watching players going in to a tackle full blooded. It's a non-contact sport now.
Personally I preferred the football before the Premier League started. Also, the atmosphere in the grounds is different as I think we lost something with all-seated stadiums. I loved standing in the Enclosure, roaring the Blues on.
John McFarlane Snr
37
Posted 11/09/2021 at 15:06:06
Hi Mick [36] I sense that we are on the same wavelength, but from different eras, the enclosure I think you refer to, was the old Goodison Road terracing. I have many memories of standing there over the years, particularly the 2-1 victory over Manchester United in the 1953 FA cup tie, [ 77,920] and the 1-0 win against Liverpool in 1967 in the same competition, [64.851] and numerous other occasions. As I said in my post, todays footballers are fitter and faster than those of yesteryear but I find the games less exciting/entertaining.
Michael Kenrick
38
Posted 12/09/2021 at 17:00:34
Here's a good one for the older members: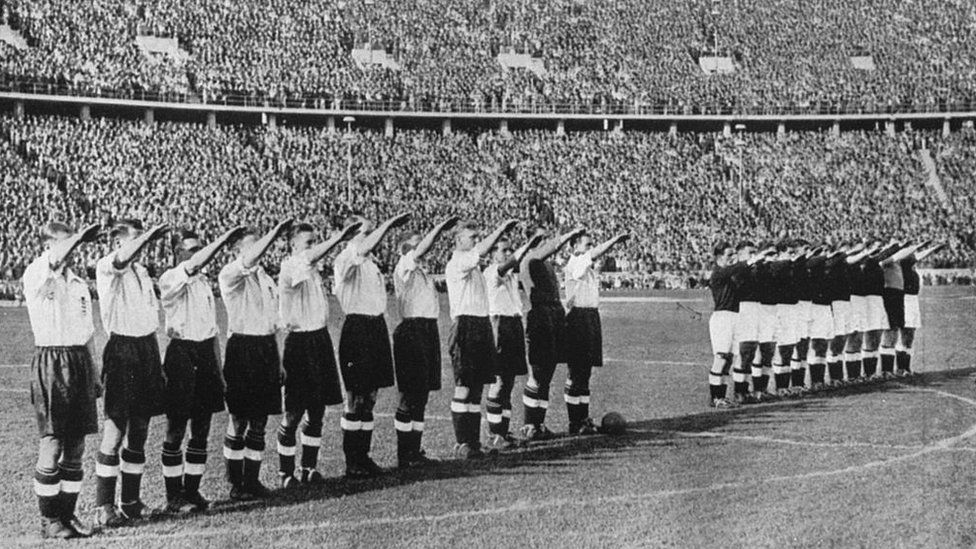 Your starter for 10: What is going on in this picture?
Alan McGuffog
39
Posted 12/09/2021 at 17:13:50
England side v Germany..1937 - 38 ?
Brian Williams
40
Posted 12/09/2021 at 17:21:56
England v Germany at the olympic stadium in '38. The England players were "instructed" to make the Nazi salute during the German national anthem, and did ffs.

Don Alexander
41
Posted 12/09/2021 at 17:27:47
It was May 1938, in Berlin with 110,000 in attendance. England won 6-3. Stanley Matthews was in the team and said the Foreign Office had ordered them to salute, to the outrage of most if not all of them, not that anyone at that time had the info we all take for granted re Nazism.
Eddie Hapgood, the skipper, allegedly told the British Ambassador he could shove the order where the sun don't shine before they felt the pressure enough to comply.
Just four months later the British PM famously waved his little piece of paper in the air saying Herr Hitler had agreed peace. More able translators now say Hitler told him to shove his piece of paper where the sun don't shine.
Alan J Thompson
42
Posted 12/09/2021 at 17:56:11
I remember a story of England playing Germany and Dixie Dean was at the toss up but I'm not sure if he was Captain. Anyway, on the Continent they used a size 4 football while in England they used a size 5.
The Germans insisted their ball be used but Dixie had a size 5 and at the toss-up, a discussion started which was settled when Dixie picked up the size 4, pressed it a couple of times then bounced it a few times and then kicked it out of the ground and announced that they would use "our ball".
Steve Carse
43
Posted 12/09/2021 at 18:06:34
Michael (38) I think the photograph is of the Liverpool and Liverpool reserve teams of the 70s practising their offside appeals should they concede a goal. Not sure what a crowd is doing there.
Derek Moore
44
Posted 12/09/2021 at 18:42:37
It's probably the biggest pile of horseshit peddled in my lifetime. "The Premier League saved football..."
The truth is rather more prosaic. Sports broadcasting in the UK was absolutely rubbish, and was obviously ripe for a revolution. Does anyone remember watching something on the Beeb only to be interrupted by Songs Of Praise or the sixth race from Exeter?
There were other factors too, and quite a few of them actually followed the start of the Premier League to give it further momentum. The political demise of Thatcher, the success of England at the Italia World Cup, the investment in stadiums that the Taylor Report compelled, rule changes like ending the backpass that made the game more exciting and the announcement of England as the host of the Euro 96 Finals all happened prior but the Bosman ruling, and the scrapping of the three foreigners rule (as an example, Man Utd had to play Gary Walsh in goal against Barcelona in 1994 because, to Uefa, Welsh, Scottish and Irish players were all "foreign") were vital changes too.
Bosman and the end of the foreigners' cap was the true final demarcation point. After that, players were all free to chase the money, and there were no restrictions to signing foreign talent. For the first time in its history, English football actually had a good reason to go and find good players from all around the world instead of trying to just develop them here.
When I was a small kid, Ossie Ardiles and Ricky Villa were the most exotic names in English football. The first year of Bosman and the ending of the foreigners' cap saw the arrival in England of Ravanelli, Di Matteo, Vialli, Zola, Anelka, Leboeuf, Vieira, Van Hooijdonk, Solskjaer, Tomas Brolin, Tino Asprilla, Patrik Berger, Karel Poborsky, Benito Carbone, Paulo Wanchope and many other foreign players that it simply wouldn't have been possible or even sensible for English clubs to have signed previously.
This period in the mid-nineties is pretty illustrative, and is probably best looked at through the prism of Scottish football. Following the ban on English clubs over Heysel, the big Scottish sides were able to recruit very strongly indeed. Rangers of the time fielded both Bryan Laudrup and Gascoigne and there were more than a few rumblings about inviting the auld firm south of the border to mutually benefit both Scottish and English football. That's how strong both clubs were.
Bosman and the foreigners' cap ending destroyed any remainder of a recruiting edge the Scottish clubs had enjoyed following Heysel, and indeed that 1996 season can be seen for what it is – the crossover year where English football begain its march to where it is now and the Scottish game went in the opposite direction, towards feeder league status and somewhat irrelevance.
Apart from the rebranding and reducing the number of clubs in the top flight to 20 – in addition to the powers the clubs had leveraged themselves by threatening to breakway – there was nothing at all different from the Premier League to the old First Division. Still a 90-minute game, of two halves, played in the same stadiums, with the same clubs and the same rules.
It's the lack of change actually caused by the foundation of the Premier League that ends my argument here. The Premier League was not responsible for the backpass rule change, England making the 1990 World Cup Semi-Final or being awarded Euro 96 to host.
The Premier League had nowt to do with the expiry of the Heysel bans nor did they invent or promote the invention of the subscription television that underpins the games revenue base to this day. The Premier League did not make the Bosman ruling happen, nor did it end the stupid and arbitary cap on "foreign" players.
It is for these reasons that I'm quite certain in saying that football would have enjoyed a resurgence with or without Murdoch and his blatant theft of our national sport. It is typical of the Murdoch clan to claim they played kingmaker when they were actually just astutely following public opinion. (John Major's election win and the Sun "It was the Sun what won it" as an example.)
The horseshit claim they saved the world's most popular sport from irrelevance really is just that, and should be treated as such.
Brian Harrison
45
Posted 28/09/2021 at 09:28:39
I watched the brilliant programme on BBC 2 last night which has been running for a couple of weeks called Fever Pitch, and it is charting what happened from the setting up of the Premier league. Last night it mainly focused on the battle between Man Utd and Arsenal in the 90s for the major trophies. They had an interview with David Dean the CEO of Arsenal and he talked about signing Wenger. He said he got the players together and told them Arsene Wenger would be there new manager to which many of the players asked " who the f*** is Arsene Wenger" and the overall reaction from the players wasn't great.
But Dean had done his homework and had watched Wenger at Monaco before moving to Japan to coach. The players noticed the difference right away and Wenger removed all alcohol from the club and told the players there would be no more Tuesday booze ups which Arsenal were famous for. He changed what they eat and how they trained, and Paul Merson said after a few weeks of the new regime he could actually see his abbs. Wenger went on 18 months after joining Arsenal to win the double. Was this a brilliant decision by Dean or a risky appointment well it turned out to be a very smart move. I think Dean was the best CEO around at the time, and surely left his mark on AFC.
I know Marcel Brands is DOF not the CEO but I would have hoped by now Brands would have been our David Dean, but at present I am not sure what role Brands does. Listening to Benitez he was instrumental at bringing in Gray and Townsend, so seems Brands is having little impact on transfers. And seeing the club have given Unsworth the job of being in charge of the academies although he is still managing the U23 side, then you have to ask what role does Moshiri want brands to fulfil.
---
Add Your Comments
In order to post a comment, you need to be logged in as a registered user of the site.
Or Sign up as a ToffeeWeb Member — it's free, takes just a few minutes and will allow you to post your comments on articles and Talking Points submissions across the site.
---
---
© ToffeeWeb