Report
A good away point from an absolutely lousy game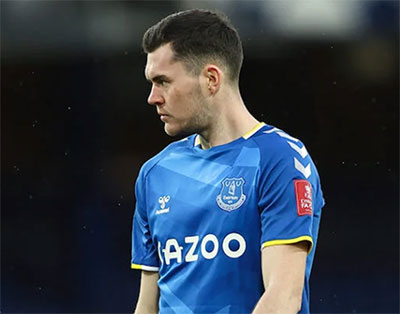 Michael Keane starts with Yerry Mina back out of the running with a calf injury
Tentative, nervy, pragmatic... or just utterly lacking in the required desire, effort, guile and quality to beat a crap team who were already relegated? A sadly typical very winnable Everton game that only Everton would be incapable of winning.
Frank Lampard is without Yerry Mina and Ben Godfrey, both injured. Keane is the only change, him and Holgate make up the central defensive partnership, alongside Seamus Coleman with Alex Iwobi and Vitalli Mykolenko as wing-backs.
Donny van de Beek is ruled out again with a persistent groin problem. Dominic Calvert-Lewin has also been withheld from action given the poor form he has shown after his return from injury and he has to be content with a place on the substitutes' bench once again. He hasn't played for over a month.
A beautiful sunny summer's evening at Vicarage Road saw another incredible turnout of Blues travelling fans, packed into a wedge of the west stand and in great voice from the get-go.
Anthony Gordon kicked off but it was a scrappy start to the game, with Everton unable to exert control through numerous poor turnovers. An unbelievably shocking clearance from Pickford was played straight to a Watford player and nearly caught him out in return.
The first 5 minutes had been played entirely in Everton's half, but Everton finally advanced through Gray, only to be easily thwarted, Watford allowed to attack again, with a shocking lack of urgency from the lazy, sloppy Blues.
Gray advanced again, but shot poorly rather than playing in Mykolenko. Everton finally played some better football in approaching the Watford area after 13 minutes but did not fashion a chance.
Holgate made a nice clean tackle on Sema and was astoundingly given a yellow card the senile Mike Dean! Pickford had to punch the free-kick clear before Kalu blazed over.

Article continues below video content
Gordon again got free down the right and Gray should have done better for the set-up. Iwobi then got free and should have crossed but bounced it off his standing leg, amazingly winning a corner. Mykolenko tried another left-foot volley from Gordon's corner but this one was heading for the corner flag.
Gordon switched to the left but could not drive forward when he was given the ball. Mykolenko was equally circumspect, playing the ball backwards rather than advancing.
Richarlison had a good run but fell was clearly tripped by Sissoko. No foul given by Mike Dean. Iwobi got down the right and Gordon was tempted to make a high volley that sailed miles over the bar.
Some great work by Mykolenko won another Everton corner, Gordon playing this one to the far post but it was easily cleared. Everton resorted to more backwards play that drew Watford out and made some space but the Blues just failed again to make anything of it.
Richarlison ran forward with the ball again and this time Sissoko was called for the foul on the corner of the Watford box, but it was defended away by Watford.
Coleman gave away a potentially dangerous free-kick that was wellied over the bar by Kalu. Still Everton seemed half-asleep as the whistle blew for the break with no score in a really poor game of football.
The game resumed with no changes in personnel. Mykolenko did well to force a throw and then a corner, delivered short to Gordon and worked around by Delph to zero effect.
Everton continued to play very conservatively and almost made a mistake that Pickford had to rescue, but then Keane committed a needless foul. A great ball in glanced off Sissoko's head and behind.
From a throw-in and] excellent chance almost worked for Richarlison, Foster saving the deflected shot and defending the corner away. Gordon tried a clever pass across the Watford 18-yard line to change the angle of attack but it was read easily by a Watford defender.
Delph played a great ball to Gordon but it all took far too long to develop, although eventually winning a 7th corner. Gray's ball in was wicked but glanced behind by a Watford head for another corner. Keane forced the corner behind again for another corner but nothing was coming from them.
It was at least a good period of forward play by Everton, without really testing Foster in the Watford goal. The hour-mark: time for Salamon Rondon?
Gray advanced with pace and played a decent 0ne-two with Iwobi only to clip the return ball inches past the far post. Perhaps the best chance so far.
Everton moved it forward more confidently again, winning a corner, Keane headed it into Foster's hands but the tempo at least was increasing. However, Watford got forward, Coleman shown another daft yellow card for pulling out of a dangerous collision. From the free-kick, Watford got their first corner which was nicely ovverhit.
At the other end, Gray got the ball but fired well over the Watford goal. Still no moveent from Frank "No Subs" Lampard.
Gray got free, Richarlison did well to bet Kabasele, but his cross was not good enough for Gray at the far post. But it won yet another corner. At least Everton were finally competing for the ball deep in the Watford half, while needing to stay alert for the danger of a counter.
After some Watford pressure, Everton looked to break but Richarlison went too early and was offside. Frank finally made a move, and it was a big surprise: Calvert-Lewin, the firer of blanks, on for Gray.
Everton were now regularly pushing forward, Richarlison unable to play in DCL, then Gordon firing a shot in from a long way out, not clever enough to beat anyone, never mind 5-times relegated Ben Foster.
ordon was fouled wide right and took the free-kick himself, delivered with unerring accuracy into the arms of Foster, setting up a decent counter from Watford. Allan replaced Delph.
Another ambling attack saw Docoure get close but fail to shoot, and Watford countered dangerously again as the game became end-to-end, Everton continuing to spurn decisive scoring chances as the minutes ticked away.
Everton worked it around for Mykolenko to have another go but his side-footed shot lacked power as late Watford subs broke up the tempo.
Into added time and Watford had nothing to lose, Iwobi fouling Gosling. Pickford finally caught the ball and tried to launch and Everton attack, with Gordon almost finding Calvert-Lewin, intercepted by Kabasele for a 12th corner.
Final minute and another Everton corner, horribly overhit by Gordon.
Kick-off: 7:45pm, Wednesday 11 May 2022
Watford: Foster, Ngakia, Kabasele, Samir, Masina, Sissoko, Kayembe (89' Etebo), Gosling, Sema, Joao Pedro, Kalu (86' Cathcart) .
Subs: Troost-Ekong, Bachmann, Sierralta, Morris, Cukur, Blake, Grieves.
Everton: Pickford, Coleman [Y:65'], Holgate [Y:20'], Keane, Mykolenko, Delph (81' Allan), Doucoure, Iwobi, Gordon, Gray (77' Calvert-Lewin), Richarlison.
Subs: Begovic, Kenny, Gomes, Davies, Branthwaite, Rondon, Dele.
Referee: Mike Dean
VAR: Michael Oliver
Share article:
---
Reader Comments (282)
Note: the following content is not moderated or vetted by the site owners at the time of submission. Comments are the responsibility of the poster. Disclaimer
Ernie Baywood
1
Posted 11/05/2022 at 20:30:42
After the Lord Mayor's show? Or simply different when you're expected to get a result?
Weird atmosphere about this game so far. Let's hope we get the goal to settle the nerves.
Simon Dalzell
2
Posted 11/05/2022 at 20:31:17
shocking. Like a testimonial. Where is the passion, and where is DCL when you need him. Light weight.
Neil Tyrrell
3
Posted 11/05/2022 at 20:35:26
Ridiculous yellow on Holgate, even my red dad texted me that wasn't even a foul! Yet another ref who is retiring at least a year too late. Not much else worth commenting about in the first half but I will say we look more likely to win it, and even a point wouldn't be the end of the world.
Colin Malone
4
Posted 11/05/2022 at 20:41:25
Get "I'm Ronaldo" Gray off.
Neil Tyrrell
6
Posted 11/05/2022 at 21:08:11
Another bullshit yellow on Seamus. Fuck off Dean.
Simon Dalzell
7
Posted 11/05/2022 at 21:32:58
Disgrace Dean.
Ciarán McGlone
8
Posted 11/05/2022 at 21:36:08
Pathetic.
Ernie Baywood
10
Posted 11/05/2022 at 21:37:14
4 points from 2 away games is a good outcome... but still feels like we were too passive throughout. A reminder that we lack a bit of quality. We really didn't have too many chances.
Michael Lynch
11
Posted 11/05/2022 at 21:39:13
Very frustrating. I know the important thing was not to lose, but that was a truly awful Watford team. We've been offered three points on a plate there, and handed two of them back. Made it just a little bit harder for ourselves now.
Three points on Sunday is massive, because I can't see us getting more than one from our last two games.
Mike Gaynes
12
Posted 11/05/2022 at 21:40:32
Worthwhile point but an opportunity missed. Frank waited WAY too long with his subs. This was a tired, emotionally exhausted team and he kept his attacking subs on the bench for 75 minutes. Gray was leggy long before DCL came on, and we never saw Dele in a game he could have helped with. Too bad.
Brian Williams
14
Posted 11/05/2022 at 21:42:50
That performance typifies why we're where we are I'm afraid. Completely lacking in confidence and courage.
If our failure to win there tonight send us down then we deserve it because I, for one, find that lack of willingness to go for it a disgrace.
That was a game Watford were expecting, and dare I say willing, to lose. Three points tonight could have all but secured our Premier League status but we shit out in my opinion.
Ernie Baywood
15
Posted 11/05/2022 at 21:45:33
I think you're right, Brian. We weren't the underdog in this one - it was on us to force it and we took us about an hour too long to realise it.
Kieran Kinsella
16
Posted 11/05/2022 at 21:45:42
No lack of effort but no quality in the final third. 12 corners none of which troubled their keeper. Acres of space down the right then sloppy final balls. Gordon was really off form. Fatigue? Maybe but obviously these are the 11 Frank trusts and 7 points from the last 9 shows why. But I really hope they can raise themselves Sunday otherwise it could go to the wire.
Anthony Murphy
17
Posted 11/05/2022 at 21:46:38
Subs too late - needed changes with more time to implement them
Neil Tyrrell
18
Posted 11/05/2022 at 21:47:23
Shit match between 2 shit teams really, but bigger picture that's 7 out of a possible 9 points in our last 3. Not mathematically safe yet but it's hard to imagine both Leeds and Burnley leapfrogging us.
Michael Kenrick
19
Posted 11/05/2022 at 21:47:45
What an absolutely crap game of football.
No doubt Frank was being "pragmatic", telling them above all not to do anything stupid in the first half. They ended up doing... nothing.
It was probably better in the second half, when they did at least up the tempo from snail to crawl... but honestly, for those thousands of fans, couldn't they have tried a little bit harder to actually score and win the game, and get a vital 3 points?
Gordon if anything getting worse in the "flatters to deceive" category. End product of any kind completely lacking.
Jamie Crowley
20
Posted 11/05/2022 at 21:51:27
You'd never know we were in a relegation battle watching that.
Bunch of guys going through the motions, loafing around the pitch.
Shameful.
We'd better win our remaining two home games. I do not want to hope Leeds loses their final two.
That wasn't worthy of "giving all to the cause to stay up". It was actually the opposite.
Steaming pile of shite.
Jeff Armstrong
21
Posted 11/05/2022 at 21:53:07
Bit of a cowardly performance all round tbh, second half Lampard should have mixed it up a lot earlier, Gray, Richie, Gordon all done after some tough games recently, DCL on earlier or a lively Dobbin (wasn't even on the bench) could've injected a bit of impact in a game that was there for the taking with a bit of positivity.
For me, we could have sealed our status tonight, but we bottled it.
Tony Twist
22
Posted 11/05/2022 at 21:53:34
Good point?? Lousy point more like, we had to win that game. Opportunity missed. Yet again Everton don't exert pressure on teams we are fighting relegation with. Brentford game is yet another pressure game with us having everything to lose. The strikers need to start scoring.
Andy Finigan
23
Posted 11/05/2022 at 21:54:53
Ref should of retired years ago total redixulous bafferling desions. Well how poor were we tonight? Iwobi was our 8 out of 10 and everyone else downwards. A point away will surfice but wanted 3.maybe I am being greedy. Anthony not good enough to take corners need some one else. Our players are to scared and that will be Frank's task next season. Get players in with big bollocks and snide who need to show what there made of even if its from the Lower reaches of our liegues. Any way onwards and upwards.
Michael Lynch
24
Posted 11/05/2022 at 21:56:14
Problem is, by the time we kick off against Brentford, we could be back in the bottom three. It's not likely, as Burnley play at Spurs, but it's possible.
Tony Everan
25
Posted 11/05/2022 at 21:58:45
Someone said we were 'scared to lose'. I think that's sums it up very well.
Andy Riley
26
Posted 11/05/2022 at 22:00:22
After Leeds defeat that was a crucial point. Need 4 points from two home games now to be guaranteed safety?
Alec Gaston
27
Posted 11/05/2022 at 22:01:38
On a positive note if we better Leeds result we will be safe 🙏
Christy Ring
28
Posted 11/05/2022 at 22:02:56
Disappointed with a point, normally you'd be happy in our position, but against a relegated team with more or less a reserve team, and nothing upfront, we sat back and offered nothing going forward.
I know it's 7 points from 9, but we could have been home and dry tonight. Frank could have made a few changes earlier. Gordon has been a revelation, but take him off free-kicks.
Oliver Molloy
29
Posted 11/05/2022 at 22:04:42
Another point in the right direction – although apparently we are the only side not to score against Watford at their place!
Our home games now even more important; this is the Everton way – right !
Barry Jones
30
Posted 11/05/2022 at 22:05:11
Disgraceful performance. The amount of times we could have pushed forward but passed backwards was obscene, and Seamus was the worst offender. That was two points tossed away against an atrocious side, because the manager and the players thought a draw was enough. We could rue those lost points. The home games are not a done deal.
Andy Crooks
31
Posted 11/05/2022 at 22:05:12
Tame, nervous, insipid and devoid of urgency. Down to the supporters to save the day again because this bunch would faint if they were required to get something at Arsenal.
Johan Elmgren
32
Posted 11/05/2022 at 22:07:54
That really was a frustrating watch... half the team looked knackered from the off. Lamps really should have rotated a few players to push some energy into the team. Movement and forward-runs in attack was none-existant. Decision-making in the final third atrocious. No adventure at all going forward. Shame as three points was there for the taking, and would really have put us in a good place. Now the pressure is still on...
Mike Keating
33
Posted 11/05/2022 at 22:10:52
Oliver @ 29
Correct according to Talkshite radio but, more alarmingly, this was Watford Reserves.
Our Get out of Jail Free card and we flushed it down the toilet.
Did Foster have a save to make?
Lee Courtliff
34
Posted 11/05/2022 at 22:13:30
We all love Gordon but his decision making is atrocious. Very frustrating to watch tonight and I feel for those who made the long journey down there.
Still, we'd have taken 7 points from 9 but I suppose that's the problem with us...we're easily pleased and stop pushing for more once we've got everyone off our backs.
The Old Lady will have to save us, again.
John Boswell
35
Posted 11/05/2022 at 22:14:41
Steady now lads. In the context of our final 6 games, which I called as must not lose, we have collected 2 wins and a draw. We now have 2 games at Goodison before we travel to the Emirates. Our safety will be decided before that final match. Watford were so poor that they sat deep and played kitap1, the old Moyes system and our boys looked stale, which can happen at the end of season, especially playing twice a week. Keep smiling and keep the faith, COYB.
Mike Keating
36
Posted 11/05/2022 at 22:15:20
BTW - all I could hear on Talkshite (apart from Kevin Campbell talking more shite) we're the Everton fans.
They were great.
Kevin Molloy
37
Posted 11/05/2022 at 22:15:21
I think we will beat Brentford, but I think Leeds with their fans will get a result against Brighton. So, it leaves us needing to get something against Palace. No easy task.. Everton were unforgivably shite tonight.
Si Cooper
38
Posted 11/05/2022 at 22:15:50
Disappointing to not get a hatful of good shots on goal in a game we were seemingly never under a great deal of pressure from the opposition.
Too many wrong options and poor execution mean we are now still in the pressure cooker. I don't see Brentford rolling over for us and don't fancy we can get 4 points from the final 2 games if we really need to.
I understand the players may be physically challenged at the moment but it is the mentality that is the persistent undermining factor.
Bill Gall
39
Posted 11/05/2022 at 22:16:26
What I observed was we reverted to our normal away form and lost 2 points. This was the first time that Watford have not conceded a goal in its home game all season.The manager quite rightly has been praised for our last 5 games, but he deserves none today.
The players looked like they played last night, and by half time you could see them tiring. How many corners did Everton have 12/14 and no danger from them, what do they practice at FF.
There were 6 players on the bench who never played against Leicester so surly 1or 2 could have started or come on earlier to freshen things up.
Lampard said he had to use the squad to get through the remaining games, today I think he should have used them better
Alan Burnham
40
Posted 11/05/2022 at 22:17:08
From what I could gather watching the game there was tremendous energy and enthusiasm in display at Watford - from the fans. The team were insipid and timid. Gray hasn't offered anything for weeks now and shouldn't start. Gordon only stands out because we have no other home grown 'stars' and I doubt he'd get into any other Premier League team - not knocking the lad as he tries hard but no end product and repeated bad choices - and why is he our dead ball specialist ?

Mark Ryan
41
Posted 11/05/2022 at 22:17:24
Leeds will get nowt against Brighton or Brentford, maybe a point,maybe 2 but likely fuck all. Suspensions and crucial injuries. They are gone. Burnley will be lucky to get 2 points. The maths says differently but beat Brentford or Palace and we are home and dry. A better place than a month ago when I thought we were gone. We will survive. Tonight was always a banana skin. Glad to get a point UTFT's
Shaun Lyon
42
Posted 11/05/2022 at 22:18:15
Living as I (unfortunately) do rather near Watford I was on a last minute potential offer of a ticket in the home end. In the end, it didn't work out, and I'm now glad because watching that turgid shite on a stream was bad enough. We create nothing. Our final ball is woeful - step forward Gordon, Iwobi, Mykolenko...we could have played another 2 hours and never had a sniff of a goal. The first time all season Watford have kept a clean sheet at home - and they were playing their 2nd, possibly 3rd team tonight. Just don't understand the lack of urgency, passion, will to win the game.. Is it fatigue, nerves, lack of bottle...something else? Christ, who would be an Evertonian
Tony Abrahams
43
Posted 11/05/2022 at 22:18:57
A good headline and proof if any was needed, that the team needs a complete overhaul.
Paul Tran
44
Posted 11/05/2022 at 22:21:30
No surprise today. We're always better against faster teams that make our minds up for us. That's not Watford, who gave us too much time to think, which usually renders us as poor as we were tonight.
Tony Everan
45
Posted 11/05/2022 at 22:22:57
Terrible game of football, totally devoid of any creativity around either goal. Might drive down to the motorway bridge and watch the cars for a bit more advanced entertainment.
Michael, It will be a good point, IF it's the one that keeps us up.
Our forwards all need to do more, getting better shots in making assists, creating proper chances. Below par tonight, I think we'll see some changes on Sunday.
Brian Denton
46
Posted 11/05/2022 at 22:23:25
I can easily see Burnley getting no more points. They should lose at Spurs on Sunday before we play. If we win on Sunday it would take an unlikely sequence of events to see both Leeds AND Burnley overhauling us.
But after the end of the season there needs to be a major inquest.
Annika Herbert
47
Posted 11/05/2022 at 22:24:51
Michael @ 11, you don't see us beating Palace? I think we will beat them and maybe draw with Brentford.
As long as we stay up I really don't care how we get the points though
Chris Leyland
48
Posted 11/05/2022 at 22:25:23
It was a woeful game and we were poor but it's still very much in our hands and we've gained a point to where we were before tonight's games. We are in a far better place than we were 2 weeks ago.
Robert Tressell
49
Posted 11/05/2022 at 22:26:05
Leeds are nearing a -40 goal difference. It would be extraordinary to ship that many goals and stay up.
The point today was very disappointing but still very much on track.
Trevor Peers
50
Posted 11/05/2022 at 22:26:36
Any point is a good point at this desperate stage of the season ! We're nearly there, one more win should be enough. Our supporters have been the real stars, simply the best in the land by a mile.
We will need some shrewd signings in the summer though, otherwise we'll be back in exactly the same position next season, that's an absolute certainty.
Ian Riley
51
Posted 11/05/2022 at 22:31:58
Please remember 3 games ago we were gone, done, finished! Take our position now, you bet! It's in our hands! No predictions please of burnley or leeds or us. We didn't lose tonight. A point closer to safety.
A few days to rest and go again. We would have taken this situation 3 weeks ago and thats a positive.
Night all!!
Brian Denton
52
Posted 11/05/2022 at 22:32:18
Michael Lynch (11)
"I can't see us getting more than one from our last two games."
You really can't see us beating Palace at home? I'm not saying it's a gimme, but for heaven's sake.
Anthony Murphy
53
Posted 11/05/2022 at 22:34:48
I thought the front three looked tired and a bit leggy tonight - they've ran their socks off lately so a change or two may be required on Sunday.
If Leeds get beat this weekend a draw against Brentford will be enough due to GD. Likewise if Leeds draw, a win against Brentford sees us safe.
Colin Malone
54
Posted 11/05/2022 at 22:36:16
Shite. Anyone who has played football would have taken Gray off after 20 minutes.
Doucoure is a water carrier, headless chicken, without guile... Great when defending top teams, fucking waste of time when we need to win.
Only for Jordan Pickford and our twelfth man, we have been shite.

Frank Fearns
55
Posted 11/05/2022 at 22:36:30
Well said Ian 51. Sums up well.
John Keating
56
Posted 11/05/2022 at 22:37:20
Massive opportunity just thrown away
We've only done well recently against teams who have more possession.
Now Brentford is a must win
Hopefully Lampard has read the riot act after that shit show. Just shows that for all the phenomenal support these players do their own thing
Bloody awful
Gary Jones
57
Posted 11/05/2022 at 22:37:28
Think most of us would have selected the same starting 11 today. In hindsight we maybe should have gone with 2 strikers upfront, but a loss would have destroyed any soul we have left.
Whilst it's in our hands, we desperately need both Burnley and Leeds (or at least Leeds!) to slip up at the weekend before we kick off. If Brighton can nick a win at Leeds, we'll simply need a draw to be safe. If they draw we need to win.
#Praying
Jack Convery
58
Posted 11/05/2022 at 22:37:47
Didn't Don Carlo say these players don't know how to play with the ball ? How right he was. We are better with a lot less possession.
Delph MOTM.
Will Mabon
59
Posted 11/05/2022 at 22:38:10
I'd call it an unacceptable point from a lousy game. All that toil and endeavour in the previous two games; a win tonight would've left us needing two points for safety.
Tonight was the time to consolidate - or at least put in the effort to look like wanting it. Now should we screw up, or be simply unlucky on Sunday, and Leeds beat Brighton etc.
The permutations however unlikely are still alive. The only way around that fact is to play your own game. Who knows what will happen. You can play great and lose, but you rarely win playing like that tonight. Reminded me too much of what has got us here in the first place.
Oliver Molloy
60
Posted 11/05/2022 at 22:38:26
Don't know if he did Mike. I couldn't get a link that worked for more than a minute so I gave up. Listened to the first half with the the worst football pundit in the world - Kevin Campbell and decided that I wouldn't listen to the second half and see what happens.
Looking ahead, it's obviously in our hands and I am hopeful Spurs will beat Burnley and Leeds might not be capable of getting anything from Brighton, so Brentford for us is another chance.
I just hope we don't end up going to Arsenal needing a result - that would not be good.
No doubt we could have made the run in slightly easier for us and piled the pressure on the other two had we won tonight, but as I say Everton never make it easy do they ?
I keep going back to that Burnley result were we collapsed and Lampard showed his inexperience that night, he did not manage that game, had he done so I am convinced we would not be in this position.
There is no doubt that Lampard is learning, but I ma still not convinced he is the man!

Christine Foster
61
Posted 11/05/2022 at 22:39:54
The slow start actually got worse, by half time I thought we needed to change it. Gray and Gordon were terrible, I mean they should have been hauled off at half time. The whole set up for this game was wrong, exactly the same as Chelsea and Leicester. It was Watford for Christ sake!
Reverting to pass backs all night, DCL comes on and NO crosses! It was crap from Lampard, Gray and Gordon. Gordon and Gray need to be benched, dead ball delivery, again, from Gordon was just awful. Somebody, anybody, (l could hit better crosses than him! In heels!) needs to take corners and free kicks. Too many passengers and not enough from Lampard tonight. Tremendous chance missed tonight and I really hope we don't regret it.
Neil Tyrrell
62
Posted 11/05/2022 at 22:44:13
I think before tonight's match we had 9 away points ALL SEASON (W2 D3), if wrong I'm sure someone will correct that. We are a terrible team, only marginally better than the other relegation candidates on our best days. We just took 4 out of 6 points from 2 away matches and I for one will take them. We all want a better team but the reality is that the team we have is shit. If you'd offered me 4 points from 2 away matches after the Burnley collapse I'd have bitten your hand off. Leeds lost and we gained a point, yes the match was awful and so are we but it was still a potentially massive point to get.
Mike Hughes
63
Posted 11/05/2022 at 22:45:58
It is not out of the realms of possibility that Leeds get another 6 points, taking them to 40 points.
Funny things happen at the end of the season. That's the truth.
We have to save ourselves.
A win and a draw is the minimum required.
Anything else is complacency.
We can't rely on anything at the Arse because our record there is beyond crap.
Can't wait for this nightmare season to end and for us to survive.
Half a billion to get to this - just wishing to survive.
Total shambles.
Root and branch overhaul needed big style - starting at the top.
Nothing any of us don't know - but just saying.
If we do survive, I can see a brighter future with Lampard at the helm and the new stadium.
But we need to get there first.
And we are not there yet.
Danny Broderick
64
Posted 11/05/2022 at 22:54:57
Just back from the game. Let's not go overboard. These players have done well of late. Wins against Man U, Chelsea and Leicester. Plus draws now against Watford and Leicester, and narrow defeats away against Liverpool and West Ham. Few would have predicted we would get 11 points from those 7 games. 4 points from 2 winnable home games and we are guaranteed safety thanks to Leeds goal difference - and that's assuming they win their last 2 games…
The thing that struck me tonight was how rubbish we are at crossing the ball in. I don't recall us whipping in a first time ball - like Trent or KDB - at any point. We always take 3/4 touches, and then put in a tame cross or final ball. I was in the home end, level with most of our attacks that fizzled out in the 2nd half. We either delay putting the cross in and eventually put in a weak cross, or we then start going sideways and backwards and don't cross it in!
A real shame we couldn't get 3 points tonight but it wasn't for a lack of effort - just that quality final ball in the final third.
Ernie Baywood
65
Posted 11/05/2022 at 22:59:16
In all fairness, it takes quality to win this kind of game. We don't have it.
We didn't have it against Man Utd and Chelsea. The goals came from a deflection and an error. We didn't have it against Newcastle - I think the goal was our 3rd shot of the game. Leicester was the best footballing performance in a long time and we still weren't exactly electric!
All the problems of this season (and longer) haven't gone away with a bit of effort and heart in the last few games.
I believe we'll stay up. But prior to Chelsea I had us 50/50 and after the Wolves game I was sure we would drop. Things change quickly and teams pull off results that you didn't think them capable of.
Brentford and Palace are above us for a reason. These aren't sure things. It won't just be determination that wins the games - we will need some quality and goals.
Goodison still has to be a bear pit. The players still need to respond a couple more times.
Dave Abrahams
66
Posted 11/05/2022 at 23:12:37
I only watched the second half and I'm sorry I did, a pitiful pathetic performance aided and abetted by the manager, he did nothing that helped or changed the shape of the team, only two subs again, Gray was poor and deservedly subbed off, Anthony Gordon was worse, dearie me a complete passenger doing next to nothing, it was an effort for him to move, couldn't Lampard see that, he hasn't improved the passing or the movement of these players, mind you most of them are really poor, you really worry when they are passing the ball back especially when Seamus gets it and twist and turns and doesn't seem to know what he is doing or where he is going.
Keane and Holgate along with Mylolenko did okay, mind you Watford didn't apply any pressure, Iwobi and Delph were very good and shared the MOTM for me.
Lampard, you'll have to do a lot better than you did tonight, we know the squad is very poor but you stood still tonight and did absolutely nothing to change them, not good enough tonight Frank.
Bernie Quinn
67
Posted 11/05/2022 at 23:18:26
Well - I'll go to the foot of our stairs!! I said I was nervous before the game, but I never expected the lads to look so lethargic. Still. looking forward I feel confident we are staying in the Premier for next season. Just look at the remaining fixture. definately in our favour - with TWO games at The Grand Old Lady with the very vocal 12th man. Be cheerful everyone - and Danny, Talk to them
Si Cooper
69
Posted 11/05/2022 at 23:24:13
Yes, the Chelsea and Leicester results were great but we also have to be able to beat the teams where the players won't necessarily be pumped up by the thought of who the opposition is.
Brian Denton questions why we aren't all expecting 3 points against Palace? For the simple reason that Palace have some tremendous attacking players so I wouldn't bank on a clean sheet for that one. That means we realistically need to be making and taking chances, which we haven't consistently done for ages.
I think Brentford will be a stern test as well and magnificent support guarantees us nothing. Chances are Leeds or Burnley will fall short but I'd rather we put it beyond doubt ourselves, and 3 points tonight would have pretty much accomplished that.
To add insult to injury our game was supposed to be on Sky from 11 pm and instead they have a replay of the RS from yesterday! Effing bustards!!!
Jamie Sweet
70
Posted 11/05/2022 at 23:24:50
Despite an abject performance, it's not all doom and gloom.
Fact is, by 6:15pm on Sunday we could be safe (and just imagine the party at Goodison if that were the case!!!)
Brighton are in good form. I think Potter will still be going all out to overtake Wolves and secure a Top 8 finish. That would certainly be another great bullet point on his CV.
Neil Tyrrell
71
Posted 11/05/2022 at 23:25:29
Dave @66 it's not like our bench is full of world beaters though. DCL came on but I don't remember seeing him beyond rubbing his abs on the touch line waiting to come on. I agree with your assessment of our players, but the fact remains that there are no game changers available to Frank. And he has got a tune out of Iwobi where others have failed. An away point is not a disaster from this bunch of clowns and at least Jordan got a rest. We'll need him in the next few, he's the only game changer we have.
Pete Clarke
72
Posted 11/05/2022 at 23:27:45
Biggest 1 point of the season or biggest 2 points dropped in our history?
That remains to be seen but instead of having a bit of belief and drive we just ambled about with no real aim against the weakest opposition we have come across lately. We were never remotely threatened by Watford.
I am one of his biggest supporters but Lampard should have changed things up with clear instructions for more urgency and to get that ball whipped into the area as much as possible and hope it falls for us. That's why DCL was put on for but we just farted around.
Most of our players are mentally and physically not good enough and I can't wait to see the back of them.
Sorry, and it's utter frustration but that feels like a loss to me given that a win would almost certainly have guaranteed us safety.
Pete Clarke
73
Posted 11/05/2022 at 23:27:47
Biggest 1 point of the season or biggest 2 points dropped in our history?
That remains to be seen but instead of having a bit of belief and drive we just ambled about with no real aim against the weakest opposition we have come across lately. We were never remotely threatened by Watford.
I am one of his biggest supporters but Lampard should have changed things up with clear instructions for more urgency and to get that ball whipped into the area as much as possible and hope it falls for us. That's why DCL was put on for but we just farted around.
Most of our players are mentally and physically not good enough and I can't wait to see the back of them.
Sorry, and it's utter frustration but that feels like a loss to me given that a win would almost certainly have guaranteed us safety.
Svein-Roger Jensen
74
Posted 11/05/2022 at 23:33:26
Lampard you wouldn't recognise a subtle plan if it painted itself purple and danced naked on a harpsicord singing 'subtle plans are here again'."
Mike Gaynes
75
Posted 11/05/2022 at 23:36:20
I predicted that after the emotional intensity of the last two games we would come out flat in this one, and we did. And unfortunately Frank subscribed to the dubious mantra "never change a winning team" -- hope he learned better today.
But lighten up on Gordon, people. Don't expect veteran decision-making from a 21-year-old head. He's the youngest player in the side, first year as a starter, already the most improved player in the club, but he still has a lot to learn. If he improves as much next season as he has this one, we will have a star on our hands.
That said, he should have come off at 60 minutes for Dele Alli in my opinion.
Pete Clarke
76
Posted 11/05/2022 at 23:38:38
Whilst I'm feeling pissed off I might as well ask how the hell Seamus and Holgate were booked tonight ?
Lampard should be documenting these things for when he has to face the pricks.
Also have to say that the commentators should make more of a point on these things to bring it to the attention of the public just how piss poor our referees are.
Don Alexander
77
Posted 11/05/2022 at 23:41:21
Don Alexander
78
Posted 11/05/2022 at 23:41:22
Genuine respect to Dave Abrahams and others who criticise Lampard this evening but the fact remains that our manager has had to deal with a total crock of shit on and off the pitch ever since he signed up.
Worse, he'll be in precisely the same situation next season courtesy in the gross ineptitude of the boardroom and beyond for the past several seasons, and maybe the season or two after that. Frank and his, repeat, "his" team are consigned to marching through shit for the foreseeable.
If the lad gets us mid-table next season it'll be a miracle. That's how shite our owner/boardroom still are.
Having a fan in the boardroom to make a successful difference? Give yer 'ead a wobble folks!
Don Alexander
79
Posted 11/05/2022 at 23:41:22
Genuine respect to Dave Abrahams and others who criticise Lampard this evening but the fact remains that our manager has had to deal with a total crock of shit on and off the pitch ever since he signed up.
Worse, he'll be in precisely the same situation next season courtesy in the gross ineptitude of the boardroom and beyond for the past several seasons, and maybe the season or two after that. Frank and his, repeat, "his" team are consigned to marching through shit for the foreseeable.
If the lad gets us mid-table next season it'll be a miracle. That's how shite our owner/boardroom still are.
Having a fan in the boardroom to make a successful difference? Give yer 'ead a wobble folks!
Don Alexander
80
Posted 11/05/2022 at 23:41:23
Genuine respect to Dave Abrahams and others who criticise Lampard this evening but the fact remains that our manager has had to deal with a total crock of shit on and off the pitch ever since he signed up.
Worse, he'll be in precisely the same situation next season courtesy in the gross ineptitude of the boardroom and beyond for the past several seasons, and maybe the season or two after that. Frank and his, repeat, "his" team are consigned to marching through shit for the foreseeable.
If the lad gets us mid-table next season it'll be a miracle. That's how shite our owner/boardroom still are.
Having a fan in the boardroom to make a successful difference? Give yer 'ead a wobble folks!
Don Alexander
81
Posted 11/05/2022 at 23:41:23
Genuine respect to Dave Abrahams and others who criticise Lampard this evening but the fact remains that our manager has had to deal with a total crock of shit on and off the pitch ever since he signed up.
Worse, he'll be in precisely the same situation next season courtesy in the gross ineptitude of the boardroom and beyond for the past several seasons, and maybe the season or two after that. Frank and his, repeat, "his" team are consigned to marching through shit for the foreseeable.
If the lad gets us mid-table next season it'll be a miracle. That's how shite our owner/boardroom still are.
Having a fan in the boardroom to make a successful difference? Give yer 'ead a wobble folks!
Dave Abrahams
82
Posted 11/05/2022 at 23:44:06
Neil (71), yes it's true there not many game changers available but when one of the players is doing next to nothing and is obviously, very obviously, knackered then it is futile keeping him on and surely Alli would have been a better option for the last fifteen or twenty minutes but Lampard never took a chance with a third substitute, in fact he never had another player who could play wide on the bench, El Khazi or Dobbin. I hope this drop of two points doesn't come back to haunt him.
Trevor Peers
83
Posted 11/05/2022 at 23:45:00
Just watching MOTD. We'll need more goals next season, personally I'd sign Pukki from Norwich he is a decent finisher a natural goalscorer something we have lacked since Lukaku was sold.
Dave Abrahams
84
Posted 11/05/2022 at 23:54:07
Mike (75), very true about Gordon and I made the same points about him
after the Chelsea game, the lad has been played too much since January and it's not helping him or Everton at the moment, I think he would be better used as an impact sub or rested completely for one of the remaining games, I know the squad is very short on players but Anthony definitely needs a break.
Tom Barton
85
Posted 12/05/2022 at 00:09:03
DON 81
(and others) oh dear me, one of the most idirected, dreadful performances Ive watched in over 50 years.
The phrase is total shite.
However, BABMAR always finishes my night
rest easy
Tony Graham
86
Posted 11/05/2022 at 00:09:21
Easy to say, but finding a regular goal scorer for next season is paramount..
When all the wheeling and dealing starts, its our first priority,
We are toothless up front, surely there,s an answer somewhere Frank?
Brent Stephens
87
Posted 11/05/2022 at 00:10:25
Poor game of football.
A point gained on our relegation opponents.
Staying overnight in the dire concrete jungle called Milton Keynes.
Goodnight.
Danny O'Neill
88
Posted 11/05/2022 at 00:15:54
I've just got home. A long day as I woke at 5am before the dogs today and had to wait for them to want to go out rather than the other usual way around. I think they were concerned and confused.
But for a change, my trip is nothing compared to those magnificent masses that urged the team on and are on their way home north. It might not have replicated the scenes at Leicester, but it was still unbelievable support from start to finish.
I won't dwell too much on the football. As I've said to others, a flat match and a flat performance. We didn't seem to have anyone who wanted to take a chance or responsibility. Although I never felt threatened, I never felt that we threatened. It says a lot that I would give Delph our man of the match. I thought Keane done okay. Coleman gave everything and Iwobi continues to look better under Lampard. Pickford got frustrated and I noticed he was increasingly communicating to the bench in the second half. Was he asking them to change it???
I was watching that clock on the opposite stand intensively from about 5 minutes in. But it's a point we arguably would have lost earlier in the season so it's a point and one step closer. We're nearly over the line. We can have this job done next weekend and move on to better things.
Good to meet up with Brent and Eddie - excuse me for not remembering the wife's name. She can shout at me next time, but great stuff sorting that Watford fan out with his Guinness in a pub beer garden swarmed with Evertonians!! I am now in debt for at least a bag of crisps Brent. Mike, thank you as always and glad your mate got in. I'll wait for the letter of complaint from Watford!! Rob, sorry we didn't meet - see you at the next one.
Once again great to see the young blues out in force. I'll keep going as I've never known different, but they are the future. Unlike me, they've literally had nothing to feed off but they are there regardless and the support has to be witnessed to believe it. Loud and proud and they make me proud.
Spirit of the Blues. Marching down the Goodison Road. We're going to do this.
Ed Prytherch
89
Posted 11/05/2022 at 00:18:09
Hindsight is 20/20 but surely Frank should have freshened up the team today. Most of them looked emotionally drained. The squad is not deep but Allan and Dele could have started and a switch to 4-3-3 with Iwobi in central midfield would have given us more energy.
Dan James got a straight red today so Leeds are even deeper in the mire. I doubt that they will stay up.
Kieran Kinsella
90
Posted 12/05/2022 at 00:18:09
Christine/Dave
If we subbed or dropped Gray and or Gordon who would we play? Frank made a big deal about signing Dele so if he looked remotely on song in training don't you think he'd play him? DCL pottered about and fell over a few times, Rondon can run down the clock holding the ball by the corner flag but that's about it. Obviously Gomes is useless so we don't have other options. Those two at least ran and got into good spots that they wasted but I suspect it's more than the others would have done.
Brian Wilkinson
91
Posted 11/05/2022 at 00:21:56
Not pretty by any means, but we never looked like losing the game.
To a certain extent with Watford having so many first teamers out, was a perfect chance to give some of the players a rest, recharge batteries for the 2 home games coming up Sunday and Thursday, for me that would have made a lot of sense, if it went wrong then Frank would have took a lot of flack for making changes, damned if you do and damned if you do not.
What we also have to look at is where we were in the bottom three, games in hand but a few points adrift, these last few weeks have taken a lot out of the players, the quick turnarounds, so to pick up points against Leicester twice, Man Utd and Chelsea, another point tonight on the Road, is what a lot would have snatched your hand off for.
Ok not pretty tonight, Watford nothing to play for, with half their team fresh as a daisy with not having played, for me every single point matters, what that point does is put pressure on Leeds and Burnley winning, a draw for them still keeps them a point behind us, even if we slip up, with games running out they have to get wins.
We are all a bit disappointed we did not pick up all three points, but 1 point is not to be sniffed at.
After the effort of the last 4 weeks, I think a little slack for the players is needed.
Regroup and get the Goodison feel good factor going.
On another Day we would have probs put in a better performance but at the same time get caught with a sucker punch, draw will do for me.
Steve Brown
92
Posted 12/05/2022 at 00:22:14
Granted it was a crap game, but some over-reaction from certain posters tonight.
I would have taken 4 points from the last 2 away games and we have them. Better Leeds's result at the weekend and we are safe. They play the Brighton team that battered Man Utd and Burnley are away to Spurs.
On the subs, I think Lampard either doesn't rate the players on the bench or know they are not really fit enough. Gordon and Gray are lagging now, but I am not going to criticise them as they have worked tirelessly for the team this season.
Overall, a bit more perspective please folks.
Brian Denton
93
Posted 12/05/2022 at 00:31:48
Si Cooper (69) I did say it wasn't a gimme v Palace, but for Michael to say that he can't imagine us beating Palace at home takes negativity to a new high (or low).
Mike Gaynes
94
Posted 12/05/2022 at 00:35:33
Dave #84, that's a really good point, Gordon has played 2500 minutes this season. Last year he played only 900, and most of those were in the Championship. That's a hell of a jump for a young kid who probably shaves maybe twice a week. He's understandably tired, physically and mentally, and despite his relentless desire, it shows.
I hope he gets a day on the bench Sunday.
Danny O'Neill
95
Posted 12/05/2022 at 00:42:56
Dave, totally agree on Gordon.
He's been overused and is in danger of burning out.
I'm passionate about developing young players, especially our own, but the danger is that overuse too early can ruin them.
Let's develop him and let him continue to improve as he has been doing.
Let's not have the next Davies or Barkley through overuse or over-expectation.
And I do know there have been circumstances that impacted those players progression (managerial merry go around), but expectation versus development is a big thing in my opinon.
Neil Tyrrell
96
Posted 12/05/2022 at 00:49:35
Dave (@82 for now), true enough but as Kieran mentions above - surely if Dele had shown any signs of desire or commitment by now Frank would have used him more? El Ghazi is a real head scratcher though, there's a player with PL goals in him and he can't even make the bench most weeks, let alone get on the pitch? It's bizarre.
I think Frank is doing as well as he can given the hand he was dealt and I'm behind him all the way. As I'm sure you are. COYB
Paul Kossoff
97
Posted 12/05/2022 at 00:53:06
Bunch of lazy half baked shit houses! Can't beat a team that's a, depleted and already-relegated Watford who guess what? held out for their first clean sheet of the season. Ohh what a surprise! You couldn't get on that one surely! Put this lot in a situation where they are working six days a week just to pay the bills and that's the only reward they get! Jaded half hearted,
Why I bother to support these bastards I'll never know!
Phil Gardner
98
Posted 12/05/2022 at 01:06:22
Utter shite. Can't beat Watford's reserve team. Prolonging the agony with another missed opportunity. Kiss my arse. Any one else bored of this crowd of tossers? Oh, hang on…let's get some smoke flares out and laud them like heroes. Fuck off.
Neil Tyrrell
99
Posted 12/05/2022 at 01:18:25
Danny O'Neill full respect for your (and every away fan's) efforts, and your relentless positivity. I'm feeling glass half full tonight myself, we don't get a lot of away points this season and we just took 4 out of 6. That alone should be enough to see us through, as I mentioned above it's hard to see both Burnley and Leeds passing us now. We are shit but so are they. And we have Goodison plus Evertonians on our side. Thought we were dead and buried after the Turf Moor debacle but I think we'll be ok now.
I'm at Pauper's Pub 5 doors down from Lee's Palace, heading over to see psychedelic Japanese band Kikagaku Moyo in a few. Pretty sure I'll be the happiest Evertonian in the room tonight!
Christine Foster
100
Posted 12/05/2022 at 01:27:46
Guys, both Gray and Gordon had poor games. They should have played DCL, Richarlison and a 4.4.2 with Ali behind the front two. At the very least it would have shown attacking intent, rested knackered players and taken the attacking initiative against Watford reserves. Instead, when we have a significant chance to put salvation in our hands, we blew it, played defensively against a Watford team with zero, that's zero, attacking threat. We allowed them almost 50% possession with our defensive 11 behind the ball approach. It was tactically poor and Lampard should have changed it at half time. Leaving subs to the last 10 mins was just poor by him especially not just because of the approach but because players were stuffed.
One point for turning up. Sorry but Lampard is too blame for this one. Dreadful game, Bad tactical approach and players who needed resting. I suppose we should be happy with a point, but what an opportunity missed.
John Raftery
101
Posted 12/05/2022 at 01:34:40
Some over the top criticism of last night's performance. Quite simply we do not have the depth of quality to enable the manager to rotate players. Hence Gordon, Gray and Richarlison are required to play every game because we do not have comparable talent to replace them.
After only two days recovery from a huge effort at Leicester and lengthy travelling thrown in it was hardly a surprise some of the team looked jaded. Moreover Watford allowed us to have over 50% possession. As we know our team performs more effectively when it has less of the ball and can adopt a counterattacking style.
Jay Harris
102
Posted 12/05/2022 at 02:09:14
Christine I share your frustration and was kicking the (imaginery) cat every time we messed up a move against a team that were there for the taking but I don't know whether ot was tiredness, complacency or nerves but that side in second gear should have been enough to beat a very poor Watford side.
I believe Frank is being pragmatic with his tactics ensuring we do not lose and therefore get points on the board but today was a missed opportunity.
I just hope the tactics and team selection on Sunday is good enough to get all 3 points.
Lester Yip
103
Posted 12/05/2022 at 02:24:21
Iwobi and Delph played well. They kept winning ball back. Gordon needs a rest. He looks tired. I wouldn't mind giving Dele a run in such game.
When playing against better teams, the attack seems to be more crisp. Work or not, it flows. Against weaker teams when we have the time on the ball, we kepts fiddling back and forth. Just whip the cross in and see how it goes.
Anyway, a clean sheet and a point is not the worst result. I'll take that for now. Hope the Home crowds will do the magic in next 2 games.
Paul Ward
104
Posted 12/05/2022 at 02:29:31
John Raftery (101)
I think you have a point abut Gordon,Gray and Richarlison but what you call over the top criticism, is completely justified.
Watching that game last night was, as one poster stated, back to the very worst of our gutless performances. The side and back passing against a relegated side with many reserves was a disgrace and an insult to those great supporters.
Graham Hammond
105
Posted 12/05/2022 at 02:42:58
A good away point from a really lousy game? Really? What a stupid, idiotic headline! Watford cannot keep clean sheets at home and yet despite the need for a win we fail to score even one against a team already relegated. How anyone can believe that is a 'good' point is totally beyond me. Talk about easily pleased! Frank blew it tonight sadly, I sincerely hope we can show more spirit, determination and energy on Sunday in order to push ourselves over the line.
Kieran Kinsella
106
Posted 12/05/2022 at 02:57:38
John Rafferty
Glad it wasn't just me. I thought the application was there and I didn't see a lot of backward passes. I saw a lot of misdirected passes in and around the box (12 corners alone) I agree we don't have quality players but at least Frank has driven them to try which is more than can be said for Rafa, Carlo's last six months, and Silva's first and last six months. The truth is that Gray, Gordon etc are pretty good which means they have about one decent game a month as opposed to say De Bruyne or Sarah who have 3 or 4. The bench is hopeless. Frank is going with the least bag option available. I am just waiting for the usual absence makes the heart grow fonder clamor for Davies, Gomes and Tosun to start Sunday
Brian Murray
107
Posted 12/05/2022 at 03:01:49
i kept hearing players especially ours would rather play than train as it keeps up any momentum now we are suggesting we are jaded. which one is it ca t have it both ways. Reality hitting home after the awesome fans and good results made us forget what we are as a team. Very limited and just can't play possession football. Exactly the same under the last few managers. I bet deep down lampard would gladly trade any and I mean any of these players in the summer. if we limp over the line we know we can't shift 8 or 9 first teamers but that's what we need to push for europe' or at least not repeat this season. At least the sky blues cheered us up a bit.
Barry Jones
108
Posted 12/05/2022 at 03:05:07
Christine sees it exactly the way I saw it. As much as I like Frank, he blew a great opportunity tonight against a dreadful team. He employed poor tactics, a negative set up and selection, and the players adopted a "lets play backwards " attitude against totally inept opponents. That was a nailed on three points blown by incomprehensible decisions.
In addition, Gray has been garbage for months and I have no idea why he is continually selected.
Kieran Kinsella
109
Posted 12/05/2022 at 03:47:35
Barry
Watch a replay and tell me how often they went backwards? They were terrorizing the right back all night but when the crucial pass came it was either misdirected or Richarlison or DCL were rolling around feigning injury. I generally agree with Christine but the it's easy to say "if we'd played Dele" or whoever we would have won as there's not way to disprove or prove that. I stand by my belief that after gushing over his signing there must br a reason Frank isn't playing him. Logically if he was remotely in form Frank woukd play him and then say "That's why we bought him" after he made an impsct. The fact he's leaving a potentially 40 million pound man on the bench that he personally pushed us to sign tells me he isn't cutting the mustard in training
Mike Gaynes
111
Posted 12/05/2022 at 03:57:01
Barry #108, how you can watch this misshapen team for an entire season and believe that there's such a thing as
"a nailed on three points"
is absolutely beyond me.
We have won 10 of 35 games. We have a GD of -19. Our recent goals have come from defenders and deflections.
I think you need to manage your expectations.
Kieran Kinsella
112
Posted 12/05/2022 at 04:03:29
Mike 110
Agree mate. I get the "could've, should've, would've" posts theorizing on alternatives. I disagree but I understand their well put perspectives. But some posts, just leave me baffled. Have they been watching not just this year but the last 5 if not 30? But hey call a limited footballer obviously trying his best today a "shit house" and that will show him eh?
Steve Brown
113
Posted 12/05/2022 at 04:46:06
Lampard blew it when he was not pragmatic enough away to West Ham and Burnley, then he blew it last night when he was too pragmatic away to Watford?
Here is the clue - he got 4 points by playing pragmatic football away to Leicester and Watford. He got zero points from the game against West Ham and Burnley.
Sam Hoare predicted that we might struggle in the Watford game where we would have more possession. He also speculated on whether Lampard would rotate the team based on greater possession and to freshen up the team.
He didn't make changes and - ugly as it was - I have no problem with that. Point in the bag and move on.
Mike Gaynes
114
Posted 12/05/2022 at 04:48:04
Yep, Kieran, and "lazy half baked shit houses" to boot.
While the other one insults the fans for the passionate support that is going to keep this team up.
You just wonder what goes on in those brains that makes garbage like that come out through their fingers.
Steve Brown
115
Posted 12/05/2022 at 04:51:09
Mike @ 114, one of them invited posters to kiss his arse.
Mike Gaynes
116
Posted 12/05/2022 at 04:55:13
I think that was directed at the team, Steve. Doesn't make it any classier.
Alan J Thompson
117
Posted 12/05/2022 at 05:22:01
I've just finished watching the game for the first time and haven't read any comments but what a disappointment. Watford were there for the taking but Everton's commitment, intensity and sense of urgency from the last 2 or 3 games weren't as we went back to the failure of the rest of the season, the sideways, sideways, backwards dance. At one point in the second half an Everton corner was cleared to Coleman about 5 metres in our half and he controlled the ball under no pressure looked up for a few seconds and then passed it back to Pickford, I mean, what did he expect him to do with it!?!
Gordon had a chance to show himself as the best youngster in England and all he had to do was put the ball inside to Richarlison to finish but no, and he came out looking like a head down, see nothing with an occasional trick, and when are we going to stop him taking free kicks and corners!
The only bright lights of the evening were that we didn't lose and Leeds did and that Referee, inappropriately named Dean, is retiring and I hope Everton challenge Holgate's yellow and may be as part of Frank's defence of the disrepute charge.
Disappointed!
Derek Moore
118
Posted 12/05/2022 at 05:35:31
We're not used to having the ball or doing anything with it right now. Benitez set us up to counter attack, and our best run of form under Lampard has been against sides where we can cede possession to.
This is obviously not Watford.
Quite a lot of Evertonians want "up and at em" football, and that's their wont. Martinez got a lot of criticism for "sideways, backwards crab like football" and Lampard is starting to get stick when we actually hold the ball and play the same way.
The facts are that if the opposition can't get hold of the ball they can't hurt you. This is the modern school of football - it's better to go backwards and sidewards and retain possession than put it into a 50/50 (or worse) contest.
Often when we go backwards - like from that corner cited somewhere above - it's in recognition that there are eleven opposition players behind the ball. The gaffer wants to draw them upfield, create space and allow ourselves to play through our lines.
So far, games when we have tried to play this way the results have been disappointing. But Lampards ethos and beliefs about how the game are meant to be played are what they are. He's not going to change. It's enough for me that he's demonstrated a lot of pragmatism during his time here already. The hiding at Spurs was clearly an eye opener.
Gordon does not have great delivery from set pieces, however it bears remembering that we have lost James, Digne and Sig...err the Icelandic bloke. Gordon is therefore now the first choice set piece taker in a team where he would have been an afterthought to take them only a season ago.
Needs to improve however.
It's a precious away point, and although a win would have been brilliant it keeps our fate in our own hands. But I do despair at some of the comments on here. I'm no football genius or expert but I'm basically a savant compared to several on here.
Kieran Kinsella
119
Posted 12/05/2022 at 05:38:24
Mike/Steve
Yeah I just see two clean sheets out of three with a calamity Jane defense, 7 points from 9 for a team that were odds on favorites for relegation 10 days ago but yeah "shit houses" who should thrash a team we were one place above a few days ago. If Leeds lose either of their remaining games factoring in goal difference we'd need one point from three games to survive. Shit houses indeed. Yes we've wasted money on plenty who deserve such titles but Gordon, virtually free Gray,are not among them. If — as seems likely we survive then I'd like to see Frank given some leeway to rebuild and hopefully offload Gomes, plus the out of contract Sig, Delph, etc. If we go down it's not because of Gordon, Gray, Iwobi or even Holgate. It's because since we signed Ian Wilson and Neil McDonald we've had a clueless scattergun approach to recruitment and a board who'd embarrassingly lose an episode of The Weakest Link to Putin's generals and Jeffrey Epstein's defense team.
Pete Clarke
120
Posted 12/05/2022 at 06:10:24
I watched Lampard's post match interview and he makes perfect sense and puts to bed my frustrations about our play against Watford. He has kept the same team because it has battled and got results and it would be silly to change it.
What he can't say is that this same group of players that got us results recently and should have done better last night could also lose us points very easily because they are crap. Pragmatism was the order of the day, as much as I hated it, and we have to take the point as an important one.
I believe he has had to deal with these players very delicately for fear of overloading them and he is not very confident in them at all. He did mention recruitment in the future which was a hint at the future but I would hate his job of trying to deal with these losers.

Danny O'Neill
121
Posted 12/05/2022 at 06:15:19
Phil McNulty on the BBC giving the supporters big praise, but I was more interested on Lampard's comment:
"I wouldn't say I'm frustrated. I think if you can't win, you don't lose, and we were more than secure in the game"
Amongst many other things, this has been our problem. We have not picked up enough draws from games that would have already seen us safe. So I'm taking last night as a point amongst the points we will get against Brentford and Palace that see us through.
Then I can breath and relax against Arsenal.
Alan J Thompson
122
Posted 12/05/2022 at 06:40:26
Derek(#118); If we were to pass the ball sideways and quickly while moving forward I might agree with you but it seems to be done while standing still prior to the back pass. To say that while all our players, or nine of them, are forward that the one player with the ball should stand still in the hope that it draws out opposition players is just lacking in any positivity. If it fails to draw out anybody are you saying that the rest of the game goes nowhere? Of course you aren't, but we must have some idea of what we want to do, we have to be more than one trick ponies.
Heaven help me but at one stage shortly before Calvert-Lewin coming on I thought we might do better if we brought on the lamp post that is Rondon so we had somebody in the box to aim at and work around while he kept the central defenders occupied as we didn't seem to need five at the back at that stage of the game.
And while they say that in the land of the blind the one eyed man is king that might not apply here to the one eyed savant. If what is happening on the pitch is not working then something different should be tried.
Phil Lewis
123
Posted 12/05/2022 at 06:41:44
A wasted opportunity to capitalise on Leeds's defeat to Chelsea. Sadly last night's performance magnified our shortcomings and highlighted the magnitude of the task ahead for Lampard, even if relegation is avoided.
Delph has restored calm and commitment to the defensive midfield. Pickford has ceased the histrionics and found his form. The defence as a unit has looked more solid and composed. Iwobi is the most improved player in the team.
So, given all of the above, why did Lampard not select a team and formation with more goalscoring possibility? He must have gambled on safety and the odd goal from Richarlison, because where else were the goals likely to come from?
Recent goals came from defenders. He had options on the bench in the shape of Dele Alli and Rondon, but chose only to bring Calvert-Lewin on much too late in the game. It was obvious that, the longer the game went, we were running into dead ends. The only saving grace was that Watford didn't snatch a goal.
Gray's performance was dismal. But the worst culprits for me were Doucoure and Gordon. For all their effort, there is no end product. The final ball is appalling. Box to box? Doucoure for me has neither the brain nor brawn required to be a Patrick Vierra or Roy Keane.
To his credit, young Gordon has given everything to the cause this year and I hope his game continues to improve. But recent performances have shown that he is far from the finished article. All dash and no vision. He continually wastes passes and fails to find teammates from dead-ball situations. Goal attempts have become scarce. Yet when he first burst on the scene he was shooting repeatedly from all angles. Time to rest the lad, Frank, in my opinion.
Derek Moore
124
Posted 12/05/2022 at 07:03:27
Cheap-shot me all you like, Alan (#122). If you don't like or agree with Lampard's tactics, that's fine. But your original post more or less revealed that you don't even really
understand
them.
"If what is happening on the pitch is not working, then something different should be tried."
It did work. Lampard set out to not concede and to not lose the game. Both were accomplished. We moved a point closer to safety. We keep our fate in our hands.



David Currie
125
Posted 12/05/2022 at 07:08:42
Big chance to go 4 points clear but we lacked quality. Now we go to another nervy weekend, we need 4 points from 9 to stay up. We have given Burnley and Leeds hope after last night's result.
Adam Oakensworth
126
Posted 12/05/2022 at 07:11:10
Definitely a disappointing, frustrating watch and a chance lost to put this whole thing to bed. But to put it in perspective I think we would all gladly have taken what has followed since losing to Burnley when I thought we were done.
We've got 11 points and only 4 goals conceded from Man Utd, Leicester home and away, Liverpool, Chelsea and Watford. I think one more win will see us safe and we can worry about playing well next season.
Ian Bennett
127
Posted 12/05/2022 at 07:14:15
I get the disappointment that we didn't get another win, which would have moved us that little step closer.
But I'd look at as a positive. It's another clean sheet, another point closer, and more pain for our rival in terms of defeat, suspension and injuries.
Mathematically we need 4 points from 3 games, and it might be less. It is still in our hands, and it looks a hell of a lot better than after the Burnley defeat. The fans are behind the team, when it could have easily been civil war.
I thought we were down, but the team has beaten Man Utd, Chelsea, Leicester and picked up a point at Watford. A harsh defeat away to Liverpool being our only big setback.
Keep the faith.
Robert Tressell
128
Posted 12/05/2022 at 07:22:32
Lampard played that game how I'd have approached it last night. We came very close to winning but didn't quite get the break. But a point moves us on as Leeds crumple.
For all that Gray looked off the pace, he was a threat with his pace and came close to scoring.
None of Alli, Calvert-Lewin or Rondon are in better form, and it's unclear whether the former two are remotely fit.
All things considered, it was a decent night of results.
Eddie Dunn
129
Posted 12/05/2022 at 07:34:58
This game reminded me of last season when we could go on our travels and hit teams on the break, picking up precious points. However, as Watford were a combination of juniors and old lags with little intention of really taking the game to us, the onus was on us to take the game to them. It became more like one of last season's home games.
Our slow build-ups went sideways, then backwards and on the occasions when good balls were fired down the wings (often from our best passer – Pickford) both Gray and Gordon took too long to get in their crosses. Indeed, often you could forgive a delay in crossing due to nobody getting in the box for one.
Gray lost his way and should have been hooked on the hour. Once again, Lampard used his subs too late. Gordon's decision-making is worrying – I hope he doesn't turn into one of those frustrating wingers who runs out of road. His set-pieces are a waste of time.
My main worry was Coleman. The guy is panicking because he has little pace left. He did pick up a cheap yellow from the idiot Dean but he cuts a frustrated figure and often we see him tired and grumpy pushing people and getting into silly spats.
Our best player was Iwobi. He actually won tackles, read the game, and he crosses instinctively. What an improvement under Frank!
A mention too for Delph who controlled the game; his calm assurance was an asset and a hindrance, as he slowed us down to a crawl at times.
Still I suppose a point will have to do. If we survive, Mr Lampard and his team will find a less sympathetic response if they play like this next season, against a team of no-hopers.
Dave Williams
130
Posted 12/05/2022 at 07:40:13
It is important to remember just why we are in the relegation battle: we are not a good football team. Most of the players are seriously flawed and our recent good run has not changed that.
I had serious concerns going into this game because of the status of the opponent and the appearance of some players looking shattered at the end of the Leicester game. Watford was an anti-climax and Frank was clearly content with a point.
He trusts his first-choice team to give it everything but his reluctance to substitute perhaps indicates a lack of trust in some on the bench. If he had used subs earlier and lost, he'd have been crucified for blowing away a valuable point.
We might clinch safety on Sunday – then the real hard work begins.
Derek Thomas
131
Posted 12/05/2022 at 07:41:49
Leeds not only lost the points, they lost one of their very few games left to haul us back.
We gained a point. Not perfect but better than nothing.
Danny O'Neill
132
Posted 12/05/2022 at 07:48:18
For most of the match last night, there were a few next to me screaming to "get it in the box".
We can bemoan our midfield and the likes of Richarlison, Gordon or Gray all day long, but as I saw it, despite their limitations, when they looked up, they had no options. "Getting it in the box" was just lumping it into the land of the giants and easy pickings for them. I think we realised that hence more attempts at being patient and attempting cutbacks from wide. We just didn't have the finishing edge.
I know it won't mean a lot to many, but a really nice touch from Rondon after the final whistle when he was sent out to do his warm down having not played. Appreciative to the fans and came over to give his training top to a younger supporter. The small gestures in life mean a lot.
Brent, I hope you make it out of East Berlin 1986 (aka Milton Keynes)!
Peter Neilson
133
Posted 12/05/2022 at 08:13:57
Maybe more of a planned cautious performance rather than a leggy one. Frustrating, especially against a team with such a shocking home record and after the excitement of Chelsea and Leicester, but we did seem to be happy with a draw.
We're a point further away from Leeds and our fate's still in our own hands. Let's finish with a couple of home wins.
Bernie Quinn
134
Posted 12/05/2022 at 08:13:58
I agree with all your comments, Mike G and Kieran K. I read Danny O'Neill and felt uplifted again, but then Christine made her comments and despair set in again. Why be like that, Christine?
Prior to Watford, those lads gave their all and deserved our praise and at the moment they must be exhausted.
Now Frank has said his interview and I feel a little better. But I'm still scared that we may have to depend on other results going our way, I wish it was June!!!
Eddie Dunn
135
Posted 12/05/2022 at 08:15:41
A note on Leeds. They had another red card last night, Dan James, to add to Ayling's red in the previous match. They also lost Harrison to injury. They are really falling apart, so that point last night might well have been enough.
Brent Stephens
136
Posted 12/05/2022 at 08:22:53
Danny #132 I'm about to jump that motorbike over the barbed wire fence right now!
Hope Gill and Eddie had a good drive home (mein hosts at the Fisherman's Rest, Southport- well worth a visit if you're in the area). Gill, nice touch in buying that blind guy a Guinness.
Having slept on it my view remains. A point gained by a team recently in free fall against a side close to us in the table. And now a further point ahead of the two main rivals.
That's two bags of crisps you now owe me, Danny.
Ajay Gopal
137
Posted 12/05/2022 at 08:28:18
I will take that point, but based on yesterday's performance, I am struggling to see where our next goal is coming from - let alone our next win/draw. On the re-match thread, I said that our forwards needs to come into the party now, because the defence (including Picks) have bailed us out the last few games. But all 3 of our forwards were poor yesterday, and we don't have any reliable replacements. Gray and Gordon were extremely poor (more so the former), and Richarlison for all his hard work is just not prolific enough as a goal scorer. I guess we need at least 2 more points to be safe, but we just don't carry enough of an attacking threat to make me feel confident that we will get it. I hope DCL is fit enough to start and Myko and Iwobi can put in some decent crosses - one positive that I noticed from yesterday's game was that Dominic was leaping high once again.
Graeme Beresford
138
Posted 12/05/2022 at 08:38:27
I'm disappointed waking up to a point, however 4 points from two away games isn't a disaster. However, it is very much Everton. They were there for the taking. If Gordon and Gray were knackered, which they look, then maybe this was the game to rest a few of them guys. Hindsight is a wonderful thing but maybe this should of been the team last night;
Pickford
Coleman Keane Holgate Myklenko
Allan Doucoure
Gomes Alli Richy
DCL Rondon
Gomes getting the ball and moving it forward, DCL and Rondon working their defence, Alli hopefully finding a killer pass. Allan and Doucoure to shield. I mean they didn't have a shot on target so we didn't make the most of trying to get the three points. Frank says we were tired, this doesn't boad well for another game in 4 days, then another in 4 days after.
If everyone is tired then it's about rest and recovery now until Sunday.

Christopher Timmins
139
Posted 12/05/2022 at 08:49:32
A point nearer the goal of survival. The game shows how big a job the manager has in the summer. Hopefully, we will move a step closer to or even confirm our survival at the weekend.
Matt Henderson
140
Posted 12/05/2022 at 08:51:29
Yes a point is better than nothing obviously but I think last night was our best chance from all remaining games to secure 3 points and we should have gone after them. We were passive both on and off the pitch and Frank really should have freshened things up far earlier than he did in my opinion. I hope we are not looking back at this game with regret at the end of the season! Gray has been poor since September but I think he must keep him on for set pieces as everyone else in the team is awful at them. I have never been a fan of Richarlison up front and although we have secured a couple of wins recently we still do not look much of an attacking threat with him there and against these lower teams Frank needs to do something different. And I actually think Rondon should be in front of DCL at present.
Shane Corcoran
141
Posted 12/05/2022 at 08:58:01
Where the hell is El Ghazi?
Not on the bench and not mentioned pre-match. Is he that bad?
Mark Ryan
142
Posted 12/05/2022 at 09:04:09
Always going to be a tough game that one. Relegated teams have stopped titles being won before now, it's happened many times. It was always going to be a banana skin and we survived it with no more injuries. A good point IMHO. I know others think that Watford are crap but this was a team of new players, trying to show what they can do. I think we escaped unscathed. Leeds are gone but we will get at least one win out of Palace or Brentford. Frank will keep us up UTFT's
Terry Downes
143
Posted 12/05/2022 at 09:05:27
This was the perfect game today Gordon and a few others in one way it was a free hit for us ? If Alli can't play against Watford then god help him Frank should have started Alli he needs minutes on the pitch not sat on his arse ?
A footballer never loses ability just his desire sooner or later he has to be given a go.
Peter Dodds
144
Posted 12/05/2022 at 09:45:37
I really don't get this "we've got x points in the last y games and we'd have taken that" attitude. The past is the past, it doesn't matter, the only thing that counts is do we have enough points now? Are we safe? And the answer at the moment is no.
What I can't understand is why Frank didn't change the team a bit more if the first XI are shattered. DCL on from the start. Richy on the left to give Gray a break. Iwobi on the right to let Gordon have a rest. Allan and Gomes starting. Will three days be enough for the same first XI to recover their mojo? Surely those players - even not match fit - would be enough against a Watford 2nd team? It feels like Frank's strategy is to flog the nag that is our first team in the hope it'll manage to crawl across the line before it drops dead.
Still, on we go. What a reset we need in the summer. We need a striker who can score 15+ per season to replace the departing DCL; a dominant CB to replace Mina; several midfielders who are comfortable on the ball and have a mildly creative gene in them; plus a number of squad players to replace those who've come to the end of their contract. That could be a decent team.
Eddie Dunn
145
Posted 12/05/2022 at 09:52:25
Pete @76. It was poor from Mike Dean, who seems to be enjoying his celebrity status. He was doing a Jon Moss impression last night. The booking for Holgate was wrong as our commentators noticed. A superb tackle.
Coleman's was very harsh and there was no consistency for either of those fouls which were replicated by the other side with no such severity.
Mr Dean was fooled a couple of times by Watford's theatrics and we had to face a few free kicks that could have cost us the game.
Peter Carpenter
146
Posted 12/05/2022 at 10:08:20
Since the traumas of 1994 and 1998 my target has always been 10 wins. Get 10 wins and you should be ok with the draws you're bound to get. Our disastrous away form has buggered that plan slightly so we need another win. And if you can't win, don't lose - we seem to have remembered that just in time. It's been clear for a while that it was going to go down to the wire, so these tantalising glimpses of an early escape are, errr... tantalising. Stay calm, get some rest, get ready for 3 more battles. We'll do it.
Martin Mason
147
Posted 12/05/2022 at 10:09:40
I believe that in the circumstances this was a good point gained. It was a stutter in the recent good run of form but I think we'll stay up now.
Brian Porter
148
Posted 12/05/2022 at 10:31:17
Correct me if I'm wrong, but we just need to better Leeds' result in the next game in order to be safe? Our goal difference is miles better than theirs, so it would take a major miracle for them to catch us, if that were to happen.
They play Brighton and we have Brentford. We kick off later so we will know what we need to do by the time we kick off.
So the Brentford game will be a bit like a cup final for us. A win will almost certainly be enough for us to be safe, so let's hope the crowd can once again help to get us over the line
Jerome Shields
149
Posted 12/05/2022 at 10:33:31
Danny#132
Cut backs from wide was the answer. Watford just set up shop for a frontal attack. Cut backs from wide would turned their Centre backs and allowed Everton to at least attack the ball.
Roger Helm
150
Posted 12/05/2022 at 10:37:52
It's ok saying we should have beaten a shit team but we also are a shit team, hence our league position. It is more the case that we over- achieved against Chelsea and Leicester, giving us a false sense of competence.
Kim Vivian
151
Posted 12/05/2022 at 10:53:40
Eric at 144 - you make that sound easy...! Finding around 10 or 12 players based on your narrative.
We are going to be hard pushed to spend any decent money and stay out of FFP trouble for at least a year as many have said, and our main potential is bringing on and improving players we already have (like Lampard has done with, but not specifically for example Iwobi and Delph, Holgate to some extent, Gordon etc) and bolster the squad with a couple of astute signings in relevant positions. We seem to have some half decent squad players coming through but assuming we survive which is looking increasingly likely (although I remain unconvinced until mathematically there) next season will be another toughie.
It would be nice to do a Leicester but how many times can history be repeated?
Clive Rogers
152
Posted 12/05/2022 at 10:56:41
Graeme, 138, that is certainly a winning team, but there's 12 players!!!
Kevin Prytherch
153
Posted 12/05/2022 at 10:57:04
Another point and another clean sheet.
In our last 6 games, we've conceded 4 goals.
In our previous 6, we conceded 16 goals.
At this stage of the season, we're hard to beat and hard to score against, keep it that way until we're safe.
Christine Foster
154
Posted 12/05/2022 at 10:57:28
Bernie 134# Frustration and disappointment. Not a case of glass half empty or half full, it was an opportunity, I believe, was missed. I also understand that Lampard has found a method in the madness to win, and I absolutely agree with it in fact had been calling for him to do exactly that. But this wasn't Liverpool, Chelsea Man U or Leicester. It was Watford, just relegated with a team of reserves playing. We had 2 centre forwards on the bench together with an England international attacking midfielder in Alli.. we brought of one with 13 mins to go and a defensive midfielder to replace a playmaker a few minutes later.
Pragmatism to get a point with players already jaded or just plain scared to lose, we failed to grab any initiative.. That was disappointing. A point is a point and it IS welcome but this was dire to watch and I find it hard to blithely accept it. Of course I do but with our defence never troubled we could have changed the forward line without too much consequence, so that for me was the missed opportunity to rest players, to change it up and be more positive. Sorry Bernie!
Graeme Beresford
155
Posted 12/05/2022 at 11:11:12
Clive @ 152 LOL.
Sorry, I forgot Big Dunc and The Dixie dean statue up front aswell.
Clive Rogers
156
Posted 12/05/2022 at 11:11:26
It is certainly going to be a traumatic summer. Some of the high earners will have to be sold so as to reduce the wage bill within FFP guidelines. Some or all of Richarlison, DCL, Mina and Pickford will go. The replacements will have to be bargain buys on significantly lower salaries.
Clive Rogers
157
Posted 12/05/2022 at 11:15:29
Graeme, worth a try. Nobody may have noticed. There was an incident a few years ago where a team had 12 players on the pitch after a substitution mix up.
Graeme Beresford
158
Posted 12/05/2022 at 11:24:51
Haha… do anything to stay up.
I would try and go for a midfield overhaul this summer, with even a defender thrown in for good measure.
If we have to sell then so be it. Everton will continue without certain players who I now have no doubt will want champions league football. Richy, DCL, Pickford, the only danger is they leave and don't progress, there's only been a handful of players who have excelled once they left Everton, sometimes it's better the devil you know…. Pienaar for example. Bench warmed at Spurs after being one of our best players for years. Came back to us and did well again. I'm sure he looks back at that now as a massive regret.
However let's say we sell Richy, DCL and Pickford, we should not be held to random. I would ask for 80m for Richy, 65m for DCL and 50m for Pickford. There's 195m.
Get bissouma for 40m, get Ward Prowse for 40m. There's 80 spent. Get Ben Foster for a season from Watford, 10m. Leaves us with 105m.
Get James Tarkowski for free. That covers Mina who will prob be sold aswell. Then there's 100m to go out and try and find two really good attacking players. A winger and a striker.
I know it's all a bit champ manager but needs must.
George Cumiskey
159
Posted 12/05/2022 at 11:25:55
Christine I agree 100%, two points thrown away for me.
Allen Rodgers
160
Posted 12/05/2022 at 11:36:43
Jules Warren the Everton supporting SSN presenter mentioned there were 6,000 Blues at Watford last night. Don't know how he knew that !
Terry Downes
161
Posted 12/05/2022 at 11:44:38
Graeme @ 158 if only mate I recently read Everton would accept 50mill for richy if that's the case then your pricing is way off ? Personally I think 70 is realistic but DCL prob 50mill with add ons but Pickford value should be at least 60mill on current form the only problem being most of the top sides already have a top keeper ? maybe spurs would be interested but other than them I don't see where he goes ??. I've said before on here I would like to see some attempts at swop deals Keane for Pukki would be one of my favourite tries.
Robert Tressell
162
Posted 12/05/2022 at 11:56:16
Graham, that would leave us with a really good team but assumes a much bigger transfer kitty than I'm expecting - and that Bissouma and Ward-Prowse would be interested in joining us (which I doubt).
Hopefully we do our shopping in the following markets:
- Premier League rich 6 reserves / youth
- Premier League (best relegated players)
- Champs League reserves / youth
- Championship (not promoted)
- Cheap talent from France, Belgium, Portugal, Netherlands
- Established players / prospects at middling clubs in Italy, Germany and Spain
- Top prospects from Scandinavia, MLS, S.America, Mexico, Scotland, Balkans
- Maybe players in Ukraine / Russia who want to get out (eg Neres, Malcom and Tysgankov)
- Free transfers with modest wage demands
Ideally we'd be getting players age 23 to 26 with plenty of games under their belt, Europa League quality
Then also age 18 to 22, more speculative but ideally Champions League potential
I don't think we should be spending more than about £20m on any particular player unless it's a maybe one key strategic position in the team.

Joe McMahon
163
Posted 12/05/2022 at 12:02:52
I'm not hopeful we could get £50M for Calvert-Lewin, unless somehow he can learn to shoot from distance. I do however think Richarlison is worth way more than £50M. With proper scouts, there are proper strikers to be found out there, such as Vardy when Leicester signed him from Fleetwood.
Barry Jones
164
Posted 12/05/2022 at 12:32:06
Mike #111.
My expectations are well managed. I have expected very little from most of the games we have played, but I did expect 3 points against Watford reserves, a team already relegated.
Rob Halligan
165
Posted 12/05/2022 at 12:38:05
Another long day yesterday, not getting home until well after 2:30 am this morning. Probably a little disappointed we never won but, as I say, if you can't win, make sure you don't lose, although I don't think there was much chance of that.
After the hard-fought wins against Chelsea and Leicester, I guess this game came too soon after last Sunday. It's funny how so many say "Never change a winning team, unless forced too"... ie, the injury to Mina, but maybe one or two changes could have been made last night. Both Anthony Gordon and Demarai Gray looked jaded, so one of them could have been benched and either Calvert-Lewin or Rondon on from the start, pushing Richarlison out wide.
Anyway, it's gone now, and we move to Sunday. I think Frank will probably make one or two changes, with Calvert-Lewin and maybe Allan to start. I honestly think both Leeds and Burnley will finish on the number of points they have now, 34, with Leeds going down by virtue of their goal difference.
Dave Abrahams
166
Posted 12/05/2022 at 12:44:41
Good post as usual, Christine (#154),
Frustration played a part in your post as it did in mine, frustration that a lot of fans are relying on Burnley and Leeds not gaining enough points to overtake us instead of Everton taking a positive attacking game, without being reckless.
Instead, creating a few chances like we did versus Chelsea, Man Utd and Leicester – missed some but scored and won the games. Last night, we created hardly anything and out of close to 20 efforts on goal, only the very weak shot from Gordon and a tame header from Keane reached the Watford 'keeper.
Frank failed for me last night and threw 2 points away.
Andrew Clare
167
Posted 12/05/2022 at 12:56:54
A very very disappointing performance last night which showed quite clearly why we are struggling for survival. Hopefully we will get enough points from our two remaining home games to survive.
I feel sorry for all of the fans who travelled from far and wide to attend last night's debacle.
What happened to Everton? Yeah we all know what happened – total mismanagement from the top for nigh-on 30 years. Leaving us a million miles behind our peers in the former 'Big 5'.
Enough of that. COYB's – win on Sunday and let's start a new chapter next season.
Barry Jones
168
Posted 12/05/2022 at 12:57:02
Dave, I concur. This is what Roy Hodgson had to say.
"I don't know if I expected to see anything other than an honest performance, but the players could've been forgiven if they didn't produce that sort of performance – given some of them had hardly played a game during my time at the club and with so many players unavailable against a side with an awful lot to play for."
Given this, and the way we approached the game, I feel that we lost the chance to be more secure at this stage.
Alan J Thompson
169
Posted 12/05/2022 at 13:03:14
Derek (#124);
It's you with the cheap shots and the complete lack of ambition.
We could have been a win away from safety but came and settled for a draw with barely Watford's reserve team, or so you say.
If that's what you want, and you seem to think standing around waiting for the opposition to make a mistake is the best way, then you probably think the last 27 years have been a success, the "good times" eh, Derek!
Our fate, to settle for a draw against relegated teams, heaven help us!
Anthony Hawkins
170
Posted 12/05/2022 at 13:03:45
@Christine (154) The difficulty I have is that if we lose, we're at risk of going down, so the fear of losing approach doesn't rub - they HAVE to try to win. If they lose, it'll be because they were beaten and not because they capitulated or didn't put in a performance.
I'd be far happier sitting with 37 points than the 36 we're on as it means Leeds have to win and draw or at least two draws to go above us, however now they only need 3 points, which remains mathematical viable, especially with our lack of goals. In reality, I think we're safe, which leads me nicely onto the teams mentality.
The team think they're good enough to win games and too good to go down, so they don't put the effort in. The games are already lost before they kick the first ball. The team is good enough to win games and to be top half but only if they put the effort in. We saw the drive and determination in the previous three games which paid off. Having got to a place of comfort, they took the foot off the gas. We can't afford that and need the team to be putting in the graft from the first game to the last.
There's a lot of work Lampard and his staff needs to do over the summer to bring in players who have that grit and determination as well as creative players to bring the backbone to the team. Currently we don't have that on a consistent basis. The other element is to work on the mental approach. The drive to compete for the 90 minutes - not just 60 (or 20 as it has been until recently).
The big questions for me are:
1. Pickford - is he the answer or is he part of the problem? He's a fantastic shot stopper, without doubt, but is he collected enough to organise the back for is he causing them to panic?
2. Who plays in the back four? They have been dire this season... which leads me onto the midfield
3. who is providing the drive in the engine room? There doesn't seem to be any ownership here.
4. Creative options in midfield
5. Clinical striker - we need someone who knows how to score and can do the job consistently. DCL has been out the entire season and seems to be way off the pace - will he get that back or go to Arsenal?
Graeme Beresford
172
Posted 12/05/2022 at 13:06:59
I think we all agree we should of won last night but there is no right or wrong way to really approach games. There's always that age of saying of don't change a winning team, however I would of changed that team 100% last night. Especially considering the team Watford were rumoured of putting out and did put out. Maybe even some of the kids would of been better last night. Chance to shine, not knackered and playing on adrenaline. However, if we would of got beat, then every fan including me would of said 'what the hell was he thinking dropping Gray and Gordon two of our best attacking players'. So you really can't win, I'm happy with the point, however we need to now pick points up in at least one of our home games. I would rather that be Brentford than need something against Palace. However, they will be no mugs.
Terry @ 161. Barca bid 80m for Richy a few years back. What thinks he is now worth less? He's a Brazilian international forward who can play as a winger or striker. If I was Everton I wouldn't let him go for anything under 70m with 10m or add on's. We bought him for 40/50m so we need more profit back on this type of player.
Even DCL, he was bought as a kid for what 3/5m. He is now an England international and a striker in demand. Who doesn't want a tall, athletic, good headerer of the ball. However again we cannot let him go for anything under 50million. He's too valuable an asset to just cut losses because we have had a bad season.
Jamie Crowley
173
Posted 12/05/2022 at 13:31:02
I think a lot of the analysis and frustration is really down to a human issue:
We were tired.
I said before the game, one can often see teams who play mid-week play absolute garbage on the weekends. Same holds true in that teams who play well on the weekends often play garbage mid-week.
The players just get tired. Recovery? It's a thing. And when you don't get solid recovery, your performance suffers.
If you also consider the incredible effort the squad has put in recently, and it has been amazing no one can really honestly argue that point, the fatigue is truly understandable.
That's not to say there shouldn't be criticism leveled. I said on the live forum within like 6 minutes of the game kicking off, we were sitting back. Why in the world are we sitting back and looking to counter Watford? We should have been aggressive, pressuring, and looking to completely control the game, not hit on the break. That's Frank Flaw #1. Frank Flaw #2 is that he cleary should have subbed earlier, and seen the player's exhaustion and reacted to it. Very poor management of the game in that regard.
I'm a big, big Frank Lampard fan. But that doesn't mean he gets a pass. He'll mature as a manager, and we've got a damn good one who's future is bright and I hope Blue for a long, long time. But yesterday he missed the mark.
Opportunity lost, danger still on the horizon, bring on the weekend. We'll now definitely need 3 points at home.
Terry Downes
174
Posted 12/05/2022 at 13:31:50
Graeme@172 I agree with you I was just saying what I had read either on the O/S or in one of the papers. Don't think DCL has helped his price this season been a poor one for him one way or another, but it's all about what Everton ask for ? if either or both played for the reds they'd get a lot for them than we will ? What's the odds reds get more for Origi than we do for either.
Trevor Cotterell
175
Posted 12/05/2022 at 13:34:45
In reality, a lot has to go wrong now for us to go down. We only need a few points with two home games and one in hand on Leeds. Spurs would have to suddenly lose at home to a struggling Burnley and they'd have to win against Villa away having just lost at home. Leeds have a dreadful goal difference and are falling apart. It could go wrong for us still but we ought to be okay - just.
Frank has had some lessons and he's starting to get the picture. I'd imagine that, from the outside, it was hard to understand just why things were as bad as they were. After a bit of taking things in, he's got us working together. I wasn't expecting us to (seemingly, I wasn't there I heard the radio and saw TV "highlights") be as poor as we were but then I was also expecting some changes to the team. We've got what, 5 or 6 games in around 3 weeks? With the increased intensity of the previous few matches (not just the two we won but also the sterling efforts against Liverpool and City where we we screwed over), it can't be that surprising that players were somewhat drained, especially as they weren't used to it. And that's how it looked/sounded to me. Not that the desire wasn't there, more that the body couldn't keep up. So I was expecting a few changes last night to give the (now established working) team a chance to recover for the run-in. For me that was the mistake/lesson from yesterday.
I still think Frank is the man we need going forward, and there still need to be some big changes in the summer assuming FFP can be worked around - some big wages will drop away, we'll lost Richi or DCL or both (whether we want to is a different debate), and we get a bit of room to manoeuvre. I think he's learning too - but I also think he's got the brain and the desire to do so. Which is what we need. Perhaps he can bring up "his" team along with himself and all will be good in toffeeland once more :)
Frank Crewe
176
Posted 12/05/2022 at 13:44:29
"Who doesn't want a tall, athletic, good header of the ball?"
Who dresses up as a schoolgirl now and then. The fact is he picked up a lot of bad habits under lockdown and Ancelotti. All that "one touch" striker nonsense. One touch is all he's getting these days.
If Lampard keeps him, he had better work with him a lot before next season. We want to see more movement, better runs, better touch, more scoring with his feet.
If he wants his England spot back he needs to knuckle down. Otherwise, he can forget about the World Cup next season because he will be watching it on the telly like the rest of us.
Steavey Buckley
177
Posted 12/05/2022 at 13:53:58
Last night's game against Watford was Everton's for the taking. But in a lot of games this season, Everton players don't believe in themselves like greyhounds out of the traps racing to the finish line.
On Sunday, the Everton manager must pick a team who will grab hold of the game when the whistle blows and grab the 3 points, which may be enough to secure Premier League status... at least for another season.
Scott Robinson
178
Posted 12/05/2022 at 14:03:25
It is quite easy to see that when there are games that count, often against the 'Sky 6' when at home at least, Everton turn up and play.
Against the lower league opposition, not so.
This might be due to tactics, but probably as much with a 'medio' complex - not superior to the 'big boys', but certainly superior to the 'lower boys'.
We are Everton.
I remember distinctly Benitez saying that he expected to win against Watford at home. Look what happened there. How any team has 4 goals scored against it at home in the last 12 minutes is beyond me, but it happened.
So, it's an energy and intensity thing in my view.
Somehow we have to emulate how Guardiola or Klopp motivate their teams, who consistently perform home and away against all classes of opposition.
Brent Stephens
179
Posted 12/05/2022 at 14:06:52
I was right behind what was the Everton goal in the second half. I couldn't help noticing that, every time we had the ball, Pickford was wildly gesticulating to the rest of the team, clearly frustrated at the lack of progress with the ball.
He might well have been right but I found it a bit bizarre – either part of his normal manic behaviour or a telling comment on what we weren't doing with the ball – or probably both.
Bill Gall
180
Posted 12/05/2022 at 14:20:41
Lampard said earlier that he had to use the players carefully with the amount of games they had to play until the end of season. I understand that, once picked, he believed that whoever was playing would not fall to the low standard we witnessed yesterday.
We are just supporters and are not aware of the fitness levels or niggling injuries of certain players, but we can see when some players are tired and below their standards, and that is why there is a negative attitude from last night's game.
There was at least 6 players who either never started, or played a minor amount of time against Leicester, on the bench yesterday, and 1 or 2 from the start could have made a difference, or brought on earlier.
What is the problem with Calvert-Lewin? Has there already been a fee accepted for him or is he really so unfit that 15 to 20 minutes is his best? Yes a point was except able, but not gaining the extra 2 seemed poor-decision making by the manager.
It is no use speculating on how other teams do, our future is in our own hands and feet and the manager's decisions. Yesterday, we lost the opportunity to make it a little easier.
Michael Lynch
181
Posted 12/05/2022 at 14:24:15
Brian @52 and @92 – have you watched Palace recently? And did you see what they did to us in the Cup? That's why I find it hard to picture us beating them. And why the Brentford game is massive.
If we go into the Palace game still needing points, with Arsenal to follow, the pressure will be enormous, and their attack is incredibly strong.
Best result for us tonight would be for Spurs to beat Arsenal and keep the Champions League place open. We need Spurs to be fighting 100% against Burnley on Sunday.
George Cumiskey
182
Posted 12/05/2022 at 14:27:40
Can't believe some people were saying Watford were a potential banana skin!
Palace, Brentford and Arsenal are potential banana skins – not Watford's reserve team!
That was 3 points thrown away for me. Shocking performance last night!
John McFarlane Snr
183
Posted 12/05/2022 at 14:31:06
H Rob [165] I enjoy reading your take on the current situation, mainly because I share the same outlook. It's quite possible that Everton could lose their remaining games and be safe from relegation, if Burnley and Leeds do likewise. Obviously it would be so much better if we were to navigate the escape route by gaining the necessary points.
I applaud you and every Evertonian who follows the club through thick and thin, I'm afraid that my away days are in the distant past due to age, finance, and ill-health. I am, however, programmed to visit Goodison Park whenever Everton are playing at home. I think I must be one of those who accept mediocrity but, to be truthful, I don't seem to have much of a choice.
Danny O'Neill
184
Posted 12/05/2022 at 14:43:09
I mentioned that about Pickford in earlier posts, Brent, and kept telling the irate supporter next to me who seemed more concerned on criticising everything Michael Keane did. I thought I was a Keane critic!!!
It was very telling. Pickford was getting more and more frustrated with his teammates. I must admit, I did smile just after half-time when, right in front of us, he had a word in the linesman's ear and then gave us a wink!!
It's a point and we go onto next week to get the next 3.
Never feel sorry for us, Andrew. When we can get there, it is a privilege to be part of the support. There were many who had travelled and didn't have tickets last night. We can revisit the wrongs of the club in about 2 weeks time.
Right now, I just want points, however we get them. Although I'd rather have got 3, we got 1 last night, didn't concede, and are still controlling our own fate.
James Hughes
185
Posted 12/05/2022 at 14:44:14
At least we don't get to meet Watford next season – a club I have little time for.
I wonder if they will get any action taken against them for approaching and conducting negotiations with the Forest Green manager without notifying the club first. The foot-stamping they did after we made a legit approach for Sliva is now just amazing hypocrisy.
Danny O'Neill
186
Posted 12/05/2022 at 14:53:57
It's never been a choice, John Senior. It's not acceptance of mediocrity either.
It's Everton.
We all live Everton.
Rob Halligan
187
Posted 12/05/2022 at 15:03:11
Danny, I saw that little chat between Pickford and the liner, followed by the wink. You must have been really near to us. We were right by the barrier between us and the Watford fans.
Graeme Beresford
188
Posted 12/05/2022 at 15:31:46
Frank @ 176
The reality is mate he can dress however he wants to dress. I couldn't care less.
He's a good player. He has been very unlucky with injuries all season. It has knocked him down a bit in terms of confidence. I get he's not everyone's cup of tea however strikers are there to put the ball away, if they don't get chances they can't score. Abamayang at Arsenal was the same. They way they started to play in the second half of the season never suited him, off to Barca…. And now again he's fantastic.
The DCL way, that's get the ball down the wings and fire crosses in for him to attack. Digne cross for DCL header at Goodison against LIverpool last season etc etc. Unfortunately we haven't played this way in ages because we simply can't. We are too exposed at the back with poor defenders. This means we can't attack down the flanks. This has affected DCL's game.
Danny O'Neill
189
Posted 12/05/2022 at 15:37:52
About 6 or 7 rows from the front and just to the left of the goal post as we looked at it Rob. I was in serious danger of breaking protocol and being locked out for the night by Mrs Danny. House rules:
1. Do not get arrested and if so don't use your call to phone me.
2. Do not let me see you being Danny aged 18 on television camera.
3. Do not let me see you on the pitch.
I probably couldn't have controlled point 2 given where I was sat. Although I wasn't sat, because everyone stood up throughout.
Robert Tressell
190
Posted 12/05/2022 at 15:51:10
Scott #178
Definitely an issue with our performance against average / poor sides, as you point out.
I expect energy, intensity and mindset does play a part.
My view is that the big issue is simply our lack of quality. Not an earth shattering observation, I appreciate.
But basically, the easiest ways for a poor / average side to score goals is counter-attack and set pieces.
That's a decent formula against better sides (and away) because they will attack and leave gaps. If you stay compact you can avoid defeat and pick up the odd win.
Against fellow average / poor sides we get much less space / opportunity to play on the break. Watford almost played like an away side yesterday and we had a much higher share of possession than is often the case. So we huff and puff with the ball struggling to use our limited quality to break down a compact defence.
Since we're also keen to remain compact, we don't attack with numbers. This makes it even harder. It basically relies on a great bit of skill, luck or a mistake - or a set piece.
Goals from open play when dominating possession are going to be very hard to come by against a poor / average but compact side.

Ed Prytherch
191
Posted 12/05/2022 at 15:51:10
By ignoring El Ghazi, Frank is sending a message to Moshiri:
"Stop listening to agents and don't bring in players that I don't want!"
Michael Lynch
192
Posted 12/05/2022 at 15:58:53
I know it was the briefest of cameos from DCL, but I thought he looked back to his usual self last night. WInning headers, strong on the ball, making himself available. I'd like to see him get a run-out on Sunday, with Richie playing off him.
Iwobi was MOTM again for me, in a generally lacklustre showing from the boys in blue.
Raymond Fox
193
Posted 12/05/2022 at 16:07:47
Another win will be enough I feel, but it would have made it less of a nervous wait if they had won last night.
We are out to 14/1 to go down now but we don't create enough chances do we, to be sure of anything.
I don't see Burnley or Leeds getting more than 3pts each, quite possibly none at all in their remaining games.
I wouldnt want to rely on draws for us though, but another 2pts could be enough.
If we do survive what the MO for next year will be I wouldnt care to guess, up the creek without a paddle comes to mind.
Danny O'Neill
194
Posted 12/05/2022 at 16:10:42
It's interesting Robert. I always study the football pitch. I don't always look at the player on the ball, more where can it go next. Where are the options? How can you effect play? That's what I was taught as a player and a coach.
Yesterday we really had little option other than to go sideways and backwards. Partly because of what was in front of our players in terms of forward options and partly because of how Watford were set up. And partly because of what we had on the pitch. Multiple factors contributed.
I know I'm a bit of a groupie, but when Allan came on, even though he is touted as a defensive midfielder, he is always looking for a forward pass and we started forcing a lot more corners and were generally higher up the pitch.
In terms of set pieces, we had little to aim for. Easy pickings for their defence every time we swung one in.
We set out not to lose the game, but didn't have enough to win it. I know that is stating the obvious.
Maybe with Allan and Calvert-Lewin back for the home fixture at the weekend we have more teeth and play on the front foot, with Richarlison in his natural position and something to aim for in the middle? We protected the result last night. If it wasn't such a crucial stage in a crucial season, we might not have been looking back on that so critically.
3 points on Sunday and I'll get myself arrested for a pitch invasion!!
Paul Cherrington
195
Posted 12/05/2022 at 16:18:58
Damn you Mrs Doubtfire
We really need a top-class striker in the summer - especially if DCL heads off when fit again. Would win more games then and be more of a threat to teams in games like this.
Bobby Mallon
196
Posted 12/05/2022 at 16:23:24
Bill 180 George 182, are both of you really serious in what you are writing. I mean, we are just as bad as Watford this season and our away record is abysmal. Any point away from home with a clean sheet is a good point for us. This is a side who threw away a 2 goal lead against Watford. We as a team are doing the right things.
David Currie
197
Posted 12/05/2022 at 16:33:15
Michael 181, Agree Palace will be a tough game, we have to beat Brentford as we have to expect Leeds to beat Brighton and I think Burnley will get a result at Spurs. Spurs have only 2 days rest and play early on Sunday, hoping they beat Arsenal tonight so they still have chance of top 4.
Robert Tressell
198
Posted 12/05/2022 at 16:45:18
I think we're talking along similar lines, Danny. There is a mindset (or probably tactical) thing going on too.
Last night we could have remained compact but had much greater threat at set pieces with Rondon and Branthwaite on the pitch.
But it would have taken courage and quality together to commit people forward, give the man on the ball an option and expect the man on the ball to see the pass and execute it.
I suspect Frank (rightly) questions our courage and quality so played for the draw.
This may have also been because Leeds conceded and went down to 10 men early. If Leeds had been winning or even drawing Frank may have really gone for the win. But we didn't need to and so he played safe for the draw.
Graeme Beresford
199
Posted 12/05/2022 at 16:48:25
I don't know about tonight's game. What do we want? Do we want Arsenal to win so it makes their last game unimportant to us, and makes Spurs next game on Sunday important. Or do we want a draw so everything stays open? Spurs then have to beat Burnley on Sunday…. It's a hard one to call.
Dave Lynch
200
Posted 12/05/2022 at 17:04:00
There is no way on gods earth Burnley will get anything from Spurs.
Leeds is another matter as is our game, win against Brentford, Burnley get a spanking and Leeds draw...jobs a good un.
Dale Self
201
Posted 12/05/2022 at 17:11:34
This squad has an away game complex and Frank was unwilling to switch it up too much for fear of losing some chemistry. Also, this team has problems holding a result which is what we had when the game kicked off.
They haven't developed the group timing of coming to life to take a game from the jaws of a draw that was cultivated under Carlo. Frank played it safe throughout while watching the scoreboard do the other half.
We now just need a draw since an expectation of Leeds getting four points from their last two games is beyond a team without James or Ayling. Cheer up damnit.
Mark Ryan
202
Posted 12/05/2022 at 17:20:29
George @ 182. A banana skin is described as such because you may unexpectedly "slip up", ie, when it is not expected.
We should have beaten Watford but didn't... why? Because they were already relegated and the potential was there for us not to play to our full potential and slip up. It nearly happened.
You say Palace, Brentford and Arsenal are the actual banana skins and yet I would suggest that it is quite likely we could lose to all 3 on their current form, ie, not banana skins.
That's why I suggested Watford was a potential banana skin. The result showed it very nearly was that yellow slippery thing.
Ian Riley
203
Posted 12/05/2022 at 17:32:42
Do we have a sports psychologist in place? If not, we need one for next season as part of our backroom team.
All players need much physical support but psychology plays a major part as well. As much as ability to get positive results you have to believe you can.
Frank was spot on last night. You don't win so make sure you don't lose. Against Burnley, Dyche was right at half-time, Everton don't know how to win. Believing and confidence to do it can be barriers in sport as well as life.
Last night was not the result we would have taken but we are out of the bottom 3. We all must stay positive and give the players confidence. Our club and our life!! Stay positive!!!! Reflect on a month ago!!! See!!! Massive improvement!!

Gary Jones
204
Posted 12/05/2022 at 17:33:36
Christy @ 200 - only need to look at the difference between Holgate tackle, and Sissoko tackle 5-10 mins later to see just how shitty we have it with referees. They defo have it "infamy, infamy…..". No question.
PS Have you seen Steven Gerrard didn't get charged for John Moss comments after Frank did? #TechnicolorBiasAgain
Colin Malone
205
Posted 12/05/2022 at 17:34:23
Still think Paul Clement has too much say. Continually giving players instructions from the dugout, holding an instruction book.
Jordan Pickford has got us out of jail so far. We stunk against a Watford reserve side. No change in tactics or formation.
IMO, It was a knee jerk appointment by Lampard at the eleventh hour. We play terrible football and Clement's record stinks.
Barry Cowling
206
Posted 12/05/2022 at 17:40:34
I said it would be a totally different game and we would need all subs, and I expected Watford to park the bus. I'm no genius so Lampard must've expected similar.
I can understand why he stuck to the same system but we all knew it wasn't right for this game. I fully expected Dele Alli to play at least the last half hour, he must be either shit in training or have an attitude because he would have been ideal for us in that game.
And what of El Ghazi? We were much more proactive when Allan came on and Calvert-Lewin did okay, both Gray and Gordon need a break and of course Richarlison but I don't expect them to get one.
3 points should see us over the line but will we get them? Maybe 2 draws will be enough. Well here's hoping...
Gary Jones
207
Posted 12/05/2022 at 17:41:19
"Shouting institutions from the sideline and holding an INSTRUCTION MANUAL!!!!!" Oooooh the horror! Sack the board!
Will Mabon
208
Posted 12/05/2022 at 17:47:17
Seems the rumour mongers and/or other teams now see us as ripe for plunder. Spurs
apparently
interested in a triple dip for Richarlison, Gordon and Godfrey.
Yes, all talk for now but it seems the wind is blowing more in that direction. Could you imagine this team/squad without those three and maybe Pickford too.
Personally I think Gordon is the one the sharks will go for. I noticed Klopp mentioned in two separate interviews after the derby, what a good player Gordon is.
Another rebuild ahead I feel, whether we want it or not. This time though, without the money.
Danny O'Neill
209
Posted 12/05/2022 at 17:48:36
I did actually turn to the person next to me, Robert (not the Michael Keane person), and questioned if we were playing for the point on one of the many occasions I was watching the slowest scoreboard clock ever count itself down.
I was trying not to look at it, but it was right in front of me.
Colin Malone
210
Posted 12/05/2022 at 17:51:23
Gary #208.
I wouldn't go that far.
Will Mabon
211
Posted 12/05/2022 at 17:52:30
Gary, the shouting when needed, OK. Of course.
Instruction manuals, and worse, those ridiculous charts waved/flipped in front of the subs before they enter play: no-one will ever convince me that is anything more than "Modern" training method nonsense.
Jay Harris
212
Posted 12/05/2022 at 17:53:31
Will, Gordon is going nowhere. He loves fhe club too much but Richarlison may get fed-up fighting a lone battlle and betempted by Champions League teams.
Godfrey has been a disappointment this season after his strong start last season and I am ambivalent on him.
I would love to see Branthwaite given a chance as, on size alone, he is what we need at the back.
Will Mabon
213
Posted 12/05/2022 at 18:02:24
Jay, I can't talk for him personally but as far as we can see, he seems to be right where he wants to be, as you allude.
He may do a Le Tissier, who knows. We'll see in due course but I guarantee you, great pressure will come from the you-know-which type of clubs not far down the line. He's been getting the talking-up.
Almost no-one is out of their reach ultimately, nowadays.
Ed Prytherch
214
Posted 12/05/2022 at 18:06:54
Godfrey and Holgate are our most versatile defenders and for that reason they are valuable members of the squad.
Danny O'Neill
215
Posted 12/05/2022 at 18:10:46
Okay, I'm going to be the Everton fool that I am.
Clubs can sell their best players as long as they reinvest wisely. I won't use examples of other clubs, because we know who they are.
When Howard Kendall took over, he needed to rebuild a squad that hadn't won anything for years. He did so, but it took a couple of seasons and by the time he won his first trophy, the squad looked nothing like the one he inherited or initially tried to build. It was progressive and he tried a few different things out; test and adjust.
Different times, but you can make many similarities in the modern game. Allow Lampard and his team to do similar. This team and squad needs overhauling and rebuilding. There are a few I'd like to keep, but I'm not afraid of losing any of them. It's been a failed project to coin a modern football phrase.
Players come and go. Everton are always here and always will be. As am I for what that's worth. Well, until we win our 10th league title. Then I can rest.
Okay, a 6th FA Cup because I like even numbers.
Oh and another European Trophy. Any flavour will do.
Then I will go.
Steavey Buckley
216
Posted 12/05/2022 at 18:17:56
The team that was picked last night was the wrong selection, that's why Everton drew 0-0 against an awful Watford deprived of many 1st team players.
Playing a defensive formation against Chelsea and Leicester City was the correct decision. But against Watford? Give me a break.
Danny O'Neill
217
Posted 12/05/2022 at 18:23:09
I think you're underestimating how poor this Everton team is Steavey.
Go expansive and we get exposed by most teams.
Ancelotti was crucified for it and switched on early, nearly qualifying us for Europe by "dinosaur" football.
Frank has eventually caught on. You can't get this current crop to play the way we'd all like them to.
These are the players we have. Just get them to the summer and reset.
Will Mabon
218
Posted 12/05/2022 at 18:25:44
Danny, football clubs, businesses, people as individuals, generally invest to improve on top of a viable and stable structure.
We are not that. Let's not kid ourselves here; we would like to invest and improve whilst adding to the better players we already have.
Selling a "Bird in the hand" to invest in what might become a bird in the hand (for let's face it, a lower price) is a strategy that reduces team quality and adds risk. Quite apart from the fact we have no particular record in such an area.
It's not the same as selling a winger in a situation where we have two spare, for example, to address a shortage of fullbacks.
We will sell from the better players because we screwed up as a club, and want to get money in and reduce the wage bill.
The crap can go. The better players, I am afraid to lose.
Tony Abrahams
219
Posted 12/05/2022 at 18:57:11
It can't be underestimated how poor we are in certain areas but I looked at Holgate yesterday, and his body language has completely changed meaning he now looks interested again. He's more alert, more switched on, and this is the only type of attitude that is going to take Everton forward as a football club, whoever comes into our club?
Is Holgate really good enough? Same for Keane? But they definitely look more focused, and sometimes this change in attitude makes all the difference, so hopefully this is coming from the back room staff.
Sean Kelly
220
Posted 12/05/2022 at 19:15:23
Sorry, folks, I haven't read most of the comments but, nearly 24 hours on from last night, it still feels like a defeat to me.
Frank got it wrong with the starting 11. He seems reluctant, unsure, or unable to make changes when they are needed. The "Up and at 'em" Corporal Jones attitude is commendable but he needs to be tactically aware. We needed 3 points but we leave Rondon on the bench and give Calvert-Lewin a cameo. Frank seems at times to be a bit like a rabbit in the headlights.
At the end of the season, if we survive, I think we should thank him for his services and move on. I know that's cruel but let's lose the "People's Club nice guys" set-up. I know this might annoy some on here but Frank's record is as bad as Rafa's and it's not good enough.
Get a manager in that's tactically savvy and a strong character. At the same time, get rid of the spongers hanging around, getting a decent pay package that they would only get from teary eyes.
A reset is needed; keeping the spongers on and off the field is not a reset.
Will Mabon
221
Posted 12/05/2022 at 19:22:00
Tony,
Attitude is the major thing that's been wrong or missing these recent seasons. Not everyone will agree but I still don't believe this squad are as poor as some do. We've had several periods that prove the potential is there.
How many of the clubs relegated or very low in the table in more recent seasons also had two good periods near the top of the table? The lack of belief, spirit, motivation, professionalism is what has caused the woes; through the whole club I'd add, not just the team.
There has been improvement for sure. A small improvement, but there had to be. So far, it looks like maybe being just enough to save us. Last night was a horrible partial reminder that the poison is not banished but it seems the staff are turning it around.
I hope there is enough of the team left to work with next season.
Danny O'Neill
222
Posted 12/05/2022 at 19:23:30
Sorry to use crude vernacular, Tony, but Holgate seems to have had a rocket up his arse and been put in his place. His attitude and subsequently his performances have changed.
Keane is Keane. On his day and in the game that suits his "dumbly doo" concentration span, he can look good. He still worries me a lot, but he is what we have and is going to help keep us in the Premier League.
But I do think the foundations being put in place with the background staff behind the manager bode well for the future, regardless of where we end up this season.
Now to sort that boardroom out!!
Steven Scaffardi
223
Posted 12/05/2022 at 19:24:57
Sorry, Sean @221, but I couldn't disagree more!
Changing managers every 5 minutes is not the answer. We need stability, and from where I'm sitting, the players are firmly behind Lampard.
He needs to take some credit for galvanising the fans. He's a proper football man. Yes, he's learning his trade, but has shown already that he can learn from his mistakes.
He has to take credit for the recent set of performances and results, when we were only heading in one direction at one point. Now we have a chance and I'd take a young, hungry British manager any day of the week after the dross we've experienced in recent times.
I like the way he talks, I love that he understands the club, and it's so refreshing to see his passion on the touchline. He might not be the finished article, but neither are we, and I for one am excited about seeing both Frank and the club grow together.
Brian Hennessy
224
Posted 12/05/2022 at 19:37:15
Tony #220,
That's exactly correct about Holgate. He looks a different player and most definitely more aggressive, which I think has helped him concentrate better. It will be interesting to see if it's a permeant change or does he revert back to his casual, disinterested self.
Winston Williamson
225
Posted 12/05/2022 at 19:45:06
My 10-pence worth on the EFC squad: Other than a scandalous lack of real quality, in comparison to the cost of assembly, I believe our problems stem from defence and central midfield. Our central defenders are simply not good enough:
Holgate – lacks concentration, has poor positional sense and is too temperamental.
Godfrey – I don't think he's a defender. I'd look at retraining him in the Fernandinho role. He's strong and quick and can carry the ball.
Mina – misses too many games; otherwise, he's good. Maybe lacks concentration at times.
Keane – truly awful. Worst defender since that Wigan guy whose name sounded like a prison.
Branthwaite – has promise, but hard to blood-in in such a poor defence.
I believe we need a minimum of two central defenders, who can pass, have good positional sense and are quick. This opens up so many options for different scenarios. Our Midfielders are similar too:
Delph – his contract is up next month, and, although he's looked decent (not hard), I'd let go.
Allan – way too slow now for this league.
Davies – too slow, but I see him as a stop-gap. He can fill in for a few positions, so I'd keep.
Van de Beek – loan finishes, so does his Everton career.
Doucouré – for a midfielder who struggles to pass a ball? See you…
Gomes – no heart, no guts, no glory.
Alli –- get rid asap. He's lost his hunger.
We need three midfielders, plus Godfrey retrained. A box-to-box midfielder who can pass and shoot and who has an engine (Kalvin Phillips?). A playmaker who can control a game's tempo and can thread the needle and defensive midfielder in the carsley mould.
The above I believe would get more out of Gray, Richarlison, Calvert-Lewin and Gordon. The irony is, to get what I want we'd likely have to sell Gray, Richarlison, Calvert-Lewin and Gordon. Bollocks!
Jay Harris
226
Posted 12/05/2022 at 19:47:55
Sean,
Your post is typical of the short-termism and impatience that prevails ToffeeWeb and some Evertonians.
First of all, Frank's record is not worse than Rafa's, and secondly, Rafa was taking the club down like the Titanic from an inherited 12th position.
Frank inherited a club on its ass with very little scope to bring in reinforcements and has endeared himself to the majority of supporters IMO.
The Watford game was hopefully a one-off and smacked of nervousness and tiredness from a threadbare squad.
We have to move forward on a united front and stop chopping and changing managers. We have to be patient.
Danny O'Neill
227
Posted 12/05/2022 at 19:58:44
Steven, I don't care where they come from how old they are or if they are hungry or need a trip to the Goodison Supper Bar.
Name me a British manager outside the current top 6.
It's not about nationality or age. It's about ability and capability.
Tony Abrahams
228
Posted 12/05/2022 at 20:01:07
The less the manager changes it, the more that people are going to criticize him, especially when it looks like the game is there to be won.
The less the manager changes it, the more he must be happy with how the game is going, with regards how he's set his team up, and what he's already decided he wants out of the game?
The less the manager changes it, the more he probably doesn't trust the players he has sitting on the bench?
Everyone has their own opinion, mine is that football nowadays is all about intensity, which also boils down to attitude really, and is probably why a player like Deli Ali, hasn't been given a run in a team, with such a poor set of midfield players, and also why Everton lack so much intensity away from Goodison Pk.
My own opinion is that this can't be changed without some new players. I'd argue it's absolutely impossible, for this current squad to suddenly change, because we have to many players with bad habits, and very few players who even compliment each other.
Sean Kelly
229
Posted 12/05/2022 at 20:17:08
Jay and Steven. I don't want to be changing managers every 5 minutes either but the reality is that our recent recruitment has come from either of two camps. Either a has-been or a never-will-be.
I commend Frank for encouraging these players but it will be proven that they will revert to type. The problem is that many of our squad have seen off many managers at this stage and the power base is firmly entrenched.
By the way, Jay, I've been supporting Everton for over 60 years and gladly witnessed some great days. They are that long ago now that all I want is to witness some success again before I take leave of this crazy planet. Short termism, my arse.

Soren Moyer
230
Posted 12/05/2022 at 21:07:44
1 point gained!? Hello! 3 points were there for taking against an already relegated team filled with their U23 players and some of us are happy with 1 point! Watford had 11 home losses on the bounce before Everton came to town and packed the defense!
Dale Self
231
Posted 12/05/2022 at 21:13:54
Uh yes, hi there, a point was acceptable. Had he opened it up and lost would we be celebrating his bravery right now?
Will Mabon
232
Posted 12/05/2022 at 21:21:48
Dale - look what the "Bravery" did against Chelsea and Leicester; exactly what didn't happen when it was lacking against Watford.
I'm also loathe to call trying to win against an even further weakened relegated team, brave.
Edit. Maybe on the players as much as Lampard. I don't know his instructions before or during the game but the initial team set-up didn't look defensive.
Christine Foster
233
Posted 12/05/2022 at 21:24:59
Tony #229,
I think you hit the nail on the head. A good smack too. Individually, most of the current squad look decent on paper, but collectively they have little faith in each other – nor do they want it enough to "die" for each other.
They are not mates but a collection of individuals that have been through the mill with several managers, have lost faith and trust in each other, never mind the club itself.
They would tell you that not one shred of the above is true. But when they get home and their wives ask them what sort of day they had, that's a different song.
The only way to save their careers is to move on, not because they are all bad footballers, but because they are in a club that lost its way. Without that trust in each other, or the club individually or collectively, they will fail.
I am not advocating a 100% change of the squad but it's up to the manager how he wants to play, who he can use, and who needs to go. Only when he has the stamp of his players, playing his way, will we see a stronger more focused team.
Right now, he is using what he has in a way he can to get what we need to survive. It's a painful exercise for all concerned, but we all get it – the fans, the players, the club. At least in this respect, after years of naval gazing, confusion, discontent and anger, we are all pulling together. It's a building block, but not a cornerstone!
Dale Self
234
Posted 12/05/2022 at 21:36:17
Will, I think Frank was playing it safe and when some early chances went astray he kept it close to the vest and did not commit players forward. Doing that would have accelerated the game and created more transitions and this team is not well rested after their efforts against Chelsea and Leicester.
The legs weren't there from those who were in the previous two games and Frank doesn't trust throwing a sub into the mix easily. He is somewhat stuck with a conservatism that is hard to criticize, every recent manager has bumped up against this constraint and few have found rotations to get around it.
Soren Moyer
235
Posted 12/05/2022 at 21:37:50
Dale, Hi there to you too! So what you're saying is that its acceptable to park the bus and hope to nick a goal regardless of the opposition!!!? Please go check Watford's team sheet and their 11 last home results. Might change your mind. Unfortunately the bar has been set very low by some on here. I for one not watching our team play football (soccer) just to pass the time, have a few laughs and get socialized! I want us to do well in every fucking game and demand this shower of shite which calling themselves "pro" footballers give their all for the shirt. Anything less is unacceptable IMO.
Bernie Quinn
236
Posted 12/05/2022 at 21:52:46
Christine @154 - I've said previously that I'm an old Grump - so I apologise Love if it sounded like a moan. I'm just worried! Its just that I am sure the team and Frank knew they wanted the 3 points but after the 5 hard games they have just played it was like running a marathon and completing the last couple of miles through thick mud (I've done it!) The mind is willing but the body and legs are really struggling - and thats how I viewed the Watford game. Still disappointing I know. But I am sure we are able to keep away from relegation. Sorry again Love.
Tom Bowers
237
Posted 12/05/2022 at 21:55:00
Lot's of interesting opinions here and some way off the mark.
Goals win games and Everton do not have the firepower to trouble most teams if any at all.
Last season saw a half decent combination of Richie and DCL,
but this season they never got going for one reason or another. The back up crew of Tosun and Rondon have never contributed for different reasons and Gray has faded after a bright start. Injuries in other areas like Doucoure have also affected the attacking side of things and so, when the goals dry up it's been up to the defence to stay strong but silly mistakes have cost them dearly in too many games.
The last few games has seen improvement in defending without being overly impressive, save for Pickford's heroics.
Obviously Lampard and his staff have a big headache to sort out this squad for next season.
They have to get rid of quite a few off the payroll to make some room for new players as another season with what we have is going to be another season of misery.
I like Mykolenko and would like to see Patterson given some starts as Seamus has seen his best days.
Keane and Holgate is not a great combination and Mina seems to be injury prone.
Not sure if Lampard feels that Allan, Davies and Gomes will fit in next season but we need players who can push up quickly and take the game to the opposition.
The modern game is built on the press and Everton just don't have what it takes to do it well but at the other end the defence is woefully slow at playing the ball out.
Many faults to be rectified and it remains to be seen what transpires.
Christy Ring
238
Posted 12/05/2022 at 22:03:31
Goodison news has it that Delph is injured again, out for Sunday ? Definitely shored up the midfield, and a big loss for Brentford.
I know everyone disappointed over our performance last night, and saying Frank parked the bus, he more or less said the players were lethargic, but before the Chelsea game, we were 5pts behind Leeds/Burnley, now with 7pts from our last three games, we're 2pts ahead of both. I'd definitely take that.

Will Mabon
239
Posted 12/05/2022 at 22:06:10
Dale, I will agree the players looked a little tired. We rarely look quite as dynamic as other teams at the best of times, but that's another story.
We won't see the same kind of caution on Sunday. If this earns a result, it will reflect further on the missed opportunity at Watford, tired players or not.
Will Mabon
240
Posted 12/05/2022 at 22:10:54
Christy, I'm about stunned that Delph has done what he has recently, so wouldn't be surprised. He may be missed. Last night reminded me of the player he was way back in his Villa days, very neat and tidy.
Dale Self
241
Posted 12/05/2022 at 22:19:59
Soren, we did not have the classic kind of set up where we knew a team's tendencies and could sit back, wait for turnovers and break. The change in lineup for Watford meant we didn't know how they would attack and though they were fielding lesser talent some teams for whatever reason step up after they get relegated. We simply did not have the same conditions to implement the same type of strategy. The last thing we wanted to do was hang around the Watford third with a lot of sterile possession with Keane in the back four waiting to get turned and burned.
Look at it this way, it was a game in hand and we got a point. [I thought you would like that one].
Anthony O'Brien
242
Posted 12/05/2022 at 22:51:56
Very poor performance but just because we have won one or two games recently it doesn't mean we are all of a sudden this good team, we are where we are cause we have been a very poor inconsistent team all season with little firepower upfront. A point away from home is better than nothing I think we will stay up now just about. So frustrating watching Gordon take every set piece like he is David Beckham, I say 9/10 deliveries are piss poor either not beating the first man/too long or goes out of play. He is a good prospect but has a lot to improve on with his end product and shooting.
Derek Moore
243
Posted 12/05/2022 at 23:09:44
We're in a relegation battle. Watford smashed five past us at home a few months ago, and our away form has been almost historically bad. The squad has been riddled with injuries all season, up to and including the loss of Mina in our previous outing. Our fixture list to finish the season is the most grueling I can remember in my lifetime. We have a -19 goal difference.
Yet many here seem to think or expect that we should have just swatted Watford aside. Have they not been watching us all season? Have they not been watching us away from home all season?
Expectations from many here seem to be divorced from our reality. We're a struggling tired Premier League club with very little quality or depth, fighting for our very existence in the division. A quick look at the league table would tell you we have no right to go anywhere and "expect" to beat anybody. The table doesn't lie. We're one of the worst teams in the league.
That was a game we had to get something from - and we did. It was actually only our second clean sheet away from Goodison all season. It keeps our fate in our own hands. It keeps the pressure firmly on Leeds and Burnley.
This was a point gained for me. I do feel anyone who "expected" us to win this has grossly over estimated the quality of this group and grossly under estimated the trouble we're still in.



Anthony O'Brien
244
Posted 12/05/2022 at 23:21:19
Spot on Derek !!!!
Anthony O'Brien
245
Posted 12/05/2022 at 23:21:56
Spot on Derek !!!!
Will Mabon
246
Posted 12/05/2022 at 23:23:42
Derek, to essentially your whole post, I simply say:
Chelsea at home, Leicester away. Same team Mina aside, two wins.
Personally, I didn't expect a win, but expected more of an attempt to gain one, as in the previous two games. It was a flat and disappointing effort that looked more like what we've seen until three games back.
Pete Clarke
247
Posted 12/05/2022 at 23:36:59
It was a crap game full of nervous and tired players not to mention their inabilities. The only chances in the game belonged to us but we fluffed them and just like past mistakes at the back that have cost us games, we can't blame Lampard for that.
Gray missed a sitter in front of goal, Richarlison gets two runs at goal and either loses it easily or falls over, Iwobi has a run at goal and tries a pathetic cross and these are the better players in our team.
We are just fucking rubbish and as much as I'm really frustrated with that result the other night I'm also wondering how on earth we have recently beaten Man Utd, Chelsea and Leicester.
Frank's done well to have us where we are with this bumbling gang of misfits. Let's not forget the idiots at the top who allowed all of this to happen.
Soren Moyer
248
Posted 12/05/2022 at 23:44:53
Lol Dale. You are right about seeing this game from THAT perspective. At least this one turned out to be more fruitful than OTHER games in hand we had previously.
One of those Bluebill's "Good Times" moments. Right?
Mike Gaynes
249
Posted 12/05/2022 at 23:51:36
Derek #243, nice summary.
Paul Kossoff
250
Posted 12/05/2022 at 00:06:09
Gaynes 110, <!—You are the turd in the bowl for name calling life long supporters! Mind you, always one left isn't their. Not entitled to an opinion now if you disagree with it is it. —>
If you think last night's effort was justified then we never have to win anything again.
Kieran Kinsella
252
Posted 13/05/2022 at 00:18:36
Paul Kossof
We aren't trying to win any trophies right as we have already been eliminated. We are trying to survive in the premier league. Of course you won't win anything playing how we did last night but you won't win anything with this team regardless of how they play or the manager. The hope is that we survive so we can attempt to offload people and get some better players.
Kristian Boyce
253
Posted 13/05/2022 at 00:24:02
Obviously disappointing not to get the 3 points, but I think too many people were thinking this was going to be an easy guaranteed win. While Watford were missing a good portion of their first team and have been pretty awful all season (bar thrashing us at home). A good number of their players last night were playing for their future. With so many fringe players on show, they were either trying to put themselves in the shop window or trying to put a performance in to impress the new incoming manager.
Just need to regroup for the weekend and get ourselves back in front of the Goodison fans and get the win against Brentford.
Matthew Williams
254
Posted 13/05/2022 at 00:35:35
So it looks like we'll be doing things the hard way then!
I'm sure we'll have enough to just crawl over the line before the Arsenal game,my only concern is I just can't see any major changes at our club when we stay up...I really can't!
Bernie Quinn
255
Posted 13/05/2022 at 02:03:40
Oh dear - from the last few comments it sounds as if posters' nerves are getting on edge. Now with me, at my advanced age, I'm just hoping that my beloved Toffees win a trophy, before I hear an Owl call my name.
Alan J Thompson
256
Posted 13/05/2022 at 04:30:07
Will (246);
I couldn't agree more, we needed the performances of recent games and didn't do enough against relegated Watford's reserves to try to win the game. This is not the time to settle for a draw in winnable games and when the right substitutions might have changed our outlook and performance.
I can't agree that settling for a point, so that we have the opportunity to win our remaining games and safety from relegation, is a good outcome in what (as the game went on) looked more and more winnable.

Steve Brown
257
Posted 13/05/2022 at 04:42:31
Best Brentford and we are pretty much safe – that is the focus now.
Danny O'Neill
258
Posted 13/05/2022 at 06:23:11
Winston, let's see how young (he is young) Godfrey develops before we talk about playing him in a midfield role. The last time we thought we'd bought a central defender from a Championship team who could play in midfield? Phil Jagielka. I think we tried him about twice and thought NO. He went on to be a great servant and central defender for the club.
Interesting I can only say servant there. It says a lot about the last 30 years and I have this debate with family members a lot. Baines, Cahill and Ferguson. Great servants and fans favourites.
They were not Kevin Sheedy, Graham Sharp or Trevor Steven. That is the bar. Win not exist. We are Everton. It starts from the top.
Let the lad (Godfrey) settle and develop. He will become a good defender, although I actually think more of a full back or better suited to playing in a back 3, but that's just my unqualified opinion.
Tony, that's what I've been saying for ages. We have had a decent 12 or 14 for a while but forgetting who the manager is or has been, once we're down to the bones, everyone of them has looked at the bench and what else is available and not been convinced.
I know people are desperate to give the kids a chance. But multiple managers from different backgrounds can't all be wrong.
Frank Lampard knows what it takes to win. As he said, if you can't win, you don't lose. Right now he is dealing with the players he has and he has not been afraid to publicly chastise them.
Sunday. Safe. I breathe again. Then next season reset, rebuild and European qualification.
Taking the dog out. The poor lad. He's an Evertonian. He understands.
Graeme Beresford
259
Posted 13/05/2022 at 07:58:29
Sean Kelly.
I get your comments. It was only a few weeks ago after we lead a half time lead slip at Burnley I said get rid of Lampard now and get Big Sam in until the end of the season, however I was wrong.
I do agree with some of the other posters in that changing manager all the time does nothing. I'm sure if we could turn the clock back we would of stuck with a Martinez or a Silva, just a bit longer to see if they managed to improve results…. Maybe not? Again… football is about opinions.
I think we have to stick with Frank, keep us in the league with a win against Brentford, then see what he can do in the summer with transfers etc. I'm happier with a young, hungry manager, Rafa was a disaster. But changing the manager again, surly that's not the right option. More back room staff, training methods, players, it's just two steps backwards one forward all the time with us. I for one am going to now allow Frank to have a go. Yes there will be games like Watford where we all become pundits and say 'well I would of done this' 'well I would of played him', however as someone previously posted…. Watford put 5 past us at Goodison, we are terrible away and that point could prove to be precious. I'm now fully behind Frank, I think he gets it, I doubt he wants to be playing 5 at the back and counter attacking football but he's been left with little choice, especially with a squad like ours.
COYB!! Come on Frank! Get a win on Sunday and I'm cracking my finest bottle of Moretti open, then another, then another.
Christine Foster
260
Posted 13/05/2022 at 09:12:14
Irrespective of who we are playing, Frank has confirmed that's the formation and style we will play to the end of the season. It's a decision that is understandable and if it gets us over the line then it's worth it. He chose not to change it against Watford which, given their team selection and relegation, has caused much consternation, myself included. Yes, they thumped us at Goodison but only 2 outfield players out of that team played. Nothing like the same team. Was it worth taking the chance and go for it? We will never know now but it was as good an opportunity we were going to get in the last month, when the stars lined up.. risk v return? Frank could have played the same way but subbed the jaded players much earlier, and I think that added to certainly my frustration. It's gone now, focus on Sunday, different circumstances against a much better side. We have to be on the game, we have Goodison, will it be enough?

Danny O'Neill
261
Posted 13/05/2022 at 09:21:21
I totally agree, changes could and should have been made sooner.
It's going to be enough Christine. We're bringing the points home.
I hate the place but it was my Grandad's local in later life, so I'll go to the Arkles and stand there with a big smile on my face when we do.
James Fletcher
262
Posted 13/05/2022 at 09:31:27
I think that if we'd had our shooting boots on the game would have been very different, we certainly created a lot of shots - they were just tame as fuck each time.
James Marshall
263
Posted 13/05/2022 at 09:38:08
Considering our away form all season, I would suggest it wasn't a lousy game at all - far from it when you look at all our shoddy defeats!
I think Lampard played it safe, knowing we have 2 home games to come against teams in mid table with nothing to play for. If Leeds lose to Brighton and Burnley lose to Spurs (which I think they both will), we only need to win one of our last 3 games to stay up. It was smart not to lose the game in my view, with an eye on the bigger picture to come.
Christopher Timmins
264
Posted 13/05/2022 at 09:47:21
Recently when I predict a draw in what looks like a winnable game we go on to win it, Chelsea and earlier Leeds being prime examples. I am predicting a stalemate on Sunday, we find it difficult to break teams down who come to our place and sit in which is what I expect to happen on Sunday. Hopefully, I will be wrong and we will pick up the 3 points, putting us 5 points ahead of Burnley and 4 ahead of Leeds and safe for another year.
For Sunday I would go with the team that started against Watford as it appears all other available options are a risk at present. I base this on the manager's after match comments on Wednesday.
Steve Brown
265
Posted 13/05/2022 at 09:57:52
James, you are right.
Once he secured the win over Leicester, Lampard may have identified Brentford as the priority game for rotation and freshening the team up He knew he could easily secure 4 points from the 2 away games with a draw against Watford, so why take a big risk? That team and formation should have still been able to nick all 3 points with a bit more of a clinical edge.
That may frustrate some of our fans, but for me it is the sensible move.
Allen Rodgers
266
Posted 13/05/2022 at 10:08:34
James @263, I think I'm right in saying if Leeds lose to Brighton we only need a draw to stay up on GD with two games to play. It could be done and dusted on Sunday but knowing Everton we will prolong the agony.
Raymond Fox
267
Posted 13/05/2022 at 11:51:01
Leeds are going down, they average just over 2 goals against each game, plus Ayling misses the Chelsea game.
They score enough but so do their opponents.
The last few games of each season are different, some teams think their on holiday already, Burnleys and Leeds opposition should be keen enough to finish the season on a high though.
I fancy the Crystal Palace game as our best chance of a win, but a couple of draws will probably be enough.

Dave Abrahams
268
Posted 13/05/2022 at 12:02:33
Allen (266) and Raymond (267), going by your posts if Everton would have won on Wednesday night then it would have saved a lot of fans an awful lot of worry and even have put us in a position to overtake Southampton.
Scott Robinson
269
Posted 13/05/2022 at 12:29:44
Robert @ 190, thanks for the helpful comments. Lack of quality does make a difference.
When we had quality in the past with James and an unnamed player, we could unlock those stubborn defences often.
Sadly, our lack of quality in midfield is telling.
Mike Gwyer
270
Posted 13/05/2022 at 12:39:45
Christopher #264.
I can guarantee you that Brentford will not "sit in". They are an all-out attacking side who will not be fazed about coming to Goodison, plus they've nothing to play for.
I'm expecting us to win but I can assure you that Pickford and our back 4 will be busy.
Iain Latchford
271
Posted 13/05/2022 at 13:17:28
They say the bookies don't often get it wrong. For relegation they have Leeds 4/7, Burnley 13/8 and Everton 12/1.
The atmosphere needs to be at least what it was for the Chelsea game. Will be lively outside the ground I'm sure, especially if positive results are filtering in from elsewhere.
Colin Malone
272
Posted 13/05/2022 at 13:41:56
Christine #260.
If that's the case, well Frank has to put Richarlison in place of Gray. Then go and buy two plus top-class wingers that fit Frank's formation. With this present squad and Frank's desired formation, we haven't got a cat-in-hell's chance of survival next season if we stay up.
Raymond Fox
273
Posted 13/05/2022 at 14:57:13
You're right, Dave, I thought a win against Watford would be enough to save us, but that's not the Everton Way – they like to make us suffer!
Jamie Crowley
274
Posted 13/05/2022 at 15:10:17
Iain -
Regarding those odds, I believe if we can even draw against Brentford and get a point, and Leeds lose this weekend, we're safe.
Not 100% mathematically, but the goal difference is so large there's no way they could make it up in a game. They would need to make up at least a 20 goal differential over three games. They'd need to win 10-0 and we'd need to lose our final two 5-0 (or any scenario to wipe out a 20 GD). That ain't happening.
So a draw / win for Everton coupled with a loss for Leeds and we're safe.
Conversely, if we lose this weekend and Leeds win, it's nervousness, angst, and heart attacks.
Jamie Crowley
275
Posted 13/05/2022 at 15:17:04
Just another thought.
All this, "Brentford will be tough" is accurate, but a bit of perspective.
Brentford have lost 5 more games than they've won. It's not Justice League FC coming to Goodison on Sunday, for fuck's sake!
Brentford is a winnable home game. If we can't beat them at home in a relegation battle, then we deserve whatever comes.

Danny O'Neill
276
Posted 13/05/2022 at 15:17:23
Stop it, Jamie. Is it Monday yet?
Jamie Crowley
277
Posted 13/05/2022 at 15:23:28
Danny -
Lyndon said on his second-to-last podcast (haven't heard the most recent one yet), that if he could fast-forward through time to the end of the season, he'd probably do it.
I would. This is agony! Just fast-forward to the end so we know how it panned out! 😉
Iain Latchford
278
Posted 13/05/2022 at 15:24:27
Yes, a draw does it if Leeds have already lost. Brentford lost 3-0 to Man Utd in their last away game. We beat Man Utd 1-0 so, by the laws of the playground, we will win 4-0.
Jamie Crowley
279
Posted 13/05/2022 at 15:31:03
Iain -
I like your laws of the playground. Very scientific. So much so let's just tell Brentford that's the result, they can stay home!
Mike Gaynes
280
Posted 13/05/2022 at 15:32:56
'Justice League FC"
Got a nice morning chuckle out of that one.
Iain Latchford
281
Posted 13/05/2022 at 15:35:11
I might have a cheeky fiver on this I think Jamie!
Danny O'Neill
282
Posted 13/05/2022 at 15:40:39
At Vicarage Road, I think I spent as much time watching the clock as I did the match.
The dogs are resting ahead of the weekend. Bless them, they're going to need it.
Kevin Molloy
283
Posted 13/05/2022 at 15:58:59
Delph being out is not what I wanted to hear. I've been so impressed with him. If we do stay up, he's been a massive reason. He came in at a crucial time and was central to some crucial wins. Let's hope Allan can come in and play like the player we thought we were getting – remember Ancelotti, 'One of the best defensive midfielders in the world'.
Let's face it, these players are, almost to a man, utter tripe. We cannot rely upon them in any way whatsoever. The only way we bring home the bacon on Sunday is to recreate the atmosphere of Chelsea, and the crowd will roar them home.
I just hope the fanbase is capable of rising to those heights again; anything less than that and we are walking a tightrope. It's got to be done this weekend, we do not want to be needing points against Palace – and certainly not against Arsenal.
Len Hawkins
285
Posted 13/05/2022 at 16:35:16
It's okay saying we need this player and that player but, if Moshiri throws the money about, then sure as eggs are eggs, we will be the next Derby County.
We are the rag-arsed kid nicking pop bottles and getting the 3d to get a couple of toffees off the penny tray.
You should know by now that we will be shafted for Calvert-Lewin, Richarlison and Pickford, especially if deep-pockets, short-arms Levy signs any of them.
Stephen Vincent
286
Posted 13/05/2022 at 17:58:30
I really can't believe that there are posters defending that performance on Wednesday. I endured the insults of Watford fans in the wrong side of the away end, was threatened with eviction, by over zealous stewards, for no reason other than having a mild scouse accent and then suffered an 8 hour return train journey eventually getting back into Lime Street at 7.30am the following day.
I realise that with the situation we are in pragmatism is a virtue, but surely that applies to the likes of the poo, Chelsea and Leicester not Watford reserves for god's sake. My new acquaintances in the Watford seats nearly wet themselves laughing, first clean sheet at home this season, 11 previous home games all lost, I was reliably informed that 7 of their starters had only 12 games between them this season, yet we invite them to come on to us, absolutely shameful capitulation.
I was at Brentford, Palace and Spurs away games all of which were demoralisingly poor but Watford plumbed the depths, yet Frank (who I really like) and it seems a majority of loyal blues were quite happy with the 1 point when with just a tiny bit of ambition we could have taken all 3 and improved the goal difference.
Dreadful truly dreadful. Why do we put up with having the piss taken out of us time and time again?
Stephen Vincent
287
Posted 13/05/2022 at 18:05:12
Len # 278, We are not 'the rag arse kid', we are the rich kid who has been buying friends through sweets at the tuck shop. Unfortunately his parents found out and stopped his pocket money and all his 'friends' have now disappeared.
Kenwright OUT.
Danny O'Neill
288
Posted 13/05/2022 at 18:11:21
Because we are forgiving fools Stephen. We are the gift that keeps giving. We can't help oursleves, no matter what they put us through.
Brentford was bad. Norwich a low point for me and by the end at Tottenham, I was passive due to the submissive state of shock I had been placed into.
I didn't get threatened with eviction at Wolves but got complained and pointed at.
Wednesday was a flat performance. We could have sealed it, didn't take the opportunity. But this is Everton so let's go for the drama and do it on Sunday! I'm genuinely not sleeping much right now.
Jamie Crowley
289
Posted 13/05/2022 at 18:29:36
Stephen Vincent -
I agree with you wholeheartedly. Why we sat back and didn't take the game to Watford is just inexplicable.
I think Frank was looking at the math(s). A point on the road, 2 of the last 3 games at home, and we'll most likely only need 3 points to avoid the drop garnering the Watford point on the road.
The forgiving nature of the fans is pragmatism. Take the point, stay up, and just put this miserable season behind us!
But I'm with you and your assessment.
Danny O'Neill
295
Posted 14/05/2022 at 11:14:22
For balance, there were unsavoury scenes at Watford from our supporters. A pub got stormed because the doormen wouldn't let people in. They got in.
Brent and I had to step aside in the concourse at half-time to avoid getting caught up in a fracas that was developing as a few got thrown out. Brent stepped in and protected me!!!
We all have idiots. No club is immune.
But this lot believe they are. They airbrush history.
Don't start me, I want to enjoy the weekend when we secure top-flight football tomorrow.
I'm not just saying it, but in comparison to what I witnessed at a 0-0 relegation match on Wednesday, this is tame.
If this was Everton it would have gone nuclear already before we'd hit the stadium.
We live you, Everton, and it's not fake or for show. It's real.
---
Add Your Comments
In order to post a comment, you need to be logged in as a registered user of the site.
Or Sign up as a ToffeeWeb Member — it's free, takes just a few minutes and will allow you to post your comments on articles and Talking Points submissions across the site.
---
© ToffeeWeb