Benitez: We have to improve as a team
Monday, 9 August, 2021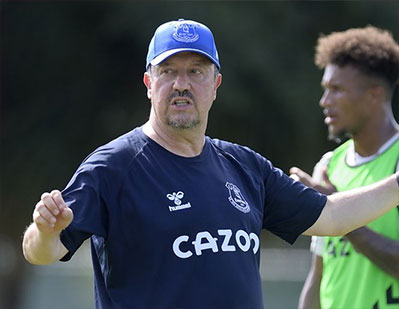 Rafael Benitez admitted that his team conceded some poor goals in their final pre-season friendly on Saturday and that the team has to improve once some of its missing components return.
The Blues won both of their exhibition games in Florida at the end of last month but went down 4-0 at Manchester United, leaving the manager with plenty to ponder as the kick-off to the 2021-22 Premier League season against Southampton looms this coming weekend.
Benitez was without Richarlison, whose busy summer concluded with glory with Brazil in the gold-medal match at the Tokyo Olympics and Dominic Calvert-Lewin who had a slight knock that sidelined him for the match at Old Trafford.
The manager says that having has strikers back will help but broader improvement across the team will be needed.
Article continues below video content
"Today, we didn't have our strikers, the others did their jobs but it is totally different when we have specific players, especially good players, up front," Benitez said on evertontv. "They are not here, so that changed the dynamic of the team a little bit.
"We have to improve in some areas but the main thing is to be sure we have the team together, then we can manage the way we want to play, with the players who can normally make the difference.
"We want to play like we did in the [earlier pre-season] games — trying to create chances, trying to move forward quickly. I think as a team we have to improve.
"Not just a couple of players. As a team we have to be sure that the understanding between players, the mentality, the character is there — and then if we have that, we can be more competitive.
"Normally, when you have time, you can know the players and they know you and how you want to play. This pre-season has been a little bit [different], with players away, with the Olympics, the Copa America and the Euros.
"There are too many things to analyse everything properly but at least these games give you an idea what to expect… of what we have to change.
"You have to learn and try to improve things for the next game, which is the most important one."
---
Reader Comments (88)
Note: the following content is not moderated or vetted by the site owners at the time of submission. Comments are the responsibility of the poster. Disclaimer
Jay Harris
2
Posted 09/08/2021 at 16:12:37
Common sense and logical but when you factor in that some players cannot find their arse from their elbow he will soon realize we need to change some of the squad.
The lack of goalscoring ability throughout the side is alarming and needs to be addressed if we are ever to return to the top.
Frank Kearns
3
Posted 09/08/2021 at 16:14:55
No shit Sherlock - but, you've sure got some shit to work with😩
John Dingle
4
Posted 09/08/2021 at 16:23:16
Rafa is stating the bleedin' obvious. We want to know what he's going to do. Adding DCL and Ritchie will change very little esp as Ritchie has payed for the last 12 months non stop and DCL is hit and miss, he's no Harry Kane. 10th is the best we can expect.
Jack Convery
5
Posted 09/08/2021 at 16:23:22
He knew we had no strikers so why not buy one - we are light up front. We should join fans anonymous and sit with the Geordies for this season. He's obviously been brought in to keep us in the EPL and nothing else until the stadium is built.
Gaute Lie
6
Posted 09/08/2021 at 16:24:08
Give the players milk to drink. Now they sort of play like boneless chickens. Some of them appear to be headless as well. We also have a player who's nameless, even. Oh what a season this will be..

Kevin Prytherch
7
Posted 09/08/2021 at 16:29:17
He talks sense. The game was lost with individual errors, mainly from those who have only just returned. Coupled with having no recognised striker, it was always going to be difficult.
We'll do well this year. 6/1 to win without the "big 6". Worth a few quid?
Matt Byrne
8
Posted 09/08/2021 at 16:31:20
Very few wanted him including me. However he wasn't the one who wasted hundreds of millions on dreadful players and left us in a financial mess with FFP. The owner and board are culpable with awful managerial appointments. Let's hope he can do a decent job despite the lack of spending power.
Neil Thomas
9
Posted 09/08/2021 at 16:37:26
Well isn't that his job to improve the team? He's the one being paid a fortune, and training them. As well as buying duds.
Brian Murray
10
Posted 09/08/2021 at 16:42:07
If he is as brave as his Newcastle day's shouldn't he say we need to improve as a club ? Or doesn't he want to name names and rock his Wirral boat.
Jim Lloyd
11
Posted 09/08/2021 at 16:52:36
What duds are these, Neil? If your saying Andros and Demerai, they've already shown they're faster and better than who've they replaced and who we still have (Iwobi?) Let's see what happens in the next few weeks and who's brought in to improve the team.
Trying to improve what we have into a better team sent the Italian scampering off to Real Madrid and has cost the jobs of 4 previous managers.
I'm not sure I expect him to make noticeable improvement within 4 weeks of being appointed. Let's see how he gets on this season.
Frank Crewe
12
Posted 09/08/2021 at 16:58:29
"the team has to improve once some of its missing components return."
Yeah. Those components would be a defence, a midfield and an attack.
Andrew Brookfield
13
Posted 09/08/2021 at 17:07:32
@Jack 5 - he can't just go an buy a striker we have no money and no one is bidding on our players to free up the needed cash.
For the same reason he can't buy a new right back, a decent winger, or a replacement for Sigurdsson.
We have Brazil's number nine, a player coveted by Real Madrid and Utd. We have England's understudy number nine and we have Kean one of the most highly rated young forwards. We are not "short" of strikers, they just weren't available/risked for a meaningless preseason friendly.
Brian Murray
14
Posted 09/08/2021 at 17:10:58
Reports that Atalanta have enquired about iwobi ! Every cloud eh. Just hope if any of the usual suspects get new clubs its not last minute so we can trigger the ffp in our favour a bit and get the full back and other targets.
Sean Roe
15
Posted 09/08/2021 at 17:12:16
Yada, yada,yada!
Which players turn is it to trot out the usual rubbish about ''how we need to improve''? boring!
Ray Roche
16
Posted 09/08/2021 at 17:20:27
Mark Taylor
17
Posted 09/08/2021 at 17:22:22
I'm expecting to hear this line quite a lot this season...
Mike Corcoran
18
Posted 09/08/2021 at 17:25:53
Atalanta rumoured to want Iwobi, please let this be true!
Mark Rankin
19
Posted 09/08/2021 at 17:30:39
First game of the season is going to be fun, James feeds Kean for 1-0 and we'll be world-beaters, one bad result and performance though and it will be serious tin hat time.
One thing is certain, our recruitment of managers and players (Sigurdsson, Bolasie, Walcott, Schneiderlin, Iwobi, Tosun, Gomes, Delph, that bloke who went to Germany etc) has certainly dropped us in the sh!t.
Danny O'Neill
20
Posted 09/08/2021 at 17:34:32
I'll have a look Saturday. This is not in danger of going toxic early, it's in danger of going toxic before it starts.
Thankfully, the man has been here before. He ignored the Chelsea "expert" fans, shrugged off the hostility, focussed on the job and won a trophy. He's made of thick skin and although not my choice has proven that again by taking the Everton job.
Once again, difficult to judge from a picture, but very hands on in terms of coaching? Where are his coaches?
I for one am looking forward to Saturday. It may cost me a forecasted £250 - £300 all in as usual, but I get to see Everton, be in my home city for a few hours and meet up with family.
And have chips, peas and onion gravy from the Goodison Supper Bar!!
Steve Shave
21
Posted 09/08/2021 at 17:44:13
Some negative drivel on here as usual. He has not done or said anything wrong here. Give him a chance and support your bloody team for goodness sake. Light up front?? We were missing 3 strikers for the match worth a combined £150M plus!!! Get a grip and give him a chance.
Mal van Schaick
22
Posted 09/08/2021 at 17:47:19
We will improve as a team, if he ships four midfielders out and brings three in plus a decent striker. He's constrained by his squad inheritance and profit and sustainability rules. Good luck.
Barry Hesketh
23
Posted 09/08/2021 at 17:48:11
Danny @20
I think that pre-game it will be fine, not the usual full-throated crowd, but I don't think there will be a chorus of boos either. During the game, depending upon how it's going, may see a more vociferous group start some anti-Rafa stuff, but most will likely sit on their hands if it's going badly.
Whatever happens, enjoy the day Danny, you can discuss the match with the dogs on Sunday.

Brian Harrison
24
Posted 09/08/2021 at 17:49:00
Danny20
Yes he did win a trophy with Chelsea but even that didnt persuade the majority to change their mind about him and he was sacked soon after that season finished. I think we might get off to a good start against Southampton who have lost Ings and might not have Ward Prowse for that game if Villa get their way.
Adrian Evans
25
Posted 09/08/2021 at 17:50:57
Rafa has an increadibly difficult start,any manager would given our position.
Who bought Awobi?
Who brought in Delph, sick note.
James Rod is quality, but played 23 games and was crap in half of those.Sick Note.
Gbamin feel so sorry for his injuries terrible luck.
We got £150 million of center forward possibly out.
A decent player in many games £41million unavailable for we don't know how long.
Gomes??whos going to take a chance on him after a horrific injury.

We just gotta get on with it.Can feel sorry for ourselves.
Rafa wont iam sure.
Some how we gotta get a minimum of 4 points first two games.
Just don't think the club can sort things out until x mas.
Cant spend, knowbody wants to buy.
Well we could put Pickford up for sale?????,Richarlison?
Just behind the side Rafa.
Craig Walker
26
Posted 09/08/2021 at 17:51:05
What worried me when Ancelotti left is that all the players will get yet another chance, whoever we chose to replace him. How are we going to achieve anything with the likes of Iwobi and Delph still doing impersonations of footballers?
I'm just hoping that the return of fans will improve our home form because our away form will certainly be worse this season when we revert to rabbits-in-headlights at away grounds.
Alex Gray
27
Posted 09/08/2021 at 17:51:49
It's the same team as the last few years that numerous managers haven't succeeded with. Gray and Townsend don't take us any further in reality.
We'll have a purple patch and awful ones too.
Tony Everan
28
Posted 09/08/2021 at 17:52:02
He is stating the obvious, but what did anybody expect him to say. We had no strikers due to the Olympics, Pinging, or Sore big toe. Gbamin probably would have started, pinged. Mina alongside Godfrey is probably the no1 CB pairing. Pickford first game back, cobwebs etc.
It was a shit show first half but even with our makeshift team we created chances we should have scored from and we had a certain penalty waived away. I thought Gray looks promising, direct and very pacey. He's going to give us something we've been lacking and stretch defences. I think he will prove to be one of the best signings of the summer.
So it's not all doom and gloom, with players back we can look very different on Saturday and get off to a good, winning start. I'm apprehensive but looking forward to Saturday.
Paul Smith
29
Posted 09/08/2021 at 17:52:55
Brian, Chelsea sack everyone.
He deserves a chance in my book. The usual for me, 4 or 5 games on the bounce defeated then the pressure is on. Works both ways though. The reverse and he deserves plaudits.
Soren Moyer
30
Posted 09/08/2021 at 18:05:17
Wow! Improve what lol? Haven't we heard that during the last 5 managements? Déjà vu!
Kevin Prytherch
31
Posted 09/08/2021 at 18:09:47
I see that Idrissa Gueye is apparently available to get his wages off the books………
Neil Thomas
32
Posted 09/08/2021 at 18:14:06
Jim
What improvements? They haven't played anyone yet. A Palace reject, and a player that couldn't cut it in the Leicester team. If that's an improvement, I'm glad we ain't going downhill on our signings. Plus what other signings? We ain't got the money to improve our starting eleven from last season. And watching our only game against a decent opposition on Saturday, we were taken apart.
Danny O'Neill
33
Posted 09/08/2021 at 18:15:36
I certainly will Barry. And the dogs will either rejoice with me or console me. They won't give me any leeway for getting home late; 6:30am it will be even if they have to put the kettle on for me!
I don't know what the guy is supposed to say here. We're great, will finish 6th, qualify for Europe and get to Wembley.
No. Sorry, I'm quoting idiots like me who are just getting excited about Saturday!
He is stating the obivious. I wouldn't say in a play down expectation Moyes kind of way, but just being realistic. I think what he is saying is this bunch of players can and need to perform better. On paper, it's not a bad team.
Daniel A Johnson
34
Posted 09/08/2021 at 18:22:24
Rafa mate, I hope you get off to a flier if not I hope you are ready for the dogs abuse you are going to get at Goodison.
Fingers crossed this doesn't turn sour
Tony Everan
35
Posted 09/08/2021 at 18:23:54
Kevin, Idrissa Gueye as a makeweight for the Kean deal is something we should consider, and may work for PSG too. We've missed his tenacity in midfield and he will be at the top of his game for another two maybe three years. He was second only to Kante on some stats when he was with us. If we can somehow off load Delph I'd rather have Gana on the books giving us strength in depth , particularly as we can't reasonably rely on Gbamin 100% in that important ball winning midfield role.
Frank Sheppard
36
Posted 09/08/2021 at 18:31:43
I read his comments as "this is going to be a lot harder than I thought it was going to be".
Danny O'Neill
37
Posted 09/08/2021 at 18:37:14
As someone who would rather keep Kean and see how he develops Tony, I would also like to see Gueye back. Much needed injection of energy into the midfield and allow the other players to do their thing. They're not all bad players, just need surrounding by better.
For where we are now (challenging for Europe), a midfield consisting of options such as Davies, Gomes, Gbamin, Allan, Doucoure, and Gueye competing for 2 or 3 places wouldn't be too bad.
Not including the wider, more forward players there.
Barry Hesketh
38
Posted 09/08/2021 at 18:46:03
Frank @36
This is what he actually said off the record.
Simon Dalzell
39
Posted 09/08/2021 at 18:53:13
Stunning revelation. I was looking forward to hopefully getting tickets for me and my son for Saturday. 50 quid for Upper
Bullens tempers my enthusiasm. I've obviously lost touch with all this Covid, but that seems a bit steep. I'm sure I paid a fair bit less last time.
Danny O'Neill
40
Posted 09/08/2021 at 18:56:55
Everton are still very reasonable Simon. You want to try watching them away in a London stadium.
Simon Dalzell
41
Posted 09/08/2021 at 19:07:38
Fair point Danny. I'm probably living in the past and showing my age. It will reduce my visits though unfortunately. I've not heard the latest on DCL fitness. We'll be gutted if hes not available.
Christy Ring
42
Posted 09/08/2021 at 19:09:53
Kevin #31and Tony #35 Gueye would be a huge upgrade on Delph and a huge addition, especially with Gbamin only back, but who'd take Delph with his injury record and his wages. As for Gueye's wages, he's on €15,000 p/w more than he was on here.
Danny O'Neill
43
Posted 09/08/2021 at 19:22:34
It's what many would relate to the unfortunate side of the game Simon and I don't disagree with you on a personal basis.
Player wages drive cost. If we pay them more, the clubs charge more. Basic economics; wages drive up prices. We all want a wage increase, but it ultimately causes prices to go up. Its all relative.
This probably belongs on another thread I read today, but it's sadly why Everton have fell behind. I will be at Goodison on Saturday. I will go to the Goodison Supper Bar before the match and maybe buy a half time pint in the ground. But then I will meet my cousins on County Road and head into town.
Aside from the £50 ticket (I'm in the Upper Bullens) and the fiver I spend in the stadium, how much match day revenue are Everton making from the match going supporter?
Compare that to the day trippers who follow our red cousins. Coach trips and day trips from Oslo who descend on the club shop to spend a fortune. And Tottenham's model. I had insight into that in my previous role. They designed the stadium to change the match day experience. They have bars and restaurants all around the concourse with the aim being supporters go there prior to kick off and remain after the final whistle rather than hitting local pubs and chip shops. Harsh reality, but we are miles behind. Maybe BMD is designed with that model in mind.
Everton will get £55 of my £300 expenditure on Saturday. Other clubs such as Tottenham would get more of that £300. I would imagine tourist fans visiting Old Trafford would put even more in the Manchester United coffers than that.
I appreciate television revenue is what matters now, but we are still a fan base that goes the match and goes home or to the local. Our match day expenditure doesn't go into the club. Our match day revenue is poor.
Not a criticism by the way. We are very traditional, which a lot of us still love and cherish. Just a reality whether we like it or not.
John McFarlane Snr
44
Posted 09/08/2021 at 19:37:46
Hi Simon [41] as a 'senior citizen' in the Park End, [the dearest stand] I pay £299.00p, for my season ticket, and the last time I asked someone who goes on irregular occasions how much he paid, he said his seat cost £45.00p. I know that season ticket prices have been frozen for a couple of years, and I think it's reasonable to think that the same would be true of the occasional visitor, perhaps someone on this thread can shed some light on it.
Hi Danny [40] regarding the Rafa Benitez appointment, does the phrase 'Innocent until found guilty' come to mind?
Mark Taylor
45
Posted 09/08/2021 at 19:43:34
I didn't want Rafa to begin with and as a pessimist by nature, I fear for our season but whatever else, he shouldn't be booed after one match, even if it goes badly. My problems with Rafa do not stem from him being a poor manager, he is far from the worst we have had recently. Much of my trepidation stems from the mistakes we have made in the past few years that post Covid, we cannot easily put right, but unless he gives up the fight, which is unlikely, I don't think a new manager puts this right.
At least give him some months. Then if it it not going acceptable, which for me is anything that keeps us well clear of relegation, the inevitable will happen.
Alan Johnson
46
Posted 09/08/2021 at 19:45:41
BREAKING. Atlanta in for Iwobi.
Tony Everan
47
Posted 09/08/2021 at 19:56:27
Danny, I'm with you on Kean, as I think he will develop and progress. He's very young and raw and I think it's going to take another year or two. The fact that he wants away and is waiting for the opportunity does it for me though, his heart is not at Everton. Whether that could change with a sustained run in the side, and 40000 fans giving him some love, I don't know.
Pat Kelly
48
Posted 09/08/2021 at 20:01:35
Not sure this lot will improve as a team until we improve the team with new blood.
Denis Richardson
49
Posted 09/08/2021 at 20:05:21
I was fine with Benitez to come in - we need someone who can just get the basics right and hopefully kick a few players up the back side.
On paper (big if I know) we actually have a very decent first XI, bench is then light and squad depth has been an issue for years. With all our players back and fit, we can match most teams if the players actually put a shift in collectively. Townsend and Grey give us a couple more attacking players to add to Richie so give us more options going forward. Not going to set the world on fire but hardworking and with pace and better than the likes of Iwobi.
Winning puts smiles on everyone so with S'ton, Leeds and BHA first three games, we've got a really good chance to get some points on the board early. With fans in the stadium I certainly expect us to get a result at home against S'ton, especially with no Ings in the side. Then take it one game at a time.
Won't be too many tears to see Iwobi gone - another £40m odd down the pisser, all in. Can't see Atalanta paying that much if he does go there.
Jay Evans
50
Posted 09/08/2021 at 20:07:52
Yes yes he hasn't done anything for years and he's had a sly pop at us in the past but I think what a lot of us fans are forgetting, is that he only lives on the Wirral - AND - he wanted to work closer to home so let's give him a chance 'eh.
Darren Hind
51
Posted 09/08/2021 at 20:12:33
I'd be staggered if the faithful were to turn on Rafa from the off.
Yeah I heard about the "abuse" he received at OT, but 5-6 different people have told me it was 1-2 people singing "Your getting sacked in the morning" The general perception being, it was just a couple of wags having a chuckle.
Rafa will face trial by Goodison. Thats inevitable, but the crowd will give him a fair crack before they give their verdict
The forums will not be as patient. If he follows Ancelotti's pattern of trying to spoil games he will get it from the get go and I for one will be front and center, but If he shows signs of intent and looks to attack and win games he will be afforded more time.
Most Evertonians know he is up against. He has inherited a total shit show, but if he can make a go of it. His past links to Liverpool will be forgotten as quickly as was when Sheedy, Harper and Beardsley won the crowd over.
Ditch the zombie stuff we have been served up for five years. Get the players attacking with intent and passion and any thoughts of a toxic atmosphere will evaporate.
Pat Kelly
52
Posted 09/08/2021 at 20:12:50
Alan #46, why do they always want our star players ?
Roger Helm
53
Posted 09/08/2021 at 20:19:12
As I have said before, he has been brought in as a safe pair of hands to keep us in the EPL until the stadium is done. He knows how to organise a team and doesn't take any nonsense from players, so I think it was a good appointment.
Everyone knows we can't afford marquee signings and we are still lumbered with expensive dross until their contracts expire, so let's not get our hopes up too much and get behind the team while they struggle to their customary mid-table end of season. There are plenty worse clubs out there, things could be worse.
Niall McIlhone
54
Posted 09/08/2021 at 20:33:55
What Darren (51) Roger (53) said: Benitez must be given positive support to move forward, and he is exactly the personality we need at this time. I also think both Townsend and Gray will prove to be shrewd acquisitions. For me, AT was always a player who at least tried to affect a game at his previous clubs, and he will want to prove a point having been let go by Palace.
Taking the Everton job in recent times is akin to changes of UK Government. Whether the new incumbents be Labour or Tory, each has left the other an empty purse, and a whole raft of unfulfilled promises. Rafa full well knows what he has walked into, this job will be the measure of the man, and if he puts a pot on the table that will do for me.
James Stewart
55
Posted 09/08/2021 at 20:34:30
We won't improve with this set of players, the fact that they have cost numerous managers their job is evidence of that.
Jerome Shields
56
Posted 09/08/2021 at 20:35:43
Will be looking with interest on Saturday. Benitez is continuing with the Ancelotti theme of work and effort. This is the main problem with this Everton side, inconsistent effort and application as a team.
The two outfield signings have much-needed pace. But we still need a few strategic signings, which need to double as replacements for those not up to the effort and finish required. Iowbi hopefully has found a new home, if reports are possibly true. Please!
Pickford was given a clean bill of health on Toffeeweb, but please no more howlers Jordan.
Matthew Williams
57
Posted 09/08/2021 at 20:57:11
Erm... the man's a genius how come I've never heard the same from a fellow Blue on these hallowed pages down the years?... sigh.
We're fucked folks.
Ciarán McGlone
58
Posted 09/08/2021 at 22:15:51
Genuis stuff from Benitez. We have to get better...
John McFarlane Snr
59
Posted 09/08/2021 at 22:41:15
Hi all, there have been times that I've thought these 'fans' need a better 'club', but in the present circumstances, some fans are causing me to think that this 'club' deserves better fans. I think that some of the views expressed are vitriolic and serve no purpose whatsoever, we all have players we like or dislike but there are better ways of showing our displeasure. I don't expect everyone to agree with my views, but if you feel the need to insult me please do so in a civilised manner, it's the way we "Snowflake's like it.
Gary Smith
60
Posted 09/08/2021 at 22:58:13
Darren@51 hits the nail on the head: he's GOT to go for it. Has to attack.
The fan base is on a knife edge. We're worried, and we're fed up. We're not even signing promising kids this year, and the stadium is too far away to be the sticky plaster. The 'last straw' will be negative football, and negative "striker-less" selections. There will not be patience.
The problem for Moshiri is this was his pick 100%. Most of us didn't want him. He can win us round by going for it, but if this turns bad it's going to get real bad. Brands, Moshiri and Bill will ALL be in the crosshairs next time.
PS what's with the lack of training vids on the main site???
Justin Doone
61
Posted 09/08/2021 at 23:03:54
We needed better players. I think Carlo did a good job with the majority of our players. Several players, good young promising players stepped up and showed massive improvement.
Also in terms of goals scored and win percentage I find it amusing the flack he receives by some fans.
The biggest problem with his departure isn't Rafa, it's the 'starting all over again' that's so frustrating.
Duff players being given 5th chances, back to figuring out zonal making doesn't work, realising how slow and average our spine of the team is.
Talk about groundhog day. I'm hoping Brands has a few tricks up his sleeve because we need a whole set of magical performances, not a one trick pony.
Danny Broderick
62
Posted 09/08/2021 at 23:09:48
Benitez hasn't put a foot wrong for me so far. He's strengthened us in the wide areas, and he is saying the things that are obvious having watched us for a few years. We do need more character. We do need to move the ball quicker, play with more intensity.
The spotlight should be on the players. They are the serial offenders here. The problem at Everton is not the manager - 3 of our last few managers are now managing Real Madrid, Barcelona and Belgium! Some of the biggest jobs in world football currently.
Any idiots sharpening their swords for Benitez have learnt nothing from the last 5 years. Yes he was Liverpool manager, but if we don't give him a chance, we are not giving Everton a chance.
We are obviously skint. There were rumours Ancelotti had a meeting with Brands shortly before he left, and that meeting didn't go well apparently. Obviously Ancelotti knew we needed reinforcements and wasn't prepared to stay if he didn't have money to spend. At least Rafa has taken the job and is prepared to give it a go even with no money.
I still expect us to bring in a player or two - possibly on loan. It will be interesting to see what happens with our squad in the next 3 weeks or so. I don't think we can really judge Benitez until Christmas. We may well end up with some late arrivals. They will need a little while to get up to speed.
The fans have got to get behind the team and manager. We'll be cutting off our nose to spite our face if we are on the manager's back from the start, or even 10 games in. Give him a proper chance. Get behind the team.
Terry White
63
Posted 09/08/2021 at 23:11:35
I agree with your views, John Mc., Sr. (#59).
Sam Hoare
64
Posted 09/08/2021 at 23:20:37
I'm not sure we can expect Benitez to attack. At least not initially. His first l (and often second) seasons at clubs tend to result in teams tightening up at the back and winning by small margins.
If Moshiri and co wanted to give the fans attacking football then Benitez was not the right appointment and expecting the leapord to change his spots feels like a one way ticket to frustration. I'm not expecting attacking football but I am expecting a bit more passion and intensity than we saw from Ancelloti's team, one thing Benitez will not stand for is laziness.
My best hope is something like the better Moyes years, an organised hard working team who get the ball forward quickly and are hard to beat. If we get that allied with some good results and a 7th-ish finish I reckon a fair few will be happy enough and perhaps attacking football may come further down the line.
Steavey Buckley
65
Posted 10/08/2021 at 00:38:19
Everton defensively last season were at their best when there was a back four of Holgate, Mina, Keane, Godfrey. 4 tall lads who did well at the back and in the opponents penalty area for corners and free kicks. So why not revert to the best back 4?
Alan Moss
66
Posted 10/08/2021 at 01:51:24
Danny #62... don't call fans idiots for not wanting Benitez. It's a decision that was forced on us and not all of us are willing to simply accept it.
Mr Benitez himself would know he was not a popular choice and his reason for applying for the job was not for the love of the club. We are nothing more than a paycheck for a waning manager.
Jonathan Tasker
67
Posted 10/08/2021 at 07:59:04
Haven't done my pre-season predictions yet but, for the first time in ages, I think I'm going to probably be predicting a lower-half finish.
Clubs around us like Villa, Leicester and West Ham have all strengthened whilst we appear to be continuing going backwards. The other difference this season is that the newly promoted sides don't appear to be pushovers.
The usual suspects, Moshiri, Kenwright, Brands and Walsh, have a lot to answer for in terms of the very weak squad.
I don't blame Rafa for taking the job but there will be extra pressure on him because of his background.

Danny O'Neill
68
Posted 10/08/2021 at 08:03:28
Double-edged that one Steavey Buckley.
Do you go with the 4 centre-backs to be defensive and subsequently play the "zombie" football we bemoaned last season.
Or give the team an outlet like Digne, who gets forward, attacks and provides the type of service Calvert-Lewin thrives off?
All opinions and views but I'm for the latter, just replicate it on the right. Play with width and attacking intent. Not a Pulis style back four made up of centre-backs.
Christopher
69
Posted 10/08/2021 at 08:40:31
John@59
With you all the way on that one John, like you I am shall we say, advanced in years, and the majority of the time without the phenomenon of "Social Media"
There are a lot of people on social media slagging off Rafa and the players but, lets face it, more than 95% of those won't be there on Saturday!
Jerome Shields
70
Posted 10/08/2021 at 09:37:48
In my opinion Everton will continue with the Ancelotti plan. Benitez was appointed on his ability to implement the plan. and develop it forward. The plan initially is to build a defensive formation and coach players to implement it. The main identified ingredient is hard work, effort and teamwork on the players part. Something that both Ancelotti and Benitez say needs improving.
To the public they say that the players have to improve, but the real work is at Finch Farm where a change in attitude needs to happen. Benitez performance will be determined by his ability to do this. Ancelotti failed.
On the field the objective will be to keep a clean sheet and nick a goal. Everton will be defensive, changing to offensive when the opportunity arises. They will never be all out attack until there is alot of further development.
Why is this the case?. Everton have not got enough players with the tactical and technical ability. Whats more some players and some Finch Farm Staff of questionable ability are not prepared to put in the work and effort necessary, and cannot be depended on. This is what Ancelotti found out and Benitez is fully aware of.
Whilst Ancelotti talked of the need to improve work and effort at the end of last season. Benitez is on to the case before the season starts.
Ancelotti would have been looking for additional pace, a glaring weakness last season, Benitez has brought in two with pace in this transfer window, on a budget. Two other players are needed the consensus on ToffeeWeb would suggest at right back and midfielder.
In attack it seems that the emphasis is on more players with finishing opportunities. I personally think that this is necessary, but also a aware professional clinical finisher is needed. Can't see the latter being a priority ahead of getting the team defensively together. Everton still have players and some training facility staff below the standard required to implement the plan.
Even with rested and injured players, the performance against Man U was a indictment of this.
Derek Taylor
71
Posted 10/08/2021 at 10:00:15
My bet, Danny, is that the 'zombie'football will continue. From what we saw for most of last season, it's all this mob are capable of. Rafa can hardly be blamed for that but part of the huge wages paid to managers is to deflect blame away from owners and he knows that well enough.
I hear he is a cold fish so won't be sensitive to all the sh*t he'll cop if we dare to lose the opener. Having said that, I'm striking a tenner on a victory for Blues !
Philip Bunting
72
Posted 10/08/2021 at 10:14:41
For the first 7 to 10 games at the start of last season we played some great sharl, crisp attacking footy. What changed from then on ?we seemed to become more reserved and ponderous as the season wore on before finally falling to 10th. Why? Tactics, belief, effort, fear, being arsed? Who knows but each individual needs to address that themselves for us to push on
Paul Randall
73
Posted 10/08/2021 at 10:18:48
I never wanted Rafa, but I'm a blue and I'm 100% behind the team.
My other huge concern is our inability to improve our squad (FFP? Lack of cash?) which leaves us with the prospect of starting with a weaker team than the poor team that finished last season.
Sadly, Ive never felt so underwhelmed at the start of a season and really hope we can get 3 points at the weekend so we can kick on from there.

Danny O'Neill
74
Posted 10/08/2021 at 10:20:07
Despite my view, I think you're right Derek. Go for 2 - 0 Everton. James & Calvert-Lewin.
The defence thing reminded me of Stoke doing it at Goodison several years ago, lining up with 4 centre backs.
Random memory from that day was being surprised at seeing Ryan Shawcross leave the players entrance on his own, in tracksuit with his bag over his shoulder and walk down Goodison Road as if he was a kid just finished on the Park & heading home!!
Robert Tressell
75
Posted 10/08/2021 at 10:55:49
Philip # 72. The stellar start stopped abruptly once the opposition found out that Rodriguez does no defensive work on the right flank. From then on teams repeatedly created overloads on our right back. Doucoure and others covered but that just created holes in the midfield. We didn't have the squad depth or quality to counter this.
Rodriguez, brilliant though he is, is a problem as well as a solution. This is why he is unwanted by clubs that are actually competing for honours.
Injuries and an inability to play a settled line up then played a part too.
That is why Ancelotti reverted to his horribly defensive approach - which in fairness was quite successful for a spell.
The wheels really came off as the injury situation and loss of form exposed our paper thin squad.
This all happened at the same time as Ancelotti suffered serious personal circumstances - including what must have been a terrifying burglary for his daughter.
Let's be honest, him and his team must have also cottoned on that FFP and Premier League rules were also going to start biting. These guys are not amateurs.
They rolled the dice, tried to get a tune out of a failed squad with a star manager and a broken galactico - and it didn't work. The club and strategy if you can call it that is not set up for success.

Tony Everan
76
Posted 10/08/2021 at 13:50:11
Robert, That first paragraph a succinct as it gets, I would add James was also subsequently targeted physically to within an inch of the law, and beyond it, taking him out of the game.
Ancelotti and James himself realised that he would get no protection from referees. This is the nature of the Premier League, unrelenting exposure of a team's weaknesses wins matches. It is studied in depth and exploited to the maximum.
I love watching James play, especially some of his forward passes from right to left are out of this world. BUT I hate even more seeing us being repeatedly exploited when we are left exposed.
How would he fare in a 4-4-1-1 set up behind DCL?, I don't know but there maybe a way of us keeping compact as well as incorporating his mercurial talent.
Mike Allen
77
Posted 10/08/2021 at 16:18:27
Give the man a chance. No improvement since Moyes left? Martinez gave us a glimmer but not for long. After a criminal waste of money on managers and players, we are now looking forward to past-their-best freebies while the deadwood who show little or no interest when selected bleed the club dry.
As for the magical Director of Football... well, we all got hoodwinked over that one; what an expensive disaster. Just hope – well, pray really – that he can make us competitive: win, lose or draw. While many don't deserve it, it just lets us show our support for the club.
Mike Allen
78
Posted 10/08/2021 at 16:29:54
Just to add Aunty Lotti gave us nothing more than 1960s Italian Football grab a goal if you can then surrender 2/3s of the pitch. The King's new clothes comes to mind...
Bill Hawker
79
Posted 10/08/2021 at 16:39:56
I always like to quote John Wooden, legendary American college basketball coach who said:
"You have to play with what you have and not with what you wish you had."
Rafa has his work cut out for him undoubtedly. Hopefully he'll be given the ability to bring more players in who fit what he's trying to accomplish.
Robert Tressell
80
Posted 10/08/2021 at 17:07:16
Tony, good point about the dark tactics used on Rodriguez. That certainly took a lot of his momentum away – and left him with very sore testicles!
Barry Hesketh
81
Posted 10/08/2021 at 17:23:30
According to the Echo, Richarlison returns to Finch Farm tomorrow, and could be in contention for Saturday's team. Also, signs are that Dominic may be available too.
Jay Harris
82
Posted 10/08/2021 at 17:37:25
Let's hope that's true, Barry.
Mike #77,
When you look at Brands's acquisitions, he doesn't look too shabby:-
Digne, Godfrey, Richarlison, Kean, Nkounkou, Branthwaite, Mina, Bernard (Free), Gomes, Gbamin (injuries not down to Brands) – with the only highly questionable imports being Delph and Iwobi (who many think was down to our owner).
Dave Abrahams
83
Posted 10/08/2021 at 17:47:42
Just a little warning for those going to the game on Saturday:
If Everton are like Liverpool then no cash is being accepted for ale and food; cards only. It caused quite a bit of bother at Anfield on Sunday, not sure about last night.
On Sunday, one old fella in his seventies ordered his pint and produced his money, "Sorry" said the waitress "Cards only."
"Cards" said the old fella, "I've never had them." Luckily for the old guy, the waitress was a diamond, put her finger to her mouth and said "Ssshhussh, it's on the house!"
If I go the game on Saturday, I'll keep my eye out for a benevolent looking waitress and go through the above motions adding tears to the occasion.
Danny O'Neill
84
Posted 10/08/2021 at 17:50:45
Just look me up, Dave.
I've become so metropolitanised over the years that I can't remember the last time I had cash! I'm just glad they didn't have this contactless thing around when I was younger. I'm just about responsible enough now to manage it!!
Barry Hesketh
85
Posted 10/08/2021 at 17:56:07
Danny @84,
I've heard that Dave behaves like royalty, in so far that he never carries cash. :)
Dave, If Vindictive Vera is on shift, you'll have no chance of gaining any sympathy, she's as hard as nails and even checks that 10p pieces are fake or not, nothing gets past her.

Bill Gall
86
Posted 10/08/2021 at 20:44:24
Really what he is saying is true: it's not individuals, it is a team effort, earning their pay and showing their pride in the shirt. Benitez has most probably gone over videos from last season and seen the same problem a number of supporters commented on: slow build-up, passing across the back and to the keeper, lack of commitment, plus at times it seemed lack of fitness in the last 20 minutes.
This Saturday, the line-up could be the same that started on the first game last season against Tottenham... Tottenham 0 Everton 1, Team: Pickford, Coleman, Keane, Mina, Digne, Doucouré, Allan, Gomes, Richarlison, Calvert-Lewin, Rodriguez. 11 experienced full international players, who started off at the beginning of the season okay and were in the running near the end of the season for a Top 6. We all believe that we needed another midfielder, and I notice someone already commenting about Gbamin before he has even got a chance to prove himself, and a right-back.
The time to start criticizing the Director of Football is at the end of the transfer window; with 3 weeks to go, there is time for movement in and out of players.
Chris Gordon
87
Posted 10/08/2021 at 23:02:22
Half a billion quid spent on a squad with more holes in it than a lump of Swiss cheese. Only Everton could manage such a feat of pure incompetence
Karl Meighan
88
Posted 11/08/2021 at 05:47:35
You can have the best strikers but if you don't create chances it matters little.
Tony Abrahams
89
Posted 14/08/2021 at 10:09:07
Give me vindictive Vera, every single day of the week Barry, as yet another layer of character gets removed from the human race.
---
Add Your Comments
In order to post a comment, you need to be logged in as a registered user of the site.
Or Sign up as a ToffeeWeb Member — it's free, takes just a few minutes and will allow you to post your comments on articles and Talking Points submissions across the site.