Queens Park Rangers vs Everton
Tuesday, 21 September, 2021
Match Preview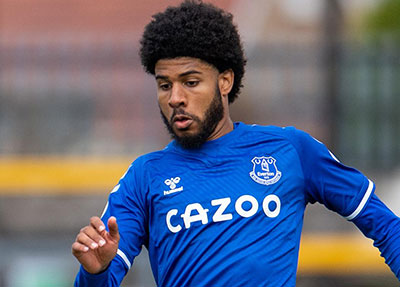 Could this tie provide an opportunity at first-team level for the fit-again Ellis Simms?
Everton hope to use the Carabao Cup as a pick-me-up following Saturday's disappointing reverse at Aston Villa as they travel south to face Queens Park Rangers.
Normally Rafael Benitez would look to this third-round tie as an opportunity to give game time to some of the more fringe elements of the squad but, with some key players missing through injury, he now has to keep an eye on keeping the bulk of his players fresh for Saturday's clash with Norwich City while still fielding a strong enough side to progress to the next phase of the EFL Cup.
The likes of Asmir Begovic, Tom Davies, Jonjoe Kenny and Anthony Gordon might have eyed this tie to see some action but all four were involved at Villa Park and they could well find themselves in the starting XI against Championship side Rangers in what is the first meeting between the two clubs in his competition.
Benitez has also hinted that Ellis Simms might get a chance to impress now that he has recovered from injury. The young striker had a spell on loan at Blackpool last season and will be itching to pull on the jersey for the first team but the sensible money would be on him coming off the bench if things are going well while Salomon Rondon starts in a bid to up his match fitness.
Article continues below video content
There could also be opportunities for Jarrad Branthwaite and Mason Holgate, with the latter having played no part in either of the last two matches.
Like Huddersfield Town, Everton's opponents in the previous round, QPR have made a decent start to the season and they sit just behind the Terriers in the Championship table in 8th place with 12 points from eight games.
They're winless in their last three games, however, having been held at Reading and then been beaten by Bournemouth away and Bristol City at home on Saturday.
Kick-off: 7:45 pm, Tuesday 21 September 2021
Last Time: QPR 1 - 2 Everton (Premier League, March 2015)
---
Reader Comments (62)
Note: the following content is not moderated or vetted by the site owners at the time of submission. Comments are the responsibility of the poster. Disclaimer
Andrew Brookfield
1
Posted 21/09/2021 at 06:37:20
Begovic
Kenny, Kean, Holgate, Godfrey,
Davies, Doucouré, Gomes,
Iwobi, Simms, Gray
Steve Shave
2
Posted 21/09/2021 at 07:04:57
Interesting line up Andrew, I would love to see Simms get a run out tonight. I still hold high hopes for the lad.
Lee Courtliff
3
Posted 21/09/2021 at 07:33:18
That team would look a lot better with Nkounko at LB. Godfrey is good defensively in that position but offers zero attacking threat.
I just hope we field a strong team and progress, we've got 4 days until our next League game. We need to end this trophy drought...it's embarrassing.
Andrew Ellams
4
Posted 21/09/2021 at 07:36:44
Rondon will most likely start tonight as he is desperate for match fitness
Danny O'Neill
5
Posted 21/09/2021 at 07:43:13
I hope the manager goes with balance tonight. In addition to the forced outages, play a strong enough team to win it but give some of the fringe players some game time.
I can see those players Lyndon calls out in the report starting. Definitely Davies for Allan. Not so sure about Simms as I think Rondon is already the backup striker and needs game time himself looking back at Saturday. It will be good to see him feature though.
Come on Everton. Please take this competition seriously. It's become a bit of a personal agenda for me as it grates me we've never won it.
Looking forward to the pre-match gathering in Fitzrovia and then onto Shepherd's Bush.
Eddie Dunn
6
Posted 21/09/2021 at 07:43:49
A mate who is a QPR fans says that although they lost at home to Bristol City they had 26 shots to Bristol's 3.
He expects them to rest players too, as league places are more important than this Cup.
It will be a tough game for our patched-up team.
Andy Wilkinson
7
Posted 21/09/2021 at 08:41:06
Completely agree Eddie. QPR will be a very tough game which will really test us with so many of the usual starting XI out or rested. Be chuffed if we get thru this.
Mark Andersson
8
Posted 21/09/2021 at 08:44:04
My only prediction is if we loose the Rafa haters will be out on force..if we win they will still complain...
Its a opportunity for the firnge players.. so lets hope they do themselves justice and get into the team on merit next time around
Andrew McLawrence
9
Posted 21/09/2021 at 08:51:01
At least we got to Christmas last season before the wheels came off. Lose this one and to Norwich at the weekend and it will be end of September this time round. Let's get the job done Blues.
David Milner
10
Posted 21/09/2021 at 09:10:44
Lonergan
Kenny Holgate (c) Branthwaite Godfrey
Davies Gomes Iwobi
Townsend Rondon Gordon
I would not like to risk Begovic picking up an injury before the Norwich game, with Pickford out for a few games.
Same with Gray, Allan, Doucouré & Mina. Keane does not deserve another game.
It would be nice for Ellis Simms to get a 15-minute cameo.
Mal van Schaick
11
Posted 21/09/2021 at 09:24:37
If he's not cup-tied, put Okoronkwo in and try him out, with a view for Saturday against Norwich. Nothing to lose.
Tony Abrahams
12
Posted 21/09/2021 at 09:35:38
QPR play at West Brom on Friday night but, even if they do rest players, it will still be a difficult game. I'm sure Benitez is going to have to be careful with Demarai Gray; he looked our only real threat going forward at Villa.
Andrew Ellams
13
Posted 21/09/2021 at 09:41:09
Tony, I wouldn't be surprised to see Gomes or Davies come in for Gray tonight and play 4-3-3 with Iwobi and Townsend supporting Rondon
Tony Everan
14
Posted 21/09/2021 at 09:59:00
A tough game, but one that the fringe and squad players need to be fired up for. These games are massive to them, an opponent to ram it down the manager's throat they should be starting games. I am hoping that they put in a top performance.
I would like to see Branthwaite, Simms, Davies and Gordon used. Rondon needs more game time to get match fit so will likely start. Holgate and Kenny need a good performance to stake their claims.
Anyone know the situation with Gbamin, is he available for selection tonight?
Tony Abrahams
15
Posted 21/09/2021 at 10:03:27
I'm not sure, Andrew. With another game on Saturday, and with him being our only half-fit centre-forward, I wouldn't be surprised if Rondon was also only on the bench tonight.
Maybe he will start him and tell him he's only playing an hour? It's no use starting him otherwise, in my opinion; I'm sure the player will only try and pace himself again tonight, because he's nowhere near fit enough yet.
Sam Hoare
16
Posted 21/09/2021 at 10:14:56
Seems very early in the season for our lack of depth to be so exposed. The situation at right- and left-back is especially dire with Kenny the only specialist on either side.
Perhaps some of the youngsters might step up but there seems a lack of players excelling in the U23s; if only Thierry Small stuck around, I daresay he'd get a start tonight. We really should have tried harder to bring in a player who could ideally fill in on both sides (a new Phil Neville?!) on the cheap.
The thought of Gomes and Davies starting together terrifies me but they need to help out, so I think you maybe end up with something like:
Begovic
Kenny Mina Holgate Godfrey
Doucouré Davies Gomes
Iwobi Rondon Gordon
I'd keep Gray on the bench till we need him as, if we lose him to injury, then we are really struggling. Not a great team but then we know our squad depth is non-existent.
Danny O'Neill
17
Posted 21/09/2021 at 10:15:35
I can see that Andrew. Maybe with Gbamin making the 3 alongside Davies and Gomes?
Brian Harrison
18
Posted 21/09/2021 at 10:16:22
I am sure most of the fringe players will start tonight, as where else are they going to get match fit? With there being no reserve games these days, there aren't any other games for the fringe players to play in.
So I guess Holgate will be one of the centre-backs with either Keane or Mina alongside, with Digne being our only natural left-back I doubt he will start so maybe Godfrey will be used in his place.
Davies and Gomes will fill the midfield places with maybe Simms starting the game flanked by Iwobi and Townsend with Gordon coming on in the 2nd half to replace Townsend who will be needed on Saturday.
Reading the report of the U23 game, we had a centre-back playing left-back, seeing Nkounkou is out on loan and Small has left. How does a club leave itself that short of full-backs?
Martin Reppion
19
Posted 21/09/2021 at 10:28:26
Whatever 11 we go with these players should be better than anything QPR can put together, and the only team talk needed is 'go out and show that you are Premier League players'.
If these guys have ambition to be regular 1st team players they should be able to run a second division team ragged.
With Pickford, Coleman, DCL, Richarlison and Digne not fit it does expose us. But the players coming in will be strong enough to do the job.
Danny O'Neill
20
Posted 21/09/2021 at 10:32:54
Now you've changed my mind Brian!!
Godfrey could do with game time as well. 3 at the back? Holgate, Keane / Mina & Godfrey?
Pat Kelly
21
Posted 21/09/2021 at 10:40:51
Put out the strongest side and try to ensure progress to the next round. We're going to finish mid table at best anyway. We either prioritise the Cup or the trophy drought continues as usual.
Michael Kenrick
22
Posted 21/09/2021 at 10:41:20
Brian,
"With there being no reserve games these days, there aren't any other games for the fringe players to play in."
It's been many years now since the Reserves were renamed the U21s, less since they became the U23s but, in each case, provision is there for over-age players, such as the fringe players of which you speak, to get runouts for match practice. So those 'reserve' games are there – albeit not in name.
Increasingly though, it just doesn't happen. We have been told that first-team or senior players now have it written into their contracts that they will not play for the U23s as they see it to be demeaning or unbecoming for them to play with the kids.
Puzzling to me as I would have thought that staying match-sharp was important to a professional footballer. But equally I could believe that the pace and competitiveness of the U23s games is no better than what they can achieve in training at Finch Farm.
Danny O'Neill
23
Posted 21/09/2021 at 11:39:21
That's an interesting one Michael because I too find it a bit odd that a player would rather not play at all. I could train all day long through pre-season, but in those first couple of matches, regardless of how much effort you had put in to getting physically fit, you weren't sharp or match fit. The only way to get match fit is to play.
But (always a but), this goes back to the system. I was no advocate of the Central League as I didn't feel that was fit for purpose or produced anything better than what we have now. But (again), whether we like it or not, from a perception perspective, a modern senior professional likely won't want to appear with the kids on a training pitch at Finch Farm.
Do I agree with that attitude? Absolutely not. I'm conscious this is a QPR match thread but it's systematic change needed in my opinion. Said it many times and it's another debate, but B Team concept or Feeder Club approach for me. I'd go for B Team as they'd still be representing Everton and wearing the shirt.
Anyway, back to tonight. Blue skies over west London right now. Let's hope they stay here!
Ajay Gopal
24
Posted 21/09/2021 at 11:44:40
If Gbamin is fit, then:
Begovic
Kenny Holgate Keane Godfrey
Davies Gbamin Gomes
Townsend Rondon Iwobi
With: Simms, Gordon, maybe Branthwaite and Dobbin coming on if Everton are comfortably leading or bringing in Gray, Doucoure, Digne, if the team needs to come from behind or break a deadlocked game.
Colin Glassar
25
Posted 21/09/2021 at 11:50:33
Hopefully the likes of Davies, Kenny, Gordon, Gomes, Iwobi etc… impress enough for a championship team to buy them in January.
Jonathan Tasker
26
Posted 21/09/2021 at 12:00:37
Gbamin not fit according to Guardian.
Rondon looked shattered after five minutes so I'd play Simms. My Blackpool mate said he looked good last season, albeit in League one.
Brian Williams
27
Posted 21/09/2021 at 12:03:20
Benitez has said that Simms isn't ready, fitness wise. He's coming back form injury himself so it'd be daft to risk him being crocked and then being out long term. He was on the bench at Villa for the experience but Benitez said he had no intention of playing him, and told the lad that.
Tom Bowers
28
Posted 21/09/2021 at 12:07:12
This is another nothing game as they all are in this useless cup competition with a makeshift squad getting game time.
Very few fringe players ever improve their first team hopes in these kind of games because the intensity just isn't there.
If Rafa doesn't start the youngsters then you won't have the desire and hunger to really go after the result.
I see it going to penalties.
David Milner
29
Posted 21/09/2021 at 12:18:40
Ajay,
Dobbin played for the Under-23s last night and came off with an injury, so I can't see him being involved tonight unfortunately.
Jay Evans
30
Posted 21/09/2021 at 12:18:50
I can't see anything other than a much changed side being put out tonight which simply begs the question, are our reserves good enough to beat QPR reserves, as they also will undoubtedly make wholesale changes.
The fact that we can't even fill our bench most weeks doesn't fill me with confidence to be honest. I just hope some of the lads who have been used as a sub in the last few games (Gomes & Davies in particular) really try and step up tonight.
Mason Holgate should be back in the side and can count himself unlucky to have missed out lately after a much improved performance at Brighton.
Full support.
Onward Evertonians 💙
Robert Tressell
31
Posted 21/09/2021 at 12:51:08
We are very unlikely to make Top 6 this season or win the FA Cup. We are also not going to get relegated. I therefore want to see us win this trophy and field a pretty strong side. Simms, Branthwaite and Gordon can come on later if we're winning. Gbamin... who knows?
Ajay Gopal
32
Posted 21/09/2021 at 12:54:11
Cheers, David (29). I guess I am desperately looking for something to be optimistic about. On the bright side, I am quite sure that I saw Tosun in the mid-week training video before the Villa game. Maybe, he can come in and bang in a couple!
So, if Gbamin is not fit (thanks, Jonathan!), then probably Holgate can play as the sweeper in front of Keane and Branthwaite as centre-backs, allowing Davies and Gomes to push up further, supported by Kenny and Godfrey on the flanks, and 3 of Iwobi, Townsend, Gray or Rondon up front.
Makes me want to cry that during the transfer window, Man United got Ronaldo @ half a million per week, not to mention Sancho and Varane for a combined transfer fee of 125 million, and we got:
Lonergan - Free
Begovic - Free
Townsend - Free
Rondon - Free
Gray - for a transfer fee equivalent to about 3 weeks of Ronaldo's wages
Anyone who believes we can achieve better than Top 10 this season with this squad, needs to have their head examined.
David Pearl
33
Posted 21/09/2021 at 13:03:05
I would like to see Gomes as the central midfielder and not covering a full back. He looks fitter to me. I want to see those dancing feet, dictating play and not a player trying to fit in with crazy Professor Carlo. Gbamin starting l cannot see.
Other than that, having looked at the squad we should give the kids a go and prioritise the league and look after the thin 1st team we have remaining.
We got a whole bunch of players off the books this past year... like Olsen who we replace with... Lonerhan. Pffff errr
I wonder when Chelsea loan out their usual 20 players if they pay half the wages for all of them or just some? Or in fact if they give players away for free plus pay the club taking them off our hands as a favour to the player! Its happened too much now. I've had enough. £10 mil to get rid of Martinez, £20 for Koeman, £8 for Allardyce, Silva l'm not sure. And Carlo who could walk away for nothing We paid £2 mil for Silva and £2 mil for Walsh. We buy players and lose on what 80% of them? As in £20m, £30 mil, £45 mil and we recoup nothing? We stopped bringing young players through. We always always have a misshaped imbalance to our squad every single season. Shouldn't that be the first topic? Okay we lose James Kean, Bolasie, Walcott so replace them with Gray and Townsend. We turn our noses up at offers for JJK and we all know he's going for free too, in the end.
This Moshiri has helped fund and get Bramley going, if we remain in the premier league. On the pitch he is abysmal. A moron if you will. Ooh lets hire Brands then let whoever is in charge for those 18mths pick the players to sign so we are akways chasing our tail.
Oh and for fecks sake. Kean keane kean keane. One has dreads and lives in ltaly and the other a skinny slow moving numbnuts.
Rant paused
Christy Ring
34
Posted 21/09/2021 at 13:41:07
Start Godfrey at centre-back tonight, he needs game time and so does Rondon, and play Kenny and see if he's up to the task. Simms isn't match fit but can come off the bench, and isn't Tosun back?

Jonathan Tasker
35
Posted 21/09/2021 at 13:44:44
David,
Splendid rant!
As I said previously, Kenwright waited 10 years for someone stupid enough to give him a load of money and allow him to stay... Then, along came Moshiri.
I expect Kenwright to outlast Moshiri.
John Crook
36
Posted 21/09/2021 at 13:48:24
We simply cannot risk Rondon with Saturday in mind, so it has to be Simms alongside a makeshift striker (maybe Gray or maybe Iwobi as a false 9).
I see one of the comments above gives Lonergan a shout (probably worth while). It just goes to show how huge the Norwich game is on Saturday. It's huge because we are just one defeat away from an absolute crisis! That's how it feels. The fact we have no senior strikers available (Rondon only 70% fit at best) on only matchday number 6 is nothing short of unbelievable.
I personally don't give a fuck about tonight's game as it's a competition we simply will not ever win and I would much prefer to keep anyone who is crucial to the team to be available for the Norwich match. With that in mind, I would go something along the lines of:
GK Lonergan RB Kenny LB Godfrey CD Branthwaite CD Holgate RM Townsend CM Davis CM Gomes LM Gordon ACM Iwobi CF Simms.
Subs: Begovic, Keane, Mina, Digne, Gray, Doucouré, Allan, Dobbin and the new lad from Sunderland.
Eddie Dunn
37
Posted 21/09/2021 at 13:49:47
Robert @31, the trouble is that nobody cares if a team get to the semi final of the League Cup, the boss would rather we finished 6th in the League rather than 7th.
Expect a half-hearted performance and a defeat. We are so stretched up front, we can't afford to lose Townsend or Gray. Crazy to be this stretched in September!
Robert Tressell
38
Posted 21/09/2021 at 13:57:14
Eddie @37. I care. But I do appreciate what you're saying and expect you're right about the game tonight. However, at some point, this club needs to win a trophy again to believe it is possible. No time like the present.
Allen Rodgers
39
Posted 21/09/2021 at 14:09:38
No Gbamin according to reports. So what's up with him this time?
Jack Convery
40
Posted 21/09/2021 at 14:23:30
The team I expect Rafa Benitez to pick is:
Lonergan,
Kenny,
Holgate
Branthwaite
Godfrey
Iwobi
Davies
Gomes
Gordon
Simms
Rondon.
I hope I'm wrong as I would go strong as we need to get Villa right out of our system before playing Norwich at the weekend. However, the aim of the Benitez appointment is to ensure we stay in the Premier League til we move into Bramley-Moore Dock.
Mick O'Malley
41
Posted 21/09/2021 at 14:26:42
I care as well. I want the strongest team out tonight to get through to the next round. It's absolutely embarrassing we've never won this cup and it's 26 years and counting since we last won anything.
Norwich have lost their last 15 Premier League games so we should be able to turn them over Saturday... mind you, we all know what happens when a side needs to end a bad run – we usually oblige! UTFT!
Justin Doone
42
Posted 21/09/2021 at 14:44:01
We will not win the league cup this season.
I'm more hopeful of an FA cup run once the squad gets to grips with Rafas tactics etc.
I do think Rafa will take it seriously but he will need to rest some player's whilst giving game time to fringe player's to sharpen them up.
I would like Rafa to start how he finished the last game so he and the players understand what he was trying to do because I haven't a clue.
If it doesn't work against championship teams, don't try it against Premier league teams.
Hope for a win and more importantly no injuries.
Rennie Smith
43
Posted 21/09/2021 at 15:13:03
We know what the tactics will be, the same as it always is, sit deep and hope for a counter. Sadly I expect to be watching the same thing on Saturday, against a team that have played 5, lost 5, scored 1 goal from open play and conceded 14. I hope I'm wrong.
Dave Williams
44
Posted 21/09/2021 at 15:21:08
Jacks team looks good to me. Talk of an impending crisis is a little on the pessimistic side to me although I appreciate the need for a win on Saturday. We will look a different proposition once DCL and Richi are fit but realistically we are not going to win a trophy this season. Rafa needs to get enough points to keep us safe( he's made a good start) and hope to sign a couple of players with James off the books by summer at latest and also that we get a bonus either by a youngster coming through- Simms or maybe Onyango- or JPG getting properly fit.
League points are important, losing later rather than earlier in this competition isn't!
David Hayes
45
Posted 21/09/2021 at 15:21:08
Looking at the predicted and suggested line ups. WTF. This is Everton, Premier league competitors and ready to to challenge anyone. What a sick joke that is. Yes our first and strongest eleven, on their game maybe, but look what's beneath a very thin surface. I pray we survive this self inflicted nightmare that's coming.
Michael Lynch
46
Posted 21/09/2021 at 15:49:39
Rafa is not just saying that Ellis Simms isn't fit yet, he's also saying that he's not ready - he's a big lad and knows where the goals is, but the club needs to work on his movement, seems to be the message.
I think Rondon will start again but there's no way he can play the full game. We'll probably finish with no recognised striker on the pitch, or if we're losing we might throw on Simms just to see if he can get on the end of something. I really hope Rafa doesn't risk Gray as, right now, he's our star player and if he gets injured we're utterly fucked.
I know we've been unlucky with injuries but how can a club of our size have no decent back-up in attack or on either side of defence? What a fucking shambles.
Dave Williams
47
Posted 21/09/2021 at 15:52:51
It's been a lot worse chaps- you should have seen the team in 1972! Remove Howard Kendall and it was old division 3 standard!
Graham Holliday
48
Posted 21/09/2021 at 15:55:22
There is no way Lonergan will start (unless Begovic is injured) or Simms will start (unless Rondon is injured), IMO.
I'll give the Rafa Roulette game a go for once:
GK: Begovic
RB: Kenny
CB: Keane
CB: Holgate
LB: Godfrey
RM: Iwobi
LM: Gordon
CM: Gomes
CM: Davies
CF: Gray
CF: Rondon
Although, I could see him playing Doucoure/resting Gray.
Gary Smith
49
Posted 21/09/2021 at 16:06:46
Shouldn't be risking *anyone* who we need in the league. Unfortunately in some positions we don't even have u23 to step in (criminal mismanagement of squad!).
Won't happen but for me:
Lonergan
Kenny Holgate Branthwaite Anderson
Davies U23
U23 Iwobi Gordon
Simms
Alan J Thompson
50
Posted 21/09/2021 at 16:13:23
It appears the only constant is that it will be a much changed team which most likely will affect performance. If QPR put out a weakened side as well then it will probably go to penalties, no extra time in this competition, is there?
Barry Hesketh
51
Posted 21/09/2021 at 16:21:02
I'm not one for choosing/ guessing what the Everton starting Line-up will look like, I tend to see who's on show a few minutes before the kick-off, but seeing as many like to have a go at picking the side prior to the game, I'll put forward the Echo's two 'experts' selections.
Dave Prentice's Team: (5-4-1): Begovic; Holgate, Branthwaite, Godfrey; Kenny, Davies, Doucoure, Gomes, Iwobi, Gordon; Rondon
Sam Carroll's Team:(4-3-3): Begovic; Kenny, Holgate, Godfrey, Branthwaite; Iwobi, Gomes, Davies, Gordon; Rondon, Simms
I'd much prefer the local football Journalists to be digging into the FFP predicament facing Everton FC and how serious it might be and for how long is it likely to curtail the club's spending, or is it, as some claim being used by the club as a smokescreen of convenience?
They might also care to ask the movers and shakers at the club what the hell they are doing to try and improve the commercial income at Everton FC, which would help alleviate the financial strait-jacket we apparently have.
Danny O'Neill
52
Posted 21/09/2021 at 16:22:40
En-route to Sheperd's Bush. Personally less of an epic for me than many travelling blues, but here we go!!
Jay Harris
53
Posted 21/09/2021 at 16:25:57
There will be enforced changes but the problem with wholesale changes is you throw a bunch of strangers in together and the game is lost before they get to know each other.
I would start with our strongest "fit" side and then make changes for the second half hopefully with our noses in front.
The lower league sides are always up for games against the big boys so expect a tough game but it is winnable and I always believe you should try and win every game.
Lets go for it!!
Bill Gall
54
Posted 21/09/2021 at 16:31:50
I f we are serious of progressing in this cup I would go with the following line up. GK Begovic
RB Kenny CB Mina CB Holgate LB Digne
RM Davies CM Doucoure LM Gomez
RW Iwobi CF Rondon LW Gordon
Mike Gwyer
55
Posted 21/09/2021 at 16:48:18
We have to make multiple changes but so will they. QPR play again on Friday evening, away to WBA, that game is far more important to them than tonight's cup game.
Danny O'Neill
56
Posted 21/09/2021 at 16:48:19
The excitement of going to watch Everton has never ever left me. It never will. I'm so glad I've made it to a point in life I can do it more often again and massive thanks to those here forfacilitating.
I spent so many years watching Everton from afar at ungodly hours in random places wishing I could be at Goodison. As some called out before, they are the supporters I symphasise with.
Likewise, those who can't afford it. Just like in the 80s when, despite using paper round money and technically a loan off my mum to get a season ticket, we always expend money to go and watch them.
Love of my life no matter how much they frustrate and hurt me.
Tony Everan
57
Posted 21/09/2021 at 16:51:00
Allen 35
BBC team news says Gbamin has thigh problem and unavailable for selection.
Also says Richie, Seamus, Pickford out for two to three weeks. Same as Calvert Lewin.
Ray Smith
58
Posted 21/09/2021 at 17:13:22
Jonathan 35
I do hope your wrong re BK.
Koeman and Walsh were hung out too dry, but who authorised the sales?
Ancelotti and Brands ditto.
FFP should have not been factor for transfer this last window, but it was/is.
Why are they still with us?
Moshiri is a successful businessman, so how has he allowed himself to be hoodwinked by lesser mortals.
IMO let Usmanov loose in the boardroom and watch the sparks fly.
As I've said previously, Ancelotti had Brands over on James contract, regardless whether it's £200k or £250k, who else sanctioned the salary?
Julian Exshaw
59
Posted 21/09/2021 at 17:13:52
This will be a tough match I reckon. Loftus Road ( is it still called that ?) is a tight ground and their fans will be up for it. I think Rafa should go for a strong team. There are two realistic trophies on offer for us each season, this is one of them. Don't mess it up!!
Pete Jeffries
60
Posted 21/09/2021 at 17:21:24
Lets face it the majority of our players are not top class but Championship or less level.
For example Iwobi who is probably a nice lad cannot play football for me - hope he proves me wrong mind you.
We are all living through an ongoing crisis and not just Covid its the present day Everton FC the club we love.
Those of us who have supported through thick and thin, me since 1956, seen great successes cannot believe the incompetence from the top these days.
But of course we do still support them and will continue. Only one team can win each trophy every season. Just wish my grandkids could see its us for a change.
Lets hope Benitez can sort them out asap and get them playing for the club not themselves and as a team not a bunch of overpaid mercenaries
Rest my case !!
John Kavanagh
61
Posted 21/09/2021 at 18:18:38
Michael @46 - I don't think we were unlucky with injuries so much as being desperately unlucky to get Twatkinson as the ref vs. Burnley. Richie was repeatedly assaulted in an attempt to get him taken off injured and Pickford got bashed at every opportunity.
As for tonight, I've already written this one off, but hope springs eternal and maybe we will get a pleasant surprise for once. I really hope Gordon has a good game and scores - it will do his confidence a world of good. Davies is not nearly as bad a player as some on TW think he is. I wouldn't risk Gray tonight as we need 3 points on Saturday to keep up some momentum.
COYB!!!!
Jonathan Tasker
62
Posted 21/09/2021 at 18:44:41
So now you know
Loftus Road, known as the Kiyan Prince Foundation Stadium since 2019.
I saw us get battered 3-0 in 1985 when we were champions.
I also saw a dreadful 0-0 draw where as I recall Simon Stainrod and our Peter Eastoe got sent off.
---
Add Your Comments
In order to post a comment, you need to be logged in as a registered user of the site.
Or Sign up as a ToffeeWeb Member — it's free, takes just a few minutes and will allow you to post your comments on articles and Talking Points submissions across the site.