Burnley vs Everton
Wednesday, 6 April, 2022
Match Preview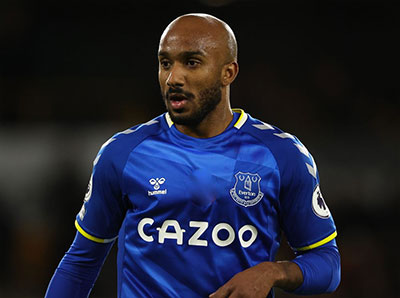 Fabian Delph could feature in Everton's crisis-hit midfield for the first time in almost four months
Everton and Burnley face off this evening in a quintessential relegation "six pointer" at Turf Moor.
The Blues will make the relatively trip for the latest "most important" match in the club's recent history wracked by selection problems that were exacerbated over the weekend with Michael Keane's dismissal at West Ham, an injury sustained during the warm-up at the London Stadium by Donny van de Beek, André Gomes's absence with a knock and the news that Nathan Patterson will require surgery to correct an ankle injury right when he was being primed for his first Premier League start.
Those issues were layered onto longer-term injury lay-offs for Tom Davies, Andros Townsend and Yerry Mina and Allan's three-match ban, the last of which he serves tonight before finally being available again this weekend for the visit to Goodison Park of Manchester United.
A potential crisis in central midfield should be eased, however, by return of Fabian Delph after almost four months out. The Yorkshireman hasn't featured since coming off just before the hour mark against Crystal Palace in the League back in December and has been sidelined by Covid-19 and then another significant soft-tissue injury since but Frank Lampard indicated in his pre-match press conference that Delph will be in the squad.
Article continues below video content
He will be joined by Seamus Coleman who is, according to his manager, feeling better after coming down with an illness that kept him out of the defeat to the Hammers on Sunday but it remains to be seen if he is fit to start or whether Jonjoe Kenny will be asked to deputise once more.
The rest of what is likely to be a back four should be rounded out by Mason Holgate, Ben Godfrey and Vitalii Mykolenko, unless Lampard opts for three centre-halves and the additional height of Jarrad Branthwaite against Wout Weghorst in Keane's absence.
While the 6' 6" Dutchman will be a concern for a defence that struggles against big attackers, particularly at set-pieces, a back five might be an unnecessarily conservative posture against a Burnley side that will be missing defensive stalwart Ben Mee who is out injured and another centre-half in the form o Nathan Collins who is suspended after being sent off at Brentford before the international break.
Indeed, it's in the forward areas where Lampard has the most options and, potentially, an edge in what could be an attritional scrap between two teams fighting for their Premier League lives.
Dominic Calvert-Lewin, certainly due a first goal in 2022, will likely lead the line again with Richarlison playing off him and then it's a case of selecting Demarai Gray or Anthony Gordon as the other wide player with Alex Iwobi a good bet to continue in a more central role behind the forwards despite his costly slip-up against West Ham.
Though the Clarets are winless in their last five games since beating Tottenham in February, they are seldom an easy nut to crack on their own turf. However, Chelsea's recent 4-0 rout of Sean Dyche's men at Turf Moor and Leicester and Manchester City's comfortable 2-0 victories offer hope that if Everton can find more of the penetration they showed on Sunday and marry it with better finishing, they could take three precious points from this one.
First and foremost, though, this is a must-not-lose affair for the Blues; preventing Burnley from closing the gap between the two clubs at the bottom from four to one point is the first order of business. Three points, however, must be the ultimate goal.
Kick-off: 7:30 pm BST, Wednesday, 6 April 2022 on Sky Sports
Referee: Mike Dean
VAR: Darren England
Last time: Burnley 1 - 1 Everton
Predicted Line-up: Pickford, Coleman, Holgate, Godfrey, Mykolenko, Delph, Doucouré, Iwobi, Gordon, Richarlison, Calvert-Lewin
---
Reader Comments (106)
Note: the following content is not moderated or vetted by the site owners at the time of submission. Comments are the responsibility of the poster. Disclaimer
Sam Hoare
1
Posted 06/04/2022 at 06:08:21
Huge match. But I feel strangely optimistic. We are missing lots of players of course (top of the PL injury table this season!) but Burnley are missing Ben Mee who is a massive player for them.
The key will be sensible football, don't give them easy corners or set pieces in our half (take note, Mason Holgate) and don't let the likes of McNeil shoot on his left foot.
They need to win more than we do I'd say but have limited tools to score.
We need some consistency and I'd be tempted to play the same team and formation that started and played decently against West Ham, with Branthwaite coming in for Keane. Alternatively you start Delph and move Holgate back but having some extra height in the team could be useful. Oh for Yerry Mina.
Will be interesting to see how Delph does and how he is used. As awful a signing as he has been he is still one of our few midfielders who can pass, tackle and communicate effectively on his day. If he hadn't been decimated by injury I suspect he'd have played a lot for us this year.
Burnley have been in a few relegation battles before and have usually done well. Our team has seldom been under much pressure either way at the tail-end of seasons. Do they have the mental strength to cope with such occasions? I'm not sure they do honestly but hope they prove me wrong.
Joe Digney
2
Posted 06/04/2022 at 06:19:56
2:30 am kick off here in Perth, will be a long day at work Thursday if we lose.
Gonna try stay positive though after listening to the ToffeeWeb pod this morning and go with a scrappy 1.0 win.
COYB!
Jim Bennings
3
Posted 06/04/2022 at 06:30:03
I look at that starting team and I wonder how many of those players really are up for a fight.
I'm not even sure DCL has done enough in recent weeks to warrant starting, he's too easy to play against at the minute, doesn't move anywhere near enough even when the service isn't there.
It's obviously got to the stage where if there is a winner tonight you'd have to say the loser will go down.
Given our next three games after this are Manchester United, Leicester and Liverpool, you can't exactly see an abundance of points, after all this is an Everton side that doesn't seem capable of winning many football matches whatsoever.
Huge game but how many will turn up for it?
You can bet Burnley will fight and scrap, they know that tonight and their away game at Norwich at the weekend are the last two hopes.
Terry Farrell
4
Posted 06/04/2022 at 06:44:46
Sam, all of what you said spot on. Jim thought Dom played quite well at West Ham but should have buried that chance! Branthwaite is a must tonight for his height.
Kevin Prytherch
5
Posted 06/04/2022 at 07:14:11
I saw a stat yesterday saying that, since Lampard has joined Everton and DCL has been on the pitch, Everton have made 0 successful crosses.
Darryl Ritchie
6
Posted 06/04/2022 at 07:22:41
I know it's a cliché, but if ever there was a "must win match" this it. A point at the very least.
If the squad can't get motivated for this game…?
Cmon Frank! Get'm going!
John Keating
7
Posted 06/04/2022 at 07:35:43
My big concern is set pieces and crosses against us
Burnley will just throw everything into our box and their height will be our undoing
Pickford absolutely has to command his box and maybe Begovic should get a shout
I really think we need 6 points from these next 2 games anything less and I fear it's all over
Alan McGuffog
8
Posted 06/04/2022 at 08:09:32
So. Burnley have not had a win in their last five games. And they come up against our brave lads.
What could possibly happen?
Bill Fairfield
9
Posted 06/04/2022 at 08:20:31
Massive game tonight. Can we improve on the improved performance we showed on Sunday? Aggression and determination will be needed at the very least to get a good result. It's a must not get beat. Hoping and praying for a victory. COYB.
Jonathan Tasker
10
Posted 06/04/2022 at 08:29:55
Sean Dyche v Frank Lampard
Who would you rather have in charge for a must not lose match ?
John Hall
11
Posted 06/04/2022 at 08:34:44
C'mon Blues - this is a night match. This is our best time to play. Our fans will be screaming and we have to give them something to scream about! You can do it! UTFT!
Danny Baily
12
Posted 06/04/2022 at 08:38:24
John 7, no need for the qualification.
A top side can accommodate Pickford (not a compliment). In our predicament we can not, regardless of the opposition. Begovic is the best available option.
Anthony Hawkins
13
Posted 06/04/2022 at 08:47:39
I'm not watching tonight. I simply can't. The phone updates are enough to get that sinking feeling. It's an absolute must win game - but we lost to Norwich so there's no telling where this one will go.
Andy Crooks
14
Posted 06/04/2022 at 09:00:11
I think this is one of the most important games in our recent history. We are running out of winnable matches. I believe we will win simply because I am due to be right some time soon and defeat is unthinkable.
Jonathan, who would I rather have in charge tonight? You know what, Frank Lampard. He has won more than everyone else involved put together. Like many I have reservations but... cometh hour etc. Let this be the day when our players become heroes. The start of a new era.
Our bad luck is all used up. Bring it on!!

Brian Harrison
15
Posted 06/04/2022 at 09:22:57
I would say the key tonight has to be to keep our discipline and not give Mike Dean any possibility of awarding a penalty or sending one of our players off. We have had 3 players sent off in our last 3 consecutive league games, to get anything from tonight we have to finish the game with 11 players on the park.
There are no surprises tonight we know Burnley will launch as many balls as they can into our box, and we also know they play a very physical game, and unlike us still manage to keep all 11 players on the pitch. So keep your shape keep your discipline and hopefully get a bit of luck for a change and pick up all 3 points.
Robert Tressell
16
Posted 06/04/2022 at 09:25:03
Before people get defeatist, here is the Burnley starting XI in their last match - a 2 nil loss at home to Man City.
Pope
Lowton
Taylor
Tarkowski
Long
Brownhill
Cork
Westwood
Lennon
Mcneil
Weghorst
You can see why they are struggling. It is poor side.
Out of this lot, the only player with any pace is geriatric Lennon who we discarded some years ago.
They will be committed to the point of violent but only Mcneil and Weghorst have any real quality in attack and both are very slow.
In their last home win (a 1 nil v Spurs) they played a 442 with Jay Rodriguez up front with Weghorst. Ben Mee scored the goal.
If there is one away game to play a high line it is this.
If we play deep, they will pin us back putting great pressure on Pickford (or Begovic) and a defence lacking it's best header of the ball.
If we play high, we will nullify them and our extra quality in condensed space should tell.
We also need a referee to stop Tarkowski snapping our players in half.
Nick Page
17
Posted 06/04/2022 at 09:34:47
3-0 Burnley. That's how slow they are.
Kenwright Out!
Pat Kelly
18
Posted 06/04/2022 at 09:35:07
We've been saving Delph for years just for this game. If he can get 10 minutes he'll be doing well.
For now, our future depends on not losing to mighty Burnley. Would be interesting to see whether Burnley fans are as concerned as we are.
Andy Crooks
19
Posted 06/04/2022 at 09:41:25
Strange post, Nick @ 17. How keen are you to be proven right? Why not stick a few quid on Burnley to win three-nil and have a really good day.
Kenwright out too, though!!
Neil Lawson
20
Posted 06/04/2022 at 09:42:35
I can't watch either. Just too tough.
Fortunately, I have had an invitation to go to Tiverton Town v Farnborough with a pre-match meal and drink at the club and an enjoyable wholehearted competitive match to follow. No-brainer.
Just the angst of checking my phone for updates (and probably the misery that accompanies it).
Nick Page
21
Posted 06/04/2022 at 09:51:33
Andy @19,
1000% keen to be proven wrong. But that's what I see with this shower, they're fucking dreadful. A team spirit moulded in the image of the utter fraud of a club Chairman.
The man that claimed he saved Everton by remortgaging his house. Utterly mediocre and spineless, mired in nostalgia, looking backwards not forwards. Slow and pedestrian. Obvious.
Kenwright Out!
Clive Rogers
22
Posted 06/04/2022 at 09:52:50
Coleman has to play as Kenny can't tackle. I can't see Delph starting after so long out and Calvert-Lewin may not start either after a poor performance on Sunday.
Kenwright Out.
Frank Sheppard
23
Posted 06/04/2022 at 09:54:11
The side with the worst away record in all 4 divisions, really needing a win, away from home, and with such an injury list... Delph being available seems like a good thing.
COYB, time for a miracle, please.
David Hallwood
24
Posted 06/04/2022 at 09:56:24
Strangely enough, I think the performances have been getting better and the poor run of results tend to mask this.
Look back from Southampton onwards there's been a pattern of starting in the front foot but as soon as we went a goal down, heads went down, which was the most worrying aspect.
The West Ham game followed a similar pattern with the exception that the heads didn't go down.
Even though I'll have the rosary beads out, I'm expecting to get something from the game.
Derek Knox
25
Posted 06/04/2022 at 10:00:40
Not making any predictions or preferred team permutations, I am always optimistic believing that our luck will change, usually to have it dashed.
Luck is what you make it often, and I think several players' perpetual brain-farts have contributed greatly in our recent defeats, often amateur mistakes from so-called professionals.
Having said that, in our recent game at West Ham, who are a decent side, I felt we played better as a team and, if not for wasteful finishing, could have seen a much different outcome.
This won't be easy, as Burnley have home advantage, and they need the points as much as we do, so it does make it an interesting contest.
COYB 💙💙
Jake Lucas
26
Posted 06/04/2022 at 10:17:50
I appreciate this shouldn't be my main concern, but can anyone shed some light on Dele Alli? I'm just completely baffled by that whole situation.
Frank mentioned after the window he was 'one for the future'; my guess around that is they were looking to get him through till the end of the season, slowly integrating him into the team, with a view for a big pre-season etc... but what good is that if we are relegated?!
I'm not even sure if he's a player Frank wanted at this point... case in point when Van de Beek got injured before West Ham and he decided to move Holgate into midfield rather than bring Alli on.
I also find it weird that there doesn't seem to be many media questions directed to Frank to explain his lack of starts, or game time in general.
Moving to tonight's game, I am struggling to find any confidence. I do believe this is a poor Burnley side, but unlike us they find ways to draw rather than lose games.
I think the first goal is absolutely massive. Moyes bigging up our strikers this week, be nice if they actually showed some quality and create something early on for us.
Stephen Jones
27
Posted 06/04/2022 at 10:31:01
Desperate times when we are relying on a past-it sick-note like Delph to come in after 4 months out to save our bacon.
Si Miles
28
Posted 06/04/2022 at 10:32:08
Compared to this lot, the "Dogs of War" were Brazil, I'm hoping for the best but expecting the worst as there is not a shred of fight in this lot.
Colin Malone
29
Posted 06/04/2022 at 10:32:20
Delph's lack of match fitness worries me. When he is match fit, the timing of his tackles is not good. He has to watch himself or he will get his marching orders.
94 minutes, run your fucking arses off for 94 minutes. COYYB.
Martin Reppion
30
Posted 06/04/2022 at 10:33:15
A bit of positivity from the outset would be good.
I thought the team did enough on Sunday to justify same again with Branthwaite in for Keane. (Assuming Yerry is still not fit.) Delph on the bench. The only other change I'd consider is Gordon for Gray. His attitude is first rate and he is a leader on the pitch.
We have to play as if we are the home team. Burnley are weak at the back without Ben Mee. So we must take the game to them and not sit back and invite pressure.
Dave Williams
31
Posted 06/04/2022 at 10:34:45
Sorry, Lyndon, but your side is just what they want to see. We have to play Branthwaite to combat their height at set-pieces and I would also play Begovic with instructions to catch everything anywhere near his 6-yard box.
I'd be very tempted to start with Rondon and tell him to put himself about and rattle their back line for a half or so and then use Calvert-Lewin or even young Dobbin on a battered and bruised defence. This would depend on how Rondon is looking in training and how up for a battle he is – only Frank will know this.
Delph on the bench for me – I thought Holgate played well apart from his foul and I'd stick with the same midfield as for West Ham with Gordon to also come on against a tiring defence.
There's not a lot of choice for Frank and it says it all about Dele Alli that he can't break into this team with so many absentees. His training must be very poor or his attitude very wrong.
Begovic
Coleman Godfrey Branthwaite Mykolenko
Gray Iwobi Holgate Doucouré Richarlison
Rondon
Quite simply, we have to field a team that is up for a fight and will not back away from rough tactics and robust tackles. On paper, we have better players but we have to compete and not back off before we can make our better quality tell.
Frank needs to be looking individuals in the eye at training to see which ones are up for this. Gomes must not play for starters as he understandably doesn't like this sort of a game. Delph might just enjoy it.
Andrew Ellams
32
Posted 06/04/2022 at 10:40:03
A lot of calls for Branthwaite but when he came on away at Newcastle he looked like his shoelaces had been tied together.
I don't see anything other than Holgate and Godfrey at the back unless he throws Mina in as a risk which has bitten us several times before.
Jonathan Tasker
33
Posted 06/04/2022 at 10:42:35
Burnley will have been targeting tonight and Norwich at the weekend as their get out of gaol cards. I just can't see Lampard having done the same level of planning.
A win tonight would see Everton almost safe. A draw would be commendable. A defeat might well leave Moshiri pondering whether to get Allardyce back on an 8-match contract.
Tony Everan
34
Posted 06/04/2022 at 10:44:37
We have Richarlison, Calvert-Lewin and Gray/Gordon in attack against Burnley without their lynchpin defender Ben Mee. If we can play a higher line, keep it tight in midfield Burnley are there for the taking. We should take some confidence from the improvement in play against West Ham and Keane's enforced omission tonight could be a blessing in disguise.
This match is very winnable, but will depend upon our discipline. They will be looking to draw free kicks and force corners as that's where they'll be most dangerous. We have to be 100% focussed and professional.
With regards to snuffing out their main threat, Begovic's height for set pieces and corners could tip the balance for his selection.
Another thing, I want us to be all over the referee protesting about Burnley's inevitable violent and dangerous play. Tarkowski's two-footed assault on Richarlison at Goodison escaped any punishment. We have to be more vocal and surround the referee demanding he takes action.

Stephen Brown
35
Posted 06/04/2022 at 10:50:06
Surely Branthwaite has to play. Holgate and Godfrey both too small for the bombardment in the air!
I'd possibly keep Holgate in defensive midfield instead of Delph.
RIcharlison and Calvert-Lewin are equally as important in our box tonight defending set plays. They must be aggressive!
Sean Roe
36
Posted 06/04/2022 at 10:57:33
Begovic
Coleman Godfrey Branthwaite Mykolenko
Doucouré Delph Iwobi
Gordon Calvert-Lewin Richarlison
Craig Walker
37
Posted 06/04/2022 at 10:58:49
We need to cut out stupid mistakes and stop giving away cheap corners and free kicks. We need to take our chances, if and when they come.
I'm not confident at all but will be watching from behind the sofa.
It comes to something when a lot of our hopes depend on Fabian Delph and Alex Iwobi. How did it come to this?
COYB
Jim Wilson
38
Posted 06/04/2022 at 11:10:30
Not sure how Delph can be match-fit for tonight.
If Delph starts, Lampard must have a Plan B if he is struggling, whether it is bringing on Price or Kenny or moving Holgate into the defensive midfield position.
4-5-1 with a high line and with the two wide men supporting Calvert-Lewin.
COYB, fight for your lives tonight for the full 90+ minutes!
Johan Elmgren
39
Posted 06/04/2022 at 11:26:35
If we can play like at West Ham, eliminating the mistakes, we have a good chance of winning. If we can't win, I'll settle for a point. But we must not lose.
I'd go for 4-3-3 with wingers tracking back:
Pickford
Kenny Godfrey Branthwaite Mykolenko
Holgate
Doucoure Iwobi
Gordon Richarlison
Calvert-Lewin

C'mon lads, you can do this!!
Mark Ryan
40
Posted 06/04/2022 at 11:27:50
Hail Mary, full of grace, the Lord is with thee. we'll win tonight.
You Twitter users, how do we get "Kenwright Out" trending, whatever that means? Just do it!!
Kenwright Out!! 1-2 to the mighty blues, UTFT!!

Brian Hennessy
41
Posted 06/04/2022 at 11:36:13
Agree with those who say Branthwaite has to start.
100% Kenwright Out
Alan McMillan
42
Posted 06/04/2022 at 11:41:32
Looking at the table, in terms of points and goal difference, I'd take a draw all day. That would at least instill some level of confidence in the team. That said, confidence seems to instill complacency with this set of players.
Steve Shave
43
Posted 06/04/2022 at 11:55:09
On what planet do some of you live on?? Start an anti-board campaign right in the middle of the relegation scrap of our lives? Are you fucking mad? No, you are right, that will really boost the paper-thin morale of our team, good idea...
Now I recognise the need for change, for better leadership off the pitch, but screaming for that now is not the time. We need togetherness, camaraderie, fighting spirit. Not negativity.
Johan (39) I'd go for that team too. I'm going to miss tonight's game unfortunately, though in some ways I feel relief, I'm not sure my nerves can take it. We really need some luck to go our way.
Ian Hollingworth
44
Posted 06/04/2022 at 12:03:32
Keep the faith. UTFT
We win this tonight then batter Man Utd 3-1 on Saturday. How different things will look then, lol.
Kenwright Out no matter what.
Andrew Keatley
45
Posted 06/04/2022 at 12:16:46
Burnley are struggling for goals and form – four consecutive defeats to nil - so they will probably be happy with a point; a loss for them would probably be even more catastrophic than a loss would be for us.
Hopefully they will not play Cornet off Weghorst, as that combination of pace and trickery, height and strength could cause us problems on the counter. And I expect they will let us dominate possession and hope that we overcommit and leave holes to exploit – like we did against West Ham.
Hopefully we'll get some early pressure and manage to convert a chance. But I can see this being 0-0 going into the last 20 minutes. Please God we still have 11 players left on the pitch come the end of the game.
Nick Page
46
Posted 06/04/2022 at 12:28:02
I live on planet Earth, Steve. Which celestial body do you currently occupy?
Please enlighten us Earthlings when is the best time to start a Board Out campaign in your opinion (I thought it had already started, anyway)? Is there a specific date you had in mind?
June perhaps? Because every board out campaign I've seen has completely fizzled out either by hook or by crook.
Should we start one when we're safe and everyone is happy clapping Kenwright in the Directors Box again for 6 months, watching the same shite football, week-in & week-out, with the occasional fly-by of the new stadium at Bramley-Moore Dock on the OS (tiresome). Or when we've been relegated?
The football is played on the pitch not in the stands and paying punters have every right to complain because they've been fleeced and lied to for years. It's their hard-earned money. Enough is enough, I say.
Kenwright Out!
Mike Hayes
47
Posted 06/04/2022 at 12:30:40
What I can't understand is why there are so many evil spirits in a ground that has a church attached to it – I'm a nonpractising atheist and I'm baffled. 🤔😳
Phil Smith
48
Posted 06/04/2022 at 12:32:17
With the run-in that we have, this is simply as much of a must-win game as the Newcastle one. Kenny and Mykolenko have to start if we're to create anything – Coleman offers nothing going forward anymore.
Keep Holgate in midfield and Branthwaite for Keane. Start Gordon over Gray, who can come on to change the game. 1 point is not enough for this game, we have to win.
Gary Jones
49
Posted 06/04/2022 at 12:34:22
Delph's been out too long to just throw back in from the start, and we need height at the back too. Throw Holgate into midfield instead of Delph and give Branthwaite a go next to Godfrey. Holgate will give help at set-pieces both ends too.
Other than that, the suggested team is as good as it gets and we simply need prayers to whatever God you pick.
Shane Corcoran
50
Posted 06/04/2022 at 12:37:58
I'm not so sure on the calls for Kenny to start.
He offers little more than Seamus from a crossing point of view and doesn't get in at the back post like Coleman might.
There was also one incident that Hinchcliffe mentioned in commentary where he allowed a cross in with no attempt to close it down.
Tom Bowers
51
Posted 06/04/2022 at 12:40:56
Does it really matter what team starts??
We just don't have the players necessary offensively to get out of this mess, even against fellow strugglers like Burnley.
Everything that can go wrong has gone wrong this season and, despite the injuries, they should have had some quality in reserve to have gained a few more points. Now, every game is a cup final, confidence is low despite what Lampard says.
Richarlison, Calvert-Lewin, Gray and whomever just haven't done anything worthwhile for a long time and that would need to change quickly.
Perhaps with a little luck they can squeak out a win today but how many times have we said that?
When needed, they did squeak out win against Newcastle but they have been awful since.
Mike Hayes
52
Posted 06/04/2022 at 12:41:37
Everyone knows the best time to protest against the board is once we've done the double over the red shite and clinched the quadruple at home in the new stadium at Bramley-Moore Dock – before that, is a bit premature and futile. 😳
Stephen Williams
53
Posted 06/04/2022 at 12:49:30
I am very confident that we'll win tonight. 11 v 11 we were the better side at West Ham; Burnley have nowhere near the same quality. One rider though is I'd have Branthwaite in at centre-half, purely for size, as the only way I can see them causing any issues is in the air at set-pieces.
Picking up on some nonsensical comments above - by the way, not only will I watch it, I'll be there (like I and thousands of other Blues always are). I just can't fathom any rationale for people who have the ability to watch it, to decide not to. Madness and if you're that flakey, we really don't need you.
Brian Murray
54
Posted 06/04/2022 at 12:56:48
What's with Calvert-Lewin now carrying a handbag in a photoshoot. Remember my arl fella went beserk when West was continually given a handbag on the pitch by a cretin kopite before the derby instead of just putting him on his arse.
Lewis Barclay
55
Posted 06/04/2022 at 12:58:06
Pickford
Coleman, Branthwaite, Godfrey, Mykolenko
Holgate (or Delph)
Gordon, Doucouré, Gray, Richarlison
Calvert-Lewin
Phil Smith
56
Posted 06/04/2022 at 13:04:16
Shane (50),
Kenny has 2 assists (both crosses) from 16 games and Coleman has a big fucking doughnut hole from 33. Coleman is the better defender (by far) but offers next to nothing going forward these days.
I'd rather Kenny any day. If we're winning, bring Seamus on to solidify the back-line. Not a starter for me.
Ray Jacques
57
Posted 06/04/2022 at 13:04:43
They will bombard us with high balls and we will crumble.
Joe McMahon
58
Posted 06/04/2022 at 13:29:21
I agree with Ray @57, our defence with Pickford, high balls, corners and 6'-7" Weghorst, won't have a happy ending. We don't choose the teams but I'd prefer Begovic in goal for this game (probably every game tbh).
Nick Page
59
Posted 06/04/2022 at 13:29:22
Mike @52 – lol.
The only derbies we'll have to worry about in the future will be against Tranmere. That said, we could arrange the protest in advance. How about in the Bill Kenwright Centenary stand in the new stadium at Bramley-Moore Dock, 2024-25 season vs Forest Green?
Kenwright Out!
Christy Ring
60
Posted 06/04/2022 at 13:34:14
Burnley are a workmanlike team and will give everything tonight, play it up to the big man upfront. For that reason, Branthwaite has to start, and I'd play Delph (no point putting him on the bench), with Holgate and Doucoure in midfield.
It's a battle tonight, won't suit Iwobi. Win the midfield and feed Richarlison, Calvert-Lewin and Gordon.
Anthony Flack
61
Posted 06/04/2022 at 13:40:00
I like Holgate, but he will cost us a goal or get sent off
He gives the ball away too easily and mistimes attempts to desperately recover…
Jamie Crowley
62
Posted 06/04/2022 at 13:44:21
I'm already fucking freaking out.
If Fabian Delph starts in this game, or frankly goes anywhere near the pitch, I'll just lose it. Find another option – any option – other than letting that man near the pitch.
I'm sorry, I know it's not very polite and the English simply don't like this sort of thing with "one of theirs", but us Americans aren't as proper.
I don't like Delph. In fact, I think he's absolute shit. Furthermore, he's continually injured and therefore makes me wonder if he's on the ride at the team's expense.
I question his heart and effort to the Blue cause. I frankly fucking hate him as an Everton player and, with the enormity of this game and the stakes, if we turn to that absolute waste of resources and space in any regard to get a massive 3 points, then I fucking give up.
No Delph. No way. Over my dead body – the Lord come take me if that guy starts or even substitutes because I'll have a heart attack.
Robert Tressell
63
Posted 06/04/2022 at 13:46:20
Anthony # 61. So what is it that you do like about Holgate?
Geoff Lambert
64
Posted 06/04/2022 at 13:48:27
I would start 6'-9" Begovic tonight against 7'-3" Bratworst and hope no one has a shot at goal.
Anthony Flack
65
Posted 06/04/2022 at 13:49:51
Ha, Robert, nice one!
Maybe I was avoiding a relentless slagging off... but I think there is a player with a football brain in there somewhere. And I think he cares, unlike perhaps Gray who looks sulky and petulant.
What I meant to also say is we tap the ball around without conviction, almost afraid to make a decisive contact, as if the ball is an unexploded bomb – it is easy to read and easy to cut out, assuming it does not go straight to their player... which it usually does if Holgate passes it.
Christy Ring
66
Posted 06/04/2022 at 13:54:03
Jamie #62,
I don't disagree with you regarding Delph. I said it here before we signed him, he was constantly injured at Man City, out the door in the summer, 3 years of massive wages wasted.
But desperate times for desperate measures, we're depleted in midfield, with no defensive midfielder, and I'm still scratching my head why a fully fit Gbamin was loaned out, the only defensive midfielder we have apart from the suspended Allan. He came on against Hull, did well, and never got a chance after.
Alan McGuffog
67
Posted 06/04/2022 at 13:54:10
So you don't think he should play then, Jamie?
Get off that bloody fence, mate!
Dennis Stevens
68
Posted 06/04/2022 at 13:57:00
Sadly, my first thought at the mention of Delph starting is to wonder how many minutes he'll last before he has to be subbed.

Mike Hayes
69
Posted 06/04/2022 at 14:07:25
Nick Page - I'll meet you next to his statue before kick off 😳💙
Minik Hansen
70
Posted 06/04/2022 at 14:08:34
In my eyes (and many, I presume), Keane's absence is a good thing, as pressure has mounted on him and he would've played against his former club, where Burnley fans might've wanted his help. A psychological game we're gonna be free from is very much welcome.
Delph under Frank is very interesting to me. If Frank set a good amount of fire on him in the middle of the park.
I've always advocated Iwobi to play behind the striker. If my memory serves me correct, we've seen the better of him in this position.
From Greenland, All the best, and of luck, to the lads! COYB!
Danny Broderick
71
Posted 06/04/2022 at 14:09:14
Same team as started against West Ham for me - except Branthwaite in for Keane, and Coleman in for Kenny, if fit.
Controversial to keep Gordon on the bench, but I am hoping that Gray or Richarlison will come good in our hour of need. Gordon can always come on in the second half once the game opens up a bit.
Keeping everything crossed…
Eddie Dunn
72
Posted 06/04/2022 at 14:12:08
Once more I find myself trying to find reasons why we might draw or win at Burnley. They look rubbish on paper – we look not quite so rubbish. I live in hope and will be on some crap stream again hoping for the best.
Reality tells me Lampard can't set them up to close the gaps and memory tells me we won't score a goal. Can something finally go our way?
My hope is that the fashionista finds his footy boots amongst his plethora of Manolo Bollocks and we actually put them to the sword.
My fear is that Burnley will outfight us and bang in a couple of their own, leaving us dangling on a thread above them with a fixture list more scary than our injury and suspension list.
Hope versus expectation.
John Raftery
73
Posted 06/04/2022 at 14:12:36
Nasty Sean versus Nice Frank. Both teams are very poor.
Benitez trusted Branthwaite at Chelsea. I see no reason why Lampard should not trust him to combat what is likely to be a fairly primitive approach from Burnley. Moreover he might just provide some threat in the opposition penalty area at set-pieces, as he did at Chelsea.
Craig Walker
74
Posted 06/04/2022 at 14:25:09
My fear is that Burnley can't buy a win or even a goal but charitable Everton are in town. Teams' fortunes seem to change when they play us.
Jamie Crowley
75
Posted 06/04/2022 at 14:27:29
Christy Ring - exactly.
Alan McGuffog - too funny! I'm off the fence mate!
Danny Broderick - I agree with your lineup except I'd start Gordon and bring on Gray instead of the other way around. Anthony is a Blue. This game and its importance will mean the world to him, and I'd expect him to play out of his skin.
When and if he tires, or when (I unfortunately think predictably) Calvert-Lewin has been ineffective, put Richarlison up top and bring Gray on the wing.
Cheers, fingers crossed, if ever there was a "must-win", this is it.
Tony Everan
76
Posted 06/04/2022 at 14:33:16
Geoff 64,
If they have a giant sausage playing up front, our defence may just be able to cope.
Jonathan Tasker
77
Posted 06/04/2022 at 14:33:43
Interesting odds for tonight:
Burnley 8/5
Everton 15/8
The draw 21/10
Jamie Crowley
78
Posted 06/04/2022 at 14:33:47
Also, as typing and analysis seems cathartic due to my nerves being whacked out presently, I said this in another post:
We must win like every single second ball. It's an absolute must. Burnley will play long and there are going to be a ton of second balls they'll try to scoop up and make something out of. We have to be first to every second ball from headers, long balls, hell any touch from a hoof by Burnley.
Win those second balls!
And yet another thing!
First touch on every single corner we concede.
In short, first to the ball, first to the ball, first to the ball. Every single damn time.
Jamie Crowley
79
Posted 06/04/2022 at 14:37:47
And this, for Tim Greeley:
"Where is the Horse and the Rider?"
Andrew Keatley
80
Posted 06/04/2022 at 15:03:15
Jamie (62),
As far as tonight is concerned, Delph might just be the only real leader we have. If he is fit enough, and his body holds up, and he keeps his head, and he can stay on the pitch, then he might end up being invaluable - not just tonight, but for the remaining matches of the season.
With the long list of players unavailable for this game, Delph is going to be there or thereabouts.
Oliver Molloy
81
Posted 06/04/2022 at 15:09:28
Massive game.
Dyche will be drumming into his players the magnitude of this home game: "It's us or them," he will be saying and he's right, in my opinion – lose tonight and we are fucked.
Hoping for a big performance from the whatever team Lampard picks, we can suffer no passengers tonight folks – this is a must-not-lose game.
Tony Abrahams
82
Posted 06/04/2022 at 15:15:05
Mark @40,
The first thing I thought about when I read that Hail Mary, was Fredo still going fishing, when young Anthony was taken off the boat in The Godfather 2.
I look at some of the different teams that people have selected for tonight's game and it's quite sad because we honestly don't look that bad on paper.
It's that bad, I'm praying for some of those "good times" this evening.
"Kenwright Fucking Out!!!"
Dave Abrahams
83
Posted 06/04/2022 at 15:24:03
Andrew (80), staying fit is the big problem for Delph and Everton, if he plays and plays for at least an hour is a big plus tonight.
He keeps his position, doesn't panic with the ball, always looking for an Everton player to pass to, the other players respond to him and they look to find him with the ball knowing he will use it well, he is talking all the time to his teammates encouraging them and urging them on. If he plays tonight, we will benefit from it and the longer he stays fit during the run into the end of the season, the better I will like it.
Might seem strange to praise a player who we have seldom seen since his signing but that's the way I see him and, when I look at the alternatives, I want him to play even more so.
Steve Shave
84
Posted 06/04/2022 at 15:24:45
Nick (46),
I respect and understand your plight, I just question the timing. Whipping up mass negativity towards the club before the relegation battle run-in does not feel like a good move.
If we get through this shit show of a season still a Premier League team, then yes, I do think then would be a good time to demonstrate against the mismanagement from the top down.
If we get relegated, then what further fuel for this movement would you need? Either way, waiting till the end of the season is sensible.
Andrew Keatley
85
Posted 06/04/2022 at 15:27:44
Dave (83),
I could not agree more. He helps to organise the team around him – which we lack without Allan – and provided he doesn't get drawn into making any rash challenges, then his name on the team-sheet, or at least on the bench, will be a plus for me.
Mark Siddons
86
Posted 06/04/2022 at 15:45:18
I would crowd midfield and go 4-5-1:
Begovic
Coleman Branthwaite Godfrey Mykolenko
Gordon Delph Iwobi Alli Richarlison
Rondon
The end result will stay the same unless Frank makes changes.
Christopher Timmins
87
Posted 06/04/2022 at 15:50:13
If we match them for effort and luck does not go against us, we will come away with the points.
We can't afford to be bullied at the back so, even if there are minutes in, I would go with Branthwaite and play Holgate as the holding midfielder. Seamus has to start if available.
A nervy night ahead!
Tony Abrahams
88
Posted 06/04/2022 at 15:51:41
West Ham were very happy with the tempo on Sunday, but I'm not sure it'll be the same tonight. We have got to match the work rate and intensity that I'm certain Burnley will try and put into the game, and this means contesting every second ball.
This is already one of our weaknesses, so I'm not sure how playing someone like Delph, is going to benefit us tonight. I agree he's comfortable on the ball, I'm just not sure he does enough without the ball – something I think is going be crucial tonight?
Jay Harris
89
Posted 06/04/2022 at 16:01:57
Burnley are an "Alehouse" team so this will be a physical battle first and foremost.
With that in mind Brandthwaite in for Keane is a no brainer. I would also play JJK in front of Seamus as we need a couple of battlers to stop crosses coming in from McNeill.
Its then a tossup between Delph and Holgate (both red card candidates) for the remaining MF place alongside Doucoure.
Front 3 for me Gordon DCL and Richy.
COYB
KENWRIGHT OUT
Raymond Fox
90
Posted 06/04/2022 at 16:27:56
It's anybody's guess what the score will be tonight, it's too close to call.
It won't be pretty from them, they will be firing the ball into our box every chance they get and we are not good at dealing with that.
A draw won't be a disaster, a win would be fantastic, a loss and we are in very serious danger of going down.
They're being made favourites which is all about home advantage and homer referees. I just hope we end the game with 11 men on the field for a change. Surely we are due some good luck for a change.
John Atkins
91
Posted 06/04/2022 at 16:38:14
So the countdown begins, in just over 5 hours time we are likely to be in a better position to know our fate. Certainly not for the faint hearted.
Come on Blues please give us 3 points tonight
Andrew Ellams
92
Posted 06/04/2022 at 16:46:58
We need to put some space between ourselves and Burnley. They have Newcastle at home last day and we go to Arsenal. We don't want survival depending on that.
Mal van Schaick
93
Posted 06/04/2022 at 16:53:06
Match them for effort and commitment, create some chance up front, and we will come away with the points. That would make a big difference to our league position on the run in.
Dale Self
94
Posted 06/04/2022 at 16:55:25
I've got a feelin' a feelin' deep inside
Oh yeah, Oh yeah Oh yeah! UTFT!!!!!
Steve Brown
95
Posted 06/04/2022 at 17:06:45
We've far too open away from home under Frank, pushing our fullbacks high up the pitch. It has not worked at all.
4-5-1 as a few others have suggested to pack the midfield and a low defensive line. Try to get them on set pieces and counters.
Pickford
Coleman Holgate Branthwaite Godfrey
Gordon Doucoure Delph Iwobi Richarlison
Rondon.
DCL is just way off form and we need some physicality to challenge their defence.
Anthony Flack
96
Posted 06/04/2022 at 17:12:07
I'd start Alli alongside Doucoure
Allan Board
97
Posted 06/04/2022 at 17:19:24
How sad that it is deemed a problem playing Burnley away. They are rubbish from back to front and play a style of hoofball The Crazy Gang would of been proud of.
Everton are truly finished if they don't beat these tonight.
Neil Tyrrell
98
Posted 06/04/2022 at 17:31:24
Feels like this is the match that could save or condemn us, obviously it's not that simple but this one does feel HUGE. Couldn't face following on the live forum from work so I've pulled a sickie to watch it. Whoever Frank picks just put a shift in (unlike me today) and get at them, it's only Burnley for Christ's sake. COYB
Dale Self
99
Posted 06/04/2022 at 17:34:46
Good move Neil, I'm stuck at work and well, we all know work is overrated. Somewhat like sobriety.
Fuck clarity and fuck the Clarets!
Geoff Lambert
100
Posted 06/04/2022 at 17:40:05
WTF is wrong with Ali if he cant get in to this shitshow of a team.

Brian Wilkinson
101
Posted 06/04/2022 at 17:45:11
Begavic and Rondon to start for me as my reasoning on another thread.
Kenwright out.
Neil Tyrrell
102
Posted 06/04/2022 at 17:47:15
Dale you might be looking a little green around the gills and is that a high temperature? Best skive off early just to be safe 👍
Billy Bradshaw
103
Posted 06/04/2022 at 17:48:58
My wife is not a great football follower but she is an evertonion and always asks the score at the end of the game, she is not on the wind up but after the terrible season we have had she has got into a habit of just saying did Everton get beat again, please Everton let me have a good reply for her tonight.
Dale Self
104
Posted 06/04/2022 at 17:51:46
Neil, thanks for adding to my Scouse vernacular. I would skive off but for a video meeting I can't do at my house due to such a poor signal which is also why I can't do Pisscock premium.
On the upside, I've got enough THC in my fat cells that all it takes is a bit of excitement and that green feeling kicks in. If I may add, I think I get extra points for getting a 'fuck' to display on the front page. ;)
Mike Keating
105
Posted 06/04/2022 at 18:04:54
Neil @98,
"Couldn't face following on the live forum from work so I've pulled a sickie to watch it."
Hope your boss isn't a ToffeeWebber!
UTFT 💙
Tom Bowers
106
Posted 06/04/2022 at 18:20:36
Whatever is left to pick from and whoever starts for God's sake I hope they come out fighting like wildfire and put the opposition out of their comfort zone particularly in the middle of the park where MacNeil plays well for them.
I am sick of Everton starting lethargically and then conceding always leaving us behind the eight ball.
Wouldn't it be nice to keep a clean sheet again !!!
---
Add Your Comments
In order to post a comment, you need to be logged in as a registered user of the site.
Or Sign up as a ToffeeWeb Member — it's free, takes just a few minutes and will allow you to post your comments on articles and Talking Points submissions across the site.