Everton – America's Team
Maybe you've been searching for your English Premier League soccer team. Perhaps you were but didn't know it until Tim Howard lit up the World Cup in Brazil in 2014 with his superhuman feats. Well, search no more, America. You have been chosen. Everton FC is your team. Here's why...
Everton is America's team. As well as USMNT hero Howard, past Everton players include USA international stars Joe-Max Moore, Brian McBride and Landon Donovan. Yes, Landycakes spent two impressive spells with the Blues in 2010 and 2012; sadly for us – but not for your MLS – we weren't able to persuade him to stay in Liverpool permanently.
Speaking of the MLS, players like Preki, Mo Johnston and Tim Cahill have all graced your domestic league having played for Everton. Cahill, in particular, became something of an Everton legend playing with the Blues alongside Howard before joining New York Red Bulls.
Trivia note: Tim Howard once scored a Premier League goal from open play.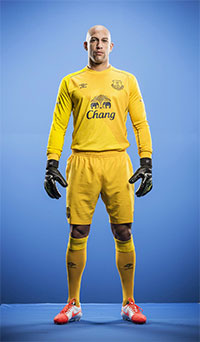 As a current players, Tim Howard and Landon Donovan are currently Everton's most direct ties to USA but the likes of Brian McBride and Joe-Max Moore also played for the Toffees.
If you love teams with rich histories, Everton have it in spades. Everton have a list of English soccer firsts as long as your arm. The club was founded in 1878 as the original team in Liverpool (Liverpool FC might never have existed were it not for Everton) and became founder members of the world's first professional Football League 10 years later.
Everton have spent more seasons in England's top division than any other team having played just 4 seasons outside the top flight in 126 years. In terms of English league championships won, Everton is the fourth-most successful club in history with 9 titles, 5 FA Cups and 1 European Cup Winners' Cup.
And while we're in World Cup season, Everton's famous old stadium, Goodison Park – think Wrigley Field or Fenway Park – hosted a World Cup semi-final in 1966 when the tournament was hosted and won by England.

William Ralph "Dixie" Dean, soccer's answer to Babe Ruth, played most of his career with Everton. Despite setting it in 1928, Dean holds the record for the most goals scored in a single league season (60), the equivalent of baseball's single-season home run record. Unlike Ruth's feat, Dean's is unlikely to be broken. Trivia note: Dean was pretty handy with a baseball bat himself as a player during the summer months to keep himself fit.
Roberto Martinez was Everton's manager. Yes, that suave gent sporting the lavendar suit lending his considerable insight to Bob Ley, Mike Tirico and team in the ESPN studio during the World Cup in Brazil was the head coach at Everton for almost three years and was credited with (briefly!) reopening the School of Science (more history!).
One half of the Men In Blazers is an Evertonian. Roger "Rog" Bennet from the entertaining duo of the eponymous Sirius XM radio show and podcast and who have been gracing the ESPN and NBCSN screens since the 2014 World Cup was raised in Liverpool and supports the Blues.
And if that weren't enough, Everton can count Sylvester Stallone, Riddick Bowe and, perhaps, Matt Damon (we're still working on him) as fans. Also, Planet Hollywood mogul Robert Earl used to be on Everton's Board of Directors.
What's more, the inside of Everton's stadium, Goodison Park, featured as the backdrop for some of the most dramatic scenes in the Hollywood movie, Creed, that also featured Stallone reprieving his role as Rocky Balboa. The movie's villain is played by Tony Bellew, a real-life cruiser weight boxer who is Everton-mad and he insisted that his trademark shorts and robe with the club's crest feature prominently.
Simply put, if you want a team with a rich history, deep community ties, a great future and the most passionate and devoted fans on earth then Everton is your team. Evertonians have supported their club through good times and bad with consistency and loyalty and remain some of the most respected supporters in England.
Made up your mind? Welcome to life as an Evertonian. Thanks to NBC Sports, every English Premier League game is screened live in the US each week so you'll be able to follow Everton throughout the season.
Follow @EvertonUSA to find Everton fans in a US city near you and bookmark usa.toffeeweb.com as we build out a section at this site devoted to Stateside EFC supporters.