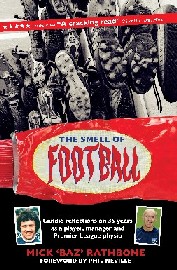 I wasn't sure about this book when it made its way through he heavy security cordons at ToffeeWeb Towers. But I have to confess, it is briliianty written and tiotally engaging.
Okay, for aardent Evertonian interest Part Three of this excellent book is where it's at, dealing with the 'Baz' Rathbone's ascent to the top of the game, ultimately as Everton physio. That part starts with his years at Deepdale where he welcomed David Moyes into management, and traces the path he followed to Goodison Park/Bellefield in August 2002, along with the difficult decison to leave Preston. You can see that he really saw his time at Everton and in the Premier League as the real pinnacle of his wide and varied carrer in football, after having been both a player and a manager.
Many Everton fans were surprised to see him leave the game, somewhat prematurely at the age of 'only' 51 and the conspiracy theories started doing their rounds, questioning the possible treatement of Louis Saha, Dan Gosling and others as possibly being the cause of his departure from the club in May 2010.
If you read only one part of this book, then read the Epilogue to get a flavour of the man, his stories, and his great style of writing. But to do so would not do this book justice. The whole thing is a great read, and helps to understand how you can fall both in love — and out of love — with football... and all its unique smells!
Price: £12.99 Published: 2 August 2011