VI: THE BARREN SEVENTIES (1973-81)

Billy Bingham: Good try, nothing to show for it

Gordon Lee: so close

Clive Thomas and The Goal

Great players

An effective midfield
BILLY BINGHAM: GOOD TRY, NOTHING TO SHOW FOR IT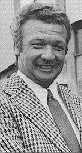 Billy Bingham
Billy Bingham, appointed in 1973, tried to build – or rather buy – new success with big money. There was no success, however, because the performances on the field were rather bad, except for season 1974-75 when Everton seemed to be winning the title until the very end. But they collapsed and ended fourth, although only four points adrift of the champions, Derby County.
We could speculate that Carlisle, playing their only season in the top flight, took away our title, as they won both league meetings. Everton lost 3-2 at home just before Christmas (after leading 2-0 at half-time!) and lost the return fixture in the spring by 0-3.
The next two seasons were not as good for Everton, and so Bingham was sacked in January 1977. As an ex-Everton star player, Bingham was not bitter, rather saying that you can expect to be shot down in a big club, if you cannot bring success.
GORDON LEE: SO CLOSE

Gordon Lee
Gordon Lee was appointed as successor to Bingham. This ex-Shrewsbury and Aston Villa player had a good reputation: he promoted Port Vale to the Third Division at the first attempt and then took Blackburn into the Second Division. Lee later led Newcastle to the League Cup title and to European competition. Everton's board was very satisfied with Lee's attitude: he didn't first bring his family to Liverpool to look for a suitable house, but instead walked into the boardroom and said "Where's the contract ?".
It's interesting to note that, during the change of managership, Everton enjoyed their best success in the Cups in the 70's. When Bingham had left, but before Lee was appointed, Everton played the first semifinal of the League Cup against one of the top clubs in the Second Division, Bolton Wanderers. The team was selected by coach Steve Burkenshaw. Everton only managed a 1-1 draw at home with a Duncan McKenzie goal, but in the away leg, when Lee was already in charge, Bob Latchford's solitary goal was enough to take the Toffees to the final.
The final against Aston Villa was a disappointment and it ended in a goalless draw. The replay at Hillsborough was more interesting: after an own goal by Roger Kenyon, Latchford equalised in the last minute. The second replay at Old Trafford was a thriller. Everton went ahead with a Latchford goal. Then Villa scored two goals before Mike Lyons forced an equaliser from a goalmouth scramble.
So it was extra time again, and with the penalty shoot-out already looming, Brian Little scored the winner in the last seconds when the Everton defence was napping.
CLIVE THOMAS AND THE GOAL
The FA Cup semi-finals during the same season were possibly even more disappointing. In the first semi-final, Duncan McKenzie and Bruce Rioch equalised against Liverpool, who were chasing the League title, FA Cup and European Cup. Five minutes before the final whistle, Bryan Hamilton was at the end of a fine combination to score the winner but, for some yet-to-be-explained reason, the infamous Welsh referee Clive Thomas disallowed the goal. It wasn't an offside or anything else. Everton were unable to deal with this blow and lost the replay 0-3. Liverpool's second and third goals were scored in the dying minutes of the match after the first came from a very dubious penalty. Everton were left with a very bitter taste from these cup matches.
Under Lee, Everton were fighting for the League title during the next two seasons. In the 1977-78 season, it looked for a long time like it would be a duel between Everton and the newly promoted Nottingham Forest. Everton, however, slumped in the spring to finish third.
The 1978/79 Season looked even more promising for a long time and Everton were undefeated until Christmas! This run included a 1-0 victory over Liverpool with a tremendous Andy King volley. It was Everton's first victory over Liverpool in seven years, and it was celebrated at Goodison like a cup win. But Everton slumped again in the last moment and ended up in fourth place while Liverpool took everything.
GREAT PLAYERS
Mike Lyons
Everton's leading players during the 70's were Bob Latchford, the goal-scoring machine, play-maker Martin Dobson, attacking midfielder Andy King, and a home-grown talent and captain for a long time, Mike Lyons. Lyons was named Mr Everton in recognition of his fighting spirit and impact on the team over an entire decade. Lyons made his debut in spring 1971 and scored in that match. He started as a centre-forward but was soon moved to a centre back. Lyons was always eager to go forward and scored 59 goals in his 453 appearances for the club throughout a career that ended in 1982. It was a real pity that Everton didn't win anything during Lyons playing times.
Latchford, Dobson and King were Bingham's buys. Latchford came in February 1974 from Birmingham in a 350,000 pound deal which included £80,000, Howard Kendall and defender Archie Styles. Despite his strong frame and heading abilities, Latchford often scored from narrow angles.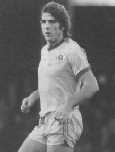 Bob Latchford
During Everton's 100th year, Latchford won an Adidas and Daily Express £10,000 competition for scoring 30 League goals. To achieve this, he had to score two goals in the last match against Chelsea. Fifty years earlier, the legendary Dixie Dean had faced the same task if he was to score the record 60 league goals in one season. Everton played well and soon went 3-0 up, before Latchford finally scored. In the dying minutes, with Everton 5-0 up, they were awarded a penalty, which of course was given to Latchford. He shot hard and straight. Although the keeper got his hands to it, he couldn't keep the ball out: 6-0, and Latchford had accomplished what Dean had done! (Well, almost.) Latchford's best season included, four goals against QPR at Loftus Road and a hat-trick against Coventry City, plus a well-deserved call-up to the England team. The very skillful Dave Thomas was responsible for creating many of the goals scored by Latchford.
AN EFFECTIVE MIDFIELD
Martin Dobson also arrived in 1974. Burnley got £300,000 for him, a new straight cash record. Dobson was an elegant play-maker and Everton's prime force in midfield during the late 70's. He also scored a lot of goals.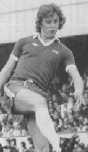 Andy King
Andy King arrived from Luton in 1976 for £35,000, with an additional £25,000 after he had made a certain number of appearances. He became an instant hero at Goodison, as he never gave up, was a very technical player and scored a lot of goals for a midfielder.
Other players worth mentioning in the 70's were centre back Roger Kenyon, midfielder Dave Clements, winger John Connolly and fullback Mike Pejic, whom Lee bought from Stoke right after he was appointed. It is said, that Pejic has the most reckless tackle ever seen at Goodison. Bruce Rioch and Duncan McKenzie, a Peter Beardsley of his time, had arrived before Lee's time.