VIII: TOP TO BOTTOM (1987-94)
---

From the Championship to the gates of relegation

Big investments for a new team

Kendall, Mark II

Financial problems start to show
FROM HARVEY TO THE RETURN OF KENDALL

Colin Harvey
Harvey's aim was to keep Everton right at the top. During the three full seasons Harvey was in charge, Everton were fourth, eight and sixth - the kind of finishes Everton would have killed for during most of the following decade. There were a few marathon fights in the FA Cup: in spring 1988 four matches against Sheffield Wednesday (finally winning the third replay 5-0 away) and three matches against Middlesborough. In 1990 there were two matches against Middlesbrough and three in the 5th round against Joe Royle's Oldham Athletic.
Harvey's biggest accomplishment was getting to the FA Cup final between those two marathon years, that is in spring 1989. West Bromwich Albion and Plymouth were dealt with in the old fashioned style: first a draw in the away match and then a win in the home replay. After that, Barnsley were beaten away and Wimbledon home. In the semi-finals, Norwich were beaten at Villa Park with a Pat Nevin goal, while in the meantime Liverpool supporters were struck with the Hillsborough catastrophe.
In the final, the fourth for Everton in the eighties, Liverpool went ahead in the fourth minute after John Aldridge was given a free shot. It looked like the score would stay like this until the very end when, with about the last attack of the match, Stuart McCall struck an equaliser from a goalmouth scramble after Tony Cottee had jumped over the byline to avoid being offside. McCall had come in as a substitute to replace Paul Bracewell. The Pool substitute Ian Rush, who replaced John Aldridge, put Pool ahead again in extra-time and, even though McCall equalised again with a spectacular volley from 25 yards, Rush struck again to make it 2-3. Balance: two FA Cup finals against Pool and two defeats. Third time shall tell the truth!
BIG INVESTMENTS FOR A NEW TEAM
It is often said, that Harvey destroyed the winning team. This isn't entirely true. It's true, that he inherited a championship team from Kendall, but it had started to show signs of tiredness. Harvey only bought Ian Wilson (£300,000) after he was appointed. Wilson was bought to replace Kevin Sheedy. The titles gained during the Kendall era apparently lowered the motivation of some of the players, which had an effect on their performances. On the other hand, no team can stay at the top forever. It was obvious that the manager's job didn't suit Harvey as well as being the team coach.
After his first season, Harvey tried to build a successful new team with big money. In the summer of '86 Gary Stevens and Derek Mountfield, a favourite at Goodison, who had lost his place to Dave Watson, left the team. They were replaced with four good players: Stevens was replaced by Neil McDonald, of whom the tribunal set a price of £525,000 when he arrived from Newcastle. Stuart McCall from Bradford (£850,000 ), a hardworking player, who was keen to go forward, was brought to the midfield in order to bring in some new breadth as well as Pat Nevin from Chelsea (tribunal-set fee of £925,000, the biggest fee they had set). To top it all, a new transfer record of £2,200,000 was paid for the West Ham star striker and England International, Tony Cottee. Small-sized, Cottee was a skillful player with an eye for goals. Cottee's debut against Newcastle was fantastic, a hat-trick and the first goal after just 34 seconds with his first touch!
These buys were obviously done with the future in mind: McDonald was 22, Cottee 23 and both McCall and Nevin 24 years.
In the middle of the season, which went wrong after a great start except for the FA Cup, Adrian Heath and Peter Reid left the team. Heath was transferred to Espanol for £500,000 and Reid with a free transfer to QPR. Reid will be remembered as one of the best midfield dynamos Everton has ever had.
During the summer and early autumn of 1989 the glorious midfield of the mid-eighties had vanished almost completely, as Trevor Steven and Paul Bracewell left. Steven joined Stevens at Glasgow Rangers (£1,500,000) and Bracewell returned to Sunderland, having missed the previous two seasons due to a very bad ankle injury that required six operations. Pat Van Den Hauwe also left, to Tottenham.
But there were also quite a lot of newcomers. The best known was Norman Whiteside, the "veteran" midfield player from ManU for £750,000, bought to replace Reid. Mike Newell was brought in from Leicester in a swap deal that included Wayne Clarke and £500,000. Martin Keown came over from Villa with a tribunal-set fee of £750,000. Stefan Rehn (£400,000), the Swedish International, was brought in from Djurgaringrden. Rehn played only four matches before he moved on to IFK Gothenburg. Newell had a good start: 6 goals in 6 games and a call-up to the England squad. But, like in the previous seasons, a good start was wasted, and Newell also quit scoring, his next League goal coming only in the last match of the season.
In November 1989, Peter Beagrie was bought from Stoke for a £750,000 fee. Beagrie was a skilled winger who had a good shot with both feet. He earned his reputation as a colourful player by making somersaults after scoring. But perhaps the most comforting thing was John Ebbrell's breakthrough to the first team either as a fullback or midfielder.
KENDALL, MARK II
Despite these investments, Everton were unable to get back to the top. So early in season 1990-91, Harvey bought Oldham's midfield leader Mike Milligan for a million pounds, and Andy Hinchcliffe, a promising fullback from Man. City, in exchange for Neil Pointon plus 800,000 pounds. Harvey's fourth year at the helm started badly, and the first victory didn't come until the seventh match of the season. But the team didn't improve and some were becoming worried about relegation. Harvey was sacked at the end of October 1990 after Everton had lost to rock-bottom Sheffield United in the League Cup. Jimmy Gabriel took temporary charge of the team, and Everton defeated QPR at home 3-0.
Harvey returned just days after his dismissal, this time as an assistant to Kendall, who made a sensational comeback. Even though he had done a good job at Manchester City after his return from Spain, Kendall made his feelings clear: City was a romance, Everton was a marriage. There were many who warned Kendall that "you should never go back", so Kendall was fully aware of the risks when he moved back to Merseyside.
Kendall was already a living legend when he returned. Most people of course waited and hoped that the old magic would come back. But the rest of the season went pretty much as it had started, even though relegation worries were lifted after a good run at the turn of the year. The only bright spots in the League were two fine away wins in February and March against Manchester U (2-0) and Southampton (4-3). In March, Kendall bought the quick Polish right winger Robert Warzycha from Gornik Zabrze to compete for a place with Pat Nevin, who had had an up-and-down season. Kendall didn't make any other changes to the team for most of the season. To counter the dullness of the League campaign, there was plenty of drama in that year's FA Cup.
Howard Kendall had big hopes when he took over at Goodison. Some of his purchases were good, some were bad. But eventually Kendall's plans were overshadowed by huge financial problems. Attendances at Goodison Park had been going down from the almost 30,000 per match in the previous championship season to slightly over 20,000 in 92-93. Added to this, no-one at the board was willing or able to finance the team. Everton went into the red very quickly and there was no money for big new signings. Suddenly there were talks about Everton having 4-6 million pounds of debts and there were speculations about the shares of the late John Moores, a long-time benefactor of the team, who died in autumn 1993.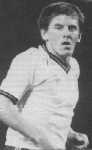 Peter Beardsley
Things weren't quite this bad in the summer of 1991. Most of the Everton supporters were still quite disappointed with the departure of Graeme Sharp to Oldham for £500,000 and Stuart McCall's departure to Glasgow Rangers for £1,200,000. They were replaced by the glorious Peter Beardsley, who Kendall stole from Liverpool for a mere one million pounds. Beardsley continued to show the abilities that had made him famous: he created chances and was able to win matches by himself. One other significant buy was a previous youth player, Mike Ward, who came from West Ham. Ward was a quick and technical winger and his first season at Goodison was a very good one.
In the middle of the season, Kendall strenghtened the team with young Matthew Jackson from Luton (£600,000); Mo Johnston, who sparked quite a lot of talk when he arrived from Rangers for £1,500,000; and Gary Ablett from Liverpool for £750,000. Departures included Neil McDonald to Oldham (£500,000), Mike Newell to Blackburn (£1,100,000) and the great Kevins of the mid-eighties, Sheedy (to Newcastle) and Ratcliffe (to Dundee) who left early in 1992.
Despite the heavy rebuilding, Everton's 91-92 season was yet again mediocre. The team was in the midtable for most of the season and there were only a few bright spots, namely beating the reigning champions Arsenal in the first home match by 3-1 and the last away match at Tottenham, Gary Lineker's last match in England, where Everton came back from being 0-3 down. The equaliser was scored by an 18-year old debutant called David Unsworth. As there were early exits from both cups, the season was practically over in January.
FINANCIAL PROBLEMS START TO SHOW
When season 92-93 (and the new Premier League) began, Everton's financial problems started to show. A £2M loss was confirmed for the previous season. The club wasn't able to compete for the star players any more, so Kendall had to content himself with "left-overs". Hard-man Barry Horne arrived from Southampton (£675,000), striker Paul Rideout from Rangers (£500,000), and Paul Holmes was bought in March '93 from Birmingham for 100,000. Martin Keown was sold to Arsenal for two million pounds to level the books in February '93. At the start of the season, Pat Nevin was sold to Tranmere at a bargain price of £250,000.
The season still started brightly: ManU were beaten 3-0 away and the "millionaires" Blackburn were beaten 3-2 away. Then it all crumbled and there were very few things to cheer about. Firstly, Liverpool were beaten 2-1 at home after being a goal down and Beardsley, who scored the winner, became only the second player (along with David Johnson) to have scored for both teams in derby matches. The cup competitions didn't bring any comfort and there were even relegation worries by the turn of the year. A 5-2 away win with a few Beagrie somersaults late in the season over Man. City shed some hope. Preki showed promising signs during the late season.
Summer '93 and shock news to the Toffee supporters: Peter Beardsley was sold to his native Newcastle for £1,500,000. Everton continuously had financial problems, so the only signing was Graham Stuart from Chelsea for £850,000. The season started with three consecutive wins and continued with two defeats. A fine 2-0 home victory over Liverpool brought smiles, but they vanished after a staggering 1-5 home defeat to Norwich. And things weren't going well after this, either. After a 1-0 home victory against Southampton, the big news was released: Howard Kendall had resigned.
According to the papers, Kendall resigned because the board refused to fund a £1,500,000 bid for Dion Dublin. Reserve manager Jimmy Gabriel took over while Everton were looking for a new manager. The problems just multiplied when the search for a manager lengthened, and the performances on the field were very bad. In the seven matches under Gabriel, Everton lost 6 and only managed one goal.
After much speculation, Everton managed to get Mike Walker, who had done a good job at Norwich. The Canaries' chairman sued Everton for poaching and Everton had to pay substantial compensation. Walker, who brought a lot of hope to the supporters, started well with a 6-2 home win over Swindon in his first match. But eventually the problems started to show. There still wasn't much money available, and Walker bought three quite cheap players: Brett Angell, Gary Rowett and Joe Parkinson for a total of £1,550,000. But the selling of Peter Beagrie to Man. City for £1,100,000 was something, that most supporters couldn't swallow, even though Anders Limpar was bought from Arsenal to replace him. Limpar was well known for his skills, but he was widely regarded as being past his prime, whereas Beagrie had become Everton's play-maker after Beardsley left. With all the problems, Everton were plunged into a relegation battle, and the drop wasn't avoided until a dramatic match against Wimbledon on the last day of the season.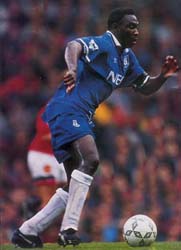 Daniel Amokachi
It's apparent that the players were also affected by the media circus going around speculation about Everton's new chairman. Peter Johnson from Tranmere finally bought the majority of Everton's shares in June 1994 and Billy Kenwright and his supporters joined with him. Walker bought Vinny Samways from Tottenham for £2,200,000 during the summer and early in the autumn he brought in Daniel Amokachi from FC Brugge for a new club record of £3,000,000. The start of the season was traumatic, with Everton rooted to the bottom of the table from the third match. In October 94, Walker was sacked after just ten months in charge. Ironically, things seemed to have turned around with the first win of the season at home to West Ham. But it was not enough to save Walker.
---
Marko Poutiainen