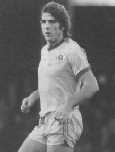 The late 1970's was a time of red domination on Merseyside. After winning the League Championship in 1970 Everton faded into mediocrity, while their neighbours conquered Europe. Given that the balance of power was with Liverpool and the Everton side of the time was in no position to change that state of affairs, the Goodison crowd needed something to restore their pride, something they could cling to. A folk-hero centre-forward in the best Everton tradition of Dean, Lawton et al, as it turned out.

Bob Latchford had been at Everton for four years already before he manifested himself as that saviour. He joined as part of the swap which took Howard Kendall to Birmingham City in February 1974. Now, however, in the spring of 1978, his crusade to become the first player in six years to score 30 goals in a First Division season had caught the national eye.

To claim the £10,000 prize put up by the Daily Express, he needed to get two at home to Chelsea in the last game of the season. For 72 of the 90 minutes, it didn't look like he would manage it.... but a deft header and a penalty – which he HAD to take, really – boosted his win bonus by £10,000. In fact he went home with less than £200 of it after sharing it out between team-mates, ground-staff and charities.

Many footballers of lesser ability have won more than Latchford. Besides his twelve England caps and those 30 goals in 1977-78, he achieved nothing of note in the game. That was an injustice to a fine footballer. Excelling particularly in the air, he was capable of scoring from anywhere. He had a striker's instinct for finding dangerous positions and his touch and ground-skills enabled him to make telling lay-offs for colleagues.

Although 1977-78 was his only spectacularly productive season, he scored regularly for Everton right up until he left for pastures new in Swansea in 1981. By then his total of 106 goals made him the leading post-war goalscorer for Everton, a record which stood until 1990 when it was surpassed by Graeme Sharp.