Francis Jeffers jumps the Good Ship Everton.
4th June 2001
Francis Jeffers today became the most expensive player ever connected with the club when he sealed a £10m move to Arsenal that is believed to involve £8m up front and the remainder based on appearances. Only Andrei Kanchelskis (£8m) and Duncan Ferguson (£7m) come close to what amounts to a very good piece of business by Everton, but also exacerbates the club's strengthening status as a selling club. It also marks the sale of one of two glittering prospects for the future at Goodison Park.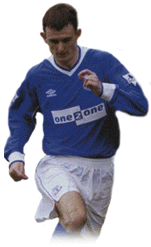 Jeffers, alongside Michael Ball, represented the triumphs of Everton's youth system and the end of the days when the cream of their young talent ended up being wooed by the Dark Side and ending up in the clutches of Liverpool. Ian Rush, Robbie Fowler, Steve McManaman and Michael Owen; all boyhood Blues who were not harnessed by Everton and eventually made their names at Anfield.
The rapid ascendance of Jeffers and Ball to the senior England setup before their 21st birthdays was a significant step towards re-establishing the image of Everton's youth setup. However, with the club in dire financial straits and struggling regularly at the wrong end of the Premiership, they were ultimately unable to hold on to the hottest home-grown striking prospect in recent memory.
The rumours surrounding Jeffers' decision to desert Goodison Park at a time when Everton desperately needed to produce its own talent - rather than have to scrape together the money to buy it from outside - are varied, but ultimately irrelevant because his heart hasn't been in it since he slapped in a transfer request - later retracted - on the eve of the 1999-2000 season.
He may now be fleeing Merseyside for non-footballing reasons, may have taken a strong dislike to Walter Smith's style of management, or he may just be after as much glory and silverware he can get his hands on at Highbury, but Evertonians must take a hard-hearted view and write him off as someone for whom Everton is not in his soul, better off elsewhere.
Of course, the fact that Jeffers, nicknamed "Glass Ankles", has made just 40 starts for the club and spent a significant proportion of his three years at Goodison Park since signing professional forms on the treatment table is a small comfort for the fans. He beat a career-threatening illness when he was 16 and missed large chunks for the last two Premiership campaigns with ankle injuries, casting doubt on his slight frame's ability to withstand the physical nature of English football.
But it doesn't lessen the bitter taste left in the mouth left by the treachery of a supposed Evertonian whose way of repaying the club that guided him through that serious illness, made him the most expensive teenager in their history at 16, gave the him the chance to become a star by 19 and offered him the most lucrative contract ever at Goodison was to leave at the first chance of a big-money transfer.
What is worse that Jeffers was at the heart of the best spells of Smith's time at Goodison, linking up in devastating fashion with Kevin Campbell to help save the club from relegation in 1999, and providing some optimism at the beginning of the 2000/01 campaign when he was scoring an average of a goal a game. He was everything that Arsenal believe they are buying but his temperament and injury history represent a few negatives they won't be expecting.
Nevertheless, Everton can - if reports are true - bank £8m to either ease a crippling overdraft or use it to replace the retiring Richard Gough and Jeffers himself. Either way, they can be satisfied that they got such a princely sum for a player whom they didn't have to buy and whose attitude better off out the club.
Yes, they may well watch in silent regret if Jeffers goes on to shine at Highbury, but the player didn't want to stay and if his heart isn't in it, it's best to get rid of what could be a malevolent influence in an already strained dressing room. Like Barmby before him, another badge-kissing traitor has disappeared out the gates of Goodison, but, as with the loss of Barmby, the club will struggle without him.