The Royle Abdication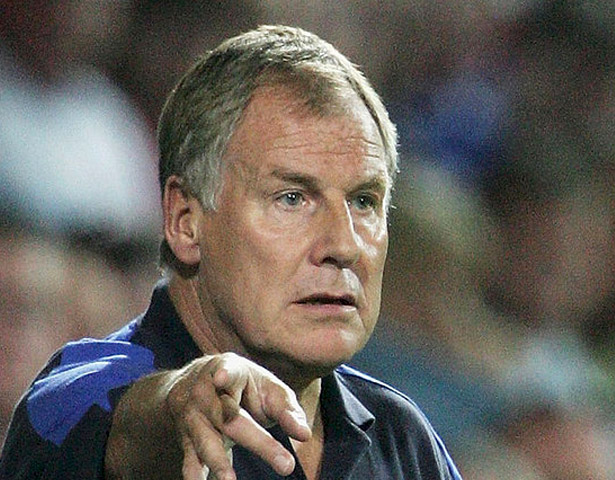 Joe Royle's reign of 29 months as Everton manager came to an end at 4:00 pm on 27th March 1997 - English football's transfer deadline day. Although his departure had been forecast in the weeks preceding the actual event, no-one then believed that Joe would walk out on such a crucial day for the club. Most felt that he would now stay until the end of the season when his position would come under review based on the way his team dealt with the looming relegation crisis.
Darker rumours at the time suggested that he would have gone during the close season whether he liked it or not anyway and what "facts" we have gathered about the catalyst behind the "Royle abdication" offer nothing concrete to prove this supposition.
The official club explanation for Royle's departure was an amicable split forced by differences over how to progress for the future and, most probably, buying policy as well. The saga hinged on the attempted purchase of three players: Tore Andre Flo and Claus Eftevaag from SK Brann of Norway and Barry Horne from Birmingham City. Flo was the real target and Eftevaag was the make-weight in a deal totalling £4m to bring the two Bergen players to Goodison Park.
Eftevaag flew to Merseyside for talks and a medical (which he is rumoured to have failed anyway) while Flo was given just a few hours to decide his future while in Saudia Arabia with the Norwegian international squad. Somewhat predictably in hindsight, Flo felt that he was being rushed into a decision and pulled out of the deal.
What is now accepted as the truth is that Blues Chairman Peter Johnson was unhappy with Royle's plans to sign Eftevaag anyway, despite the collapse of the Flo side of the negotiations, as well as bid to bring back Barry Horne after less than a year at St Andrews for £600,000. The Chairman refused to sanction the deal and Royle specifically travelled to Birkenhead to confront Johnson where upon it is presumed that Royle explained that he could not go on as manager if he was not allowed to purchase the players he wanted and Johnson more or less accepted that as an offer of resignation as he was not about to back down from his stance of buying what he felt were substandard players. Eftevaag was sent home without having signed and Horne remained at Birmingham who had signed him just a few months previously for £250,000.
The transfer deadline for incoming players passed and Everton had failed to add any extra new blood to their squad - except, as it later became known, for the signing of Slaven Bilic from West Ham for £4.5m but he was to see out the season with the Hammers in a bid to save them from relegation. The East London side survived and so, happily, did Everton under the temporary guidance of Dave Watson.
One of the most pressing quesitons concerning the days leading up to Royle's resignation remains to this day, namely why did the club wait until transfer deadline day to approach messers Flo and Eftevaag? It left the players with no time to think over any offer put to them and even Horne seems to have been a last minute panic suggestion by Royle.
Rumours abounded that Everton representatives were visiting the four corners of Western Europe looking at players but only Flo fitted the bill as a potential talent and, ultimately, the whole situation was an enormous let-down. Flo, incidentally, was signed by Chelsea on a free transfer just days after the season ended to complete Everton's misery. Howard Kendall was eventually appointed as Royle's successor in June.