Slaven Bilic
28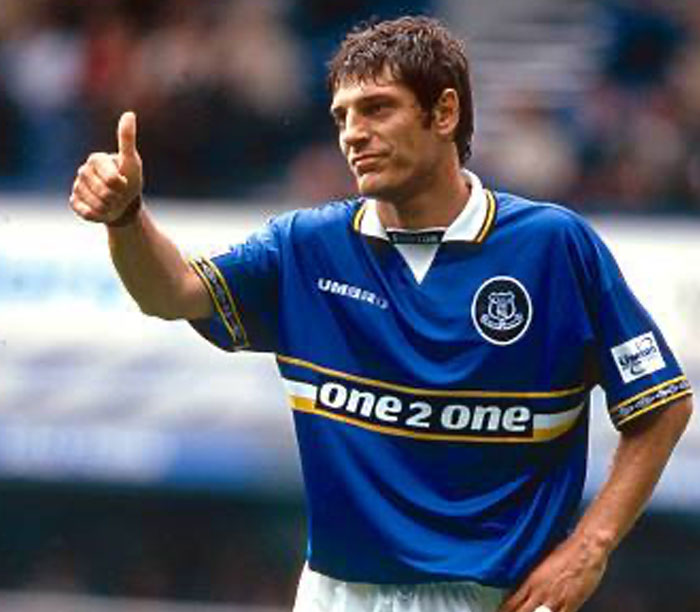 After a sluggish career with unimpressive clubs in Europe, Slaven Bilic appeared to come good while at West Ham.  At the ripe age of 29, he established himself as an accomplished defender in the Premiership.  The classy Croatian was signed from German club Karlsruhe for a West Ham record fee of £1.65m, in January 1996.  Bilic was previously skipper of the German club, and wasted no time in the heart of the West Ham defence demonstrating those keen leadership qualities. 
Bilic originally joined his home club – Hajduk Split, in the former Yugoslavia – at the young age of nine, and spent six seasons there as a professional before moving to Germany in a £750,000 deal in 1993.  Bilic then helped Karlsruhe to the semi-finals of the Uefa Cup before achieving his childhood ambition of playing in the Premiership. 
The cannie Super Slav is fluent in German, Italian and English and qualified as a fully-fledged lawyer. He played in virtually all of the highly-rated Croatian team's internationals, and was ever-present as they made their way to the quarter-finals of Euro '96, where they fell to eventual champions, Germany. 
Joe Royle persuaded him to join Everton back in March 1997, but Bilic claimed he had a debt of loyalty to The Hammers that saw him stay with the club to the end of the season to make sure they were not relegated. (A reported £200k loyalty bonus at the end of the season may have had something to do with it as well.)  It cut little ice with West Ham fans, however, who turned against the perceived traitor en masse before he completed the move to on the pretext of improving his chances of winning trophies. 
When he eventually pulled on the light royal blue shirt of Everton in August 1997, after assuring himself of Howard Kendall's full support, he initially brought some class to Everton's backline. Unfortunately, he also brought a degree of misjudgment and frustration.  These qualities tended to dominate in a season where he racked up with 6 yellows, 1 second yellow card (automatic red), and 2 further red cards, such that he missed 9 matches through suspension.
Returning to the first team after the last of his bans, Bilic found himself on the bench as an unused sub at Wimbledon, and again in the crunch final match of the 1997-98 season against Coventry City. In between, Kendall attempted to use him at Highbury as a creative midfielder an own-goal just five minutes set the tone of that disastrous match which Arsenal won 4-0 to claim the Premiership. 
Bilic will not look back on his first season at Goodison Park as much of a success, especially as West Ham again finished above Everton.  Highlighted as one who may leave during the summer of 1998, Bilic instead went on to impress by playing through to the semi-finals of the World Cup with Croatia.
In the ill-fated semi-final, Bilic was at the centre of a backlash against play-acting when he reacted to a blow in the face by French defender, Laurent Blanc, who was red-carded and missed France's World Cup Final as a result. Bilic silenced his critics with another solid defensive performance that helped Croatia claim a deserved Third Place.
However, that effort created a problem for Everton that became a protracted and painful joke for long-suffering Everton fans.  After his exertions in the World Cup, Bilic revealed a nagging groin strain that required a lot of rest and treatment which he took in Croatia. 
After missing the first quarter of the season, Bilic was left wondering if he would get back into Walter Smith's side following a run of four matches in the reserves.  He did get a run in five senior matches but failed to raise his club game back to the levels of skill and professionalism he showed in the World Cup.
He later stated that the appointment of Walter Smith as Everton manager persuaded him to return to the club after the World Cup finals.  Bilic believed that Smith would be good for Everton, saying: "When I was at the World Cup I had a few offers from really good clubs.  But when I heard that Walter Smith was coming to Everton, I thought, wait a minute, he is a big name, this could be a good situation." 
Unfortunately, exploratory surgery in January 1999 showed that Bilic had a serious problem which would take months to sort out.  After hanging around Bellefield for the duration, Bilic returned home to Croatia to be with his family during the Nato bombardment of neighbouring Serbia.  
He was due back in camp for the start of training on 5 July 1999, but Everton finally realised the fiscal impact of paying him £27,000 a week for another 3 years, and decided to cut their losses, effectively giving Bilic free reign to strike his own deal anywhere he could.  Bilic's agent went off negotiating his own deal with Harry Redknapp for a return to Upton Park, possibly for a cut-price fee.  However, just as that move was about to be completed, it all fell apart.  It appears that West Ham had concerns about his long-term fitness, and doubts about securing insurance following Slaven's pelvic problems.
Not wanted by Everton or West Ham, Bilic returned to Croatia in August 1999, where he tried to resurrect his career prospects, and stayed in training.  It should have been no surprise, then, when he turned out for the Croatian national team against Ireland in September, a move that did not go down well with Evertonians who were frustrated at their club having to pay his huge wages.
Bilic remained in limbo for the next 5 months, awaiting the decision of Everton's insurers regarding a career loss payout which could have seen Bilic retire early, and benefit to the tune of £3m. In the event, a somewhat more reasonable agreement was finally reached by the end of February 2000.  Everton agreed to give Bilic a £1m payoff, representing around half of the balance remaining on his lucrative contract, which still had 28 months to run.  Bilic signed up with his home club, Hajduk Split, just 48 hours later but only managed nine appearances before he was forced to retire.
FactFile
| | |
| --- | --- |
| Squad number | 28 |
| Position | Central defence |
| Nationality | Croatian |
| Born | Split, Croatia |
| Date of birth | 11 September 1968 |
| Height | 6' 2" |
| | |
| --- | --- |
| Joined | May 1997 |
| Joined from | West Ham |
| Signed under | Howard Kendall |
| Transfer fee | £4.5m |
| Left Everton | February 2000 (retired) |
Previous Clubs
Hajduk Split (Cro)
Karlsruhe (Ger)
West Ham
---
Everton Career

| Season | Squad Number | League Apps (sub) | League Goals | Cup Apps (sub) | Cup Goals | Total Apps (sub) | Total Goals |
| --- | --- | --- | --- | --- | --- | --- | --- |
| 1997-98 | 28 | 22 (2) | - | 3 (-) | - | 25 (2) | - |
| 1998-99 | 28 | 4 (-) | - | 1 (-) | - | 5 (-) | - |
| 1999-2k | 28 | - (-) | - | - (-) | - | - (-) | - |
| | Totals | 26 (2) | - | 4 (-) | - | 30 (2) | - |
Previous Career
| | | | |
| --- | --- | --- | --- |
| Seasons | Club | Appearances | Goals |
| 1988-1993 | Hajduk Split | 109 | 13 |
| 1988 | Primorac (loan) | 13 | 1 |
| 1988-89 | Sibenek (loan) | 33 | 7 |
| 1993-96 | Karlsruhe | 66 | 5 |
| 1996-97 | West Ham United | 48 | 2 |