Arouna Koné
9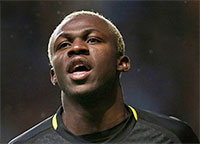 Squad number
9
Position
Striker
Nationality
Ivory Coast
Born
Anyama
Date of birth
11 November 1983
Height
5' 11" (1.81 m)
Joined on
8 July 2013
Joined from
Wigan Athletic
Transfer fee
~£6M [Undisclosed]
Signed under
Roberto Martinez
Sub debut
v Norwich City(A)
17 August 2013
Full debut
v Stevenage (H)
28 August 2013
Contract duration
3 + 1 years
Contract expired
June 2017
(Released)
New Everton Manager Roberto Martinez was swiftly into action during his first week in the role, completing on 8 July 2013 the signing of striker Arona Koné from his previous club, Wigan Athletic for an "undisclosed fee" , believed to be around £6M.
He completed a medical on 5 July and put pen to paper on a 3-year contract at Goodison Park after agreeing personal terms.
The transfer reunited the Ivory Coast international with Martinez, who last year brought him to the Premier League from Levante, after they finished 6th in La Liga, thanks, in part, to 15 goals from Koné.
Arriving at Goodison aged 29, Koné brings a wealth of Continental experience to Everton, having had spells in Belgium, the Netherlands, France, Spain and Germany.
Having notched 27 goals in 63 games for Roda JC in the Dutch league, the Ivorian made a €12M switch to Sevilla in Spain but his time in Andalusia was chequered at best and severely disrupted by a cruciate knee ligament injury that curtailed his playing time.
Though he notched a goal in La Liga and in the Champions League for the Sevillistas, he struggled to regain his place in the Sevilla side and was loaned out to Hanvover and then Levante where 15 goals in 34 appearances was enough to earn him a permanent transfer in 2012.
He was snapped up immediately by Martinez at Wigan for £2M, however, before the 2012-13 season kicked off.
In his only season at the DW Stadium, Koné hit the net 11 times in the Premier League for the Latics last season but his goals couldn't prevent Wigan from slipping out of the top flight and back into the Championship.
He scored two more goals — including a devastating one at Goodison Park against Everton — in the FA Cup, which Wigan went on to win for the first time in their history under the guidance of Martinez. And that reputation seemed to justify him getting the historic Number 9 Everton shirt when squad numbers were announced for the new season.
Not everyone was happy to see Koné join Everton; The Mirror reported somewhat mischievously that Nikica Jelavic wanted reassurance about his future... although he needn't have worried as it turned out the player was not fully fit.
Koné appeared jaded throughout his pre-season performances, not helped by observing Ramadan which meant he had to fast during the hours of daylight, and after he missed three open goals at Stevenage, Martinez came out with the excuses, saying that his main acquisition from Wigan was not yet match sharp.
After showing for just a handful of games by October 2013, Evertonians were told "We have to remember that Arouna has had a few niggles that have stopped him from being himself," by Roberto Martinez; "I thought that in the 20 minutes [against Hull City] he created two outstanding opportunities and he was a very important link piece in our attacking play."
But the backstory of niggling injuries only got worse rather than better. A knock picked up in training before the home game against Chelsea had put him on the sidelines, and it was a similar story following the game against Hull City that would be his last for the season — he picked up another niggling complaint after coming on as a substitute. It turned out that he had overextended his knee and suffered more damage than initially realised.
In November 2013, it was finally acknowledged that the injury to Arouna Koné's knee was a lot worse than feared and he would require surgery to fix a cartilage problem in the knee. That would involve a long period of recovery that would keep him out of the side for the rest of the season and through a long summer when little was heard of his condition.
Tellingly, he was not ready to start the new season, and rumours were rife that his knee was shot. But the Ivorian looked to be ready to make his return to competitive action in September 2014 following a successful behind-closed-doors friendly against Stoke City at Finch Farm, an outing with the U21s and his inclusion on the subs bench against Swansea in the League Cup. Kone was due to play his first senior game in a year but felt pain in his knee during the warm-up and didn't figure.
The player was desperate to return but had to be patient with his protracted recovery: "The worst thing has been the uncertainty about the injury and never quite knowing when I would be able to come back," the 30-year-old told evertonfc.com. "You continue training and working hard but in the back of your mind, you don't know when you are going to be fully recovered.
"In a way, it's worse than something like a break or a ligament injury where you know you have a finite time where you can assess the period of recovery. At least you have a date to aim for.
"I would say I am at 70 per cent now in terms of the pain I am still feeling — I have got a slight twinge of pain from the injury. I can't stress enough how really keen I am to be back playing," he added. "I am desperate to regain full fitness and be back out on the field."
At the end of October 2014, Roberto Martinez provided another update: "I expect him to be fully fit by January and by that I mean match fit. He is going to be involved in 11-a-sides behind closed doors this week to build him up again and he will be fully fit in January. I've seen some players with it recover earlier and others take a lot longer to get back. But everyone does come back."
Kone travelled with the first team to Wolfsburg in late November, and sat on the bench, before getting 75 mins against Sunderland U21s – and scoring a splendid opening goal at Goodison Park on 1 December, suggesting he was finally putting this horrendous injury behind him.
Martinez reassured Everton fans: "He hasn't finished his Everton chapter yet. An injury like this is rare but I'm hopeful he will be able to show what he is about and then we will make an evaluation of his Everton career. There is a long time to go yet.
"I want to see him playing and see what effect he can have on the pitch. The signs are right at the moment. There is improvement every week and he is desperate to show what he can do but I am happy to give him the time he needs."
Just before the year was out, Kone finally started a senior game as striker, and immediately provided a taste of what Everton had been missing, lashing home a rocket at Newcastle. But it was to be very much a false dawn, as he was really poor in the next game, against Hull, and was on the bench for the next eight games before getting a few more starts. But he did little else of note, although credited with an assist for Lennon's winning goal against QPR.
It took a long while and a steady progression, with involvement in almost all pre-season games during 2015, and then building roles in almost every Premier League and Capital One Cup game as the new season advanced, until Aruona Kone could finally believe he had slayed the demon that had threatened his career when he struck an excellent hatt-rick in the 6-2 mauling of Sunderland. And 90 minutes that triggered a one-year extension of his contract with Everton.
That earned him a starting place in the next six Premier League games. But it was downhill from there on, as he failed to score again, except against lowly competition in the early FA Cup rounds. His supposed partnership with Lukaku never materialized and he became an increasingly peripheral figure toward the end of an increasingly poor season that finally saw the end come for his Wigan mentor, with Martinez sacked before the final game.
Little used by Koeman, a move to Crystal Palace in January 2017 fell through at the last minute, and his contract was allowed to run down, with a final cameo off the bench in front of the Goodison Faithful in the last home game, against Watford before he was released in June 2017. He would later join Sivasspor in Turkey.
Everton Career
Season
Squad
Number
League
Apps (sub)
League
Goals
Cup
Apps (sub)
Cup
Goals
Total
Apps (sub)
Total
Goals
2013-14
9
0 (5)
0
1 (0)
0
1 (5)
0
2014-15
9
7 (5)
1
1 (3)
0
8 (8)
1
2015-16

9

16 (9)

5

4 (2)

2

20 (11)

7

2016-17

9

0 (6)

0

0 (3)

2

0 (9)

2

Totals

23 (25)

6

6 (8)

4

29 (33)

10
Previous Career
Season
Team
Appearances (sub)
Goals
2001-2002
Rio Sport (I. Coast)
30
17
2002-2003
Lierse (Bel)
32
11
2003-2005
Roda (Ned)
63
27
2005-2007
PSV (Fra)
53
21
2007-2012
Sevilla (Esp)
40
1
2010-2011
Hanover (Ger; loan)
8
2
2011-2012
Levante (Esp; loan)
34
15
2012-2013
Wigan Athletic
33
11