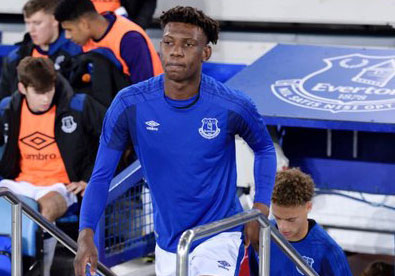 Mampala joined the Finch Farm Academy on a 2-year scholarship at U16 level and hit 12 goals in 18 appearances in the U18 Premier League in his first season. The 17-year-old also figured twice for David Unsworth's U23s.
Mampala also showed a creative aspect to his game as well in laying on six assists over the course of the season. The 18-year-old was a key part of the Everton side that finished 5th in the North division, with it surely just a matter of time before he earns regular football for the development squad, and maybe even the first team.
Manasse Mampala secured his first professional contract with the club in July 2018 in recognition of the striker's impressive form for the Under-18s during the 2017-18 season and he was keen to make an impact at Under-23s level as the next step in his progression.
"It feels great to sign the contract and I'm just delighted the hard work I've put in has paid off," he told evertonfc.com.
"Last season was good for me and it was great to get a couple of games for the Under-23s - hopefully I can play more games for them and score some goals."
But he didn't play that many games during the 2018-19 season, and scored even fewer goals, coming up second best in competition with Bassala Sambou for the striker's role in David Unsworth's double-winning side. Yet he did enough to earn an additional 1-year extension to his contract and, with Sambou turning his contract offer down, Manasse looks set for a greater chance to establish his goal-scoring credentials at this level.