Yerry Fernando Mina González
13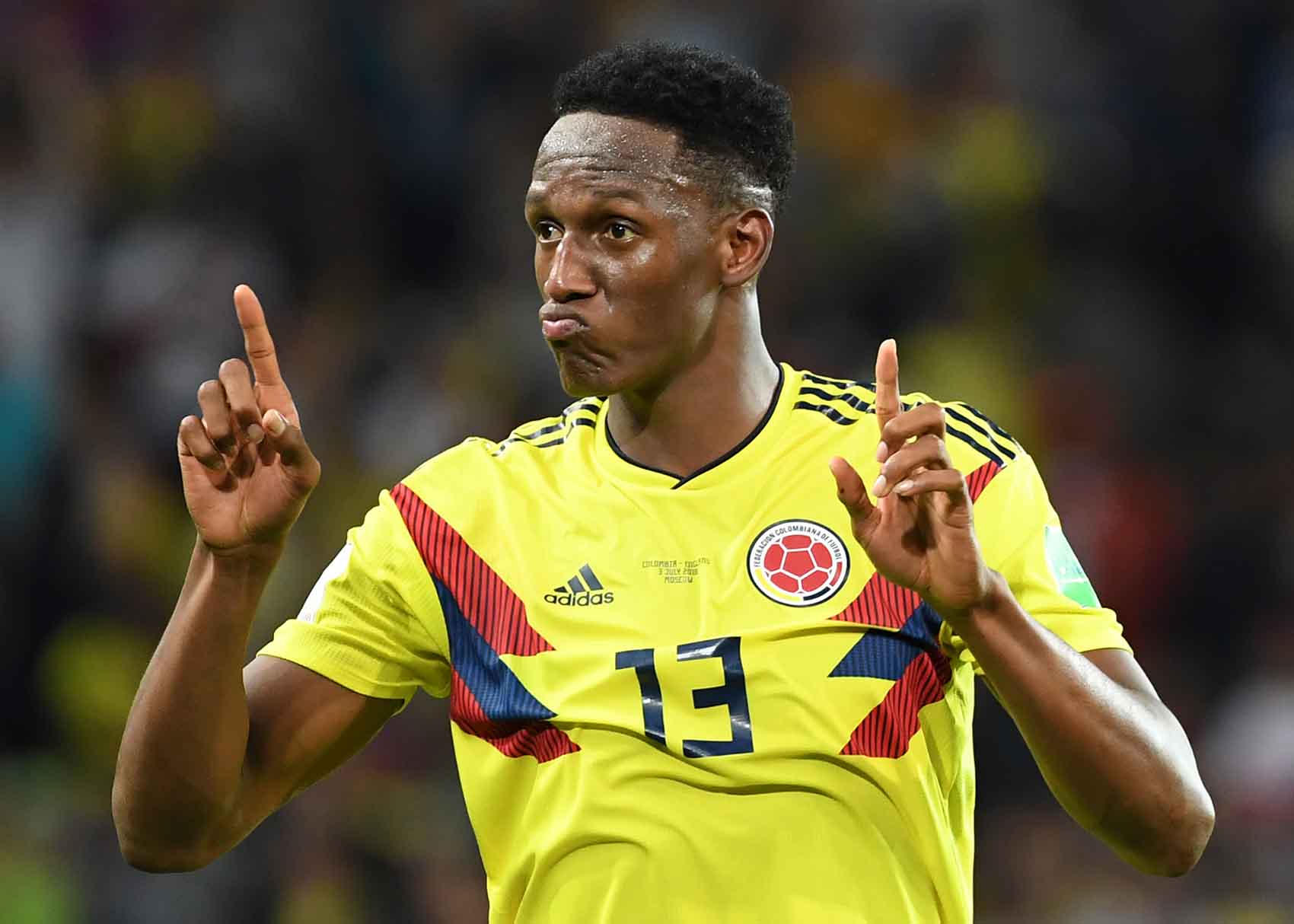 If the 2017-18 season exposed some worrying weaknesses in Everton's defence, the 2018 pre-season programme, the first under new manager Marco Silva, merely served to confirm them. That led to a determined pursuit of Yerry Mina, the Colombian defender who had turned heads with his goalscoring contributions for his country at the 2018 World Cup in Russia.
The Blues actively tried to sign the 23-year-old for weeks after the tournament finished but had their progress stalled despite the player's own desire to play for Everton, the temptations of Champions League football with reported interest from Manchester United and Lyon were fabrications, according to Marco Silva.
Everton had an agreement in place with Barcelona for a £28m transfer with another £1m in add-one for the best part of a week but the deal dragged on towards the transfer deadline while those rival clubs were roumoured to have made their interest known.
While the French club had drifted out the conversation over the last couple of days, it was Everton's guarantee of regular football that is reported to have tipped the scales in their favour over United.
Mina signed a five-year contract after coming through a two-phase medical in Barcelona where Everton officials were on hand to finalise both his paperwork and that of midfielder Andre Gomes who also arrived that day, albeit only on loan.
Mina came to Merseyside following what was a successful World Cup campaign for him, personally, even if his country fell to England in the Round of 16. He has plenty to prove at club level, however, having largely failed to live up to the faith Barcelona instilled in him when they signed him from Palmeiras on the back of some hugely impressive form in the Brazilian league.
However, he suffered a metatarsal injury whilst at Palmeiras, and was missed by Brazil's reigning champions as they failed to defend their title. He returned late October 2017 following a 10-week lay-off, playing both for Colombia and Palmeiras until the end of the Brazilian season in December before transferring to Barcelona in January 2018.
Despite having only made five appearances for Barça since arriving at the Nou Camp in January, the Blaugrana are content to let him go this summer for a handsome profit on the €11.8m they paid for him, albeit significantly less than the reported €100m release clause that was in his contract. Whilst he didn't feature much for Barca, he did feature in all but one of Colombia's World Cup games in Russia.
Born in Guachené, Colombia, Mina began his career at Deportivo Pasto as an 18-year-old before quickly moving on to Santa Fe, initially on a loan basis but eventually stayed there for two years before he was snapped up by Palmeiras in Brazil.
He played less than 30 times in the league for "Verdão" but, in a portent of his impact from set-pieces in Russia this summer, the 6'-5" defender scored six times. His performances attracted the attention of Barcelona, not to mention critics who foresaw a big future for the Colombian in La Liga.
Mina then got chance to prove he could fulfill his rich promise in the Premier League under Marco Silva's new era at Goodison Park, although his 5-year contract did include a buy-back clause for the Blaugrana, set at €60M but which could be activated until the summer of 2020.
His Goodison career got off to an inauspicious start, however. A foot injury would keep him sidelined for a number of weeks as Everton started the campaign without his services and when he finally resumed training in mid-September following a month of rehabilitation, he was forced back onto the sidelines by another foot problem and did not get back into full training again for another month.
When he did play, Mina betrayed a measure of unfamiliarity with the English league as he struggled to get more than a handful of games, with injury and inconsistency the main issues hampering his first season with the Blues. He would finish the campaign with 13 appearances and one goal to his name and with the jury very much out on whether his switch from La Liga would turn out to be a success.
His second season wouldn't be without its injury problems either, with the Colombian missing a number of games at the tail end of 2019-20 when he tore a thigh muscle in training following the resumption post-Covid-19 lockdown. Prior to that, he had been an important member of the trio of senior centre-halves that first Silva and then his replacement Carlo Ancelotti had at their disposal.
Mina was happy to see his compatriot, James Rodriguez, join him at Goodison Park and it seemed that some Colombian magic would infuse Everton's better games... but that soon evaporated as Ancelotti switched from wanting to win big to a desperation not to lose... and losing sometimes very poorly as Everton slid down the table from top to finish 10th before he abruptly upped and left the club.
Yerry Mina would go on to suffer an injury-ravaged season under Benitez and then Lampard, his periods of fitness often working for Colombia, only for him to return with an injury that would then keep him sidelined for Everton. Even so, Everton would tend to get better results when he played than when he didn't. Despite this, opinions remained divided on his value in a defence that conceded a shocking 66 goals in Everton's worst-ever Premier League season.
FactFile
| | |
| --- | --- |
| Squad number | 13 |
| Position | Central Defence |
| Nationality | Colombia |
| Born | Guachené |
| Date of birth | 23 September 1994 |
| Height | 6'-5" (1.95 m) |
Joined
9 August 2018
Joined from
Barcelona
Signed under
Marco Silva
Transfer fee
£28.5M (^£29.5M)
Contract duration
5 years
Contract expires
June 2023
Debut (sub)
v Brighton (H)
3 November 2018
Full debut
v Chelsea (A)
11 November 2018
Previous Clubs
Deportivo Pasto
Santa Fe
Palmeiras
Barcelona
Everton Career
| Season | Squad Number | League Apps (sub) | League Goals | Cup Apps (sub) | Cup Goals | Total Apps (sub) | Total Goals |
| --- | --- | --- | --- | --- | --- | --- | --- |
| 2021-22 | 13 | 11 (2) | 0 | 0 (1) | 1 | 11 (3) | 1 |
| 2020-21 | 13 | 23 (1) | 2 | 4 (1) | 1 | 27 (2) | 3 |
| 2019-20 | 13 | 25 (4) | 2 | 4 (0) | 0 | 29 (4) | 2 |
| 2018-19 | 13 | 10 (3) | 1 | 2 (0) | 0 | 12 (3) | 1 |
| | Totals | 69 (10) | 5 | 10 (2) | 2 | 79 (12) | 7 |
Previous Career
| Season | Team | League Apps | League Goals | Cup Apps | Cup Goals |
| --- | --- | --- | --- | --- | --- |
| 2017-18 | Barcelona | 4 (1) | 0 | 0 (1) | 0 |
| 2016-17 | Palmeiras | 28 (0) | 6 | 15 (0) | 6 |
| 2014-16 | Santa Fe | 67 | 7 | | |
| 2012-13 | Deportivo Paso | 14 | 1 | | |
| | | | | | |