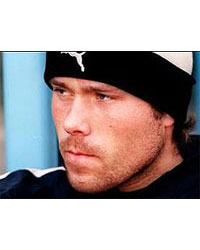 Squad No.
13
Joined
Sep 1998
Transfer Fee
£3.3M
Signed by
Walter Smith
Debut
v Oxford United (a),
14 September 1999
Contract
Expires
June 2004;
released 17 May 2004
Last
Game
v Liverpool (h),
30 August 2003
Left
Everton
Released; to Stoke
July 2004
Born
South Shields
Date of birth
3 April 1979
Height
6' 2" (188 cm)
Nicknames
Simmo, Stevo
Honours
England U-21 international
STRENGTHS
Excellent shot stopper
Agile
Good command of his area
WEAKNESSES
Still young for a 'keeper
There some raised eyebrows when Steve Simonsen signed for Everton in 1998 and supposedly became the most expensive goalkeeper in British football history. It was a complicated and somewhat controversial deal that could ultimately be worth £3.3M for Tranmere Rovers. Simonsen's contract was structured to take into account the number of Premiership and England appearances the youngster would make for the club.

Simonsen's move to the bigtime came on a staggering rise to prominence — he had played less than 40 league games for Tranmere Rovers. He forced his way into John Aldridge's side at the age of 18 and instantly set a new club record of seven consecutive clean sheets.

That form took him into the U-18 and U-21 England set-ups, and he was firmly tipped as the player to eventually become England's regular goalkeeper. At 6ft 2ins, he won a reputation for bravery and the ability to command his area.

Meanwhile, back at Prenton Park, the Tranmere fans were up in arms because they felt the deal between buddies Frank Corfe and Tranmere ex-Chairman Peter Johnson dubious, to say the least. The fee breakdown reads like this:
Down payment: £500k
Payment at end of season: £500k
Payment of £1.5M after 150 games for Everton
Payment of £500k when he plays for England
... and a £300k valuation for Graham Allen.
Many people expected Simonsen to waltz into the Everton first-team unimpeded but until the 2001-02 season he always found either Paul Gerrard or Thomas Myhre in his way.

Indeed, Simonsen's arrival in 1998 proved to be a much-needed kick in the pants for Tommy Myhre who began to steadily improve to the point where by 1999, Gerrard was being loaned out to Oxford United and Myhre was enjoying the best spell of his Goodison career becoming one of the Premiership's best goalies, with 12 clean sheets.

Simonsen remained the second in line throughout Gerrard's 3-month loan period, but when he returned, the players seemed to share duties in the reserves and on the bench for first team matches. His elusive debut never came in season 1998-99, leaving bemused fans puzzled over how the club was going to accommodate three senior goalkeepers on its staff.

Simonsen finally got a first-team opportunity in the ill-fated 1999-2000 Worthington League Cup ties with Oxford United, where he was — to say the least — unimpressive. Numerous flaps and mistakes hardly bade well for someone who was once tagged as England's best young keeper.

Another chance came later on that season when Paul Gerrard pulled a groin 17 minutes into a match at Southampton. Simmo replaced him and was arguably at fault for both goals as Everton lost 2-0. Myhre was recalled ahead of Simonsen for the next game; he never figured again that season.

It was Steve's failure to impress at senior level — on the rare occasions he was given to stake his claim — that meant he was an on-looker as Myhre and Gerrard traded places in the first team, with the latter on the whole proving to be the more reliable choice. He did make one appearance as a sub, coming on for the last 10 seconds of the game against West Ham when Gerrard went down injured an di Canio generously caught the ball instead of scoring a late winner.

When Myhre fell out favour for good in the 2000-01 season and began actively looking for a move away from Goodison, Simonsen became Gerrard's automatic understudy.

The 2001-02 season saw Simmo finally make the breakthrough to the first team thanks to another calamity by Paul Gerrard who poleaxed his own defender in the form of Abel Xavier which gifted Newcastle United a goal that led to a 3-1 home defeat, which sent the Blues into a tailspin towards the wrong end of the Premiership.

It was to prove the last straw for Walter Smith who promoted Simonsen and a series of commanding displays between the sticks had fans wondering if they finally had someone to rely on as the last line of defence.

When David Moyes assumed control of the Goodison hotseat in March 2002, he sensibly played both Gerrard and Simonsen over the last 9 games of the 2001-02 season to evaluate their strengths and weaknesses himself. Neither was able to convince the new boss that he was the outstanding choice and as Everton shipped 22 goals in those 9 games, Moyes made the acquisition of a top class goalkeeper one of his close season priorities.

The next two seasons proved to be very barren ones for Simmo. In February 2004, faced with being third in line, Steve Simonsen turned down the offer of a one-year extension to his contract and started looking for another club where he could play regular first-team football. Most expensive British goalie? Nice one, Mr Johnson. He was released by Everton in May 2004 and joined Stoke City for a two-year deal in July 2004.

Updated by Michael Kenrick, July 2004