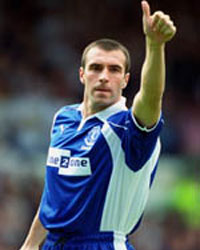 Squad No.
6
Joined
Everton
1990 (as trainee)
Re-signed Aug 1999
Transfer Fee
Ł3M
Signed by
Walter Smith
Debut
(Sub)
v Tottenham (a),
24 April 1992
Debut
(Full)
v Chelsea (h),
2 May 1992
2nd Debut
(Sub)
v Leicester City (a),
22 August 1998
2nd Debut
(Full)
v Tottenham (h),
29 August 1998
Contract;
Expired
6 years;
June 2004
Last
Game
v Blackburn Rovers (h)
24 April 2004
Left
Everton
to join Portsmouth
9 July 2004
Testimonial
v Athletico Bilbao (H)
10 August 2002
Born
Preston
Date of birth
16 October 1973
Height
6' 0" (183 cm)
Nicknames
Rhino (hippo), Lard-arse, Balls of Steel
Honours
England Youth, England U21, England B, 1 Full England, FA Cup winner ('95)
Website
STRENGTHS
Defends well
Gets involved and works hard
Penalties
Fearless tackler
WEAKNESSES
He's hoof-ball crazy!
Now painfully slow
Played out of position at left-back
Poor judge of incoming high balls

David Unsworth developed through the ranks of Everton's Youth System, reaching the pinnacle of his career when he captained Everton and played for England in 1997. His potential was evident early on, and he progressed well through the junior England ranks to captain the U-21 team. Despite a brilliant debut and goal for Everton at White Hart Lane in 1992, he got few chances until the start of the 1994-95 season.

1995: Unsworth played a major part in the turn of fortune Joe Royle manufactured out of the dross left behind when Mike Walker was sacked. A strong defence was vital to Royle's success in pulling Everton off the bottom of the table, and putting together a hugely successful FA Cup campaign. Unsworth played his part well behind the infamous Dogs of War, and relished his victorious Cup Final appearance.

He picked up the nickname Rhino for his charges upfield with the ball at his feet. But these rarely came to much as his shooting usually let him down. He did establish himself as Everton's dead-eye penalty taker.

1996: Unsworth's early promise began to wane a little in 95-96 as he matured, put on weight, and lost some vital pace. His great tackling skill also seemed to suffer. His displays became more inconsistent although Joe Royle seemed convinced that David could make a great left-back. In the spring he had a bit of a revival, helping Everton finish 6th in the league.

Unsworth moved into his third full season at Goodison, but he could not recover that early promise which had brought him a full England Cap.

1997: Occasionally he looked like he might be approaching his best, but then he would have a nightmare. His low point was the first half against Arsenal were he was simply abysmal and quite rightly substituted. He later showed his character with some reasonable performances under Dave Watson's guidance as caretaker-manager.

Then Howard Kendall arrived... and within a few weeks David Unsworth had gone, moving down to West Ham United as part of a swap deal that brought Danny Williamson to Goodison Park.

1998-99: After a very successful season with West Ham, Unsworth wanted to move back north mainly for family reasons. But the whole thing turned very silly when he only got as far as Aston Villa, and then realised that Everton still wanted him. There ensued much nonsense in the media about long drives up the M6 to Liverpool, an unhappy wife in the kitchen with two young kids, and cold dinners in the bin... All this was fuelled by the most fractious contributions from Villa manager, John Gregory, who ran hot and cold over the vacillations of Unsworth.

Unsworth did make one reluctant appearance for Villa Reserves before Walter Smith succeeded in bringing him back to Goodison Park. He seemed a better player for his year away, and the home fans welcomed him back warmly for the home match against Spurs.

David's defensive qualities proved a boon to Smith's restructured team as he played a key role in a 10-match unbeaten run which should have given Everton a firm foundation for the season. But Unsworth's poor use of possession came to epitomise an Everton team that just could not score goals. His propensity for the long-ball up to the beacon figure of Duncan Ferguson contributed to the isolation of creative midfield players denied use of the ball.

Add to this Walter Smith's misplaced conviction that David Unsworth is really a left-back – at the expense of young star Michael Ball – and you have the seeds of failure. Walter Smith's challenge, should he choose to accept it, is to utilise Unsworth's defensive skill to feed the starving midfield, and put Michael Ball where he belongs, at left-back.

1999-2000: Smith failed the challenge for much of the season, with many Evertonians turning on Unsworth and deriding his dogged defensive qualities, while acknowledging his lethal accuracy from the penalty spot. But it all came to a head against Sheffield Wednesday when Unsworth and Materazzi conspired to gift two stupid goals to Benito Carbone. Unsworth came down with a mysterious stomach bug for the next match, amidst unconfirmed reports of strife and violent vengeance as it was suggested that he had actually been dropped.

However, Walter Smith went on to use him in every game for which he was available. Unsworth appeared to be one of Walter's building blocks for the Everton of the future, as he remained first choice for the left-back berth, despite his persistence with deep crosses for the ghost of Duncan Ferguson... Unsworth remains a true-blue enigma. A usually excellent defender, with woeful distribution.

2000-01: It was set to be a tough season for Rhino with incoming transfers including two left-footed defenders in Gary Naysmith and Alessandro Pistone. Along with Michael Ball's fulfillment of his potential, Rhino had one hell of a battle on his hands. But with the Goodison injury list becoming ridiculously awful, and Rhino being one of the fittest people at the club, he was one of the first names on the team sheet.

However, the season didn't start too well for Unsworth, he was guilty of giving a few goals away and had a few bad games – hence the Goodison boo boys. Rhino's confidence dipped. He sat on the bench from November until January and a spirited performance against Coventry

This was capped with a bad game against Tranmere when Everton were embarrassingly dumped out of the FA Cup. Every time he touched the ball, he was booed. Now what should he have done? Well maybe find another club... But no, he got his head down and in the latter part of the season he became one of most consistent performers. Never ducked out of a challenge and showed Balls of Steel by netting three penalties against Man City, West Ham and Liverpool as well as a marvelous bicycle kick against Villa.

A few Man of the Match awards came his way along with Everton's Premiership safety. Currently he has not been offered a new contract and looks like he could be forced to leave in the next year. Everton should obviously extend his contract – there are not many players like Unsworth in the game who wear their heart on their sleeve and our loss will be someone else's gain. Don't let it happen!!!

2001-02:

2002-03:

2003-04: Despite the dedication and commitment, signs were beginning to appear that perhaps his time as a Premiership player were finally coming to a close. More dire games than we care to remember punctuated this dreadful season for Everton, with some of the senior players (surely not true blue Unsie???) rebelling against the tough training regimen David Moyes continued to impose.

When the Club only gave him a year-long contract, and on reduced wages, he was very miffed. Although the offer was later improved to two years, his agent had persuaded him that Bolton would be a better option for the future... until Bolton pulled the plug! Then, in July 2004, Portsmouth stepped in to rescue the aging lumper:

"Leaving Everton at any stage is regretful. I'll always be an Evertonian. It was time to move on. I didn't get what I wanted so I had to move on. When I knew they [Pompey] were interested I thought I'd give it a go."

Bye Bye, Unsie; solid defender, fully committed, respected professional, excellent penalty taker, True Blue Evertonian... you overstayed your sell-by date.

August 2005: Things didn't go too well for Unsworth at Pompey and it was his old friend Joe Royle who eventually took him on loan to Ipswich Town. Portsmouth agreed to write off the last year of his contract, allowing him to become a free agent but he then signed a three-year deal at Sheffield United, rather than Ipswich Town.