Match Summary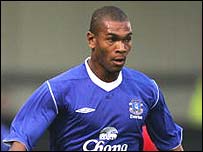 Bent: Paired with Big Dunc
With no James Beattie, it was a dual attack with Bent and Ferguson up front.
It was a lively start but most of the pushing was from Bolton although Pistone did get in a good cross that Cahill headed just wide. Jay-Jay Okocha was the biggest danger, involved in everything Bolton were throwing up-field.
It was 25 mins before Everton were able to put anything reasonable together, Arteta having a glorious chance to play in Bent after good work by Ferguson but the final ball was poor. Pistone stayed down motionless after a clumsy clash with Pederson, and a stretcher was called. It looked very much as though he had hyper-extended his left knee. More injury trouble! Osman on in his place.
Everton did very well to survive the Bolton onslaughts in the first half considering how poorly they were playing, surrendering possession with the usual hopeful long balls from defence, giving away too many corners, and failing to play in a decent final ball when they did get near the Bolton penalty area.
It was pretty much the same story in the second half until a bouncing ball looped over Ferguson and fell to Cahill, who placed a lovely ball across goal, and Marcus Bent fired the ball home to put Everton ahead, completely against the run of play.
Soon after that, Bent went down heavily and needed some extended treatment. Bent was withdrawn (probably as a precautionary move for Wednesday); Jamie McFadden replacing.
Nolan had a glorious chance to level things for Bolton but he fired over the bar from 7 yds. Bolton continued to huff and puff in ever increasing degrees of panic as they began to realize that this one could be getting away from them. Stelios Giannakopoulos and then Campo came on to pile more and more pressure on the Everton goal.
As Bolton powered forward in one increasingly frenetic attack after another. El Hadj Diouf fired in a tremendous rocket of a shot that crashed into the Everton bar, thanks to a fantastic fingertip touch from Martyn that was worth three points all by itself. Everton defended very deep, giving a way a string of corners and long throws in a desperate finalé. Kilbane was penalized for a foul right on the D, and got a yellow for his troubles. But the Everton wall did its job thankfully, as two ugly Bolton brutes were determined to block Martyn's view, standing right in front of him.
Jaaskelainen even went up front for the last few minutes but it was not going to happen for them, and you can just imagine how mad poor old Sam will be after this. A fantastic result for Everton and especially David Moyes. Take that, Alan Green, you fat kopite twat.
Michael Kenrick
---
Match Preview
David Moyes maintains that his players have made a good start to the season, doing the best they could in two difficult games. But at the end of the day, it's results that count... and Everton face a daunting week ahead, starting at the Reebok with a strong and feisty Bolton side.
We don't have the Stats for this one yet, but the most daunting stat doing the rounds at the moment is the fact that Everton have not picked up a single point in an away game since that mauling of Aston Villa at the end of February. Definitely a good time to nip that one in the bud!
Keeping injuries at bay is what really helped David Moyes to his great achievement last season, but the nasty Bad Injury Fairy has now returned in with lots of slings and arrows that have laid low a good portion of Everton's already small squad:
Perhaps the most significant is James Beattie, whose heavily bruised toe may be on the mend faster than earlier suggested. But he's still out for this one.

Then there's strong defensive signing Per Krĝldrup, who has yet to do much for us due to needing a groin strain operation that should surely have been picked up in his transfer medical?

And the latest added to the list as a doubt for this game is Simon Davies, who has had a problem with his shins(!) ever since he arrived!!!

The injury list already contained Gary Naysmith, who needed a second operation on his troublesome ankle to remove a piece of bone.

Of course Lee Carsley has still not recovered from that nasty knock that sent him off the field last time we visited Bolton, at the very end of last season

And, although Li Tie is playing games in the reserves, he says he is terrified of re-injuring the leg that kept him out of action for 18 months.
That's half a team currently unavailable! But at least it lets Marcus Bent have another go at leading the line... and proving a very significant point to David Moyes. Moyes appears to be duty-bound to select Beattie, his record signing, whenever he possibly can, rather than playing Bent, who has proved himself again and again the most capable player to lead in the 4-5-1 formation.
So, one thing we can be sure of is it won't be pretty. But Moyes and the boys have picked up on the level of criticism already leveled at them after just two games, and will hopefully be using this as a massive motivator enabling them to turn the tables on Sam and his big brutes.
Michael Kenrick
---
Everton plunder three points at The Reebok
Everton are off the mark in the new Premiership season with their first win thanks to a solitary goal by Marcus Bent seven minutes into the second half and a dogged defensive stand that just about held out through a 90-minute aerial assault by Bolton Wanderers.
Sam Allardyce was incredulous after the final whistle at how his side had not managed to come away from their first home game of the new season with a point let alone all three and you could understand his disbelief seeing as Everton managed just one meaningful effort on goal all game and scored from it. Hard luck on Bolton but David Moyes and the traveling Blue hordes will be delighted at having plundered a win that had looked beyond the realms of probability during a horrendous first half from their point of view.
Already stripped of James Beattie because of a toe injury, Moyes's offensive options were further restricted by Simon Davies's continuing shin splints problem, one that hampered his first-team opportunities during his time at Tottenham. However, the manager's decision to start with Duncan Ferguson and Marcus Bent up front — albeit with the latter playing slightly deeper — was probably due more to a desire to counter Bolton's physical, aerial style than anything else. Throughout the rest of the line-up, there were no other changes.
The game started in the manner expected, with Bolton testing the visitors' defence with long, probing balls from the back and long throw-ins from Jay-Jay Okocha aimed mostly at Kevin Davies. However, it was Everton who almost drew first blood when Alessandro Pistone swung in a cross that found Tim Cahill unmarked in the area but, uncharacteristically, he got virtually no purchase with his header and the ball glanced well wide.
The home side's first real chance arrived in the seventh minute when Davies found himself clean through but Nigel Martyn — who only a week ago celebrated his 39th birthday — was off his line in a flash and made a superb blocking tackle to clear the danger.
Bolton clearly had control of the game, though. Most of their angled balls to the edge of the area were finding the heads of their own attackers which was in stark contrast to Everton who for long periods couldn't find a blue shirt to save their lives. Countless flighted balls from defence and Phil Neville in the holding role either drifted over Ferguson's head or were easily cut out by the home defence.
In a very rare moment of accurate distribution, Phil Neville spotted the perfectly-timed run of Bent but when he picked him out with a floated ball over the top, the linesman flagged for offside despite the striker being a yard at least onside. It was one of many atrocious decisions by the match officials; thank goodness Bolton weren't able to capitalise on a couple of very well-situated but unjustified free-kicks late on.
Meanwhile, Bolton kept probing and had four good chances to break the deadlock before half-time. First Henrik Pedersen volleyed a yard over when he picked up a flick-on from another direct through-ball, then Jaidi got above Ferguson to power a header goalwards but Martyn managed to claw it wide and, finally, Gary Speed put two almost identical headers from El Hadji Diouf corners over the bar from close range.
In between, Everton were astoundingly poor and failed to create a single opening. Instead, they lost the services of Alessandro Pistone who paid the price of a sloppy, late tackle on Pedersen and had to be stretchered off with a knee strain. He was replaced by Leon Osman, with Neville dropping back to left back.
So, goalless at half-time and Bolton carrying all the threat. It was no surprise either when the Trotters resumed the second half where they had left off in the first, Davies getting into the Blues' area within a minute of the restart but he miscued from 10 yards, the ball deflecting harmlessly into Martyn's arms.
Two minutes later, Nolan effected a wonderful turn to evade Joseph Yobo but under the attentions of David Weir, he spooned his shot over the bar. Martyn then had to be alert as an innocuous-looking deflection off Weir from Okocha's attempted cross swerved dangerously towards the corner of the goal, but the 'keeper got down well to make the save.
At this point it seemed only a matter of time before Bolton's supremacy was translated into goals. Instead, Allardyce's men were undone at their game and by their own pitch as Everton made a rare foray forward and everything clicked into place.
An angled ball forward from the right flank had Ferguson and his marker jumping in another aerial challenge but when it sailed over their heads, bounced high off the hard turf and deceived the right back, Tim Cahill latched onto the loose ball with a sliding cross that evaded Jussi Jaaskeleinen's despairing dive and picked out Bent who slotted into the empty net. 1-0, totally against the run of play.
While an all-out aerial blitz would have been the expected response from Bolton, the goal seemed to leave the home side a bit stunned. Combined with the introduction of the busy Osman, however, it had the very visible effect of settling Everton down into a more cohesive passing game. Having been so poor in the first 50-odd minutes, it was nice to see them regain some belief in their passing game and they began to look more like the team that finished two places above the Trotters last season.
Four minutes after going ahead, the Blues looked to carve out another opening for Bent as he chased a nicely-weighted through-ball. However, after falling awkwardly under Ricardo Gardner's sliding tackle, Bent was left writhing in agony on the turf with what looked like another knee strain and although he tried to run the injury off, he couldn't continue. As he limped off to applause from the traveling Evertonians, the striker was replaced by James McFadden.
Bolton continued to struggle to regain their rhythm but just after the hour mark came one of their best chances yet as Nolan half-volleyed over from 8 yards out when he really should have scored. But, frustrated as they were by some resolute Everton defending, their next meaningful effort didn't arrive for another 20 minutes when Jaidi headed a corner over the bar at the back post.
Speed then contrived to do the same with another header from a delicate El Hadj Diouf cross from the right before 19-year-old substitute Vaz Te forced a good save from Martyn with a powerful shot following a good run into the area.
As the game moved into the closing stages, Bolton began to lay siege to the Everton defence and the visitors' biggest let-off of the afternoon arrived three minutes short of the regulation 90 when Diouf latched onto a deflected defensive header to drill a shot that glanced off Matyn's gloves, cannoned off the crossbar and out to safety.
It was to be their best and last chance to salvage something from the game. Okocha did have one last opportunity with a direct free kick after Kevin Kilbane had scythed him down on the edge of the area (and become the only player of the afternoon to get booked), but, thankfully, the Nigerian fired into the defensive wall.
It's unlikely that Everton will play this badly again this season and still manage to take all three points, especially away from home. This really was daylight robbery personified and although their defensive heroics were worthy of the win, no one can doubt that Bolton should have won this game with ease.
But that's football as they say. Moyes will be pleased with his side's first points of the new season but he mustn't let this victory mask the fact that his team was atrocious for the first 45 minutes
One would hope he will be mindful of how poor they were going forward and how utterly essential it is that he bolster his attacking options with another striker — maybe two at this point — before the closure of the transfer window in 10 days' time.
Time will tell how great a cost the Blues paid in terms of the injuries to Pistone and Bent. In his post-match interview with the BBC, Bent stressed that after strapping his knee in ice, his injury didn't appear as bad as he at first thought, but he will surely be touch and go for the Villarreal game on Wednesday. Likewise for Pistone, although his did look to be the more severe injury.
Player Ratings:
Martyn 7 — Made one outstanding intervention to deny Davies and did all that was asked of him with Bolton's other efforts on goal.
Hibbert 6 — A typically dogged defensive display marred by more terrible distribution going forward
Pistone 5 — Despite one decent cross for Cahill early on, he was poor before injuring himself with a terrible tackle on Pedersen
Weir 8 — Made one potentially catastrophic error that almost let the opposition in early in the game but recovered to put in a great defensive stand with Yobo
Yobo 8 — For the most part he was immense — and he had to be — in what will probably be one of the most demanding fixtures of the season. Man of the Match
Neville 6 — Not as good as he was against Villarreal or United simply because so much of our game revolved around the long ball. Was part of the stubborn back line after moving to left back following Pistone's injury
Arteta 6 —Going forward he was again disappointing but he got stuck in well and was the victim of a couple of very poor refereeing decisions
Cahill 6 — There when it mattered to create the game's only goal and unlucky not to make a better fist of the first chance of the game. Was less effective than usual because of the long-ball tactics
Kilbane 6 — Was largely muscled out by a very physical Bolton side so his usual kick-it-past-the-man-and-run-around-him trick didn't work at all. But was commendable in a defensive midfielder role (which they all were by the end) as the Blues dug in to hold on to the win
Bent 7 — Probably the pick of the Everton players before he went off and was visibly upset with the service he was getting from midfield. One tantrum following a poor Arteta through-ball betrayed his frustration but will have been pleased with the goal
Ferguson 6 — Seemed to do more with his mere presence than actually create anything up front
Osman 7 — The Blues improved significantly after Leon came on as he was one of the few players willing to try and work something on the deck rather than simply lump the ball up front at the first opportunity
McFadden 6 — Didn't really have much opportunity to get into the game but helped out defensively where he could
Lyndon Lloyd
* Unfortunately, we cannot control other sites' content policies and therefore cannot guarantee that links to external reports will remain active.