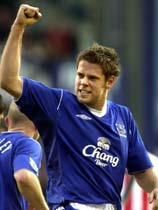 James Beattie: Returns from injury to lead the Everton line
James Beattie returns as the loan striker, allowing James McFadden to return to the bench — the only change from the midweek game at Wigan... although Duncan Ferguson is suspended, of course. Nigel Martyn is still suffering from an ankle injury.
For Manchester City, a debut for supposed Everton target in the January transfer window, Georgios Samaras.
A great early ball from David Weir set Leon Osman off on a great run beating Richard Dunne with ease, but his shot hit the crossbar. Down the other City did their best to score early too.
Some excellent moves followed from Everton, with Arteta playing some superb stuff, the game being carried to City with tremendous gusto.
After seven minutes, Everton's early dominance was finally rewarded in a very fortuitous manner, Dunne heading the ball off the line onto David Weir's left knee, and it bobbled past a despairing David James into the City net! Lucky... but fully deserved.
Beattie showed some real determination to get the ball ahead of James but his first touch was not good enough to convert. Everton continued to push City hard as they took a stranglehold on proceedings, but failed to capitalize on the early lead.
City's best move came just before half-time when Sun crossed well but Vassell could not direct his header when he should perhaps have done better. A warning perhaps for the Blues, who may be looking to sit on their early lead.
Everton did not show the same pace, energy or desire at the start of the second half and Samaras came very close with a strong header, despite an otherwise quite unimpressive debut. Ominously, Stuart Pearce decided to up the ante, bringing on Everton nemesis Andy Cole for a three-man attack. Musampa had an easy shot on goal minutes later but he could only fire straight at Wright. Response please, David Moyes!
But it was as ever with the ginger one. His view of the game takes precedence over anyone else's, and Everton effectively rode the City storm with minimal changes. Another opportunity for Victor Anichebe to get some mud on his boots? Nope.
City lost a bit of discipline with Stephen Jordan awarded a yellow card for unsportsmanlike behaviour on 55 mins and Evertonian Joey Barton picking up a yellow card for unsportsmanlike behaviour 13 mins later. Then in the dying minutes, Stephen Jordan received a second yellow and a red card, clattering with intent into Hibbo who was flying down the wing. Richard Dunne got a yellow card for protesting.
So that's up another place to 12th, just 7 points shy of the magic 40 (with 13 more games left), and it increases the unbeaten run to nine games without defeat — something that has not been achieved by an Everton team since 1998! And all under the enigmatic tutelage of David Moyes and his strikerless wonders. Who'da thunk it?
Michael Kenrick
---
Since bringing a four-game losing streak to an end with the New Year's Eve victory at Sunderland, Everton have shed a further two players, added just one 34-year-old defender and failed again to solve a chronic lack of firepower. And yet they're unbeaten in eight games and lie four points off the top half of the table. Both sides of a perplexing coin say much about David Moyes's enigmatic style of management.
The visitors this weekend are Manchester City who are going well under Stuart Pearce's energetic style of management. They already have a 2-0 victory over the Blues under the belt, earned towards the back end of our horrific early-season run of form, and will be looking to win their fifth match in six in all competitions by doing the double over Moyes's boys.
Unfortunately for Moyes, the latest episode in Duncan Ferguson's roll of shame means he is relying on James Beattie recovering from a calf injury as he prepares for this one. The £6M man has missed the last two games and while his absence hasn't affected the Blues' one-goal-a-game average, he remains our most potent weapon. Ferguson has been handed a three-match ban for punching Paul Scharner on Tuesday, a sentence that may be extended after the FA charged him with violent conduct.
If Beattie doesn't make it, James McFadden and Tim Cahill will bear the responsibility up front, with Leon Osman in support from midfield. At the back, David Weir and Alan Stubbs will extend their partnership in the absence of Joseph Yobo (who has progressed with Nigeria to the last eight of the African Nations Cup) and the injured Matteo Ferrari.
This is a hard one to predict. City are certainly potent — their three goals against Newcastle on Wednesday were, unfortunately, the last three nails in the coffin of Graeme Souness — but Everton are nothing if not resilient. If they can keep the likes of Vassell, Cole and Rieira quiet, it will, as ever, be a case of if and when they can make the breakthrough at the other end.
Lyndon Lloyd
---
This will be just the 158th meeting between Everton and Manchester City in all competitions and the 146th League match between the sides. This will also be the 78th match at Goodison Park and the 73rd League match there.
Everton's full record against Manchester City is:
| | | | | | | |
| --- | --- | --- | --- | --- | --- | --- |
| | P | W | D | L | F | A |
| Premier League | 17 | 7 | 3 | 7 | 22 | 30 |
| Division One | 128 | 44 | 35 | 49 | 178 | 181 |
| FA Cup | 10 | 4 | 3 | 3 | 12 | 8 |
| League Cup | 2 | 1 | 0 | 1 | 2 | 2 |
| TOTALS: | 157 | 56 | 41 | 60 | 214 | 221 |
Everton's record against City at Goodison Park is:
| | | | | | | |
| --- | --- | --- | --- | --- | --- | --- |
| | P | W | D | L | F | A |
| Premier League | 8 | 4 | 3 | 1 | 12 | 8 |
| Division One | 64 | 32 | 18 | 14 | 118 | 71 |
| FA Cup | 4 | 2 | 2 | 0 | 5 | 2 |
| League Cup | 1 | 1 | 0 | 0 | 2 | 0 |
| TOTALS: | 77 | 39 | 23 | 15 | 137 | 81 |
The last meeting between the clubs was earlier this season when Manchester City won 2-0 at Maine Road on 2 October 2005 in what is the earliest ever kick off time for a Premier League match. The last meeting at Goodison Park was on 26 December 2004, when goals from Tim Cahill and Marcus Bent ensured a 2-1 victory.
The most common Everton victory over Manchester City is 1-0, which has happened 15 times in Everton's 56 victories. City's most common victory is also 1-0, which has happened 16 times in their 60 victories. The most common draw between the sides is 1-1, which has happened 18 times in the 41 draws between the sides.
There have been 5 hat-tricks against City over the years, with the last coming from Gary Lineker on 11 February 1986 in a 4-1 home victory. In fact, this is the only hat-trick against City since World War 2. Another interesting fact is that the great Bill Dean scored none of the five hat-tricks!
Everton's record for 4 February is:
| | | | | | | |
| --- | --- | --- | --- | --- | --- | --- |
| | P | W | D | L | F | A |
| Premier League | 1 | 1 | 0 | 0 | 2 | 1 |
| Division One | 10 | 4 | 3 | 3 | 16 | 12 |
| FA Cup | 5 | 3 | 1 | 1 | 10 | 7 |
| TOTALS: | 16 | 8 | 4 | 4 | 28 | 20 |
This is the first time the clubs have met on this day. Everton's last match on this day was in 2004 when Everton lost 2-1 at Fulham in an FA Cup 4th round replay. The last League match on this day was in 1995, when Everton beat Norwich City 2-1 at Goodison Park with the goals coming from Paul Rideout and Graham Stuart.
Barrie Rees was born on this day in 1944 in Rhyl. After signing professional forms in September 1961, Barrie made just 4 appearances for Everton, but managed to score 2 goals as well. He was sold to Brighton in January 1965, and, tragically, died in a car crash during the summer of 1965 at the age of 21.
Martin Hodge was also born on this day in 1959 in Southport. Signed from Plymouth Argyle in July 1979 for £135k, Hodge made just 31 appearances before being transferred to Sheffield Wednesday in August 1983 for £50k.
Kevin Campbell was born on this day in 1970 in Lambeth. Signed from Trabzonspor, Kevin made 164 appearances and scored 51 goals during his time here (including 9 goals in his first 8 appearances, which made him the club's top scorer for the season!!). His hat-trick against West Ham United in his 7th game with club meant that he became the first player to score a hat-trick with 3 different clubs in the Premier League (including Arsenal and Notts Forest) – and was later joined by Les Ferdinand (QPR, Newcastle and Spurs) and Teddy Sheringham (Spurs, Man Utd and Portsmouth). He later moved to West Bromwich Albion in January last year.
Joseph Yobo was in the Nigeria team that beat Benin 2-1 in their final Group D match of the 2004 African Nations Cup. Ironically, in a similar situation as against Wigan, he is expected to play for Nigeria today in their quarter final match with Tunisia!
Milestones that can be reached this game:
If he starts, Nigel Martyn will be making his 100th start for Everton in all competitions.
If he starts, Leon Osman will be making his 50th start for Everton in all competitions.
If he plays, Richard Wright will be making his 50th League appearance for Everton.
If either side score, then the Everton club record for the Most Consecutive Matches without a Goalless Draw in the Premier League, both overall and at home, will be extended to 45 and 42 matches respectively. The last goalless draw was at Blackburn on 18 December 2004, whilst the last goalless draw at Goodison Park was, ironically, against Manchester City on 7 December 2003.
Steve Flanagan
---
When you have to scrap, you have to scrap

Having arrived at Goodison Park perhaps a little bit later than usual, everywhere around the ground was packed so we took the unfamiliar route of actually arriving inside the ground well in time for kick off. This gave us the benefit of seeing the team news earlier than usual. I felt very sorry for James McFadden who must seriously think he can do no right at the moment. He scores against Chelsea, and then he battles on stitched up and with a broken nose against Wigan and still gets dropped.

In fairness to Moyes, he did have a selection headache. Osman is simply undroppable at the moment and we can't cope without Arteta's class, Cahill's zest, Neville's bite and Kilbane's work rate. Just think what it'll be like when Carsley, Van der Meyde, Ferguson and Vaughan are all at it as well. (Let's just forget about Li Tie....) Beattie was apparently fit enough to lead the line.

We won the toss so attacked the Park End in the first half. City actually started the better team for the first couple of minutes before Osman broke free. Having beaten Dunne he masqueraded into the box before smashing a shot past James but unfortunately just clipping the bar as well. This visibly lifted Everton.

It was on eight minutes when we did exert are pressure into a goal. Arteta's only good delivery all day was partially cleared, only for it to come back to Weir who turned it in with his knee. People seem to think it was a fluke but having seen the replay, I think that Weir turned his knee a bit towards the ball and therefore intended to diver it goalwards. Either way, we'd scored. I thought it was Stubbs who'd netted it. Simo enquired "How can you possibly tell from here?" at which point everybody started chanting "Weir. Weir. Weir. Weir…." Majority rules.

It was now up to City to carry the fight to Everton and what developed in the remaining 82 minutes was somewhat absorbing. Several times I checked the clock, only to be surprised at how long remained. City battled but so too did Everton who simply refused to let them get a stranglehold on the game. This was epitomised by Stubbs who not long after the goal won back possession 30 yards from City's goal and let fly with a low drive that went a few yards wide.

It was just as well we had a good referee in the name of Andy Marriner. The match programme stated that we had the ridiculously poor Mike Riley so I was very relieved when he didn't take to the field. This ref let the tackles go in and let the game flow. Probably the best ref I've seen since we played Man Utd here last season.

Despite our resistance, however, City did have two chances in the first half — one a good one; one a half one. First off, somebody crossed and Vassell headed over when really he should of scored, and then just before half time the ball came back to Musampa who screwed it wide.

The comedy moment of the game came when David James, from a routine backpass decided to skin James Beattie unnecessarily. Skin him he did, but he hit the ball so ridiculously far ahead of himself that he could barely reach it and only succeeded in slicing the ball out of play. Exactly what was he trying to achieve from this? We went in at half time 1-0 to the good. The attempts with the "hit the bar" competition were about as bad as I've ever seen...

The second half was simply more of the same. Everton not creating a great deal and City simply not doing enough to get back into the game. We did hit the bar. Or at least Richard Dunne did when he tried to clear a corner at the near post, only to get clattered into the back of the head by David James as he did so. This resulted in the ball spinning high into the air and onto the top of the crossbar. It would have made for a spectacular own goal.

At the other end, City did create two chances that were practically a carbon copy of those in the first half. Firstly Samaras headed a good chance just over, and then Musampa screwed another effort wide. For us, James Beattie hit one from the edge of the box straight into David James's grateful arms. Off the pitch Joey Barton simply didn't deserve the chants against his brother.

The most intriguing part of the game came in are box. It was what you could call a "goalmouth scramble", for what seemed like an eternity Everton couldn't clear the ball properly and City couldn't edge it forward enough. Eventually Weir pounded it clear. Shortly afterwards I think Musampa hit one which was comfortably saved by Wright.

In the dying minutes Simon Jordon was fairly sent off for a rash lunge on Tony Hibbert which earned him a second booking. He'd been booked earlier for a foul on Arteta. Everton played the clock down from there on in and took the three points. This takes us within a point of City and into 11th place. With Charlton Athletic down 1-3 at Spurs we are currently safe in 11th place.

Player Ratings:
Wright: Criminally underworked but didn't seem comfortable coming off his line. 6
Valente: My man of the match. A performance of genuine world class. Now looking the part. 9
Weir: Scored the goal. Was quiet otherwise but solid enough as well. 7
Stubbs: Solid as a rock. Good stuff by Moyes in getting him back. 8
Hibbert: Resilient display. His distribution has certainly improved as well. 8
Kilbane: Plenty of work and decent football from Kilbane. 6
Neville: Quietly effective display against probably his most hated club. He'll have enjoyed this one. 6
Cahill: Didn't do too much for me but was always there with the bite. 6
Arteta: Had a generally poor game. His distribution, the goal aside, was not up to scratch. 5
Osman: Played well before tiring. Plenty of movement. 7
Beattie: Clearly unfit. Battled well before coming off with 10 minutes to go. 6

McFadden (for Beattie): It didn't quite work for him. 5
Davies (for Osman): Lively, but it didn't quite work for him. 5
Paul Traill
* Unfortunately, we cannot control other sites' content policies and therefore cannot guarantee that links to external reports will remain active.