Match Summary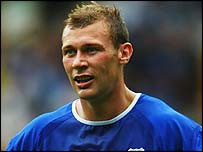 Duncan Ferguson
Not playing any part in this one
A slew of changes from the stating line-up at Millwall last weekend, with Martyn, Yobo, Osman and Beattie returning, with Wright, Weir and Bent on the bench, where Davies had recovered from an ankle problem.
Everton really, really should have scored inside the first minute when Cahill turned nicely and chipped a perfect ball across to the far post for Leon Osman to head into the net... but he didn't for some unfathomable reason.
But Portsmouth moved the ball around well and started to put some pressure on Everton, Lua Lua cutting in and firing from a narrow angle forcing Martyn to save. The game settled into this pattern with Portsmouth dominating for 20 minutes or so but failing to secure any advantage, while Everton started to come back into it and string a few passes together. Mendez got carded for barrelling into Neville.
Just past the half-hour, a high ball form a free-kick that Beattie got some weak contact on, allowed Leon Osman to bustle with the defender and get the ball into the Portsmouth net off a deflection... GOAL! It was a scrambled untidy effort, poorly defended by Portsmouth, but we'll take anything these days.
Portsmouth responded with urgency verging on desperation, knowing the roasting hey would be getting at half-time from 'Appy 'Arry. But they lacked any shape or coherence, as Everton settled into a controlling and more composed gameplan. Off an Arteta corner, Osman put a nice ball over for Cahill but he headed wide with Beattie perhaps putting him off, Beattie then going off for some attention.
Just before half-time, Cahill again had another chance to head home but did not get the right contact. And after the break, Everton showed some more determined attempts to control the game, with Yobo and Ferrari looking particularly strong in defence, and Arteta finally showing some magic to cut past a few defenders but Kilbane could not finish from the cross.
Beattie should have done better against Taylor but he simply didn't have the pace to get free and get a clean shot on goal. The tempo of the game was becoming fast and furious, with some lively challenges coming in and one-time Everton interest Sean Davies came close to walking after already being booked. For Everton, Cahill was playing well, skipping past defenders, but Osman could not complete the move. Another Osman shot flew fractionally wide.
Ferrari got penalized with a booking for his first mistimed tackle. Kilbane then got booked for complaining about another free-kick awarded against Ferrari as the flow of the game became badly disrupted with lots of scrappy play and stoppages. Portsmouth were looking really, really poor, but Everton were not really taking full advantage, with just one vulnerable goal to show.
And as time progressed, Everton allowed Portsmouth to creep dangerously back into the game, with Moyes resolutely refusing to bring on any subs — not that the outstanding talent on Everton's bench would have been guaranteed to offer anything different.
The only change came five minutes form the end, with Weir on for Beattie, David Moyes sending a clear message that he had no intent of going for the jugular. No goal rush here, then, as next week's opponents, Arsenal, banged home their seventh goal past hapless Middlesbrough.
To spin things out even more, Bent was subbed on for Arteta in stoppage time (for what would become his final Everton appearance), Everton clinging on for a key away win in a classic relegation six-pointer, gaining some retribution for the embarrassing loss to Portsmouth at home earlier in the season. A third consecutive Premiership win; the recovery continues...
Michael Kenrick
---
Match Preview
Well, this should be an interesting one. The club doing everything it can to save itself from relegation on the back of a flood of inward investment by another of those Russian oligarchs versus the club sauntering through the transfer window seemingly oblivious to the threat posed by a goalscoring crisis to its very Premiership survival.
Sadly, the back-to-back wins against Sunderland and Charlton coupled with the happy-ish ending at Millwall look to have revived the complacency that has plagued David Moyes's tenure ever since his side rocketed into the top three last season. With it went the urgency to address a chronic lack of firepower that leaves the club a couple of key, long-term injuries (namely, to Beattie and Ferguson) away from disaster... or so the manager's lackadaisical rhetoric would have us believe. And, of course, his lack of transfer funds isn't helping.
On the flip side is Portsmouth, who have spent a fortune in the past week adding some decent-looking signings to key areas, setting an example that Everton would do well to look at. Who knows whether Olisadebe and Mwaruwari will turn out to be successful Premiership players, but the former is 27 and free — hardly a big risk.
Up until their recent upheaval, Pompey looked destined for the drop; now things look a lot more positive with a new manager in place and an influx of new players. Everton will no doubt hope that their hosts will take time to bed in the new recruits and that things won't click into place this weekend. And, of course, there is the fact that the Blues themselves are unbeaten in three games in all competitions and have a 100% record at Fratton Park in the Premiership.
Assuming he has recovered fully from a shoulder injury, this will likely be Joseph Yobo's last game before he joins up with Nigeria's squad in Egypt for the African Nations Cup. He's still agonising over having to desert his team-mates; how long will such loyalty that this club doesn't really deserve last, though?
His probable partner is Matteo Ferrari who has been angling to retain his place in central defence at the expense of David Weir. Per Krøldrup, meanwhile, will only return to full training next week.
In midfield, Simon Davies is unlikely to have recovered from the ankle sprain that has sidelined him since the derby and Moyes has to perm four — or five if he goes for the negative 4-5-1 formation — from Phil Neville, Tim Cahill, Leon Osman, Kevin Kilbane, and Mikel Arteta.
And up front the James Beattie and Duncan Ferguson partnership appears to be the most effective at the moment so, assuming the Scot is fit enough to start he will probably get the nod. Certainly, Marcus Bent, the picture of apathy, is a dead weight at the moment, James McFadden is running hot and cold, and James Vaughan is nowhere near returning to the first team. Yet more evidence that we need a striker desperately.
Pompey are six points behind us with the same goal difference so it's important that we don't lose this one, particularly given the fact that we lost the reverse fixture earlier in the season. Victory would, of course, really would provide a boost ahead of two tricky league games against Arsenal and Wigan.
Lyndon Lloyd
---
Matchday Stats
This will be the 53rd meeting between Everton and Portsmouth in all competitions and the 50th League match between the sides. This will also be the 26th meeting at Portsmouth and the 23rd in the League.
Everton's full record against Portsmouth is:
| | | | | | | |
| --- | --- | --- | --- | --- | --- | --- |
| | P | W | D | L | F | A |
| Premier League | 5 | 4 | 0 | 1 | 6 | 3 |
| Division One | 44 | 16 | 8 | 20 | 71 | 89 |
| FA Cup | 1 | 1 | 0 | 0 | 5 | 0 |
| League Cup | 2 | 0 | 1 | 1 | 3 | 4 |
| TOTALS: | 52 | 21 | 9 | 22 | 85 | 96 |
Our record away to Portsmouth is:
| | | | | | | |
| --- | --- | --- | --- | --- | --- | --- |
| | P | W | D | L | F | A |
| Premier League | 2 | 2 | 0 | 0 | 3 | 1 |
| Division One | 22 | 6 | 3 | 13 | 29 | 55 |
| League Cup | 1 | 0 | 1 | 0 | 1 | 1 |
| TOTALS: | 25 | 8 | 4 | 13 | 33 | 57 |
There have been 5 Everton hat-tricks against Portsmouth, with the last being scored by Alex Stevenson in a 5-2 victory at Goodison Park on 30 April 1938. Three of these five have been scored at Portsmouth with Bill Dean getting two of them and the other being scored by Tommy White.
The last meeting between the clubs was earlier this season on 10 September, when Portsmouth won 1-0 at Goodison Park. The last meeting at Fratton Park was on 26 September 2004 when Tim Cahill scored his first goal for the club in a 1-0 victory.
The most common victory for Everton is 1-0, which has happened five times in Everton's 21 victories. Portsmouth's most common victory over Everton is 3-2, which has happened 4 times in their 22 victories. The most common draw between the sides is 1-1, which has happened 4 times in the 9 draws between the sides.
Everton's record for 14 January is:
| | | | | | | |
| --- | --- | --- | --- | --- | --- | --- |
| | P | W | D | L | F | A |
| Premier League | 1 | 0 | 1 | 0 | 1 | 1 |
| Division One | 11 | 7 | 1 | 3 | 18 | 11 |
| FA Cup | 4 | 3 | 0 | 1 | 10 | 4 |
| TOTALS: | 16 | 10 | 2 | 4 | 29 | 16 |
This is the second time the clubs have met on this day. The first was in 1950 when Portsmouth won 2-1 at Goodison Park, as Everton started their slide into Division Two. The last match on this day was a rare 1-1 draw with Arsenal at Highbury in 1995.
Harry Hardy was born on this day in 1895 in Stockport. Signed from Stockport County, Harry made 45 appearances for Everton in between 1925 and 1927 before being sold on to Bury.
George Jackson was also born on this day in 1911 in Liverpool. Signed as an apprentice, George made 79 appearances for Everton before retiring in 1947.
Gerry Humphreys was born on this day in 1946 in Llandudno. Signed as an apprentice, Gerry made just 14 appearances for Everton and scored 2 goals before he was sold to Crystal Palace in 1969.
Keith Newton was in the England team that drew 0-0 with Holland in a friendly international on this day in 1970.
Steve Flanagan
---
Lyndon Lloyd
* Unfortunately, we cannot control other sites' content policies and therefore cannot guarantee that links to external reports will remain active.