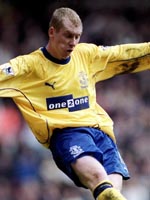 Tony Hibbert: out for the season with a hernia injury
Mikel Arteta and Tony Hibbert are the two loses to injury from last week: Davies and Naysmith come in, with Neville switching to the right-back slot. Richard Wright still in goal...
Plenty of midfield action to start with: Tottenham playing well, Lennon's pace looking threatening. Everton won an early corner with Cahill putting pressure on King, but Everton were already playing far too many long balls to the front pair.
Gardner made a meal of an early tackle from Carsley, the first challenge of the game, and an early yellow card was shown by referee Howard Webb. Another corner saw Naysmith fire over with Cahill perhaps better placed.
Off a corner, cleared, but Gardner got a free header on the second ball, Wright having to save. A Carrick drive and a Keane shot indicated Tottenham finally showing some intent after more than 20 mins of midfield parrying.
A free-kick from Stubbs was drive into the Spurs wall; more subtlety and guile needed, but McFadden's delivery following a short corner was poor, with Everton still unable to present a viable threat on Robinson's goal
In a period of sustained pressure from Spurs, Lennon skinned Naysmith to whip a ball in for Tanio forcing Wright to save from point-blank range. Lennon again skinned Naysmith to win a corner. King mis-kicked his shot, a great chance, but Wright did well to clam things down. Simon Davies won a corner at the other end, but Cahill could not capitalize as Spurs went ahead. Keane missed his shot under a foul from Stubbs but Jenas converted; however, Webb awarded a penalty and Keane converted with ease to give Spurs a deserved lead.
Everton responded with a better-structured attack, but the final ball was too high for Osman to reach. Beattie and McFadden were starting to combine better, with Osman playing further forward and pushing McFadden out to the right. Neville went in late on Gardner, who reacted, earning a yellow for both players. Osman did well on the next Everton attack but shot too early rather than waiting for support.
Cahill fully expected a booking for his typical niggly game but all he got from Webb, amazingly, was a finger-wagging lecture.
Tottenham were really being given too much time on the ball, and were dominating the game, playing the better football and threatening to make things very difficult for Everton to respond. Too much control from Spurs; too many long balls and lack of quality from Everton.
A great chance soon after the restart, but Cahill missed his shot after good work by Beattie. Jeans had a low shot after Keane ran in easily but Wright saved superbly. Defoe crossed in after a dreadful mistake by Naysmith and Wright saved brilliantly again from Jenas. Could easily have been 3-0 down... Everton rocking.
A better move from Everton involving half the Everton team saw Cahill lash the ball wide. McFadden's shot was later blocked, as Everton pushed up but a fast Tottenham break looked certain to score with Murphy feeding Keane who blazed over. It was end-to-end stuff with Spurs edging it while things were not really clicking for Everton.
Stubbs over-exerted himself trying to chase Jenas, and was off injured, allowing Ferrari a chance to return, alongside Yobo ó the dream central defensive combo. Moments before the change, Beattie got the ball in the net but it was ruled offside.
Wright had to save well from Keane again after Spurs were allowed to bring the ball confidently through midfield. Everton's response: bring on Big Dunc! McFadden won a corner for Everton, Ferrari headed back in, but there was insufficient pressure applied, allowing Spurs to build once again. Defoe launched a great shot that beat Wright but hit the crossbar.
There was the usual penalty shout for ball to arm from a Ferguson shot intercepted by King. Everton proceeded to huff and puff as the game dragged out to its seemingly inevitable conclusion, the pace and excitement flagging seriously.
With 10 mins left, Jol locked up shop, Lennon coming off for a third big centre-back, Davenport. Naysmith was replaced by Kilbane, after getting a knock. Ferguson looked like he was going to get a goal but he was adjudged to have shoved Salteri.
A free-kick at the end saw Carsley's drive deflected for a corner. Everton's last chance but the ball was not even lifted over the first man. It was old-style Everton with Duncan winning the headers but the knock-downs all coming to nothing, or being penalized for pushes and shoves.
One last chance 5 mins into added time, Ferguson and Yobo head on but it is cleared, only as far as McFadden, more hesitancy and finally the whistle goes. Everton's first home defeat of 2006. Quality football? Not today, sorry.
So, with a "record" second successive top-ten finish in prospect, the spectre of injuries that have devastated Everton's season so comprehensively bites deep yet again, robbing the side of it's creativity and guile just at the time when it was most needed.
Record so far for the last five games of the season:
P 1 W 0 D 0 L 1 GF 0 GA 1 Pts 0
And, despite the blather to the contrary, this turned out to be the final appearance of Matteo Ferrari, whose 'pay as you play' loan contract proved too much for cash-strapped Everton.
Michael Kenrick
---
With key players dropping like flies, David Moyes heads into the Easter programme against the top two London sides in the country with a few selection headaches.
Mikel Arteta's troublesome back injury that he sustained against Aston Villa last month has been compounded by an ankle injury sustained in training which seems to have prematurely put paid to his season ó just when he had become indispensable. And a hernia injury looks to have ruled Tony Hibbert out of the rest of the campaign as well.
Filling the right-back spot shouldn't be too taxing; either Joseph Yobo or Phil Neville could play there, with Gary Naysmith returning to left back in the case of the latter.
It's the loss of Arteta that will hit the hardest, particularly with Andy van der Meyde, the only other player on the books who can potentially match his flair, serving the last game of a three-match ban.
Simon Davies has proved to be ill-equipped to fill the Spaniard's shoes but David Moyes may call on him anyway (if he decides not to draft Kevin Kilbane back into the starting line-up) with Leon Osman on the left and Lee Carsley and Tim Cahill in the middle.
Up front there are unlikely to be any changes with both James McFadden and James Beattie suffering from a lack of service against Charlton in the goalless draw at The Valley last weekend.
And at the back Matteo Ferrari returns to contention and could go straight back into the starting XI if Yobo is deployed at right back and Moyes feels that David Weir isn't up to the task alongside Alan Stubbs.
Tottenham are this season's Everton, steaming along in fourth place and hoping to secure a place in next season's Champions League qualifiers, with neigbours Arsenal threatening to steal their thunder in a somewhat similar scenario to that which had us all sweating this time last year (if Arsenal win the ECL). But unlike the Blues, Martin Jol's team have a air of sustainability about them thanks to deep pockets and an enviable transfer policy that has seen the North Londoners, for so long our partners in under-achievement, buy up a host of young talent on which to build an attractive side.
Add to their strength and Moyes's injury concerns the fact that Everton hardly ever beat Spurs and you have the recipe for a very difficult home fixture for the Blues. While a win will be vitally important if we're to have any chance of sneaking into Europe, something tells me a draw is as much as we can hope for unless the boys can really turn it on in the absence of their creative Spanish spark.
Lyndon Lloyd
---
Some days just arenít meant to be
Gaz rolled up at about 1:30pm and, due to insane amounts of traffic on the roads, it was gone 2pm by the time we got to the Oak for our pre-match ritual.
We set off towards the ground and timed it to perfection with Z-Cars sounding off pretty much as soon as we got to our seats. No Arteta was a massive disappointment obviously but it did present another opportunity for Simon Davies against his old club. Osman played on the left with Carsley in the middle with Cahill. Neville slotted in at right back with Hibbert presumably rested with Chelsea to come on Monday.
Tottenham won the toss so attacked towards us in the first half. The game started slowly with neither side really getting a grip on proceedings early on. McFadden was trying to be let off the leash but it seemed that his efforts were thwarted by either no Everton players to offer any support or mopped up by Tottenham gigantic defensive paring of Ledley King and Anthony Gardner. Neither were actually that good but both humongous in stature.
Beattie and Stubbs both smacked long distance free-kicks into the wall and Osman flashed a header well over the bar and that was pretty much it for Everton. It was a really poor game from the start, although this was matched by Spurs who werenít offering much themselves by way of making the game interesting, with Wright having to catch well just under his crossbar after a Gardner header.
Suddenly, however, after about 30 minutes or so of tedium, Spurs were ahead. Itís often difficult to tell whatís happening down the other end of the pitch and so I couldnít tell who somehow managed to find themselves free in the box, but I thought it was Defoe. Somehow the ball ran loose to who I thought was Robbie Keane, who converted it into the net. The referee, however, had already blown for a penalty for an earlier foul on I think Defoe. Maybe Stubbs pulled him back, Iím not sure. Was difficult to tell. Nevertheless, Spurs had a great chance. Up stepped Robbie Keane who placed it well into the corner. Wright guessed right but couldnít do enough to keep it out and although neither team was better than the other, Spurs led 1-0.
Down the other end, Everton attacked and Beattie crossed it in towards Osman who was just a bit too small to connect. Would have been a good chance otherwise. Since the goal, Spurs had grown in confidence and saw out the half in style. The only other incidents of note were a booking for Carsley for a rash challenge of Gardner, then Neville went up for one with Gardner, but his momentum carried him into the Spurs centre back who went down, got back up again and squared up to Neville. They both got booked. At half time it was 0-1. It had to improve for Everton.
The second half improved for Spurs. They passed it around superbly and calved us open at times embarrassingly easily. At the start of the half we were in their box quite forcefully but couldnít get a shot away sufficiently and Spurs cleared. Down at our end was were all the action was, however. Robbie Keane (offside?) was played through. He wiggled past Neville before shooting well over. Later on, what should have been a routine clearance for Naysmith presented an easy chance for Defoe from five yards out as he stupidly tried to chest it back to Wright at an impossible angle. Wright had to make a phenomenal save to deny him.
After that apparently he made another superb save but the people in front of me caught me off guard by standing up to let someone past and I missed it. Another chance came to Defoe and it was only a last ditch Gary Naysmith challenge which prevented us from going further behind. Defoe later clipped the crossbar when from 20 yards out; he turned Yobo and clipped an effort beyond Wright but it came back off the underside of the bar and bounced to safety. We were hanging in their desperately and had it have been a boxing match the ref may well have called it a day by now. Stubbs got injured as well and Matteo Ferrari replaced him. This actually probably worked in our favour really as Ferrari has more pace and it may well be worth giving Yobo and Ferrari a chance against Chelsea.
However, at 0-1 we were still effectively in it I guess and with 25 minutes to go sure enough on came Big Dunc and off came the yet again ineffectual Simon Davies. This swung the pendulum our way a little bit as we now at least had a chance to win some aerial challenges. Our best efforts all half came from an Osman drive in the box which was blocked, a 20-yard Cahill volley which zipped well wide and last of all a Lee Carsley free kick which looked goalbound but just nicked off someone in the wall and was sent spinning wide. We rallied a little late on but didnít do anywhere near enough. Spurs meanwhile passed it around well and saw the game out. Kilbane replaced Naysmith who took a knock. We left a few minutes before the end as it looked useless. Iíd given up on this one as Everton just didnít want it as much as Spurs.
Iíd borrowed a coat the night before off a mate and she demanded that she got it back the next day so I agreed to meet her with it after the match. As Iíd left it in Gazís car, but then later decided to go back with Ste as we went to get Ďboro tickets, Iíd forgotten about the coat as Gaz sped off. I phoned and asked if he could drop it off at home but he declined, so I asked if Gary could hold on to it for a little while in town until we got there but he didnít want to do that either ó although eventually did. By the time Iíd hobbled (Ďcos Iíve done my knee in) to where I was supposed to meet him, heíd moved on, so I may have looked quite stupid hopping through town looking for this bar while Ste waited patiently in the car. I finally got it and got back to Ste. Thatís what friends are for hey! Then the car temporarily broke down.
I guess some days just arenít meant to be.
Player Ratings:
Wright: The one positive to come out of the game was Richard Wrightís performance. I guess thereís hope yet. He now has four more games to prove himself before the season draws to a close. 8
Naysmith: Applicable most of the time but prone to silliness. 5
Yobo: Not great from Yobo. Got caught out too easily too often. 5
Stubbs: Was doing well until he got injured although was getting done for pace. Has a calm head on his shoulders. 6
Neville: Usual Phil. Just gets on with the job. Didnít show much by way of attacking though. 6
Osman: Had a shocker. 5
Cahill: The pick of the midfielders. Heís always positive, just wish he could get on the ball a bit more. 7
Carsley: Put in his usual shift and probably came closest to scoring for us with his free kick. Shame heís not fully fit. 6
Davies: I think Walter Smith must have had a word in Moyesies ear at half time and told him that Davies can play left midfield. That was a stunner from Moyes. Nevertheless, Davies was poor. He needs to improve dramatically next season. 5
Beattie: Ponderous. 5
McFadden: If some of his team-mates showed this level of effort weíd have done OK. Looked a frustrated figure. 7


Ferrari (for Stubbs): Was a bit of a blessing as it gave us more pace at the back and nullified Spurs threat a little bit. 7
Ferguson (for Davies): Used the ball relatively well and won his headers. Whatís are Plan B going to be next season? 7
Kilbane (for Naysmith) Not on long and playing at left back. Difficult to judge.
Paul Traill
Blues lacking guile and top-10 class
Amid fears that the Blues' run on the European places had stalled with it being three games since their last victory, Everton welcomed high-flying Tottenham but failed to raise their game to the level currently exhibited by the North Londoners. In the absence of Mikel Arteta and a goal down to a first-half penalty, David Moyes' side resorted to an aerial bombardment that had the predictable result. No goals and another three points went begging.
As expected, Phil Neville switched to right back and Gary Naysmith returned on the opposite side of a central-defensive pairing of Joseph Yobo and Alan Stubbs. In midfield, Lee Carsley made his second start of the campaign alongside Tim Cahill with Simon Davies starting against his old club and Leon Osman assuming the responsibilities at left-midfield. Up front, the Blues were unchanged, with James Beattie and James McFadden forming the attacking pairing.
Everton started purposefully enough, with Neville taking just three minutes to get to the byline and cut back to deliver a dangerous left-footed cross that had the Spurs defence scrambling to cover their markers and clear the danger. Then Stubbs's free kick forced the first corner after eight minutes but it, like many more to come from both sides, came to nothing and Cahill managed to connect with another in-swinging corner but could only divert it over the bar.
Tottenham, for all their crisp passing and neat cross-field balls, didn't trouble Richard Wright until almost 20 minutes had passed when the lively Aaron Lennon dinked a cross from the byline that Anthony Gardner headed back across goal and the 'keeper caught comfortably. Robbie Keane then had a tame effort saved before Tainio forced the first real save from Wright, a point-blank block from a diving header that was hooked clear.
In the 32nd minute, however, came the decisive moment of the match. Stubbs was easily beaten for speed of thought and feet by Keane's touch forward into the box and as he battled to keep up with the Irishman, the Everton No 15 tugged at his arm and swept his legs from underneath him as he was about to shoot. Jermaine Jenas put the loose ball into the net but, much to Spurs' annoyance, Howard Webb had already blown for a penalty. Undeterred, Keane stepped up and stroked the ball past Wright even though the 'keeper had guessed the right way.
Everton, struggling for attacking ideas and movement along the front line, offered little by way of response except Neville following Carsley, who had picked up an 11th-minute yellow card for catching Gardner late, into the book for a high tackle on the same player. And it was Spurs who nearly doubled their advantage two minutes before the break when Jenas headed Gardner's nod across goal over the bar.
The beginning of the second half saw a little more cohesion from the home side going forward but Wright was also called upon to make two good saves to prevent Martin Jol's team from running away with it. First, Neville's cross kicked up awkwardly for Davies and Cahill just couldn't get the ball onto his left foot in time to prevent his effort from being smothered. Spurs' counter-attack was quick and ended with Jenas steaming straight through the centre of Everton's defence but his attempted side-foot home was diverted away by Wright's out-stretched hand.
Then, Naysmith tried to chest a low cross back to his 'keeper but the ball bounced into his face and landed at the feet of Jermaine Defoe but Wright's hands were enough to send his shot behind for a corner.
Back at the other end, Cahill had a rasping shot that flashed wide and Davies's clever knock through found Osman who pushed it on to McFadden but his shot was blocked. Tottenhem again countered with the ball ending up with Keane in plenty of space but he curled an effort well over trying to find the to corner.
Everton actually had the ball in the net just before the hour mark when Beattie was put in by Osman but the offside flag had gone up before the ball squirmed under Paul Robinson and over the line.
Stubbs left the game a minute later with what looked like a hamstring injury, replaced by Matteo Ferrari, and then Davies, who hadn't done too badly, made way for the all-too predictable introduction of Duncan Ferguson. In the interim, Keane fired straight at the 'keeper from 15 yards as Spurs continued to threaten and Naysmith was called upon to make a saving challenge on Defoe before he could shoot.
Judging by the Spurs attacker's next effort, that was probably a good thing. With 18 minutes left, Keane found Defoe on the edge of the box and after taking a touch he smacked a terrific shot off the underside of the bar. It was a let-off for an Everton side looking increasingly unlikely to get back into the game as they resorted almost exclusively to the long ball to Ferguson and Beattie.
The combination worked once when Beattie picked up Ferguson's flick-on but his shot on the turn was blocked by Ledley King's shoulder. However, for the most part, it was fruitless as always and the game ticked out to its disappointing conclusion without any further change to the scoreline.
Tottenham are a better side than Everton on paper, thanks to an impressive transfer policy that has seen Jol assemble some good young players. With the Blues short of their best player, there was an annoying inevitability about this result. Cahill, in the role of chief playmaker, was industrious and covered a lot of ground but he is no Arteta and lacks that touch of class and the killer ball. Davies had his best game in months but often found himself alone in the final third having burst past his marker on the right flank, and while Osman was not short of effort, very little came off for him.
All of which left Beattie and McFadden feeding off scraps and severely restricted their ability to test Spurs' well-marshaled defence.
So, Everton back in a familiar rut, it would seem, the debates over where the club is heading under Moyes and the extent of the need for a significant attacking signing or two simmering once again. If they can scrap their way through the last four games and earn a top-half finish, it will be seen as a sign of consistency — it would represent the Blues' first back-to-back top-10 finishes since the inception of the Premiership, after all — but after four years in charge, the manager really needs to start showing the same imagination, fire and ambition with which he started his tenure at Goodison Park.
The coming summer will be key in that respect but Moyes's familiar low-key rhetoric doesn't bode well.
Lyndon Lloyd
* Unfortunately, we cannot control other sites' content policies and therefore cannot guarantee that links to external reports will remain active.