Venue: Goodison Park, Liverpool
Uefa Cup
Thursday 20 September 2007; 8:25pm
Lescott (24')
Half Time: 1-0
Zeze (79')
Attendance: 37,120
Referee: Fritz Stuchlik (Austria)
Everton have it all to do in the Ukraine in a fortnight's time after a night of high drama at Goodison Park ended with the Blues being frustrated by a Metalist Kharkiv team who equalised despite being a man short, conceded two penalties and finished the game with nine men.
Andy Johnson's goal drought was prolonged, first by anally retentive refereeing and then by an awful spot kick with less than two minutes of normal time remaining, as David Moyes's men, shorn of Mikel Arteta who failed a late fitness test, struggled for ideas and any kind of rhythm.
Despite seemingly baseless rumours of a rift with Moyes over plans to drop the £8.6m man, Johnson started up front alongside Yakubu and James McFadden replaced Arteta on the right. Phil Neville continued in central midfield but Phil Jagielka dropped to the bench to make way of Lee Carsley.
And Everton started purposefully enough, largely controlling the opening quarter of the match and forcing an early save from Alexandr Goryainov when Leon Osman cracked a low, first time shot goalwards.
But the visitors gave some early hints of their own intent. With their first real foray forward in the seventh minute, Ryukin unleashed a terrific shot from outside the box that Stefan Wessels had to tip over to safety, and then a nice move by the Ukrainians ended with Serhiy Valiaev half-volleying over from similar range.
The home side were nevertheless fairly comfortable otherwise and were moving the ball about nicely enough without really demonstrating enough guile in the final third of the field. They were not helped either by some ragged passing and a general lack of space in front of the likes of Hibbert, Baines, Neville, McFadden and Osman.
In the end, it was the familiarity of a set-piece that produced the game's opening goal. McFadden whipped a ball in from the right and Lescott smartly lost his marker before burying a header through Goryainov's flailing arms. So far, so good enough.
While the goal did bring Kharkiv out of their shell a little more, they didn't really look like erasing Everton's lead for the remainder of the half, while the Blues generally huffed and puffed a fair bit but failed to produce anything substantive in the area for the front two.
Devic finished another smooth Kharkiv move by getting in behind the back four but was denied by Wessels who gathered the ball at the second attempt and the Serbian then repeated the feat when he cleverly toed it past Yobo but was again denied by the German 'keeper.
At the other end, a Yakubu shot from 18 yards was spilled by the Goryainov but he also had time to gather the loose ball and, after a short corner by Baines and a cross-cum-shot by Osman to the back post, Lescott was unfortunate not to be able to guide a header towards goal in first-half injury time.
So, a goal to the good at the break and the perfect foundation from which to push on in the second half and grab the goals needed to make the return leg a more comfortable one.
If the first half had been fairly pedestrian, the second continued in similar vein... at least until it all "kicked off" with 21 minutes to go. A superb, rising header by Osman at the back post, for which he was agonisingly short on inches in order to steer it under the bar, was the only real incident of note until Lescott was pulled down in the area by Babych and the Austrian referee pointed to the spot.
Babych was booked for the challenge, Seweryn Gancarczyk was red-carded for dissent as he protested the decision and after what seemed like ages of pedantic marshalling of feet on the edge of the box to prevent encroachment by the official, Johnson stepped up and smashed home the penalty.
Almost inevitably, given the display of pedantry that proceeded the kick, Mr Stuchlik ordered that the kick be re-taken because substitute Victor Anichebe was deemed to have stepped into the area before the ball was struck. This time, despite apparent encroachment by at least three Kharkiv players, the kick was allowed to stand but, by that point, Johnson had placed the ball at the perfect height for the 'keeper who had guess the right way and the shot was beaten away.
So, still 1-0 but Everton kept pressing and a great turn and shot by Anichebe forced Goryainov into another low save that he again spilled but scrambled to recover.
A minute later, though, disaster struck in the form of an away goal for Kharkiv. A fortunate ricochet as Hibbert tried to flick the ball past his marker on the touchline sent the visitors away in numbers and Edmar, the Brazilian who had come on for Ryukin in the 68th minute, took full advantage of plenty of space to square it to Zeze to slide the ball past Wessels.
With a bit of panic starting to set in, Moyes's side increased the pressure but appeared to be going about the task of breaking the 10 men of Metalist down in all the wrong ways. Instead of stretching the play and getting the likes of Baines down the flanks, balls continued to be lumped straight down the center in the hopes that something would fall the Blues' way.
On a couple of occasions, playing the percentages did work: first, Osman's terrific drive was parried clear, then Anichebe was clearly shoved and then tripped in the box by Papa Guie but the referee waved away the striker's vociferous appeals and then booked him for his troubles.
With the clock ticking down, though, Anichebe was hauled down again as he went for a Baines cross and this time Stuchlik gave in an awarded Everton their second spot kick of the night and flashed a second yellow card at Babych.
Up stepped Johnson again but this time he ballooned his shot over the bar and into the incredulous crowd behind the goal.
The home faithful were buouyed by the fact that six additional minutes were added to the clock to make up for injuries and time-wasting by the Ukrainians but while it was almost all one-way traffic, the Blues' insistence on pumping everything straight down the throats of the defence and praying for a kind bounce was both unsophisticated and frustrating.
McFadden did have one superb 20-yard shot saved low by the 'keeper a minute into stoppage time and Johnson did have the ball in the net in the 95th minute but that "goal" was rightfully ruled out after Anichebe had clattered into Goryainov and forced him to drop the ball.
All in all, an enormously frustrating night of high drama, controversy and a healthy dose of farce at Goodison Park and a result which leaves Everton with a tough challenge in Kharkov on 4th October. More than likely needing to score twice to win the tie, the Blues will have it all to do with a side that, just like 2 years ago, looks desperately bereft of quality in midfield and short of ideas all round.
Match Preview
The weekend defeat to Manchester United — or perhaps the manner of it — has led to some soul searching among Evertonians as they try to measure where the Blues are as the season settles into a groove. Lying 7th after six games in decent enough but the test that many have been waiting for is just beginning; namely, how much David Moyes and his men learned from their last European campaign and how, seeing as injuries have already taken a toll, they'll cope with a glut of games in the coming weeks.
Deficiencies in midfield have become a growing concern and Thomas Gravesen has been highlighted as the most likely solution. His absence through injury on Saturday was a blow but there is no indication thus far of whether he will be fit for the visit of Metalist Kharkiv on Thursday evening.
If he is, Moyes has a few options to juggle as he tries to find his most effective starting XI. The Tottenham game aside, Phil Neville has struggled in central midfield and has arguably solidified the impression that his best position is right back.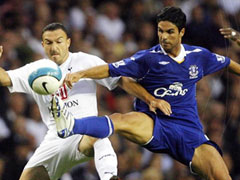 Mikel Arteta:
can he rediscover his shine on the European stage?
Leon Osman is another who has had trouble finding his form after a decent start and Steven Pienaar is clearly going to take time to adjust to his new surroundings. In many respects, they are in a very similar position.
Lee Carsley sat out against United and his tenacity in the middle may have been missed so it wouldn't be a surprise to see him return against Metalist.
The Ukrainians are obviously an amost entirely unknown quantity but they come from a country with a strong footballing tradition — Andrei Kanchelskis, anyone? — and finished third behind their better known compatriots, Dynamo Kiev and Shakhtar Donetsk.
In the same way that Dynamo Bucharest were no pushover (quite the contrary, that dubious honour went to us!), Metalist will probably be difficult opponents who won't be averse to getting stuck in.
But if Everton can rediscover some of that scintillating form with which they destroyed Tottenham and the resilience that helped overcome Bolton, then they should have enough to take a lead to Kharkov for the return leg in a fortnight's time.
Update: Gravesen, Arteta, Pienaar, Howard and Johnson will undergo late fitness tests.
An Absolute Shambles
Having raced home in time to get picked up for Everton's much anticipated return to Europe, I'm now writing this at 00.42am, totally bewildered by tonight's series of events….
1. The Tickets
A completely avoidable farce and frankly I don't quite know how Everton got themselves in this position. I purchased my ticket on Friday 14 September 2007, thereby giving Everton plenty of time to sort out the tickets for this one. Having not received the tickets by post this morning I phoned the box office in search of answers, and was told that all tickets were sent First Class on Tuesday but if I hadn't received mine I could get a duplicate from the Bullens Road ticket collection point from 4pm. Now I found this ludicrous really (particularly so having paid a £1.50 postage fee) and also sensed that if I'd had a problem, others too had encountered problems, coupled with those whom purchased tickets online / over the phone after Tuesday would also have to collect tickets from this collection point, queue's were surely unavoidable.
However I wasn't expecting what I saw when I got there and just thanked my lucky stars that I turned up when I did, and also that I happened to by chance choose the queue (the shortest one) which was allocated for my surname (there was one queue for Surnames A- L, another for M – Z). One guy near me actually queued up all the way in the wrong line, only to be told to go to the back of the other queue. It was no surprise whatsoever that the kick off got delayed by 25 minutes or so…. a complete shambles.
2. The Policing / Stewarding / First Aid
With this being the case why on earth weren't just one of the stewards told to be placed at the end of each line to ensure people found the correct queue's OK? I only realised I was in the right queue when I was half way down it and that's only because my eyesight isn't that bad and I could see the small sign above my collection point. There were more pressing matters however as a lad, probably about 20-years-old, fell over near me. I thought nothing of it at first until a more observant lad in front of me rhetorically asked "do those Police know first aid?". Clearly they didn't. The lad who'd fallen was having some sort of fit and was shaking badly as Police held him still. They called for a medic who took forever to arrive with a stretcher even though an ambulance was parked about 30 yards away. I don't know what happened to the lad but it was serious enough for Police and stewards to nmarch people through the now huge queue's to avoid anyone witnessing it.
In the meantime the Metalist Kharkiv fans began to turn up and it was a pleasure to see others from a much poorer nation with a much weaker economy than our own to come so far and support their team, particularly so with such stereotypical Eastern European attire! Later on whilst at the match I nipped down for a bottle of Coke and heard an announcement for Upper Bullans stewards to only allow fans in with valid tickets. What actually happened in the end was the Metalist Kharkiv supporters were told to take down a huge flag and to sit where they'd put the flag (that must've taken some explaining!). The Evertonians who'd been left hanging on for their tickets must've been put where the Metalist fans had just moved from. Ste pointed out that if a 25-minute delay and all this nonsense had happened in Kharkiv, we'd be calling them backwards. He wasn't wrong….an absolute shambles.
3. Our Performance
Poor. Very poor. OK, I'll accept that we've been stung by injuries a fair bit. Arteta was a huge loss and this only goes to show how much we rely on the Spaniard. But Gravesen, Cahill, Vaughan, Pinear and Howard all could have made a big difference also. We went for 4-3-3 but it didn't quite work. Perhaps with practice it may but it seemed a bit thrown together for me. Yakubu, Johnson and McFadden led the line, Neville Carsley and Osman played midfield, with the defence and keeper the same as last week.
Whilst we had more of the play, it wasn't especially constructive and we seemed out of ideas at times. In the first half McFadden and Osman seemed the most likely to create and Osman probably came closest early on with a volley from a Neville cross. Otherwise Kharkiv, who continually found oceans of space down our left hand side, could comfortably have scored on a few occasions. As it was, Lescott popped up with a comfortable header from a corner, and should have doubled that just before the break with an even easier chance. At half time though both sides were probably just about happy enough.
The second half was more of the same – Everton had more of the play although not doing enough with it, and Kharkiv settling for the 1-0. I guess we'd both have taken it but on about the70 minute mark we had a real flashpoint when the referee gave a penalty for a foul on Lescott from a free kick. It looked a penalty to me, although I felt it was harsh to send the Metalist player off for a second yellow. Nevertheless, after an age of gamesmanship, up stepped Johnson to bang in the penalty. We thought that was it and I then fancied Everton to go on and bang in another one perhaps against 10 men but the referee decided somebody had encroached into the area. What a load of bullshit.
I haven't seen it since but I'm told the Metalist players were in the box before any Everton players were by one mate, and by another that the referee ordered a retake because Tony Hibbert had one foot inside the dee! For the love of God referee don't be such a prick. The player didn't need to be sent off (in what was never a dirty game) and as for the retake, how on Gods earth has the apparent encroachment benefited / affected either Johnson or Tlumak? Nevertheless the retake was taken again by Johnson and inevitably saved and then gathered by Tlumak. From there forth (and God knows how long this is going to go on for now for a player already lacking confidence) Johnson looked visibly demoralised.
More drama followed. Yobo tried to take responsibility of Hibbert's shortcomings and clear a ball but it only bounced back and Metaslist were somehow in a great attacking position. They worked it well and I think Edmar finished coolly from a layoff to send the small pocket of Metalist supporters into delirium. I bet they're still partying away now! Well they should be as they had the let off of let off's after this. A speculative McFadden volley and a turn and shot from substitute Anichabe aside, Everton hadn't tested Tlumak.
However we then won another penalty when Anichabe went down under a challenge, therby bringing another ridiculous red card from the Austrian official Fritz Stuchlik. Phil Neville grabbed the ball and gave it to Johnson. I think everyone sensed he'd miss but I dare say nobody did quite as spectacularly as Johnson did as he completely ballooned it over the bar (a la Baggio USA '94). One of the worst penalties I've ever seen and he never should have taken it. I'd have had Jagielka (replacement for Carsley straight AFTER Metalist scored) on it myself but Baines seemed willing and surely more able. Johnson's confidence must surely be at an all time low. Not long after that, and several humps into the box in the 6 minute of stoppage time later, Everton failed to win it and now face a very, very, tricky game away in Kharkiv against a Ukrainian outfit who appear to be quite smart, but very fortunate. All in all….an absolute shambles.
4. The Referee
Another joker out to make a name for himself I felt. He blowed up all too frequently, sent players off when he really didn't have to, but above all has spoilt this for us with that insane penalty retake decision. We've not only been punished in this competition for this, but the ripple affects of Johnson's form may prove more catastrophic in the league also. I only pray the referee has much more common sense in the return leg….an absolute shambles.
Player Ratings:
Wessels: An able placement for Howard although doesn't seem to like leaving his line much. 6
Baines: Struggled at time but most of his work was attacking and not defending. 6
Yobo: At fault for the goal and seemed lost at sea at times in the first half. 5
Lescott: I wonder how different it might have been had he have buried that chance just before half time. Still, wasn't exactly spectacular today. 6
Hibbert: Had a pretty dreadful game for me. 5
Carsley: Not quite at the races either. 5
Neville: Took a bit more responsibility than Carsley (well I should think so…he is captain) but will be tossing and turning about giving Johnson that ball at the end. 6
Osman: Excellent first half. Anonymous second. 5
McFadden: Man of the match for me. Always willing and took them on. 7
Yakubu: Needs to work harder. Much, much harder. 5
Johnson: I'm lost for words. Confidence could not be lower. If ever anyone needed one to go in off his arse, its now. 5
Subs:
Anichebe (for Yakubu): Much better and much improved and I hope he starts on Sunday instead of Yakubu. 7
Jagielka (for Carsley): Hardly touched the ball. 5
* Unfortunately, we cannot control other sites' content policies and therefore cannot guarantee that links to external reports will remain active.
EVERTON (4-3-3)
Wessels
Hibbert
Yobo
Lescott
Baines
Carsley (89' Jagielka)
Neville
Osman
McFadden
Johnson
Yakubu (78' Anichebe :82')
Subs not used
Ruddy
Stubbs
Valente
Jutkiewicz
Vidarsson
Unavailable
Howard (injured)
Arteta (injured)
Pienaar (injured)
Gravesen (injured)
Cahill (injured)
Vaughan (injured)
METALIST KHARKIV (4-4-2)
Goryainov
Bordiyan :68'
Babych :68' :89'
Guie
Gancarczyk :69' :69'
Slysur
Valiaev
Obradobic :18'
Nwoha (59' Antonov (77' Mahdoufi))
Devic
Rykun (Zeze 67)
Subs not used
Thumak
Danilav
Anton
Davydov