Venue: Riverside Stadium, Middlesbrough
Premier League
Tuesday 1 January 2008; 3:00pm
Half Time: 0-0
Johnson (67'), McFadden (70')
Attendance: 27,028
Referee: Mike Riley
Very wet conditions at Teesside. No Yobo, Cahill (injured) or Arteta (suspended). A minute's silence in tribute to Phil O'Donnell who tragically collapsed and died at the weekend.
There were two worrying signs early on: (1) nothing from the first Everton attack (2) Carsley getting booked after just 3 mins. Nuno Valente took the ball in well to the area but his cross was behind the strikers.
Yakubu then tried a ridiculous sliding tackle and was very lucky not to be booked. A shocking Valente free-kick was skied up and straight to Schwarzer. Another free-kick won by McFadden was played in better by Valente, but the next was wasted.
Everton defense looked sloppy when Lescott played a hospital ball to Valente, leading to a corner.. Hibbert lost out in a race with Downing, Carsley heading the free-kick away superbly
Superb play from Pienaar almost set up Johnson for a header. McFadden finally took a shot from distance that was deflected for a corner that Pienaar wasted with a poor delivery. Johnson blocked the ball and won it from Pogatetz only to be brushed off it easily running in on goal.
On 30 mins, Downing almost scored at the far post and Jagielka was positioned well to clear off the line, saving a certain goal.
Everton were put under pressure and conceded a corner but Lescott defended superbly against Huth, who was penalized.
Both sides had played some good possession football in midfield, but lacking guile in the final third, with both defenses standing firm. Some good pressure from Everton led to a series of throw-ins and corners on the left but they came to nothing. 0-0 at half-time.
The game if anything became a little more cagey at the start of the second half, neither side keen to make any mistakes as they probed patiently until Tuncay got a good run in on goal, a fantastic block by Lescott saving the day and Howard saving brilliantly as Yong threatened to score from the rebound. Boro than bought Hutchinson on for Lee.
Some great work by Johnson set Pienaar running in on goal along the byeline but his lay-back was poor. McFadden had a fleeting moment to shoot on the next attack but wasted it. But a wasted short corner from Pienaar was lofted over by Valente, who nearly caused confusion with Howard to let Boro in.. Neville then totally wasted a free-kick won by Yakubu.
On 67 mins, Moyes decided to bring on Vaughan but paused as Pienaar blocked a difficult ball played into the D from Valente, and it released Andy Johnson, who shrugged off two defenders to finish superbly across Scharzer and into the far corner, a pure delight for the travelling Blue horde behind the goal.
A great break saw McFadden with a chance to test the Boro defence but he chose to play in Johnson and Pienaar. But on the next attack, with McFadden and Andy Johnson again running well at the Boro defence, a superb one-two played quickly off Johnson (who looked quids in to score his second) saw the ball returned quickly and accurately to James McFadden's feet and and a neat change of feet allowed the Scot to slide the ball neatly past Schwarzer for a brilliant second goal for Everton. McFadden immediately pointed to his black armband in tribute to Phil O'Donnell of his former club Motherwell, who tragically collapsed and died at the weekend.
McFadden then went off to a welcome applause as Leighton Baines returned after a long absence with a hamstring injury. Everton were playing great football but Pienaar, given chances to run forward, had no energy left. Why was Vaughan not on to replace him? Everton instead could not get out of their half as Boro pushed as hard as they could to get back in the game but each time they seemed to meet the immovable object that was Joleon Lescott.
When the change finally came it was Yakubu who came off for James Vaughan, with barely five minutes left. And on 92 mins, Pienaar was finally relieved for Anichebe, just 3 seconds before the final whistle. What was the point of that?
On balance, considering the absentees in Blue, this was a great performance and a superb result against a difficult physical team under horribly wet conditions. A top-class response to the crushing disappointment of losing so horribly to Arsenal on Saturday.
Resilient Blues bounce back again
Everton displayed their resilience and ability to bounce back from potentially demoralising defeat by recording a handsome 2-0 win at Middlesbrough, leaping into the top five — where they could stay for the next 18 days if Manchester City lose at Newcastle tomorrow and again at Goodison Park on 12th January — as they completed their second "double" in the space of a week.
Just as they did against Bolton on Boxing Day, David Moyes's side, again disrupted by significant absentees in the form of Tim Cahill, Joseph Yobo and Mikel Arteta, ground out victory against a spirited but limited Boro to beat Gareth Southgate's men for the second time this season.
As expected, the manager reverted back to the 4-4-2 formation that had almost been successful in earning a point at Old Trafford 10 days ago and partnered Andy Johnson with Yakubu who made his first appearance against his old club since leaving The Riverside for £11.25m at the end of August. James McFadden came into the midfield, Nuno Valente at left back and Joleon Lescott moved inside to his preferred position at centre back.
With rain teeming down on Teeside, conditions weren't ideal for the kind of football now preferred by the Blues but they made a decent fist of it nevertheless and looked the far more assured of the two sides with the ball at their feet. And after Lee Carsley had been booked for a nothing challenge after just three minutes — Mike Riley offering further evidence, if any were needed, that he is one of the worst officials in the Premier League — Everton carved out the first half-chance of the game when Valente was played in behind the defence but his attempt to find the front two fell behind both Johnson and Yakubu and the ball was cleared.
Then, the lively Sanli Tuncay beat the offside trap and latched onto a ball over the top but Tim Howard was off his line quickly and slid in to block the ball before the Turk could lift it over him. The striker got up gingerly from the challenge but was fine to carry on.
Meanwhile, three tackles — one by Hibbert, one by Yakubu and one by O'Neill on Johnson — that all merited a yellow card more than the one that earned Carsley his early booking, went unpunished by the referee as players slid about in the wet conditions.
The visitors continued to look the more likely until they got to the final third of the field where they were let down by poor final balls and a succession of wasted free kicks. But McFadden was using his trickery to try and fill the void left by Arteta's suspension, Pienaar was trying his usual best to make things happen, and Johnson's pace and harrying gave the Boro back line enough to worry about when the ball was loose.
Nevertheless, it was an unsurprisingly disjointed performance in the first half by Moyes's side that was almost punished on the half hour when Luke Young chested Fabio Rochembach's neat chip into the area and crossed to the back post where Stewart Downing's first time shot was blocked on the line by Phil Jagielka.
The home team came out of the half time interval with a bit more fire in their bellies and tested Everton's defence almost immediately. A dangerous ball across the back came too quickly for Tuncay and he could only prod meekly in the direction of Howard who gratefully gathered it.
At the other end, a nice interchange on the right gave Pienaar a sight of goal from 20+ yards out but he hesitated before back-heeling into the path of Yakubu but the Nigerian, booed throughout by the Riverside faithful, ballooned his shot high over the crossbar.
Middlesbrough's last real chance to sully Howard's clean sheet came just before hour mark when Arca picked out Tuncay's run brilliantly and the striker, under the possibly illegal attention of Jagielka, stabbed goalwards where Lescott nodded the ball away from the line (it was going wide but he wasn't to know) but only into the path of O'Neill. From 8 yards out and centrally placed the midfielder hit a first-time shot but Howard did well to beat it away to safety.
Having weathered Boro's moderate storm in the first quarter of an hour of the second half. Everton reasserted their dominance and started to once again probe at their hosts' rearguard. With an hour gone, a great pass by Johnson put Pienaar in near the byline but his path to both the goal and the waiting Yakubu was blocked by three red shirts and his attempted cutback was duly intercepted by Robert Huth.
Six minutes later, though, the Blues were ahead with a terrific striker's goal by Johnson. Yakubu's ball to Pienaar was picked up by AJ on the edge of the box and he took a couple of touches wide of his marker before screwing it back across Mark Schwarzer and into the far corner.
Four minutes after that, a third speculative effort of the game by Carsley dropped inches wide of the upright before Everton sealed the victory by capitalising on an error in midfield by Downing. The England man and supposed £8m target of Everton — though on this evidence Moyes would be advised to steer well clear for even half that sum — tried a short pass to Rochembach that missed and fell straight to McFadden. He advanced on the Boro area, fed the ball to Johnson who slipped him a return ball and the Scot controlled neatly and calmly side-footed under the 'keeper to make it 2-0.
His celebration was an emotional one as he pointed repeatedly to the black armband worn as a mark of respect for Phil O'Donnell, the Motherwell captain with whom McFadden played in his time at Fir Park who collapsed during a Scottish Premier League game and later died on Saturday.
That was pretty much game over. Moyes removed McFadden not long afterwards and replaced him with Leighton Baines and James Vaughan, who'd been warming up just before the second goal, was eventually given a run-out for the last few minutes in place of Yakubu. Victor Anichebe was also thrown on for Pienaar for the last few seconds.
All in all, not the most inspiring of performances but a comfortable victory achieved with the minimum of fuss by a side featuring some tired-looking players. Pienaar in particular looked exhausted by the closing stages and he more than most looks like he needs a well-earned rest... not that he's likely to get one in the next week or so unless Moyes rests him for the Oldham game. And Yakubu hasn't looked like he's been firing on all cylinders in the last few matches either.
Credit must go to Andy Johnson, though, who seized the chance afforded by a rare start by breaking the deadlock with a fine goal, his fourth goal in three weeks, and then providing a crucial assist for McFadden for the second. And while kudos is being given out, McFadden is worthy of praise himself for making the most of his own opportunity to shine.
Earning your fifth win away from home in difficult circumstances is a great way to start off the year and provides a solid platform on which to keep building on what is shaping up to be a highly promising season. The games are still coming thick and fast — three more of them in the next 11 days — but the resilience and confidence being shown by Moyes's men in the face of key injuries and suspension bodes well for a successful 2008.
Player Ratings:
Howard: His kicking with his left foot leaves a lot to be desired and he is going through a worryingly indecisive phase when it comes to aerial balls but made one excellent stop to deny O'Neill and also snuffed out an early chance for Tuncay. 7
Hibbert: Had a good game and was as a good as anyone when it came to knocking the ball around on the floor. 7
Valente: Some really nice moments going forward particularly in tandem with Pienaar but was guilty of wasting some free kicks in decent areas.

7

Jagielka: Did everything that was asked of him and acquitted himself well with the memory of his nightmare against Arsenal fresh in the mind.

8

Lescott: Another impressive performance in central defence. 8
Carsley: Was guilty of some sloppy passing at times but it was a credit to him that he was still breaking things up in the middle despite having to tread carefully following a yellow card in the 4th minute.

7

Neville: He was largely anonymous to these eyes, which given his propensity for giving the ball away in midfield, is probably a good thing.

6

Pienaar: The boy has run himself ragged in recent games and it's starting to show. Still, he was at the heart of some of the Blues' best moments.

8

McFadden: Whether he's in the shop window or not, this was a rare chance to show that he can be consistent enough through 90 minutes to warrant a first-team place. Decision-making has so often been his Achilles heel but today was one of his better performances and he was rewarded with a goal.

8

Johnson: This wasn't the kind of team performance that created many openings but he took his goal brilliantly and was equally effective in setting up McFadden for the second.

8

Yakubu: Whether it was because of the hostile reception from the crowd or fatigue, he looked a little jaded or just not as sharp as he was a couple of weeks back. Nevertheless, he ran the line well and played an important role in the opening goal.

6

Subs: None of the subs were really on long enough to judge.
Match Preview
Everton kick off the New Year in the northeast with a trip to erratic Middlesbrough as they look to bounce back from the home defeat at the hands of Arsenal that brought 2007 to a cruel end.
Having gone 13 games without defeat prior to the Christmas period, the Blues have now lost two of their last three but by no means disgraced themselves against the two best teams in the country. On another day, the games against Manchester United and Arsenal might have yielded a point each but, as it is, David Moyes's side go into 2008 with 33 points from 20 matches, five more than at the same stage last season.
The injury to Leon Osman and the subsequent loss of Thomas Gravesen have had a de-stabilising effect on the Everton midfield and neither will be fit to face 'Boro. Worse, the team has now lost Mikel Arteta to a three-game ban following his controversial dismissal for catching Cesc Fabregas on the face with his forearm on Saturday. [Everton will not be appealing the decision.]
That will leave Moyes worryingly short of options in the middle of the park — not even Andy van der Meyde can provide any sort of cover as he is still recovering from a leg wound picked up playing for the Reserves — which could provide a window of opportunity for James McFadden or, more likely, may force him to play 4-4-2 against 'Boro if only to pare the midfield down from five slots to four.
Either way, Yakubu is likely to continue up front and face his old club despite not having found the net since the league win at West Ham and could be partnered by Andy Johnson again if the manager opts for two up top.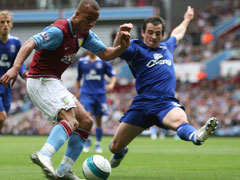 Leighton Baines:
could make his return from a hamstring injury
Leighton Baines and Alan Stubbs are fit again and either one could be called upon at the expense of Phil Jagielka who proved disconcertingly fallible against the Gunners. Joleon Lescott could be moved inside to resume what many fans regard is the Blues's best central defensive partnership with Joseph Yobo and Baines deployed at left back. Or, Stubbs could come in as a straight swap for Jags.
Boro have thus far struggled to find any kind of rhythm and prior to December looked odds-on for a prolonged battle against the drop... with Southgate's job seriously under threat. Since then, though, they've beaten Arsenal at home and Portsmouth away — both feats proved beyond Everton — but also lost to West Ham on their own turf nine days ago and were soundly beaten at Birmingham on Boxing Day.
Their chief threat, now that he's found his shooting boots, is Sanli Tuncay. The Turk is Boro's joint-top scorer with their other star, Stewart Downing, who is once again being linked with a move to either Goodison Park or White Hart Lane.
At this crucial juncture of the season — when a loss of momentum could prove really damaging — Moyes will feel that this is a game his team should win and they certainly have the firepower to do so. Much will depend on how his players deal with the loss of Arteta and respond to the nature of the defeat by Arsenal.
Character hasn't been a problem for his side, though, so confidence should be high that the Blues can get back to winning ways in the same way in which they dismissed Bolton a week ago.
Matchday Stats
May appear here later
* Unfortunately, we cannot control other sites' content policies and therefore cannot guarantee that links to external reports will remain active.
MIDDLESBRO' (4-4-2)
Schwarzer
Young
Pogatetz
Huth
Woodgate
Rochemback (Cattermole 84')

O'Neil (Johnson 73')

Arca
Downing
Sanli
Lee (Hutchinson 59')
Subs not used
Turnbull
Riggott
EVERTON (4-4-2)
Howard
Hibbert
Jagielka
Lescott
Valente
Carsley :3'
Neville {c}
Pienaar (Anichebe 90')
McFadden (Baines 80')
Johnson
Yakubu (Vaughan 87')
Subs not used
Wessels
Stubbs
Unavailable
Arteta (suspended)
Gravesen (injured)
Yobo (injured)
Cahill (injured)
Osman (injured)
Premier League Scores
Tuesday 1 January 2008
Arsenal
2-0
West Ham
Aston Villa
2-1
Tottenham
Fulham
1-2
Chelsea
Man United
1-0
Birmingham
Middlesbro'
0-2
Everton
Reading
0-2
Portsmouth
Wednesday 2 January 2008
Blackburn
1-0
Sunderland
Bolton
1-0
Derby
Liverpool
1-1
Wigan
Newcastle
0-2
Man City
Premier League Table
Pos
Team
Pts
1
Arsenal
50
2
Man Utd
48
3
Chelsea
44
4
Man City
39
5
Liverpool
38
6
Everton
36
7
Aston Villa
36
8
Portsmouth
34
9
Blackburn
33
10
West Ham
29
11
Newcastle
26
12
Tottenham
24
13
Reading
22
14
Bolton
20
15
Middlesbro
20
16
Birmingham
19
17
Wigan
17
18
Sunderland
17
19
Fulham
15
20
Derby
7
After 2 Jan 2008