Venue: Emirates Stadium, London
Premier League
Saturday 18 October 2008; 3:00pm
Nasri (48'), Van Persie (70'), Walcott (89')
Half Time: 0-1
Osman (9')
Attendance: 60,064
Referee: Peter Walton
A somewhat weakened Everton squad turned up at the Emirates after the International break, with Tim Cahill suspended and three players injured or sick: Segundo Castillo picked up a hamstring injury playing for Ecuador, Victor Anichebe did the same playing for the reserves against Liverpool, and Joseph Yobo has a virus. Phil Jagielka is also suffering with a similar virus but is in the squad. Phil Neville was back after a hamstring problem but on the bench, giving a surprise start for Jack Rodwell.
It didn't take long for Arsenal to settle into their passing game while Everton struggled to do anything meaningful with their limited possession, except to pass it back to Howard who hoofed it far up the field, with Yakubu getting himself offside. But inside 8 minutes, an excellent move on the ground started by Osman fed the ball out to Pienaar whose cross was not great but into space where Osman, running in, stretched a toe poke that sneaked nicely inside Alumina's post to put the Blues 1-0 ahead.
Arsenal came close to an equalizer when Van Persie did well to control an Arsenal hoofball and fired at Howard who saved well. Yakubu, coming deep, started a threatening move in response, dribbling forward strongly before playing in Osman, whose snatched shot was deflected just wide. Good start by The Blues, but they had to be alert to deny a scrambled Arsenal play in the Everton goal area after 23 mins.
After being unsettled by the early goal, Arsenal started to push forward with more conviction and skill, threatening the Everton goal with increasing frequency. Van Persie was played in and really would normally have done better when he fired well over after a defence-splitting Abouye pass. Interestingly, it was Arsenal who were putting most of the hoofballs!!!
Lescott was unfairly booked after an innocent tangle was penalized on the edge of the area and Van Persie's accurate strike needed a confident punch from Howard. Everton should really have scored again near the break, when Pienaar released Fellaini but he went away from goal before he could turn and cross. From the corner, Lescott got a free header but Clichy cleared it off the line for Arsenal. Fellaini gave the ball away too easily and Fabregas looked like he would do better from a narrow angle but screwed it across the goalmouth. Fellaini was heavily barged by Van Persie on the edge of the Arsenal box but incredibly no free kick!
It was a good first half from Everton, who had comfortably made Arsenal look somewhat ordinary without reaching the heights themselves, the stadium half-empty well before the break! Toure, who was injured in the first half, failed to appear, Walcott on in his stead. From the restart, Yakubu came so close but Alminia stole it off his toe.
But Walcott was the inspiration who scampered up the other end, won a free kick, that put Everton under pressure and from a poorly cleared corner, Nasri powered home a hard and direct shot that just clipped off Lescott and past Howard to put Arsenal right back in it.
Everton started to freeze a little as the Emirates lights brightened, Arsenal causing the Blues more and more problems as they started to carve up a labouring Blues defence, the bristling atmosphere a full U-turn from the depressed Gunners stupour of the first half
Hibbert went in far too robustly from behind and clashed sharply with Clichy, grabbing him by the throat as the handbags came out; both were carded. It looked like a good time for a substitution, the game crying out for Vaughan's passion, but as ever, Moyes dithered while Arsenal kept pushing and the go-ahead goal inevitably came from Van Persie with the Everton defence simply unable to cope.
Moyes finally made the change with 15 mins to go and the game effectively lost, Saha on for Fellaini, who had played well but shown at times that he is still not up to the cut and thrust of the Premier League. With 10 mins left, Hibbert and Yakubu were exchanged for Neville and Vaughan. Too little...far far too late.
Walcott wrapped it up for The Gunners with a simple goal near the end to underline the gulf in class, and give the scoreline a depressingly familiar appearance.
Struggling Everton Follow the Script at The Emirates
After their unforeseen gatecrashing of the top four in 2004/05, 2008/09 was supposed to be all about Everton Football Club making its first concerted effort to break the Sky Four's stranglehold on the Champions League qualification places. Instead, after the collossal cock-up of the summer transfer window and, consequently, an abysmal start to the campaign, David Moyes's side are more concerned with the bottom four than the other end of the table after suffering what is practically a ritual defeat at Arsenal.
For much of a first half notable more for the relative disarray in the Gunners' defence brought on by injuries than any dominance on Everton's part, the prospects looked good that the Blues' awful run of results against those mostly untouchable four clubs would come to an end. Unfortunately, just minutes into the second half, the match took a decidedly familiar turn when Arsenal leveled and by full time it all seemed so depressingly inevitable.
On the heels of Hull City's shock win three weeks ago, Moyes pledged that his team would go to The Emirates to take the game to their more fancied hosts, and although the five-man midfield with which he started the game suggested he hadn't been particularly true to his word — it's that safety-first line-up that has been a constant, and mostly unsuccessful, feature of games against the big boys in recent years — the Blues made a the best start possible.
With less than nine minutes on the clock, Leon Osman ended a move which he's started with a pass to Steven Pienaar down the left by slotting home to pile further pressure on an Arsenal side still smarting from that Hull defeat and a narrow escape with a point from the Stadium Light.
The midfielder collected Yakubu's chest down and continued his run into the box where he accelerated into Pienaar's low cross to slide home the opening goal.
In many ways, the first 45 minutes echoed last season's game between these sides at Goodison last December where it was Everton who looked assured and dominant before half time and it was Arsenal who were finding most success with long taking balls forward that troubled the Blues' back line more than they should have done.
A case in point was when Cesc Fabregas picked out Robin van Persie after 15 minutes with a ball straight over the middle of the Everton defence and the Dutchman, having ghosted away from Joleon Lescott, took it neatly on the chest and fired first time but Tim Howard made a reflex one-handed save before poucing on the rebound.
It was Everton, though, profiting from unsually large gaps in the Arsenal defence, who had the best chances. Yakubu's powerful run from midway inside his own half took two players out of the equation before he laid it off to Osman but his low shot was deflected agonisingly past the post by Mikael Silvestre hack.
At the other end, great anticipation by Lescott enabled him to toe the ball away from Samir Nasri as he set himself to fire Fabregas' knock-down goalwards and Van Persie blazed over when well placed as Everton held into their lead.
And the Blues so nearly scored the second goal five minutes before the interval. Jack Rodwell, deployed as the anchor man in midfield, presumably because of Segundo Castillo's hamstring injury, dinked a perfect ball to Marouane Fellaini who was in acres of space after springing the offside trap but the Belgian, who just seems to do everything in slow motion, took himself away from goal with his first touch and his attempted cross to Yakubu was diverted behind for a corner by Kolo Toure.
Mikel Arteta played the ball short to Leighton Baines the completely untracked Leighton Baines and when Lescott rose higher than anyone to meet his excellent cross at the back post and headed past Almunia, he was foiled by Gael Clichy who stopped a certain goal with his chest before booting clear.
It would be the introduction of Theo Walcott after half time that would transform the game, though, and prompt Everton to fall back on their annoying reliance on the long ball as the Gunners siezed control of proceedings. Just two minutes after coming on for the injured Toure, England's newest sensation earned a fortuitous free kick when Baines was adjudged by referee Peter Walton to have fouled him a few yards from the byline.
After Van Persie, who had been denied again brilliantly by Howard after half an hour when he fisted away a direct free kick before the break, had seen his kick glanced behind by Osman, and Fabregas' corner had been headed away by the same player, the ball fell to Yakubu 10 yard outside the box. Unfortunately, the Nigerian was caught in possession by Denilson and when the ball broke back to Nasri off Silvestre he powered the equaliser past Howard thanks in part to a slight but probably crucial deflection off Lescott.
Retreating into their shell somewhat, Everton were inviting trouble and were undone by their hosts' passing game with 20 minutes to go. Denilson found Febragas just outside the "D", he slotted it to Emanuel Adebayor who cut back on his right foot and laid it back on for the Spanish midfielder who had continued his run into the area while his marker Fellaini jogged lazily behind him. Fabregas' shot from 12 yards was blocked superbly by Howard but, sadly the rebound sat up pefectly for Van Persie who just had to pick his spot with a header past Baines on the line.
2-1 and there was no way back. Moyes's side had seemingly lost all their imagination going forward and appeared intent on giving the ball back to Arsenal at every opportunity. The possession statistics for the second half would make disturbing reading for Evertonians as time after time, long balls punted forward, mostly to Fellaini — who, apart from some decent knockdowns in forward areas, one of which had almost put Yakubu in within a minute of the restart either forgot how to jump under pressure or just stopped bothering — ended up with a red shirt.
It was partially understandable; on the few occasions that Howard did roll the ball out to a defender, it invariably came back from a midfield that has for long periods of recent matches seemed clueless how to move it around effectively and create chances for the strikeforce. The result was that instead of the goalkeeper lumping it forward, it was Phil Jagielka or Lescott doing the hoofing.
Arteta and Fellaini became an increasingly peripheral figures exerting less and less influence at a time when they were really needed so that by the time Moyes finally made the change for which his team's performance had been crying out, it was too late. Louis Saha and then James were introduced but to little effect as the ball seldom reached either player.
Salt was rubbed into the wound when the Everton defence was again easily circumvented in injury time when Walcott played a one-two with Diaby on the right side of the box before driving the ball through Howard's legs to make it 3-1 and underscore the transformation that Wenger's side had undergone in the second half. This time it was Arteta who hadn't tracked the winger's run and he had all the time and space he needed to place his shot.
Moyes again pointed to a harsh free kick as a factor in his side's defeat and was heartened by "one or two good things" that he could take from another emphatic defeat to a Sky Four team but the plain fact of the matter is that his players were easily overpowered by a vastly superior outfit. Given the resources available to Wenger, that should come as no surprise, but the way Everton simply faded from of contention in this game and the manner in which his midfield simply couldn't keep the ball are becoming hallmarks of a distressing run of results.
After Arsenal equalised, there was only going t be one winner such was the way the Blues' confidence ebbed away. Gone was the enterprise that had crafted the goal and any "gung-ho" attempt to take the game to their opponents, replaced increasingly by one-dimensional attacking that was easily rebuffed by the home side who.
Manchester United next up at Goodison where the Blues haven't won all season and given the mood Sir Alex Ferguson's men are in, and Wayne Rooney in particular, combined with Everton's low morale could make for another thoroughly miserable afternoon next weekend. Right now, it's hard to see where Moyes goes from here; he clearly seems unable to get his team playing incisive attacking football for more than 20 minutes and the goals keep flooding in at the other end. Not a good time to be playing the Champions... but then every fixture is the beginning of a good run waiting to happen and so much of football is in the mind. Just ask third-placed Hull City.
Match Preview
The Merseyside derby aside, Everton couldn't have asked for a much easier introduction to the season but with the mess thay have made of a campaign that promised so much back in May they have set themselves quite a challenge to emulate last season's fifth-place finish.
It's fair to say that 15th place after seven games, three points above the drop zone, failure to beat two fellow crisis clubs in the form of Blackburn and Newcastle on home soil and quick exits from two cup competitions is not what David Moyes or the fans would have expected given the strides made last season.
Now, though, with another international break behind them in which they have had another opportunity to reflect on their poor start and finally see David Moyes sign a new contract, the Blues now face back-to-back challenges against Arsenal and Manchester United as they bid to rescue what's left of their season.
The fortnight off doesn't seem to have been long enough injury-wise, though. Segundo Castillo, Victor Anichebe and Phil Neville are all apparently battling to overcome hamstring injuries while Leon Osman can add a groin strain to his ongoing knee problems. Tim Cahill, of course, is suspended following his red card in the derby and will miss the home game against United next week as well.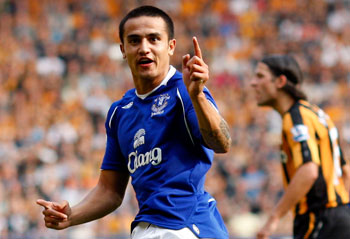 Tim Cahill:
serves the second game of a three-match suspension
On top of that, defensive duo Phil Jagielka and Joseph Yobo came down with flu during the week and are also doubtful.
Who plays among those who are passed fit will, of course, depend on the manager's strategy and formation for this game. Matches against the so-called Sky 4 have often been characterised by caution, apparent fear and a five-man midfield aimed at damage limitation, particularly away from home. The result has been an awful run of results against those sides, one that perhaps demands a more adventurous approach... like that adopted by Hull City, for instance, who came to The Emirates three weeks ago and left with a stunning 2-1 victory.
Getting amongst an Arsenal team reeling from its own injury problems — William Gallas, Nicolas Bendtner and Bacary Sagna are all ruled out with injuries picked up on international duty in midweek — and, of course, two poor results that saw them drop five points and surrender their berth at the summit of the table to Chelsea early would seem to be key for Moyes.
Will he resist the temptation to resort to a 4-5-1 even with Cahill absent or will Yakubu and Louis Saha, who have suffered from a dearth of service and erratic form in the last few games, get another opportunity to demonstrate prove that theirs is as deadly an attacking partnership as it looks on paper?
And will Marouane Fellaini continue his frustratingly slow acclimatisation to England with a more dominant midfield display when pitted against one of the best sides in the country?
These questions and more will no doubt be answered when the Blues kick off a rare 3pm fixture on Saturday.
Matchday Stats
May appear here later
* Unfortunately, we cannot control other sites' content policies and therefore cannot guarantee that links to external reports will remain active.
ARSENAL (4-4-2)
Almunia
Eboue
Silvestre
Clichy :60'
Denilson
Toure (46' Walcott)
Nasri (83' Diaby)
Song
Adebeyor :33'
Fabregas
Van Persie
Subs not used
Hoyte
Ramsey
Gibbs
Vela
Fabianski
EVERTON (4-5-1)
Howard
Hibbert :60' (80' Neville)
Jagielka
Lescott :29'
Baines
Rodwell
Fellaini (75' Saha)
Pienaar :65'
Arteta
Osman :87'
Yakubu (80' Vaughan)
Subs not used
Nash
Valente
Gosling
Wallace
Unavailable
Cahill (suspended)
Segundo (injured)
Yobo (injured)
Jacobsen (injured)
Premier League Scores
Saturday 18 October 2008
Arsenal
3-1
Everton
Aston Villa
0-0
Portsmouth
Bolton
0-0
Blackburn
Fulham
0-0
Sunderland
Liverpool
3-2
Wigan
Man Utd
4-0
West Brom
Middlesbro
0-5
Chelsea
Sunday 19 October 2008
Hull
1-0
West Ham
Stoke
2-1
Tottenham
Monday 20 October 2008
Newcastle
2-2
Man City
Premier League Table
Pos
Team
Pts
1
Chelsea
20
2
Liverpool
20
3
Hull
17
4
Arsenal
16
5
Man Utd
14
6
Aston Villa
14
7
Portsmouth
13
8
West Ham
12
9
Blackburn
11
10
West Brom
10
11
Man City
9
12
Sunderland
9
13
Middlesbro
9
14
Wigan
8
15
Bolton
8
16
Everton
8
17
Fulham
7
18
Stoke
7
19
Newcastle
5
20
Tottenham
2
After 20 Oct 2008

Menu