With Osman adding to the list of walking wounded, David Moyes was forced to pick Anichebe, Gosling and Rodwell to start. And what a start! Three corners in the first three minutes and Everton score of f the third one! A great Cahill header was stopped on the line by Petrov's hand but Rodwell reacted well to smash it into the roof of the Villa net.
But at the other end, a great pass for Agbonlahor saw him get just a foot or so ahead of Hibbert and feeling his despairing lunge hit his ankles, crumpled at the corner of the 18-yard box, penalty, yellow card (Hibbert's fifth), and Milner scored with a weak shot under Howard's body
Cahill then protested too much about being pushed when he caught a brilliant Arteta cross with his arm rather than his head, he went in to Atkinson's book (also his fifth yellow card).
Anichebe went on a great run with the ball at his feet, went down as Sidwell scythed in from his left... penalty! Yellow for Sidwell, while Arteta slotted it home superbly to restore Everton 's lead.
Agbonlahor had an amazing chance to pull it level but thankfully missed his free header from 4 yards out!
After a rip-roaring first half, the second started at a noticeably slower pace, and you had to wonder if Everton were instructed to sit on the lead and go back into their defensive shell rather than keep attacking the Villians. As a result, the nervy moments in defence got more and more nerve-racking, Howard making a terrific finger-tip save on the hour mark.
Everton lived dangerously at the back, while being increasingly profligate with the lazy passing up front, one decent cross form Baines notwithstanding. Cahill headed that one well but Friedel stopped it doing any damage.
But with 15 mins to go, a decent bit of football down the left saw some good interplay among Arteta, Anichebe and Gosling finished off somewhat clumsily by Cahill, whose scuffed shot hit the ground and bounced wide of Freidel into the Gwladys Street net. It was the perfect response to stem the flood of Villa's
Anichebe was subbed with 3 mins left, and got a decent round of applause after putting in a fair effort, Yobo on to hold the fort. In the end it was plain sailing for Everton, but if one of those many squandered Villa chances had gone in to level the score in the second half, you can't help feeling it would have ended very differently.
Still, this marks a tremendous milestone for Everton under David Moyes, and no mistake as he comes within a month of his seventh anniversary at Goodison Park. Never before in that time has he been able to lead an Everton team, into the 6th Round of the FA Cup. A fantastic achievement, especially considering the current injury nightmare... which is set to be compounded by suspensions for Hibbert and Cahill.
Match Preview
The Quarter Finals of the FA Cup beckon as Everton take on Aston Villa at Goodison Park this weekend, and it's a twin mission for David Moyes's boys: gain revenge over the Villains for that heart-wrenching Premier League defeat here two months ago and book a place in the last eight for the Blues for the first time in seven years.
The 10th of March 2002 was, of course, Walter Smith's last match in charge before he was summarily dismissed by Bill Kenwright and succeeded by Moyes. An abject capitulation at The Riverside in the quarter finals of the FA Cup was the crowning turd in the waterpipe of the last three months of Smith's tenure, coming as it did after a succession of poor league results.
In the ensuing years between then and now, Moyes has found this competition to be something of a challenge, suffering two of the Club's most embarrassing defeats, to Shrewsbury Town and Oldham Athletic, failing to progress beyond the fifth round and falling at the first hurdle in two of the last three seasons.
There is an air of something different this time around, though. A superb run of recent results against some of the best teams in the country was capped by the extra time heroics against Liverpool in the last round. And last week's 3-0 Premier League victory over Bolton really was something special from a footballing point of view.
Of course, much was down to a stellar debut by Jô and he is cup-tied for the remainder of the competition having already represented Manchester City in the Third Round, but the confidence and the incisiveness of their play was impressive and a level above what has been the norm so far this season.
In addition to having to do without the Brazilian striker — and, of course, long-term absentees Yakubu and James Vaughan — Moyes also has Steven Pienaar unavailable through suspension and Marouane Fellaini through the back injury that sidelined him last weekend.
There is better news on Louis Saha, however. He stands an outside chance of being involved in some fashion after returning to full training this week. Moyes remarked in his pre-match press conference that the Frenchman "had to leave training again", presumably because he didn't feel 100% with the hamstring that he damaged at the end of November last year; nevertheless, he could find himself among the substitutes.
The onus up front will therefore fall once more on the shoulders of Tim Cahill who made a 14,000-mile round trip to Japan where he played the majority of Australia's World Cup qualifier. He has showed remarkable tolerance for these long-haul flights in the past, though, and the Blues will be counting on him being sharp this weekend.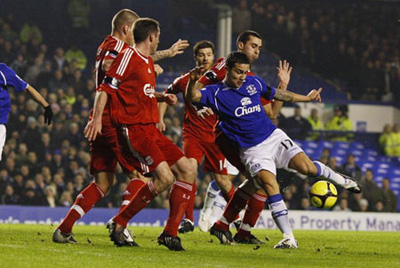 Tim Cahill: Back to playing the lone striker role
In midfield, necessity will probably force the manager to field both his young proteges that helped propel the Blues past Liverpool in the Fourth Round replay, Dan Gosling and Jack Rodwell, while Andy van der Meyde has emerged as a possible weapon from the bench.
Villa have selection problems of their own, though. Midfield linchpin Gareth Barry serves a one-match ban for picking up a fifth yellow card at Blackburn last Saturday, and defender Martin Laursen is ruled out through injury. Additionally, they have injury concerns over Carlos Cuellar and Emile Heskey, the latter of whom returned from international duty with England having aggravated an Achilles injury, much to Martin O'Neill's chagrin.
Everton are playing better than they were the last time these two sides met. That day, lax defending allowed Steve Sidwell to score inside the first meeting, Phil Jagielka had his moment of madness for which his subsequently stirling form has served to atone, and the Blues, having equalised in injury time, allowed Ashley Young to steal all three points with the last kick of the game.
The desire to further erase that painful memory and the prospect of a place in the draw for the last eight will no doubt be the spur for Moyes's boys this weekend. Let's hope we're celebrating and singing more songs about Wembley come the final whistle.
Match Report
Everton are into the last eight of the FA Cup for the first time under David Moyes after convincingly seeing off high-flying Aston Villa at Goodison today to earn another home tie with either Middlesbrough or West Ham.
In emerging victorious from what was an absorbing contest with a two goal victory, they became the first team to beat Martin O'Neill's men in domestic competition for three months... and they did it again without any of their first-choice strikers, without their record signing, the injured Marouane Fellaini ,and with two teenagers in the starting line-up. Testament indeed to the spirit, cohesiveness and determination of the team that Moyes has built.
From the first minute, the Blues demonstrated their unflinching desire to both gain revenge for the painful 3-2 defeat they suffered at Villa's hands in December and to progress in a competition that has not treated them very kindly under Moyes's tenure. Not since the last match of his predecessor's reign have Everton played in an FA Cup Quarter Final and the favourable draw for the 6th Round gives them every opportunity of qualifying for a cup semi final for the second year running.
Brad Friedel found himself called into action in the first minute, fisting away a corner, and defender Craig Gardner had to glance a MIkel Arteta free kick behind a couple of minutes later as the home side pressed in the early stages. From that second corner, Tim Cahill looked to have scored yet another headed goal from a set piece but Stilian Petrov stopped his net-bound effort on the goal-line with his hand.
While Goodison awaited the referee's whistle for a penalty and what would surely have been an automatic red card for the Bulgarian, Jack Rodwell reacted quickest to the rebound and fired high into Friedel's net from the angle to make it 1-0 after just three minutes. By converting the chance, Rodwell probably spared referee Martin Atkinson the need to send Petrov off, a decision which could have had serious ramifications for the character of the remainder of the contest.
Petrov wasn't even cautioned and, echoing the back-and-forth nature of the league meeting, Villa were level just three minutes later on their first attack. Gabriel Agbonlahor raced past Tony Hibbert to latch onto a perfectly-weighted Petrov throughball and as he entered the area, the Everton right back committed himself with a desperate lunge that sent the England striker tumbling to the turf. No arguments; a cast-iron penalty and James Milner duly converted, albeit highly fortuitously — Tim Howard guessed the right way and got a hand to it but the ball deflected into his body and squirmed into the net.
1-1 but while equilibrium in the scoreline had been restored, Everton were still very much in control. Victor Anichebe, restored to the team after Leon Osman was ruled out with a stomach strain, glanced a Cahill cross wide before the Australian used his arm to connect with Arteta's deep centre and was booked for his trouble despite protestations that he was pushed. The yellow card means that he, like Hibbert, will miss next weekend's game at Newcastle through suspension.
Midway through the first half, though, Everton regained the lead they so richly deserved and it represented something of a confirmation of Anichebe's rehabilitation after his falling out with his manager. Showing some of that youthful lack of inhibition that made him such a star in the Uefa Cup last season, the Nigerian international picked up the ball in the middle of the park and surged through the Villa defence before being felled by a clumsy tackle by Steve Sidwell. Replays may show that he was already heading to ground before the Villa midfielder made contact but the referee had no hesitation in pointing to the spot.
Arteta stepped up, sent Friedel the wrong way and tucked his kick into opposite corner to put the Blues back in the driving seat. And with a little consistency from Mr Atkinson, they would have been 3-1 up two minutes later after John Carew bundled Cahill over in the area but the referee waved away calls for a penalty for a challenge that would have been a foul anywhere else on the pitch.
Neverthess, the pursuit of a third goal continued, with Dan Gosling, playing somewhat awkwardly on the left side of midfield so that Anichebe could play his frequent wide-right-cum-striker role, driving into the side-netting from 20 yards, Jagielka heading a corner over the bar and Anichebe again causing panic in the visitors' defence with surging runs but dragging wide.
Though they were playing their part in what was an entertaining encounter Villa nevertheless did not look like a team currently occupying third place in the Premier League. Milner was being frustrated by the tight leash on which he was being kept by Leighton Baines while Ashley Young couldn't find his range with crosses from the left. When he did, though, after being afforded too much space by Hibbert, Agbonlahor missed an absolute sitter from five yards out, glancing his header off his shoulder when solid contact would almost certainly have beaten Howard.
Villa were given the opportunity to illustrate their Champions League credentials in the second half, though, as Everton sat back a little more and invited more pressure from O'Neill's side but they continued to meet stubborn resistance from the Blues' back line. Indeed, it wasn't until after the hour mark that the home fans were to have their hearts in their mouths again when Carew's deft flick looked to be sneaking inside the far corner before Howard brilliantly clawed it wide of the post for a corner.
There were further let-offs for Moyes's men when Sidwell bounced a header wide when he could have taken more time and Young blasted a Carew knock-down high, wide and handsome when given a clear sight of goal from 18 yards.
With 14 minutes left, Everton sealed a deserved victory, though. Cahill laid the ball out wide to Anichebe before sprinting into the area to pick up the striker's clever cross with the outside of his boot which eluded Gosling at the near post, was missed by Davies, leaving the Australian to back across the goalkeeper and into the far corner. 3-1 and the Blues were home and dry.
There was a chance to rub salt into the wounds when Anichebe earned a free kick in Arteta territory later on but the Spaniard eschewed the more cultured approach that was the hallmark of his early Everton career in favour of the piledriver shot that has been successful at other times this season and the ball flew well wide.
Late substitutions of Anichebe for Yobo and Arteta for Castillo ran the clock down in the closing stages but Villa were a beaten side and they knew it. Everton were safely through to the Sixth Round and looking good value to go all the way to Wembley on ths evidence.
Stripped once again almost to the bare bones, Moyes's boys still managed to deliver, out-shining the one club that has looked capable of finishing in the top four this season. Not only that, they made Villa look decidedly ordinary.
Hibbert had a less comfortable afternoon than he has become used to in recent weeks and Gosling was a bit hit and miss in that unfamiliar left-side role that made him look very one-footed but they were just nits on a great team performance.
Arteta was simply magnificent in central midfield, pulling strings, breaking up play and spraying passes across the pitch with consummate ease. He was ably supported by Rodwell whose composure on the ball and unflustered demeanour continue to bely his tender years. His first Everton goal will surely not be his last on this evidence; only the uncertainty over his future — rumour has it that a contract boasting a £10,000-a-week pay increase for the 17 year-old remains unsigned — can mar the satisfaction Evertonians took from seeing this Academy graduate look so good.
And up front Anichebe and Cahill led the line superbly in the manner we've come to expect from the latter but have criticised the former for failing to do in the absence of Yakubu, Vaughan and Saha. Big Vic can be proud of the way he played today and it will restore hope that he can prove himself at Premier League level after all.
So, next up is another home tie, against struggling Middlesbrough or improving West Ham but the Blues will feel they can beat just about anyone right now.
Man of the Match: Mikel Arteta
* Unfortunately, we cannot control other sites' content policies and therefore cannot guarantee that links to external reports will remain active.