Venue: JJB Stadium, Wigan
Premier League
Monday 24 November 2008; 8:00pm
Camara (49')
Half Time: 0-0
Attendance: 18,344
Referee: Rob Styles
No Steven Pienaar, suffering a knee injury. Everton, resplendent in their luminous yellow shirts, started well and had plenty of corners early in the half, even putting together some rather nice-looking passing moves and one that actually looked a bit like a breakaway that gave Saha a glorious chance but his shot lacked conviction.
A difficult chance fell to Cahill from an early Osman cross, his header flew just over. But a great chance fell to Palacios from a good Heskey nod-down and it also flew over the bar... Good game!
It was Wigan, though, who improved as the half went on, and it was only two fantastic saves by Howard, the first a brilliant touch to keep out Catermole's curler placed after a mazy run past three Everton defenders, the second a point-blank block of a cast-iron goal-bound Scharner header from the ensuing corner.
But salivation was short-lived after the break. Wigan stole an goal with consummate ease, Lescott getting skinned by Valencia, whose perfect low cross was leapt upon by Camara, skipping in to score far too easily. In truth, the game had been drifting away from Everton since they failed to capitalize on their massive early dominance.
Predictably, Davey dithered and found himself unable to respond until after the hour mark had passed, when he finally swapped Saha for Anichebe, but this like-for-like move was actually injury-related, Saha feeling his hamstring. Yakubu got a half-chance but shot over, with Cahill screaming for it, while at the other end Howard had to save smartly once again off Valencia.
Cahill got a half-chance that was blocked well by Scharner, but that was all too rare in the second half as the final ball was almost completely lacking. The Moyes Masterstroke came just 5 minutes from time, Baines coming on for Captain Marvel... Cahill missed another one at the death, and that summed up a really disappointing display from the Blues.
Match Report
The top four, the holy grail of Champions League qualification for those clubs who have been standing on the outside looking in at the top four for so long, has been beckoning this season. The media dominance of the so-called Sky Four has never been greater but suddenly, a goal that has proved unreachable for everyone except Everton back in 2005 looks attainable to the club that can get their act together and take a run at the big boys.
That club will not be Everton in 2008/09, a fact that won't come as a surprise on the basis of the Blues' recent performances but one that was nonetheless rammed home at the JJB Stadium this evening where David Moyes's team failed to rouse themselves for the fightback that was needed after they'd let Wigan get a grip on a game that was there for Everton's taking in the early going.
There is a pattern to most of the Blues' performances this season and it's becoming more than a little irritating. They invariably start with some purpose, some decent passing a flurry of half-chances that should signal to the opposition that it's only a matter of time before they'll score. But when that breakthrough doesn't come, more often than not because of continual failure to deliver a telling ball in the final third, they retreat into their shell and only really emerge if they go behind orif they can muster a late flourish to steal an unconvincing victory as they did against Bolton, Fulham and West Ham.
The start was there this time; Moyes's boys did come out of the gates quite strongly and had earned a clutch of corners, had the first chance when Tim Cahill headed over, forced an inadvertant handball by Lee Cattermole in the area and generally caused panic in the home defence inside the first 10 minutes.
With a quarter of an hour gone, Yakubu raced down the left on the counter-attack and swept a lovely ball behind the defence to meet the run of Louis Saha but the Frenchman's despatched his shot on his wrong foot straight at Chris Kirkland.
Wigan started to settle themselves, though, and Figeuroa forced Tim Howard into a low save before Ryan Taylor sent a direct free kick from 25 yards out inches over the bar. After Michael Brown had missed badly with a decent chance and Cahill had steered a header onto the roof of the Latics' net, though, Steve Bruce's side really should have gone ahead 10 minutes before the break. Valencia knocked a cross cleverly back from the byline into the path of Vincent Palacious but he somehow headed over five yards.
Then, in first-half injury time, a brilliant run by Cattermole where he evaded both Leon Osman and a wild Phil Neville lunge and then turned Joseph Yobo ended with Howard palming his curling shot wide at full stretch. The resulting corner found Phil Scharner unmarked and six yards out and the Austrian met it sweetly for his fourth goal against Everton... or so he thought. Howard extended a reflex arm that stopped his header dead and it was hacked clear.
If Moyes had hoped that the half-time interval would disrupt the home side's momentum, the answer came in the negative six minutes after the restart when Everton sliced open with apparent ease. Joleon Lescott was caught 15 yards out of position and Figueroa profited by collecting a ball down the channel and sliding it into the six-yard box for substitute Henri Camara to convert from close range.
Everton's response was lethargic but still might have yielded an equaliser. Saha's deft flick to Yakubu after an hour provided a half-chance for the Nigerian but he wasn't able to get off a volley after controlling it on his chest under the attention of two defenders. 10 minutes later, the Yak turned his marker superbly but elected to shoot left-footed from 18 yards rather than play in the unmarked Cahill and ballooned it over.
Four minutes later, Yakubu's cross was bungled by Kirkland but when the loose ball fell to Cahill and he tried to slot it past them and into the net, Scharner was on hand to block his effort and the chance was lost.
By that point, Saha had been withdrawn with hamstring trouble and Victor Anichebe given his chance to turn the game but while he showed a lot more commitment and determination than most of his teammates had, he was scuppered by an increasingly aimless performance.
And yet with three minutes of injury time ticking away, the chance to grab a point opened up for Cahill but he scooped his shot over with the net begging to ripple and the Australian fell to the turf with his head in his hands.
Despite Everton's early promise, a draw would have been harsh on Wigan. They created the better chances and, frankly, the Blues deserved to be punished for failing to press home their superiority. Too many of the players who made last season so successful just aren't performing and with so little competition in the squad, particularly in midfield.
Mikel Arteta was again disturbingly peripheral, sloppy, disinterested even; Lescott looked as out of place as an attacking left back as ever; Fellaini, who still can't tackle or consistently head a ball, was useful for nothing except short, tidy lateral passes; Yakubu was by turns sublime with his passing and poor with his decision-making; Jagielka dependable in defence but atracious with his distrtibution; Phil Neville likewise.
In short, there was nothing to suggest that it'll be Everton who challenge the hegemony of the Sky Four and plenty to suggest that their long-suffering fans are destined for a season of mediocrity and may find themselves out of the running for Europe completely now that the likes of Tottenham are getting their act together.
Quite the comedown from the optimism of last May when the Blues were seemingly on the cusp of something special...
Match Preview
It's been a strange season so far. The talk for so long has been of the hegemony of the seemingly untouchable Sky Four but as Arsenal stutter and the Champions Manchester United show evidence of fallibility themselves, the door to the Champions League is ajar once more.
Only one club has edged their way into the top four so far this century and that same club was best placed of all at the end of the last season to repeat the feat this time around. Unfortunately, however, Everton shot themselves in at least one foot with a calamitous summer that wrecked the start of their campaign and, as just one home win so far shows, is still having lasting effects.
Now, it looks as though Martin O'Neill's Aston Villa, clearly a more settled and complete side, will be pushing Arsene Wenger's erratic Gunners for that precious fourth spot and Manchester City appear to be well positioned for a run at fifth. That leaves David Moyes's Everton with little time to get into the kind of rhythm they were in this time last season and mount their own challenge for the places that matter.
Another unconvincing display last weekend against Middlesbrough cost them the two points that would have enabled them to displace Arsenal in fifth with victory at Wigan in this Monday's televised game at the JJB Stadium. But if there is cause for optimism going into this one it's that the Blues have been much better away from home thus far and the Latics haven't won at home for two months.
Moyes is likely to be without Steven Pienaar who is battling a knee injury and record signing Marouane Fellaini who has a groin strain, while this fixture will come too soon for Lars Jacobsen who has only just resumed full training. The maager should have an otherwise fully fit squad... if you count Tim Cahill with cortizone shots in his heel "fit".
Fellaini's absence will force at least one change to the team that drew with 'Boro and Jack Rodwell is his likely replacement. With few other midfield options other than the out-of-favour Segundo Castillo, it's hard to see Moyes going 4-5-1 unless he deploys Victor Anichebe wide right again.
Wigan have injury worries of their own. Top-scorer and surprise package of the season, Amr Zaki, has rib and calf injuries to deal with and Emile Heskey has a hamstring strain. Both will undergo late fitness tests, as will Mario Melchott (knee) and one-time Everton target, Jason Koumas (groin).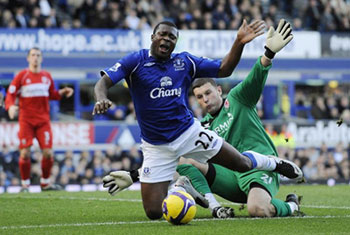 The Yak:
back on the scoresheet but still getting stick
As with last week, the Blues should have enough in their arsenal to claim another three points from the JJB Stadium but it'll again come down to the performance which has been lacking for most of the season. While those top four or five clubs are still within reach, it's imperative that Everton start getting into their stride and winning week in, week out... starting now.
Matchday Stats
May appear here later
* Unfortunately, we cannot control other sites' content policies and therefore cannot guarantee that links to external reports will remain active.
WIGAN (4-4-2)
Kirkland
Scharner
Bramble
Figueroa
Taylor
Brown
Catermole
Palacios
Valencia
Kapo (46' Camara)
Heskey
Subs not used
Cywka
Koumas
Kilbane
Routledge
De Ridder
Pollitt
EVERTON (4-4-2)
Howard
Neville (86' Baines)
Jagielka
Yobo
Lescott
Fellaini
Osman
Arteta
Cahill
Saha (65' Anichebe)
Yakubu
Subs not used
Nash
Castillo
Rodwell
Gosling
Jutkiewicz
Unavailable
Jacobsen (injured)
Pienaar (injured)
Premier League Scores
Saturday 22 November 2008
Chelsea
0-0
Newcastle
Liverpool
0-0
Fulham
Man City
3-0
Arsenal
Middlesbro
1-3
Bolton
Portsmouth
2-2
Hull
Stoke
1-0
West Brom
Aston Villa
0-0
Man Utd
Sunday 23 November 2008
Sunderland
0-1
West Ham
Tottenham
1-0
Blackburn
Monday 24 November 2008
Wigan
1-0
Everton
Premier League Table
Pos
Team
Pts
1
Chelsea
33
2
Liverpool
33
3
Man Utd
25
4
Aston Villa
24
5
Arsenal
23
6
Hull
22
7
Everton
19
8
Portsmouth
19
9
Fulham
18
10
Middlesbro
18
11
Man City
17
12
Bolton
17
13
West Ham
17
14
Stoke
17
15
Wigan
16
16
Tottenham
15
17
Sunderland
15
18
Newcastle
14
19
Blackburn
13
20
West Brom
11
After 24 Nov 2008