Venue: Goodison Park, Liverpool
Premier League
Sunday 16 November 2008; 1:30pm
Yakubu (64')
Half Time: 0-1
O'Neil (8')
Attendance: 31,063
Referee: Howard Webb
Marouane Fellaini returned to the side (after one match missing due to accumulated yellow cards), together with Yakubu but no Pienaar only on the bench as Moyes decided to play Fellaini and in a 4-mnan midfield behind Saha and the Yak.
The first bit of life for Everton was a nice passing move that saw a fairly good low Neville crossed cleared quickly to Pogatetz and it looked like Downing's rapid counter-attack had been stalled but the ball spun out to O'Neil who was totally unmarked on the right with Lescott stranded in the middle; his low shot spun past Howard into the net after just 8 minutes.
A long ball, flicked on by Saha, fed the Yak and it looked like he would certainly score but was stumped by a fantastic point-blank save from Turnbull. At the other end, Yobo was lucky to get the ball away from Alvez in an increasingly rare Boro attack as Everton plugged away patiently. A good ball in from Neville was met well by Yobo but his strong header flew just over. Again, a quick counter found Alvez and Jagielka had to be alert.
Cahill looked certain to score with a free header off a good Arteta corner but he jumped too early and the ball hit him in the face, bouncing just past the post. Despite the half-time scoreline, it had been much better football from Everton and a good game overall.
It became a little more huff and puff and long-ball in the second half. Osman getting a chance but firing hard at Turnbull. A good move and another great Neville cross was met by Saha with a dramatic diving header but it flew powerfully wide.
After the hour mark (no Moyes subs!?!) a much better set piece form Arteta, though, finally got Everton back in it, the low trajectory forcing Yakubu to duck and twist below it, the ball skidding off his back and past Turnbull, much to everyone's delight.
Boro so nearly scored moments later, Howard pushing the ball onto the post and clutching the rebound off Jagielka. Pienaar came on for Osman. And later Yakubu seemed to have a glorious chance but the bouncing ball forced him wide and his shot flew wastefully across the face of the goal.
In the end, a fourth consecutive victory proved a step too far for the Blues, who could not repeat the late, late show of those preceding victories and had to settle for the solitary point at home in front of another somewhat disappointing 31k crowd.
Match Preview
Just a few games ago, disillusioned fans were muttering the "R" word as Everton's season appeared to have come off the rails following back-to-back exits from the Uefa and Carling Cups.
Now, thanks to three straight wins and the welcome erraticism of the clubs around and above them, the Blues are three points off fourth place and could, with a victory over Middlesbrough, occupy 5th by 3:30 on Sunday if Arsenal (3rd) beat Aston Villa (currently 5th) on Saturday — Hull City (6th) play Manchester City in the live televised clash later on Sunday afternoon.
Bouyed by a deceptively decisive win at West Ham last weekend, David Moyes's men go in search of what would be a fourth consecutive victory, a feat they haven't achieved in the League for three seasons, but only their second at Goodison Park so far this campaign.
Moyes has obviously been pleased with the results but is under no illusions that the performances have been poor and is hoping that his side can "put on a show" against 'Boro this weekend.
He is aided by a virtually fully-fit squad. Yakubu and Steven Pienaar are both expected to be fit after recovering from minor injuries that precluded their involvement at Upton Park and Marouane Fellaini is eligible again after serving a one-match suspension; only long-term casualty Lars Jacobsen (dislocated shoulder) and Joseph Yobo (calf strain) are ruled out.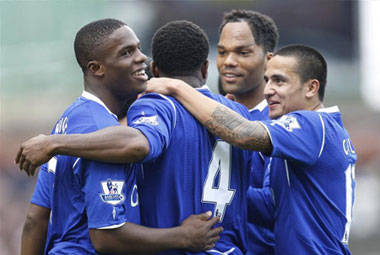 Joseph Yob:
misses out because of a calf strain
Joleon Lescott moving to central defence alongside Phil Jagielka and Leighton Baines coming in at left back would be the easy decision; it's in midfield where Moyes will have plenty of options, particularly if he keeps faith in Louis Saha and elects to go 4-4-2. Fellaini, Pienaar, Cahill, Osman, Arteta, Rodwell and Castillo (or not, if rumours of a bust-up with Moyes having put paid to his ever pulling on a Blue jersey again are true!) are all vying for places.
Middlesbrough, who expect to be unchanged with Mido still struggling for fitness, will be no pushovers, however. Since being hammered 5-0 by Chelsea at the Riverside, they've gone four games unbeaten, including a surprise 2-1 win at Aston Villa last weekend that lifted them to within a place and a point of the Blues in the table.
A particular eye should be kept on Tuncay Sanli. The Turkish striker bagged both goals for the northeasterners at Villa Park thanks to two uncharacteristic defensive errors by Martin O'Neill's men. That was only 'Boro's second away win of the campaign, however, so if Everton can indeed get their act together in the manner in which we know they can, then the stage is set for another crucial three points.
The way they've been playing recently, though, it's a big "if"...
Matchday Stats
May appear here later
Match Report
May appear here later
* Unfortunately, we cannot control other sites' content policies and therefore cannot guarantee that links to external reports will remain active.
EVERTON (4-5-1)
Howard
Neville
Yobo
Jagielka
Lescott
Fellaini
Osman (68' Pienaar)
Arteta
Cahill (85' Anichebe)
Saha
Yakubu (88' Vaughan)
Subs not used
Nash
Hibbert
Baines
Castillo
Unavailable
Jacobsen (injured)
MIDDLESBRO' (4-4-2)
Turnbull
Taylor
Digard :65'
O'Neil
Hoyt
Arca (69 Johnson)
Riggot (52' Wheater)
Downing
Tuncay
Pogatetz :68'
Alvez (84' Emnes)
Subs not used
Grounds
Jones
Franks
Walker
Premier League Scores
Saturday 15 November 2008
Arsenal
0-2
Aston Villa
Blackburn
1-2
Sunderland
Bolton
0-2
Liverpool
Fulham
2-1
Tottenham
Man Utd
5-0
Stoke
Newcastle
2-2
Wigan
West Brom
0-3
Chelsea
West Ham
0-0
Portsmouth
Sunday 16 November 2008
Everton
1-1
Middlesbro
Hull
2-2
Man City
Premier League Table
Pos
Team
Pts
1
Chelsea
32
2
Liverpool
32
3
Man Utd
24
4
Arsenal
23
5
Aston Villa
23
6
Hull
21
7
Everton
19
8
Middlesbro
18
9
Portsmouth
18
10
Fulham
17
11
Sunderland
15
12
Man City
14
13
Bolton
14
14
West Ham
14
15
Stoke
14
16
Wigan
13
17
Newcastle
13
18
Blackburn
13
19
Tottenham
12
20
West Brom
11
After 16 Nov 2008

Menu