Venue: Emirates Stadium, London
Premier League
Saturday 9 January 2010; 3:00pm
Denilson (28'), Rosicky (90+2')
Half Time: 1-1
Osman (12'), Pienaar (81')
Attendance: 60,053
Referee: Peter Walton
Donovan started, wearing the Number 9 shirt but playing as a right winger. Bilyaletdinov oddly dropped to the bench, despite the Siberian weather conditions... Hibbert not even on the bench, possibly injured.
Good possession football on the ground from both sides as the snow started falling from the lick-off. Fellaini committed the first foul. Saha got the ball in the Arsenal net from a long Neville throw but it was offside. Cahill won the first corner but it was taken short and Baines's final ball was atrocious. Saha got a chance from a much better ball by Baines but the shot was dreadful and Arsenal mounted their first real attack after 10 mins, Diabi firing across the goal.
Excellent work by Saha won a second corner, brilliantly put over by Donovan resulted in an absolutely superb header from Osman, running in unmarked, on 12 mins, that Arsenal could not keep out. An excellent reward for a determined and committed start by Everton. But scoring early is, if anything, an Everton weakness... let's see how they follow up this time!
Arsenal responded by showing their determination but Everton resisted with Heitinga superb as the main interceptor and were soon attacking again, but Pienaar's cross was too deep and Fellaini was called for a foul off the resulting throw.
It was turning into a great battle in the middle, Fellaini showing both the good and the bad, giving away another stupid free kick. Gallas got injured but continued after another pause. But a simple attack and poor defending and Osman deflected Denilson's shot past Howard. 1-1.
Everton should have got a second on a great deep cross from Neville that Cahill beat Almunia to but there was no-one there to tap it home. But Everton's disciplined play was on occasions breaking down when they resorted to hoofing it forward, only to lose possession wastefully. Donovan did well to set up Neville but he tried to chip the goalkeeper rather than crossing to an unmarked Cahill, and another glorious chance went begging.
When Everton took the ball forward on the ground, they looked really promising, and looked to mount a good attack down the right but Donovan guilty of playing the ball back rather than getting it into the area. The performance overall was excellent... giving David Moyes possibly the best first half of real football for a long, long time. But there was no denying that, with even more attacking verve and desire Everton would be well ahead at half-time.
Everton started the second half in similar vein but an early free-kick won by Donovan was totally wasted by Baines. Arsenal came back at them, won their first corner, all 11 Everton players back defending as ever, and unable to take advantage of the clearance, the ball as ever coming straight back at them. Saha and Cahill were getting caught offside, defeating some purposeful Everton building work in the middle of the park.
Osman got free again on another corner but could not create anything and eventually Donovan slipped as he crossed, skying the ball high and wide. Arsenal were attacking with verve, forcing some desperate defence from Everton to keep them from getting a sight of the goal, but Fellaini was being far more measured with his challenges and all the more effective for it.
Saha finally got a hint of a sniff and his blocked shot deflected away for a corner. Donovan's corner from Baines's side was put in too low. With the snow coming down heavier on the hour, Everton's football started to look scrappy, while Wenger swapped out Ramsey for Rosicky. Arsenal looked stronger for it and a cross needed Howard's touch as Everton rocked on their heels. Moyes took Donovan off after 68 mins, bringing on Bily. Another good-looking Everton move was spoilt by Cahill being offside.
Arsenal looked stronger and stronger, Denilson clipping one over that was deemed a corner, Neville knocking out Denilson with a superb block that had the Gooners screaming (wrongly) for a penalty. Everton were really under the cosh now, with 17 mins left and forays forward increasingly rare as the snow started to settle. Eduardo came in far too hard on Howard but was unpunished. Eduardo was replaced by Vela, while Vaughan replaced Saha.
Neill and Howard went for the same ball, giving away a corner. Cahill went on a tremendous run, he somehow got to the goal area but could not lay it back properly. And at the other end, Arshavin did the same thing against Neill, eventually winning a couple of corners with 10 mins left.
But a tremendous break, down the left, saw some absolutely brilliant hold-up play by Cahill, stalling momentarily as Pienaar scampered down the middle, a beautifully weighted forward ball, Pienaar picked it up yards behind the Arsenal defence, strode forward and chipped the keeper most delicately, wheeling away as the ball bobbled happily over the line to put the Blues 2-1 up.
Denilson inexplicably collapsed while on the ball, clutching his side, Cahill; nipped the ball off him and shot it forward to Vaughan who burst off to go one-on-one against Almunia. Did he chip it, like Pienaar? No, he went for power and Almunia was equal to it. A third goal would have been perfect.
Vaughan was a real thorn in the Arsenal defence, a sequence of Everton corners ending with him being called for fouling Almunia... Pienaar dived in a little on 90 mins and deserved a yellow card, as 5 mins were added on and Everton were forced back on the defensive, and eventually the pressure was too much, Vaughan losing possession crucially as Neill clipped a shot from Rosicky over Howard and into the back of the net.
An unbelievable end to the game, Cahill firing Vaughan into another forward charge, where Almunia, Traore and Vaughan had a massive pile-up, Vaughan lying motionless. A drop-ball and Arsenal piled forward again, but the ref blew the final whistle and Everton managed to snatch a draw from the jaws of a victory they really should be celebrating. A wonderful match but a hugely disappointing result. WE SHOULD HAVE WON!!!!
Match Report
Everton came within three minutes of their first victory on Arsenal's turf in 14 years but were left to rue the fickle hand of Lady Luck and perhaps their own failure to put the Gunners to the sword in an enthralling finish in the snow at the Emirates.
The Blues had taken the game to their much-vaunted hosts and looked to have got their reward in the last 10 minutes when Steven Pienaar raced away and chipped over Manuel Almunia. They lost the shape and discipline that had characterised a dogged performance in injury time, however, and were beaten by a second cruel deflection that carried Tomas Rosicky's shot over Tim Howard in the third minute of stoppage time.
Given Everton's poor record against the Sky Four, all the traveling faithful who had braved Britain's big freeze asked for was for the team to have a go at Arsenal and they did just that with a strong start that saw them completely control the first 10 minutes and then take take the lead after 12.
Arsenal had been penned into their own half, managed just two attacks, and might have been behind had Louis Saha not ballooned a right-footed effort after being picked out by a delicious Pienaar cross that curled behind the home defence. The Frenchman's next effort after he'd robbed Denilson was on target but it deflected behind.
Debutant Landon Donovan whipped in the resulting corner and with a tremendous, perfectly-timed leap one of the smallest players on the pitch, Leon Osman, powered home a header that Denilson couldn't stop on the line with his head.
Just as against Chelsea last month, though, there was the feeling that the Blues had scored too early and when the pattern of play changed immediately from the restart, it looked as though it was going to be a long afternoon. The Arsenal on display here in the first half, though, were less cohesive, purposeful and potent than their London rivals were on that day and Everton had them well contained until they were undone by a horrible slice of bad luck just before the half hour.
Donovan's headed clearance went only as far Denilson and when neat work by Andrei Arshavin on the edge of the box allowed him to find Eduardo, the Brazilian forward laid it back to his compatriot, Denilson who fired goalwards. Howard had the shot covered all the way until it deflected off Osman and into the net. Cruel luck on an Everton side that had deserved to still be ahead.
Indeed, they had the only real chance of the remainder of the half after 36 minutes when Phil Neville's deep cross put Almunia in no-man's land but Cahill headed back across the six-yard box and the ball was cleared. Had the Australian gone for goal, he probably would have scored.
1-1 at the break and so far so good for David Moyes's side. Thanks to their tireless running and closing down, they hadn't allowed Arsenal to settle into any kind of rhythm and the midfield battle was clearly being won by the Blues. Marouane Fellaini was determined off the ball and profitable with it, Leon Osman was putting on an accomplished display in the middle, Donovan's quick feet and thinking offered a threat down the right, and Cahill was a constant thorn in the home team's side.
That carried through into a second period that was tighter than the first for the first quarter of an hour or so as the snow started falling harder and faster over the Emirates. It wasn't until just past the hour mark that the first chance of the half arrived and again Saha might have done better with it. The striker received the ball in space 10 yards outside the area, advanced quickly on the Arsenal defence and just needed to release Pienaar who was unmarked to his left. Instead, he went for goal himself and watched as his effort deflected behind.
At the other end, Howard flapped unconvincingly over the head of substitute Rosicky and was thankful that Arshavin couldn't slide onto the ball as it skidded out to the far side.
Donovan, who had shown some really nice touches and a pleasing willingness to run at defenders, was removed as expected with 22 minutes to go and Diniyar Bilyaletdinov took his place on the right flank.
It wasn't until the last 20 minutes that the Gunners finally started to raise their game to look anything like a side capable of challenging for the title and it was an important phase of the game as far as Everton were concerned. They survived one particular spell of pressure that started in the 71st minute when Traore hammered the ball across the box but no red shirts could make contact as it fizzed through.
The first corner was cleared behind, the second cleared only as far as Rosicky who returned a scuffed shot into the area to Vermaelen who in turn saw his strike blocked by Neville.
As the match approached the last ten minutes, the snow finally started to have a significant impact on proceedings as it started to settle on the pitch and the match really started to open up. Both sides had back-to-back attacks to the byline that threatened to add to the scoreline. First, Cahill did brilliantly to shake off two markers, get round Gallas and surge towards goal but he delayed his pass a fraction too long and Nasri got a toe in. Then, Arshavin just got the better of Neill down the Arsenal left and also cut inside from the byline but his shot was blocked.
With nine minutes left of the regulation 90, another Arsenal attack was stopped in its tracks and the Blues launched the counter attack with a ball to Cahill on the edge of the center circle. He held it up long enough to allow Pienaar to burst through the center and then released him into acres of space behind the defence. Time then seemed to slow down as the South African raced towards Almunia into the kind of one-on-one situation that seems so rare for Everton these days and the traveling fans held their breath in anticipation of what Pienaar would do.
True to his top-class pedigree, Pienaar held his nerve and chipped the ball over the advancing 'keeper with enough purchase on it to carry it over the line to send the away fans into delirium behind the goal. 2-1 and the impossible seemed within reach. The Blues just needed to keep the ball and defend they way had been doing so effectively for the rest of the game.
In fact, they came close to killing the game off just a minute after the game resumed when, out of nowhere, Denilson just crumpled to the turf when in possession of the ball, gifting it to Cahill. He immediately released substitute James Vaughan who sped onto the throughball into his own one-on-one duel with Almunia. Unfortunately, with two defenders closing in and the goalkeeper well off his line, he couldn't beat Almunia who beat his shot away.
The striker was sent away down the channel again by Bilyaletdinov a few minutes after that but this time he was closed down and the best he could do was win a corner. Bily's kick was punched by Almunia to Pienaar to the edge of the box but he drove disappointingly over the bar.
Arsenal, who at times in last 10 minutes looked like they were on the verge of falling part at the back, regained their composure as the game ticked on towards injury time amid a succession of stoppages for various injuries, not least when on yet another attempted break-away, Vaughan, Traore and Almunia collided in an ugly collision that left all three badly shaken. But when the game resumed, Arsenal pushed forward and got their second helping of good fortune.
Everton hadn't helped themselves by losing their shape somewhat in midfield where a large hole opened up that allowed Diabi to pick up a return ball, move forward unchallenged and lay it off to Rosicky who fired a shot that Howard looked all set to parry away for a corner in the 93rd minute. Unfortunately, the ball caught Neill as he lunged to block the shot and it nicked off the defender and above Howard's reach to bulge the net in sickening fashion for the Blues.
So 2-2, another high-scoring draw in the Capital against a team with title aspirations but while Everton probably had Lady Luck to thank for the point they picked up at Chelsea, this time the good fortune was all Arsenal's. In truth, Howard didn't have a real save to make all game and he was behind the shots for both of the Gunners' goals before they took the decisive deflections that decided the game.
Yes, with more clinical finishing at the other end, the Blues might have walked away with all three points and, yes, Moyes will be disappointed that for the last few minutes his side weren't able to continue the laudable patience and ball retention they'd practiced for the majority of the game but this was a hugely impressive performance overall.
Donovan showed that he could be a terrific addition to the side, albeit only until mid-March, Pienaar was below his best for the most part but scored a world-class goal, and Fellaini, despite his frustrating penchant for over-zealous tackling, showed that he is continuing this rich vein of form he is in. One player who stood out for equally deserving mention was Cahill who ran himself ragged and exhibited some truly international-class moments of his own, not least the assist for the second goal.
Another point then, that inches the Blues further up the table but with the way in which they're controlling matches for long periods now, Moyes's boys are again just a couple of key additions short of being a great side. What a pity the season was so brutally undermined at the outset by the failure to strengthen enough in the summer.
Player Ratings:
Howard 6, Neville 7, Neill 7, Heitinga 8, Baines 6, Fellaini 8, Osman 7, Cahill 8*, Pienaar 7, Donovan 7 (Bilyaletdinov 6), Saha 6 (Vaughan 7)
Match Preview
No one needs reminding that Everton's record against the Sky Four since the turn of the century makes for uncomfortable reading but few of the faithful who flocked to Goodison on the opening day would have expected to see the Blues hammered 6-1.
Arsenal tore David Moyes's side to shreds that day, in much the same way they did in 2005 when they put seven past them at Highbury. Add that to a couple of heavy cup defeats to the Gunners' youngsters under Moyes's tenure, the fact that he's only managed to beat them twice in almost eight years, the 3-1 reverse at the Emirates last season and... well, you get the picture. You've lived the picture!
So, another chance for redemption rolls around with the Blues' third visit to Arsenal's impressive new surroundings in a match that looks to have beaten the weather despite five other Premier League fixtures being called off this weekend due to snow and sub-zero temperatures.
Moyes may have been secretly hoping it would get postponed as he waits on the return of some key players from injury. Louis Saha will undergo a late fitness test on the hamstring injury that's kept him out for three games now but is unlikely to start, leaving the manager with James Vaughan and new arrival, Landon Donovan, as options in attack.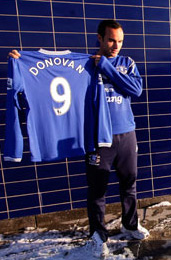 Donovan can play as a forward, though it's hard to see how he could succeed as the loan striker given his relatively small stature, playing style, and the fact that it'll be his first match in the rough and tumble of English football. Far more enterprising would be to deploy either Cahill or Vaughan up front with him in a 4-4-2 formation given the success of that approach against Chelsea at Stamford Bridge. Either way, Moyes has indicated that the golden boy of US "soccer" will be making his debut this weekend.
At the back, Tony Hibbert is expected to be fit after coming off against Carlisle last Saturday with a groin strain but if he doesn't make it, he has a willing replacement in the form of Seamus Coleman, who once again garnered the plaudits with a crucial intervention when he set up Cahill for the winner in the FA Cup tie.
Lucas Neill and John Heitinga will continue as the central defensive pairing in Joseph Yobo (African Cup of Nations duty) and Sylvain Distin's absence, while Phil Neville is likely to start in midfield.
If there is a chink of light for Everton in a fixture they haven't won since the days of Andrei Kanchelskis it's that Arsenal's playmaker Cesc Fabregas is ruled out through injury. Unfortunately, however, Andrey Arshavin and Tomas Rosicky are fit to play.
There's no way to sugar-coat how difficult a game this is going to be for Everton, not least because of the psychological baggage that goes with our record against Arsenal and the inferiority complex that seems to prevail when we play the big four clubs.
Clearly, the plan is not to be intimidated and the attitude should be to take the game to Arsenal and at least have a go at them — whether we do remains to be seen. A point would be just fine, though, thank you very much.
* Unfortunately, we cannot control other sites' content policies and therefore cannot guarantee that links to external reports will remain active.
ARSENAL (4-4-2)
Almunia
Sagna
Gallas
Vermaelen
Traore
Denilson (83' Vela)
Diaby
Ramsey
Nasri
Eduardo (65' Rosicky)
Arshavin
Subs not used
Fabianski
Silvestre
Merida
Eastmond
Emmanuel-Thomas
EVERTON (4-5-1)
Howard
Neville
Heitinga
Neill
Baines
Fellaini
Pienaar :90+1'
Osman
Donovan (68' Bilyaltedinov)
Cahill
Saha (75' Vaughan)
Subs not used
Nash
Duffy
Coleman
Mustafi
Baxter
Unavailable
Anchebe (injured)
Arteta (injured)
Distin (injured)
Gosling (injured)
Jagielka (injured)
Rodwell (injured)
Yakubu (international duty)
Yobo (international duty)
Jo (disciplinary action)
Jutkiewicz (loan)
Ruddy (loan)
Premier League Scores
Tuesday 5 January 2010
Stoke
3-2
Fulham
Saturday 9 January 2010
Arsenal
2-2
Everton
Birmingham
1-1
Man Utd
Burnley
P-P
Stoke City
Fulham
P-P
Portsmouth
Hull City
P-P
Chelsea
Sunderland
P-P
Bolton
Wigan
P-P
Aston Villa
Sunday 10 January 2010
Liverpool
P-P
Tottenham
West Ham
P-P
Wolves
Monday 11 January 2010
Man City
4-1
Blackburn
Premier League Table
Pos
Team
Pts
1
Chelsea
45
2
Man Utd
44
3
Arsenal
42
4
Man City
38
5
Tottenham
37
6
Aston Villa
35
7
Liverpool
33
8
Birmingham
33
9
Fulham
27
10
Stoke
24
11
Sunderland
23
12
Everton
23
13
Blackburn
21
14
Burnley
20
15
Wolves
19
16
Wigan
19
17
West Ham
18
18
Bolton
18
19
Hull
18
20
Portsmouth
14
After 11 Jan 2010