Venue: Villa Park, Birmingham
Premier League
Wednesday 14 April; 7:45pm
Agbonlahor (72'), Jagielka (o.g. 90' + 1')
Half Time: 0-0
Cahill (23', 74')
Attendance: 38,729
Referee: Martin Atkinson
Match Report
Matches against Aston Villa in the Premier League have had a habit of being something of a heart-breaker for Everton recently. Few could forget the late drama at Goodison Park last season where the Blues pulled level in injury time only for Ashley Young to sprint clear almost immediately and deliver the hammer blow in a 3-2 defeat.
Then there was the reverse fixture, a 3-3 draw on this ground in which David Moyes's side were pegged back from being 3-1 up and there was to be similar frustration this evening as Villa twice came back from a goal down to earn a point that preserves their four-point lead over Everton in the race for Europe — one that will become virtually unassailable should they win their game in hand.
That it came from an own goal in stoppage time after Tim Cahill had silenced Villa Park by restoring the Blues' lead just two minutes after Gabby Agbonhalor had leveled the scores with 18 minutes to go was all the more crushing, although, truth be told, there was very little Phil Jagielka could do about it. The shortest of the three central defenders who were on the field at the time, Jags was out-muscled by the ever-dangerous John Carew and knew little of what he was doing as the ball glanced off his head and over the line by way of Tim Howard. A clanger it wasn't; gutting it absolutely was.
Of course, this wasn't a new scenario for Everton. Only 10 days ago they'd thrown away a similar advantage to West Ham thanks to a continuing susceptibility to deep crosses delivered from the wing and dropped points in similarly frustrating fashion at Arsenal and Birmingham since the turn of the year. Three consecutive draws have left the Europa League hopes of Moyes's men hanging by a thread.
Whether it was because of a lack of full fitness for Louis Saha or a desire to mix things up, Moyes surprised by deploying Yakubu in the starting line-up and retaining Diniyar Bilyaletdinov in midfeld, though he moved the Russian to the left flank. Unfortunately, neither player did much to convince anyone that they're the answer in their respective positions; the Yak was slow, wasteful with possession and generally poor at holding up the ball, while not much worked for Bily and he struggled to match the pace of a game that ebbed and flowed from start to finish.
Everton started positively and but for some overhit set-pieces in the early going, they might have got off to a good start. Villa, for their part, didn't take too long to find their own feet and soon found themselves with plenty of room between the halfway line and the opposition area in which to mount some dangerous-looking attacks.
Sylvain Distin blocked Carew's shot after Sebastian Cuellar had picked him out with a pin-point pass from the right flank in the fifth minute before Stuart Downing surprised Howard with a snapshot from outside the box that the American pushed away one-handed.
And after Leon Osman had exhibited some nice footwork to engineer space for a shot, only to have ot charged down, Howard was called into action again in the 12th minute when James Milner latched onto Agbonlahor's cross and he brilliantly palmed the England international's first-time shot around the post.
The pendulum swung back the other way and Brad Friedel did well to beat away Osman's first-time shot before he somehow denied Bilyaletdinov from close range from the resulting corner. In the melee, and handball by Richard Dunne went either un-noticed or unpunished.
Nine minutes later, though, Everton took the lead. Not for the first time, an Everton player was unceremoniously hacked to the ground — in this case, Steven Pienaar — and when Leighton Baines whipped the free kick in from the right, Cahill lost Dunne and nodded home unheeded from eight yards out.
It was then a case of throttling Villa's passing game and seeing the half out with the lead intact which Moyes's men, now growing in confidence and composure, did successfully despite Carew firing into the side-netting from the angle when he should have hit the target and Cuellar seeing a free header stopped superbly by Howard at the back post four minutes before the break.
The second half started almost exactly the same way had the first... with an Everton player being clattered to the ground and left writhing in agony by a Villa player. In the first minute, Stilyan Petrov had left his mark on Osman and in the first minute after the restart, it was John Heitinga who needed treatment after a seemingly innocuous clash with Agbonlahor. While Osman was able to continue, however, Heitinga could not and his attempt to run the injury off proved futile. He was replaced by Jack Rodwell and the Blues continued their task of frustrating their hosts and looking for the killer second goal.
The latter looked more likely after Yakubu had been withdrawn just past the hour mark in favour of the clearly more lively Louis Saha. Indeed, the Frenchman added a different dimension up front even if he wasn't to get a sight of goal beyond a long-range effort that deflected wide late on.
The better chances fell to less clinical players and Everton would rue squandering some gilt-edged openings in the last quarter of the game. One excellent opportunity arrived with 25 minutes left with a break straight through the Villa rearguard but a lazy layoff by Osman and a deflection carried the ball into Friedel's arms.
And seven minutes later, Villa appeared to have turned the tide with a goal more or less out of nowhere. A cross was lobbed in from the right flank, Jagielka was left with two players to mark and ended up caught between them, allowing Agbonlahor to leap and glance the ball into the far corner, well beyond Howard's reach.
Osman, though, almost restored the Everton lead within a minute has he was released into acres of space in the right channel but he delayed his shot too long and Dunne came across with an emphatic sliding tackle that took both the ball and teammate Stephen Warnock with him. From the resulting corner, though, Cahill again wriggled free and he stretched to despatch a downward header past the 'keeper to send the vast ranks for traveling fans into ecstacy.
Now the Blues just needed to keep it tight and see out the last quarter of an hour which, again, they were doing quite comfortably until disaster struck in the first minutes of added time. Villa hadn't threatened at all after going a goal down — indeed it was Everton through a Jack Rodwell side-foot over the bar who looked more likely to score — until Young hoisted a cross into the Everton box and Carew's presence forced Jagielka into a decisive mistake. Howard got a hand to it as it dropped on the goalline but it his touch was too soft and the ball squirmed inside the post to Everton's dismay.
Had the final chance of the match not fallen to Phil Neville in the fourth minute of five additional minutes, Everton might have exacted delightful revenge on Villa for that agonising defeat at Goodison. As it was, the Blues' captain had plenty of time and space on the right side of the box to size up a shot but he dragged his effort agonisingly across goal and past the far post and two points slipped away into the Midlands might.
Ordinarily, there would be plenty of admire from this performance, one that underscored how far this team has come under Moyes. They played some attractive and effective passing at times and had Villa firmly under their thumb for large parts of the second half but conceded two relatively soft goals and that proved to be their undoing.
In the aftermath of the season, if European qualification isn't achieved, Moyes may well look back on the last three games as decisive in his team's failure to regain entry to the Europa League. Even accounting for their injury-ravaged, poor start to the campaign, the Blues' form has been good enough since the turn of the year to bring them to the brink of challenging the top five. That they have fallen way with three annoying draws from games they deserved to win makes it particularly frustrating.
Villa and Liverpool may well slip up in the run-in but it's going to take a near flawless run-in from an Everton side struggling to put teams away right now if they're to catch either team.
Player Ratings:
Howard 7, Neville 6, Jagielka 6, Distin 7, Baines 7, Heitinga 7 (Rodwell 7), Osman 7, Bilyaletdinov 5, Pienaar 7, Cahill 8, Yakubu 5 (Saha 8)
Match Preview
Everton travel to Villa Park for a clash with Aston Villa that could bring the Blues to within a point of their rivals for 7th place or eventually prove to be decisive in ending the Blues' hopes of European qualification this season.
As Uefa mull Portsmouth's appeal against ineligibility for European qualification, Everton and Villa prepare for their crucial match-up hoping to stake their claim to the third and final Europa League spot as it currently stands as the reward for the team finishing seventh in the Premier League.
Martin O'Neill's side go into this one two points below Liverpool, whose failure to beat Fulham on Saturday at Anfield has made their qualification for the Champions League virtually mission impossible, while Everton can draw within three of their Merseyside rivals with a win. Victory for Villa would put them seven points above the Blues with a game in hand.
David Moyes, who has seen his team struggle in their last two outings without the inspirational influence of Mikel Arteta, is likely to be without the Spaniard for a third successive match as he battles a niggling groin complaint. Victor Anichebe is also out with the hip injury he sustained against Bolton so a mostly unchanged line-up from the team that was foiled by West Ham 10 days ago is on the cards.
Diniyar Bilyaletdinov started that game but Moyes has shyed away from playing the mercurial Russian away from Goodison in recent weeks so Jack Rodwell could be recalled to the starting XI at his expense, as was the case at Wolves.
Louis Saha, who has scored as many goals as his opposite number for this game, John Carew, but while the equine Norwegian has been scoring goals for fun recently, Saha hasn't scored since putting two past Chelsea two months ago.
O'Neill, for his part, appears set to play Richard Dunne and James Milner despite both carrying slight Achilles injuries and Nigel Reo-Coker is back in contention after a long lay-off with an ankle injury.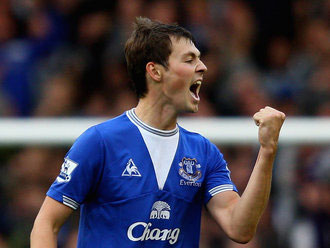 Diniyar Bilyaletdinov:
could be dropped in favour of Jack Rodwell
The Villa boss has vowed that his team will use this fixture to bounce back from the disappointment of losing to Chelsea in the FA Cup semi-final on Saturday, while Moyes is similarly keen to see his side return to winning ways after dropping four crucial points against Wolves and the Hammers.
Certainly, given the four-point gap between the two teams, the onus is on the Blues to come out and attack in the search for victory and a repeat of the stunning win at Manchester City — the Blues' only away win against a side from the top half of the table so far — would be just the ticket.
* Unfortunately, we cannot control other sites' content policies and therefore cannot guarantee that links to external reports will remain active.
ASTON VILLA (4-4-2)
Friedel
Collins
Dunne
Cuellar
Warnock (78' Delfouneso)
Petrov
Downing
Milner
A Young
Agbonlahor
Carew
Subs not used
Guzan
Sidwell
Delph
L Young
Beye
Heskey
EVERTON (4-5-1)
Howard
Neville
Jagielka
Distin
Baines
Heitinga (50' Rodwell)
Osman
Pienaar
Bilyaletdinov (89' Yobo)
Cahill
Yakubu (63' Saha)
Subs not used
Turner
Senderos
Hibbert
Wallace
Unavailable
Anichebe (injured)
Arteta (injured)
Fellaini (injured)
Gosling (injured)
Coleman (loan)
Jutkiewicz (loan)
Ruddy (loan)
Vaughan (loan)
Premier League Scores
Saturday
Hull
1-4
Burnley
West Ham
1-0
Sunderland
Blackburn
0-0
Man United
Liverpool
0-0
Fulham
Man City
5-1
Birmingham
Wolves
0-0
Stoke
Tuesday
Chelsea
1-0
Bolton
Wednesday
Aston Villa
2-2
Everton
Tottenham
2-1
Arsenal
Wigan
0-0
Portsmouth
| | Team | Pts |
| --- | --- | --- |
| 1 | Chelsea | 77 |
| 2 | Manchester United | 73 |
| 3 | Arsenal | 71 |
| 4 | Manchester City | 62 |
| 5 | Tottenham Hotspur | 61 |
| 6 | Liverpool | 56 |
| 7 | Aston Villa | 52 |
| 8 | Everton | 51 |
| 9 | Birmingham City | 46 |
| 10 | Stoke City | 43 |
| 11 | Blackburn Rovers | 43 |
| 12 | Fuulham | 42 |
| 13 | Sunderland | 38 |
| 14 | Wolves | 33 |
| 15 | Bolton Wanderers | 32 |
| 16 | Wigan Athletic | 32 |
| 17 | West Ham United | 31 |
| 18 | Hull City | 27 |
| 19 | Burnley | 27 |
| 20 | Portsmouth | 15 |