Fellaini crocked and Pienaar suspended, so 'exciting' replacements Arteta and Bilyaletdinov on from the start. Good-looking bench with Rodwell, Gosling and Vaughan.
Plenty of sounding out in the early stages, Chelsea starting to assert themselves more after 10 mins, while Everton looked a little sloppy. Chelsea went in front on a route one move, Malouda finishing with consummate ease. 0-1.
Everton: two corners.. two pathetic deliveries from Arteta that as ever don't get beyond the first defender... it's going to be a long, long night! Or not, as the case may be... on the half-hour, some determined build-up and pressure for a corner won well by Landon Donovan and taken this time by hi — superbly at that, Louis Saha directing it perfectly past Cech. 1-1... That's how ya do it!!!
Everton now looked a lot brighter on the back of the goal and some decent football, Osman's shot spun wide. Anelka up the other end with a gold-plated chance, fired wide... Lampard lashed one over from a free-kick a long way out as Everton looked to give them more of a game.
Some great Everton attacking just before the break, Cech saved well off Saha, then Donoavan was brought down by Carhvaliho, Penalty. Saha, a poor strike that Cech saved. Unbelievable! Anelka off to the other end and a mad scramble, Osman somehow clearing it away as the end-to-end action made it look a completely different game from the earlier dross, but what an opportunity missed to go in with the lead.
Everton looked well up for it after the break, taking the game to Chelsea, Saha coming close. Plenty of drive and creativity... (where was this on Saturday?) Chelsea's discomfort was visible in early subs as Ancelotti tried to change things; Everton were denied what looked like a clear handball but later got the free-kick as Mikkel became the first entry in Mr Wiley's notebook. Donovan joined him a minute later for clipping Malouda's heels.
Kalou was the next change, on for Anelka, while Moyes allowed the Blues on the field to continue their improved momentum with 20 mins left. A change finally came with 15 mins to go, Arteta tiring and being replaced by Jack Rodwell. And seconds later, a hoof ball up from Distin to Saha, who controlled it superbly off his chest, one bounce and smacked it with authority past Cech. 2-1. Now... can we hold on for 14 mins? Mikkel was replaced by Sturridge.
Saha could have had a hat-trick... the last Everton player to do that against Chelsea was Dixie Dean!
Chelsea, stung into a response, Drogba headed it onto the bar, while Terry smacked it wide. Tremendous nighttime Goodison atmosphere as Everton held on determinedly to the initiative and Chelsea had to throw everything at the boys in Blue. A Lampard shot needed a good save from Howard as news came through that Arsenal had beaten Liverpool. Nice!
Bily off for Gosling, all hands to the pumps as Moyes rang the changes and the boys did all they could to eat up time and hold the defensive line against everything Drogba and Co could throw at them. Squeaky bum time for all Blues witnessing an Everton performance that should have happened 4 days previously. Incredibly, FIVE minutes of time added to provide the Champions Elect with the biggest chance possible to save face... Shameful.
Everton tried to break from the pressure and Terry should have been punished for a cynical professional foul. A complete miss-kick from Droga perhaps underling the fact that this was not to be Chelsea's night as Senderos came on for Saha 6 mins into the 5 mins of stoppage time. Finally, the whistle, and an incredible oh so rare come-from-behind win against the cocky Chelsea bastards. Interesting to recall how much respect Ancelotti had given Everton in his pre-match interview — almost Moyesian in its obsequiousness! A great second-half performance, played for once with some belief and some decent forward play.
And Cap'n Pip was right right for once with his much lambasted pre-match boast : they did bounce back from that shameful derby defeat at the weekend. David Moyes's first victory over Chelsea, in eight long years of trying.
Match Report
From the disappointment of being denied a Wembley appearance in the League Cup Final two seasons ago and the agony of last year's FA Cup Final defeat to a 10-year stretch without victory over Chelsea in any competition in 10 years of trying, Everton have found Roman Abromovich's team to be a constant source of frustration over the past decade.
But tonight, under Goodison's famous lights and in front of a raucous crowd desperate for the Blues to redeem themselves for their dismal display at Anfield on Saturday, Everton finally beat Chelsea despite being without two of their best players in the form of Steven Pienaar and Marouane Fellaini.
That they gifted the Premier League leaders an early advantage with a soft goal and then missed a penalty that would have given them a half-time lead made this victory all the more remarkable, but Louis Saha rose to David Moyes's pre-match challenge to prove he is worth the new contract he has signed with the Blues — and atoned for erring from the spot on the stroke of half time — by scoring the goals that turned this match on its head.
In the absence of the injured Fellaini and the suspended Pienaar, Mikel Arteta made his first start since returning from 11 months out with a ruptured ACL and Diniyar Bilyaletdinov came in from the cold of three consecutive matches spent warming the bench but both players matched the collective sluggishness with which Everton started this game.
For the first half hour it was Chelsea who looked overwhelmingly like the home side as they controlled possession and the tempo of proceedings and they had an early chance when Nicolas Anelka dummied Yuri Zhirkov's square pass and Frank Lampard belted a first-time shot wide from the edge of the box.
Everton by contrast had made a slow start. Just as was the case against Liverpool, when they did get forward, they let themselves down badly with the quality of the final ball or with terrible delivery from set-pieces. Cases in point were Arteta's poor free kick which was cleared only as far as Leon Osman but he was dispossessed all too easily, and an incident a couple of minutes later when Bilyaletdinov and Leighton Baines looked to link up down the left for the first time but the Russian's lay-off towards the byline was awful and the ball ran out for a goal kick.
So there was an awful feeling of deja vu after 16 minutes when a long punt from the visitors' defence was headed on by Didier Drogba and Florent Malouda got away from Phil Neville with ease. With just Tim Howard to beat, Malouda did well with a high bounce to steer the ball home and it was 1-0.
The crowd responded with growing disenchantment as the Londoners continued to hold the upper hand with Everton struggling to find any kind of rhythm. No one individual seemed able to put their foot on the ball and dictate things a little and in the absence of an enforcer in midfield to break up the play, Arteta was being forced to sit too deep to marshall much going forward.
To compound that, the Spaniard continued to look rusty from dead-ball situations, wasting a 22nd-minute corner that Tim Cahill had done well to win by failing to clear the first man. Bilyaletdinov did even worse from the next corner, scuffing it along the ground straight to a white shirt and the ball was cleared.
Moyes's side were starting to settle by this point, though, and managed to wrestle some control away from Chelsea just before the half-hour mark. Baines came roaring in to meet Bilyaletdinov's centre but Petr Cech saved as the defender tried to help the ball past him from about eight yards out. Then, Landon Donovan did well to compensate for the lack of support from Neville to win a corner on the right.
The American swung the corner in from the right, Saha got a head start on John .Terry as he arrived to meet it and with a superb striker's header, he planted the ball past Cech's despairing dive to put Everton back on level terms.
Naturally, the home crowd was now back in it and it made for an even finish to the first half. Osman sliced wide from 18 yards after nice hold-up play by Cahill and Anelka gave Evertonian hearts a scare when he fired wide from close range at the other end before Saha found himself behind the Chelsea defence on the left side of the box but Cech covered the angle and beat his shot away in the dying minutes of the half.
The real drama of the first period, however, was saved for the final minute when tenacious work by Osman ended with him finding Cahill who in turn fed Donovan a few yards outside the box. As the Everton no. 9 turned inside Ricardo Carvalho, the defender caught him and sent him tumbling to the turf. Alan Wiley, whose decisions had up to that point been mostly been favouring Chelsea, had no option but to point to th spot and Saha stepped up to attempt to give the Blues a half-time lead.
Unfortunately, the French striker sometimes has a tendency to put his penalties at the perfect height for goalkeepers and when Cech correctly guessed the direction of his kick, he was able to make a routine save and push the ball away to safety. A deflated Goodison no doubt felt that a gilt-edged opportunity, the like of which you rarely get against a side like Chelsea, had just slipped through the Blues' fingers.
If there was justification for criticism of Everton in parts of the first half, there was barely room for any in the second as Moyes's side were markedly better after the interval and it was they who had the upper hand for all but the last quarter hour of the second period.
Bilyaletdinov, Neville, Arteta and Osman in particular raised their games and earned their corn with some good work at both ends of the field and Donovan was again dazzling at times down the right. Bily now started to cause the Chelsea defence problems, first by despatching an awkward cross that Cech had to bat over his bar for a corner and then by taking Neville's cross down and brilliantly side-stepping his marker before seeing his shot blocked by another white jersey.
Little did he know it at the time but Saha had a dress rehearsal for his winning goal six minutes after the interval when Terry mis-judged the flight of a deep ball to the edge of Chelsea box and Saha took it down on his chest before firing goalwards with his left foot. On this occasion, Carvalho had come across superbly and got enough of a foot on the ball to force it just wide (though no corner was given) but the Portuguese international was not in attendance 15 minutes from time when the almost identical scenario unfolded: Distin pumped a long ball to edge of the area, Terry lost track of it and Saha did the rest, controlling with his chest before thumping a half-volley past Cech from 18 yards.
2-1 to the Blues and belief now that this could finally be the defeat we've owed Chelsea for so long... but not before the inevitable onslaught which saw wave after wave of attacks from Ancelotti's men. Drogba's shove on Cahill in the box as he rose to meet a corner went unpunished but, thankfully, his header bounced off the bar, and while Everton made it more difficult that it needed to be by consistently failing to belt the ball clear, Howard was equal to Lampard's shot and palmed it away at full stretch as the game moved into the final 10 minutes.
Save for an effort by Soloman Kalou that was deflected behind by substitute Jack Rodwell, though, Everton stood firm and restricted the visitors to no further chances. Even when referee Wiley somehow found five minutes of injury time to add, the Blues managed to keep the ball out of danger and wind the clock down by the corner before Goodison erupted in elation at the final whistle.
From the depths of despair and frustration on Saturday to the champagne high of a first win over Chelsea in 10 years, Evertonian emotions have run the gamut this week and in many ways that rollercoaster was encapsulated in a game that at one point had Blues supporters fearing yet another defeat at the hands of the Sky Four.
Instead, the Blues beat one of those much-vaunted four clubs for the first time in 25 matches and reignited hopes that another top five or six finish is not just a pipe dream. Certainly it will fill the fans and players with beilef as the twin tests against Sporting Lisbon and Manchester United, both also at Goodison, loom.
Moyes will be justifiably proud in his players who recovered from a cold start and the potential hammer blow of losing the opening goal to turn this game on its head with two great goals by top scorer, Louis Saha. It was the first time the Blues have come from behind to win since doing it twice against West Ham last season and such a demonstration of spirit so soon after the derby debacle was pleasing to see.
Player Ratings:
Howard 8, Neville 7, Distin 7, Heitinga 8, Baines 8, Arteta 7, Osman 7, Bilyaletdinov 7, Donovan 9, Cahill 8, Saha 9*; Subs: Rodwell 6, Gosling, Senderos (not on long enough)
Match Preview
The most challenging month of the season got off to a horrendous start at Anfield on Saturday with a defeat to Liverpool that was costly in more ways than just the three lost points in Everton's bid to close the gap between themselves and the clutch of clubs currently in contention for Europe.
Marouane Fellaini is out of action for a currently indeterminate amount of time — though the expected damage done to his ankle ligaments is sure to amount to weeks rather days on the sidelines — after his collision with Sotirios Kyrgiakos and Steven Pienaar misses the visit of Chelsea this week after picking up a one-match ban for two yellow cards in what was a tempestuous Merseyside derby.
It's no secret that Fellaini's rise to imperious form this season coupled with the return from injury of Pienaar was at the root of the Blues' revival in December and January and it cannot be overstated how much those two players will be missed in what is a massive game for the Blues' European hopes.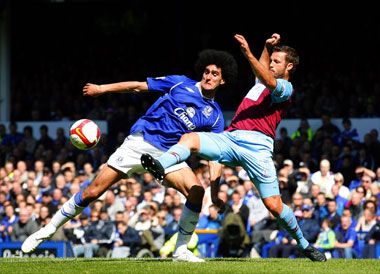 Marouane Fellaini:
Out injured and awaiting further scans on his ankle
Furthermore, there is the potential damage done to the fans' confidence in the current team and their appetite for victory on the one hand and the manager and his ability to adapt to changing situations within a game on the other. Much has been made of David Moyes's failure to switch the emphasis after Liverpool were reduced to 10 men on Saturday, further evidence of a nagging tendency by the manager to doggedly stick with personnel or a formation until well beyond it becomes apparent that that strategy isn't working.
So the visit of the current Premier League leaders is simultanously an opportunity for immediate redemption, for a quick restoration of belief among the players and the Blue faithful, and a potential destroyer of further morale should things go against Everton in a fixture they haven't won since the 2000-01 season.
As he did at Anfield, Mikel Arteta is odds on to fill in for Fellaini in central midfield and given Leon Osman's weak display against Liverpool, Moyes may feel it necessary to bolster central midfield by bringing fit-again Jack Rodwell back into the holding role or move Phil Neville up from right back where the limitations of his ability have been badly exposed in recent games.
The manager will balance that decision with the relative inexperience of Seamus Coleman who would be the obvious choice to replace Neville at right back. The clamour for the Irishman to be given a chance to shine with a starting role is growing by the week as Landon Donovan struggles with poor attacking support down the right, and the fact that Coleman has shown he's not over-awed by anyone would not preclude him from starting against Calro Ancelotti's expensive outfit.
Pienaar's absence may leave the door ajar for Diniyar Bilyaletdinov to come in from the cold. The Russian has been forced to watch the last three games from the bench but it remains to be seen whether Moyes feels as though that break has allowed him time to think about this career at Goodison so far.
Certainly he has the fans willing him to succeed — it's clear the lad has talent, he just needs to apply consistently himself in the way he did against Manchester City last month — but given Moyes's famous conservatism and loyalty to certain players, it's likely that Leon Osman will get the nod, at least from the start.
Though they beat Arsenal handily at the weekend, Chelsea were frustrated by lowly Hull City in their last away game and that should give the Blues all the confidence they need heading into this game.
The lesson from the Anfield debacle and the FA Cup defeat to Birmingham is clear — the glaring lack of width in Moyes's team and the poor quality of the final ball is making it very difficult for them to break down well-organised defences. Whether he and Steve Round can shift the emphasis away from banging everything down the middle remains to be seen...
* Unfortunately, we cannot control other sites' content policies and therefore cannot guarantee that links to external reports will remain active.