Donovan, and possibly his last game for Everton under his loan deal with the MLS, relegated to a fairly strong bench, with Anichebe playing on the right in his place. At the back, Heitinga was moved up into Midfield with Distin and Jagielka behind him, Neville staying at right back with Hibbert on the bench, and Coleman overlooked once more. This formation allowed a more open forward role for Arteta with Pienaar, Osman and Anichebe providing the rest of the midfield/attacking thrust behind Yakubu.
But it was all Hull from the start, astoundingly, and they created a glorious chance after Garcia got behind the Everton defence too easily, chipping the ball in and Howard had to save well.
Everton started to play better football after 10 mins, Arteta a great run and exchange with Anichebe on the right. The shot, though was poor from Arteta, a few feet off target. Then Yakubu hit the post after great work by Osman.
Everton scored after a good move that involved Baines and Osman, the ball coming to Yakubu who crossed a lovely ball in that beat Barmby allowing Atreta to control it and shoot home at the near post.
Jagielka launched a long shot, ball in from slightly from the right of field, to the back post, left.. Pienaar sliding into the box, but couldn't latch on to it after some excellent build-up play...
Everton lived a little dangerously until Yakubu was brought down by a scrappy challenge from Zyatti and the goalkeeper... Penalty. Yakubu's delivery was absolutely woeful, utterly casual, astoundingly weak... completely pathetic.
And true to script, Kearney smacked in a fierce left-foot drive past Tim Howard off a ball headed down from a Hull free-kick, and wallop. 1-1. Unbelievable.
Some more better football though, a splendid move ended with Pienaar back-heeling to set up Arteta for an excellent finish. 2-1.
Before the break, Osman was withdrawn, having pulled something... Jack Rodwell coming on for him. Then Pienaar went down after McShane's knee caught his left hip.
Second half, and Yakubu worked a great pass for Anichebe who scored but it was flagged offside. More excellent football, and it looked like Rodwell would score but the ball was deflected and rolled alog the line across the face of the goal.
From the corner, it looked like Arteta had scored his third but in fact he ball came off Garcia for an own-goal to give the Blues a handsome 3-1 lead.
Pienaar had a great run into the area, supported by Yakubu, Rodwell unlucky with a deflection when Everton should have scored their fourth goal.
Some great flowing football from Everton but Yakubu wasted a glorious chance after Heitinga had supported his run and got himself into a great position. Heitinga was unimpressed, to say the least.
Donovan came on for his farewell cameo to a good ovation from the Goodison crowd, replacing Anichebe who had done well and played a part in the second goal.
Donovan played in Yakubu for a fierce shot from 8 yards that flew over the bar.
More lovely build-up play, Arteta, Baines, Pienaar, setting up Doonovan for an excellent finish. 4-1.
Another lovely move again, an superb pullback from Donovan and Jack Rodwell smacked home the fifth as Everton finally put one of the inferior teams in the Premier League to the sword.
Match Report
With Everton having won five consecutive home matches in the Premier League — two of those in some style against the two Title favourites, Chelsea and Manchester United — and Hull City winless on their travels in 12 months and without a victory at Goodison Park since 1952, the ingredients were there for what eventually unfolded in front of the Sky cameras on this Sunday afternoon.
David Moyes's side swept to the kind of victory and goal-fest that has always seemed on the cards during their impressive run of form since being embarrassed by the Tigers in the first half at the KC Stadium back in November. Indeed, this five-goal haul was the Blues' biggest win since the first time these two sides met this season in Hull in the Carling Cup in September where Yakubu marked his first-team comeback with a goal in a 4-0 rout.
The Nigerian started a second successive game up front in place of the injured Louis Saha and while he might have had a hat-trick, the Yak somehow ended the game without a goal to his name, although that owed much to an anaemic first-half penalty and a first-time shot from eight yards out in the second period that would surely have rocketed past Boaz Myhill had it been on target.
This was indeed a match that featured the best and worst of Yakubu. When, in the fashion that typified his 21-goal season two years ago, he collected a Leon Osman pass on the edge of the box in slide but rolled a side-foot shot off the base of the post in the 13th minute, you got the sense it might not be his day.
But then, just four minutes later, as he served up a peach of a cross from the left wing to provide Mikel Arteta with the chance to score the opener, you were reminded of the talent he possesses when he is in the mood. A genuinely mercurial display.
The performance of the team as a whole, though, was one that started out fairly cold but grew hotter and more enterprising as the contest went on. Some nervy moments at the back where Phil Jagielka and Sylvain Distin were familiarising themselves with a new central defensive partnership almost saw Hull take an early lead when Garcia sprung the offside trap and found himself with just Tim Howard to beat. His attempt to knock the ball over the advancing 'keeper was foiled brilliantly, though, by the American whose simian leap and double-handed parry saw the shot away to safety.
Arteta dragged a couple of shots wide while Amr Zaki was similarly wayward with his shooting at the other end before the Spaniard lit the touch paper on what would turn out to be a virtuoso performance. Yakubu picked him out with a deep cross from the left and Arteta latched into it at the back post with a volley into the turf that bounced over Myhill's arms and into the Park End net.
The game was a couple of minutes shy of the half-hour mark when the opportunity to make it 2-0 arrived. Leighton Baines' left-wing cross was deflected towards the byline, Yakubu was quickly onto it but was scythed down by Kamil Zayatte and referee Lee Mason had no hesitation in pointing to the spot. The Yak stepped up to convert the penalty he'd won but his effort was lazy and Myhill saved fairly easily. TV replays would later show that, despite the attentions of the linesman, the 'keeper was a good three yards off his line when the touched the ball but Yakubu should have done better nonetheless.
The crowd groaned and, with an air of inevitability, Hull levelled the game four minutes later. A controversial free-kick was awarded to Zaki wide on the left but when the delivery was headed by Jagielka only as far as Cairney, the young midfielder took one touch before belting a crisp half-volley across Howard and inside the far post.
With the Blues starting to look a little sloppy, no more so than when Victor Anichebe, confusingly starting in the wide-right role for the second game running, failed to control Arteta's clever free kick and it rolled away for a goal kick, memories of home disappointments against the likes of Wolves and Stoke starting to stir in the collective consciousness of the home faithful.
Such thoughts were banished, however, six minutes before the break with a beautifully crafted second goal. Anichebe took advantage as his marker backed off to come in from the right flank before feeding Steven Pienaar in the area. With three orange shirts in front of him he wisely elected to back-heel it into the space behind him which was quickly filled by Arteta who picked his spot and stroked the ball home to restore Everton's lead.
Had Yakubu been quicker to react Anichebe's smart lay-off a minute later, he might have scored the third but, as it was, he had the ball stolen off him by a more alert defender and, after Garcia had scooped over from the edge of the box, the two sides went into the half-time interval at 2-1.
The second half was barely a contest. The Blues came out of the dressing room in top gear and Anichebe had the ball in the net within four minutes of the restart but his "goal" was ruled out for offside. Arteta fired a direct free kick attempt tamely into the wall but Jack Rodwell, who'd come on for the injured Leon Osman, must have thought he'd doubled the lead a few minutes later when he turned and fired across the 'keeper but Myhill got just enough on it to deflect it inches past the far post.
The resulting corner ended up with Arteta by the byline and when he delicately chipped it across goal and Myhill tried to bat it over his crossbar, the 'keeper missed the ball completely and it bounced off the head of the hapless Garcia and into the net. 3-1 and now it was just a case of how many.
Everton, and Arteta in particularly, were toying with Hull at times and when Pienaar led a quick break and set up Rodwell, the midfielder's goalbound shot was deflected over by a defender. Then it was Distin's turn to maraud forward down the left channel, the defender finishing his charge with a fierce shot that was beaten away by the goalkeeper.
The Blues were playing some wonderful stuff and Phil Brown's side were being torn apart at times. Yakubu rampaged forward on another counter attack in the 68th minute with Arteta and John Heitinga for company but he ignored the Dutchman as he peeled away into acres of space and selfishly shot straight at Myhill, wasting a 3-on-2 break.
With 20 minutes gone, the moment both he and the home crowd had been waiting for arrived when Landon Donovan was introduced from the substitute's bench with Anichebe making way. The American captain had looked a little jaded in his time on the pitch at White Hart Lane last weekend but his omission from the starting XI today was a little bemusing.
Nevertheless, he packed plenty into this 20-minute cameo (which may be his last appearance at Goodison this season), starting with a nice interchange with Yakubu that saw the Nigerian shin Donovan's pinpoint low cross over the bar when it seemed easier to score.
Eight minutes from the end, a low Baines cross skidded all the way across the Hull area, just eluded Rodwell and fell to Donovan on the right side of the box. With clinical accuracy, the no. 9 drilled the ball unerringly back across the goal and inside the far post before wheeling away to milk the applause from the crowd.
And, fittingly, Donovan played a decisive role in the fifth and final goal when he picked up Heitinga's excellent pass out wide and the USA international squared it for Rodwell who gracefully fired home first time to put the icing on the cake.
This was a fine display by Everton that delighted the home supporters and went a long way to wiping out the damage to the goal difference done by that 6-1 home defeat by Arsenal on the opening day. True, Hull made it easy for them to rip them to shreds but the manner in which Everton's talent shone through to capitalise on the space made available to them was a joy to behold. It would have been nice to see Seamus Coleman given a run out at 3- or 4-1, but I suppose you can't grumble too much!
Arteta was simply magnificent and, with the possible exception of his range from ste-pieces, which still looks a little off, he looks back to his crowd-pleasing best on this evidence. Heitinga grew into his role as the midfield enforcer as the game went and simply a beast at times — one teeth-rattling challenge in particular exemplified his uncompromising approach, as did the fact that he sprinted away from it none the worse it — Rodwell was terrific at getting forward in a way that was lacking against Spurs, and Donovan rightly grabbed his share of the limelight with a superbly-taken goal.
Yakubu may feel a little disappointed in himself but would do well to remember that he has not had a run of games to get any kind of match sharpness. He holds the ball up brilliantly at times and exhibits some wonderful close control and intelligent distrbution. In the face of some questioning whether we should keep him, even allowing for his occasional lapses in workrate, to my mind we should be keeping hold of players of his ability.
So, on to St Andrews to face a Birmingham side whose spectacular unbeaten winter run has given way to some iffy results in recent weeks and it might be a good time to face them and put some distance between us in the battle for Europa League places. Certainly if we play the kind of football we did today as opposed to the frustrating fare we served up in the FA Cup defeat in January, we stand a very good chance.
Player Ratings:
Howard 7, Neville 7, Jagielka 7, Distin 7, Baines 8, Heitinga 8, Osman 6 (Rodwell 8), Arteta 9*, Pienaar 8, Anichebe 7 (Donovan 8), Yakubu 7
Match Preview
The "month of death" may not have been quite that — more of a rollercoaster with some sensational highs — but February 2010 arguably did see the rebirth and then almost certain death of Everton's Champions League aspirations.
Last Sunday's defeat at Tottenham was the second reality check in the space of four days for David Moyes's side and yet further evidence that the team has to perform for 90 minutes and not allow matches to run away from them before they've had the chance to get out of first gear.
This was never more starkly emphasised than the last time Everton met Hull City when surely their worst 45-minute display of the entire campaign thus far saw them 3-0 down after half an hour and with a mountain to climb. That they clawed back two goals and almost came away with a point was little comfort to those who'd made midweek the trek east and that match was to represent a watershed in the Blues' season.

From the time the second half kicked off at the KC Stadium until things fell apart again at the Estádio José Alvalade three months later, Everton were an outfit transformed — the debacle at Anfield in the first week of February notwithstanding — and it sparked a revival in their Premier League fortunes that banished thoughts of relegation and put the focus back where it belongs: European qualification.
4th place is all but out of reach, 5th just as unrealistic but Moyes will surely have his sights sets on 6th and, with each place potentially worth another £1m, finishing as high as possible. No better time to reignite the Championship form they had displayed in the 6 games prior to the Spurs defeat than against struggling Hull who sit in the relegation zone going into this weekend's game at Goodison Park.
Moyes will, of course, be without the linchpin behind that winter revival, Marouane Fellaini, who is out until next season with an ankle injury, but he could welcome Tim Cahill back to the fold now that he has recovered from a calf strain. The Australian limped out of the first leg against Sporting, seemed not to be missed when Everton tore Manchester United apart, but seemed conspicuous by his absence in the two subsequent defeats. If he's fit, he'll almost certainly play.
Phil Jagielka and Louis Saha, though, are major doubts because of respective thigh strains while Leon Osman and Philippe Senderos may also miss out with a foot injuries. That might throw a spanner in the works as far as Moyes's midfield selection goes; John Heitinga's solid display in defensive midfield in the second half at White Hart Lane — night and day from his appearances in that position at the beginning of the season — may have tempted his manager to deploy him in that holding role from the start.
Certainly, the decision to play Mikel Arteta in front of the back four against Spurs was a tactical misstep by Moyes as evidenced by the transformation in the side once he moved forward having been liberated by Heitinga's presence behind him.
Rather than opt for a potentially shaky Yobo-Distin axis in central defence, Moyes will probably keep Heitinga there with the Frenchman and opt for Jack Rodwell, Steven Pienaar and Arteta in central midfield. (There's a chance he could move Phil Neville up and play Seamus Coleman at right back if he really wants to ring the changes, but it's unlikely.) Up front, Yakubu is the most likely candidate to deputise for Saha, with Cahill dropping in behind.
Hull, who haven't won away from home for a year and who haven't won at Goodison Park since 1952, are hopeful of welcoming back influential but injury-prone midfielder, Jimmy Bullard, and Phil Brown will assess Stephen Hunt's foot complaint before naming his starting XI. Craig Fagan is suspended for the Tigers, though and former Everton loanee, Anthony Gardner, is ruled out for six weeks with an ankle injury.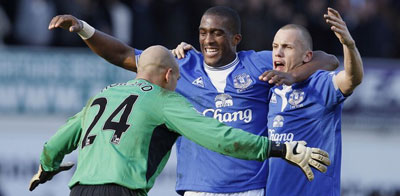 Distin and Heitinga:
likely to be the duo ahead of Tim Howard
With Birmingham losing at Portsmouth and Fulham in FA Cup action, the Blues could leapfrog into 8th with a win and this should be a bread-and-butter three points for the Everton who swept United and Chelsea aside and made Sporting look so ordinary here last month.
But, as similarly winnable games against Stoke and Wolves proved earlier in the campaign, no games are easy and nothing can be taken for granted, particularly if you don't put in the right performance.
Matchday Stats
May appear here later
* Unfortunately, we cannot control other sites' content policies and therefore cannot guarantee that links to external reports will remain active.