A debut for newboy Sylvain Distin, Ł5M replacement for the finally departed Joleon Lescott. Marouane Fellaini dropped to the bench where David Moyes's new Russian buy, Diniyar Bilyaletdinov awaited his debut as a sub later in the game. No sign of one James Vaughan for the third game in a row... is the lad really off?
Cahill was looking a lot sharper than in recent games, with far more room to play his favoured role without the clumsy Fellaini charging about; he got in an early header from a corner, and then almost embarrassed Boyce to force a clearance. Some good attacks resulted in free-kicks and corners, Rodwell turning and smashing a brilliant shot that forced a desperate save from Pollitt.
Defensively, Everton were looking settled with Distin, wearing 15, fitting in well and not being threatened much in the first 20 mins. Some late challenges from the overly aggressive Wigan defenders were adding a little heat to proceedings. Diame was finally booked on 19 mins for a late challenge on Neville. Baines got a kick in his face and a bloodied nose. Lots of fouls being punished by ref Probert, who had some boos when playing advantage.
Wigan with their first notable attack won a corner on 27 mins that was delivered threateningly, requiring good defensive work from Cahill. After almost total Everton domination, Wigan finally got into the game.
A brilliant turn and play from Rodwell to Osman set Cahill off down the left in space and he crossed well for Saha but the striker was sandwiched out of Everton's best move and best chance.
Mellchiott's horrible lunge in on Pienaar earned another yellow for Wigan, when red would have been more appropriate. Pienaar, Everton's lively source of action down the left, recovered well and was unfazed. Diame was removed early by Martinez, perhaps because he was carrying a yellow card, with Jason Scotland coming on in his place. Boyce then went in strongly and he was yellow carded, but Everton were still not really doing enough to threaten from these numerous free-kicks.
Some great play by Rodwell won a free-kick on the edge of the box e. Hendry Thomas was booked for encroaching to about 3 yards. But Baines's second attempt at a curly was lobbed poorly straight at Pollit. Everton really not taking advantage or turning the screw sufficiently before the break: 0-0.
An early chance right after the break was blocked by Melchiott. Solid pressure ensued from Everton again but Wigan survived everything Everton could come up with: Rodwell's header, Osman's blocked shot. It was then Wigan's chance to return the pressure with a couple of shots deflected wide, as the time for Bilya's much-awaited debut beckoned...
But before that, it was Wigan with a well-constructed move that allowed Scharner to run around the Everton defence and dive to force a header past Howard for what could be a massive goal. Osman was booked for a challenge. Another sweeping Wigan move and Gomez hit the post!! Lordy, lordy...
But finally, from a corner, Saha, in amongst a crowd of players, glanced the ball down and it bounced off the line into the roof of the Park End net to save Blues blushes. Moyes waited until 69 mins to make a change and it was not Bilya but Fella, replacing Osman after yet another bizarre performance, where he was involved a lot in the play but did nothing of meaning or significance. Saha was having trouble in the rain, standing on the ball a couple of times.
A good move say Fellaini feed Hibbert whose good first-time cross was headed just wide by Cahill when he should really have scored. Jo then replaced Saha. A dreadful miss by Rodwell when Jo was put through and his shot was blocked back as Everton searched valiantly for the winner. But Wigan looked to strike and Distin flung himself to block N'Zogbia's fierce shot. Another corner but Jo headed over instead of down.
Everton were throwing everything but the kitchen sink at Wigan, with Rodellega surprisingly being withdrawn. Gomez fired in a hard low free-kick that Howard saved confidently. Scharner became the sixth Wigan player in the ref's little book, earning them a fine from the FA.
Bilyaletdinov finally made his debut with just 2 mins left, as Rodwell's strike was deflected away for a corner... or four as the clock passed 90 mins. But Wigan broke at pace, 5 against 2, and it needed a small miracle from Howard to block away Sinclair's shot with his foot.
In added time, a better than average run in by Jo saw Boyce foul him for a clear penalty. Up stepped Baines to bang it home high down the middle... damp relief all around Goodison as Everton surely, in the 4th added minute, won the game for the Blues. Jo sought to ice the cake on a great release-ball from Fellaini but could only blast it wide.
A lively and at times desperate game finally gave Everton the win they needed to kick-start the season and finally dispel the Lescott blues. On the whole it was fully deserved, but the difficulty in dealing with a massed burly defense of dirty niggly monsters brutalising Everton's midget gems was painfully obvious.
Match Preview
Everton performance in this fixture last season was one of their most impressive, four goals from an Everton side under David Moyes being something of a rarity in the Premier League. True, Everton have already won 4-0 this season, and important as that win was, there have to be questions about the strength of the Czech team that gave Everton there first opposition in the inaugural Europa League/Cup.
The defeat at Burnley last Sunday is perhaps a more relevant measure, evoking fears of a similar lack-lustre start to the league season as last year, when Everton fell to a second successive home defeat in their third game of the season, a shocking 3-0 defeat to Portsmouth. We can hope that they will be sufficiently galvanized to put in a better performance than they did at Turf Moor.
Spirits will hopefully have been lifted by the swift acquisition of Diniyar Bilyaletdinov and Sylvain Distin this past week. The Russian may not play any part in the game — there's a chance his visa will come through in time but he probably won't be ready to start even if it does — but merely the prospect of having signed an established international — and a winger to boot — will have the fans buzzing.
Distin will play, though, making his debut after arriving from Portsmouth and will form a partnership with Joseph Yobo that may, depending on whom (if anyone), Moyes brings in before the deadline, become the de facto central defensive pairing until Phil Jagielka returns from injury.
There again, an experienced centre half will only help build confidence at the back and hopefully start the process of shoring up the defence. And Distin's presence in central defence will free up Phil Neville to either return to central midfield, presumably, though unwisely, at the expense of Jack Rodwell or to move to right back where Tony Hibbert's erratic start to the season took a turn for the worse with his red card in Olomouc on Thursday.
Up front, with Yakubu probably not fit enough to start, the boss will again have to choose between Louis Saha and Jô if he wants to play a 4-5-1 formation.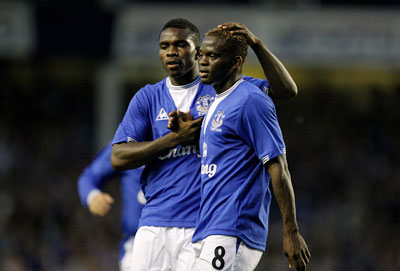 Louis Saha:
hopefully over his penalty miss at Burnley and ready to start against Wigan
On the basis of their surprise 2-0 win at Villa Park on the opening day, Wigan would have seemed to be a challenging prospect for an Everton team without a win in their first two Premier League matches but the Latics have lost all three games they've played since, including a 5-0 reverse to Manchester United on home turf and a 4-1 hammering by lower division Blackpool in the Carling Cup in midweek.
Spirits in the Wigan camp will hopefully be low coming into this one and if Everton can get at Ricardo Martinez's side early, they could set themselves up for their first points of the campaign. A victory would be the perfect platform on which to integrate the new personnel and start a push towards the right end of the table.
Match Report
Everton left it late but they put their first points on the board for the season thanks to Leighton Baines' injury-time penalty that capped the Blues' fightback from going a goal down earlier in the second half.
Paul Scharner had scored yet another goal for the Latics against David Moyes's side when he capitalised on poor marking to head home just short of an hour, but Everton rallied and after Louis Saha had headed in the equaliser, Emmerson Boyce's foul on Jô earned a penalty in the last minute which Baines converted to sink his former club.
This was a curious case of a team fully deserving to win because they controlled the game but coming away awfully fortunate to have grabbed the points.
The pattern for the game was set early on, with Everton dominant in possession but not consistently convincing in the final third. Saha, playing ahead of Tim Cahill who was deployed in his favoured slot behind the lone striker, ended a nice move in the fourth minute by drawing a foul but referee Lee Probert played the advantage and Jack Rodwell screwed a shot wide of goal from 20 yards.
Cahill then sent a stooping header into the goalkeeper's arms from a Baines corner and Rodwell brilliantly fashioned the best chance to match so far when he brought another corner down and smashed it towards the top corner. .... did well to parry the shot behind, though.
Rodwell had been preferred to Marouane Fellaini in midfield and he was repaying his manager's faith in spades with another mature and accomplished midfield display. With half an hour gone, he effected an equisite turn in his own half that initiated a fine move where Steven Pienaar found Cahill on the left and he slid a superb ball to the near post to meet the run of Saha. The Frenchman got to the ball first but he was denied by Michael Pollitt from close range.
A couple of Paul Scharner efforts aside, Wigan had barely troubled Tim Howard in the Everton goal, but they had certainly left their mark on their hosts with a seemingly endless succession of fouls that kept the referee's whistle working on overtime. Moyes wasn't even spared, with Hendry Thomas sliding in and taking the Blues' boss off his feet. Moyes took in good humour, signalling to the referee that he'd dived.
The second half continued in a similar vein to the first but Everton, having failed to make their pressure tell in the first 45 minutes, showed a little more urgency after the break. Less than a minute had elapsed when Leon Osman did well to shield the path of the ball so it could run through to Tony Hibbert on the overlap. The fullback whipped a dangerous cross to the near post that eluded Saha and Mario Melchiot blocked Cahill's first-time shot.
A similar move four minutes later ended with Hibbert swinging in a deeper cross that picked out Rodwell but he could only glance to ball on to the back of the area. Baines picked it up on the left side, Cahill dummied his centre but Osman's effort was also blocked.
Then, Osman lofted a ball down the channel for Saha to chance and he obliged by racing into the throughball but was only able to sidefoot across goal with Pollitt covering his angles well.
The game was approaching the hour mark and though the home side were getting closer, the Goodison faithful were starting to get a little nervous that the cutting edge appeared to be missing. And, of course, there was the nagging fear that the Latics need only get their act together once to put a serious dent in the Blues' confidence.
And so it was that Melchiot was allowed to space to advance down the right and drive a cross to the back post where Scharner had easily drifted off Osman and he bent to head emphatically past Howard and hand Wigan an underserved lead.
Four minutes later, one goal almost became a disastrous second when Jordi Gomez connected with another Melchiot cross but his deft touch helped the ball onto the outside of the post rather than sneaking inside and Goodison breathed a collective sigh of relief.
A minute later, the Blues were level. Baines swung in a trademark corner from the right and Saha rose through a crowd of players to nod the ball down and into the Wigan net. His reaction was one of relief as much as anything but he would only get another 14 minutes to try and grab a winner, by which time the frustration had returned to Everton's performance.
Fellaini replaced Osman in the interim by this point but it was Hibbert who should have earned an assist when he picked out Cahill with a 76th-minute cross but the Australian made a mess of what was a bread-and-butter chance for him and he planted his header well wide.
Saha was then replaced by Jô, a decision that didn't seem to make much sense at the time given the improvement in the Blues' game at Burnley last weekend when they went 4-4-2, but the Brazilian was handed a great chance within a couple of minutes of coming on. His shot from the angle was blocked but when the rebound sat up perfectly for Rodwell, he skied a right-footed shot in disappointing fashion.
The push for the winner continued into the last 10 minutes, with Jô heading a corner over, Neville dragging a deflected shot wide and Rodwell too seeing two more goalbound efforts fly wide by way of a Wigan defender.
Diniyar Bilyaletdinov was handed a belated debut with a minute left of normal time but he didn't really get a look-in as four successive corners as the game ticked into four minutes of stoppage time all failed to produce the winner that the home fans were dying for.
And, again, Wigan looked ready to deliver a second sucker-punch from the last of those set-pieces when substitute Scott Sinclair raced clear on a quick five-on-two counter-attack but, thankfully, the forward elected to go it all alone and Howard was able to save his low shot.
A couple of injury-time minutes later, Cahill released Jô down the right channel and he turned past Emmerson Boyce near the byline prompting the defender to make a clumsy challenge and send him sprawling in the penalty area. Referee Probert had no hesitation in pointing to the spot and all the pressure rested on the shoulders of ex-Wigan man Baines as he stepped up to take the all-important kick.
No doubt with Saha's miss as Turf Moor last Sunday fresh in his mind, Baines drove unerringly down the centre of the goal and Goodison rose as one to greet the strike that would usher in Everton's first win of the fledgling campaign.
Jô wasn't quite done, though, and after great anticipation on the part of Fellaini in central midfield had sent him into the clear, the Brazilian fired off the outside of the post to end the game.
Again, not a great performance and another that highlights the void left in midfield by Mikel Arteta's absence through injury and the need to address it before the transfer window closes on Tuesday. Everton had the lion's share of the possession and it was testimony to their dominance that were was little to take from Sylvain Distin's solid debut because he had so little do.
The desire was certainly there but the execution was so often lacking and with a bit more invention or composure in front of goal at times this could have been a comfortable win that could have clawed back some of that goal difference deficit established on the opening day in the defeat to Arsenal.
* Unfortunately, we cannot control other sites' content policies and therefore cannot guarantee that links to external reports will remain active.