Football thankfully returned after another International break, and it's an early 'relegation battle', 18th versus 19th in the fledging Premier League, both sides with only one win. New blood available at last to David Moyes but both Johnny Heitinga, and Diniyar Bilyaletdinov start on the bench after travelling but not playing for Holland and Russia. For Fulham, Andy Johnson started.
The best of the early action came after 15 mins when Everton constructed a good opportunity for Rodwell to strike and a deflection made it a tricky save for debut keeper Stockdale. A number of follow-up chances were blocked away by the massed and desperate Fulham defence.
Cahill was getting a hammering from the giant Ehutu but nothing from the referee, who gave Jo a free-kick when Murphy blocked him on the edge of the area. But Baines's kick smacked into the wall and nothing came of the corner.
Murphy finally went in the book for persistent fouling. And from the free-kick, perfectly delivered by Baiens, Cahill was perfectly placed to head home superbly and give the Blues the lead. Pienaar combined well to see a good early run by Osman for a second but in yards of space he could only poke it at Stockdale, and then get called back anyway for offside (marginally).
The two combined again in similar fashion and Osman almost got in, forcing a desperate clearance for a corner. Everton had effectively demonstrated their superiority in the first half competently without really shining.
Lots of huff and puff as Fulham tried to take the game to Everton after the break, including Duff firing over when it was laid on a plate for him. Everton had sat back on their lead to an extent, lacking sufficient guile to hammer home their advantage, unable to build anything effective in possession but defending pretty solidly until Neville pushed Pantsil over. Murphy's free-kick was poor but the ball screwed off the wall and fell nicely for Konchesky who's low drive careened off Distin's leg into the opposite side of Howard's net. Initiative handed to Fulham.
A silly studs-in clash between Neville and Etuhu left the Everton captain writing by the sideline and it was a number of minutes before the stretcher was called for. It was not the best of circumstances for Johnny Heitinga to make his Everton debut wearing the famous Number 5 Royal Blue shirt, with the team very much on the back foot as Fulham got the bit between their collective teeth.
In an effort to change the game, Moyes bought on Fellaini in place of Jô with 20 mins to go, despite having Vaughan and Yakubu on the bench.
Fellaini played a beautiful through ball in for Pienaar but the South African crucially slipped and a glorious chance was gone in an instant. At the other end, out of nothing, Duff did well to sides-step Baines and hammer an unstoppable shot past Howard, all the Blues dominance of the first half now completely forgotten.
A fantastic mêlée saw Fellaini's header saved and Yobo fire in from close range only for Murphy to clear off the line. On came the Yak in place of Osman, as Everton finally woke up. But just when Hibbert's cross needed to be first-class and it was very was poor. Baines then went in the the book for a rugby challenge on Duff, who then went off; in his place, Simon Davis, another ex-Blue.
A late corner for Everton came to nothing and Howard looked to be caught playing emergency sweeper but Sylvain Distin cleared off the line to save even more blushes.
No real fight from Everton, who had to defend another free kick that almost deflected in as 5 mins of injury time were added. Questions have to be asked why the Blues didn't do far far more to build on their first-half superiority. Instead, it was assumed no doubt that a one-goal lead away from home would be enough, given Everton's defensive prowess, there being clearly no urgency to add to the scoreline after the break when ball after ball was played back to Howard or just lumped forward in a return to rampant hoofball.
Three defeats out of four... not a good start.
Match Preview
Everton return to action after the international break and with the transfer window now closed, David Moyes now knows exactly what resources he'll have at his disposal for now until January.
Sylvain Distin and Diniyar Bilyaletdinov have already tasted their first action — albeit for just a few minutes in the Russian's case — and now deadline-day signing Johnny Heitinga and the now-fit Yakubu add yet more options for a manager who, after last season's travails, may feel he has an embarrassment of riches now as he plots Fulham's downfall this weekend.
Given Moyes's historic loyalty to long-standing players, it now remains to be seen just how many of the new boys Moyes will choose to pitch straight into action at Craven Cottage. Heitinga and Neville's versatility mean that either could displace Tony Hibbert at right back, with the other playing the midfield holding role, though Neville would probably be the more likely of the two to line up in the middle.
Moyes has admitted that he's unlikely to field Marouane Fellaini and Tim Cahill in the same team but the Australian's experience would seem to give him the edge. And Steven Pienaar's ability to play on the right flank would present the option of giving Bilyaletdinov his first start on the left... that's if the manager can see past Leon Osman whose two goals here at the end of last season buried a four-decade Craven Cottage long hoodoo.
And, of course, up front he has to perm one from Louis Saha, Yakubu and Jo, though it would be a surprise to see the Nigerian start after spending so long on the sidelines.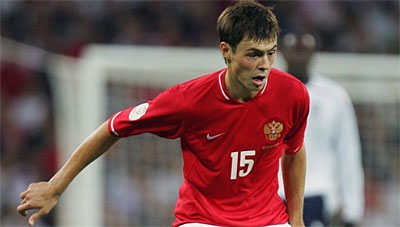 Diniyar Bilyaletdinov:
Together with Johnny Heitinga, in line for a full debut
That end-of-season win on this ground last season will hopefully have removed a psychological barrier for Everton because our record down there in the Premier League is atrocious. Hopefully the tonic provided by the victory over Wigan before the break is still coursing through the veins and the Blues can kick on by grabbing their second win of the campaign.
The two sides will start the game in the bottom three, though they have both only played three games, and though the Cottagers lost their only home game thus far, it was against Chelsea who have made a 100% start to the campaign.
Fulham will have ex-Everton striker Andy Johnson available and they showed last season that they can be a tough proposition on their on turf so it promises to be an intriguing encounter in front of the Sky cameras.
Match Report
May appear here later
* Unfortunately, we cannot control other sites' content policies and therefore cannot guarantee that links to external reports will remain active.