No Steven Pienaar, still recovering from a head-butt to the knee, so Bilyaletdinov started in preference to Fellaini on the bench, who may still be recovering from his wisdom tooth surgery last week. But it was a fundamentally defensive line-up with only Saha up-front and both Rodwell and Heitinga to protect the back four.
Wolves had the best of the early exchanges, pushing Everton back, especially down the right. But after 15 mins, a great lofted ball from Distin pinpointed Saha who headed down perfectly to create a fantastic chance for Cahill, but he wellied it with his left foot and it flew over the bar when he really, really should have opened the scoring!
Bilyaletdinov delivered a fantastic cross for his first contribution, the ball just being headed out as Osman readied to score. From the superb corner by Bily, Saha headed just over as Everton finally threatened with purpose.
Kightly was booked on the half-hour for scything down Baines in midfield. But Wolves got back into their groove and continued to push at the Gwladys Street goal, while Everton were a little out of sorts, lacking composure, unable to play much joined-up football. Ebanks-Blake came extremely close with a difficult shot from a poorly defended cross from the Everton left.
It was really a very poor half from Everton's perspective, Ebanks-Blake having two chances to score. It was perhaps summed up by a classic moment just before the break when Hibbert and Osman ran into each other, Osman flattened, and another potential attack fell apart at the seams....
For once in his life, David Moyes woke up at half-time and made some dramatic changes, hauling off Hibbert and putting Yakubu on up-front to partner Saha, 4-4-2, with Heitinga dropping to right back... leaving Osman and Cahill as the creative midfield (!!!). Immediately much better from Everton from the kick-off, Baines getting down the left and swinging in a great cross for Saha, whose downward header bounced up dangerously and was pushed up and over by the alert Hennessey in Wolves' goal.
A great sequence really should have seen Everton score: Bilyaletdinov, a little slow to shoot, was blocked, then Heitinga powered it in to Yakubu but Zuber intercepted the ball off his toe to prevent a certain goal.
Osman played in Saha nicely and Saha shaped to bend it in but Hennessey was well positioned to save with a cat-like pounce to his left. After another scare from Eubanks-Blake, Yakubu was released on the left and his fierce shot screwed across goal and just wide of the far post.
Saha was seemingly released on a n intelligent throughball from Cahill but somehow Wolves got back quickly to block him and a great chance for attack evaporated. It prompted another change: Jô on for Saha, with 20 mins to go. Bily did well down the right and got it back to Heitinga but the Dutchman's shot was woeful.
A Cahill snapshot from a half-chance flew over the bar as Everton pushed with more purpose but with 15 mins to go, there was a horrible mix-up at the back, Yobo completely misjudged a long clearance from Wolves... Doyle danced away from Distin and had the easiest job to go slot it in under Howard , who jumped to stop the non-existent lob, and the ball ended up the empty net. Hopeless!!!
In the chaos, Fellaini came on for Osman and for a while it was total attack from Everton: a corner lofted too high, a Cahill shot blocked, Yakubu tried to win a handball, Fellaini a fantastic cross but no-one there... and eventually the impetus perceptively flagged as the Blues continued to have no success against the Wolves defence.
With two minutes left, the simplest of text-book goals, Jo, running in after advancing down the left and crossing low for Bilyaletdinov to fire home from point-blank range. The improbably large Goodison crowd erupted. Joined-up football along the ground... ain't it a wonderful thing!?!
Howard had to make a vital block in added time from Jarvis as Wolves responded. Maierhofer, who had only been on 10 mins, went in with a little aftyers on Howard, who reacted very badly, jabbing at his neck. Second yellow and red for Maierhofer; Howard very lucky to escape with only a yellow too, as he had raised his arm.
Segundo Castillo, on as a sub, tackled Baines late on to give Everton a chance from a centrally placed set-piece but Baines's tremendous drive fizzed 3 inches wide.
An exciting finish but ultimately another lost opportunity for rebuilding Fortress Goodison, two more winnable points needlessly squandered. However, everyone will be happy that Bily played a full game, got off the mark, and saved Blues' blushes.
Moyes must do better: the first half was just a waste, and his re-jigged team had to start afresh after half-time.... NOT GOOD ENOUGH!
Match Preview
International breaks are often regarded as unwanted and disruptive but for an Everton team struggling to cope with mounting injuries to key players, it's actually been a welcome respite from a gruelling run of fixtures at home and abroad. Of course, with that pause in the season comes another even more conjested part of the calendar as the Blues gear up for the first of four matches in 10 days.
Newly-promoted Wolves provide the opposition this weekend and although Steven Pienaar remains a doubt three weeks after suffering severe bruising to his knee in the win at Portsmouth, Joseph Yobo is at least fit and David Moyes can field a recognised central defensive pairing once more. That may mean Johnny Heitinga moving to right back and Tony Hibbert dropping to the bench.
Marouane Fellaini is clear to play despite the protests from the Belgian national side so even if Pienaar is ruled out, the manager will have options in midfield. There, the Blues could well be unchanged from the somewhat disappointing game against Stoke City, with DIniyar Bilyaletdinov, Jack Rodwell, Tim Cahill and Leon Osman rounding out the rest of the mid-section.
Up front, as the team's leading goalscorer, Louis Saha is almost certain to get the nod ahead of Jo, though Yakubu will be champing at the bit to get involved and it would be exciting, though unlikely, if Moyes were to go 4-4-2 and play them both!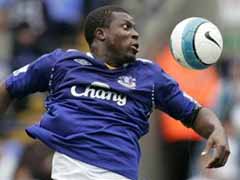 Yakubu:
hoping for his chance to reclaim a starting berth
Predictably, Mick McCarthy's Wolves have had a tough time on their return to the top flight and they sit one place above the bottom three going into this weekend's round of fixtures. A suprise win at Wigan is their only away win so far this season but they will be no pushovers as evidenced by narrow 1-0 defeats at the two Manchester sides... though their last road trip ended in a 5-2 drubbing at Sunderland.
Segundo Castillo's chances of starting against his old team may be dealt a blow by jet-lag — the Ecuadorian midfielder is rated as doubtful.
Of course, this is regarded as one of those should-win, muts-win games for Everton, doubly so after dropping two points against Stoke a fortnight ago. The Blues will need to display more guile and imagination than they displayed then if the three points are going to be secured and that will remain a challenge without Pienaar's flair in the side.
Match Report
May appear here later
* Unfortunately, we cannot control other sites' content policies and therefore cannot guarantee that links to external reports will remain active.