Venue:
Ewood Park, Blackburn
Premier League
Saturday 14 August; 3:00pm
The first game of a season brimming with expectation for a very good-looking Everton squad. Only Anichebe out injured so some names were inevitably left out of today's 18-man teamsheet. But the side named carried no surprises, it's pretty much as you were for David Moyes, his three new players, Mucha, Gueye and Beckford all on the bench as the 11 starters had a very conventional and "safe" look about them.
The match started in brilliant sunshine, but some poor passing from Everton allowed Olsson to get behind the Everton de fence and attempt to lob Howard, who was out sharply. The Blues looked well flustered early on, hoofed clearances and pathetic passing seemingly the by-words as they struggled to settle under a determined onslaught from Big Sam's bruisers. But better possession soon had them retaining possession better and moving the ball around with more authority.
For Blackburn, Dunn did his groin going in hard on Pienaar and had to give way to Nzonzi before 10 mins were completed. Next off for treatment was Salgado as Everton looked to capitalize but Saha was offside. But a horrendous error by Howard, dropping the ball after what seemed a safe one-hand catch, let Kalinic slide the ball home with ease. Shocking!
Everton looked better on an attack down the right that Osman finished with a good cross but neither Saha nor Cahill in the area could reach it. Another good move nearly ended up on Cahill's boot but he was offside. Some better passing around the area allowed Osman and then Cahill to get a slight sight of goal but both attempts were blocked away. At the other end, Howard had to be alert, punching away a long Pedersen throw. Saha did well to steal the ball off Samba but could not get a decent shot in.
Osman won a good free-kick after getting an ankle-tap as he tried to get through three Blackburn defenders, But Arteta's free-kick came off the wall for Everton's first corner that ultimately resulted in Everton's first half-decent shot, from Pienaar. Pedersen rather nastily stood on Arteta's foot but nothing came of Distin's free-kick. Everton had improved a lot by half-time, but still a stupid goal behind, and a big hill to climb in the second half of a fairly scrappy game.
No changes at half-time (of course!) and Everton continued their lack-lustre performance for the next 15 wasted minutes until Moyes finally decided, on the hour (of course), to bring on Jermaine Beckford for the utterly ineffective Osman. 4-4-2?
Jones barged Arteta over to set up a wide free-kick which he slotted across to Pienaar but the quick moved failed miserably and Blackburn attacked with pace after Saha's shot was well blocked, Howard saving from Diouf who was offside. Blackburn had a stronger spell, Jones thwarted by Distin, and Nelsen missing a good chance from an unmarked position.
Everton got the ball to Saha in a good position but he lashed it over rather than passing to Beckford, who had not touched the ball since coming on 10 mins earlier. Salgado was booked for bringing down Jagielka. A poor corner by Arteta could not be controlled by Saha, and it was his final contribution, Bilyaletdinov coming on with less than 20 mins left.
Pienaar, who had continued his nondescript World Cup form, won a corner taken well by Bily that culminated in a series of half-chances for Everton that no-one could convert. Everton's performance was summed up by the dismal failure of Neville to trap an easy pass on the touchline. Poor in the extreme. An extended spell of Spanish-style short passing showed what Everton could do in possession until Neville spoilt it with a poor ball forward.
Blackburn were defending solidly but an all-too-familiar lack of guile when it comes to constructing attacks that would penetrate the opposition area and create real chances proved to be Everton's downfall when it came to rectifying that horrendous Howard howler. 2 mins into added time and Jagielka produced Everton's first real shot, and Robinson responded with a worthy save.
Simply nothing working for the Blues going forward today in their Shocking Pink away strip. A horrible performance in terms of attacking the opposition goal, and a horrible way start the season.
Reality Bites for All-Too-Familiar Blues
In their quest for the top four and qualification for the Champions League, Everton were given an immediate reality check as a combination of a farcical error by Tim Howard, a worrying lack of creativity and ideas, a general lethargy to their play, and, perhaps, the burden of expectation for a campaign that holds so much promise condemned them to defeat on the opening day of the 2010/11 season.
David Moyes's side had barely had a chance to find their stride before Howard raced to the edge of his area to claim a high-bouncing ball with one arm and contrived to drop it into the lap of Nikola Kalinic, who had an empty net at which to aim to give Blackburn Rovers what proved to be the winning goal in the 15th minute.
That should have provided the catalyst to spark the Everton that powered its way through the second half of last season on the back of top-four form into life, but the response from Moyes's side was so turgid, so lifeless and so depressingly familiar that it put the burgeoning optimism for the new season in a new, disheartening context.
There will be no Champions League for Everton if they continue to play this way. On too many occasions the long ball was employed to break down a robust and muscular defence equipped to deal with just that type of tactic. Louis Saha was, as has so often been the case in his time with us, isolated and forced to chase aimless flick-ons or into aerial battles he had no hope of winning.
From Howard to Sylvain Distin — admittedly less to blame on this score — to Jagielka, whose long-range distribution for so highly-regarded a defender is laughable, the patient build-up from the back used so effectively when Everton were at their best last season was persistently eschewed in the first half until the long ball was mostly abandoned after half time.
There will be no Champions League if the manager doesn't use his best players. Put plainly, no team that boasts Leon Osman as a first-choice starter — in his weaker, right-midfield role — has any business in Europe's elite competition and, unfortunately, that fact was rammed home unceremoniously for the 58 minutes that he was on the pitch. Utterly ineffectual even when he briefly moved inside and Arteta went wide right, he was replaced by Jermaine Beckford as Moyes went 4-4-2 for all of 20 minutes while Jack Rodwell watched from the bench until the last 12 minutes.
There will be no Champions League if Moyes himself fails to adapt. Although his team improved markedly in the final 15 minutes before the interval — they couldn't have got much worse — it was clear that nothing was really working but no changes to the personnel or approach were made and the first 15 minutes of the second half had disappeared down the drain by time Beckford was given his chance. Unfortunately for him, he barely touched the ball at all until injury time and an extra striker is useless if you don't get the ball to him.
There will be no Champions League if Mikel Arteta doesn't turn up. The club's highest-paid player's head appeared for the first half an hour to still be in the room at Finch Farm where he put pen to paper on a new five-year contract. Even when he did start to come into proceedings more, at no point did he grab the match by the scruff of the neck and really start dictating things for his team. Tim Cahill, another player who has just extended his stay at Goodison wasn;t much better.
Instead, Steven Pienaar, the "contract rebel" who has yet to commit himself to Everton either way was the one showing any real initiative and he, along with the impressive Leighton Baines, was the only one who looked likely to make anything happen.
There will be no Champions League if we defend as poorly as this. Blackburn are an ordinary side with an ordinary defence but while they were organised and repelled almost eveything that was thrown at them, Everton's looked panicky and disorganised, the central defensive pairing of Jagielka and Distin never looking entirely comfortable. We can also kiss the top four goodbye if we can't rely on a world-renowned goalkeeper like Howard not to merely give goals away through lapses in concentration. His was a mistake made under very little pressure and no contact — he simply dropped the ball because he chose to take it with one hand rather than firmly grasping it with two.
All of this was made more frustrating by the fact that Blackburn are a decidedly limited and workmanlike team. What they had going for them was hard work and a consistent shape, though; they dared the visitors to break them down and Everton had few answers. It may have been a meaningless friendly but the warning signs of a team not quite ready for the big kick-off were all there in Wolfsburg last weekend.
Blackburn clearly looked the more ready and able in the early going at Ewood Park this afternoon but when Olsson beat the offside trap and found himself one-on-one with Howard in only the second minute he knocked the ball over the advancing 'keeper and the crossbar.
And after Howard and dropped his clanger it took Everton 15 minutes to muster their first shot on goal when Cahill scuffed an effort into Robinson's arms after Osman had seen his shot charged down. Saha then robbed Samba superbly but hit a similarly poor diasy-cutter before Arteta saw a direct free kick deflect off Ryan Nelsen in the wall and behind for a corner. From the resulting set piece, the ball eventually broke to Pienaar but Robinson got his body behind his powerful low shot and the rebound was hacked away.
Unbelievably, 20 minutes of the second half elapsed before the Blues created so much as a decent shooting opportunity, one which Saha wasted by lashing it high and wide with his weaker foot when Beckford was better placed in the centre. The Frenchman was replaced by Diniyar Bilyaletdinov shortly aftewards but there would be no goalscoring heroics from the Russian this time — his only chance was blocked by another typically tenacious Blackburn defender in the dying minutes.
At the other end, Phil Jones and Nelsen, both defenders, had chances to increase the advantage but fired high and Nzonzi headed a terrific El-Hadji Diouf cross narrowly over.
With the sense of urgency finally kicking in the closing stages, Everton pressed for an equaliser but continually came up short with aerial balls pinged into the box repelled with ease and few moves employed designed to unlock the Rovers defence on the ground. A solitary chance of note opened up in the second minute of stoppage time when the ball fell to Jagielka but his well-struck shot was parried excellently by Robinson and Beckford's attempted overhead kick was cleared before it could threaten the goal.
And that was pretty much that. A depressingly disjointed and toothless display, the like of traveling Evertonians have witnessed up and down the country over the past few years. Unlike the last time these two sides met when Everton were in their lucky black change strip, there was to be no moment of individual magic like that from Yakubu that created the winner for Cahill in stoppage time. Indeed, significantly, the Yak wasn't even in the squad for this one, suggesting that his days at Goodison could be numbered.
The lack of finance available to strengthen the right flank and inject some pace into the side will hit home, though, if the players Moyes already has at his disposal don't step up and perform. Marouane Fellaini made a welcome return to the midfield but understandably lacks sharpness, Jagielka didn't demonstrate that his pairing with Distin is going to be a profitable one, Cahill was largely ineffective, and Arteta just didn't turn up for the first third of the match.
Of course, all is not lost because of one opening-day defeat — just as the title-winning side of 1985 or the Moyes team that lost 4-1 to Arsenal in their first match of 2004/05 and finished fourth — but this will only prove to be a valuable reality check if lessons are learned from it quickly and if the now annual squad heart-to-heart that usually takes place around November happens now.
Next up is a quick chance to get a win under the belt with the visit of Wolves but there's not enough to convince that things have changed sufficiently to make Champions League qualification a reality this season.
Player Ratings:
Howard 5, Neville 6, Baines 7, Jagielka 6, Distin 6, Fellaini 6, Arteta 6, Osman 5, Pienaar 7, Cahill 6, Saha 6
Subs: Beckford 5, Bilyaletdinov 6, Rodwell 6

Match Preview
Few seasons in recent memory have felt as "make or break" for Everton as the one that kicks off this weekend at Ewood Park.
A surprisingly strong second half to 2009/10 that would have earned the Blues a place in the Champions League if that form had been extrapolated out to cover the first 19 injury-ravaged games demonstrated unequovically that David Moyes has the players and that he has got them playing the right way.
Now, with a virtually fully-fit squad, a sprinkling of new faces, Tim Cahill, Jack Rowell and Mikel Arteta locked into new contracts and Steven Pienaar at least still at Goodison, albeit with a cloud of uncertainty lingering over him, there is a feeling that if ever Moyes's Everton were a position to break into the top four, it's right now.
Many are feeling an unfamiliar feeling of genuine optimism; others are probably supressing it nervously, uneasy at the burden of expectation and fearful of what might happen to the squad that the manager has built —and, indeed, what might become of Moyes himself — if this coming campaign ends with a similarly disappointing Premier League placing as the last.
Of course, the team is by no means complete. Between Louis Saha's injury record and erratic form last term, Yakubu's struggles to regain anything close to the sharpness he displayed before that long lay-off with a ruptured Achilles, James Vaughan's stuttering career, and Jermaine Beckford being untested at top-flight level, there are concerns that the Blues could be hampered by the lack of a genuine 20-goals-a-season attacker.
In right midfield, the failure on the part of both Diniyar Bilyaletdinov and Leon Osman to convince as an out-and-out winger, exacerbate the dearth of pace on that side of the pitch and Tony Hibbert and Phil Neville's lack of attacking prowess.
And in defence, Moyes may need to experiment a little to find the best partnership between his three first-choice centre-halves, John Heitinga, Phil Jagielka and Sylvain Distin and there's no real cover for Leighton Baines at left back.
But there's no denying that on its day with a midfield boasting Marouane Fellaini, Arteta, Rodwell and Pienaar, and the predatory instincts of Cahill behind the lone striker, Moyes's is a team that can beat anyone on its day... as they proved against the likes of Manchester United and eventual Champions, Chelsea.
Naturally, optimism for the new campaign is also tempered by the strength of the other sides vying for the top four. United and Chelsea remain the two favourites for the Title, Manchester City have spent many more millions, Arsenal have strengthened while retaining Cesc Fabregas, and Tottenham will again be strong candidates for a Champions League berth.
Of the top eight, only managerless Aston Villa and Liverpool with a new man at the helm in Roy Hodgson have genuine question marks hanging over them as we kick off the new season but at times from December onwards, Everton showed that their sites should be set higher than those two troubled clubs in 2010/11.
For the trip to Blackburn, Moyes has the rare luxury of being able to take his pick from virtually a fully available squad. Victor Anichebe is missing through injury and there may be doubts over the match fitness of Fellaini, who has completed his recovery from the ankle injury that has kept sidelined since February, and Heitinga is only just back from an extended break following his exploits in South Africa so it's possible neither will start. Cahill, meanwhile, has a minor knee injury that meant he missed Australia's friendly with Slovenia this week as a precaution.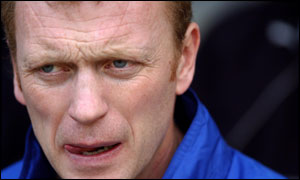 Davey Moyes:
could this finally be the season?
Otherwise, there are plenty of options for Moyes as he aims to win a Premier League opener for the first time in three seasons and put another one over on Sam Allardyce on his side's own turf, having won 3-2 at Ewood Park just four games ago in League terms.
Louis Saha is likely to lead the line for the Blues and captain Phil Neville is odds-on to start at right back despite the pre-season form of Seamus Coleman.
Opening day is always a bit of an unknown as teams shake off any rust that's accumulated over the summer and try and hit their stride as quickly as possible. Victory, though, particularly away from home, can provide a tremendous shot in the arm for what promises to be the most competitive Premier League season in years.
* Unfortunately, we cannot control other sites' content policies and therefore cannot guarantee that links to external reports will remain active.
BLACKBURN (4-4-2)
Robinson
Salgado
Samba
Nelsen
Givet
Dunn (9' Nzonzi)
Jones
Pedersen
Olsson
EH Diouf
Kalanic (60' MB Diouf)
Subs not used
Andrews
Bunn
Emerton
Chimbonda
Hoilett
EVERTON (4-5-1)
Howard
Neville
Distin
Jagielka
Baines
Osman (59' Beckford)
Fellaini (78' Rodwell)
Cahill
Arteta
Pienaar
Saha (73' Bilyaletdinov)
Subs not used
Mucha
Hibbert
Heitinga
Gueye
Unavailable
Anichebe (injured)
Premier League Scores
Saturday
Aston Villa
3-0
West Ham
Blackburn
1-0
Everton
Bolton
0-0
Fulham
Chelsea
6-0
West Brom
Sunderland
2-2
Birmingham
Tottenham
0-0
Man City
Wigan
0-4
Blackpool
Wolves
2-1
Stoke City
Sunday
Liverpool
1-1
Arsenal
Monday
Man Utd
3-0
Newcastle
| | Team | Pts |
| --- | --- | --- |
| 1 | Chelsea | 3 |
| 2 | Blackpool | 3 |
| 3 | Aston Villa | 3 |
| 3 | Manchester United | 3 |
| 5 | Wolverhampton Wanderers | 3 |
| 6 | Blackburn Rovers | 3 |
| 7 | Birmingham City | 1 |
| 7 | Sunderland | 1 |
| 9 | Arsenal | 1 |
| 9 | Liverpool | 1 |
| 11 | Tottenham Hotspur | 1 |
| 11 | Manchester City | 1 |
| 11 | Fulham | 1 |
| 11 | Bolton Wanderers | 1 |
| 15 | Stoke City | 0 |
| 16 | Everton | 0 |
| 17 | Newcastle | 0 |
| 17 | West Ham United | 0 |
| 19 | Wigan Athletic | 0 |
| 20 | West Brom | 0 |