North Country Blues - The Jimmy Husband Story
By
Rob Sawyer
:: 13/05/2013

Comments
(23)
jump to end
Kevin Mirallas, our quicksilver striker, has been described as a "wide-attacker". Over 40 years ago a softy-spoken Geordie with a penchant for Bob Dylan, performed the same role with great aplomb over 199 appearances, scoring 55 goals.
Jimmy Husband was a FA Youth Cup and League Championship winner with the Blues. "Skippy" was the scorer, in January 1971, of one of the greatest Goodison goals in living memory – a volley past Peter Bonetti after swift interplay between Hurst, Harvey and Ball. On a less savoury note he is also remembered as the recipient of on-pitch knee-surgery (without anaesthetic) courtesy of Derby's Dave Mackay in October 1968; despite popular opinion that he was "never the same player again", Jimmy was playing again within 5 weeks.
After a dip in fortunes at Everton, and adventures at Luton and in the United States, Jimmy is now happily retired in Bedfordshire. He spent a couple of hours with me looking back on homesickness, silverware, knee-high challenges, the "joys" of indoor soccer and playing for a village team called…Everton.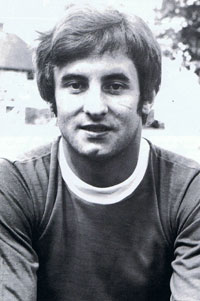 I was born in Newcastle; as a kid my dad used to take me to every home game at St James' Park. I was an inside forward and played for England Schoolboys at 15 so that attracted a lot of the big clubs' scouts. I had something like 17 or 18 top flight clubs wanting to sign me, including Villa, Leeds, Sunderland, Newcastle, Middlesbrough, Everton and Burnley. Burnley were then a top team that had won the league a few years previously and were one of the first, along with Everton, to have their own training facilities. Their chief scout, Jack Hixon, virtually lived at our house so I went to Burnley in the school holidays with a guy called Louie Henry – I wouldn't go on my own. We spent a week there in nice digs and trained each day with the youth team.
My Dad had passed away that year so it was hard for me and my Mum – she was still grieving and knew nothing about football so it was left to me to choose a club. In the end Everton were the most persistent and the whole package was just right. Harry Cooke, the chief scout would occasionally bring an, immaculately dressed, mysterious man with him. This guy was the one who Harry Cooke would look to for "the nod" if I asked a question. I never did know who he was - something to do with the Littlewoods empire perhaps?
The school board reluctantly agreed for me to leave before I took my O levels – part of the deal at Everton was that I was excused from trained every Monday to continue my studies near Woolton. I made rapid progress and played a few reserve games within a year so, needless to say, my education went out of the window as I concentrated on football. The apprentice wages were £8 per week – more than my mum was getting full time.
I had digs in Tuebrook with a landlady for 3 years – one of my colleagues was the England Schoolboy Captain and centre-half called Eric Curwen, a Blackpool lad. I did suffer from homesickness and Everton paid for my rail ticket home every month. The club could sign you pro at 17 but they would often wait until you were nearer 18, but I actually signed within days of my 17th birthday. Unfortunately they did not sign Eric as a pro and he went to play for Southport.
Within weeks of me joining at 15, Harry Catterick called us up to the office and said what he hoped to do with us and that thought that I had great prospects He knew I was very homesick as well – he was from the North East so he had a bit of sympathy with me.
The year I joined, Everton were the reigning champions. We had Alex Young as centre-forward, Roy Vernon at inside- left and Dennis Stevens at inside-right. Alex wasn't necessarily pacey but had great ball control and vision whilst Roy was electric and a great finisher. Dennis was the one to drop-off and help Jimmy Gabriel and Tony Kay in midfield – he was the workhorse. Tony Kay was a great player - hard as nails but a great tackler and inspirational – and on the verge of becoming an England regular, he may have played in the World Cup.
Every day we used to start at Goodison Park, where the 1st team through to the B team got changed and got coaches up to Bellefield where we trained. Then it was all back on the bus to Goodison where we got showered and had treatments. It was in my second or third year at Everton when Bellefield was opened up as a complete training complex with dressing rooms, showers, baths, physio facilities, offices upstairs for the coaches and manager plus a dining room where we had lunch after training.
At this time Colin Harvey and Tommy Wright had already broken through whilst John Hurst and I were in the same age group – we were two years ahead of Joe Royle. We won the FA Youth Cup in 1965, beating Arsenal in a two-legged affair, we drew down at Highbury and won with a penalty at Goodison

My debut came in Easter Monday 1965 at Fulham: I had played for the reserves in the Central League but when we got back to Goodison the 1st team coach was still there which was strange. Straight away Harry Cooke said "Come on we're taking you back to your digs – grab a suitcase as you're going off with the 1st team". So I grabbed a pair of trousers, shirt, tie and blazer. The coach was still waiting at Goodison and off we went – a bit of a whirlwind! Harry decided not to tell me early on that I was playing, then a couple of hours before the match he said "You're playing son" and that was it. I think I did okay - some of the opposition were legends like Johnny Haynes, Bobby Robson and George Cohen. I played Inside-right forward with Derek Temple on the left, Alex Scott on the right and Fred Pickering at centre-forward.
The next season I was mostly in the reserves and if any forward got injured there was a good chance I'd be the first call. There were no substitutes in those days and when they introduced one it was usually Sandy Brown – the sub was for injuries, never used tactically, and you shuffled the team round.
The whole Everton staff, from youngest to eldest, went down to Wembley for the 1966 FA Cup Final – I just remember the game with Mike Trebilcock's double and Derek Temple's thunderbolt.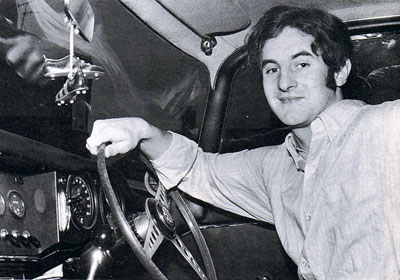 After the 1966 World Cup Harry had reached a stage where he was rebuilding the team that had won the 1963 championship and the FA Cup. He had some great youngsters coming through and he knew that was the future; so he gave a chance to the likes of me, John Hurst and Joe Royle. The team were in the process of changing to 4-3-3 and neither Ernie Hunt and Alex Scott were suited to that system - wingers were virtually becoming a thing of the past. So right away you have lost your inside forward position and I moved to right side of the pitch. So Joe, Johnny Morrissey and myself formed the attack. You would have to class Johnny as a winger but I could wander anywhere I wanted. My position was to help Joe out more than help Tommy Wright but defensively I used to retreat to the right hand side – perhaps I was a bit like an attacking Trevor Steven.
Howard Kendall tended to play to the right side, Bally in centre-mid and Colin Harvey in left-mid but it was interchangeable. Colin was great short ball player with wonderful first-time touch whilst Howard was a great long player of the ball with good vision - he didn't have that much pace but didn't need it. Like all great teams it's not the 11 best players, it's the balance of the 11 – as England proved in the World Cup.
Myself, I had pace and okay ball control – my left foot was adequate but I was mostly right footed. I was never any good in the air but I had really good acceleration which frightened defenders because if I ran at them they knew that nine times out of ten I would get past them. Full backs disliked marking me as I was one of the few forwards to drift across the pitch - I'd wander off past Joe towards the left wing and the defender never knew whether to follow me or pass me on to a colleague. Howard knew this and if the full-back went with me he would drift into space on the right flank ready to receive a ball from Tommy and put in a good cross for Joe to get on the end of - this was just something the two of us worked out together in training.
My miss against West Brom in the 1968 Cup Final still haunts me to this day but I don't blame myself 100 percent now. The whole team were off-colour that day: Joe, Alan and I each missed a couple of half chances and we just couldn't finish it. If it had gone to a replay you could have put your house on it that we would have won. I wasn't allowed to forget the miss either…if I was ever in conversation with Everton fans they would remind me about it…I always knew that it would be brought up in any conversation.
We played some really excellent football from 1967 to 1971…it's arguable that we were the best footballing team in Britain and that's why many Everton fans think of us as one of their best teams ever. It was very neat and tidy, apart from Joe up front we were mostly 5'7" or 5'8" so it was pointless knocking balls in the air; we played to feet and were comfortable on the ball.
The foul by Dave Mackay in 1968 is a bit of a myth. It was the most diabolical foul that you could wish to see, Dave was 13 stone of muscle; the tackle came in on my knee and damaged my ligaments. The fans just remember the foul being awful but I came back and scored 20 goals in the season.
In the 1969-70 season I lost my place through a minor injury which necessitated me missing 2 or 3 games so Alan Whittle came in and scored something like 4 or 5 goals in important games. So Harry had every manager's dream and heartache of making a choice once I was back fit; he chose to leave Alan in and made the right choice as Alan scored lots of goals. It was hard on me as we were on the run-in to the championship and I was in the stand in my suit and tie, these days I would have got a run in some of the games.
I asked for transfer, Harry never called me in for a chat but Wilf Dixon was trying to persuade me to stay. He said "There's about 3 or 4 teams that could afford you and all those teams have players fighting for their positions". I left my transfer request hanging there and then suddenly Alan was dropped and I was back in the team for the rest of the 1970-71 season. Against Panathinaikos their skipper took me out in the Goodison leg with a similar challenge to Dave Mackay's so I missed the return leg and within the space of a week we were out of the European Cup and the FA Cup.
Deep down the players felt that things were beginning to unravel and the nail in the coffin was when Harry had his heart attack. It was a crazy time – at one stage we were being coached by Tommy Casey and he was an old fashioned coach - some of the things we were being told to do were totally alien to the way we played. Then, before you knew it Bally was off to Arsenal. When Billy Bingham came in he wanted to rebuild so Howard was off to Birmingham and Colin was off to Sheffield Wednesday. By then I was ready for a change; Billy had played at Luton and had connections there so that's possibly how I ended up there and had four great years – I never heard about any other clubs in for me.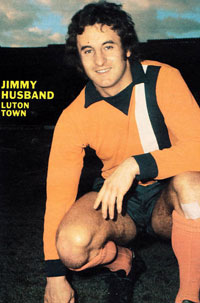 Harry Haslam, their manager, was totally different to Harry – he was always telling jokes and wasn't a disciplinarian - it was so much easier going. Bellefield was run like a military camp whereas Luton was more easy come – easy go.
At Everton I was constantly racing against time to get to Bellefield. If you were late more than twice in a week you had to come in for training in the afternoon, like detention, so I had a couple of them.
Luton were in the second division but were promoted in my first season there. In those four seasons we won a heck of a lot more than we lost. Andy King came into the team in my second year there; at the annual PFA awards in London I got talking to Billy Bingham and he said to me "We've been looking at Luton recently – what do you think of this Andy King?". I told Billy that he was ready for the first division and that he was a really good attacking midfield player. Within a week or two Andy actually signed for Everton.
Harry eventually moved on to Sheffield United and David Pleat replaced him. As with Billy at Everton, David wanted his own people in. By then I was 32 and the USA was the in thing for players in their later years like Muller, Pele and Beckenbauer. So it was exciting to get the opportunity with Memphis Rogues, Eddie McCreadie was manager and knew me well as a player as he usually marked me when we played Chelsea. So it ended up with John Falconer and I sailing off into the western sunset with our families.
Most of the Americans going to watch football in those days were just out for a good day out – the weather was glorious and they'd go about four hours before kick-off with big pick-up trucks and have barbecues and cans of bear. It was new to us but the kids loved it and I was earning more than at Luton Town where I had been paying 60% tax of my earnings.
Every "off-season" we came back to our families in Liverpool and Newcastle or stayed with friends in Bedfordshire. I had permission to go into Bellefield to keep fit (my in-laws just live round the corner from there) and I trained with the youth team which Colin Harvey coached.
All the clubs over there are franchises and can be moved anywhere the owners want so after two years our franchise was sold to an oil millionaire in Calgary. After a bit of homework we decided we didn't want to end up there -10 degrees every day - too cold!
By then Eddie had moved on to the Major Indoor Soccer League with Cleveland Force and offered me a one-year contract. I didn't fancy indoor soccer but it was a job so we moved up there; it was glorious in the summer and autumn but the winter weather was similar to Calgary! I didn't like it, it was too much rough and tumble - like ice-hockey but without the sticks.. We played on Astroturf, so you had to grease-up those "vulnerable areas", and I was getting too many injuries.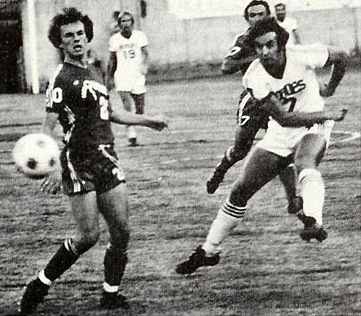 After a year I jumped at the chance to get back to outdoor soccer at Oklahoma City Slickers in the ASL (for franchises that weren't big enough for the NASL). The manager there was Colin Harvey's brother Brian. I had two good years but they were struggling for money.
I'd had enough of football by then so we moved back into our house in Bedfordshire and I did what a lot of players did: by taking over the tenancy of a pub in a nearby village for two years. It was very hard and I hardly saw the kids for two years as I was either in bed or at the pub when they were at home. The pub was only three miles from another village called Everton so a guy approached me and the Liverpool Echo came down and ran a story with me turning out for Everton's village football team.
Later I worked for 5 years as a sales consultant for Godfrey Davis which was a really good job but then they got taken over. I then worked in another sales job and I've been retired about 7 years now. Fortunately I always had one eye on stocks, shares and savings to build up a nest-egg but it doesn't last that long – especially if you smoke like I did!
People do recognise me out and about – it only takes one person to say something and then everyone gets their smart-phones out to check YouTube and say "Hey, you were a bloody good player!" I met my wife, Val when I was in the Everton B team, she was still at school and we met in a youth club - we're still together now. Our son Jamie is 42 now – he had trials at Everton and Luton and they both wanted to sign him as an apprentice but I recommended that he sign with Luton as he'd get more opportunities. In the end they didn't sign him as a pro but that was no disgrace as they did have an excellent youth team then. Out of the blue Jamie then got a sports scholarship in the University of Miami and he has lived out there ever since. They won the All American University Soccer Tournament twice whilst he was there and he's now a fireman-paramedic. Our daughter, Jilly, lives nearby to us and has recently had a baby daughter.
I used to go up to Merseyside three or four times a year for former players "dos", which was nice, but with the recession they have gone on the back-burner. I tend to get up for one game each season - I took a friend up for the Reading game this season and the Former Players Foundation looked after us.
Reader Comments
Note: the following content is not moderated or vetted by the site owners at the time of submission. Comments are the responsibility of the poster. Disclaimer
Peter Mills
217
Posted 15/05/2013 at 23:15:25
Jimmy was a most unusual player. As he states, he used to drift from the right wing across the front line, creating space for others. In those days of little television analysis such movement was not fully appreciated by us supporters, but he really was a canny footballer
Max Murphy
234
Posted 16/05/2013 at 00:08:11
It wasn't the first time Dave MacKay crippled one of players.
I liked Jimmy Husband - had flair. Teamed up well with Alan Whittle.
I was at the 1968 Cup Final (lost 1-0 to W Brom - Astle goal) - unfortunately it wasn't one of Jimmy's better games - he missed a sitter.
Always remember Alan Ball, after receiving his loser's medal, he threw it down onto the pitch in anger & disgust. What a true professional - hated losing.
Kev Johnson
238
Posted 16/05/2013 at 00:17:09
We would have won the European Cup in 1971 if Husband hadn't have been crippled in the home leg of the Panathanaikos tie. At least, that's what I thought at the time, aged 10. I see no reason to change my mind at this late date.
Eugene Ruane
243
Posted 16/05/2013 at 00:18:26
Again, brilliant stuff Rob.
A great player and an intelligent player in a great side.
He was part of the first Everton side I saw live (I think 67) and I was never sure of what position he played.
I mean everyone else had a completely fixed position, which you could tell by watching where they played.
Watching, you knew (even as a kid) that Labby was a centre-half, Ball-Harvey-Kendall were midfield players and Joe Royle was a centre forward.
Watching Jimmy actually threw me a bit, I think my kid's brain wanted him further forward IN the forward line, or further back in midfield (football OCD? Perhaps)
It was much later (I think with the Dutch side) that I first heard about 'free roles'.
Anyway Jimmy Husband, like all that side, are burned forever in my mind because of a poster that was on my bedroom wall.
Everton 1969-70.
Chests out, championship trophy in front of them.
Blue shirts, white shorts, white socks...Sweet Gene Vinc....oh no that comes a bit later.
Paul Ferry
260
Posted 16/05/2013 at 04:05:50
ROB this and your other past-player posts are wonderful.
Jimmy was my 1st Everton hero, flashy, style, fast, looked great on a footie card, in my Crosby school 1 Jimmy Husband was worth 5 Mike Dempseys
Michael Brien
280
Posted 16/05/2013 at 07:29:00
Rob - a great reminder of a player who seems to be in the category of unsung hero - a fine player. I remember that goal aginst Chelsea in 1971 - if only they had the same TV coverage then as they do now - it was a goal that we would watch over and over.And yes Kev that match against Panathinaikos would I am sure have been won had Jimmy Husband not been injured and very unfairly injured - they clearly targeted him for some rough treatment - I seem to recall at that stage of the season Jimmy was in fine form.
In the Semi we would have got Red Star Belgrade I think - and I don't think they would have stopped us. Winners of the European Cup in 1971? Well it would have been Ajax in the Final, but on our day and playing at our best I still reckon that Everton team would have been capable of beating them.
Eugene Ruane
371
Posted 16/05/2013 at 12:09:39
Paul Ferry (260) Did you mean Mike or (Chelsea's) John Dempsey?
I can certainly understand how one Jimmy Husband would be worth 5 John Dempseys.
In fact such was the bad head on Dempsey (surely footballs worst ever) that even at the age of 10, when I was a footie card collecting fool, I would prefer not to have a full set than carry his image around with me.
(I did hear that his barber went on the run in 1973 and is still wanted for crimes against footballer's heads)
Dempsey's truly shocking napper (nb: SIT DOWN BEFORE VIEWING)
- http://www.whoateallthepies.tv/wp-content/uploads/2011/09/Dempsey.jpg
Brent Stephens
380
Posted 16/05/2013 at 12:30:04
Lovely post, Rob. Had a soft spot for Jimmy. But what players around him. Pickering - what a carthorse (but scored a hat-trick on his debut?). Loved Sandy Brown, ungainly but would and did play everywhere (even in goal!?) - a real servant, never moaned.
Kev Johnson
390
Posted 16/05/2013 at 12:39:02
When Eugene mentioned footie cards, I had a Proustian moment. The particular smell of the accompanying chewing gum wafted in front of my nostrils for a second. Thoroughly enjoyable, it was!
Found this on YouTube - Husband scores the 4th goal and does a lovely little run and shot that leads to the 5th... http://www.youtube.com/watch?v=-sydjkLCfaQ
Forgot to say earlier: good work again, Rob. Always a pleasure to read.
Chris Hockenhull
162
Posted 20/05/2013 at 10:03:21
Love these postes Rob.Well done from all of us. Most appreciated. Keep em coming. Alan Whittle perhaps? Andy Rankin too. Liked your very apt title. I wondered if Jimmy would have preferred to have been at the Odeon Cinema on the 14 May 1966 instead of hanging around off stage at Wembley that afternoon?. Altogether now...."Jim... Jim... Jimmy... Jimmy...Jimmy Husband..On The Wing..On The Wing" . My favourite era. Well done again Rob
Derek Thomas
172
Posted 20/05/2013 at 10:17:54
Eugene; Jimmy would certainly qualify as one of those reasons to be cheerful. At his peak he was as good as Ronaldo was at United. Had a drink and a chat in the ring o bells Widnes one monday night ( tuborg lager imported direct from denmark better than the only other option, Greenhall bitter or mild ) around 71, I think it was when he was injured. He said then more or less as stated above and yes I did give him ( mild ) stick about that miss, nice bloke.
Ray Roche
186
Posted 20/05/2013 at 11:26:36
Some great memories there, Husband was an excellent player and I well remember the MacKay tackle, absolute disgrace.
Kev, I also had a look at Youtube and found this treasure, even 40 odd years on it's still edge of the seat stuff for those who were there to witness the first ever penalty shoot out in the European Cup.
http://www.youtube.com/watch?v=o-9NVX6Csq0&list=PL9AC8E0D651DFFA24
Eugene, that hair cut. The stuff of nightmares..
Kev Johnson
190
Posted 20/05/2013 at 12:13:40
Ray - thanks for the link. Great stuff.
Sandy Brown - ice cool or what? I'd have ballooned it over the bar, no question. Did you see the state of the goalmouth? Ha-ha! Ridiculously muddy. Every inch of the Baseball Ground was like that.
Derby County were a big team in the early 70s, weren't they? I remember when I passed my 11+ and found out I was going to a school in West Derby, I presumed that was in the same neck of the woods as Clough's team. It was never my strong point, geography...
Phil Bellis
196
Posted 20/05/2013 at 12:39:57
The 68 final; we were fated to lose, I think
I just remember it as a clammy, drizzly London day - disbelief that we lost, with the Trinity, to a team we'd tonked 6-2 in March on their own pitch
If it's any small consolation to Jimmy, Ray Wilson once told me the whole day was strange, the goal was sickeningly weird and the younger players were a "a bit overawed", adding that we'd have won 9 times out of ten but the whole team "never got going"
He said it was a bitter disappointment and he'd gladly have given up the 66 win (where "we couldn't really complain at 2 - 0 down") for winning this one
Ray Roche
231
Posted 20/05/2013 at 14:25:55
Kev, Sandy Brown was a great servant to us...I mean servant to EFC, I don't live in Downton Abbey...and the Mirror (I think) had a competition to find the player with the hardest shot in football, Lorimer won I but I think Brown was second. Underrated player, played in almost every position for us. He looked a bugger as The Toffee Lady, though.True about the state of the pitches, if you ever see the re-runs of The Big Match on ITV that is one thing that stands out, apart from the absence of Johnny Foreigner and his acting/diving, is just how bad the pitches are.
Don't talk to me about geography. My better half said she wanted to go to Argos. I thought it was an island off Crete.
Kev Johnson
237
Posted 20/05/2013 at 14:40:49
I must admit, Ray, I was only a nipper at the time and my main memory of him was scoring that disastrous diving header in the derby. Fortunately/unfortunately, it's nowhere to be seen on YouTube. I knew he could play full back, centre back or midfield so he made a perfect sub in the days where there was only one sub.
In the unlikely event that the FA decides to turn back the clock on that one, who would make a good number 12 in the current squad? Heitinga, I suppose. Or Neville (RIP). Don't fancy Shane Duffy in midfield - although he could probably do a job as striker. He'd probably do better than Jelavic on current form...
Ray Roche
351
Posted 20/05/2013 at 16:50:41
Kev, Sandy also played as an emergency centre forward, before they became strikers, something that evokes memories of Red Robbo and British Leyland, for people of a certain age, but it's sad that he's remembered for THAT goal, which I think was a finalist in the Goal Of The Season award, much to the delight of the RS. As for a utility player in this day and age, despite Moyes penchant for multi-tasking players, I struggle to name one who could play anywhere across the back and also up front and not disgrace himself. Probably Fellaini at a push, but I'd hate to see him as a full back.
Watch and weep.
http://cricketsoccer.com/wrong-end-ye-muppet-a-collection-of-own-goals/
Paul Ferry
352
Posted 20/05/2013 at 17:11:26
Ha Eugene you were right, needless to say!
Holy shit what a pic, what a barnet!
Those Chelsea boys were real swinging Kings Road flashy types.
Alan McGuffog
358
Posted 20/05/2013 at 17:06:07
Sandy never received the kudos from us that he probably deserved. It is an indication of just how superb our first team was in those days that he usually only played to cover injuries. Today we would be raving over him. In the 1969-70 season he was the equivalent of Harper or Richardson in the mid 1980's sides.
He was superb in the latter stages of the championship season playing left back ( covering for the injured Keith Newton ? )
It's a shame that he should be remembered for that friggin' o.g. And ironic that it should have been on a televised MotD.....given that the blessed Harry would not have TV cameras in the place during much of the 1960's. Why was that by the way.
A bloody good footballer.
Ray Roche
374
Posted 20/05/2013 at 17:47:14
Alan, didn't Catterick take offence to remarks made by someone at the BBC and ban the cameras from Goodison for a while? Of course, he couldn't do anything about away matches but we certainly didn't get the coverage we deserved.
Rob Sawyer
019
Posted 21/05/2013 at 21:30:12
Thanks for the comments. Harry disliked the TV cameras as he felt that Everton would have been on very often (as a top team) and that it would have enabled other teams' managers to rumble our tactics.
Chris Hockenhull
021
Posted 21/05/2013 at 21:42:06
Let it be known all....Sandy did rifle one in at the right end against the shite too! And he subbed in goal once I think off the top of my head? Confirm anyone?
Ray Roche
037
Posted 21/05/2013 at 22:26:20
Chris, this is taken from Wikipedia
" In fact he played in every position during his Everton career, including goalkeeper against Newcastle United, after Gordon West was sent off. "
Add Your Comments
In order to post a comment, you need to be logged in as a registered user of the site.
Or Sign up as a ToffeeWeb Member — it's free, takes just a few minutes and will allow you to post your comments on articles and Talking Points submissions across the site.
© ToffeeWeb