Jimmy Harris – The Man From Across the Mersey
By Rob Sawyer

27/06/2014

Comments (9)
jump

Rob Sawyer (EFC Heritage Society) in conversation with Jimmy Harris
Jimmy Harris was a ray of sunshine in a gloomy era for Everton. Bursting onto the first team scene as a 21-year-old in 1955, he notched 21 goals in his breakthrough season. He was a player ahead of his time who would have prospered in today's turbocharged game. In an epoch of battering-ram Number 9s, Jimmy was different - a fast, mobile all-round forward who could play across the front line. Such was his impact that he was hailed as the "The discovery of 1955"by Don Kendall in the Evening Express.
He came to Everton's attention having scored 61 goals in a season for Bebington Hawks and dreamed of following in Dixie Dean's footsteps from the Wirral to Goodison Park. Jimmy would go on score 72 goals in 207 Everton first team appearances; he would have grabbed more were it not for hamstring woes and redeployment as an outside-right. Having played under three Everton managers he moved on in late 1960, as John Moores's funding brought about wholesale changes to the team. His playing career subsequently took in stints at Birmingham City and Oldham Athletic. Like Dean, he went on to have a late-career cameo in Ireland.
Perhaps Jimmy is best remembered on Merseyside for a hat-trick, the only one of his Everton career, at White Hart Lane in October 1958. Sadly, the match is etched in the Blues' consciousness for the record 10 goals conceded (final score: Tottenham Hotspur 10-4 Everton).
Now retired and living in Prenton, Jimmy was engaging and frank company when looking back at his life in football:
"I grew up on Temple Road in Prenton. You could see Tranmere's ground about 400 yards away but my Dad used to take me to Everton. I was Captain of Birkenhead Schoolboys and then I played for Cheshire County Schoolboys. At school, I started as a left-half but, as I got a better shot and got faster, I was altered to inside-right. I'd play for Birkenhead Boys in the morning at left-half and then for Bebington Hawks in the afternoon at inside-right.
"I was about 15 when I had a trial with Everton as my Aunt Elsie had put a word in. She had had a grocer's shop and one of the Everton directors, Norman Coffey, had a firm which supplied small shops like hers - he must have called in the shop and they got talking.
"I worked my way up through the B and A team; players like Brian Harris, Derek Temple and Eddie Thomas were all working their way up too. I always played at inside-forward until one day they were short of a centre-forward in the A team at Skem - a top team. We beat them, I scored four so I kept my place as a centre-forward.
"When I was 18, I had to do national service with the army in Germany - Everton never saw me for two years. When I returned, I had 12 months to finish my apprenticeship in a Birkenhead printers, so I didn't get to Everton until I was 21. Everton wanted me full-time before that, and I wanted to go on the ground-staff. But my Dad, who was an engineer at Cammell Laird, wouldn't let me do it - he made me have a trade. I was travelling from Birkenhead to Bellefield two nights a week, Tuesday and Thursday. I was leaving home at 7:30 am and not getting back until 9:30 pm - long days. We didn't see the first teamers as we were playing on Saturday afternoons.
Jimmy Harris scores in the infamous 10-4 defeat to Spurs in October 1958
"Everton had lost a ton of games towards the end of the 1954-55 season. The start of the following season, they had lost two and I was showing signs that I could do it. My call-up came as a bit of a shock as Dave Hickson was the "bees-knees"- although I thought he had no pace and was all bustle. He used to flare up, after he had dished it out at home they were all waiting for him away from Goodison.
"I was a different type of player to Dave. I was quick, 5 ft 10½ in, just under 12 st, good with both feet and not bad in the air. I didn't get involved in as much trouble as Dave did. I took his place and made my debut at Burnley. I got brought down for a penalty - and we won 1-0. In the next game, we played West Brom at home, I scored early and we won 2-0.
"I played up front with John Willie Parker and there was Eddie Wainwright, Nobby Fielding, Tommy Eglington, Cyril Lello, Eric Moore, Jimmy Tansey and Jimmy O'Neill was in goal. This was largely the team that had come up from the Second Division and they were on the wane - how Cliff Britton never changed it I don't know. Brian Harris and I made our debuts on the same day - we were the first young ones to break-through in two or three years.
"Britton was very strict, he kept the directors in place and that's why they eventually ganged up and got rid of him. I had gone to play for England Under 23's at Sheffield and was then due to play for Everton against Manchester City the following Saturday. They sacked him whilst I was at Sheffield so I didn't know anything about it; when I got to Buxton, where Everton were having special training, all the lads had the Liverpool Echo out. When I asked them why they said "Britton's been sacked!"
"Buchan didn't have a clue, poor fellow - he was a PTI (physical training instructor) and didn't understand football. He had a guy with him called Harry Wright, an ex-army sergeant from Aldershot, doing the training - a big bully. Harry was the dead-image of Clark Gable with a moustache, grey-black hair and big with size ten feet which stood out - he couldn't kick or anything. We had weights in the gym and Jimmy Tansey said, "We are fucking awful on a Saturday but you want to see us in the gym!"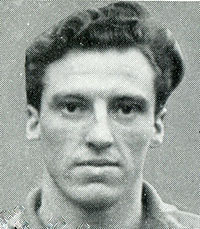 "In my first season, everything went well for me but early the next season I pulled a hamstring but stayed on for about 60 minutes. I never played much again that season - it absolutely destroyed me. I remember lying on the couch every afternoon, month after month, waiting for my hamstring to get better. The club didn't have the know-how and I didn't either; Harry Cooke, the physio, would give me a rub with a greasy rag.
"George Kirby came into my place in the team, then Dave Hickson came back again so I moved to the right wing and made a new career for myself as a "raging winger". They just put me there. I guess they knew that I had the speed, although I wasn't quick as I was before the hamstring injury, and could score goals. I was more of a raider than a crosser - a bit like Kanchelskis was.
"We were playing Manchester United in the cup just after Christmas and they wanted me to play but I told them that I wasn't fit. I went into a hospital in Liverpool, had an injection and stayed in for two days. I had a trial on the Friday, told them I wasn't fit and then found myself on the pitch at Old Trafford on the Saturday afternoon! The hamstring went after about 5 minutes, I was just stood there I had the best view of the match in the ground. We lost 1-0 to a penalty by Duncan Edwards. I passed two directors after the match and overheard one of them say, "He didn't do much today did he?"
"Once we got beat 8-2 at Newcastle - when we left, it was a nice sunny day in Liverpool... but it was heavy frost in the North East. The pitch was as hard as concrete. We said to Harry Wright, the trainer, we'll play in rubbers - and he said, "I haven't brought them."So we pulled the studs out of the boots and wrapped thick tape around them. Afterwards not a word was said to anybody! *
"Right wing wasn't my best position but I could do it easily enough - I did the job but I lost a bit of interest. When Dave went to Liverpool I moved back to centre-forward with Mickey Lill coming in on the wing.
"The fellow who made the difference, when he came, was Bobby Collins. He got us back on the rail. We had to smarten-up and be more professional to play with him. Brian, Derek and I weren't keen on Johnny Carey. He wanted to take me to Blackburn Rovers when he was there. I met him but told him I only wanted to play for big city clubs - then guess who became manager at Everton four weeks later?!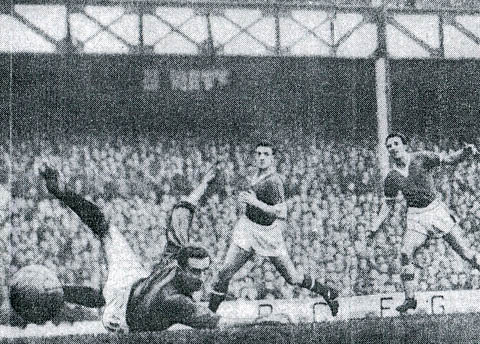 Harris scores past Harry Gregg of Manchester United, 18 October, 1958
"John Moores got the cheque book out and gave it to Carey. When the stars started coming in I found it hard to play with Roy Vernon, he was a bit selfish whereas I never really played for myself - we were brought up as team players. Roy played off me, I'd move and he'd go up the middle as I had the speed to get around and pull everybody out.
"Carey then brought Alex Young in but I stayed for a couple of weeks as he was injured. I was playing outside-left for a couple of games before I left; we'd beaten Sheffield Wednesday 4-2 and after the game Johnny said to me, "You want to play for a big city club... meet Birmingham City at the Adelphi at 8 o'clock."So I met Gil Merrick - I was glad to move as I wanted to play centre-forward and at Everton they didn't encourage you - you just turned up, played and went away.
"Birmingham was a good club with a good team - with Mick Hellawell on the right wing, Jimmy Bloomfeld from Arsenal, Ken Leek from Newcastle, Bertie Auld from Celtic and Trevor Smith. The trouble was we had no full-backs - we had to score three to get a draw! We won the League Cup in 1963 which I played a big part in. We got to the final of the 1961 Inter City Fairs Cup. We had played Inter Milan in the semi-final and I scored three goals over the two legs - we beat them over there, 2-1, and 2-1 at home. In the final we drew 2-2 at home to Roma and got beaten 2-0 in Rome.*
"They were hard - they were shouting "English Bastards!"When we were walking out for the final in Rome, they stopped and we kept walking. The fans had these cups filled with sand, they threw them on top of the netting and it came down on us - in our hair and down our backs. They were cynical, they knew how to dish it out but we could dish it out too - we were quite a physical team.
"I had four seasons at Birmingham but, at the back end of my last season, I had knee trouble and didn't play much. I'd fallen out with manager Gil Merrick a bit but he asked me if I would play two games at Easter as he was desperate. I played and scored at Villa and also had a good game on the next day. We then had a game at Forest but I had the flu - when I got up from bed, there was a letter for me saying "not retained".
"Les McDowall, who had been manager of Manchester City in the 1950s, came to see me and I signed for Oldham. I could have gone to Tranmere but I didn't want to go local - I knew I wasn't the player I had been and didn't want people on Merseyside to see me at my worst. I was near the end then. I had cartilage trouble - I'd had it out when I was at Birmingham. It was the worst operation I ever had, the pain was unbelievable.
"I stayed in digs in Oldham as I didn't marry until I had finished as a player. I was there for two years but only played about 40 games. I had an achilles injury there and no-one knew what an achilles was in those days - they tried to tell me to run it off! I never played for two months and then went in plaster and that was more or less the end of me. I went over to Ireland for a few months with St Patrick's Athletic - I might have been the only protestant to play for them. I was reasonably fit and scored a few goals but by Christmas they ran out of money and that was that. So I came back and started looking for a job.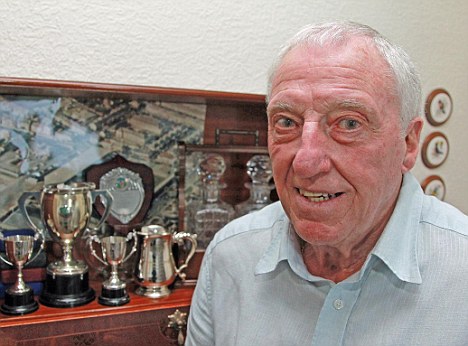 Jimmy Harris at home in Prenton
"I got a job as a scheduler at Vauxhall until I retired about 20 years ago. I was also player manager of Ellesmere Port in the Cheshire County League for a year and briefly coached the youth team on a part time basis at Tranmere with Johnny King - who had played with me at Everton. I settled down, married Joan, a former Miss England from Wallasey, and had two boys.
"I didn't watch Everton much - I used to play at lot of golf at Prenton Golf Club - our house backed onto it. Now I go to Goodison all the time thanks to the Former Players Foundation. My sons are both Evertonians, they didn't follow me into football but they go to Goodison now and again. My grandson, Robert, is a season ticket holder in Bullens Road. The current players don't do the work that we used to - but the layout of the team has changed. The back-four did not come in until the sixties. English teams were always getting beaten in Europe so we had to follow with the flat back four. Now the two attackers have got no chance against four defenders. I guess I'd be okay in the modern game; I would probably play right-midfield."
*Author's Note: Jimmy recalls that the boot debacle precipitated an 8-2 defeat. However, the Everton Board minutes of 6 January 1959, three days after a 4-0 defeat at Newcastle, record that Johnny Carey accepted full responsibility for the players not having rubber-soled boots. He undertook to ensure that players were, henceforth, correctly shod for the ground conditions. Everton returned to St James' Park in November 1959, presumably with the correct footwear. They lost 8-2.
* Jimmy "scored" twice at the San Siro but one is officially classed as an own-goal. Costanzo Balleri, the Inter defender, diverted Jimmy's goal-bound shot into the roof of the net.

Follow @EvertonHeritage
---
Reader Comments (9)
Note: the following content is not moderated or vetted by the site owners at the time of submission. Comments are the responsibility of the poster. Disclaimer
Ray Atherton
1
Posted 28/06/2014 at 17:24:25
Good memories there, Rob. Jimmy Harris was a hero of mine, watching him from 1956-57 until he left us. In the 1964 season, after we won 4-0 at Anfield, we played Birmingham City at St Andrews and won 5-2.
After the game, we spoke to Jimmy and asked him would he like to come back to Goodison; he said that he loved the blues.
That 8-2 beating at Newcastle, that day I was at Anfield watching another idol making his debut. The dashing Dave Hickson scoring two goals for them against the Villa.
Eugene Kearney
2
Posted 28/06/2014 at 18:13:39
Interesting article - especially as this week I received a present of the Daily Mirror of the day I was born - 11 January 1960.....and as that day was a Monday, I went straight to look for how Everton had done a couple of days earlier.
Not so good. It mustn't have been a good period for EFC (late-50s/early-60s... waiting for the 62-63 season). Here's the little report from the Daily Mirror of 11 January 1960:
CRASH – BOBBY IS SO ANGRY By Ben Wright

Everton's 3-0 FA Cup drubbing by little Bradford City may be followed by a sensational transfer request from their £25,000 Scottish star Bobby Collins. Angry Bobby told me after their third round defeat: "This performance was a disgrace to a great club. Too many of the fellows are not playing hard enough. Why haven't we won away this season? Most of the team are only interested in what they are going to do when they return home. They can't get back quickly enough."

A transfer request from Collins would shatter Everton fans, whose loyalty has already been shaken by the club's failure to sign new stars.
Strange days indeed. I will have to investigate this period a little further as these articles have tickled my curiosity.... something good must've happened soon after for EFC to turn this around in a couple of years!!!! Time to read up a bit more on my Everton history. I became an Everton supporter at 9 years old in the Catterick days!!!!!
Peter Murray
3
Posted 29/06/2014 at 08:50:41
I was 10 or 11 years old when I watched Jimmy Harris play and that ex "Second Division" team were the first heroes of my mates and myself!
Jimmy never got the recognition he deserved simply because he was a local lad. Same for his namesake, Brian.
Rick Tarleton
4
Posted 29/06/2014 at 09:24:18
He was a very good player in an era when we had very few. Jimmy had pace, a good shot and worked hard. Versatile and intelligent, he'd have been worth a lot of money these days.
Good to hear of him, one of three Harrises we had then: Brian, of course, originally a left winger and the goalkeeper Albert whom I remember playing in a white top which was very flash for the 1950s when goalies all wore green.

Steve Murray
5
Posted 02/07/2014 at 16:44:46
Nice article. One minor correction though. It's Bebington Hawks not Bebbington Hawks.
John Boon
6
Posted 02/07/2014 at 17:07:24
I was a really big fan of Jimmy Harris. However the thing I remember most was going to New Brighton baths with Alan Clare another fanatical Evertonian. There was Jimmy sunning himself like a Greek god. We didn't think it would be a good idea to ask him for his autograph, but by the end of the day I had told at least a hundred friends that me and Alan had been with Jimmy Harris at the baths. He was the fastest centre forward I had ever seen.
Tom Bowers
7
Posted 02/07/2014 at 17:32:38
Jimmy came from a different era as I did. Things were so much different then. The players played with their hearts for peanuts most of them unlike today's overpaid prima donnas. They were the days when a player scored and shook hands with his teammates trotting back to the middle. Nowadays, it's all screaming and dancing even when it's a penalty scored.
Jimmy had some speed but Dashing Dave had all the fight and made space for others around the box. The Carey-Collins era turned the corner for Everton and sorry, Jimmy, but Vernon was just terrific.
Norman Merrill
8
Posted 03/07/2014 at 12:35:53
Having watched EFC since the early 50s, I have great memories of Jimmy Harris. He scored some great goals for the Blues, and was at times a un-sung hero for Everton.
Great article, about a great servant.
---
Add Your Comments
In order to post a comment, you need to be logged in as a registered user of the site.
Or Sign up as a ToffeeWeb Member — it's free, takes just a few minutes and will allow you to post your comments on articles and Talking Points submissions across the site.
© ToffeeWeb