Arsenal picked apart by magnificent Everton
Everton 3 - 0 Arsenal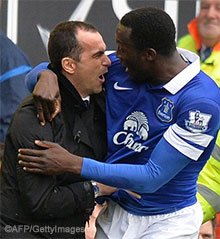 Everton delivered an emphatic statement of intent to the team that currently stands between them and a first crack at Champions League football in nine years with a stunning win over Arsenal at Goodison Park.
The importance of the occasion, framed by the four-point gap between the two teams before kick-off and the Blues' vital game in hand, demanded a massive performance and Roberto Martinez's men, who have been growing in stature over a winning streak that they have now stretched to six matches, answered the call.
Everton's appetite for a priceless win was evident from the off and Leon Osman came within a whisker of marking what would prove to be a brief cameo with a spectacular goal in only the second minute but his half-volley dipped inches wide of the far post.
The veteran midfielder's afternoon would last another five minutes, though, as he suffered an apparent gash to the head executing a very late tackle on Bacary Sagna and was withdrawn in favour of Ross Barkley.
And the addition of Barkley's raw power and drive added another layer to what would become an irresistable Everton display, sparked into full life by the opening goal after 14 minutes.
Leighton Baines picked Romelu Lukaku out with a slide-rule pass behind the Gunners' defence and though Wojciech Szczesny saved the Belgian's shot with his foot, the rebound fell invitingly to Steven Naismith to tuck the ball inside the post.
Olivier Giroud went close for Arsenal at the other end but couldn't nudge Sagna's whipped cross inside Tim Howard's far post while Szczesny made a smart one-handed save to deny Kevin Mirallas' low shot.
It was Mirallas, though, who served up the second goal in the 34th minute with another superb forward pass to his compatriot Lukaku wide on Everton's right. Lukaku drove towards the penalty area, cut inside the nearest red jersey and lashed past the 'keeper to make it 2-0 and put Martinez's side firmly in the driving seat.
Arsenal tried to reduce the deficit before half time with their best spell of the first 45 minutes but Howard fisted Santi Cazorla's cross away from danger and then pushed Lukas Podolski's powerful shot over the crossbar.
Everton started the second half in less commanding fashion than they had the first but they were largely keeping the visitors at arms length and as the game ticked into the final half hour, they caught Arsenal cold for a third time.
Mirallas robbed Sagna of the ball inside his own half and raced into Arsenal territory before releasing Naismith. Szczesny again came through with a good save as the Scot tried to round him in the penalty area but Mirallas had continued a determined run to meet the loose ball with Mikel Arteta, forcing the ex-Everton midfielder to prod it into his own net.
Barkley later forced a save from the goalkeeper after being played in by Lukaku and substitute Alex Oxlade-Chamberlain hammered a shot off Howard's crossbar at the other end but the Blues comfortably saw out the remainder of the contest to record their biggest win over Arsenal for 25 years.
The win puts Everton a point behind Arsene Wenger's men with six games to play — five for Arsenal, though they have a much more favourable run-in — and wipes out their goal difference advantage, putting a top-four finish in the Blues' hands if they can take it.
Full coverage: ToffeeWeb Match Reports
Reader Comments
Note: the following content is not moderated or vetted by the site owners at the time of submission. Comments are the responsibility of the poster. Disclaimer
Graham Mockford
442
Posted 06/04/2014 at 18:10:10
Sky gave MOTM to Naismith. I only saw the second half, I arrived in Frankfurt to find the lounge closed. Ended up in the Lufthansa employee canteen thanks to a very accommodating stewardess and got wifi. Coleman was immense in the second half, how good a full back has he become!
Six games left, it's still going to be hard to get 4th but I think another 12 points does it.
Raymond Fox
445
Posted 06/04/2014 at 18:12:51
All hail Senor Martinez.
BK needs give Roberto a new & improved contract pronto.
Make him an offer he cant refuse.
Also they need to parley & decide how much RM can be given to strengthen the team for next year.
More especially important if we do finish in a CL position, which although we have some tough games to play yet, I believe with the form we are displaying right now we could win them all & qualify no sweat!
Cant wait for the Utd game.
Brent Stephens
446
Posted 06/04/2014 at 18:21:30
Arsene Wenger, David Dein, Mikel Arteta, Alan Smith, David O'Leary, Harry Enfield, Her Majesty the Queen, your boys took one hell of a beating! (Sorry madge).
PHENOMENAL - we can now start to use that word without cringing.
Moyes signed Nais. Roberto made him a player again.
Colin Metcalfe
447
Posted 06/04/2014 at 18:24:50
I said last week that Arsenal were there for the taking ! Not just draw or scape a win but win handsomely !
Watched the game here in Phonenix Az ( work ! ) shouting at the top of my voice in my hotel room !! Fucking Brilliant !!
Back to Liverpool on Wednesday for a belated celebration with a few of the lads !!
Tahir Abdullah
448
Posted 06/04/2014 at 18:24:57
Barkley's most mature performance season to date; especially in light of Ossie's enforced early departure. Kudos also to Kev for great team ethic shown today. Lastly that Lukaku strike was awesome; hope we find the funds to get him transferred to EFC in the summer.
Mike Hughes
449
Posted 06/04/2014 at 18:20:38
As I stated on here yesterday, Naismith epitomises our work ethic and the positivity of Roberto Martinez. That was the difference today - Everton, as a team, wanted it more. Arsenal were torn apart. I hope Arsenal simply collapse for the rest of the season as we do have a tough run in.
I couldn't get to the match for all number of reasons so listened on the radio. I have to say that Stan Collymore now joins Ronnie Goodlass as one of only two football commentators who don't irritate the crap out of me (Jimmy Case being top of that list). Despite being ex-rs, Collymore is actually pretty straight and does not appear to be up the "big 4"'s arse. He called Arteta a "snide" at one point for the elbow on Arteta and was waxing lyrical about us throughout the match.
A pity about our blip a few weeks ago because we're not that far off challenging for the title never mind top 4.
Onwards and upwards, Blues.
(West Ham bent over at their place today but, despite that, nothing can spoil the Mighty Incredible Phenomenal Blues' evening. Not even the sight of the obnoxious Gerrard's face on the BBC website which instantly puts my blood pressure up. (How many refs do they bribe / con to get so many penalties?))
Mike Hughes
450
Posted 06/04/2014 at 18:36:06
Mike #449
Brilliant post, mate, (as usual) but I think you mean Arteta's elbow on Barkley.

Vinny Garstrokes
451
Posted 06/04/2014 at 18:36:07
It is a nice dilemna to have for Roberto but I think Jags is going to struggle to get his place back!
Martin Mason
452
Posted 06/04/2014 at 18:28:06
A truly magnificent performance by Everton of the like I haven't seen for decades. All had very good games and I don't begrudge Naismith his MotM award; his movement and non-stop effort puts him right in the top drawer but I'd like to give a big up to Tim Howard who is almost faultless between the posts and also Stones, Coleman and Lukaku.
The tragic thing though is that the better Lukaku plays the more his value goes up and the harder it is to keep him. The real issue for Everton now though is how to keep Barry and Lukaku who are essential for us for next season.
A big up to the board and even Kim Jong Bill who have been essential pieces in the jigsaw that has seen us reach heights that would have seen unimaginable last year.
The other question is: Can we keep Martinez? He must have put himself right in the market for any big job that comes along.
Kieran Riding
453
Posted 06/04/2014 at 18:42:11
The photo on the home page for Lyndon's article...
Who's the cool lad casually supping a bottle of water ??
Patrick Murphy
454
Posted 06/04/2014 at 18:32:39
Well what a wonderful performance - I'm glad that Roberto took my words of advice and kept their back-four fully occupied - alright so he probably doesn't read TW but at least he had the good sense not to play into Arsenal's hands. In fact I was surprised that Arsenal so easily fell into the trap laid for them.
We all wanted a win today but few of us expected such an emphatic score-line or top drawer team performance and the only very minor criticism is that we stopped going for their throats to aid our Goal Difference even more but that is only a little moan.
I am struggling to remember the last time we made a good side like Arsenal look ordinary. Yes we have gotten our gutsy wins against those sorts of teams in the past but this was a ruthless, measured and confident display in which every single player played their part.
Oh how I wish there were only a couple of games to go. Six matches is still a long and gruelling number of games at this stage of the season, especially with the two Manchester sides to visit the old lady, but if Everton want that fourth spot they are going to have to replicate the attitude of today and be as ruthless going forward as they were in the first-half.
But we would all have settled for being in the race at this stage of the season and now it's up to us as supporters to get right behind the lads in these next six fixtures which could have positive ramifications for the next few years.
COYB Keep it up boys.

Paul Mackie
459
Posted 06/04/2014 at 18:52:52
I said last week that Arsenal are a team of bottlers and they proved that today. I don't mean to take anything away from the way we played as we were magnificent, but Arsenal didn't want it enough today.
Hopefully this will only increase their nosedive in form. Massive psychological boost for us.
Let's not cock it up against the easier teams in our run in and then hammer the Manchester clubs when they visit. I don't think we'll need to win every game to get 4th as Arsenal will drop points.
David Hallwood
460
Posted 06/04/2014 at 18:51:56
Special mention for Naismith; his intelligence and running in between the lines was a joy, and his movement for his goal showed a striker's instinct. Having been at GP to witness some hidings by the gooners and to completely outplay them ranks with any performance of the PL era.
Brent Stephens
461
Posted 06/04/2014 at 18:57:17
Paul Ferry's (Phil Walling's) "Smash and Grab..." article seems to have no box for comments. Very clever on several levels!
Brian Wilkinson
467
Posted 06/04/2014 at 19:22:03
Naismith was deservedly motm, he even got Lukaku chasing everywhere as well, you see the difference in Lukaku when Naismith is on the pitch.
Great performance today, one game at a time but on that performance, Everton should fear no one in the remaining games.
Lee Gray
468
Posted 06/04/2014 at 19:26:39
Still think we miss Phil Neville though!......

Phil Sammon
470
Posted 06/04/2014 at 19:13:01
It's been a long time since I enjoyed a game of football quite that much. Even before kick off the fans were right at it. The Gooners piped up with a song and were instantly drowned out by the Blue Army. That set the tone for me, and didn't the team respond?!
It's so hard to pick out players when the team performs that well, but Coleman was sensational. His 30 yard run doing kick-ups. His drag back and nutmeg down the line. That boy is some player!
Stones and Distin. Sometimes it's hard to tell who is the teenager and who is approaching 40. Stones with his incredible maturity and Distin still at his physical peak.
McCarthy and Barry. These two are perfect for one another. McCarthy is so driven. Him, Coleman and Baines must be right up there in terms of ground covered. They are non-stop. Barry is just class. So much time on the ball, even with an opponent up his arse.
Barkley. That is what we want to see from him! Driving at players but giving it easy when he has to. His decision making was spot on.
Naismith, Mirallas and Lukaku. All three worked their socks off and were rewarded with their goals/assists. Great to see Naismith in the middle where he looks like a very good player. The lad certainly knows where the goal is.
Why have I left out Baines and Howard? I really don't know. Baines was great - I almost expect it to be honest. Howard made some top saves. He touched the Ox's shot onto the bar, I'm told, which must have been some save because I thought he got nowhere near it!
McGeady came on and looked bright too. How good is it being 3-0 up and bringing on someone like McGeady?!?!? No more Heitinga coming on for a forward and clinging on for dear life.
Folks, I'm in dreamland. I'm knackered and I'm working at 7.00 in the morning...but tonight I'm forcing down a few beers and can't bloody wait to watch it all over again on MOTD.
COYB
James Stewart
473
Posted 06/04/2014 at 19:32:07
Absolute class. Lukaku looks like he only wants to be under RM
Rob Hooton
475
Posted 06/04/2014 at 19:26:04
Me in London, my brother in Bangkok and my dad in Tobago – ecstatic blues across the world! Let's just hope we carry on in this vein till the end of the season. El Bob is a genius!
Shaun Lyon
477
Posted 06/04/2014 at 19:34:57
I write under a severe influence, but really, what a great performance and result. Was at Fulham last week and Naismith was, as we all know, a game-changer. Actually thought he wasn't quite as good today, despite massive effort. How anyone other than Baines could get MOTM is beyond me. Absolutely immense.
Harold Matthews
479
Posted 06/04/2014 at 19:39:52
Thought Barry and McCarthy were terrific. Would feel safer if Jags returned.
Peter Mills
480
Posted 06/04/2014 at 19:44:13
Possibly our best display since we beat Man Utd 5-0 in the autumn of 1984.
Peter Roberts
483
Posted 06/04/2014 at 19:51:06
Been away at a training event all weekend and missed the game. Can't wait for MOTD2 this evening.
It seems we've found our early-to-mid season sparkle again. I think this is due to Martinez's first-choice team all being fit again. Remember Barkley, Coleman, Baines, Deulofeu and Lukaku have all been out at some point with injury between December and February. Now during that period it was evident we were suffering and cruising through games, and it resulted in defeats to Liverpool, Chelsea and Spurs. However, these aren't necessarily bad teams to lose against, particularly as they were all away from home, and we were still picking up points and ticking the scoreboard over in the other games. Now, 6 successive wins on the bounce, coupled with Arsenal's usual "March Madness" has seen us daring to dream again. And given the performances in the last 3 games, I don't think we are overachievers anymore. We deserve to be where we are.
Listening to talkSPORT on the way back, Collymore was waxing lyrical about us in equal measure to how bad Arsenal were, but by the sounds of it, we made them look bad. That is music to my as-of-yet-not-turned-30 ears, having grown up in a period where Arsenal really were our bogey team.
Patrick Murphy
484
Posted 06/04/2014 at 19:54:16
Harold I understand what you mean but the results in his absence speak volumes and to be honest we didn't feel that much safer with Jags in the side. I love Jags to bits but I don't think he can play the new system as well as others and that's a pity because he has been a fantastic servant to the club.

Rob Halligan
485
Posted 06/04/2014 at 19:29:06
Thought our support was magnificent today. The atmosphere was electric. Replicate that volume of noise in the last 3 home games will surely drive the team onto winning the final 3 home games.
Can just imagine OFM saying he wants to get out of Goodison alive!!!
Kieran Riding
486
Posted 06/04/2014 at 20:00:52
https://m.youtube.com/watch?v=qWzTjMHvCiM
Darren Hind
487
Posted 06/04/2014 at 19:40:32
Just logged on, "Oh Yes" ... Dont know which one of you put it up there, but it looks fantastic.
Great day to be at the old lady, Great day for Evertonians everywhere. Some superb performances out there today: Stones Majestic, Baines oozing class, Barkley looking like the player we all hoped he would be, Seamus was McGrainesque. Martinez tactically perfect...
But Steven Naismith?!? Who knew? Two months ago I wouldn't have cared if he never got another game. but look at him now! Tireless, composed in front of goal, selfless and most important of all, intelligent. Naismith may not be the most technically gifted player on the books, but his movement off the ball and the positions he is taking up have been absolutely top draw recently. What a bonus he has been.
Jamie Barlow
488
Posted 06/04/2014 at 20:05:10
"In the 63rd minute, the Republic of Ireland defender, a £60,000 signing from Sligo Rovers, sprinted up the field performing keep-ups for at least 30 yards of the journey. Goodison reverberated to the sound of 'Olé'. "
Plenty of brilliant moments in a fantastic game, but this was my best moment. Seamus Coleman, take a bow.
Proud Blue.
Paul Gladwell
490
Posted 06/04/2014 at 20:05:23
Peter, I have been saying similar all afternoon. I'm a little drunk now but that was something else today; no battling 1-0 victory — it could have been more... imagine if we had won the likes of Sunderland at home!
I have to say a big difference in our play is Stones. As much as I love Jags, him and Distin looked very uncomfortable at times with our passing out from the back whereas this kid is running the show. It's frightening; that Olé spell half way through the second half was as good as anything..
"Be careful what we wish for"... eh? Hiccup.
Jamie Barlow
491
Posted 06/04/2014 at 20:10:09
I also agree with Darren and anyone else who's mentioned it. The "Oh YES!" headline looks great.
Kunal Desai
492
Posted 06/04/2014 at 20:10:12
12 goals in the last 4 matches and the goals are coming from all over the park, we are not having to rely on one player. Lukaku - 3, Barkley - 2, Naismith - 2, Mirallas, Baines and Osman 1 a piece and 2 OG's (Major involvement in both goals by Naismith and Mirallas)
Paul Andrews
493
Posted 06/04/2014 at 20:12:01
An absolute privilege to watch an Everton team perform in that manner.
A touch of arrogance at times which for me will demoralise Arsenal in the race for 4th.

Tactical genius to play Lukaku wide right.

Absolutely monstered the left back.
His celebration suggests he is running to Roberto saying you told me that would happen.
John Crawley
494
Posted 06/04/2014 at 20:15:22
A class performance, recalling the halcyon days of the 80's. Martinez was tactically superb and Naismith as a false no 9, Wenger didn't have a clue and neither did his centre halves!
If Lukaku wants to go to Spurs I'll eat my hat. Get ready to give Martinez a new contract in the summer Bill, this guy could build a dynasty here.
Tommy Coleman
495
Posted 06/04/2014 at 20:13:45
Wow!... another Wow. As someone else said, it's like Everton putting teams to the sword like we did in the 80s.
And do you know what, I felt we had another gear to go up to if we needed to.

This is title winning form. Maybe the title wont come this year but we'll be definitely challenging for it in 12 months time.
COYB!!!

Mike Gaynes
498
Posted 06/04/2014 at 20:24:40
Magnificent.
There are six, maybe seven players whose names could realistically be run up the pole for MOTM... which speaks to a superbly prepared team with a brilliant winner's attitude.
So I'm going out of the box... my MOTM is Roberto Martinez.
How could this side have been more exquisitely set up, more focused, more confident than this one? Just as they were at Old Trafford when Oviedo won it, this was a team that took the pitch absolutely convinced of victory. It was clear all over the park? Early misses? No problem. Early injury? Forge right through it.
That's the mark of a brilliant manager who has changed not only the mindset but the culture of this team. That's Roberto.
Special mention also to Seamus, who gave us all that wonderful moment when he was seemingly boxed in by Cazorla... and with two lightning backheels and two quick steps, he left Cazorla standing alone with arms outstretched and palms up in absolute bewilderment.
Spectacular.
Anthony Burke
499
Posted 06/04/2014 at 20:21:00
In my opinion, four more wins will do it as I see another slip up or two to come from the Arse... I'm starting to believe now! COYB!!!!!!
Sean Picton
500
Posted 06/04/2014 at 20:29:19
Big Rom wants to play for RM I think. He clearly likes him and seems to be falling in love with Everton. If we get CL he will stay unless a HUGE club want him. Spurs will spiral after wasting the Bale money.
Howard Meakin
501
Posted 06/04/2014 at 20:21:58
Missed the game due to having to take the wife and daughter to Scarborough ( very nice place by the way ), anyway I spent part of the day glued to my daughter's iPhone checking out BBC football text and at two-nil up, I was in dreamland.
We went into a shopping center and I went looking for the loo of which I couldn't find but to my joy of joys I did find the holy grail, a Sky salesman who supports Everton actually watching the game — absolutely brilliant. He became my best friend for the next 20 minutes. What a win so proud to be a Blue.
Phil Rodgers
502
Posted 06/04/2014 at 20:35:51
I'm 31 and I haven't seen a better performance than that today
Tony Cawson
503
Posted 06/04/2014 at 20:26:06
Greatest display since the mid 80s without a doubt. Greatest player to wear the shirt since those days: Leighton Baines.
Honoured to be in my seat today, Whatever happens up until May, it's days like these we'll never forget.

Mike Green
506
Posted 06/04/2014 at 20:35:23
Phil Sammon #470 - 'How good is it being 3-0 up and bringing on someone like McGeady?!?!? No more Heitinga coming on for a forward and clinging on for dear life.'
Amen - that's it in a nutshell for me, this is where we want to be.
Steven Telford
507
Posted 06/04/2014 at 20:18:17
I had to miss this one because of work, but am drooling at the mouth to see the replay.
Ha! — that badge-kissing wanker scored an OG, did the crowd give him any touch of hostility? I hope so. will find out in about an hour.
4th place is s till a long shot........... but Cheers to you Roberto, you and the guys give it your best.
Brent #446 LOL I'm going to play that clip from YouTube.
Henrik Lyngsie
508
Posted 06/04/2014 at 20:46:08
Jan Molby commentating the match on Danish télévision. He was full of praise for our performance today, for our club and for our fans. What a day.
Dan Brierley
509
Posted 06/04/2014 at 20:39:12
Absolutely fantastic performance, capped with some stunning goals. Thats 3 games on the bounce now (except a poor 45 mins against Fulham) where the result has mirrored the overall performance. Again, we were getting forward in numbers, giving passing options. I thought Naismith was outstanding, putting in clever runs that pulled their defence out of shape.
Its in our hands, we have the momentum to finish 4th. Our earlier season nightmares are coming back to haunt us in some ways as we should be comfortably out of sight by now, but our current form and attitude tells me that this could turn out to be a very special season indeed. Fair play RM, you have put a faltering season right back on course. Looking forward to see if we can make some big steps forward off the pitch in the summer.
Derek Williams
511
Posted 06/04/2014 at 21:04:20
We've a much tougher run-in than the Arse. I'd almost rather be playing Man Utd at Old Trafford given the discrepancy in their home vs away record this year.
Great to see the togetherness of the players and the affinity with Roberto.
Paul Smith
512
Posted 06/04/2014 at 20:55:30
Excellent performance from the manager to the last sub. Everton showed what we can be capable of today and put ourselves in with a great chance of Champions League football.
First of all, we could argue the game could have been different if Osman never got injured but, from that moment Barkley entered the pitch, the Blues took over and Barkley alongside Barry was a massive part in us grabbing the 3 points. All players were MotM contenders but the way Barry and Barkley showed composure almost every time they touched the ball was just a joy to watch.
Arsenal knew they had more to think about with Barkley's energy and skill in tight areas and it showed in Flamini's game as he started to make rash tackles while Barry and McCarthy started to stifle Carzorla and Rosicky. The manager's tactic to keep Lukaku on the right was a smart move which paid in great results in the first half and seeing Naismith yet again look much more comfortable in his favoured role gave Arsenal a lot to think about.
Today, I felt an extra smug happy supporter as I have stressed for a while that Barkley should play deeper and today he showed he can match and outshine top players. Naismith also, disgracefully made a scapegoat for a long time when played out of position... and now look at the lad. He's a clever player and credit to Martinez for letting the lad play his game.
Onwards and upwards, Blues – we can beat anyone on our day and I trust Roberto very highly to bring us more results like that one today. Fantastic day.
Richard Farrington
513
Posted 06/04/2014 at 20:59:37
Wow! Wow! Wow! Just got back to Essex from the game. Fantastic stuff and really made up for all Evertonians, a long time since we have been so proud of our team, especially for my 16-year-old son who has some scores to settle with several "Gooner" mates and has not had much to shout about like all young blues.
He said on the long drive back that today was the first time since he started watching in 2002 that it was the first really big game he had watched that we hadn't choked or bottled it. That we agreed is the Bobby affect, what a guy we have.
All players were worth at least 8 today. Really great atmosphere, the crowd were nervous but backed the team magnificently. Great day, actually looking forward to work tomorrow: I'm working in Hampstead and they are all Arsenal fans, so I'm sure they'll be ecstatic to see my huge smug grin. It's been a long time coming. Well in, Everton!
Kevin Tully
514
Posted 06/04/2014 at 21:05:53
Context, context, context.
A crap Villa, am incredibly poor Newcastle, or a relegation threatened Fulham - take yer pick.
We bossed a title chasing Arsenal, that is what we need to make the comparison with.
That is all.
Tom Bowers
516
Posted 06/04/2014 at 21:06:53
It's just amazing the performances of Everton recently and the way they have been banging in the goals without the billions some teams have spent on forwards.
Apart from a few hiccups in some games against teams they should have hammered Everton have been great and could well have been in the title chase themselves instead of scrapping for fourth. Sadly, if they are to qualify for Champions league they may have to beat City which may in turn be a big favour for RS. Realistically anything can happen but the Gunners may have the easier fixtures.
RS may not lose another game this season as long as referees continue to favour them especially with all the penalties.
Colin Glassar
517
Posted 06/04/2014 at 21:08:34
A brilliant, all round, professional display. It wasn't that Arsenal were bad, it was a case of us being superior in every sense of the word.
All the lads had an amazing day but I think Barry had another inspiring day. He broke up everything the Arse tried and his passing was inch-perfect. All we need now is six more performances like this and, Europe here we come.
Kevin Tully
518
Posted 06/04/2014 at 21:14:30
Roberto has improved from a good looking man, to an incredibly handsome Spaniard - that is definitely all.
Sean Kelly
520
Posted 06/04/2014 at 21:10:49
Phil #470 I like your summary. I missed the game through work but caught it on Newstalk Radio. Killer Kilbane was on and couldn't pick a man of the match. Eventually gave it to Coleman for getting him out of his seat so often. I'm looking forward to MotD2. Hopefully the Red Shite bastards on the beeb will show a decent amount of the game. I doubt it though as crease head scored two pennos and they will be spewing their load all over the studio. Thank fuck I have wipers on my telly.
Alex Trevalyn
521
Posted 06/04/2014 at 21:22:16
Hope your boy gives them hell, Richard....
Mark Frere
522
Posted 06/04/2014 at 21:18:18
Fantastic display - an even better performance than the 1-1 draw at the Emirates in December. There can't be a single complaint with how any player performed today.....if I were to nit-pick, then i'd say Stones had a couple of very shaky moments - one where his back pass to Howard was too weak - which nearly allowed them to score. And another moment where he dithered on the ball and lost it in a dangerous area. Both errors could have been costly but thankfully, Arsenal didn't capitalize. All-in-all though, the lad has been exceptional in Jags absence and I'm sure he will cut-out the mistakes as he develops....there's no doubt, he has the potential to be World Class.
I really hope fatigue doesn't catch up with the team in the Crystal Palace and Man Utd games, as they won't be much rest for the players in between.
Only one win away from beating Moyes's best ever points tally and top 4 is looking more likely with every passing game. What a season! COYB!
Richard Farrington
524
Posted 06/04/2014 at 21:27:12
Alex, trust me - he's very vocal!!!!! I almost feel sorry for them, he will be utterly ruthless. It was great today to see his smile, as Dave Watson once said, it will need an operation to get rid of it. Bloody great.
Phil Walling
525
Posted 06/04/2014 at 21:16:51
Harold Matthews @ 479. Have to go along with your assertion that it was our best performance since that Manu game in October '84.
Sheeds opened the scoring early on then added a second 20 mins later. Inchy put us 3-0 up on the stroke of half-time then Stevo and Sharpey competed the rout.
Most of us thought that was the best we'd played since 63 (my first season). Today was every bit as good ....if not better. Who will ever forget the 'Seamus Moments' !!!
Alex Trevalyn
527
Posted 06/04/2014 at 21:30:19
It sounds like the Farrington boys are gonna have a damn good Monday..
Phil Sammon
529
Posted 06/04/2014 at 21:33:43
Phil Walling
Can I just say how genuinely refreshing it is to read some of your comments today.
I'm assuming someone has hacked your account.
Ernie Baywood
530
Posted 06/04/2014 at 21:25:28
Great performance. I don't recall us in the modern era (since 92 when football was invented) being quite so clinical and classy against a big team. We've had good wins but that was something else.
Significant to me was us taking the piss. Seamus enjoying himself, tricks coming out. And our response to a former favourite. We're actually here to win things now. No friends, it's strictly business. Who knew Baines had that in him?
Richard Farrington
531
Posted 06/04/2014 at 21:35:05
Where we live, its mostly Arsenal or Spurs, so yes you're spot on, we are going to savor every moment. Can't wait to watch it again on Match of the Day, still buzzing, Allez Allez oooooooooooooooooooooo............................
Brent Stephens
532
Posted 06/04/2014 at 21:32:13
Harold #479 "Would feel safer if Jags returned."
I know you've had your reservations about Stones since he's been started to have games this season. But I think he's starting to look almost as secure as Jags. The plus is he has so much more confidence and ability ion bringing the ball out of defence, and in hitting a pass.
Bill Griffiths
533
Posted 06/04/2014 at 21:20:48
Just watched a recording of game after getting in from work. Capped off a great weekend after seeing the fantastic Ian Broudie at the Phil on Friday night and now seeing us stuff the Arse out of sight. Bloody great.
Got to say that's got to be the best performance by an Everton side against one of the top four teams since the mid-80s. Sure, we've won games against top four teams with back to the wall 1-0 performances but we totally outplayed The Arse today.
I just hope we show the same levels of desire and longing in all our six remaining games.
Brent Stephens
534
Posted 06/04/2014 at 21:41:56
Paul #493 "His [Lukaku's] celebration suggests he is running to Roberto saying you told me that would happen."
That's what I read into it as well. In which case, Roberto class again.
Alex Trevalyn
535
Posted 06/04/2014 at 21:40:32
Ernie spot on, I never thought Baines was like that... Just goes to show eh...
Phil Sammon
539
Posted 06/04/2014 at 21:46:17
Not sure the Sky cameras picked it up, but did anyone see Lukaku after the OG? At the re-start he was singing with the fans and swinging his arms asking for more. That was a lad enjoying his football.
Frank Duffy
545
Posted 06/04/2014 at 21:55:23
I was watching the game with my two sons. What a performance and what a win. We were shouting all through the game. Bring on Sunderland... We fear no one.
Darryl Ritchie
553
Posted 06/04/2014 at 21:57:26
How a club, halfway around the world, that 4 years ago I'd never even heard of, playing a sport that I've never played, can cause me to lose sleep, continues to astound me!
What a win! We OWNED the midfield. McCarthy, Barkley, Barry and Mirallas co-MOTM. We always looked the more likely to score. Except for a 10 minutes stretch at the start of the second half, Arsenal never had a sniff. An easy day for Tim.
And weren't forever in the refs' ear. No more nice guy shit. Bainsey having a go at Arteta made me laugh out loud! He wore the captains armband well.
It's all to play for now!! Blue 'till I die!
Jamie Crowley
556
Posted 06/04/2014 at 22:15:36
My MOTM has to be Leighton Baines.
He looked like the Leighton we all know and love. It was beautiful to see him bombing up the left side.
But it wasn't his overall play that makes me think he deserves the MOTM nod.
It was getting up in Arteta's grill that I reveled in.
"Um, no old friend. Stop your whining. It was your elbow up in young Ross' face that warranted you being shoved to the ground. So quitcherbellyachin ya bitch and as long as I'm wearing the armband you won't ever pull that shit against one of my Blue Brothers again."
THAT was magic for me.
Richard Farrington
557
Posted 06/04/2014 at 22:18:36
Well in Darryl. I think the cup game at Arsenal was a catalyst in terms of us being nice guys, when Baines put the ball out for Arteta's antics. I think since then, the whole club, fans, players and staff have thought about it and its a unified no more Mr nice guy.
Kevin Tully
559
Posted 06/04/2014 at 22:26:49
Private Doberman. Those who know......
Tony Byrne
564
Posted 06/04/2014 at 21:30:31
I witnessed one of the best performances for many years at GP today, RM got his tactics inch perfect & made a "Sky 4" team look shite. I believe we watched our team grow up with that performance.
RM now seems to have instilled calmness & a belief into this squad that we can go out & play against any team and get a result.
The forward formation of Lukaku, Naismith & Mirallas bamboozled Arsenal, they couldn't live us in the first half, what can we say about the performances of Barkley, Stones, McCarthy, Coleman, and the elder statesmen of the team, Baines, Barry, Howard & Distin.
We saw something special today not seen for many many years at GP, make no mistake Arsenal have been top of the league this season.
My prediction for the remainder of the season is that we might only drop 2 points & that will be at home to City? I'm as negative as the next man when it comes to Everton (I am honest!!!) but today has convinced me that nobody wants to come up against us in our last 6 games, put it this way by the time Arsenal play their next league game we could be on 69 points (having played a game more); that will be a huge advantage and, judging by Arsenal having no bottle, we can do it.
I've convinced myself anyway!!!
Mike Gaynes
566
Posted 06/04/2014 at 22:40:18
Jamie Crowley (556), yes, that was a true captain's moment, and a level of outward fire that we've not seen from Baines before. I loved it too.
But I also liked seeing Baines and Arteta talking it out and hugging after the game. Football should only trump friendship until the final whistle.
I can picture the two of them still debating it over a beer ten years from now.
Phil Walling
568
Posted 06/04/2014 at 22:42:50
Crap edit for Sky's Football Special showed Arsenal in the best possible light.....bad luck with offside decisions etc....
BK says "God, if you're gonna take me, take me now!"
Felt a bit the same, myself!!!
Peter Z Jones
575
Posted 06/04/2014 at 23:06:19
See! There was never anything to fear. A truly inspired performance from the boys in blue and pure poetic justice that Arteta puts in an own goal after kissing the badge a few weeks ago. I love this team. I love this manager. I love this club. I'm so excited for the future and couldn't be prouder!
Phil Sammon
577
Posted 06/04/2014 at 23:17:02
Is it just me that thinks Mirallas has a good case the claim that goal? Arteta seems to get there first, but I think he kicks it against Mirallas.
Mike Gaynes
578
Posted 06/04/2014 at 23:17:27
Great laugh from a Chelsea fan on ESPN.com:
gregchelsea
Everton is not top 4 material. You should be scoring a minimum of 5 at home vs. Arsenal if you are a legitimate contender.
And yes, he was kidding.
Jim Knightley
579
Posted 06/04/2014 at 23:04:14
We were fantastic...and most importantly I think, a big win when we needed it. To perform when the pressure is on is a real test of the team, and we passed with flying colours. The one point I would disagree on is Stones. I thought he was too nervous, and his bad backpass to Howard, and his air kick in the area, could have both cost us goals. These errors are too prominent in my opinion, and for that reason I'd like to see Jagielka restored to the side when he is back, even if Stones has surpassed expectations in his absence.
To be dreaming of Champions League football into April is fantastic. It's what we deserve as fans of this club, and is a testament to possibly the best pound for pound team in this division. I do not think we will get Champions League football, because our fixtures are too difficult, and Arsenal's too easy. But if we win the next two, we will go clear of Arsenal before they play away to Hull. That will be their biggest test, because Hull have the capacity to worry Arsenal's centrebacks and pull off a result, and so much pressure will be on Arsenal.
Well done Martinez, and well done the team. Lukaku, pushed out wide, deserves special praise, as does the hardworking Naismith who has proved many of us wrong playing in his preferred position. The defence was exceptional, and Howard did all that was asked of him. There was not a bad performance in the bunch. And most pleasing of all perhaps, was the potential of bringing on McGeady and Deulofeu, who have the capacity to change the game. We've never had this squad depth before, and any chance of us getting fourth will rely on the whole squad, not just the first 11. To think we were missing Pienaar, Jags, Traore, Kone, Oviedo and Gibson today as well, all of whom would be involved with the playing squad. It says alot about our depth, which has never been there before, even if it partly relies on some loan acquisitions.
Well done Martinez.
Paul Mackie
581
Posted 06/04/2014 at 23:16:26
Just watched the game again on MOTD2 and the moment where Lukaku sprints over to Martinez for a hug was great. I have a feeling he could end up here next season regardless of whether we get 4th. That wasn't the reaction of a player who's just going through the motions until they get back to their parent club.
Also the decision to go with what was effectively a front 3 was pure genius on Bobby's part. Arsenal just had no idea how to cope when they were expecting to be playing against Lukaku up top on his own.
4th is in our hands now and you can bet your arse that the players are now starting to believe. I wasn't just that we beat our rivals for 4th today. We embarrassed them. That glorious 10 minute spell in the 2nd half where we were playing with some proper arrogance was a sight to behold. We were taking the piss out of Arsenal and there was nothing they could do about it.
Mike Hughes
582
Posted 06/04/2014 at 23:12:34
I have a number 1 crew-cut complete with male pattern baldness but am going to bleach my hair white tomorrow for the "Nais" look. (Where's that Domestos?)
Today's result was my fourth favourite performance (I wasn't at the match today so that may have an impact) since my first match in 1976.
1. 3-0 win over rs ('06) - stitch that you filthy scum.
2. 3-1 Bayern Munich ('85) - revenge for WW1 and WW2.
3. 4-1 Sunderland ('85) - we were a well-oiled machine that day.
Can't comment on the 5-0 Man Utd match as was working in the Middle East and there was a TV blackout.
Dennis Ng
583
Posted 06/04/2014 at 23:17:25
Definitely the best performance I've seen so far. Hope we'll keep this form through to game 38.
Phil 539, if money isn't an issue, there is no doubt Lukaku will stay with us. If only our loan had been a loan-to-permanent deal.
Harold 479, don't see a difference between Jags and Stones given the formation and responsibilities. In fact, might even suit Stones more based on the style we play now. Still, see where you're coming from and experience does help a lot in crunch time.
Kevin Tully
584
Posted 06/04/2014 at 23:33:56
Odds being trimmed right back - the mighty blues in from 3/1 to to 6/4 for top 4. Arse drifting from 1/4 out to 4/7.
'And on the outside full of running is the blue boys, the red Londoners are staggering over the last fence, here he comes now on the bridle with Martinez smiling as as he passes the French filly........
Rob Halligan
586
Posted 06/04/2014 at 23:37:57
Mike Hughes 582. Absolute classic, 3-0 win over RS (06) "stitch that you filthy scum". Can't stop laughing at that.
Made me laugh anyway!!
Christopher Kelly
587
Posted 06/04/2014 at 23:06:22
What I love is that everyone is having a hard time picking out a MotM. Everyone has a different take! That's amazing
Barry Morrison
588
Posted 06/04/2014 at 23:30:30
And to think this is Martinez's transition season! After getting very depressed with football over the last few years, thinking that without huge investment we would never be competitive again, my faith in football has been restored.
I don't really get this Jags vs. Stones debate though. For me, given Distin's age, it would seem these two will be our first choice centre back pairing for years to come. I think this is what Roberto will be working on over the summer.

Terence Leong
594
Posted 06/04/2014 at 23:36:42
Looks like Naismith and McGeady are living up to their reputation in Scotland... :) I remember reading about them when they first broke into prominence. Let's hope that we can reap the full benefits of that potential and talent in the coming few years!
What a season to be an Evertonian!
Brian Wilkinson
596
Posted 07/04/2014 at 00:48:28
Duncan Ferguson needs to do a bitch slap on Del Boy and say forget beating a player four times either crack it at goal or square it lad.
On another day that could be the difference to one or three points.
Best performance for a long time by Everton today and on that performance it's in our own hands and should fear no one.
Hugh McKillop
598
Posted 07/04/2014 at 01:18:50
Cracking game, great result. Thought Naismith did a cracking job. It seemed obvious that he was told to close down Arteta and not let them play from the back. Anytime he got the ball, he made the pass go back or square and forced them to change things around.
I had my doubts about Martinez, but he is definitely technically astute with a good idea for detail – with no amount of flair. 6 more games – would 12 points be enough?
Harold Matthews
600
Posted 07/04/2014 at 01:12:55
Dennis. I love the lad but he's not always good for my nerves. Jim Knightley #579 explains it better than me.
Ernie Baywood
604
Posted 07/04/2014 at 02:11:55
I still don't think this team is playing as well as it can. The upward tend has a way to go.
Jamie Sweet
613
Posted 07/04/2014 at 05:02:50
I loved the Coleman juggling act as much as the next man, but I think I loved it even more when he completely ripped the piss out of Cazorla near the touch-line.
Watch for Cazorla's reaction, it's the body language of a man who's thinking "WTF just happened and since when did Lionel Messi play for Everton?"
Andy Osborne
615
Posted 07/04/2014 at 05:19:15
Phil 568, sorry mate, I had a go at you last night after the game. Unreserved apology. The game finished late here in Perth, and I was euphoric and pissed. So much so, I completly misunderstood your posts. Sorry again.
Jamie Sweet
616
Posted 07/04/2014 at 05:11:00
And is it just pure coincidence that our 6 game winning streak has come when a certain ball playing, world class centre half in the making has started every game?
I'm not sure our club captain will be walking back into this team when he's 100% fit.
James Byrne
617
Posted 07/04/2014 at 05:40:34
Currently offshore Gabon with no TV access!!!!!!! WTF!
Never seen the game but my little boy was there with his uncle - that's all that matters, and a game he will never forget.
Thank you Roberto......................
Brent Stephens
619
Posted 07/04/2014 at 06:42:11
Harold #600 " I love the lad [Stones] but he's not always good for my nerves. Jim Knightley #579 explains it better than me."
But so does Jags test our nerves in other ways, bringing the ball out of defence, and those "passes"!
As Jamie #616 says, 6 game winning streak with Stones.
What a dilemma, though! And Alcaraz can't get a game!
Eric Kobal
620
Posted 07/04/2014 at 06:45:45
Great performance!
I think Baines really enjoys being captain. Have not seen him have a go like he did at Arteta after the elbow incident!
Does this mean we have a bit more aggro in the team since Ferguson,
s appointment as 1st team coach?
Jimmy Hill
622
Posted 07/04/2014 at 06:56:36
We fear no-one. Absolutely chuffed for Naismith, he deserved the applause. Watch out, Liverpool – we are catching you.
Anthony Flack
623
Posted 07/04/2014 at 06:50:54
Off to work in Central London. Not chilly so got my hat and scarf on. First client is full of Gooners so I've also got my shirt on in case it warms up.... happy days.
Second client is a bit of a hike, I wasn't planning on heading there but the CEO has a box at the Emirates so I'm making a special diversion. Great day yesterday, not even the M6 southbound, my dad's cooking, or Stevie Fucking Gerrard could spoil it.
Mark Andersson
631
Posted 07/04/2014 at 08:24:36
What a great result and performance. John Stones looked nervous before the match kicked off for good reason, there was a lot riding on this game. Although he had a few dodgy moments, the lad done himself proud with a great display overall.
The Goodison ROAR was brilliant – I love it when it's like that. There is no reason we can not go on and win the remaining games. Looking forward to Man Utd coming to see how they cope with the Goodison ROAR.
Stu Smith
632
Posted 07/04/2014 at 08:41:13
What was Arteta complaining about to Baines at the end?
John Daley
634
Posted 07/04/2014 at 08:50:54
Irrespective of final league placings, that was a performance that will live long in the memory and provides a new benchmark for the Blues (in the Premier League era at least). Although obviously significant, it wasn't just the result but also the manner in which they went about it.
Those players yesterday totally dismantled and outplayed a team they are often patronisingly dismissed as being a less effective version of. For the first time since the days of HK Mk 1, there was a sheer focus about the team, more honed than simple grit and determination. There was palpable hunger pulsing through the veins of those in Blue and a reluctance to back down, typified by Barkley being prepared to put an ex-teammate on his arse and Baines (stepping up like a proper captain) telling the snide Spaniard to shut it, stop the squealing, and give Susan Boyle her fucking eyebrows back.
As for the manager? Which of his detractors would dare now to complain about his supposed 'tactical naïveté' and inability to switch things up to suit the opposition? Starting Lukaku out on the right with Naismith through the middle was a master stroke and totally blindsided Wenger, pissing all over his defensive game plan to leave him looking more like Mr Garrison off South Park than 'Le Professor'. He knew it too.
In his post-match interview, the poor sod looked totally shell-shocked and seemed devoid of any fight or belief they would soon put things right. If that is symptomatic of the mindset amongst his squad, then I don't think their supposedly simple run-in is going to go as smoothly as some pundits suggest.

Rick Tarleton
637
Posted 07/04/2014 at 09:31:54
I managed to make the near 300-round trip yesterday to see Everton and was obviously delighted by their performance. I thought McCarthy was brilliant. When he first appeared, I was distinctly unimpressed; yesterday, he was the brains and the teeth of the team, coupled with Naismith's unselfish running and willingness to provide the outlets we needed.
A great day, especially as the program had pictures of Bobby Collins playing in Catterick's first game, a game I remember vividly as, like many Everton fans of that time, I was very upset that Carey had been sacked.

Brian Harrison
641
Posted 07/04/2014 at 09:45:39
I posted a couple of days before the game that it was time for the fans to deliver and they delivered in spades. The performance was excellent; yes, 4th will still be difficult to achieve but we are now in with a shout.
I am sure if you had said to any Evertonian 4 months ago that we would be in this position, most would have applauded your faith and probably doubted your football knowledge. Then, add the fact that we have been without our captain and Pienaar for a number of games, it makes it even more remarkable.
I would have made Naismith MotM but can well understand why there have been many names put forward; for me, he is a natural centre-forward and makes the runs that others don't. The team and fans now believe they can achieve 4th and momentum at this time of the season is vital, because this brilliant manager has given us all the right to dream.
Gerry Quinn
660
Posted 07/04/2014 at 12:11:28
James #617 - what vessel are you on offshore Gabon?
Gerry Quinn
661
Posted 07/04/2014 at 12:15:52
John #634...re-Arteta "and give Susan Boyle her fucking eyebrows back"!
Class, hilariously true – giggling away like an idiot here in the office!
Brian Denton
663
Posted 07/04/2014 at 12:32:32
Where's Tony Marsh these days? We want him here to enjoy this!
Barry Sherlock
664
Posted 07/04/2014 at 12:22:08
A really great "team" performance. Special moments like Seamus's showboat show just how confidence is flowing through the side. Some really good link up play. But more important are the sprinting runs directly at the opposition from the likes of Barkley, Coleman, Lukaku, Mirallas and Naismith. That has been the difference of late.
I've been studying the remaining fixtures. Trying to be neutral about it. We have one more game. Some might say "well there is more chance of us effing it up with that fixture pile up". However, I'm going to go with our manager's positive way of thinking (glass half-full and all that...).
Having one more game is a wonderful opportunity for us to pick up more points than Arsenal. They have 5 games and 15 points to play for. We have 6 games and 18 points to play for. They have the FA Cup to think about. We have 4th place to think about.
I have it that they will win 3 and draw 2 = 11 pts Therefore, we would need 12 pts and a better goal difference. 3 wins and 3 draws. 4 wins and 2 loses.
For the record, I have;
Sunderland (A) = Win (a hard fought victory)
Crystal Palace (H) = Draw (they come and park the bus...)
Man Utd (H) = Win (it means too much to too many!)
Southampton (A) = Win (they have lost their best player)
Man City (H) = Loss (Aguero....)
Hull City (A) = Win (Hull Tigers applying their Factor 25...)
Total: 13 pts.
We're Everton, we always dream. Moyes gave us hope. Martinez gives us belief.
COYB
Mike Corcoran
666
Posted 07/04/2014 at 13:01:19
For once, even Old Big Coat was very gracious in his post-match comments.
Anthony Flack
668
Posted 07/04/2014 at 12:54:29
I do not fancy Arsenal against West Ham - Nolan, Carroll et al will get stuck into them.......
I think there will be a few unexpected twists and turns and even if we lost to Sunderland we should not give up hope of 4th.....
I reckon 74 points does it on goal difference - 75 definitely
3 wins (Sunderland, Palace and Hull), a draw (manure) and 2 defeats (Citeh and Southampton) gets us 10 points or 73 (still amazing) but would mean Arsenal need 3 wins and a draw from their last 5.
I am not sure they will implode, we rarely have such luck!
Greg Mckerracher
671
Posted 07/04/2014 at 13:36:36
If anyone missed the 35-yard kickie-uppie blitz from Seamusdinho
http://www.independent.ie/sport/watch-two-pieces-of-footage-of-sublime-skill-from-seamus-coleman-against-arsenal-today-30159848.html
Eugene Ruane
681
Posted 07/04/2014 at 14:06:22
As well as the skill on show, they absolutely worked their plums off yesterday.
Every time we lost the ball up the park (nb: against Arsenal in the past, something that always worried me as we often left gaps) within a second or two, we had got our shape back and appeared to have everyone behind the ball.
To be able to do that, yet look like a side intent on attack, is no mean feat and takes a lot of running.
In boxing, there is little more dispiriting than catching someone with a great shot and... nothing – your opponent just keeps coming. That for me was how how Arsenal appeared yesterday; whatever they tried, we weren't having it and just walked through them. Magnificent.
Personally I haven't paid much attention to the 'ifs' of 4th or 7th or CL/Europa as it's (for me) kind of pointless until after the last game (a couple of 2/3 day trips somewhere interesting where the beer is nice would be good though).
With our lack of resources, all I ask is that our players/manager give their best and attempt to entertain us and for the most part this season, they have.
Season ticket will be renewed this week.
Up the Toffees!
Graham Mockford
683
Posted 07/04/2014 at 14:39:35
Funnily enough, I was just reflecting on our physical conditioning yesterday. We were sharp and full of running.
It is very hard to keep players at full throttle for a whole season. Last year, Wigan (the rugby team!) deliberately eased back on training having qualified for the playoffs only to bring the team back to peak condition for the end of the season when they won the Grand Final.
I wonder if similar training methods have been adopted because certainly in January and February we looked off the pace at times. Maybe we are seeing the squad coming to peak condition just at the right time.
Brent Stephens
687
Posted 07/04/2014 at 14:50:24
The last few weeks we've had posts calling for some steel in midfield. Well I thought I saw that steel (physicality) right through the team – starting with Osman's attempted tackle but evident even from Mirallas, a bit of a softie usually. The epitome though was McCarthy – in one incident he covered acres of ground at breakneck speed to close down a man on the Bullens Road side and a second or two later had raced back into the penalty area. What a pair of lungs. And a mean tackle.

Mike Gwyer
692
Posted 07/04/2014 at 15:29:19
Well, the swagger is definitely back & the players are strutting about like they mean something - welcome to Goodison Park.
The heads of some the Arsenal players seemed to drop when Barkley came on, you could almost hear a unified yell of "fuck me". Then it's Lukaku on the right & Naismith up top, what the fuck was that all about?? It seems the Arsenal CB's didn't have a clue either!! As for their right back, well I thought he was almost in tears, now it was just him and Lukaku, which was a mismatch that RM saw and boy, did he set his attacking play accordingly. A major tactical statement from RM and something I believe Wenger did not envisage.
The king is dead, long live the king.........
Brian Furey
698
Posted 07/04/2014 at 16:35:35
Bless me father for I have sinned
It's about 3 years since I last visited the old lady
But My God did we pick a great game to come back to!
My mate(a Dublin based Rangers fan) and I travelled to Goodison yesterday with our 4 kids. No they're not all our kids. We're not a couple. His two kids & my two kids who are 5 and 6 yers old. I was worried my 5 year old daughter would get bored after 15 mins so I was well prepared with games on my smart phone and I had even my GoTab with me. Oh ye of little faith.
From the moment we walked in and took her photo with the Toffee lady to the final whistle the 6 of us got full on entertainment.
On the way over I read about how Roberto had done a spot of DIY around Goodison and Finch farm and how he had left a wee space for the next success story. Wow this man knows how to motivate players.
I had just finished joking with my mate that Naismith is a great worker but he lacks finesse and isn't a great finish...Ooops He's just scored!
Then I started to get on Lukaku's back (who the kids love) as I said for a big man he doesn't like the ball knocked in high much or over the top. He is definitely not a worker I said to which he gets it out wide, beats two men and hits a cracker into the bottom corner. Hmmmm... I was beginning to see a pattern. So did the man next to me to which he said.
"Do you think Barkley is having a poor game too?" ;-)
No Instead I picked on Mirallas who is on my Fantasy Football team and sure enough he obliged or was it poor Arteta who my daughter felt sorry for as we were all booing him until he scored.
My wife is from Donegal so you can imagine our delight to see Coleman dispossessing Cazorla was it and then sprinting up the park doung keepy Uppies. Wow what a day to be at the Old Lady and see our best ever performance against Arsenal in my memory.
Having spoken to some locals I soon discovered that Senor Martinez has already transformed this club into something special again. He has reminded us of our history even though we sing it each week. He has players like Coleman who only two seasons ago was a young raw full back who had loads of energy and worked hard but could you have seen him try that when Moyes was manager. He has Naismith believing he's the new Tevez. I was delighted to see McGeady get on to do some Irish dancing with his quick feet. I think we'll be seeing a lot more of him next year.
My home Gaelic team got beaten by a point v Dublin but I couldn't have cared less cos I was a very happy BLUE and enjoyed one of the best days of my life with my 2 eldest kids. Thanks Bobby. You truly have us all back believing!
I think Romelu will find it very hard to walk away from us in the summer but I'm sure his agent will try to persuade him that money means more than happiness.
Harold Matthews
700
Posted 07/04/2014 at 14:41:07
Brent. The Stones Protection Agency is beginning to sound like The Gibbo Mob of a few years back, when no-one was allowed to utter one word against him. They see only what they want to see. FA Cup nightmares and defensive heart in the mouth clangers are glossed over as though they never happened.
The lad has special gifts but lacks experience.....and the only way he will get experience is to play him. Yes, I go along with that. Unfortunately, because I don't yet rate him as the greatest thing since sliced bread, people are beginning to foam at the mouth.
It's all a matter of opinion. My favourite player is McCarthy. 100% effort, a sense of urgency and hard as nails. Some fans are are not so keen on him ....so what? Do I jump on my high horse and start spitting bullets?. No chance. We're all different and their opinions are of no interest to me whatsoever. I certainly won't be setting up a McCarthy Protection Agency. He's well capable of looking after himself.
Steve Brown
702
Posted 07/04/2014 at 17:09:00
Graham 683, I think all the injuries we suffered in Jan and Feb gave a number if the players a rest. They took a bit of time to get back to form but now they look fresh.
Linda Morrison
704
Posted 07/04/2014 at 16:59:42
It was I think a changing of the guard in the EPL yesterday.
Whatever we may think of them RS are in pole position to take the title.
Everton have their fate in their own hands to take 4th.
Is this the time when the 2 Liverpool tams replace Mu and the Arse?
Chelsea apparently want £24 million for Lukaka, we will pay it as his other options are either abroad or Spurs, unless Arsenal make the 4th spot and go for him. But I think this will only happen if Arsenal have a new manager.
As for Roberto don't worry he won't leave Everton until he has honoured his pledge to BK
I've had to watch the match a few times to finally believe it happened!
David Greenwood
707
Posted 07/04/2014 at 17:24:42
8 hour round trip, watched the game again as soon as I was back in. It was better than I realised.
Maybe that's because the view from the back row of the lower Street end must be the worst ever.
Crap view aside, what a fantastic day. Great performances all over the pitch, self belief, confidence, touch, technique, it was all there.
Seamus Coleman, what can you say, incredible.
We are on the brink of something big here people!
Ray Roche
708
Posted 07/04/2014 at 17:41:00
According to Lukaku's comments some months ago, he said he wants CL football next season so the likelihood of him joining Spurs are non existent. So, that would indicate a move abroad if none of the top 4 clubs show any interest and Chelsea regard him as surplus and we don't manage 4th ourselves. He has certainly improved these last few games and shows none of the lethargy that he did prior to his injury, so maybe he was feeling the pace up until his enforced rest. He DOES seem to like it here, though, doesn't he?
Brent Stephens
709
Posted 07/04/2014 at 17:43:34
Harold #700 Whoa, Harold, mate! I hope I didn't come across as your post suggests; if I did, then my apologies. But I think I just expressed a view (as you are doing) with restrained enthusiasm. Certainly not a case of "foam at the mouth".
"The Stones Protection Agency is beginning to sound like The Gibbo Mob of a few years back, when no-one was allowed to utter one word against him. They see only what they want to see. FA Cup nightmares and defensive heart in the mouth clangers are glossed over as though they never happened."
In no way did my post suggest you don't have a right to post! And I think I did recognise his shortcomings, just contrasted them with Jags' shortcomings. "High horse...spitting bullets"? I hope I didn't sound like that!
Agree about McCarthy. Immense engine, fire, passion.

Mikey Waterman
711
Posted 07/04/2014 at 17:48:08
Harold #700 - "the Stones protection agency", come on mate! He is quite rightly getting the praise he deserves. Nobody is glossing over his errors; people are just intelligent enough to know that a 19 year old KID is gonna make some occasional mistakes, especially when playing centre half. The times are changing with regards to centre-backs Harold and I think you need to get with it a bit. Being able to bring the ball out of the back is one of the main priorities now, not being a hard-working, tough tackling, non-nonsense "British" defender. That has got this nation nowhere. I'll take mistakes from Stones every single week if it means we have a defender who can bring the ball out like he does. Not to mention I think you exaggerate his mistakes big time! Jags and Distin have both made MANY, MANY mistakes over the years; both in terms of positioning and giving it away in different areas. I think you need a slight change of your perspective.
Mikey Waterman
712
Posted 07/04/2014 at 18:08:52
Since Jags was injured and Stones came into the team alongside Buzz:
P:6 W:6 Goals Scored:15 Goals Conceded:4
I know that correlation doesn't equal causation but nevertheless, the lad deserves every bit of credit he is getting. His ability to bring the ball out really does make a massive, massive difference to the tempo we play and the way we create chances; I honestly believe that.
Raymond Fox
713
Posted 07/04/2014 at 18:23:50
Ray 708, good point about Spurs, it seems unlikely I agree.
Chelsea are reported to want £24m for Rom, I think he might attract attention from some other 'big' clubs & his price might rise even higher!
I think if that happened we may/will be priced out of buying him, which would be a shame.
Who knows, Chelsea might even wish to keep him, although Mourinho will not want to admit that he under estimated Lukaku, so maybe he will be forced to leave.
I'm beginning to really look forward to the summer, what with the World Cup & possible new Everton developments/rumours on the players front.
Phil Walling
715
Posted 07/04/2014 at 18:53:39
Mikey 712. I have to agree with you. Jags must be sweating .He could well lose out on a World Cup place because of the emergence of Stones as lack of match practice will militate against him.
And at the risk of introducing a controversial note to this weekend of joy, didn't Tim show his manager how daft it was to play Robles in that Cup Tie ?
James Stewart
718
Posted 07/04/2014 at 19:13:11
@700 I understand your point and all the others claiming Jagielka should walk straight back in but the boy is a bit special and needs to play. Comparable to Rooney level in his position. A startling stat on the BBC that I posted on another thread but that is also relevant here:
" Everton have a 75% win rate in the 16 games Stones has played in this season and just 38% in the 16 he has not."
Alan McGuffog
726
Posted 07/04/2014 at 19:26:38
Just to put a damper on things......looking at Buzz yesterday I'd only give him another five seasons.
Mikey Waterman
729
Posted 07/04/2014 at 19:37:03
To be honest Phil, I'm certain Jags will not only be on the plane (if he is fit of course) but he will be starting alongside Cahill in the World Cup regardless of whether he kicks another ball for us this season. I'm quite sure of this, Hogdson's CB pairing is set in stone unless either are injured from what I can tell.
I am a little concerned about Jags' injury though. This hamstring seems problematic. It's quite easy to forget that its February since Jags was in the team which is quite a long time. I hope he is okay for the world cup because he deserves to be starting for England given his consistent quality over the last 5 years basically.
Sam Bull
740
Posted 07/04/2014 at 20:38:54
I'd take Stones to the WC... his positional awareness and calmness on the ball is a delight to watch. He can also play in several positions.. Even if he's not first choice, Jones, Caulker or Stones?
Jags and especially Distin I love, but they scare the hell out of me when they receive the Ball, after they pass the ball they don't want it back, they don't move into a better position(make an option), but they have obviously improved under RM.
Brian Burns
746
Posted 07/04/2014 at 20:59:25
Superb yesterday. Everyone to a man was 10/10. But he had to do his cringe worthy interview didnt he. Do one Bill. We don't see you when things are going bad and then you appear. Shakes head

Patrick Murphy
753
Posted 07/04/2014 at 21:36:57
After all the euphoria of yesterday I hope the lads have it in them to battle at Sunderland on Saturday. Spurs are beating them at the moment so that means in theory we need another 12 points just to ensure Euro League qualification. Let's get the sixth spot nailed and then we can concentrate on trying for CL place. We are all but guaranteed a seventh place finish - but we still need the same intensity and sense of purpose that we showed yesterday if we are going to get Europe at any level.

Colin Glassar
758
Posted 07/04/2014 at 21:48:39
Patrick, Sunderland have basically grown in the towel so I expect us to beat them. Spurs are a schizo team and will probably lose or draw their next game.
It's Man Utd we might need to keep an eye on for 5th place. I still think Arsenal will sneak 4th but we need to beat Man Utd at home to guarantee us that 5th place, at least, and then see how high up we can finish.
Andrew Hawes
770
Posted 07/04/2014 at 22:30:24
I will definitely enjoy yesterday's match for a long time to come, by far one of the best games I have watched for years.
Now it's time to see if we really have the metal to go for the kill. Sunderland are going to be every bit as difficult and yesterday's game means nothing if we don't come away with anything but 3 points. With a handful of games left Saturday is the perfect time to move into the top 4 and crank up the pressure another notch.
It's now or never for us, we have always started well and faded away or vice versa! Everyone's on about Man City at home and its different scenarios... But if this team catches fire like Saturday and Arsenal struggle to regain confidence, that game will be nothing more than a victory parade for us!
Phil Walling
776
Posted 07/04/2014 at 23:37:12
Patrick, just as I'd stopped being 'seventhish', you pick up the mantle ! My bet (now revised ) is on fifth.......but hope for better.
Patrick Murphy
778
Posted 07/04/2014 at 23:47:30
Phil - I want that 4th spot but it's an unbelievable season where the top six or seven keep winning week in week out and many will have discounted Spurs and United from the equation. But Spurs have an even easier run-in than Arsenal and United are capable of winning anywhere - hopefully not at Goodison though.
Arsenal Max points = 79
Spurs - maximum points = 74
United max points = 72.
So to guarantee Europa we'll need to beat or draw with United and win two other games.
Patrick Murphy
779
Posted 07/04/2014 at 23:56:29
I meant to add that Arsenal play on Tuesday 15th April at home to the Happy Hammers so we won't get much of a jump on them even if we win at Sunderland and we play Palace the following night so by next Thursday we will both have four games to play.
Harold Matthews
829
Posted 08/04/2014 at 11:10:58
Mikey. Typical Agency reaction. As a staunch Evertonian who knows we have to be absolutely fault free at the back, I hope you are right. To each his own.
Kieran Fitzgerald
836
Posted 08/04/2014 at 12:09:29
Andrew @770, totally agree. Sunday's performance and result will mean nothing if we don't a) turn up, and b) win against Sunderland. It's our game in hand over Arsenal so we will need to win it to make the most out of it and go above them. The thing is, we will then need to turn up against Palace on the 16th and win against them.
If we want to be a CL team, then we need to put in a string of consistent performances and results. For me, the Sunderland game is now bigger than the Arsenal game. The win would not only give us three points, it would also give us a boost psychologically, it would put pressure on Arsenal, who already seem fragile, and would also put us further out of reach of Utd and Spurs.
Tony J Williams
837
Posted 08/04/2014 at 12:23:07
I wouldn't take Stones to the World Cup (unless it's like the Walcott situation)
He looks comfortable on the ball but I imagine he would be mullered with the experience and strength of the World Cup forwards. Not good for a lads confidence. Get him on the bench perhaps and give him a feel of the action but be very wary about playing him.
Gareth Humphreys
838
Posted 08/04/2014 at 12:28:48
Not convinced we played any better Sunday than we did at the Emirates in the league. On their patch, against a bang in form and full strength Arsenal team. That's not to take anything away from Sunday, just a reminder of how good we were at their place as well.
Imagine where we would be if the happy clappers didn't let Kenwright off the hook every year?
#sheep
Tony J Williams
840
Posted 08/04/2014 at 12:32:56
"imagine where we would be if the happy clappers didn't let Kenwright off the hook every year?"
In exactly the same place as we are now.
The dopes clapping him have no effect on who we buy and how a certain player performs. Unless these happy clappers buy the club and plow in big money, the fact that they are clapping the waster has absolutely nothing to do with anything.
Paul Andrews
842
Posted 08/04/2014 at 12:41:53
Bill's Aristotle will be twitching though, Tony. He will be in a cold sweat thinking how much we will have to spend if we get 4th!

Jim Hillier
844
Posted 08/04/2014 at 12:52:25
I think Stones has made a big step forward since the head inury. As if it were the making of the lad. Prior to that, he has looked shakey, as if he did not want the ball, and when he had it wasn't sure what to do with it. Bambi, in fact. Whe he came back on with the bandage, he made two terrible passes, and looked like he might be concussed, but settled and began to look like a seasoned professional.
BEGAN to look like a seasoned professional, mind. It is very early days. I love the fact that the manager is willing to play him and let him develop, and the fact that so far we have not had to pay to high a price for that. But he has a long way to go, particularly on positional sense and getting turned, in my view.
On a positive note, what a fucking tackler the lad is developing into. Get stuck in Stonesy.

James Marshall
858
Posted 08/04/2014 at 13:35:22
Someone above mentioned easing back on training with a view to a strong finish. I totally agree, at least on the conditioning aspect of training - Martinez said way back that the squad would be fit to fire in the last 10 games and he appears to be true to his word, although maybe the last 15 in fact.
Moyes used to run them ragged in training as we all know, which is OK up to a point but somewhere along the line you run them into the ground.
Martinez has seemingly set them up nicely fitness-wise to blow the socks off teams in the last few games - our willingness to run, and all round fitness levels were off the scale at the weekend, and if we can play with that same energy in the coming games, there's not a team bar City that will live with us. City is the tough one purely because they're such a talented side - we all know this. I still think we can lose to City and make 4th, and to be honest that would be perfect if it stops the RS winning the title.
Win our other games, lose to City, seal 4th and fuck the RS :-)
Phil Walling
874
Posted 08/04/2014 at 14:36:31
Speak for yourself, Keiran @836. Even if we don't beat Sunderland, Sunday's performance will be etched on the memories of thousands of Evertonians for years.
Just as so many of us can never forget the 6-1 defeat of Nottm Forest in '64, and the 5-0 battering of Man Utd in '84, so will the destruction of Arsenal go into folk history.
Champions League or not, last Sunday we saw something very special.
Paul Andrews
943
Posted 08/04/2014 at 20:34:17
James Marshall,
Well said, young man.
Gerry Quinn
200
Posted 10/04/2014 at 13:47:46
What was the ref's problem?
http://hereisthecity.com/en-gb/2014/04/10/video-referee-refuses-to-shake-hands-with-everton-defender/
Add Your Comments
In order to post a comment, you need to be logged in as a registered user of the site.
Or Sign up as a ToffeeWeb Member — it's free, takes just a few minutes and will allow you to post your comments on articles and Talking Points submissions across the site.
© ToffeeWeb