Barkley returns and Blues shine
By Michael Kenrick
18/10/2014

Comments (132)
jump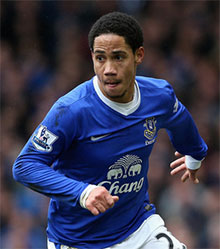 Steven Pienaar starts on the bench against Aston Villa
Ross Barkley was a surprise starter alongside Coleman and McCarthy, all hopefully fit enough to put in a shift against Aston Villa, who were without Fabian Delph but Benteke returned for his first game since March. A strong-looking bench for Everton but without the commanding figure of Sylvain Distin.
The game started in bright October sunshine, Everton kicking off toward the Park End with slow possession and passing across the back, probing down the left until Osman was adjudged to have handled. Naismith showed some good desire to get the ball back when lost, and Osman did get a shot in that was blocked, Barkley's afters a little rusty. Better movement down the right ended with an overhit cross from Naismith.
Barkley was chopped down in what looked to be a heavy foul as he surged forward on an excellent Lukaku lay-off, but he could only fire the ball deep into the wall as Richardson's was shown the yellow card. Baines then picked out Lukaku with a peach of a ball that the big man tried to take on his shoulder as Everton were attacking with more life and pace, as was required.
Villa's first counter-attack saw Howard punch out as Agbonlahor and Benteke tried to combine. Cleverly was next to shoot low and hard at Howard, with Everton then winning a corner that Barkley created a wonderful shot from nothing, and another corner, taken short, saw Baines cross in a perfectly placed ball that Phil Jagielka did very well to head home from close range under pressure — just what the Blues needed!
The Blues tried to build on their lead but the flow was interrupted by an injury to Baker who was replaced by Clark. Hutton put in a good curling shot that flew wide of Howard's post. While Lukaku moved out to the wing and lost the ball after Naismith stole a shot off him and drove it well wide.
Some good football from Villa put Everton under pressure, Alcaraz making a vital headed interception to deny Benteke. Everton looked much more determined going forward, with Baines playing some tremendous passes that were let down by poor work from Osman. Villa then really ran at Everton and it needed good work covering by McCarthy but the corner caused havoc as the ball bounced high and needed punching by Howard.
Patient build-up play almost broke for Osman who wanted an extra touch before the ball was fizzed in with much more vim and vigour, Coleman forcing a good save off Guzman and Baines crossing well but just behind Naismith, and the chance was gone. After an interminable spell of backwards and sideways tikka-takka, Barkley threaded the needle to Osman but the response of those 'clever feet' was sadly lacking, possession lost again.
Everton went further ahead soon after the break in their first real attack down the left as McCarthy got Barkley moving and he played the ball over to Lukaku who had a lot top do but dug out a firm shot that Guzan seemed to have covered but the ball spun off his elbow and behind him, over the line.
Villa changed their tactics, coming out to pressure the Blues passing across the back, and it gave more space for the sharper forward ball. Osman was given a chance wide left and he ran in to a good position only to fire his shot straight at Guzan, when a far better shot was warranted. Pienaar replaced Barkley on 65 mins.
Pienaar clipped up a very clever ball for Naismith and it looked like he was only denied by a foul, his determined running. Lukaku was till not 100% but doing what he could to get into the game, winning a good free-kick on the corner of the penalty area that Lukaku slugged straight into the wall.
Naismith was a little too strong, bringing down Cissokho and earning a booking, as the Villians pushed hard to get back in the match, putting Howard under some pressure. Lukaku was till coming deep to get ball, but his feed out to Pienaar was overhit, much to the big man's frustration.
A quick free-kick from Osman, Baines danced down to the bye-line and crossed in a flash for Coleman to clip home a very nice goal that would surely seal this as a contest. But Howard had to be smart himself to block a shot from Agbonlahor. Eto'o came on for the last few minutes in place of Naismith.
A good solid performance by the Blues, fully deserving of the 3-0 scoreline, as they had played with more intent to get the ball forward, with few players squandering possession cheaply — and a very welcome clean sheet with a very competent performance by Antolin Alcaraz in for John Stones. The first home win of the season, and the first win at Goodison Park since they defeated Manchester United back in April.
Everton: Howard; Coleman, Jagielka, Alcaraz, Baines; Barry, McCarthy; Barkley (65' Pienaar), Naismith [Y:72'] (87' Eto'o), Osman; Lukaku (91' Gibson).
Subs not Used: Robles, Hibbert, Besic, McGeady.
Aston Villa: Guzan; Hutton, Vlaar, Baker (26' Clark), Cissokho; N'Zogbia (63' Weimann), Cleverley, Westwood, Richardson [Y:14']; Agbonlahor [Y:36'], Benteke (81' Cole).
Subs not Used: Given, Bent, Sanchez, Lowton.
Referee: Anthony Taylor
Attendance: 39,505
---
Reader Comments (132)
Note: the following content is not moderated or vetted by the site owners at the time of submission. Comments are the responsibility of the poster. Disclaimer
Brian Hennessy
1
Posted 18/10/2014 at 14:11:36
Shocked that Barkley starts.
No central defender on the bench, I thought Distin was fit? And if not surely Browning should be in squad for cover.
Barry, McCarthy, Barkley, Osman and Naismith all looks very narrow, no width.
I hope RM gets the result we all want because he has left himself wide open for criticism with that selection.

Mike Corcoran
2
Posted 18/10/2014 at 14:26:24
Can't wait to see how they set up, hope Barkley is truly ready, I'm shitting it for him.
Robert Duncombe
3
Posted 18/10/2014 at 14:35:47
Barkley will get a brace. Of goals that is not one for his leg ... God willing.
Ben Jones
4
Posted 18/10/2014 at 14:43:34
He's picked the players better on the ball then put the pacy wingers on from the bench as a Plan B.
I think it's a good side, definitely capable of beating Villa. Just hope they perform this time!!
Conor McCourt
5
Posted 18/10/2014 at 14:41:48
I can't believe you're unhappy with that team and squad, Brian. We have Besic on the bench who played most of his football in Hungary at centre back and both Barry or Hibbert could do a job there. We have so much attacking quality on the bench that if we need goals, pace or width we have it. Yes, most don't like to see Osman starting but he hasn't had much football so maybe we will see a big performance from him today. I'm very confident of a victory. COYB.
Tony Twist
6
Posted 18/10/2014 at 15:02:15
Villa will not be a push over but we should have enough to get a win, anything else is just not good enough. Besic I think should be playing and Osman on the bench for later if needed.
High tempo a must today, Villa are more than able to cope with a slow build up and will break quickly. Villa have lost the last three, let's not give them any belief. COYB.
Kase Chow
7
Posted 18/10/2014 at 15:19:38
1-0! Get in!
Kane Dennison
8
Posted 18/10/2014 at 15:54:56
Agree, Besic can easily be center back cover as he is one.
The only thing I don't like is Lukaku starting; Eto'o is a much better option.

Brian Hennessy
9
Posted 18/10/2014 at 16:54:21
Well that could not have gone better.
Alcaraz had an excellent game at the back, good on the ball and some really good defensive work.
McCarthy and Barry had their best game of the season together.
Lukaku looked a different player after he got his goal, his touch and passing after it was excellent.
Naismith brilliant again and Barkley looked incredibly sharp for someone back from injury.
No Injuries, a clean sheet, Happy days...
Mark Frere
10
Posted 18/10/2014 at 16:53:09
Get in there! Good professional performance. Hopefully now we have turned the corner and this is the start of a good run.
All of you twats on here who continually gave Alcaraz a hard time - hang your head in shame! He was excellent today same as he was in other games last season. People are so quick to judge.
Gavin Johnson
11
Posted 18/10/2014 at 17:03:13
Twats?! That's a bit strong mate. Missed the game today but I think he'll need to have more than one good game to go up in most Evertonian's estimation.
Good result! We should kick on with a decent run now. It makes a nice change to look forward to watching MotD again tonight..COYB
Linda Morrison
12
Posted 18/10/2014 at 17:05:59
Well we can all sleep sound in our beds tonight. The BBC report said that Baines, Barkley and Barry were outstanding.
I'm very pleased for Lukaku as I knew he would come good providing he got service.
Table looks a lot healthier now.
Anyone any idea what is going on with Distin. I thought he was fit and that Roberto had quoshed all those rumours about a fall out?
Jay Harris
13
Posted 18/10/2014 at 17:02:54
Good professional display and pleased to see a lineup that beefs up the midfield,
Paul Thompson
14
Posted 18/10/2014 at 17:07:57
Very satisfying result. More solid and sharper all round. Ross made a difference in quickening the pace through the middle and Coleman back gave us more balance on the flanks. Central defence did well and Rom was so much more confident after his slightly fortuitous goal. Thought Cleverly was their best player.
Denis Richardson
16
Posted 18/10/2014 at 17:10:42
3 points, a clean sheet and no more bloody injuries! Exactly what the doc ordered. Hopefullly the gloomy veil will lift a bit now. Was amazed to see Barkley in the line up, thought he wouldnt be back till November.
Glad to see Lukaku get a goal, will give his confidence a good boost. Also good performance by Alcaraz as well. All in all a good win.
Can rest up and look forward to the Lille game.
Gavin Johnson
17
Posted 18/10/2014 at 17:13:07
I don't know about Distin, Linda. I should imagine he's still sulking after spitting his dummy out. He's obviously deluded if he thinks he should be in the team ahead of Stones and Barkley and too proud to fight for a place now. I'm totally surmising of course, but that's how it comes across to me. Personally I don't care if he jogs-on in the January window. He's not set a good example to the younger players, as a senior pro and had become a liability.
Mark Frere
18
Posted 18/10/2014 at 17:13:13
Not too strong at all, Gavin, Alcaraz was excellent when he partnered Stones against Southampton last season and did okay in others... but everyone appropriately remembers his horror show at Anfield, the same game when all our players played shite.
Gavin Johnson
19
Posted 18/10/2014 at 17:19:28
Fair enough. I do think about the Liverpool game, and the horror show in the away tie against Saints when he scored a needless own goal (the fastest own goal in Premier League history).
I don't think he's a bad player, Mark. I just think he needs to do what he did today in a run of games and I'd wage a bet that would be the general opinion of most, as he's unproven with all the time he's been out injured.
Tommy Coleman
20
Posted 18/10/2014 at 17:26:21
Gavin Johnson
21
Posted 18/10/2014 at 17:28:09
Sorry meant Stones and Jags on #17 about Distin. Don't know why I said Barkley (probably cos he's back and had a great game)
Harold Matthews
22
Posted 18/10/2014 at 17:10:49
Great to have Coleman, McCarthy and Barkley back. Alcaraz and Jags did well and Lukaku is gradually getting there. Everyone put in a shift against a tough, physical outfit and we should continue to improve.
Jay Rollinson
23
Posted 18/10/2014 at 17:28:10
To be fair, I saw a few people on here who called it and pointed out Alcaraz had been unfairly written off and wasn't as poor as the majority say. I thought he was solid today, although I was surprised to see him start as it seemed Martinez was preparing everyone for Distin's return.
Ross was superb, by the way, seeing as it was his first start after so long out. Even those people who kept claiming he's overrated (or was "carried" by his teammates as one idiot on here said) last season must realise now how important he is to the way this Everton team try to play.
Weekends are so much better after a win!
Phil Walling
24
Posted 18/10/2014 at 17:28:15
Very pleased with today's performance with a result in line with my forecast. Still think there is too much needless tika- taki and I don't care who invented it, it does nothing to enhance any team's performance. It's play like the Baines / Coleman cameo that makes the game exciting.
Conor McCourt
25
Posted 18/10/2014 at 17:17:55
Too right, Mark, he had a nightmare against Liverpool, took all the blame against Southampton as he cost us a goal but had an excellent game otherwise and was one of the few on the day who look like they wanted to win that game. Otherwise, he has been excellent and he played with a very raw Stones in most of his games and helped him through.
I think Gavin summed it up when he says that most of the Everton fans who have been on his back are the ones that watch us on Match of the Day every week and listen to the idiots who analyse those games.
Linda, I think we won't be seeing too much of Distin again and don't think it's a fallout between the two. I just think that Roberto realises he's finished and will probably only use him out of necessity. I would guess that Browning may even be ahead of him in the pecking order.
Jim Lloyd
26
Posted 18/10/2014 at 17:41:34
Mark Frere... totally agree. Same with Naismith (worst player to wear a blue shirt evidently,)
Steve Cotton
27
Posted 18/10/2014 at 17:55:32
I thought Pienaar had a good game too, makes the left side come alive. As a side issue, I thought the ref was poor once again. He couldn't wait to blow up for fouls by us but let quite a few of their fouls go... not that I am biased.
Gavin Johnson
28
Posted 18/10/2014 at 17:50:36
Conor, I didn't say anything about Everton armchair supporters who only watch MotD on their evaluation of Alcaraz. The only point I made was that I thought it was OTT to call people on here twats because they don't rate Alcaraz.
I think a fully fit Alcaraz will be a good addition to the squad and he had good home match against Saints and an away game at Stoke partnering Stones. Even still, I think most people are going to judge him on those two games (RS & Saints away) because he's only played a handful of other games cos he's a perpetual sick note.
Steve Brown
29
Posted 18/10/2014 at 18:00:09
Which games did Alcaraz play well in last season? I can remember the ones where he has terrible... the derby, Southampton away, City home. People have slagged him off on here because he has largely played badly in an Everton shirt.
That being said, he was OK today. Hope he can keep it up.
Steve Brown
30
Posted 18/10/2014 at 18:06:11
Naismith on the other hand has never had any criticism from me as he is a clever player and works hard every game. Plus he has a great eye for goal.
Paul Andrews
31
Posted 18/10/2014 at 18:05:56
Three goals... clean sheet....1 point behind our lovable neighbours... 2 points behind Arsenal, Man Utd and Spurs — not one of them teams have had a fixture list like our start.
Onwards and upwards you Blue Boys. What doom and gloom???
Sam Hoare
32
Posted 18/10/2014 at 18:10:58
Great result and sounds like a good performance to match. Happily the likes of Arsenal, Man Utd and the RS are still very much in our sights and with a few more good results we should be where we belong. Competing to get into the top 4.
It will be interesting to see how much he rotates, if any, for Lille away which is big match in terms of our Europa interests. Today showed what our first XI (-ish) can do when rested and fit(-ish) but not sure we have the squad depth to match.
Sue Brown
33
Posted 18/10/2014 at 17:54:04
Great result and very happy to see Ross getting some game time and proving he makes a difference even though he is still getting back to form.
Bainsey was my MotM and great to see Seamus back doing what he does best, we've been missing his class. Onwards and upwards!
Jim Lloyd
34
Posted 18/10/2014 at 18:13:00
Steve,
Check out Conor's post (25). Alcaraz is a classy player and if he stays fit, will be a really good defender for us, especially now Stonsey's out till after New Year.
Jamie Barlow
35
Posted 18/10/2014 at 18:13:30
Great result and performance today. Only positives to be taken. A clean sheet with Alcaraz looking very comfortable. A confidence building Lukaku goal. Barkley back and looking good and the two Irish lads back adding some steel and pace.
I loved our third goal. Full back crosses for the other full back to score. Great football and shows you don't have to have wingers.
Naismith was fantastic again (as were others) but Baines was my MotM. A proper football brain that lad.
Mark Frere
36
Posted 18/10/2014 at 18:13:27
Steve Brown: Has our 2-1 victory at Goodison against the Saints escaped your memory?... well obviously it has! Alcaraz played alongside Stones and was excellent. He played many more games in January afterwards and did okay right up until the Merseyside derby. Like I said, people only remember the bad games.
Gavin Johnson
37
Posted 18/10/2014 at 18:20:28
It must be right if Conor says so then, Jim... ha ha!
Keith Glazzard
38
Posted 18/10/2014 at 18:16:30
Close to a first team line-up with a bit on the bench and 3-0. Not too much to add. McCarthy is very important and Seamus is, well, Seamus.
Baines gave a display of passing/crossing today which would be hard to beat. I noticed in the last England game that he was stamping his authority more than usual and then it occurred to me that, since the departure of the former captain, the England players actually pass the ball to him now. Funny that.
David Lok
39
Posted 18/10/2014 at 18:24:06
Wonderful result, I hope RM will get the players to play at this pace consistently. Much quicker passes all round compared the the Crystal Palace game.
Conor McCourt
40
Posted 18/10/2014 at 18:19:08
No, Gavin, I was making the point that you must have watched the Southampton game on MotD where Stones and Alcaraz were vilified by the panel. But I was at that game and we were second best throughout, even our top players like McCarthy, Coleman and Barkley didn't look as if they were up for it. Yes, Stones had his poorest game but Alcaraz was probably our second best player after Baines on that day. We were dominated in the middle of the park and had Alcaraz really have had a bad game we would have lost by 3 or 4 goals as he was actually dominating his area.
I hear people slating some of our performances this season but for me that game was easily our worst performance under Roberto as we were second best throughout. I think it's more Antolin's injury record that has annoyed most fans more than his performances but, for a squad player, he is very reliable and, if he stays fit, I think he will prove his worth.
Jim Lloyd
41
Posted 18/10/2014 at 18:19:04
What a difference today with some of our first team players back from injury. I think it showed just how much Ross gives both Macca and Gareth, time to get their breath back, by taking the ball forward so much.
I thought Macca was just stunning today and I don't think it's just coincidental with Ross being back in the team. He takes the pressure off them and they in turn have more time to be creative themselves, as well as doing their defensive duties.
Naisy was also outstanding, not only in the amount of effective chasing that he did but his intelligent and selfless running was superb and, as usual, his challenging for headers was excellent as well.
This sounds picky but I think Ossie was a passenger for a fair bit of the time. The game seemed to pass him by for long periods but nevertheless, he kept on going. It was great to see Pienaar back as well. I think Bainsey is far more effective going forward with Steven is playing. Then hopefully it won't be too long before Bryan is back fully fit and we'll be moving up the table towards the right end.
It really is great to see that our small squad is nearing it's full strength. I just hope the gods have said we've had more than our fair share of injuries this season.
Mike Chambers
42
Posted 18/10/2014 at 18:42:04
Good result, let's hope we can kick on.
Really good to see McGeady as an unused sub. Him not being in the team made us stronger.
Let's build on this mid week!
Jim Lloyd
43
Posted 18/10/2014 at 18:39:40
Gavin, it's right whether Conor says it or not. As it is, he has said so and so do I... I just didn't see the point in repeating a post which points out that Alcatraz takes no prisoners.
Gavin Johnson
44
Posted 18/10/2014 at 18:42:30
Conor, I was at the Saints game and Stoke away where Alcaraz played well but I still watch MotD highlights regardless of going to a particular game or not. If you read all my posts in this thread you'll see that I've never slated Alcaraz. I just think the juries out on a player who's only played a handful of games and had a shocker in a couple of those.
And my apologies if you thought that my post to Jim Lloyd was a slight against your knowledge of Everton. It was no such kind. I just found it humorous that Jim referred to your post like your opinion is more valid than Steve's own view and he would change his assessment by reading your post.
Can't believe I'm even getting involved in such hyperbole. We won today FFS! COYB
Graham Mockford
45
Posted 18/10/2014 at 18:43:57
Jim
I disagree about Ossie. I thought everyone had a least a 7/10 today with Baines, Barkley and Jags being the standout performers.
However, picking Ossie ahead of McGeady gave us much better shape and therefore harder to get at. What he does is he tucks into midfield and gives us an extra body in midfield. He also moves the ball quickly and his distribution was good all afternoon.
McGeady to me is a luxury player who does not give enough defensively. However that being said, today's side is for me currently our strongest starting eleven with Alcaraz and Ossie giving way for Stones and Mirallas when fit.
Brent Stephens
46
Posted 18/10/2014 at 18:47:40
Good goal from Jags from an excellent cross. If Lukaku's shot was fortunate, it nevertheless came from two quick, incisive passes – see we can make them! And great quickness of thought from Osman brought the final goal.
Very satisfying result. 3 points, a confidence-boost. Very sound games from Baines, McCarthy, Naismith (man of the season so far, for me). Nice to see Jags back to a more assured performance,with Alcaraz also assured, and a very good hour from the returning Ross.

Jim Bennings
47
Posted 18/10/2014 at 18:52:37
Much much better from the whole team.
How refreshing it was to see two central Everton defenders so physically dominant in the air especially.
Alcaraz for the record played well at Stoke on New Year's Day in harsh weather conditions also and with the then inexperienced John Stones partnering him.
The Birdman is by no means the worst player I have seen in a blue shirt, he's had horrendous luck with injuries.
Paul Andrews
48
Posted 18/10/2014 at 18:58:10
Next 4 fixtures:
Burnley (a)
Swansea (h)
Sunderland (a)
West Ham (h)
Injuries coming back, players getting sharper...
COYB
James Martin
49
Posted 18/10/2014 at 18:52:58
Alcaraz was really good today. Barely gave Benteke a sniff. That header in the first half he made under pressure from Benteke would have been 1-1 had Distin played – then it's a different game. He distributed it really well from the back too. He's had a bad rap from the fans despite only really playing when he's been half-fit against good teams.
For me. McCarthy needs to do more. One or two brilliant tackles a game doesn't make up for some uninspiring passing. Just want to see him get on it and drive forward a bit more with some aggression especially when Barry is covering for him. Nit picking really though in what was a decent performance.
Sam Hoare
50
Posted 18/10/2014 at 19:03:02
Picking up the nitpicking from James but, much as I like McCarthy as a player, there was another moment today (around 75 mins in) when he got the ball in quite a lot of space and Romelu made a really good run in behind a broken Villa defensive line but McCarthy was not even looking and instead was looking infield and made the safe sideways pass and the opportunity was gone.
It mainly annoys me because I know he is capable of more. Someone needs to drill it into him that when he gets the ball in space his first instinct should be to drive forward or to play that incisive pass. Not just to retain. He can do that when he is being pressed by all means but not always as a first instinct. Otherwise we lose so much potential momentum in the middle.
Anyway, like I said, I like McCarthy and today is a great day to be an Everton fan. Just an observation.
Phil Walling
51
Posted 18/10/2014 at 19:06:19
Now we've kick-started our league season, should Martinez play our 'first team ' at Lille and the ressies at Burnley or do it the other way round?
Personally, I always see the Prem as our major objective so today's bench – other than Robles – would see action in France. But I have a feeling Roberto fancies winning the Europa League and will thus have other ideas.
Trevor Lynes
52
Posted 18/10/2014 at 18:58:21
Just a 'positive' word on Distin! He has been immense for us since he first came and was definitely a main cog in the defence that absolutely carried the team for season after season.
Maybe he is coming to the end of his career but one stat emphasizes the sheer professionalism of the man: he is the longest serving foreign player in the premier league.
Today was a good result against a decent Villa side. Everyone played well and Baines stood out with his running and distribution throughout the match. Let's hope the corner has been turned and let's try not to castigate individual players. After all, it is a team game!
Alex Jones
53
Posted 18/10/2014 at 19:12:03
Great performance but I was also disapointed with McCarthy, he really slows our play down. I thought Barry had a good game and so I'd rather see Besic in for McCarthy if we have to play two holding players. Really, I'd rather Barkley played there and we gave Eto'o a run out with Lukaku
Jeff Armstrong
54
Posted 18/10/2014 at 18:58:45
I think people are going over the top on McCarthy; he is excellent at breaking up the opposition's play, but he is our worst culprit when it comes to slowing down our own play, constantly passing backwards and sideways, and not even having a look to see if there's a possible forward pass available.
Some of our play is so laboriously slow, and on the two occasions when we actually moved things quickly, we scored 2 goals: (1) McCarthy winning the ball in midfield, one quick forward pass to Barkley, first time to Lukaku, quick shot... goal. Then (2) a quickly taken FORWARD free-kick... goal.
Also, who is instigating our constant 11 men back for corners? Martinez was not doing this Moyes tactic early last season, but slowly it has become the norm again, to the extent with 4 minutes to go and 3-0 up we are pulling everyone back for corners. I mean, what use are Pienaar, Osman etc in our box for corners, admittedly they are not much use for a quick breakaway either but at least it would keep 4 of the opposition out of our box!
Jim Lloyd
55
Posted 18/10/2014 at 19:11:06
Aye, that's a part of his game that McCarthy needs to improve on but he's a young lad and I'm sure he'll do so.
I like Besic for that. He tackled someone got the ball, and in the space of a few yards beat three men and sent a brilliant pass to McGeady on the other side of the pitch. If it had been Captain Whinger from over the park, it would have had the press raving about our great England Captain (as was).
As long as he keeps off the backpasses!
Ian Bennett
56
Posted 18/10/2014 at 19:11:09
Good performance and three welcomed points. Ross looked great after being out so long.
Back four looked solid, with Baines, Coleman looking great at full back. It was a poor Villa side, although can't wait to kick on now. Still think McCarthy has more to offer if he had quicker legs next to him.
Gavin Johnson
57
Posted 18/10/2014 at 19:16:42
I missed the game today, so I'm really looking forward to seeing the highlights tonight. It sounds like it was a complete turnaround from some of the other performances.
Jamie Crowley
58
Posted 18/10/2014 at 19:09:48
We looked very good today.
Alcaraz had a superb game. He's so comfortable on the ball.
There was a period around the 34th or so minute (?) where we knocked the ball around probing for an opportunity where we looked fantastic.
A great game. Continue on, beat the teams we should the next 3 games, and fly up that table.
Declan Martin
59
Posted 18/10/2014 at 18:56:38
Close enough to our best starting eleven today. Even our bench looked pretty decent. With a full team, we are a match for anybody.
Injuries to key players in last few games cost us dearly. If we can stay injury free, we can really press on now...
John Malone
60
Posted 18/10/2014 at 18:55:52
Phil Wailing (#24), I couldn't agree more, both Jagielka's and Coleman's goals came from crosses across the face of goal. I've been banging on for years about the fact our early ball has gone missing. Baines and Pienaar were at their most effective when they'd link up and create the space then put in a early delivery in the space in front of the attackers.
All the passing in front of the opposition's defence is pointless with Lukaku as the focal point. To play that way you need quick thinking, quick footed, tricky forwards. I think Rom is at his best when the ball is played behind so he is running at goal. I thought Lukaku had a better game today and just hope, with Barkley being back, today's game can be the catalyst for our season.
Special mention to Steven Naismith putting a great shift out on the wing, hard work doesn't go unnoticed by the Everton crowd!
Phil Walling
61
Posted 18/10/2014 at 19:17:34
Make no mistake, McCarthy is a good player but he learned the short passing game under the tutelage of Martinez at Wigan. He is not yet too confident that his forward passes are that accurate so he takes the easy way out and passes sideways and backwards. Hopefully there will come a time – in a winning side – that this weakness will disappear from his game. It also afflicts Tom Cleverley as we saw today.
Jackie Barry
62
Posted 18/10/2014 at 19:30:29
McCarthy is excellent and it baffles me as to how people can miss all that he contributes to the game. Oh well... I guess Martinez sees it, which is all that counts in the end.
Nick Waters
63
Posted 18/10/2014 at 19:15:38
McCarthy baiting now?? Named as MotM by Sharpy (debatable, but not wildly inaccurate). Sorely missed in last few games, and today he did exactly the job he was instructed to carry out by his manager, in a team that has given way stupid goals in most matches this season. We then win 3-0. but that's not good enough for some people. Unbelievable.
Jeff Armstrong
64
Posted 18/10/2014 at 19:31:54
So Phil, maybe Martinez is the common denominator with both Cleverley and McCarthy, you could be right, but Cleverley has played for about 5 other managers, including national games, and he's still a crab!
Anyway, I thought Pienaar showed us the future today: 30 minute cameos towards the end of games... he was excellent for those 30 minutes and helped take the game away from Villa. By the same token, Ossie should be used similarly either for the first part of a game or the latter. Besic should have come on for him today again, for the last half hour.
John Crawley
65
Posted 18/10/2014 at 19:30:35
Sam 50 good observations regarding McCarthy. I was sitting in the Upper Gladys watching that and McCarthy just didn't look forward. Unfortunately it's not a one-off – it happened a number of times last season. It's a real weakness in his game, particularly when you compare his forward passing to Barry and in particular Besic (who looks the best passer of the three to me).
Lukaku makes a number of good runs and our central midfielders don't look to find him enough. Still, a good all-round performance and we looked like our old selves. Great to see Barkley back who seemed to give confidence to the whole team.
Jeff Armstrong
66
Posted 18/10/2014 at 19:43:17
Nobody is McCarthy baiting, he is a great holding midfielder who could be world class if he was a bit more expansive and had a quick look forwards sometimes.
Ian Bennett
67
Posted 18/10/2014 at 19:42:27
McCarthy gets 'bashed', as us Evertonians are desperately looking for a Gerrard type all-action box-to-box maestro. McCarthy plays it way too safe to be put into that category.
Jeff Armstrong
68
Posted 18/10/2014 at 19:48:36
I thought Barkley was the difference in the first hour, a little bit of guile and class, makes the opposition stand off him a bit and make us a little less predictable than we have been lately.
Alcaraz looked a lot more composed than Distin does playing the fannying around stuff, so if we're going to continue with this slow, slow, quickish, slow, slow stuff (which we obviously will), than Alcaraz will be the best option.
Harold Matthews
69
Posted 18/10/2014 at 19:35:44
Alcaraz was outpaced for one goal against the RS at their place. The other goals came via the Jags-Stones channel which was as high and wide as the River Mersey.
In fact, he has all too often been blamed for mistakes committed by others. I well remember him stepping up to play Aguero offside but Stones failed to step up with him. When the ball hit the net, Alcaraz was deemed to be the baddie.
Dave Lawley
70
Posted 18/10/2014 at 19:41:45
Sam (50) totally agree, Macca needs to kick on now and show us a bit on the ball otherwise he is never going to be a top player. He's good at what he does (running, tackling breaking up play) but he needs to be looking to go forward when we have the ball.
Kevin Rowlands
71
Posted 18/10/2014 at 19:56:24
Haven't seen the game because of work but very happy to see and hear Alcaraz getting a lot of credit, I always had a feeling there was a very good player there but he's had a terrible run of luck with injuries.
Hopefully we'll be saying the same about Kone soon enough but I'm not too confident on that one... As for Distin, I think his Everton career is close to coming to an end,
Mike Corcoran
72
Posted 18/10/2014 at 20:10:47
Having Baines and Coleman in means we can move from 4-2-3-1 to 3-5-2 easily with Barry dropping in. It negates the need for wingers like McGeady and Atsu who aren't gonna offer defensive strength.
The movement of Naismith, Osman, Barkley, and Pienaar allowed the space for the fullbacks with McCarthy and Barry dropping in. Like Total Football, la!
Jim Lloyd
73
Posted 18/10/2014 at 19:52:04
I wouldn't say he plays it way to safe but that he tries to ensure we keep possession. The number of occasions we've given the ball away needlessly, without any pressure on the individual, in the past few weeks has me pulling me hair out... if I had any!
I think our whole team is in a process of changing our style and I don't think it's going to come overnight. It seems to me, we have to learn to keep the ball by passing it around. Some of our players couldn't pass wind never mind give a decent pass.
I put Jagielka as my example as I thought he was a poor passer of the ball. I look at him now and he's improved a lot, although my heart's occasionally still in my mouth when he has the ball in deep defence and ponders what to do with it.
I see our team retaining possession and sometimes it is a painfully slow business watching them building up an attack. I think, though, that as the players become more confident, the ball will be passed around quicker and quicker.
Baines and Pienaar are brilliant at quick one-twos and Ross is naturally comfortable joining in, and so is McCarthy on occasions. He plays safety first but I think he'll also quicken up his thinking for a counter-attack but, if he doesn't turn into a Captain Whinger, I'll be pleased as punch to see him in our midfield for years to come.
It's a style of play that Arsenal have had for years and they've had time to develop it. Nevertheless, when they came to Goodison, last year and this, and when we went down there, it was us who looked the passing team, not them.
We're doing okay. You can see Barry opening up and spraying the passes around but he's a decade older; hopefully JM will improve this part of his game.
Stephen Brown
74
Posted 18/10/2014 at 20:14:08
Maybe today showed how important Ross Barkley is to us! McCarthy and Barry benefit from having around. Lukaku scored, clean sheet - happy Saturday night and I can watch MotD for first time since West Brom game!!!
Keith Glazzard
75
Posted 18/10/2014 at 20:11:23
Jagielka's best position? Is it looking like he can be more effective on the left of a central pair?
Traditionally a team's attacking strength comes down their right side, and one of Jag's strengths is reading a game. Perhaps that is where he ought to be, rather than clearing up at the back where he has spent most of his career?
Wayne Smyth
76
Posted 18/10/2014 at 20:07:05
Kevin, I wouldn't write Distin off.
Jags and Howard have caused us just as many problems this season through their own errors, yet their form has improved. Distin will get games and I'm sure he'll play well; especially if we have most of our players fit around him.
As for McCarthy slowing down our play, it's funny, I was watching Naismith today thinking the same thing a few times. Naismith does work incredibly hard for the team, but out on the wing where he played today, I find he is very ineffectual. The guy comes alive near the box and makes very intelligent runs, but I think he is barely half the player when he's played deeper.
I thought Barkley and Coleman were the difference today. We look so much better when they play because they give us directness, pace and a genuine goal threat from different areas. Watching Barkley today it was like it was his 10th game in a row; I couldn't believe that this was the guy's first competitive game since last season. Absolutely unbelievable.

Neal Coyle
77
Posted 18/10/2014 at 20:19:59
Thank Christ I can enjoy MotD, and look forward to work on Monday for the footy banter!
Barkley in my opinion is world class; it always feels better when you read he's available, the most intimidating player for the opposition since young Rooney.
Hats off to Jagielka: the perfect response to recent criticism. Baines and Coleman – what an attacking force... and Big Rom getting a goal just in time for Europe and upcoming league games, I'm hoping he's found himself again!
Let's enjoy a Saturday night, guys, excellent result. COYB
Peter Mills
78
Posted 18/10/2014 at 20:45:10
Better today, using what was effectively a 4-5-1 system.
Ryan Holroyd
79
Posted 18/10/2014 at 20:57:29
Wonderful to see Barkley back. An absolutely outstanding footballer.
Coleman is so fundamental to help we play. Not many better full backs in world football.
I'm sure with our better players coming back into the team we will soon motor up the table and the people desperate for Everton and in particular Roberto will soon shut up.
Mike Keating
80
Posted 18/10/2014 at 20:55:39
Naismith was my MotM – he never stopped running and covered the park. Really deserved his standing ovation at the end. Just goes to show how fickle and hopeless fans can be in their assessment of players. A year ago, he was getting the bird; now he's a folk hero. The antidote to all that's wrong with celeb footy.
Stephen Brown
81
Posted 18/10/2014 at 21:04:46
Whatever happens to Distin from here on in, he's been a very good servant to the club! Hopefully he's got a few games left in him as he deserves a good send off!
Mike Childs
82
Posted 18/10/2014 at 21:00:15
It's amazing how much more confident everyone was on the ball today with Barkley back. Say whatever you want about Jimmy McCarthy but if he doesn't make that tackle in the box, from a starting point in midfield when we're only up 1-0, they score and it's a whole different ballgame. He sure does look for Barkley a lot – can't blame him there.
Baines may have been MotM but, for the attitude the team showed today I'd be tempted to give it to Barkley.
Poor Ossie just can't buy a goal. What a great football IQ. Too bad his pace and strength have weakened cause he's always in the right place.
Roger Helm
83
Posted 18/10/2014 at 20:49:44
I thought it was a great performance and all the players did well. Even Osman and Barry were still running (not that quickly in Barry's case) after 90 minutes.
It looked like Martinez's style to perfection: composed possession football (I know many find it boring), patiently waiting for an opening, three quick attacks, three goals and Goodnight Vienna.
If it was Barcelona, we would all be saying they are geniuses.
Kevin Rowlands
84
Posted 18/10/2014 at 21:05:51
Wayne, not writing him off but I do get the feeling that it's coming to an end, don't forget he is 36/37? I hope the rumors of him and RM having a big fallout aren't true... Whatever the case, he's been fantastic for us, seemingly a really great bloke. If it is coming to an end I wish him nothing but the best.
James Flynn
85
Posted 18/10/2014 at 20:25:28
Phil Walling – I forget which thread it was, but your "The season starts with the Aston Villa game" is looking good. I'm in.
What a difference Barkley makes. For the hyperbolic comments on Roberto's hyperbole, one thing he said was dead on, "a diamond of English football". How we missed him.
Carl Sanderson
86
Posted 18/10/2014 at 21:21:05
Some of these comments about McCarthy's performance are baffling me. I thought he played superbly today: energetic, spatially aware, kept the ball moving and made one unbelievable block after reading the game instantly and running 40 yards to exactly the right position.
Pablo Connelly
87
Posted 18/10/2014 at 21:06:01
Trevor (52). Good point on Distin: when we paid ٣ million for 31-year-old to replace Lescott, plenty questioned the value saying we would only have 2 seasons at most with no sell-on value. So if now – after 6 years of quality service – he is close to an end, we definitely got him for a snip.
Ironically enough, he remained a top player longer than Lescott as well, who has done nothing for 2 years.
Stephen Brown
88
Posted 18/10/2014 at 21:34:11
Well said, Pablo! Like many others I slightly turned my nose up at 31-year-old Distin to replace Lescott but he's been 1st class in most games (semi-final at Wembley excluded).
John Voigt
89
Posted 18/10/2014 at 21:33:46
3 points is just what the doctor ordered (and I didn't care about form or how they scored).
Having Barkley back was huge.
Lukaku played more centrally than he had for quite some time. I'm OK with playing him wide right but he's not going to score as much out there. Nice to see him in and around the 18 yard box today and was glad he got on the score sheet.
Jags has already scored twice this season. Hope he chips in a few more.
The run of games not playing the big money teams is a real opportunity. I hope Everton bag a ton of points in the next 6 outings.
Steve Jenkins
90
Posted 18/10/2014 at 19:16:56
A win we really needed and hopefully it will kick-start our season, I haven't seen the game yet but it sounds like Barkley & Coleman brought much needed drive, energy and pace – especially in our midfield – that we've been missing.
Regarding Alcaraz – I'd just say he looks a classy player there's no doubt about that, my main concern about him is he seems to be seriously lacking in pace. Good reading of the game can make up for this but in something I don't like to have in a centre-back.
53 Alex & 54 Jeff
I agree re McCarthy – he should be sat in front of the back four breaking the play up and giving it off, it's his strength.
McCarthy when operating as a natural midfielder slows the game down no end, I commented on this and the shear frustration of the amount of times he passed back or sideways slowing the game down when there were opportunities to break forward quickly – after the derby match.
Either he or Barry should take up that position the other two positions should go to Besic and Barkley who offer far more all around and going forward, especially Barkley.

Tony Abrahams
91
Posted 18/10/2014 at 21:42:14
It's frustrating when you think a player can do more, like people think about McCarthy right now. I actually thought he played most of the second half in second gear, but then so did most of the team once they felt the game was won.
Hope Phil's right about the manager and the Europa League. Us fans always think we can win a trophy, but it's a long time since we had a man in charge who thought this way too.
Now looking forward to watching The Blues in France, along with at least another 10,000 Toffees. it will show the players what we actually think of Cup Competitions, and also show the manager that he's made the right choice if Mr Walling is correct about Roberto for once!
Kevin Tully
92
Posted 18/10/2014 at 22:19:24
Hello lads, we need to move on with the old ' I told you that passing malarkey was an old of old bollocks.'
It may well be a load of old tripe, but feck me, if you find yourselves 2 up in a European final, there won't many blues screaming to 'give it long.'
All I ask, is understanding? (Bob asked, me special like)
Kevin Tully
93
Posted 18/10/2014 at 22:28:35
By the way, lads – I had an argument with a great pal of mine. How the feck can you mark a 3-0 win 6/10?
Surely a 3-0 wins any side a 7/10?
Paul Hewitt
94
Posted 18/10/2014 at 22:37:54
McCarthy is class, simple. If you can't see that, you need glasses.
Gavin Ramejkis
95
Posted 18/10/2014 at 22:44:48
Surprised the report didn't have mention of that dirty bastard Agbonlahor and his blatant sliding foul on Baines nowhere near the ball which only earned him a yellow card, he is a snide bastard. Several other snide little digs from the bastard including a stamp on Coleman after he beat him to the ball and cleared it in the corner second half.
A hard-earned 3 points which was deserved, would have preferred Besic over Osman myself against the carthorse thuggery of Villa and Eto'o should have had more than the last five minutes.
Mike Childs
96
Posted 18/10/2014 at 22:47:21
Ditto Carl Sandersom. Jimmy Mac is the man!
Wayne Smyth
97
Posted 18/10/2014 at 22:43:51
Steve, I agree with your sentiments about the midfield.
I think there is a lot to be said in some games for a single holding midfielder (Barry or McCarthy) and Besic and Barkley playing further forward.
One reason Lukaku is not that effective is that he's usually operating too far from support. Two holding mids are often not necessary against teams who defend deep and Besic and Barkley seem to both be able to play a much more attacking role and support the striker.
I think both McCarthy and Barry did well today. Hopefully McCarthy will add more to his game as the results improve. It's difficult to judge the guy when team confidence has been low and we've had really bad injuries to deal with.
Anthony Burke
98
Posted 18/10/2014 at 22:52:07
Onwards to Burnley now. I remember Saha missing that penalty and getting shit off some Burnley fan in work so hopefully we won't need a pen and class will prevail. COYB!
Kevin Tully
99
Posted 18/10/2014 at 22:53:50
Just waiting for a certain poster to say "Why hasn't anyone signed that Jagielka fella? He has scored screamers!"
Phil Walling
100
Posted 18/10/2014 at 22:32:02
..........I thought even the manager 'done good ' today and we looked even better on the Sky Match Choice tonight. Well done to all !
Bill Gall
101
Posted 18/10/2014 at 23:14:52
Major differance today was the team was playing with confidence instead of uncertaincy.Keep it up on thursday.
Si Cooper
102
Posted 18/10/2014 at 23:07:33
Coleman is a big factor in things working for us. Makes a big difference both in defence and attack. Naismith made things much easier for him with great application to his defensive duties as well.
Barkley looked like he hadn't been out at all and the whole team just seemed to slot together seamlessly (which is what you would hope for from professionals, but don't often get).
We looked very comfortable against a Villa side who appear to have peaked in the first three or four games of the season. Fingers crossed for no fresh injuries and quick recoveries for those out and we can kick on from here.
Jay Harris
103
Posted 18/10/2014 at 23:01:19
I have to give a shout to Gareth Barry today who IMO just pipped Bainesy to MotM. He absolutely bossed the midfield today, picking the ball up by reading the game well and constantly spreading the ball around and linking up play.
I have advocated for weeks that the setup with McGeady, Eto'o, Lukaku and Naismith was too forward bias and left us weak in midfield so I felt much better to see the midfield beefed up today.
IMO we have enough wide play coming from Baines and Coleman. We do not need luxury players such as McGeady or Atsu unless we are chasing a game when they can be brought on as subs towards the end of a game.
Great performance by all the lads lets hope we keep the momentum going.
Brian Wilkinson
104
Posted 18/10/2014 at 23:39:51
Have to say I was always in the Alcaraz camp. Why do people slate the guy for the Anfield derby? The poor fucker was unfit, had to have an injection before the derby. If that was not bad enough, Martinez then pushed our defence high up. I would like to see any of the slaters try and catch ratboy when he has a clear run and head-start on goal.
Martinez screwed up that night, pushing our defence too far upfield, then expecting them to chase back with a dodgy knee – not just Alcaraz but I'm pretty sure Jags had to have an injection as well. Stones was thrown into the lion's den that night.
Fair play to Alcaraz that night, he didn't cry off or say "I'm shagged," – he played through the pain barrier and gave it a shot. But, like I say, Alcaraz when fully fit is a decent defender and brilliant at reading the game. Give the lad a chance and stop crucifying a player who was clearly unfit.
Kevin Rowlands
105
Posted 18/10/2014 at 23:55:36
My 9-year-old son watched the game today. I couldn't, I was working, as soon as I walked in, he was all over me telling that Barkley (who he calls a God) was fantastic... What the fuck am I gonna do if he ever leaves? BTW, I live in the States.
Trevor Lynes
106
Posted 18/10/2014 at 23:51:02
With all the extra games we need to play this season it is really great that we are almost back to our full strength. Just Kone, Mirallas, Distin and Stones out at the moment and the bench looking much stronger. I feel that all the squad will be required to really compete on all fronts.
I also think that Alcaraz could do the holding midfield role as pace is not a big priority in that position. He is comfortable on the ball and with more games I am sure his distribution would be a big asset. Perhaps he could rotate with Barry and help McCarthy to practice his distribution forward.
I also see Besic and Oviedo being valuable as the season progresses as Osman and Pienaar tire towards the end of games. Rotation will definitely be needed in midfield. Osman is still our most intelligent midfield player.
Dennis Ng
107
Posted 18/10/2014 at 23:41:08
Kevin, Jags looked pretty good on poster for The Equalizer already.
It's a great result. I missed the game but caught up with the goals. Looks more like last year now. Of course, against a mediocre team rather than a title contender but still a good start.
Hope they keep on improving from here. On the part of resting players against Lille, I definitely hope we rest some of the lads who had been recovering from injuries.
Gareth Fieldstead
108
Posted 18/10/2014 at 23:56:42
Agree with you, Phil: Eto'o, McGeady, Besic, Distin, Browning, Gibson, Oviedo and Atsu would be starting on Thursday. If we happen to be still in the Europa League after Premier League safety is confirmed and we have no chance of getting in the Champions League, then go for it. Otherwise I honestly don't care if we go out of this competition. We will not win it, the prize money is rubbish up until the final and frankly I would like to see us make a genuine effort to win the FA Cup.
Conor McCourt
109
Posted 18/10/2014 at 23:57:40
I agree with a few of the posters on here that the major flaw in McCarthy's game is that he doesn't look forward enough; however, I don't think some give him the credit for the work he does for the team. Many have suggested that we need him to be more box-to-box but people are doing him a disservice as he performed that way for Wigan.
When Roberto came into the job, he identified Coleman and Baines as our two greatest assets going forward, both of whom were susceptible defensively, so he devised the current system to get the most out of them and bought Barry and McCarthy to protect them and give them the licence to both bomb forward as we've seen today for the third goal. McCarthy fulfils the function the manager asks so we cannot blame the player for implementing Roberto's wishes. If only one holds then both full backs would not be able to bomb on like they do.
One poster suggested Gerrard as a template for McCarthy but have you seen how many goals Liverpool have shipped since he went to the holding role – nearly twice as many as the season before yet 7 centre halves have got the blame for his shortcomings.
I would suggest a more appropriate role model would be Schweinsteiger as primarily his job is one of responsibility yet he seems to always know when to slow the game down and when a more insightful ball is necessary.
Andy Crooks
110
Posted 19/10/2014 at 01:19:03
I just couldn't see it with Barkley; he seemed overrated to me.
I can see it now. It's hard to define but he just looks special.
Confident, comfortable... I just can't define it, but special.
James Flynn
111
Posted 19/10/2014 at 01:37:34
With Barry on 3 years, McCarthy, and Besic; Gibson is out isn't he. He and Distin gone in January?
Jason Heng
112
Posted 19/10/2014 at 01:22:49
Why rest players for the Lille game? Winning the Europa League guarantees a spot in Champions League next season, no?
Mike Green
113
Posted 19/10/2014 at 08:44:56
I couldn't agree more Andy Crooks, my sentiments exactly.
Our Kids a Red and from day one he's raved about Barkley ("England need to build the team around him for the next 10 years" etc) whereas I've kept the jury out to an extent.
His recent absence and the impact on his return has proved me wrong - he's the real deal, a powerhouse of a footballer.
And as for Coleman - hats off to David Moyes for signing the best right back on the Premier League.
What a difference two players can make, all of a sudden I feel like we can take on anybody.
COYB!
Tony Abrahams
114
Posted 19/10/2014 at 08:44:14
Schweinsteiger, that's who James McCarthy reminds me of sometimes. Always there to get the ball off a team mate under pressure and keeps the ball moving on
quickly
for the team.
But we all know that The German is also very classy when moving the ball forward and this is the side of the game McCarthy really needs to develop to become a great player.
Ben Jones
115
Posted 19/10/2014 at 10:08:41
Really good performance. For me the best thing was to see Alcaraz playing well and having the defence looked solid. That's what we lacked all season and if we continue that form with our already good attack, the wins will come.
Just a bit of a side note, I was pretty impressed with Cleverley's performance for them, he seemed very box to box with some decent passing and I had no idea he was capable. Is it worth getting him on a free for next season?
Steve Jenkins
116
Posted 19/10/2014 at 10:18:21
Wayne 97
Steve, I agree with your sentiments about the midfield.
I think there is a lot to be said in some games for a single holding midfielder (Barry or McCarthy) and Besic and Barkley playing further forward.
One reason Lukaku is not that effective is that he's usually operating too far from support. Two holding mids are often not necessary against teams who defend deep and Besic and Barkley seem to both be able to play a much more attacking role and support the striker.
I think both McCarthy and Barry did well today. Hopefully McCarthy will add more to his game as the results improve. It's difficult to judge the guy when team confidence has been low and we've had really bad injuries to deal with.
--------------------------------
Wayne, Agree with your comment that the majority of the time, two holding midfielders aren't necessary and in a lot of games will be quite detrimental to our attack.
That's why, for me, the majority of the time we should start with one of McCarthy/Barry sitting, with Besic and Barkley box to box midfielders that have a far more all around game, and bring energy, pace and dynamism to the midfield.
Besic will track back when required and Barkley will obviously be more attacking, I just feel our game is very pedestrian when both Barry and McCarthy are operating as CM's.
I'm not knocking McCarthy – I think he's an excellent player and he had a great game yesterday (I've now seen it), the tracking back and tackle he made and winning the ball off and given it to Barkley who supplied Lukaku was textbook McCarthy.
Where we struggle, and he does, is if he's being asked to play as a CM. He's brilliant at what he does, one of the best in the Prem League, but his game is limited atm otherwise.
He doesn't have link up play and can't dictate the way a Besic does, or have a diagonal ball in his locker like crease head.
He gives it simple sideways or back the majority of the time and if he is a CM and not a DM then it's detrimental to us going forward to attack and exploit because it slows our game down and the opportunity to break is lost.
One of the major issues at the beginning of the season was playing two DMs who weren't playing as DMs but as CMs.
Offering us v little creatively going forward and they weren't protecting the back four either, Roberto's hand was forced largely by injuries but still it was glaringly obvious to anyone that understands football.
I also agree after watching yesterday's game that Lukaku was not getting the attacking supply required, this was highlighted yesterday with Barkley coming back.
He was (Barkley) outstanding and seemed to be the catalyst that gave everybody else a noticeable lift in their game.

Mike Anson
117
Posted 19/10/2014 at 12:34:03
Steve (#116)
An incisive post, I agree with everything you've written.
Lukaku definitely needs a forward running midfielder that plays to his strengths. Once that happens regularly, we'll see payback on the 㿈M.
Amit Vithlani
118
Posted 19/10/2014 at 15:19:56
Marvellous result and whilst the defending was by no means perfect, there was plenty of grit and determination to admire.
Baines was unbelievable. Probably his best game in 2 years. His passing was crisp and sharp with great vision and awareness. He was undoubtedly helped by Barks and the combination with Lukaku will reap dividends for years to come assuming we can keep hold of Barks.
I think we need to put a strong team out against Lille and keep the form going. There is a big contingent of blue support travelling and Lille are a good side. It will be a real boost to beat them on their turf. I would rest Lukaku as he does not look fully fit and give the wily Eto'o a go.
Paul Dark
119
Posted 19/10/2014 at 15:32:57
A lot of good things yesterday ... albeit against somewhat lacklustre opponents: Baines was my MotM, followed by Naismith and Barkley whose link up play was crucial.
The difference when Ross plays is that the joined-up play that is a trademark of RM has a direction and purpose and is incisive. This purpose has been lacking this season compared to early-mid season last term when we were at our best, in my view.
I thought Jags looked more solid; the Liverpool goal might well have galvanised him. Although I'm a severe critic of Alcaraz he was solid yesterday, principally because he kept things very simple. Barry and McCarthy were reasonably protective of the back four (though I would like them to become more so).
As ever, Baines and Coleman were magnificent going forward, but they still allow crosses very generously in my view, in our own half. I really would like to see them defend a little wider.
I agree with some posters that we need to think about one defensive midfielder if we are to become more mobile going forward and provide Rom with support. Some call him lazy here, but he runs a lot and can hold up the ball and is often a little isolated. His first touch is baffling, I agree.
I just can't believe how much Naismith has come on; his touch, vision and effort are all to be lauded, and he's one of our most consistent performers bar none. I can hardly believe it.
I thought Osman was weak again, the clever quick free-kick aside. He lost the ball a lot and gave away unnecessary free-kicks. Like McGeady, he has the tendency to give away the ball when we are pouring forward.
Lukaku got stronger as the game went on, no question – and Stevie Pienaar was his usual lively self. If Besic can reproduce his international form for us in terms of quiet consistency, he will be a stalwart. I have great hopes for him.
It can all be undone next week at Burnley, but fingers crossed. I'd settle for a draw in France and a win at Turf Moor.
COYB!
Jamie Barlow
120
Posted 19/10/2014 at 16:13:10
Paul, your dislike for Ossie is clouding what you see. You see everything bad he does and multiply it in your mind. Yesterday, Barry, Motm Baines, Coleman, the solid Jagielka, Naismith and Barkley (who's link up play was crucial) all gave the ball away more than Ossie and McCarthy the same amount yet you single him out for giving the ball away too much. 4 times he gave the ball away.
Brent Stephens
121
Posted 19/10/2014 at 16:33:45
Jamie, spot on. Mysterious dark matter.
Tony Abrahams
122
Posted 19/10/2014 at 15:46:55
Steve Jenkins, good post, but I see it a little bit different if I'm honest. Barry is played in that position to get on the ball to make us play from the back. McCarthy has got to play alongside Barry because he has not got the speed or mobility to cover and play as an effective defensive midfielder by himself.
Watch us closely and you will see that at least 80% of our play goes through Gareth Barry. Wonderful footballer, Barry... very cultured, but he hasn't got the pace to play this position without getting exposed defensively.
If McCarthy played alongside Besic, it might free him up a bit to get involved further forward and his role in the team could advance past that of the water carrier?
Brent Stephens
123
Posted 19/10/2014 at 17:29:11
Tony, I would have thought that Besic would be the one to advance more than McCarthy. He's so good in using the ball (apart from that single you-know-what!).
Paul Dark
124
Posted 19/10/2014 at 17:34:15
Jamie: I don't dislike Ossie. I don't think he's good enough, and he isn't part of our future for me. I thought he was a bit of passenger yesterday on top of what I said, definitely our worst player.
Over and out.
Ray Roche
125
Posted 19/10/2014 at 17:34:41
Paul Dark,
Paul, I wonder if you are the dope who sits two rows behind me in the St End? You know, the one who hates Osman so much...
I watched Osman closely yesterday and the first mistake resulted in a purple faced lunatic screaming that Osman is "fucking shit" to all and sundry. That was after the 1st mistake, not the 21st. Some people are almost HOPING he'll mess up so that they can vent their spite on him.
Osman had a decent game yesterday and the third goal was due almost entirely to his speed of thought. Let's just save the slagging off until he really stinks the gaff out, eh? Apart from that, you've made a pretty accurate assessment of yesterday's match. Well done...
Paul Dark
126
Posted 19/10/2014 at 18:07:46
No, not me. I'm not so vocal (Row L, DB, main stand).
I certainly don't hope he messes up. I love the team and style of play RM is building. It's my (gentle) opinion that certain players do not belong in the side or squad (four, including Osman). I overstate that, I know - though my post above mentions Osman as part of my personal overall analysis of the game.
No (personal) offence intended to the little maestro ... .
Ray Roche
127
Posted 19/10/2014 at 18:26:27
Good man.
Tony Abrahams
128
Posted 19/10/2014 at 19:41:45
Maybe Brent, they both seem to have boundless energy, but the manager's system at present would seem to have the better ball player starting deeper. Try it both ways to see who suits which role better, but I've got a very good feeling about these two becoming a combination that can do a bit of everything.
Time will tell hopefully and I would like to see the two of them play together some time alongside Barkley.
Steve Jenkins
129
Posted 19/10/2014 at 19:40:28
Mike 116 & 122 Tony
Thanks.
Tony
I see and understand your point but guess we have agree to disagree on this.
For me it is one or other (McCarthy or Barry) and I would personally go with McCarthy in that position for the reasons you stated re Barry's pace etc. To have them both, again, for me, its too much sideways and back repeat with them both in the midfield.
Barry is a good player, but for me Besic is a better player that offers more all around; Barry has experience and I don't see him being dropped as he appears to be a big favourite of Roberto's whatever anyone else may think (myself included).
Hugh Jenkins
130
Posted 19/10/2014 at 20:42:17
Fantastic result yesterday, that I hope will set us on the road to the top four.
For all those worrying about Ross's future with the Blues, I think spending 㿈 million on Lukaku in the summer was a clear statement of intent by the club and by Roberto. Why spend that on a top quality striker at the age of 21 then sell the best midfielder in the UK, of the same age, the season after?
The fact that Ross signed a new long-term contract recently, is also a statement of intent by the player and the club. We may not sit at the top table with the "big money clubs", but due to our academy and coaching expertise, and with Roberto's clear eye for spotting cheap talent, we may well be able to compete with them on the pitch.
I think we are building for the future and believer the Roberto and Blue Bill have sold this vision to the young stars we have in our galaxy. Because of this belief, I have no fear of any of our young stars leaving and think that in two or three years, we will, once again, be knocking on the door of true and sustainable success.
After all, they only have to point to the likes of those who followed the dream – and clearly, later regretted it – to prove their case.
James Marshall
132
Posted 20/10/2014 at 13:21:19
Barkley playing was only part of the story (excuse me if this has been said, I haven't read the thread). Having Coleman back gives us so much more balance as a team as well.
As for the Barry things above – he's a class act, massively underrated and does a great job for the team. He keeps things ticking over, reads the game well and holds his position, which gives us better shape than Besic ever will.
Anyone calling for Besic to start ahead of Barry is entitled to their opinion, but I don't believe that's the right way to go at all. He's a good player too, but Barry has the nouse, is streetwise beyond Besic and holds the team together much better.
Besic might be quicker, and give a bit more going forward but without Barry at the base, we're not the same team at all.
---
Add Your Comments
In order to post a comment, you need to be logged in as a registered user of the site.
Or Sign up as a ToffeeWeb Member — it's free, takes just a few minutes and will allow you to post your comments on articles and Talking Points submissions across the site.
© ToffeeWeb