Defensive Strength Underpins First Win of the Year
By Lyndon Lloyd

01/02/2015

Comments (72)
jump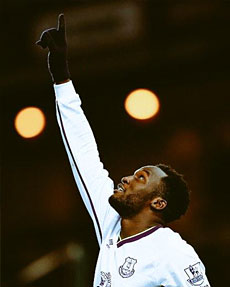 Lukaku's 10th of the season was enough to earn three vital points
Crystal Palace 0 - 1 Everton
Sometimes you just need to grind out a win. Somehow...anyhow... a lucky richochet off someone's backside if that's what it takes. There may have been an element of fortune about Romelu Lukaku's early winner at Selhurst Park today, and Phil Jagielka's clearance from under his own crossbar may have been effected with maybe an inch to spare – thumbs up for goal line technology! – but there wasn't much fortuitous about Everton's first win in seven matches.
This was a determined performance that proved a Roberto Martinez team can put on a resolute defensive stand to rival those of the David Moyes days and grind out a narrow, unattractive but essential victory. Given Crystal Palace's recent rejuvenation and the Blues' own dreadful run since beating QPR at Goodison seven weeks ago, a draw would have sufficed but, having snatched an early lead, Everton were able to stifle any resurgence in this contest from Alan Pardew's men.
That was no mean feat. Palace had scored six goals in their last two games and come from behind to win their last three and, prior to the goalless draw against West Brom, the Blues' last Premier League clean sheet was against Swansea at the start of November. Not only that, in the face of a play-the-percentages, second-ball team like their hosts, this could have been a nightmare for an Everton defence that has struggled at times this season to deal with aerial bombardment from the flanks and set-pieces.
With John Stones in the back four, though, and Joel Robles growing in confidence with every appearance, Martinez's outfit has made itself very difficult to beat since the disaster at Hull on New Year's Day. And apart from some nervy spells in the opening quarter of an hour, they largely repelled everything that Palace threw at them. That bodes very well for the remainder of the season and should keep any lingering danger of getting sucked into the dogfight below at bay.
Today was expected to be the day that James McCarthy returned to the side after a month on the sidelines with hamstring problems. Martinez had declared him fit last week but in the end he didn't travel with the squad, perhaps to keep him fresh for the Goodison derby looming next weekend. A vastly-improved display by Gareth Barry and another tenacious, if somewhat mercurial, performance by Muhamed Besic ensured that the Irishman's absence wasn't felt as keenly as it has been in recent weeks.
That the manager didn't elect to play all three across central midfield was ultimately a boon to the team's overall shape – with Aiden McGeady and Kevin Mirallas deployed on the flanks and Ross Barkley dropped back to the bench, Everton looked more balanced than they have for many a game and it showed in greater fluidity going forward.
It was, truth be told, still a fairly ragged showing at times in the attacking third of the field, with killer instinct still lacking and the final ball found wanting but, as it turned out, they needed to get it right only once and they did so in just the second minute. Stones threaded a pass down the right channel and through a huge hole in the home defence for Steven Naismith whose low cross into the six-yard box was pushed away from goal by Julian Speroni but into the path of Lukaku who converted in front of goal with just 114 seconds on the clock.
Typically, Palace responded almost immediately and when Damien Delaney out-jumped Stones to meet a long free kick and Robles hesitated, Dwight Gayle stole in to flick the ball into the empty goal. Thankfully, Jagielka was there to hook it off the line and preserve the lead. Robles again flapped at a subsequent corner but when the ball fell to Yaya Sonogo, Stones was there to charge down his shot.
In hindsight, if the game was going to slip from Everton's grasp, it was going to happen during that first quarter of an hour when poor decision-making and nervy defending threatened to let the home side in. Delaney took advantage of too much space wide on the Palace left and he picked out Chamakh, the Moroccan international defly side-stepped Phil Jagielka's sliding tackle but Stones lunged towards his shot and deflected it over the bar.
Everton settled again, though, and when Besic was chopped down by Chamakh in a dangerous area outside the Palace box, Leighton Baines fired a direct free kick disappointingly over the bar before Lukaku collected the Bosnian's nicely-weighted pass and cut it back for Naismith but he skied his first-time effort.
It was to be a feature of the game but the Blues were sending too many passes astray in midfield for comfort. Thankfully, with their usual tormentor Yannick Bolasie on international duty, Jason Puncheon lively but slightly off his game, and Martinez's back line in obdurate mood, Palace weren't able to punish them.
At the other end, Lukaku was charged with leading the line in the hold-up role he doesn't really relish but he worked tirelessly and he might have done better with a couple of good openings late in the first half were he not battling one of those days when his first touch consistently let him down.
The second half followed more or less the same pattern – Everton not quite able to keep and control possession in their customary manner and allowing pressure to build on their back line but the defence holding it all together impressively to fend of Palace's advances. As a potentially key weapon in the derby and an injury risk regardless, Mirallas was expendable by the midway point of the second period and he was replaced by Bryan Oviedo.
It wasn't until the final 15 minutes or so that the game started to open up further and more chances for the Blues to register only their second shot on target arrived. Lukaku went flying in stretching to meet McGeady's cross but couldn't make contact and referee Roger East waved away appeals for a penalty despite Scott Dann's obvious handball that prevented Besic's powerful shot from troubling Speroni in hte 83rd minute.
Two minutes later, Lukaku rampaged away on the counter once more and ignored Seamus Coleman's intelligent run in favour of laying it back to Naismith but his shot deflected behind. Stones's header from the resulting corner was cleared to the edge of the box where McGeady dispossessed his man and whipped a curling shot aimed for the far corner but Speroni pushed it away at full stretch.
Two minutes after that, Lukaku bore down on the Palace defence again and hammered a right-foot shot into the siden-netting before McGeady engineered a gilt-edged chance to wrap things up in stoppage time but with three better options open to him in front of goal, he went for glory and ballooned a dreadful shot high into the stands from the angle.
Ultimately, despite managing just those two efforts on target, albeit only one fewer than their hosts, and forcing only one corner, Everton had the better chances to score and defended better on the day. As such, the victory was a deserved one and it will hopefully provide another rung on the ladder of this slow ascent back to some sort of normality of performances, confidence and results.
If it was still worthwhile comparing the Everton of last season to this, you could dwell on the profligacy in possession and the untidiness of the final ball that prevented Martinez's men from winning this game more comfortably. With the Blues' reality now one of consolidating a position of safety in the League table and timing their own resurgence with the resumption of the Europa League, though, the only thing that mattered was gaining three points from a notoriously difficult place to earn them and taking the positives from what was, effectively, a fifth match without defeat.

Follow @Everton1an
---
Reader Comments (72)
Note: the following content is not moderated or vetted by the site owners at the time of submission. Comments are the responsibility of the poster. Disclaimer
John Keating
1
Posted 01/02/2015 at 08:03:44
The final paragraph sums it up. We got an early goal and clung on against Crystal Palace. If we continue to play like this we will lose more than we win – can you see the RS and Chelsea doing a Palace? I donĂ''t think so but nothing would be better if they DID so!
For me, the only thing that has changed over recent months is that we scored and hung on for the win. The overall performance was pathetic but the main thing is we got the points.
Lyndon Lloyd
2
Posted 01/02/2015 at 08:29:18
John, I try to discourage comments singling out individuals but based on your posts on MichaelĂ''s report and now this one (essentially saying the same thing) I feel itĂ''s worth pointing out that your hyperbole is becoming ridiculous.
It was not a "pathetic" performance. It wasnĂ''t particularly good overall but that didnĂ''t matter – it got the job done.
Most Blues agree that we just needed to win and that there is clearly an issue of confidence that is gradually being eased with each positive result.
Please try and maintain some reasoned perspective or just refrain from commenting for now.
Ian McDowell
3
Posted 01/02/2015 at 08:59:03
DidnĂ''t see the game, from what I am hearing we were truly awful. Still a much needed clean sheet and 3 points. Performances have got to improve though.
Peter Murray
4
Posted 01/02/2015 at 09:11:50
Away win against an in-form team, clean sheet and an inspirational performance from a much criticised captain.
Ă''Nuff said.
Steve Brown
6
Posted 01/02/2015 at 09:12:15
"Awful", "pathetic", yes that does apply to some lf the posts on here from people on here who watched a game yesterday (not the one I watched) or those who didnĂ''t bother watching it but still feel free to castigate the performance.
Dogged, determined, basic but a well-earned win against a confident team in top form playing at a noisy home ground. Palace created two clear chances in 90 minutes, we could have scored 3 in the last ten minutes. Job done and IĂ''m delighted.
By the way, a trend IĂ''ve noticed on the live forum is posters criticising the players and RM relentlessly but not commenting when we score a goal. Curious indeed...
Anyway, onwards to Liverpool and Chelsea and four more points in the bag.

John Crawley
7
Posted 01/02/2015 at 09:15:21
Good report as usual, Lyndon. It was a resolute defensive performance, something weĂ''ve all been crying out for. Apart from the five minutes after we scored, Palace didnĂ''t look like scoring. I wouldnĂ''t call it clinging on by any stretch of the imagination. If weĂ''d been more clinical we could have won it 3-0.
The two pluses from this horrendous run have been the emergence of Besic and Robles. Besic looks like heĂ''s got everything to develop into a top class central midfielder over the next few seasons. Robles is starting to play with more confidence and somewhat surprisingly is starting to dominate his box on crosses. HeĂ''s still got a way to go but I wouldnĂ''t be putting Howard back in the team.
Ian Jones
8
Posted 01/02/2015 at 08:44:59
I agree with Lyndon. Maintain perspective. 3 points at the moment, however earned, are worth taking.
Early days but one of the pluses at the moment for me is Joel Robles. He doesnĂ''t get much praise on here. I was worried when he came in based on previous performances but possibly having a run of games helps. It would be great to see him prove the doubters, including me, wrong.
Matt Traynor
9
Posted 01/02/2015 at 09:33:09
Watched the game but the stream kept hanging in the second half, although the commentary was never interrupted, bizarrely.
From following the live forum it also seemed like some of us were 1-2 mins behind others feeds.
As Lyndon has alluded to, thereĂ''s a feeling from some fans that they were almost disappointed at the win as it meant Martinez remains in post. (Although I recall Mike Walker getting sacked after registering his first win, against WHU in November?)
I tried to watch how Besic played, and was really impressed. He seems able to play the defensive midfield role or a more forward role with equal comfort, and has a range of passing. Bear in mind he can also play at CB and we have a versatile player there, hopefully one who will blossom in years to come.
Yes it was a bit scrappy, but Palace had won four on the bounce, and a lot better teams than us have/will gone/go there this season and come away with nothing.
David Flanagan
10
Posted 01/02/2015 at 09:40:21
IĂ''d take three points in whatever way they come. We have to win these sort of games. The Redshite, Chelsea and Arsenal with Leicester in the middle makes it even more important. It wasnĂ''t pretty and we are still guilty of over playing especially around the box – but a winĂ''s a win.
Tony Abrahams
11
Posted 01/02/2015 at 09:35:29
John Keating, you forgot to mention how lucky our goal was!
A team with little confidence playing a team that was full of it. Much more balanced, no signs of players not playing for the manager, and three vital points.
Keeper still makes me nervous, but hopefully the start of better things to come... "hopefully".
Kevin Gillen
12
Posted 01/02/2015 at 09:51:58
Ian Jones at 9 – well said! The goalkeeper has done a great job since coming in, two clean sheets in a row and a welcome change from the calamity that has been Tim Howard all season.
Tim has been a good keeper in the past and that shouldnĂ''t be forgotten but Robles has been the better performer this year and sticking with him could save the club a fortune.
He has been wrongly judged on one nervy performance at Arsenal in the cup last year as no good but with game time has the physical attributes and agility to become a really good player for us.
Jim Hourigan
13
Posted 01/02/2015 at 09:50:12
I agree that it was a scrappy performance but a vital win which for me, in our current form, is far more important.
Although you say we were more balanced I think we are far from being balanced. When we lost the ball going forward (which happened a lot), more often than not there would be Mirallas, Naismith and McGeady all ahead of the ball and out of position.
Palace are not a good side but a better side will exploit that space in quick counter attacks (RS?) and cause us problems. None of them are natural midfielders and for me that means we are unbalanced. But IĂ''ll take the result and hope the penny might eventually drop with Martinez.
Colin Glassar
14
Posted 01/02/2015 at 10:02:30
Great post, Lyndon. A lot of people on here lost any perspective a long time ago. This now looks like a personal vendetta for some posters as –win, lose or draw – the aim is to get rid of the manager at any cost.

Derek Thomas
15
Posted 01/02/2015 at 09:40:59
3pts. IĂ''ll take that. Have we turned a corner or does it only paper over the cracks... WeĂ''ll have to wait and see, game by game. But for now nothing happening on the In or Out scene, Players or Coach.
Box: Cardboard; desk clearing for the use of, still unused in the corner... for now.
John Keating
16
Posted 01/02/2015 at 10:10:23
OK, Lyndon, no problem, IĂ''ll keep off the threads for a while.
Shame we canĂ''t have different opinions but if weĂ''re only allowed upbeat type posts then nothing I can do.
If you think the Palace game was good then thatĂ''s your opinion. As IĂ''ve said the only thing that matters was the 3 points how we got them is obviously open to opinion.
Trevor Peers
17
Posted 01/02/2015 at 09:52:51
A much improved more balanced performance, the huge and relentless pressure from the fans on Martinez to change tactics seems to have worked. The priority now is keeping him in that pragmatic frame of mind.
The players looked happier with the tactics as we defended and attacked as a unit using two wingers backed up by their full backs; it also allowed more creativity from our midfielders. We fought hard for that victory... keep that up in the derby game and we will give a good account of ourselves.
Ian Jones
18
Posted 01/02/2015 at 10:23:11
Hi John @17.
I would suggest you keep posting. Difference of opinions are what makes this site interesting. I think itĂ''s all about our own perceptions of how we would like to see our team perform. I also suspect there are differences in opinions amongst those supporters who go to the game and see the full picture and those who donĂ''t..
I see about two games a season at Goodison so am not in best position to comment fully on performances and itĂ''s even harder watching the game on TV from behind the sofa.
Brent Stephens
19
Posted 01/02/2015 at 10:38:45
Agree with Ian. Keep posting, John. Disagree with you that it was a pathetic performance but brow-beating posters is frowned on on this site.
Mark Andersson
20
Posted 01/02/2015 at 10:22:16
One of the main reasons I read every post is it gives me food for thought. We are all entitled to say it as we see it, for me I have been educated over the last 12 months. My opinion can be changed by seeing it from other peopleĂ''s perspective.
A win was more important than the performance. As someone else said, you canĂ''t expect the boysĂ'' form to drastically change, itĂ''s going to take time for their confidence to return.
The derby next and if we apply the same dogged attitude and have a bit more composure in front of goal, then we can win. I want Martinez to prove me wrong, itĂ''s his team, tactics and results that have turned me against him. But IĂ''m always open-minded enough to admit I got it wrong and should have kept the faith.

These players showed li ast season what they can do, it would be nice to see a repeat of that and win more than we lose for the rest of the season.
Tony Marsh
21
Posted 01/02/2015 at 10:39:24
If the penalty fiasco against WBA had not occured we would of been 6pts from the last two games with no goals conceeded.Is that a corner turned I donĂ''t know.Is it a step forward then yes.The next game is always the most important and the Derby at Goodison next week is the most important in years.
The fact that Liverpool will come to attack and the game will open up is crucial.What a lot of our fans fail to recognise is that because of the stunning football we played last season virtually al of our opponents now park the bus they play us.We just cant find a way around it.
My worries about Saturday is the Stevie G factor,Sturridge coming back and the two or three passengers we carry every game.
McGeady,Naismith are shocking and now Mirallas doesnt want to know.We need Ross back and hopefully James McCarthy.
The last thing we need right now is our annual Derby beating by 3 or 4 goals.
Gerrard saying goodbye to Merseyside Derby games with his usual brace.
That I could not take.
Chris Leyland
22
Posted 01/02/2015 at 10:35:40
Lyndon, IĂ''m a bit surprised at your post re: John Keating. He is entitled to his opinion and he is allowed to say that he thought that the performance was pathetic. I donĂ''t actually agree with him as it was a case of win first, and the performance was secondary, which is actually the opposite of the managerĂ''s usual philosophy where he is all about the performance above the result.
I know that there are still a number of posters on here who have been so brain-washed into the cult of Roberto that they simply refuse to accept any criticism of him but I though that this site was about free and open debate.
Rather than being upset by John KeatingĂ''s Ă''hyperboleĂ'', IĂ''m far more worried about the hyperbole of Roberto Martinez. LetĂ''s get one thing straight though, all of us are desperate for Everton to win every game. The fact that is that a lot of us are angry that the casual, disorganised, arrogant attitude of the manager has been allowed to permeate through this season from the pre-season debacle through to his increasingly bizarre utterings in the media.
His comments this week about the fact that January wasnĂ''t the time to improve the squad (possibly a fair point in itself) was then swiftly followed in the next sentence about how heĂ''d got those improvements done last summer when, the reality is that he added 2 players above last yearĂ''s squad in Besic and EtoĂ''o, one of whom he has subsequently let go. Yes, he singed Barry and Lukaku on permanent deals too, but that simply allowed us to Ă''stand-stillĂ'' and Atsu for Gerard Deulofeu could also not be described as an improvement either.
His comments abut how satisfied he had been about our performances over the recent bad run and his other statements about Ă''proper EvertoniansĂ'' were also bizarre.
Anyway, I say "Well Done, Everton on finally winning" ... but letĂ''s allow John the right to post on here.
Barry Stevens
23
Posted 01/02/2015 at 10:54:20
3: points away against a team that had won their last 4. Also a team that had beaten us at home on the last 2 occasions weĂ''ve met. How can this not be viewed as a good result?
ThatĂ''s 5 unbeaten now, confidence is slowly coming back. Beat the shite next week and kick on our season.
Paul Dempsey
24
Posted 01/02/2015 at 10:47:19
John,
I didnĂ''t get the impression that you were being told you couldnĂ''t have a different point of view but I feel that, perhaps inadvertently, your post mirrored a very worrying and dispiriting trend on TW.
It seems that with the exception of a handful of posters everything is geared to a constant diatribe and bilious criticism of certain players, the manager and BK and the board. Much of this is increasingly vicious, personal and borderline libellous.
I am admittedly fairly new to the site but the last 12 months has seen the forums become a very unpleasant place to visit. God knows what posts are kept off the site!
I believe in free speech and football and Everton would be a blander place without diverse views... but when does a point of view become a vendetta?
Much of the season has been incredibly frustrating and we have performed poorly often it seems whilst following a slow and turgid style of play bereft of confidence. It is this that causes people to vent their spleen and frustration becomes bile.
Yesterday was a much needed step forward... letĂ''s enjoy it and look for positives before applying adjectives chosen to fit a specific mindset and a fixed view of the club.
This is not an overt criticism of any particular poster but a genuine and sincere observation of a growing malaise. Fair and balanced criticism definitely... but at what point do we stop being advocates of a solution but rather part of the problem?
Len Hawkins
25
Posted 01/02/2015 at 10:53:24
I agree with the posters who think Robles is becoming better with each game. I thought he was like an octopus on speed when he came in but his confidence was horribly shot by lack of game time.
To say he is worthy of keeping his place is an understatement and I hope his improvement continues which could turn him into the goalkeeper Evertonians appreciate.
Sorry, Tim, but I think itĂ''s time for you to mosey on into the sunset.
Chris James
26
Posted 01/02/2015 at 11:06:18
Sounds like we defended resolutely, werenĂ''t brilliant in possession, but created just enough to score a winner and grab the result which is ultimately what matters most.
Hmm, how would you describe that approach in a concise way... Keep it tight and nick one? ;-)
George McKane
27
Posted 01/02/2015 at 11:03:22
One of my favourite poets – nearly signed for Everton: "When truth is replaced by silence, the silence is a lie." – Yevgeny Yevtushenko.
LetĂ''s hear what everyone has to say – itĂ''s about football for goodness sake.
OK, letĂ''s go mad and have a full Yevtushenko Poem just to keep the cultural quality of TW up to scratch. Here we go:
Lying to the young is wrong.
Proving to them that lies are true is wrong.
Telling them
that GodĂ''s in his heaven
and allĂ''s well with the world
is wrong.
They know what you mean.
They are people too.
Tell them the difficulties
canĂ''t be counted,
and let them see
not only
what will be
but see
with clarity
these present times.
Say obstacles exist they must encounter,
sorrow comes,
hardship happens.
The hell with it.
Who never knew
the price of happiness
will not be happy.
Forgive no error
you recognise,
it will repeat itself,
a hundredfold
and afterward
our pupils
will not forgive in us
what we forgave.
Up the Blues.
Paul Thompson
28
Posted 01/02/2015 at 11:11:09
Many of the same problems that have blemished our season - notably being unable to hold the ball and ensure a transition from defence to attack. We still look awfully short of confidence.
But it was not a pathetic performance, particularly against a side on a good run. The defence does seem to be sorting itself out and we did create chances on the counter as the game progressed. That I suspect is how the rest of the season will play out. Keep it tight and play on the counter. A more confident Atsu on the back of his ACN adventures could make a difference in this respect.
Kevin Tully
29
Posted 01/02/2015 at 11:07:08
Every successful side is built on possessing a strong defensive unit, and we reaped the rewards of having just that last season. We had the third best defence in the League, at present, we have about the 5th worst! Goal difference is also a great indicator as to how you are performing, and we are currently mid-table in that respect.
YesterdayĂ''s performance was EXACTLY what was required to get this side back on course. Martinez cannot blindly follow his mantra of defence being secondary to attacking football. Defence always comes first.
The buck always stops with the manager, but individual mistakes have killed us this season (the stats back that up) so first and foremost, we need to cut those out. Whether thatĂ''s due to a falling out in the dressing room, or poor tactics, itĂ''s up to the manager to sort it out.
I feel a whole lot better without Distin and Howard near this team at present to be honest. Barkley needed a rest, no doubt about that – his game only suits being part of a winning side playing with confidence.
LetĂ''s hope we can bring a decent winger in during the window, Mirallas looks like his head is elsewhere. We cannot afford any passengers at present, especially in the derby.
Jon Withey
30
Posted 01/02/2015 at 11:24:04
Excellent write-up and pretty much how I saw things.
Really impressed with Besic and Stones and we should be grateful for the improvement in our back-up keeper who hasnĂ''t exactly been well supported.
ItĂ''s frustrating that our full-backs donĂ''t seem to get to the by-line and manage decent crosses anymore – partly due to form and perhaps partly due to an increased focus on defence.
At this point IĂ''d be happy with a mid-table finish and a summer of refreshing some of the squad who are just simply too old.

Nick Page
31
Posted 01/02/2015 at 11:35:57
Never been so glad to be wrong. Tough place to get a win too. Now we need to build on this pragmatic victory and build some confidence. RM will be fine as long as he learns and adapts. ThatĂ''s all I want to see.
Christopher Timmins
32
Posted 01/02/2015 at 11:38:21
Just two comments from reading the two reports provided by Lyndon and Ken:
ItĂ''s good to see that the balance of the team is looking better and that we no longer play with 3 № 10s.
Ken, you will be correct in your estimation of where the team will finish, I think somewhere between 9th and 12th.
There is still plenty to play for and hopefully with a good run between now and the end of the season we can crack the 50-point barrier. It did not appear at the start of the season that the team was one in the early stages of transition but, with Robles, Stones and Besic starting to become regulars and Howard, Distin, Pienaar and Osman having seen better days, thatĂ''s what seems to have transpired.
Jim Knightley
33
Posted 01/02/2015 at 11:32:04
A win is a win, and we desperately needed one. We have been piss-poor, but we were very unlucky in some of the matches weĂ''ve lost because of decisions (Newcastle Utd, Man City, Stoke City etc) so we were due a result.
IĂ''m with Kevin re the defensive backbone to an extent. I think you can get away with a poorer defense when spirits are high and the attacking football is free-flowing, but that, for almost any team in the world, disappears at points (for months or even seasons). With Martinez playing a style which does not suit the players, we will not get many positive results unless we start keeping clean sheets.
I think two of the teams we could have legitimately considered as our rivals for a top four place at the start of the season (legitimately if not necessarily realistically because of squad depth) Liverpool and Man Utd, started the season very poorly. Their attacking intention was not backed up by solid defensive play, and they were coming undone again and again. Recent success for both teams has come through scoring less goals, but importantly, conceding less. Southampton have similarly been so successful this season because their two holding midfielders have protected a very effective defensive unit, and theyĂ''ve taken their chances fantastically.
Now we have, when fit, a very good defensive unit. McCarthy is a superb defensive midfielder who has been sorely missed. Barry has been poor, and has contributed to our poor run, even if he has not been alone in that respect, whilst Besic is talented but rash. Nonetheless we can put out two good/very good DMs, and a back line of Baines, Jagielka, Stones and Coleman will keep clean sheets, even if the historically solid Distin has inevitably declined this season. This defensive unit should be a solid foundation, and we should concentrate on retaining that element of MoyesĂ''s legacy, because it was a fantastic element.
Obviously there is more to our defensive unit than those six players, especially when the structure-less attack midfield trio have often been caught wanting, in part because of positional problems, and we have at times been overloaded (we cannot expect an aging Barry to cover these gaps in a way that McCarthy can). This is a by-product of the positional problems caused in part by Martinez I think, and the players at the club.
The win was an essential win yesterday, not just because of the three points, but because of the clean sheet. We need to build on it, and Martinez needs to acknowledge that is style of football will not work with these players, and that focusing on our defensive merits is the best way to steer our way out of trouble. I donĂ''t have much in the way of expectations now, but IĂ''d like to see us get out of trouble, hopefully into the top half because the placing money is important for us, and IĂ''d like to see a small Europa run because then we can all dream for a little bit longer... and with this kind of season, we need to dream a little.
The derby is now the essential game of our season. If we lose it playing impotent football, all the bad feeling will be amplified. If we get a win, or even a draw, playing the kind of football we should be playing, then it can set us for the remaining few months. The fans want to see spirit, because we all know that this squad is underachieving. We have been almost unique in terms of the league in recent years, because weĂ''ve either overachieved, or done what was expected. We did to find that consistency again, and we need to find the spirit.
Finally, yesterday, weĂ''ve played a team on a good run of form and beat them, rather than being the team which gets beat by a team on a poor run. Now letĂ''s go do the same to Liverpool, because the players and manager owe us a big result.
Dennis Stevens
34
Posted 01/02/2015 at 11:33:02
Nice bit of poetry, George [28]. Not enough poetry gets shared, it always seems to be a somewhat private pleasure.
David Hallwood
35
Posted 01/02/2015 at 12:05:27
Two reports for the price of one; itĂ''s like being in ASDA! Both Ken and Lyndon always give fair and balanced reports which is a counterweight to some of the more hysterical posts we got on TW. And IMO both were bang on and added a dash of reality to the game.
Yes, we all want to see quick counter-attacking football, and yes we should be playing better with the squad weĂ''ve got; but we are where we are, and even if the team was playing at the top of its game, I would take a 1-0 away win all day long, no matter how spawny, tedious, straight to the last slot on MotD it was.
How many times have you seen the great Man Utd sides spawn an away win; not playing well and coming away with the points is a good habit to get. Onward and (hopefully) upwards and bring on the Redshite; not a good time to play them (but then again when is?) and on paper they should win, but IĂ''ve seen worse Everton sides beat/draw with better Liverpool sides so who knows.
We are coming out of a terrible run and confidence is fragile and between now and march IĂ''d take every 1-0 tedious load of old shite the game could throw up.

Andrew Cunningham
36
Posted 01/02/2015 at 11:42:26
Great write up, Lyndon, as usual. This was a win we just had to grind out and I wasnĂ''t sure we could before the game. People will always whinge about playing pretty etc but sometimes it just has to be all men on deck.
Maybe, just maybe, RM has realised that points on the board are what matters. Beat the Redshite next week and well who knows! Go for the jugular in a very winnable game. COYB!!

Mike Childs
37
Posted 01/02/2015 at 12:10:05
Great reports by both Lyndon and Ken. I unfortunately didnĂ''t get to see the game due to iTunes. So instead I watched MoysiesĂ'' Real Socidad take on Real. It was definitely a trip down memory lane. They were in the match for the first half and the second half looked like a team who knew they were beat before they hit the pitch.
On a side note if you havenĂ''t seen BenzemaĂ''s 2nd goal yesterday itĂ''s worth a look. Probably the best goal I have seen this season for power and placement.
Very happy with the win. Even more happy that Robles is coming good and God bless Jon Stones what a difference maker. Even Jags is playing better now.
Colin Glassar
38
Posted 01/02/2015 at 12:45:09
David Halwood, I think your last paragraph sums up all our wishes for the rest of this season.
Karl Graham
39
Posted 01/02/2015 at 12:52:25
People have been moaning that we play too much nice football and donĂ''t get results so IĂ''m glad we dug one out for a change. It will give the players far more confidence going into what is a tough run of fixtures. We are getting players back from injury hopefully McCarthy will be back next week.
All we need now is a run of form. Our season was just about on track earlier in season then we threw away a good position at Spurs and went into freefall. This scrappy win may be just the catalyst we need to get motoring.
Declan Brown
40
Posted 01/02/2015 at 13:03:06
Well done to the players for that yesterday. Palace, under a new manager (whom I despise), were on a good run, we hadnĂ''t beaten them in 3 games, at a rough ground to get anything from. Taking an early lead is great, but defending that lead like we did given our season so far took a lot of character.
May not have been pretty, but I remember the darker days where relegation was a darker spectre than it is now, where a 1-0 away win against anyone in any circumstances was mere hope over reason. This is a great result regardless of the lack of style. It was an important win-at-all-costs victory.
IĂ''m relieved we won because Everton won, not Roberto, I support Everton not Roberto, that comes first and foremost. I think (and hope) we will stay up, preferably avoiding the dogfight from the games after Chelsea, but cometh the summer I think Roberto should still go but thatĂ''s for another day, the plight of Everton FC to get to safety is first and foremost.
3:05pm to 4:55pm was a long time yesterday, very long indeed, but credit is due to the players, they stood up to be counted. The sense of relief was great more than anything.
Now for our friends across the park...
George McKane
41
Posted 01/02/2015 at 13:13:18
Thank you, Denis – sometimes I write bits on here just to make us think outside the football box but mainly for a bit of fun. I can recommend Yevtushenko – wonderful and emotive.
I try to mix a bit of art/culture with football and vice versa – for too many years you were put in a box: artists or football fan – now itĂ''s trendy to be interested (or seemingly) in football.
Sometimes I read poetry out at The Dark House before and after the match. I once wrote an article for an arts magazine about theatre and the headline was Grotowski Artaud and Stanislavski – I said it sounded like a midfield that we should have at Everton.
Also at a talk at The Biennal, I said Van Gogh should have signed for Everton.
Great result yesterday – all that mattered then.
Now letĂ''s push on.
As Curtis Mayfield said "move on up".
Cosmic grooves all the way.
Tom Bowers
42
Posted 01/02/2015 at 13:18:05
A win is a win and against a somewhat bogey side which is resurging under a new boss so that is in itself really creditable.
Okay, still lots to iron out but they only lost one game in January which shows they are becoming harder to beat again.
With Macca back next week I am sure the fans will feel better about upcoming games.

Ant Dwyer
43
Posted 01/02/2015 at 13:09:37
I watched every minute of yesterdayĂ''s game and we were truly awful. That may be a little harsh to some of you but, to me, some of you are blind optimists. Yes, we had a few chances, but so did Palace. For me, it was two struggling sides both operating at the end of the table they deserve to be at.
I love Everton with all of me but somehow Roberto has transformed a solid top 7 side into a dithering train wreck of a side. IĂ''m a big fan of Lukaku and Mirallas but they both did very little, they both worked hard but their quality on the ball was poor.
Our defence stood strong along with Joel who collected a lot of crosses but we massively miss McCarthy and an in-form Ross Barkley. Naisy has been in decent enough form at times this season but IĂ''d like to see Ross put back in a central role sooner rather than later as he can help to control the big games for us. WeĂ''ve just gotta hope the warm winter training and a seat on the bench this week has revitalised him in the way SterlingĂ''s trip to Jamaica rejuvenated him.
I canĂ''t stand Brendan Rodgers but what heĂ''s done recently is get back to his basics, get Sterling back firing and kicked on. It could be a blue print for us where Roberto goes back to having the best attacking full backs in the league and a young fearless attack of Lukaku and Barkley with the added creativity of Mirallas.
Back to yesterdayĂ''s performance though, itĂ''s simple: If we play like that vs the Redshite and Chelsea, we will be destroyed.
Brian Hennessy
44
Posted 01/02/2015 at 13:16:34
Bit of a selection headache for RM next week re McCarthy.
Besic and Barry did very well yesterday so it will be interesting to see if he makes any changes if McCarthy is fit.
If things are tight or not going our way in the derby, I would like to see Kone on much sooner next week, thought he held the ball up really well during his brief spell yesterday.
A real plus point is the form of Robles. I must admit I had written him off after a few appearances, I am delighted to see he is proving me wrong and even if Howard was fit at the moment I think Joel deserves to keep his place.
A surprise addition on transfer deadline day would cap a good weekend all round!!!
Mike Childs
45
Posted 01/02/2015 at 13:27:42
How crazy is this season? After the Shites across the city and Manure, the Goobers are my least favorite team, yet today I root for them to keep Villa in free fall. Strange indeed the mind over the heart.
Andrew Cunningham
46
Posted 01/02/2015 at 13:18:06
ToffeeWeb letters pages should have a like button similar to Facebook.

Colin Glassar
47
Posted 01/02/2015 at 13:33:19
Brian, if McCarthy didnĂ''t travel yesterday, I imagine that means heĂ''s not 100%. If thatĂ''s the case then I wouldnĂ''t risk him by starting against that lot. He needs to be eased back into the team and anyway, Barry and Besic are forming a decent partnership in MF.
The same goes for Howard. ThereĂ''s no way IĂ''d let him just walk back into the team if Robles continues to improve. People need to start fighting for their places thatĂ''s the only way to improve them.
In other words, IĂ''d start the same team as yesterday against the RS.
Trevor Peers
48
Posted 01/02/2015 at 13:03:37
There was a definite change in tactics but it was not a total transformation from what has gone before. We looked a better unit defending and attacking so maybe lessons have been learned. Can we dream of a similar result in the derby game?
Tony Hill
49
Posted 01/02/2015 at 13:41:01
Your second paragraph Colin is spot on. I also agree about McCarthy but the uncertainty about his condition is becoming a bit of a worry.
Paul Tran
50
Posted 01/02/2015 at 13:45:17
Need some perspective here. We beat a team we should be beating. We defended like we should be defending – a solid unit. We need to remember how to pass the ball. Lukaku needs to learn how to control one, win headers and use his frame.
All the back four played well, particularly Robles who caught the ball, commanded the box and looked for the first time like a half-decent keeper.
Teams on a bad run need a scrappy 1-0 victory. IĂ''m glad we took this chance, now we need some consistency.
Imagine if Martinez had been sacked last week, been replaced by Big Joe, Big Dunc, or AN Other Mr Shouty-Sweary and weĂ''d given that display. Think of all the posts weĂ''d be reading about a Ă''properĂ'' Everton performance, the kind of gritty, hard-fought display youĂ''d never see from a Martinez team. The Ă''realĂ'' Everton being back.
Anthony Newell
51
Posted 01/02/2015 at 15:17:27
Having gone to Selhurst with a great deal of trepidation, I have to say that I went away very satisfied with that.
Okay, it wasnĂ''t pretty... but I welcome that after recent defeats and a free-scoring Palace. A sombre pre-match Martinez set out the side and ground out the result.
What pleased me most was that those in defensive roles were clearly told to just Ă''put your foot through itĂ'' and clear the ball when necessary, no messing about.
Palace were largely restricted to speculative crosses into the box to find Jagielka and Stones in imperious form. Besic also impressed me. McGeady didnĂ''t do himself any favours at all with that ballooned chance and I hope Barkley gets restored for the big one.
Always nice to see Ă''in a different leagueĂ'' Pards have the smile wiped off his face!
Tony Draper
52
Posted 01/02/2015 at 15:24:03
George @#27
Class that my friend, sheer class.
Recently I posted another poem which I felt was appropriate......canĂ''t for the life of me find it, so please forgive my repetition....
"If —", Rudyard Kipling:
If you can keep your head when all about you
Are losing theirs and blaming it on you,
If you can trust yourself when all men doubt you,
But make allowance for their doubting too;
If you can wait and not be tired by waiting,
Or being lied about, don't deal in lies,
Or being hated, don't give way to hating,
And yet don't look too good, nor talk too wise:
If you can dream — and not make dreams your master;
If you can think — and not make thoughts your aim;
If you can meet with Triumph and Disaster
And treat those two impostors just the same;
If you can bear to hear the truth you've spoken
Twisted by knaves to make a trap for fools,
Or watch the things you gave your life to, broken,
And stoop and build 'em up with worn-out tools:
If you can make one heap of all your winnings
And risk it on one turn of pitch-and-toss,
And lose, and start again at your beginnings
And never breathe a word about your loss;
If you can force your heart and nerve and sinew
To serve your turn long after they are gone,
And so hold on when there is nothing in you
Except the Will which says to them: "Hold on!"
If you can talk with crowds and keep your virtue,
Or walk with Kings—nor lose the common touch,
If neither foes nor loving friends can hurt you,
If all men count with you, but none too much;
If you can fill the unforgiving minute
With sixty seconds' worth of distance run,
Yours is the Earth and everything that's in it,
And — which is more — youĂ''re an Evertonian, my son!
(BTW his poetry might be magic.......but his cakes are overpriced shite!)
Colin Glassar
53
Posted 01/02/2015 at 15:49:45
I recently posted, "Stand by your man" Tammy WynetteĂ''s ageless classic. IĂ''m waiting for the opportunity to share with you all, SimonovĂ''s "Wait for me". We need to educate the masses, comrades.
Victor Jones
54
Posted 01/02/2015 at 15:23:42
The result yesterday was more important than any performance. Just happy that we have 3 points, and that other results also went our way. How would people feel if today we were talking about Everton having 70 per cent plus of the possession, but losing the game. And Martinez talking Bollocks. He can now for this week talk nonsense, I donĂ''t care, we won the game, and that is all that matters. A similar performance and scoreline next week, and nobody will be complaining. In fact as much as I want Everton to turn over the RS, IĂ''d right now take a draw. That is not being defeatist, its being realistic. ThatĂ''s what this season has done to me. No more Gung ho stupid predictions, cause this is not the Everton of most of last season. Although if Martinez can show that he can be flexible, then I see no reason why we cannot finish strong. The ball is in MartinezĂ''s court. No one else. And I mean no one. Everton play to his instructions and tactics, (not Bill Kenwrights).
So to sum up. IMO Everton are better balanced when Oviedo is playing. They went on a run of wins last season when he played in place of an injured Baines. Just a thought. Also IĂ''d think about testing Coleman, defence wise , can Browning or Hibbert be any worse. IĂ''m only talking for the odd game. And as seen yesterday, the team can manage with Barkley taken out of the firing line, for now. I prefer proper midfielders to actually be playing in midfield (not Naismith or Mirallas). IĂ''d even play Barry(cause he is not getting dropped), Besic and McCarthy(when fit), in the same team. Shore up the midfield. Play for now 4-4-2, The wing-back system (for some reason , this season is not working). Coleman and Baines are being stifled. So adapt, just play an orthodox defensive game. This team cannot afford to plod on the same old way that we saw over Christmas. The passing game was slow and stale. IĂ''m amazed that it has taken so long to actually try and change, cause to carry on would have been a disaster. Yesterday was not pretty but it was 3 points. ThatĂ''s all that counts. Just a point on our midfield, we badly need a creative midfielder. A real general who controls that area, and who can provide good ball to the forward line. We donĂ''t have that type of player at the club. Along with other positions, I hope that that is a priority for the summer. Barkley is not ready to do that job.
Bring on next week. Set up to not concede (that is half the battle). And lets hit them on the break, cause on their day ,Everton can be good playing that way. Practise corners and Freekicks (cause they could be the difference in this type of game). No slow passing anywhere on the pitch (especially defence). And no mistakes. And we just might get a result. Sorry for stating the bloody obvious, but its taken Martinez far to long to actually see the obvious. This poor run was a bit more than just a blip. Lets hope that a corner has been turned.
Last comment, as everybody has said, a win is a win, well done to all, thatĂ''s the players and the manager, credit were credit is due. Get by whatever means points on the board. Gain confidence. Build on that and I have faith that performances will follow. But any more downfalls like the winter of discontent, and the managers role must be questioned. As already stated, the ball is now firmly in Mr.MartinezĂ''s court. Heres hoping that he is up to the challenge. And please Mr. Martinez, no more talking nonsense. Just manage.
Tony Abrahams
56
Posted 01/02/2015 at 16:34:04
Post 50, will do for me Paul.

Victor Jones
57
Posted 01/02/2015 at 16:43:08
I DonĂ''t normally respond to other comments, because TBH everyone is entitled to their opinion. But Paul TranĂ''s comment is just crass. After one win he reckons that some sort of corner has been turned. And also that the likes of big Joe Royle would not be able to do a job at Everton. Have you got a crystal ball, Mr Tran? The facts are there for all to see, the league table does not lie. The performances over the last few months have been awful, we're out of all domestic cups.
At this stage of the season, I believe that it is a lower points tally than Walter Smith had when he was sacked. No crystal ball needed to see all that. But one win and you reckon Martinez deserves a round of applause. I reserve judgement on that. And for the record, I donĂ''t hate Martinez, I hate the poor results this season. And it's not all down to a few injuries... is it?
Sorry folks, but people making comments, and directing them at others gets my goat (and this is the last from me in that vein). Make a comment and then let people make up their own minds. No stupid insults. We all know our own minds. Be civilised. COYBS.
Steve Lundberg
59
Posted 01/02/2015 at 17:04:45
Yep, Paul @ post 50 has this dead right!
Three of our back four are England internationals. We should be expecting to be tight and organised at the back. We should be hard to beat rather than nice to play against.
Focus on getting us right and steady at the back again as we were last season before trying the fancy stuff again.
Lyndon Lloyd
60
Posted 01/02/2015 at 17:22:50
John K (16). Not trying to browbeat you or drum you off the site because, as others have alluded, youĂ''re perfectly entitled to an opposing opinion.
ItĂ''s the blanket dismissal of a performance that earned a 1-0 win as "pathetic" and "absolute crap" and the labelling of the players as "these arseholes" that I donĂ''t think helps either your case or the standard or discussion on these pages, particularly when youĂ''ve already said the same thing on another thread.
Paul Tran
63
Posted 01/02/2015 at 19:45:09
Victor, can you please point out:
1) the bits of my post where I suggested we'd turned a corner after one win.
2) The bits of my post where I said Joe Royce couldn't do a job?
Victor, I don't have a crystal ball, just my opinions and perceptions like everyone else.
The irony is that part of my post was about how some people twist words to suit their dislike of Martinez.
Point proved, methinks. ....
Brian Harrison
64
Posted 01/02/2015 at 20:28:02
I am certainly not a fan of RM but I have to say that I didn't think in my wildest dreams that under RM we could produce such a resolute defensive display.
What we need to do is to add an attacking dimension to our game, for whatever reason we are reluctant to shoot from just outside the box, added to the fact that we very rarely play the ball into the box quickly. Instead everyone wants to dribble inside the box for heavens sake just put your foot through the ball when in and around the box.
Nicholas Ryan
65
Posted 02/02/2015 at 00:53:57
This was a banana-skin ... we didn't slip on it ... that'll do!!
Abhishek Saha
67
Posted 02/02/2015 at 06:16:49
Against the RS, I would start with Oviedo in place of McGeady. Oviedo has a unique talent, he never gets overawed by a situation or feels any pressure in a big game. We have seen that last season (against Arsenal I guess) and against CP, he hardly looked someone who has been away for an year with a double leg break.
Robles
Coleman Jagielka Stones Baines
Barry (45' McCarthy) Besic
Mirallas (60' Barkley) Naismith Oviedo (75' Kone)
Lukaku
1st sub: Get in McCarthy in second half, with that bundle of energy against some tiring RS midfielders.
2nd sub: Get in Kone and shift to a more traditional 4-4-2 formation. The RS will not be expecting it.
3rd sub: Get Barkley in, he will have a point or two to prove now.

Abhishek Saha
68
Posted 02/02/2015 at 06:16:49
Against the RS, I would start with Oviedo in place of Mcgeady. Oviedo has a unique talent, he never gets overawed by a situation or feels any pressure in a big game. We have seen that last season (against Arsenal I guess) and against CP, he hardly looked someone who has been away for an year with a double leg break.
Robles
Coleman Jagielka Stones Baines
Barry (45" McCarthy) Besic
Mirallas (60" Barkley) Naismith Oviedo (75" Kone)
Lukaku
1st sub: Get in McCarthy in second half, with that bundle of enerygy against some tiring RS midfielders.
2nd sub: Get in Kone and shift to a more traditional 4-4-2 formation. The RS will not be expecting it.
3rd sub: Get Barkley in, he will have a point or two to prove now.

David Ellis
69
Posted 02/02/2015 at 06:56:32
Victor (#57). If you're going to have a pop at someone's post you need to read it with more reflection. Paul Tran's post was absolutely fine and in my view bang on the money. But more importantly he simply did not say what you seem to have read into it.
Charlie Gibson
70
Posted 02/02/2015 at 09:08:46
I was at the game - and thought Everton did very, very well.
There was never going to be the time or space for Martinez to try and play slow, possession football. And – finally – Bobby embraced this. The players often looked for the forward pass to the wingers or Lukaku three or four passes earlier than against West Brom. It worked. Even though they had less of the ball than Palace, the Everton players created by far the better chances in the game. I can only remember Robles having to make one save from a 25-yarder, and punch out a dangerous cross; everything else (bar Jagielka's excellent goalline clearance) was pretty easily dealt with. On the other hand, some better finishing from Lukaku, McGeady and Naismith should've seen a more comfortable winning margin.
Keeping a clean sheet away from home is always a fantastic achievement. And even better considering Palace's recent goalscoring record.
Time to get behind Martinez. The team was clearly together, they approached the game the right way and they deserved the three points. Goodison derby now – and the team will need everything from the fans. No negativity. No boos when we pass the ball across the back.
The biggest game of our season so far is up next. But after witnessing the fight and determination at Selhurst Park first hand, I think they'll be up for it, and I think we can win it.
Max Wilson
71
Posted 02/02/2015 at 12:21:59
Interesting to read Toffees mates feelings after this game and also the Sunday papers. The papers selected Stones and Jags as outstanding. Most of our team got 7/10.
Frankly, the goal was lucky and Lukaku put it away speedily.Then they came at us, lost a key player and by the middle of the second half were tiring. McGeady missed the best second goal chance by not passing the ball. I've heard him described as a headless chicken that runs all day.
I'm sure we'll be up for the Derby. Sturridge is back but then so is Jags.
Mike Childs
72
Posted 02/02/2015 at 15:34:31
It's taken a while this season, but I can't wait for the next match – the feeling has returned thankfully.
Add Your Comments
In order to post a comment, you need to be logged in as a registered user of the site.
Or Sign up as a ToffeeWeb Member — it's free, takes just a few minutes and will allow you to post your comments on articles and Talking Points submissions across the site.
© ToffeeWeb