Early Jags goal defended to the end
By Michael Kenrick
04/04/2015

Comments (115)
jump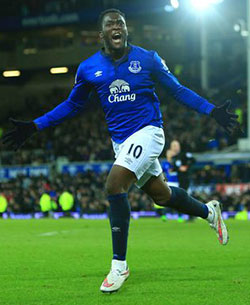 Romelu Lukaku failed a fitness test on his injured hamstring and misses the Southampton clash
Romelu Lukaku failed a fitness test and was replaced by Arouna Kone up front to face Southampton, with Gibson also not fit and Gareth Barry coming straight back into the side after missing two games through suspension.
Southampton made a confident and determined start, driving at the home side and winning an early free-kick. Everton did respond, Osman doing some rangefinding, but the visitors were rampant, Long playing Pelle in and he cleverly chipped the ball over Howard, forcing him into a tremendous one-handed save to claw the ball out from right under the bar.
The Saints attacks were rapid and incisive, using the full width of the field, and it seemed to inspire Barkley, who was doing his best to get Everton going, winning a free-kick in a good position that Baines crossed in harder than usual, but nothing came of it.
The Blues looked to attack with a bit of deft passing and it appeared like Kone could make something of it until those clever feet of Osman saw the ball given away easily. In the next attack, McCarthy came close off a cross in from Kone, but could not convert, the two players juxtaposed from their optimal positions.
That effort won a couple of corners and Everton scored from the second, Baines putting a good ball in that Stones contacted under pressure and Barry clipped nicely back into the mixer — there was Phil Jagielka with the deftest of flicks to turn the angled ball across the line in a packed Southampton area, much to the delight of the assembled Blue masses.
Barkley went on a surging run through the middle but ran into heavy traffic and stalled. Everton then tried attacking down the right wing and Bertrand blocked Lennon to earn a yellow card. McCarthy's shot off the Baines free-kick was blocked but Coleman got a nice cross in that Kone could only head rather wide.
Stones gave away a dangerous free-kick just outside the Dee that Ward-Prowse lashed inches wide with Howard rooted and statuesque on the other side of the goal. It was a very competitive game, however, with Everton responding well to the sharp and penetrative play of the visitors, buoyed no doubt by the go-ahead goal.
Saints were really pulling out the stops, Ward-Prowse driving a great curling shot at Howard, who stuck an arm out in startled fashion to block it away. They won their first corner on the half-hour but it was not cleared properly and led to a second corner, swung in by Ward-Prowse that Long drove at, taking out poor little Osman, almost knocking him out.
A great fast move saw good work from Lennon, Kone again playing wide but crossing well for Osman to attack the ball and win a corner that it looked as if Jagielka could convert but his contact with the ball lacked any directional control.
Barkley was playing a deeper role and trying to pull the strings, helping Baines get forward and put in a great cross that really deserved a better finish. In defence, however, Barkley was left for dead when Long sneaked around the back of him to win a third corner, which to a fourth and a wild shot that was well over.
A dreadful free-kick by John Stones was whacked horribly across the field to no-one and out of play, Everton perhaps showing signs of tiredness before the break after having to really put in a shift to stay in touch with the super-fit and hugely energetic visitors, despite having the one-goal lead.
The second half started a little scrappy with a lot of competitive/niggly challenges breaking up the flow until Lennon got on the ball and it eventually got forward to Osman but there was no-one on the other end of his inviting cross.
Just as the game opened up with some good forward passing, McCarthy turned nicely and with Coleman overlapping, played the most awful of passes way behind the Irishman and out of play, as if he was determined to reinforcing the scaything comments made about him. Kone was just as bed when he had a chance to play in Coleman, sending the ball straight to the feet of a defender.
McCarthy played a much better call forward down the left for Kone to run onto but yet again he passed the ball directly to a defender to end the play and gift the impetus right back to an increasingly intense Southampton side. Lenon and Kone tried some intricate interchanges through the middle, then McCarthy and Lennon, then Barkley, but no-one could get behind the resolute defensive line. Southampton were soon attacking again and winning a corner that Howard had to punch clear.
Everton seemed to struggle, a glorious chance to counter disappearing when Barkley miscontrolled on a surging run and went in reverse. Horrible passes persisted as Everton seemed determine to test themselves in defence, repeatedly giving the ball to the opposition. Stones needed treatment to his nose, as Southampton resumed their relentless attacks, with fresh legs of Tadic and Mane after the hour mark.
Naismith and Besic was Roberto's response, bringing off Kone and Barkley, with a quarter of the game left. Naismith ran into the Saints area and went down after he forced contact on the defender with the ball too far in front of him. No penalty. At the other end, Mané stupidly pushed Howard over as a Saints corner was taken. Tadic then danced through to the byeline and pulled it back for Pelle to shoot wide with the Blues a little static.
With 10 mins left, and Everton feeling they could hold out for another precious win, Koeman played his final card, bringing on a striker in place of a centre-back. Lennon went on a tremendous run and appeared to be fouled by Fonte but for not the first time, Le Mason waved away vehement Everton complaints, perhaps because the Saints player got his toe to the ball.
A couple of late Saints corners were delivered superbly by Tadic and Pelle got caught offside, Everton doing good job of being more disciplined as the game moved into 4 mins of added time.
Worth noting that McCarthy had played a number of more adventurous forward balls and put in a lot more forward runs than we are used to seeing, all with little or no end result, perhaps confirming that's not his best suite. McCarthy did his bit to play time out in the final third to ultimately frustrate the visitors, and steal an excellent win for a resurgent Blues side — three in a row and another clean sheet for the much maligned Tim Howard, whose tremendous save had arguably won this game.
Everton: Howard; Baines, Jagielka (c), Stones, Coleman; Barry, McCarthy; Osman, Barkley (71' Besic), Lennon, Kone (70' Naismith).
Subs: Robles, Mirallas, Pienaar, Garbutt, Alcaraz.
Southampton: Davis; Clyne, Fonte (c), Alderweireld (83' Djuricic), Bertrand [Y:22'] Ward-Prowse (61' Mane), Wanyama, Schneiderlin; Long, Pelle, Elia (61' Tadic).
Subs not Used: Yoshida, Gazzaniga, Reed, Targett.
Kick off: 3pm
Referee: Lee Mason
---
Reader Comments (115)
Note: the following content is not moderated or vetted by the site owners at the time of submission. Comments are the responsibility of the poster. Disclaimer
Kieran Fitzgerald
1
Posted 04/04/2015 at 14:08:14
Hopefully it's Osman out wide and Barkley through the middle.
Rahul Sreekumar
2
Posted 04/04/2015 at 14:21:21
Read something about a Gibson fracture.... Got to feel for him...
Pete Owen
4
Posted 04/04/2015 at 14:36:02
Gutted for Gibson – we should have that on a banner!
Trevor Lynes
7
Posted 04/04/2015 at 14:43:11
Why is there no Atsu on the bench? Atsu is the type of player who could be a game changer as he has pace and awareness. Alcaraz is becoming another liability like Heitinga and is using up a bench place.
If either centre-back got injured, I would be happier with Barry playing there and bringing on Besic.
Trevor Lynes
9
Posted 04/04/2015 at 15:33:00
What has happened to Distin?
Surely he must be a better option than Alcaraz at centre-back substitute?
Robin Cannon
10
Posted 04/04/2015 at 16:25:19
I just don't really understand the point of such a conservative team selection at this stage of the season. What else are we going to learn about these players? There's zero sign of any desire to give young players am opportunity.
Mike Childs
11
Posted 04/04/2015 at 16:59:26
Wow a clean sheet. Got to tip my hat to Howard today.
Terry McLavey
12
Posted 04/04/2015 at 16:56:38
Phew! Three more points and a clean sheet, do we start thinking about Europe yet?!
Howard and Lennon put a shift in, he could be a good buy as long as he doesn't go off the boil once he's signed like some have done.
I'm still not convinced by Kone,
Colin Glassar
13
Posted 04/04/2015 at 17:08:31
Not a classic but it's all about getting a few wins now and trying to get as high as possible in the table. 8th?
Craig Mills
14
Posted 04/04/2015 at 17:07:32
A special mention for Tim Howard after his performance today, he's deservedly had his critics this season, but today he made a couple of top top saves, there won't be a better save than the one he clawed off the line whilst diving backwards this season – amazing.
Now can we please keep this TH until the end of the season !!!
Chris Funk
15
Posted 04/04/2015 at 17:01:56
Lackluster, disjointed performance, but three points. For a little while that's good enough. As safety becomes more assured, I'd like to see the performances become more incisive.
Howard had a good game: some fine stops, and controlled his box better than in some of his past performances this year. The free kick where he was 'rooted' was on the wall side, if it had been on target no keeper would have gotten to it. The other shot mentioned took a vicious swerve back to the middle of the goal. Howard did well to react and reach out a strong hand to parry it away; if he was 'startled' (i.e., hadn't been paying close attention), he wouldn't have made the save. Again, that's a shot that fools many a keeper on its way into the back of the net.
Jamie Barlow
16
Posted 04/04/2015 at 17:04:50
3 on the trot. Not good to watch but who gives a fuck. It's about points on the board.
Brilliant from Jags. Our Player of the Season. MotM.
Barkley tracked back and even won a header. Howard came out, punched and produced two fantastic saves (something he never does according to some). Baines and Coleman shite. For all the slagging off of Barry, he played well and was better than McCarthy again.
Besic clueless when he came on. I can see why he doesn't start. Lennon non-stop again and defended well. Naismith gave us a lift and was a general nuisance when he came on. All-in-all, a pretty shit game... but a win and 3 points.
Maybe we can play some of our younger lads now. Can't be any worse can it?
Ross Edwards
17
Posted 04/04/2015 at 17:14:14
Doesn't paper over the cracks. We are still piss poor and performances haven't been good enough but at least we got the result.
We're still in the bottom half which considering the squad we have us still unacceptable. Only a top-half finish can keep Martinez in a job after the performances and results we've had.
I can't be arsed with his press conference either.
Steven Telford
18
Posted 04/04/2015 at 17:10:26
3 points is 3 points of course, but not exactly clinical. Saints will feel a bit unlucky today. I mean for a team to come to Goodison and come away with nothing is the season's novelty. In regards exceptions at the beginning of the season, us and saints were polar opposites, but there you go.
On balance, apart from the 3 points, you can see why were are were we are in the league.
No cutting edge cheap possession given away, Kone is a ping pong machine, and McCarthy seriously needs to up his game.
Jags was solid, and Howard put in a decent shift (for once).
Chris Funk
19
Posted 04/04/2015 at 17:19:41
Jamie (#16),
Baines and Coleman didn't look great, though I wonder how much of that had to do with their partners and the formation. Coleman and Lennon look uncomfortable playing with each other – each wondering if it's their turn to provide the speed and width.
With Osman and/or Barkley on the left, Baines seemed unsupported at times, with those two drifting to the middle. Playing with only one up front also means that there won't always be an option further forward, when play switches quickly.
Southampton also pressed a fair bit during the game. There is a lot of talent between those two, but -- unlike last season -- we aren't seeing it as much.
Mike Powell
20
Posted 04/04/2015 at 17:19:12
Good win against a good team. Jags MotM again.
Never felt more like singing the blues,
when Everton win and Liverpool lose.
Anthony Flack
21
Posted 04/04/2015 at 17:26:24
Oh my word, Kone was terrible – maybe the worst striker I have seen. Naismith did more in the first 2 minutes he came on the pitch. Lovely sunny day, a home win, Red Shiite hammered. What more could you ask for?
I will tell you what: Señor Bob to leave asap...
Darryl Ritchie
22
Posted 04/04/2015 at 17:23:17
A hard fought 3 points. Howard earned his paycheque. The back 4 had, perhaps, their strongest match of the season. The midfield were strong at the back, couldn't get it together going forward. In hind sight, RM probably wishes he'd left Ross on instead of subbing him off for Besic. Mo was on the field physically, but his head was a million miles away. Naismith was a positive change.
3 wins on the trot, no matter how we got them, is not too shabby.
Mark Frere
23
Posted 04/04/2015 at 17:36:00
At least we can say we are safe from relegation now. The actual game today was a poor affair. It wouldn't have been much fun to watch for the neutral, that's for sure.
Jags and Stones were rock solid at the back and by far our best players.
Lennon worked his socks off again... but again his passing and crossing was piss poor; he's just another Kevin Kilbane with lots of pace. I really hope we don't make his loan deal a permanent signing in the summer. We need some players that can produce quality as well as work-rate.
Dominic Tonge
24
Posted 04/04/2015 at 17:52:22
Barry played well today, better, we beat a good side today. Happy enough with that.
Paul Thompson
25
Posted 04/04/2015 at 17:57:50
Señor Martinez: "It was as pleasing performance as you are going to get." Err, not really.
As ever with him, you don't know whether to worry more whether he actually believes that or if he is just a perennial bullshitter. But he was right about a solid defensive display.
Dave Pritchard
26
Posted 04/04/2015 at 17:56:48
Anthony (#21). Have to disagree about Kone. He held the ball up well and was involved a lot until he tired. Not saying he was great but certainly not terrible.
Eddie Dunn
27
Posted 04/04/2015 at 17:47:17
A good outcome, but really, this was a poor game. Forget the bullshit from Bobby about tactical battles, this was a game where we could not string a decent series of passes together, and Kone was slow, lumbering and impotent. His lay-offs were wayward and awareness was close to zero.
The midfield was too lightweight, and the wings not utilised. As someone else said, Coleman and Lennon don't seem to have an understanding yet as to who is going to go on a run. Baines didn't know if Ross or Ossie would cover him and McCarthy had a very poor game.
As for Howard making two saves, the first one he should have come out earlier and collected it, and the rest of time he stood on his line letting the defence do the clearing.
It is a good result, but let's not kid ourselves, it was a crap game, and we created nothing, have no-one to deputise for Lukaku, and miss a clever centre mid. If the Saints had scored, we would never have opened them up.
Ross Edwards
28
Posted 04/04/2015 at 18:09:07
Couldn't be arsed listening to Martinez and his fluffy bullshit.
Keith Glazzard
29
Posted 04/04/2015 at 18:01:56
Dogs of war. I suspect that Jags had a quiet, or maybe not so quiet word with Roberto. Very much in English. Of the south Manchester variety. Good performance by our lads today, exactly what was needed.
Howard's wonderful save ten minutes in. Certainly. Robles might simply have come out and caught the ball. Why do so many teams put crosses into our box as a priority?
Patrick Murphy
30
Posted 04/04/2015 at 18:16:06
Keith - I think that may well have been the case as a 'cheeky' question; would Jags be manager material in the future?
Tony Hill
31
Posted 04/04/2015 at 18:12:46
We beat a side that everyone has praised to the hilt this season and rightly so, and they are challenging for the top 4. That will do. Credit to Tim Howard.
What a superb goal just now from Charlie Adam by the way.
Wonderful.
John Keating
32
Posted 04/04/2015 at 18:12:45
Can't argue with the 3 points I would have settled for 1 before the game.
I cannot believe how unfit the team is, really unbelievable! Some of them were blowing hard after about 30 minutes!!
The football we have produced this season has been nothing short of a disgrace. I think we only had the one shot on goal today.
I take comfort in the fact we are getting ourselves out of relegation trouble but to think that the last 3 games – or the whole season for that matter – is in any way acceptable is a disgrace.
Hearing supporters coming out the ground saying how great it was shows how far we've deteriorated under Martinez.
Jamie Barlow
33
Posted 04/04/2015 at 18:24:16
59 yards, Tony. Fantastic goal.
Bill Gall
34
Posted 04/04/2015 at 18:23:09
Once again Barkley showed flashes of what he is capable of but definitely has a stamina problem, and that is most probably why he seems to drift in and out of games.
First half was not too bad but over all... not a game to get you out of your seat. MotM: Jags, who seems to be leading by example. Good 3 points against a good team,
Andy Crooks
35
Posted 04/04/2015 at 18:26:25
I really like this report, Michael. There is much to read between the lines. You have addressed the McCarthy issue, he is not the player Dunphy wants him to be. Your description of the opening describes Southampton playing the way we should be. Good recognition of Howard, praise for our defence and yet..... I get the strong Impression that you set out to be open-minded and fair but you feel that it was a shit show from a vastly underperforming side.
We have crawled to safety and I am gutted at where we are. How about an editor's blog telling us exactly what you think?
Paul Holmes
36
Posted 04/04/2015 at 18:24:24
The positives: we won. The negatives: the team is a shambles and the league table does not lie. We have been rubbish for most of the season so either get rid of the manager or get rid of the players.
We need to start again; it did not do Southampton any harm starting the season with a new squad, and they looked like the team Everton should be this season (even though they lost today).
Barkley should be sold to get the funds in to start the rebuild as today it proved he can be replaced easily. (Was he playing?) Barry, Alcaraz, Osman, Naismith, Kone, McGeady and others need to go and off the wage bill, so we can get a new squad for next season.
Brent Stephens
37
Posted 04/04/2015 at 18:41:00
Thought playing McCarthy upfield was a ploy to puts pressure on their back line. Not a bad idea as we don't tend to pressure defences when they have the ball – certainly Barkley doesn't. He seemed to have some room to take the ball forward from a deeper starting position – the downside being his defensive limitations.
Well done Jags – MotM. And a very good shift from Lennon – tracked back and snuffed out danger in our box several times.
Minik Hansen
38
Posted 04/04/2015 at 18:50:38
3 points from a good opponent, now that's something, hope the lads believe more in themselves and as a team. Current situation reminds me of our 09-10 season, COYB, Nil Satis Nisi Optimum.
Plato Stavrinos
39
Posted 04/04/2015 at 19:09:51
What's with all the complaints? Solid performance against a very good side.. 3 weeks ago many were wondering where we would get our next point and now we win 3 in a row and you still so negative.
I thought tactically we were very good and limited them to a handful of good chances. Man Utd have won most their games ugly this season and look where they are. Come on, people, give some credit when it's due.
John Gee
40
Posted 04/04/2015 at 19:10:49
Dull game. I lost all interest in the second half.
Jagielka was our best player again. good to see him recovering his confidence after that prick Hodgson publicly, wrongfully blamed him for the World Cup.
Watching a team play 4-2-3-1 is like watching a shapeless mass running out of position for 90 minutes. What's Martinez's problem with width?
Paul Hughes
41
Posted 04/04/2015 at 19:05:23
Just back home from the match. A win is a win, but, my word, it was dreadful to watch. We didn't have a single shot on target in the whole of the second half.
Great save from Howard but, despite a couple of punches, he still gives me the willies whenever a cross comes in. Baines had an absolute shocker. Now we are effectively safe, I'd get Garbutt in for the rest of the season to see what he can do.
I thought Barkley had probably his best game of the season and was very surprised when he came off. Particularly as his replacement , Besic, was awful for the time he was on the pitch.
Kone was OK in the first half, although he never actually looked like scoring. He stank out the gaffe in the second half. Naismith created more panic in the Saints defence in 30 seconds than Kone did in 70 minutes.
Time to look to next season. Kone, Alcaraz (and, presumably Mirallas), Howard to go. Play Robles, Browning, McAleny rather than the deadwood and so have a view what we really need for August.
Ian Bennett
43
Posted 04/04/2015 at 19:32:42
A welcome three points, but geez we were awful going forward.
The list of summer requirements grows by the week. A keeper, centre back, playmaker, striker and two wingers is a long list, but shows the kind of shopping list we need this summer.
I would start with clearing out the wingers. Atsu, Mirallas, Pienaar, McGeady, and Lennon is a long list which must be costing a fortune, but create or score little. Reduce the numbers and up the quality for god's sake.
Graham Mockford
44
Posted 04/04/2015 at 19:45:41
Some positives today:
Jags was really good but then he has been since Christmas.
Stones continues to show what a fantastic prospect he is.
Lennon worked his nuts off and definitely gives us a different dimension. I never realised how much work rate is part of his game. I think he would be worth a punt if the price is right. He's much better than McGeady.
Tim Howard showed he is a much better keeper than his many detractors on here would have you believe.
The sun shone and they didn't run out of chocolate biscuits in the Park End lounge.
Dick Brady
46
Posted 04/04/2015 at 20:04:04
Jagielka really seemed to suffer a loss in confidence after that World Cup. He was blamed for a goal and I suppose at his age that was effectively his one and only chance at a World Cup. It's no surprise he took the World Cup disappointment to heart and his form and confidence suffered.
But, as pointed out above, he has been great since Christmas and it seems he's put all the World Cup woes behind him now. He was great for England against Italy too in the week.
Andy Walker
47
Posted 04/04/2015 at 19:42:11
I agree with so many comments on here. Great 3 points, BUT the performance was shambolic. Other than the CBs, it just looked like a random group of players with no idea of how to play like a team.
It's a million miles away from what it should be. We effectively play with 6 at the back with 4 random others – take your pick, it won't make a lot of difference when the shape is so constrained by the defensive formation repeated week after week. I really do despair with this poor manager.
The work required to get us back to a top 6 side is truly enormous. Stage 1 on the road to recovery is a new manager who has a viable plan, the respect of the players, and a keen eye in the transfer market.
Stage 2 is get rid of a lot of dead wood, already flagged in spades.
Stage 3 buy with a plan in mind, not an apparent random selection of players who simply don't fit together.
Malcolm Bardgett
48
Posted 04/04/2015 at 20:24:08
Anyone think the pitch was awful today, with too much water being put on? Barkley and Osman spent most if the time falling over and second half the ball was kicking up spray for the first 25 minutes.
Dave Abrahams
49
Posted 04/04/2015 at 20:07:44
We got three points. Jagielka was man of the match for me. Lennon was very good up and down the wing. Southampton were very unlucky and were the better team. Howard made two very good saves but puts pressure on my heart... he's still very, very poor bossing his area. The match stunk, but I' d say we are safe now.
As for next season, Martinez should go but will still be here; how many fans will still be here? less than this season? I will be one of them but my expectations for a decent season are very low.
Trevor Peers
50
Posted 04/04/2015 at 20:27:20
Todays victory proved one thing don't victimise the players because the manager is the problem. Howard won us the points with 2 world class saves.
Vinny Garstrokes
51
Posted 04/04/2015 at 20:24:31
Three wins on the bounce is 'Phenomenal' !!
I am not sure if TW was going in the 03-04 season but I can only imagine the pelters that DM would have been got in the run down to us finishing the season in 17th place and with 39 points (the lowest total in the clubs history). I am sure his credibility to manage the club given his limited experience would have been questioned. Training ground bust ups with Big Dunc and a few others were rumoured and a similar vibe around the club to what appears to have happened this season. Thank goodness we were beaten to the final Uefa Cup place on the last day of the previous season, or the demands of coping with a European campaign without the strength in depth required could have spelt curtains for us. The chairman and fans kept the faith and many years of stability and a trip to Wembley came and went.
We are where we are, I am willing to believe that second seasons are notoriously difficult for new managers especially when you have a European campaign to juggle with. I may be in the minority but I would stick with the manager and hope that he will clear out those who don't want to play for us and sign us a gem who we can love and cherish for many years to come. After all, in the summer of 2004 Moyesie signed Tim Cahill and the rest as they say ..............

Alan Bodell
52
Posted 04/04/2015 at 20:28:09
It's all about the points now but their 39-year-old goalkeeper never had to make one save... terrible, but we got some well deserved fortune today after many games of shite refereeing against us.
I totally agree with earlier comments that Seamus and Lennon need to understand each other much better, else they cannot play at the same time, but the 3 points will see me sleep well tonight.
Sam Hoare
53
Posted 04/04/2015 at 20:48:48
We are safe now. Time to start looking to next season and mix things up so we can avoid another turgid season. As said above we look needing in quite a few areas and despite having a reputation for attacking football we are woefully uncreative.
Get some of the kids in to see who might be able to save us money this Summer.
The apathy on here is a sad indictment of Roberto's second season.
Peter Mills
54
Posted 04/04/2015 at 21:02:40
A pretty desperate game, Southampton looked the more polished side. We are supposed to be a passing team, yet so many today went to the opposition or into touch.
I was bored, and spent most of the match chatting to those around me in the Main Stand. Howard made two excellent saves, although I have suspicions he shouldn't have had to make the great save, should he have come for the cross into the edge of the 6 yard box? (Genuine question for a goalie out there.)
Lennon worked very hard, and I did applaud him for that, especially his challenge in injury time when he had to go where he could get hurt. But oh, his final ball is as bad as we always knew when he played for Spurs.
Excellent from Jags. Good from Barry.
Take the points and run.
John Malone
55
Posted 04/04/2015 at 20:38:22
From my seat in the Gwladys Street I saw a game of two halves!
Howard make two good saves and a couple of decent punches but still looks dodgy with his kicking and decision making.
The 4-1-4-1 seem to work in the first half Barkley was having a decent game but without the killer pass or shot, Kone was doing well up front making the ball stick and creating some chances and Baines was delivering some decent crosses. Southampton are a decent side but our tactics and the players were doing there job!
Second half totally different story, Kone for all his good hold and link up play totally lacked the cutting edge when in dangerous positions everytime he fluffed the pass or chance to shoot, Barkley went from being a cut above to a step below as someone mentioned earlier he has fitness issues he struggles to keep his mental focus and his decision making is shocking when he's tired, McCarthy for me showed his weaknesses as a midfielder you can't knock his endeavour but going forward he has literally no attacking ability he is a crab.
On the whole a great three points before the game I'd have took a one nil win all day long so onwards and upwards to mid table mediocrity!
Trevor Peers
56
Posted 04/04/2015 at 21:01:10
I went to today's game thinking if I could see some game plan in action I could understand where Roberto is coming from. There were some good individual performances, especially Jags and Howard.
But mostly it was chaos – no real tactical thinking behind the team display – and I left the ground with the impression only a Ratboy-type signing can save us from another relegation battle next season. Hope I'm wrong.
Andy Crooks
57
Posted 04/04/2015 at 21:20:17
Apathy and indifference, that is what Roberto has brought us. ToffeeWeb usually buzzes after a Saturday 3 o clock kick-off... but Martinez has fucking killed it stone dead.
Paul Hughes
58
Posted 04/04/2015 at 21:25:27
I went to the game with two Saints fans who I always go with to this fixture. They, obviously, are more concerned about their own performance – they have recently lost 1-0 away to both Sheff Utd and Burnley. They put this game in the same category. One which they really should have won if they had any sort threat in the last third.
Their most telling comment, though, was that they were very surprised that an Everton team, with such good players, could be so bad. I couldn't disagree with them.
Peter Roberts
59
Posted 04/04/2015 at 21:40:21
I think some people must have been watching a different to the one I've seen today, on my first trip to Goodison under the Martinez era.
I saw a good 1st half of football where we were probing and creating chances without testing the keeper. 2nd half needed a bit of a rearguard action but in the 2nd half Howard didn't have any real save of note and Southampton showed why they've tailed off spectacularly in the 2nd half of the season. Pelle was marshaled efficiently, their subs had very little impact on the game and we saw the game out comfortably.
I am not saying it was a perfect performance but we got a win, a clean sheet and the RS lost. What more do people want?
Thoughts on the games is that Jimmy Mac is the 2nd most underrated player in our squad behind Leon Osman. Barkley needs to keep his head up when running with the ball as he keeps going down too many blind alleys.
And finally Baines needs to be benched for the rest of the season so a rocket can be lit under him. He was the worst player on the pitch today, jogging back when Southampton counter attacked leaving Osman far too exposed. At least Kone tried in the first half.
Andy Crooks
60
Posted 04/04/2015 at 21:52:29
Peter,
"What more do people want?" — To play well and look like a team with ambition, surely wouldn't be asking too much.
James Hughes
61
Posted 04/04/2015 at 21:43:35
Safety seems assured for now. In theory, Roberto needs another season but in reality he should go. Andy has called it right, apathy prevails.
Peter Mills
62
Posted 04/04/2015 at 21:56:33
Peter (#59), in your accurate summation of the match, we didn't test their keeper in the first half, then mounted a rearguard action.
Trevor Peers
63
Posted 04/04/2015 at 21:53:01
Peter, if that was your idea of a half-decent performance, you must be very young at heart. I was brought up on the Ball - Harvey - Kendall type of Everton and expect something much better than today's offering.
Great to see us win but our expectations must be a lot higher than what we were served up today. Do you really think we can survive with this manager next season?
Alan Bodell
64
Posted 04/04/2015 at 22:06:32
Peter (#62), you nailed it, mate, and an Italian WW2 tank battalion wouldn't have bettered us in the 2nd half.
At Feyenoord '95, away some Dutchies bought out a lounge chair and table for their goalie at halftime briefly for a laugh and their 39-year-old goalie certainly won't be on the massage table with muscle strain tonight.
But all that matters is the big 3 points because points means massive prizes this season above any before.
Peter Laing
65
Posted 04/04/2015 at 22:10:19
Peter, sorry to add to the bashing but today's performance – the result aside, was the same predictable, boring, tedious and pedestrian football that has become synonymous with the Martinez philosophy. It goes to show that outside of the top 5 or 6 the league is mediocre.
Southampton, like Everton last season, threatened to gate-crash the party but have predictably run out of steam. Take Skrtel out of the Redshite team and they shipped 4 goals today.
I will be relinquishing my season ticket due to a move down to the southeast in the summer and to be honest today's performance persuaded me that I won't be bothering dragging myself and the two kids on a 500-mile round trip for every home game to watch that dross.
Oliver Molloy
66
Posted 04/04/2015 at 22:12:40
The important thing today is we got the 3 points and we move closer to the magic 40, although I believe we are safe already with 37 pts.
Jamie Crowley
67
Posted 04/04/2015 at 22:22:22
Someone above said Stones keeps showing us what a fantastic prospect he is.
I don't think he can be defined as a "prospect" any longer. He needs to be one of the first names on the team sheet. He's one of England's best CBs. He's a cog in the Everton wheel.
No longer a prospect despite his age. Time for him to be considered a player, an important one, and not a prospect in my opinion.
The boy's come of age and he's a player we can rely on game in and game out. And we should expect from him what we expect of seasoned player. Step up kid - and you always do.

Paul Smith
68
Posted 04/04/2015 at 22:50:45
We constantly conceed possession under no pressure. Story of our season. Nice to win 3 in a row and the crowd seemed a lot less hostile today, albeit I was watching on some moody African stream.
I thought the shirt gesture by RB was well considered and I can't help but like the lad (a bit bias towards the boy). Mo was awful and traffic Kone, well, the less said the better.
Tom Bowers
69
Posted 04/04/2015 at 22:54:25
With seven meaningless games to go, now is the perfect opportunity for RM to blood some youngsters. We have seen the older brigade struggle through the season so give them a rest and let's see what these youngsters can do.
I am sure some of them will be chomping at the bit to get their chances. The likes of Osman, Barry, Baines, Kone etc are hopefully not going to figure much next season and others such as Lennon, Atsu along with sick note players like Pienaar and Gibson may also be gone so let's think positive about the new breed.

Christopher Wallace
70
Posted 04/04/2015 at 22:57:39
Paul 41
Saints were very much in the ascendancy when the subs were made - it seemed a matter of when, not if, they were gonna score.
The introduction of Naismith and Besic neutralised their threat straight away, then we looked fairly comfortable from then on in.
Manager deserves little credit this season, but fair play to him on this one.
I'm fed up with Howard as well, but that was an incredible save - not only the devilish late swerve, but also the sun shining directly in his eyes.
Saftey pretty much guaranteed. We need to start laying some foundations for next season. Whether it be trying new formations and systems, blooding some youngsters, etc - it needs to start now.
Christopher Wallace
71
Posted 04/04/2015 at 23:10:21
Another point worth noting - Saints have easily the best defence in the league (4 goals better than Chelsea) - having got rid of those duds Shaw and Lovren for 㿞m.
Schneiderlin is, along with Matic, the best holding/tackling midfielder in the league.
Chances were always going to be at a premium. Was definitely not pleasing on the eye, but great to show but of fight, keep a clean sheet, and grind out a win.
Patrick Murphy
72
Posted 04/04/2015 at 23:09:52
Christopher (#70),
We do need to lay down the foundations for next season and the first step should be to replace the manager.
The fact that it took 28 Premier League fixtures to address the defensive side of the game and continued to play 2 or 3 number 10s when the world and his dog could see it was a flawed tactic. The nine points garnered in the last 3 games have little to do with Roberto's tactics or selections but more a case that the senior players have stood up and been counted – none more so than Jags. I wouldn't trust Roberto to build a team at Goodison and I definitely wouldn't let him spend significant funds doing so.
The last 3 matches owe more to our former manager's mindset than our current one and that in itself is a terrible indictment of the current boss.
Christopher Wallace
73
Posted 04/04/2015 at 23:20:51
Can't argue with any of that Pat, but the reality (in all likelihood) is that we'll be stuck with Roberto again next year.
He needs to completely re-think his approach. Maybe if we were quick out of the blocks and hit teams early (see the shite last season), then his current approach would pay dividends - keep ball, draw teams (who are chasing a deficit) out, and hit them on the break with pacy forwards.
It's totally redundant now, as we start slowly, get slower, go a goal down, struggle to make any meaningful passing moves in opposition half, let alone create chances.
If we don't start making the changes now, we could be in for a horribly long season.
Summer could be interesting. Who would you like in as manager? Would you cash in on Lukaku and/or Barkley to give the new man the funds needed to rebuild?
Joe Clitherow
74
Posted 04/04/2015 at 23:17:40
Something I have noticed and posted about before some time ago was painfully evident all throughout the game today, and that is that all the first instinct of our players to go forward has been coached out of them. It has been replaced by a desperation to keep possession which results in players shielding the ball and going backwards or playing an easy sideways/backwards ball even when there are good attacking options on. The players were even running back today instead of clearing or passing forward. How often do you see players running the wrong way to keep possession from other teams? Noticeably, Lennon being our most recent acquisition, does this less than others. Poor management of his fitness too in not subbing him as he could not move for the last 5-10 mins.
Also, again, I will never ever understand the logic or sense or plan of a 30 yard pass back to the keeper who then launches it. Surely if you are going to launch it anyway do it further up the field?
The "coaching" from the 3rd rate team of Martinez, Jones and Lawrence has destroyed the instincts of some good players over time in a game where milliseconds of reaction makes a big difference. You could see the effect of "coaching" gradually last season, it's complete this season and it will take us down in one or other future season. Yet again, watch how long and how much time is spent giving instruction every time a sub comes on. At least 5 mins every time, while the player cools down after warming up for ages. A recipe for soft tissue injuries from our fitness professionals.
We won, yes, but every game I watch from this clown's team has me bored shirtless and it is generally completely ineffective and invites teams to attack us. Southampton were unlucky not to get at least a point today.
Martinez out (still!)
Andrew Clare
75
Posted 04/04/2015 at 23:39:34
Delighted that we won but we were awful.
We looked totally disorganised,with no shape and no purpose.I watched the Arsenal v RS game beforehand and we looked like a pub team compared to them.
Very worrying.
Grant Rorrison
76
Posted 04/04/2015 at 22:22:23
James, why should he go in reality? Was last season all a fluke? 72 points, Premier League record. 7 successive wins, a fluke? 3rd best defence in the country, a fluke? Bringing in players of the calibre of Lukaku, Barry, McCarthy, Deulofeu, a fluke?
This season has obviously been a bit of a disaster but Moyes had seasons like that too. Surely he deserves another season to see which season most accurately portrays the true Martinez?
Hector Blaukugel
77
Posted 04/04/2015 at 23:53:19
The most noticeable thing today, was how shocking Kone's first touch is, I lost count of the times an attack or passage of play broke down with him. A trier, but ultimately a very poor forward who has no positive effect on the team. If Rom goes, as I expect, and Kone stays, we are in for a very bleak season, even worse than this one.
Christopher Wallace
78
Posted 04/04/2015 at 23:52:08
Joe
Another major concern is, not one of our players has played to the maximum of their ability this season. Strange, considering that Barkley, Lukaku, Coleman, McCarthy, and arguably Jagielka, Barry and Mirallas, had their best and most consistent campaigns last season.
Not sure if it is being coached out of them, but we have to play to our key players' strengths. With the exception of Mirallas, the rest of the aforementioned are all model pros in their approach, so lack of desire, work ethic, dedication, etc is not the issue. Worrying times...
Andy Crooks
79
Posted 05/04/2015 at 00:17:06
I think it is certain that Martinez will be coach next season. I find the prospect depressing and demoralizing. However, he has done what Kenwright hired him for. Kept us in the Premier league, kept Kenwright out of negative spotlight, talked Pollyanna, nauseating, mindless shite and, most importantly, hasn't rocked the boat in any way.
I fear it is much like the Moyes Kenwright relationship. It suits both of them, two utter nonentities content to crawl along without any idea of how the club might move forward.
Colin Gee
82
Posted 05/04/2015 at 03:02:52
For those saying Kone was poor today, I take it you never watched the likes of Paul Wilkinson, Brett Angell, John Spencer or Stuart 'Jigsaw' Barlow leading the line?
Or for our older readers Bernie 'The Bolt' Wright!
Anto Byrne
83
Posted 05/04/2015 at 05:45:16
Bernie Wright became a professional at Third Division Walsall. He was signed by Harry Catterick's Everton, after impressing in an FA Cup clash between Everton and Walsall at Goodison Park on 5 February 1972. A game I remember well. However, he only played 11 First Division games for the club, scoring two goals, before having his contract terminated for 'serious misconduct' after a training ground incident. He had punched coach Stewart Imlach after he had overlooked Wright for a first-team spot.
Though he only enjoyed an 11-month stay with the club, he created an impression on the Everton fans, who remember him for using his head to accidentally break the toe of Sheffield United centre-back Eddie Colquhoun during an attempted diving header.
Wright returned to Walsall in 1973 for a fee of 㾶,000, and scored 38 goals in 152 league games during his four years at Fellows Park. After struggling in the lower half of the table in 1972–73 and 1973–74 under John Smith and then Ronnie Allen, the "Saddlers" came close to promotion in 1974–75 and 1975–76 under Doug Fraser's stewardship.
He joined Bobby Kennedy's Bradford City in 1976, where he scored 13 goals in 66 league games. Bradford won promotion out of the Fourth Division in 1976–77, but suffered relegation in 1977–78 under John Napier. Wright and Don Hutchins were joint-top scorer in 1977–78 with ten goals.
In June 1978, Dennis Butler's Port Vale paid the "Bantams" ٧,000 to secure Wright's services; Vale had been relegated along with Bradford the previous season. Wright scored on his debut, a 1–1 draw at Chester in a League Cup game on 16 August 1978. Nine days later the tough striker endeared himself to "Valiants" fans when he scored a hat-trick past local rivals Crewe Alexandra at Gresty Road. He finished as top scorer in the 1978–79 season with 15 strikes in 48 games, and was voted Player of the Year for this achievement.
He lost his place under caretaker-manager Alan Bloor, though regained it with a brace against Northampton Town. He went on to record 9 goals in 33 games in 1979–80, but fell out with new manager John McGrath, and dropped out of the Football League at the end of the season, joining Kidderminster Harriers of the Southern Football League on a free transfer. He later played for Trowbridge Town, Cheltenham Town, Worcester City and Gloucester City. He was very much in the mould of the Strac.

Anto Byrne
84
Posted 05/04/2015 at 05:52:42
https://www.youtube.com/watch?v=hPd-Pop0E4o
Brett Angels only goal for Everton 1972.
Anto Byrne
85
Posted 05/04/2015 at 05:55:22
https://www.youtube.com/watch?v=fzez00B6vP4
Bernie Wright versus Everton 1972
Darryl Ritchie
86
Posted 05/04/2015 at 07:01:30
Colin, Nope, didn't watch any of them, but Kone WAS poor.
Joe Clitherow
87
Posted 05/04/2015 at 07:49:27
Colin (#82),
Yes I saw all of those, they were all poor. Kone was poor today as well. What point are you making?
Kone cost ٤.5M, if you want another irrelevant comparison. Paul Wilkinson had a League Championship medal too. This game could go on for a long time! :-)
Jeff Hughes
88
Posted 05/04/2015 at 07:46:39
Good win – poor performance! I do not subscribe to the view that winning is everything, particularly when we were a bit fortunate today. We will not win too many playing this way.
I had to post, however, to congratulate Barkley on a decent game today – his first of the season. I saw him tackle, head the ball, track back and run into space as well as a few trademark driving runs. Get the basics right and maybe, just maybe his talent will blossom. However, he did fade (doesn't have the stamina) and he doesn't attack or shoot enough but I am still left with the question why has he not put a shift in before?
Is it down to what Joe (#74) says about keeping possession? I think this is a key point about our play and whilst our possession slowed the game after 60 minutes and drew the sting out of Southampton, it also bored the arse off me! Having said that, we did not have a potent striking threat today without Lukaku, and perhaps we have to accept that a cautious approach did bring 3 points.
Tony Abrahams
89
Posted 05/04/2015 at 08:03:53
Joe, you have obviously studied Martinez, closely, and I can't disagree with any of your points in post 74, except to say I thought Southampton were very, very unlucky not to get at least a point.
I think you're being a bit unfair to bring Kone's price tag into his performance, because he has been out a long time; still looks like he is struggling for that extra millisecond, and he was also playing against the meanest defence in the league.
Southampton looked quicker, stronger and also fitter than Everton today, so to hear Martinez's after-match comments was even more worrying. He said that WE always looked like we had an extra gear?
Allan (#64), when I heard him say this, I also thought of the Italian tank, because we had very little going forward after half-time yesterday.
Eddie Dunn
90
Posted 05/04/2015 at 08:20:26
Colin (#82),
I saw Paul Wilkinson and in 86-87 when we won the league. He played 32 games and scored 12 goals.
A bit better than Kone wouldn't you say?
Joe Clitherow
91
Posted 05/04/2015 at 09:12:05
Tony (#89),
I wasn't really comparing Kone's performance with his fee, the opposite really, to show it isn't relevant as he didn't set his price. He does have some good skills, including a good first touch and holds it up well.
Overall, I think he is poor, though, as can be seen from his lack of goals. Then again, do we judge players by how they perform under Martinez? That may be very harsh. One – ONE – attempt on goal all game but no doubt Bobby is more distressed at our 45% possession stat.
For those who slag off Lukaku, you need to look at taking his goals out of the side and see where in the table we would be... because that is a scary prospect for next season. I would be happy to eat humble pie over my Kone opinion, as with everything else, if it meant Everton were successful.
The main thing though about Kone and his fee is, in my opinion, yet another example of poor managerial judgement. I could be wrong but I think he was injured when we bought him? Why do that? I don't recall queues round the block for him triggering a race to secure his signature. Who does that except Martinez??? He has form in taking loan players and paying wages for the whole loan, for Christ's sake. It's employing people for the privilege of paying their sick pay.
I'll repeat again, I would not trust this guy with spending a penny of our transfer budget in a really important upcoming window, he will bankrupt us and saddle us with shite on long-term contracts. I thought the days of us doing that with the likes of Bilic, Nyarko etc were behind us. But, then again, I thought that around scrapping for points near the bottom of the table too...
Steve Brown
92
Posted 05/04/2015 at 10:59:37
Joe,
I agree we can't afford to carry players who are permanently injured, not good enough or simply too old and slow. That means this squad needs major rework in the summer – Kone, Alcaraz, Hibbert, Distin, Howard, Gibson, Pienaar, McGeady should all be shown the door. Mirallas will also depart, as should Barry if we hadn't given him a 3-year deal.
That's major rebuilding work to be done – not many on TW think RM is the man to do it seems to be the summary?
Tony Abrahams
93
Posted 05/04/2015 at 11:18:06
Joe, I wouldn't have signed him myself, not for ٤ Million anyway, especially considering he had a ٣ Million release clause!
Don't think he's a bad player, but he looks a yard short, and after an injury as bad as his, it could be debated whether he will ever regain it.
I'm not one for changing the manager. I prefer to remember Moyes's last ever game at Goodison last year, and remember how good Everton were that day. But Martinez has made it really difficult watching Everton this season, and to come out and say we had an extra gear if needed yesterday, was a fucking truly bemusing statement to make.
It either means, (A) I'm a fucking liar, or (B) get used to this boring, tedious football, because one-nil, is much better than three-nil? I know....
Joe Clitherow
94
Posted 05/04/2015 at 11:33:22
Tony Abrahams
95
Posted 05/04/2015 at 12:10:04
And yet the game was again a near full house, incredible.
The Premier League is really fashionable at the minute, maybe soon enough it will reach its peak. I say this because without the few thousand day-trippers, no way would our stadium have been full yesterday!
Never have I had such little pleasure watching my team; something has got to change because it can't really go on, being so boring.
Against Man Utd last April, we was so clever... why is the manager trying to be clever now, in trying to kid us?
Southampton were superior to us all over the park yesterday, but I feel a lot better though, because Martinez said we had another gear if we needed it!
Joe Clitherow
96
Posted 05/04/2015 at 12:48:21
Even a stopped clock is right twice a day.
Tony Abrahams
97
Posted 05/04/2015 at 12:49:56
I'd feel a lot better if they just put the hour on to speed it up a bit!
Paul Tran
99
Posted 05/04/2015 at 14:14:30
Funny game, yesterday. Howard and Barry played well, we scored from a set piece, defended a lead for 75 minutes against a side that passed & moved better and looked better organised. No doubt some welcome nostalgia for some?
We still looked a shapeless mess, though. My hope is that in the summer, Kenwright realises that we have to replace Distin, Gibson, Pienaar, Alcaraz, Kone, Howard and the inevitably leaving Mirallas.
That's seven players, the number Martinez spoke about last summer, when we had a bit of momentum and would have been more attractive. I'm suspicious that Kenwright reined Martinez in after he made that statement. Martinez has made no similar statement since.
These players need replacing in the summer, whoever is manager. This season is proof that we need a clearout. Will the 'directors' unlock the biscuit tin? Will they trust Martinez to spend the contents? I'm not holding my breath, whoever is manager.
Alan Bodell
100
Posted 05/04/2015 at 14:49:10
The upside is we are not in that Europa League sapper next season with old legs so Martinez has ample time to get rid of the excess or let them politely know their futures lie elsewhere whilst replacing old with new.
The downside is that we bombed out of both domestic cup competitions so early this season that was it really the extra strain of Europa that hurt us so much ?
Roll on the next transfer window.
Paul Tran
101
Posted 05/04/2015 at 15:11:22
Alan, there was a long period this season when there was no EL. The biggest issues this season have been the manager's inability to pick a balanced team, the players' inability to pass the ball quickly and poor fitness management.
Anthony Flack
102
Posted 05/04/2015 at 17:13:53
Dave #26 – one was woeful, I was in the main stand abut level with the penalty area at the Gwladys Street end. There were three occasions where he could kick the ball forward and straight between 3 and 10 yards, we would have been in. His attempts were perfect if he was trying to pass to the closest Southampton player. I was willing him to do well, but lost heart given how bad he was.
There was a Danish family in front of me, taking their son to the match for his 18th – the father turned around and asked me who Kone was and if we paid any money for him, was it his first game at that level – said it all for me.
Colin Malone
103
Posted 05/04/2015 at 17:54:55
Watching Ross Barkley, I was very surprised how knackered he got when he tracked back to win the ball. It took him quite a time to recover. He's a bid strong lad with pace, but no stamina.
I don't know if you can have one or the other, but it would be very favourable for him to improve his stamina.
Sid Logan
104
Posted 05/04/2015 at 18:11:11
Of all the suggetions made on TW about what we should do in the close season, the one that worries me most is who Martinez should be buying.
I don't want him to but anyone because I don't want him to be here – and although I expect him to be – I really don't trust his judgement on player purchases.
Of the players Martinez has purchased, namely Robbles, Alcaraz, Kone, McCarthy, Lukaku and Besic, only Lukaku, McCarthy and possibly Besic (on whom the jury is still out) have looked worthy buys. Two and a half out of 6 is hardly convincing.
Nor does he appear to have a scouting network which could be called impressive in that there have been no promising surprise puchases plucked from lower leagues. Moyes looks to have had a better record in this respect.
I'm one of those who'll doesn't want to – but will have to live with – Martinez next season. There was absolutely nothing about Saturday's win – very welcome though it was – that encourages me to re-kindle the qualified belief I had for three quarters of last season.
From what I have seen of Martinez's motivational skills this season, I wouldn't trust him to convince a manic depressive that his glass was half-empty.
All I can say is that, when he is eventually replaced, Kenwright must break out of his comfort zone and select a manager who is more likely to take us forward rather than be someone who can enhance Kenwright's pleasurable Chairman experience!
Tony Abrahams
105
Posted 05/04/2015 at 23:35:22
Kenwright's comfort zone = I will never choose a manager who doesn't say how good it is to work for a chairman like me?
Kenwright's comfort zone also = I am an Evertonian who has only got the clubs best interest at heart.
Kenwright's comfort zone = if I can get away with the Finch Farm deal with hardly a murmur, then I have got away with murder, because I've only got the club's best interests at heart!?!?
Jim Hardin
107
Posted 06/04/2015 at 12:54:45
Can't help but note the negative portrayal of Howard's saves once again. On the free kick, he set his wall to take away half the goal and then covers the other half. Interesting that you chose to characterize him as standing rooted when he was where he was supposed to be. Contrast that with Liverpool's Mignolet setting a wall and then being behind the wall on a free kick and giving up a goal to the side he should have been on. I can only imagine what you would have said if Howard had done the same thing.
As for Howard being startled on the long swerving kick. He was tracking it but the ball tends to move a lot and suddenly depending on how it is struck. He reacted to the swerve well and made a good one-handed parry which is not easy to get enough strength behind to keep the ball out of the goal. Wonder what can you now do with three victories and Howard with a clean sheet (even though you probably won't give him credit for it but sure do blame him if any goals go in)?
Peter, your question about coming out on the other Howard save. It was a driven cross not a high floater and from a difficult angle headed to the corner of the 6. Howard, sees the striker and his defender coming back at an angle and if he goes he is likely to get clobbered by both and then leave the goal completely open. If he couldn't catch it and hold on to it with the impending collision due to the angles involved he would have to hope he could punch it clear before contact. He would then have to punch it clear and hope it either goes to a teammate, to safety, or that he isn't knocked over and can't get up in time to cover the goal in case the ball falls to the opposing team.
He chose to let the defender do his job, which he didn't do well making Howard have to make a save. If Stones does his job then the ball is an easy one to collect. Of course this is only one GK's opinion.
John Wilson
108
Posted 06/04/2015 at 16:14:40
Fine defensive effort led by Jagielka and Howard pushing a tired aimless midfield.
Absent Lukaku, Lennon's energy and speed covered the pitch from one end to the other and gave me hope we'll get him this summer with Alex Song and Andre Ayew after the boy wonder is sold.
Dave Abrahams
110
Posted 07/04/2015 at 08:53:30
Jim (107), if you look at the free kick again, he didn't cover the goal properly, he left more than half of his left side free, inviting the free kick taker to shoot at that side of the goal. I was screaming at him to get further to the middle of the goal. Utterly stupid, but no surprise.
For the little he had to do, he failed to boss his goal area, but that again is no surprise; to me, he is a less than competent goalkeeper; to you, he does a good job.
Mark Andersson
111
Posted 07/04/2015 at 06:06:47
I finally watched the Southampton game.
First 10 minutes we where chasing shadows; after we scored we did okay for the rest of the first half.
Second half, although the Saints had more possession, they never really threatened; our passing was quite poor, but defensively we did well. Mr "snap at your heels" Lennon was great and took the pressure off Coleman.
Naismith gave his usual 100% while Besic was out of sorts.
Personally, I thought it was a hard-fought 3 points, Howard had his best game for a long time. And the Captain was fantastic so, although I'm not happy with the rest of the season, Saturday's game was a important move in the right direction.
Jim Hardin
112
Posted 07/04/2015 at 12:50:09
Dave, if he hadn't had it covered then why would the shot have gone over the wall and wide, instead of to the middle? You take away what you can. You want to play middle without leaving the chance of a curler to the back corner that you may not get to due to limited reaction time; fine, do so.
You make it sound as if Howard was lashed to the far post instead of him choosing to visibly take away the corner and cover in (could be due to scouting tendencies of the kick taker which of course is done even at the collegiate level but probably in your opinion Howard must not do either) and giving the kick taker the difficult shot which he or she isn't as polished or comfortable with perhaps such as over the wall and having to dip in under the crossbar, just inside the post.
As for your "Howard isn't competent". Seriously? Again go to Squawka.com and look at his stats over the last four seasons and see what keepers he was better than over that entire period or each year which then makes De Gea, Lloris, and Cech incompetent especially last season.
Maybe you would play as a keeper in a different style. I play differently then my son and daughter and even differently than some of the kids I train. That is technique not competence.
You lose credibility saying Howard is not competent as a keeper. (He starts for the USA National team over Guzan who is rated as at least competent in the EPL.) He obviously knows how to catch, punch, three-hand stop, elbows in and cover over the ball, and set walls and defenders. That would make him competent. Whether he does it when you want or how you want is again style or choice. If you don't like his style, fine... but try to rationally distinguish the difference. I am not a fan of Lloris and his sweeper-keeper style but wouldn't think to question his competence.
Dave Abrahams
113
Posted 07/04/2015 at 16:41:31
Jim, you can go on and about stats, I prefer to use my eyes. I've seen Howard in every home game since he came here and I repeat: to me he is not a competent goalkeeper.
He lined up his defence, for the free kick on Saturday, exactly the way he lined them up for Gerrard's free kick at Anfield, and he cocked that up as well.
Fair's fair, you like him; I think the quicker he goes the better.
Jim Hardin
114
Posted 07/04/2015 at 20:05:41
Dave, we will have to agree to disagree then but as always COYB!
Dave Abrahams
115
Posted 07/04/2015 at 20:18:06
Jim, yes the club always comes first, bigger than any player.
By the way Ian Snodin, in the Liverpool Echo tonight, agrees with you over Howard, but Jim what does Snodin know!!!!!!!.
---
Add Your Comments
In order to post a comment, you need to be logged in as a registered user of the site.
Or Sign up as a ToffeeWeb Member — it's free, takes just a few minutes and will allow you to post your comments on articles and Talking Points submissions across the site.
© ToffeeWeb