Corner turned with fine Everton performance
By Michael Kenrick
26/04/2015

Comments (207)
jump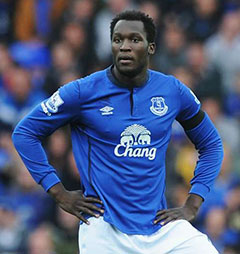 Romelu Lukaku returned to the starting XI after a three-game absence
Everton 3 - 0 Manchester United
Romelu Lukaku and Leon Osman come into the side in place of Arouna Kone and Kevin Mirallas as the two changes from the team that started against Burnley last weekend.
There was a minute's silence for Goodison Park to pay tribute to Everton Life President and former chairman Sir Philip Carter, who died on Thursday.
The Blues got off to a great start when a quick counter sw McCarty play a great pass out to Coleman, his return was not so great but came back off a defender and into the path of McCarthy who drove through two defenders and stumbled as he took his shot which bet De Gea's extended leg and into the corner of the Park End net after five minutes.
Fellaini has missed a glorious chance to immediately equalise after being presented with the ball on the edge of the area after what looked like a foul on Barry, only for the Belgium to fire high over the bar with just Howard to beat. His name then went into referee Marriner's book for foul on Barkley.
Everton were forced onto the back foot after the goal, but repelled a swath of Man Utd attacks until a series of corners were won, and on the third, Stones directed a brilliant header past De Gea to put Everton in an excellent position before the break.
Fellaini, who had been very effectively man-marked by Barry, was sacrificed after getting booked early on, Falcao replacing him for the second half. Howard had to be alert on an early corner and came out block Rooney's shot. Everton looked to break but the ball was played too far ahead of Barkley giving Shaw a chance to block him and get smacked in the face as they collided.
Barkley picked out Lukaku with a great forward ball but the chance was gone in an instant with a dreadful first touch from the big man. In defence, McCarthy was a rock, putting himself in the path of seemingly every Man Utd attack as the resolute Everton defending sought to deny the visitors anything from the game.
Lukaku got behind the Reds defence brilliantly and looked up to pick out Lennon but his cross was too hard and too far in front of the Spurs loan player. At the back, the pattern of the game continued, with Stones coming across to stop Shaw connecting.
Everton were playing with great confidence and smothering the efforts of Van Gaal's charges in all parts of the field. Their frustration summed up when Young tried to gaet around Lennon who clever blocked him with hios body to then win the foul. Shaw then pulled Lennon back cynically and was booked.
Osman and Coleman combined well on the right and they almost played in Lukaku, winning a corner that was defended away. Osman came off to a good round of applause, replaced by Kevin Mirallas.
Lukaku was offside for a clever ball over the top but he stopped as the ball bounced near him and ran on to Mirallas who had overlapped well, timing his run to gather the ball and slot past De Gea for a very convincing third goal to stun the Red Devils and the media hype that surrounds them.
Mirallas went on a nice cross run and fired off a fine shot that forced an equally fine save from De Gea into the last 5 mins.
Lukaku and Barkley went off near the end, to be replaced by Kone and Naismith, as Rooney also went off after a poor game where his old side had frustrated him.
A truly tremendous display of determination and conviction as the team continues to recover from an absolutely dreadful spell of form mid-season, and Martinez's charges finally put in a performance worthy of the Goodison faithful who had packed the Old Lady for another full house.
Everton: Howard, Baines, Stones, Jagielka (c), Coleman, Barry, McCarthy, Osman (68' Mirallas), Barkley (87' Naismith) , Lennon, Lukaku (87' Kone).
Subs not Used: Robles, Alcaraz, Garbutt, Besic.
Manchester United: De Gea, Valencia, Smalling, McNair, Shaw [Y:64'], Blind, Herrera, Mata (63' Di Maria), Fellaini [Y:12'] (46' Falcao), Young, Rooney (88' Van Persie).
Subs not Used: Valdes, Blackett, Januzaj, Pereira,.
Referee: Andre Marriner
Attendance: 39,497
---
Reader Comments (207)
Note: the following content is not moderated or vetted by the site owners at the time of submission. Comments are the responsibility of the poster. Disclaimer
Simon Jones
1
Posted 26/04/2015 at 15:20:25
3-0 am I dreaming?
Pete Owen
2
Posted 26/04/2015 at 15:20:48
You know what? I love you Everton!
Anto Byrne
3
Posted 26/04/2015 at 15:22:00
Possession less than 50% playing with pace and determination and to score 3 goals plus a clean sheet. What more can an Evertonian want?
Ross Edwards
4
Posted 26/04/2015 at 15:21:07
Absolutely brilliant performance and what a result. Roberto got his tactics spot on and full marks to him for that. Although the only 'frustrating' aspect if you like is, why has it taken so long? We've seen today that on our day we can rip any team apart.
As I said on here yesterday, this game was a great indicator of where we are, and today we've showed that we are still capable.
Paul Ferry
5
Posted 26/04/2015 at 15:28:35
So many great performances; where to begin? How about Martinez? Sitting deep; man-marking; countering; watching Man Utd aimlessly pass it around. The complete opposite of possession footie. Plan C... or was it D? Well done Martinez!
Macca MotM but there were others (Stones... )
Top half of the table (finally) – 4 clean sheets on the bounce at The Old Lady – posiitve GD – 16 points out of 18.
Very well done gaffer; very well done lads!
Onwards and upwards!
Crucial pre-season coming up.
Martinez In!

Andy Crooks
6
Posted 26/04/2015 at 15:30:34
It would be churlish to say anything other than that was a great performance by players and coach.
Mike Childs
7
Posted 26/04/2015 at 15:27:57
Best match of the year. Too many MotM candidates to pick one out. Howard's two critical saves, Jimmy Mac, Barry, Baines, Stones, Jags, and Coleman even Lennon & Mirallas with a shout.
Andrew Cunningham
8
Posted 26/04/2015 at 15:23:28
WOW FUCKING WOW !!! :) :)
Phil Smith
9
Posted 26/04/2015 at 15:35:22
Disgusting from the United fans chanting during the 1-minute silence. I think that riled the players up!
Simon Lloyd
10
Posted 26/04/2015 at 15:35:29
It would, Andy (#6).
But Souness on Sky has managed to suggest that United were hard done to!

Paul Jeronovich
11
Posted 26/04/2015 at 15:36:34
Special mention to Gareth Barry, he's been quite rightly bashed this season but fuck me he was good today (they all were really!!!). COYB.
Colin Glassar
12
Posted 26/04/2015 at 15:38:10
Souness is just bitter Simon. Carra and him looked like they were in a funeral.
We were superb (tactically) today. Not pretty but bloody effective.
Bill Gall
13
Posted 26/04/2015 at 15:31:39
Positives from this game was Martinez may now realize that having the most possession may not win you the game. Over the last number of games the defense have been showing improvement and today even with Man Utd having the majority of possession Howard did not have any difficult shots to save. I have all ways believed in the saying that "goals earn you the points but defense wins you games "
today proved that . Great win and deserved praise for all involved.
Paul Hughes
14
Posted 26/04/2015 at 15:38:01
Great performance! We'v done to Man Utd what a lot of teams have one to us earlier in the season – a lot of possession but doing fuck all with it.
I thought McCarthy was MotM – give him a new contract!
Eddie Dunn
15
Posted 26/04/2015 at 15:40:21
I'm lost for words, fabulous stuff.
I thought we'd lose but Martinez got it spot on. Macca immense. Phew!
Terry McLavey
16
Posted 26/04/2015 at 15:40:02
Phil (#9), I don't think they were chanting at the end!
I was told once by a wise person you can't expect a pig to do anything else but grunt....
Dave Lynch
17
Posted 26/04/2015 at 15:42:33
Well, that went well...
Souness was alluding to our 3rd goal. Lukaku was a mile offside and the ball was meant for him.
Terry McLavey
18
Posted 26/04/2015 at 15:44:28
It must be funny for Rooney when your team loses and wins on the same day!
Eugene Kearney
19
Posted 26/04/2015 at 15:45:16
Well done lads.
Well done Everton.
Happy Days ahead!!!
Keith Glazzard
20
Posted 26/04/2015 at 15:40:01
Well done Martinez, Jimmy Mac and all the lads. A great performance.
Terry McLavey
21
Posted 26/04/2015 at 15:45:36
Souness can say what he likes! It don't change a brilliant evening for all of us!
Roger Helm
22
Posted 26/04/2015 at 15:40:49
A magnificent performance – well done lads. Also, well done RM for out-thinking Van Gaal. The great thing about football is that a good team can beat a team with better players.
Surely now RM will look at Man Utd – 65% possession, with a multi-hundred-million pound team – yet 0-3 and hardly a shot on target, and realise possession based tika taka is a dead end.
It sets us up for a strong finish to the season and hopefully a good pre-season and a successful 2015-16.
Jay Wood
23
Posted 26/04/2015 at 15:38:24
Cracking game, performance and result.
Great feet and determination by Jimmy Mac for the 1st. Top movement and header by Stones for the 2nd following 3 consecutive on-the-money corners by Leighton. Good awareness, pace and finish by Kevin for the 3rd, regardless of what Souness is spouting on Sky.
Van Gaal's tactics and selection in disarray by half-time and unable to retrieve the situation with his multi-million pound subs.
Big well done to players and Roberto alike! A thoroughly professional performance.
Dick Fearon
25
Posted 26/04/2015 at 15:35:01
Each of our wonderful goals were the antithesis of ticka tacka:
McCarthy's resulted from a long clearance and a determined solo run.
Stones's goal was direct from a corner that Martinez does not lay much priority on.
Mirallas's goal was another individual strike a la McCarthy's.
Meanwhile United had 65% possession, conceded 3 goals and did not score. A bit like our early season stuff. Are you taking note, Roberto!
Amit Vithlani
26
Posted 26/04/2015 at 15:39:46
Kudos to Martinez and the team, they had a plan which they executed to an absolute tee. United dominated and had a couple of chances but in reality we well and truly counter-punched, Ali rope-a-dope style, and stunned them into submission.
It has been a very good upturn in fortunes and a strong finish to the season which should buy Martinez more time.
Mirallas seems to have indicated a willingness to stay which is good news. It is no coincidence that winning football results in a greater willingness to stay.
The diabolical run in the first 28 games which had us in very serious trouble should not be forgotten lest our manager every contemplates a return to the slack, careless, dour brand of football that we were playing during that earlier period. The more physical counter-attacking football, mixed with good spells of passing, has yielded 16 points in 6 games. This style has brought us 36% of our current points haul from only 18% of the 34 matches we have played so far.
Derek Turner
27
Posted 26/04/2015 at 15:48:24
For the first time this season, I feel how I felt when we got Lukaku – stoked! Awesome from the lads. Let's hope next season we reach the potential we can. Come on Everton!
Steve Barr
28
Posted 26/04/2015 at 15:48:29
Souness has always been a nark, and a nasty piece of work as far as a player goes.
Even 2-0 would have reflected a dominant performance and been equally impressive.
Nick Entwistle
29
Posted 26/04/2015 at 15:45:50
Love it. What a great game and great run of form we are enjoying. And that's massively tempered by the fact it earns Bobby immunity from being fired for anything other than being in the relegation zone come February. I'm excited at new levels of the mundane for us all to enjoy next season.
Tahir Abdullah
30
Posted 26/04/2015 at 15:51:11
Just wtf was that? I wasn't expecting THAT! Superior game plan, superbly executed all round. Special mention for our defense today; made Mata, Herrera and Co look ordinary. Oh and Macca and Stones; what a bright future we have with these two in our ranks. COYB!
Paul Ferry
31
Posted 26/04/2015 at 15:49:31
Dick Fearon - 25: 'United had 65% possession, conceded 3 goals and did not score. A bit like our early season stuff. Are you taking note Roberto!'
Dick I think that Roberto made that happen and the notes were taken during this last week when Martinez was paying more attention to defence and set-pieces than is usual!
Big shout for Ross Barkley who did very well today either tracking back – man-marking – or always ALWAYS trying to get something started.
We must do all we can to keep Mirallas.

Ross Hutchinson
32
Posted 26/04/2015 at 15:28:18
That was an absolutely brilliant result. Martinez's tactics were the reason why we won today. Maybe just maybe Martinez is the man for Everton?
I was one of the ones calling for his head mid-season but he has turned it around since we were knocked out of the Europa League. Everyone does say playing in the Europa League does do funny things to your domestic season but none of us Evertonians took this into consideration?
At the start of the season, we were unfit, unprepared and players were not playing to their usual standard but we did look confident due to the season prior. We lost that confidence very quickly though due to our results but I do believe this campaign has built character to our manager, he has not crumbled to the pressure. He has maintained his focus and I think he has learnt his lesson from a poor pre-season, a tough domestic and continental season and a tough reception from fans regarding an anticipated ripe season.
I believe he does deserve another season and I really do hope and want that he can take us, Everton, to the next level. To win a trophy. To qualify for the Champions League. To become the Everton we should be.
Paul Tran
33
Posted 26/04/2015 at 15:51:49
I said yesterday that United were an expensive version of us last season. Today we were us at our best last season – certainly our best this season.
Whatever Martinez said/did this week worked a treat. We got the pace, energy and commitment we'd been desperate to see all season. Maybe they practised corners this week, maybe the players just did their jobs right. Everything we did last season stemmed from a solid defence, the last six games/wins have shown this.
Lennon's pace has galvanised the team and provided time and space for Barry to excel. Now who/where's that playmaker we're going to buy in the summer?
Paul Tran
34
Posted 26/04/2015 at 15:58:39
Nick, that's brilliant. Are you available for birthdays or motivational speaking gigs?
Mike Childs
35
Posted 26/04/2015 at 15:58:11
As Phil Neville said during today's broadcast, "It's about playing winning football not beautiful football". If he has finally learnt that lesson great. It's a start.
Stephen Brown
36
Posted 26/04/2015 at 16:01:13
MotD here I come!!!
Great performance which hopefully helps convince our best players to continue next season! Stones, Macca, Coleman, Jags, Baines – all superb
Lennon needs signing up too (he's suprised me!)
I would love RM to have us all (me included) eating humble pie!
Trevor Peers
37
Posted 26/04/2015 at 15:56:42
Solid counter-attacks made that look like an easy win. So Roberto has learned to vary his tactics, almost inconceivable to imagine back in the dark days of December. Keep up the good work, Roberto, we love that winning feeling.
Plato Stavrinos
38
Posted 26/04/2015 at 16:05:26
Upturn in form since been knocked out of Europa. Coincidence?? I think not...
Charles Barrow
39
Posted 26/04/2015 at 16:17:32
I agree with Paul Ferry – Barkley is one of the few players we have who can create chances and cause mayhem in the opposition half. Yes he's not played well this year – partly due to his misuse and a subsequent crisis of confidence – but, when he's on-song, he's brilliant. We should support him, not constantly criticise like some people do.
Mark Riding
40
Posted 26/04/2015 at 16:23:07
Roberto Martinez – Manager of the Month!
Amit Vithlani
41
Posted 26/04/2015 at 16:15:10
Plato - nothing to do with a change of approach then? They say that on average the Europa League results in a drop of 3 places in league positions versus the prior year. Well we finished 5th last seasn and are now 10th, so some of the blame will lie elsewhere, unless we do end up grabbing 8th. We definitely can't blame the EL when we had the horrid run between our last match in the group stages and the game against YBB. And finally, have a read of Jim Holden's article in this month's World Soccer. He points out how Benitez, Mourinho and Simeone used successful runs in the EL to build a winning momentum in their teams, flourishing domestically as well as in Europe.
The problem with our league form was that our players were playing a style of football in the league which was unsuited to the personnel, and it took the manager far too long to realize this.In the EL, one calamitous defensive performance cost us against Kiev – but, then again, that is the nature of cup football, so it is easier to take than the repeatedly atrocious performances in the league.
Steve Barr
42
Posted 26/04/2015 at 16:22:21
Fair play to Van Gaal in his post match interview.... "Everton deserved to win - when you lose and it is fair you can live with it."
How many times have you heard the managers of top teams make excuse after excuse about how they didn't do this or that when they lose to so-called lesser teams.
Let's hope Martinez learns from the irony of today's result. Monopolising possession is no substitute for winning.
A great team performance and easily our best of the season, including the wins over Wolfsburg.
Brian Abbott
43
Posted 26/04/2015 at 16:27:14
Mark at #40, I wouldn't disagree but it's nearly always the kiss of death. Wish we could play Man Utd every week. Great performance today. Made a good passing team look toothless. Too many Men of the Match to mention and they were all in blue. NSNO!! and we certainly saw it today.
Harold Matthews
44
Posted 26/04/2015 at 16:11:45
Well done to the manager and players. They gave everything. Tired legs out there second half but they kept going.
1st goal, box to box in 14 seconds. 2nd goal a fantastic header from a brilliant corner. Please don't wake me up.
Tom Cuffe
45
Posted 26/04/2015 at 16:30:52
Thank you God, can't wait to go to work tomorrow, stuck in an office with three Man Utd supporters. That was a terrific performance, best this season. Sir Philip, that was for you: RIP.
Colin Williams
46
Posted 26/04/2015 at 16:31:21
People who criticise Barkley know feck-all about the type of player he is... also the role he plays within the team. The lad is a class act!!
John Malone
47
Posted 26/04/2015 at 16:20:07
Why our people surprised he parked the bus and played counter? We done it last year and beat Chelsea, Arsenal, Man Utd that isn't Martinez's problem it is when teams do it to us that he needs to figure out the solution!
Only time will tell but I still do not see us playing better football, the results have improved because the tactics have changed and we have got good players in our squad but I still think there is so much more room for improvement in how we play as a team defensively and going forward.
My mind's made up on Lennon now I realise he's playing for a contract but he looks so settled alongside Coleman they play great together and we look dangerous going forward again since he came. He's not the best technically but he makes up for that with his direct running and work rate for the team I'd buy him tommorrow!
Steve Brown
48
Posted 26/04/2015 at 16:39:59
Mirallas said in his post match interview he will be wearing the same shirt next season as well.
Overall, a blinding performance and great run of form by the team. Happy days.
John Raftery
49
Posted 26/04/2015 at 16:24:11
Roberto got his tactics spot on today. In some ways the match was a repeat of the same fixture 12 months ago when a mediocre United had plenty of possession but not a clue how to break down our rearguard.
John Stones was magnificent today capping an imperious performance in defence with his first goal for the club. Lennon has been a very good addition with his pace providing a real threat when we break out of defence. The squad as a whole looks full of energy after a long, dark winter when we had injuries to key players and too many games.
The majority of the United fans observed the minute's silence. Those who failed to do so were underneath the stand, no doubt arriving late and well lubricated.
Plato Stavrinos
50
Posted 26/04/2015 at 16:34:21
Amit – I predicted a few weeks ago we would finish 8th and with a bit of luck I still believe we can.
I don't disagree with you as I also think Osman and to a small effect Pienaar coming back has helped but if you look at our performances now compared to when we were playing Europa we look fresher and more focussed.
Barry for one has been much better and I think that is down to only having to play one game a week. I am sure the same can be said with many of our small squad.

Chris Feeley
51
Posted 26/04/2015 at 16:44:23
Just got back from the game, and it's definitely the most satisfying performance I've seen this season. We did to United what teams have been doing to us all season; stifling the attacking players through a well marshalled defence, whilst looking threatening on the quick and direct counter attacks. Well done, Everton. More of the same going forward please.
Tony Draper
52
Posted 26/04/2015 at 16:57:08
Paul @9
In fairness to the Man Utd fans the noise was coming from beneath the stands and MANY of them in the ground were making efforts to shut them up. Those in the ground also joined in the spontaneous applause for Sir Phillip Carter, credit for that.
Regarding the game itself, a great 3 points, 3 good goals and many really good performances.
The reason we profited was that we do not face many teams who attack us full on, far too many sit back and hope for something on the break.
Taking nothing away from anyone in blue today, I'm bloody delighted!
David Sheen
53
Posted 26/04/2015 at 17:05:09
Let's give Martinez credit for how he set out the team today. His tactics were spot on and that's 3 wins out of 4 against United in the league for him.
Congrats, Martinez, and young Stones.
I had a look at the deluded Manc forums before the game. Talk of how great they are and how they are going to thump us. Now all of a sudden, they think they've been found out, are crap without Fellaini, and need 7 more players.
Andy Meighan
54
Posted 26/04/2015 at 16:56:42
Tactically brilliant from the Spaniard today and executed brilliantly to the letter by the players. We've all slagged Martinez off this season, and deservedly so, but not today – that was superb...
And no wonder Sourness and Carragher looked sick. It wasn't that the same Manchester United side that played their side off the pitch at the hellhole only a few short weeks ago... and they call us bitter!
We made that expensively assembled side looked like relegation candidates today.
Right, I'm off to celebrate. Come on you blues.
Paul Tran
55
Posted 26/04/2015 at 17:03:49
Plato, Barry's looking better because there's movement in front of him and people are making themselves available. Now that we have Lennon's pace as a direct outlet and creating space, we offer so much more when we attack. Lennon is doing what Atsu and McGeady were meant to do, so it's third time lucky for Roberto. Get them two off the wage bill and buy Lennon, please.
The EL argument fell on it's face before Christmas, when we were dull, slow, ponderous, toothless and not playing in the EL. I'll take Martinez's argument about mental fatigue, as even at the end of last season, some of them were showing the effects of having to pass to each other and think a bit for seven months.
We've improved because we're using the direct option and the defence has been more settled. I also think Martinez has been stubborn and unable to get things across to the players this season. The players aren't blameless here, but the buck stops with the manager. I'd love to know why the players are now putting in the graft they haven't put in through the season.
So, all we need is a good pre-season and bringing in and out the right players this summer. Here's hoping!
Teddy Bertin
56
Posted 26/04/2015 at 16:58:35
Criticism of Barkley is way off today. He's not anywhere near as good as players like Sanchez or Hazard for all round quality on the counter attack but the type of player he is and his ability to take one touch and drive into space makes it as good as having players like them in the side against teams who dominate possession. He was the main reason that United were unable to throw the kitchen sink at us. He's unpredictable, quick, skilful, can pick out a pass and can score. I thought he performed his job perfectly today.
Very disappointed with Lukaku's ability to hold up the ball and bring people into play but again his strength, speed and ability to shoot are always a threat.
I'd love us to grab Paddy McNair to play alongside Stones. I think they could be a class partnership for the future. Both able to dribble into space when teams force us to keep the ball with our CBs.
Steve Carse
57
Posted 26/04/2015 at 17:15:54
Man Utd are an average side. Tony (52), I wouldn't agree that they attacked us full on. They played in a very constrained way, with no variation, no individualism, and no threat. Teams who really do attack 'full on' normally make the keeper have to save more than one shot.
Alan Ross
58
Posted 26/04/2015 at 17:17:41
Incredible... Fantastic... Phenomenal!!!
Frank McGregor
59
Posted 26/04/2015 at 17:26:26
Jim Benning, I was wondering what you thought of the game or have I missed your response?
Gerry McGuirk
60
Posted 26/04/2015 at 17:28:16
Great win... superb team performance... maybe the small bronze coin has finally tumbled!!
No more tippy tappy stuff, thank you, Roberto.... See what we are capable of if we play to our strengths!
Ken Finch
61
Posted 26/04/2015 at 17:31:55
One small point to add to all the plaudits is one for the referee today. He let a good number of incidents go where somebody more fussy would have been giving free kicks. Also, he dealt with Rooney's constant moaning in the right way.
Paul Ellam
62
Posted 26/04/2015 at 17:30:17
Not a bad result really. Sunday dinner will taste a little bit better tonight. But only a little bit better, you don't know my wife's cooking!
Garry Corgan
63
Posted 26/04/2015 at 17:35:37
Great result and a composed performance throughout. Really moved by the tribute to Sir Philip though.
Mike Childs
64
Posted 26/04/2015 at 17:23:53
What a glorious Sunday. I want to thank the fans who were at the game against Kiev at Goodison. Whatever his agent demands for an uptick in his wages, Stones is worth it.
Special shut out to Baines who was great today especially defensively & a thank you to my favorite whipping boy Mr USA – his save on Rooney & charge out on Shaw to stifle the cross were outstanding.
Joe Foster
65
Posted 26/04/2015 at 17:40:59
Rooney still finds it difficult with us.
Ajay Gopal
66
Posted 26/04/2015 at 17:43:15
Wonderful performance, fantastic result! Every one of our boys played well – and United were easily outplayed. Amusing that their 3 substitutes – Di Maria, Falcao and Van Persie - must be worth 𧵎 million between them and they still couldn't dent our defense, which was magnificent today. Howard, Coleman, Baines, Stones, Jagielka - all superb. And they were well supported by the entire team.
I think this is a glimpse of what next season can be if we can keep all our key players with us. Lukaku, McCarthy and Barkley reaching the prime of their footballing abilities, Jagielka and Stones probably the best CB pairing in the PL, Lennon and Mirallas with additional fire power. Osman, Pienaar, Barry and Baines will provide the wise heads to guide the youngsters ahead. If 1 or 2 more of our youngsters can break through and Martinez can pick out 3-4 good additions – a GK, a good backup CB, a creative midfielder and 1 striker, we could have a cracking season.
Eugene Ruane
67
Posted 26/04/2015 at 17:26:01
That was great – a charged up Goodison, good performances all over the park, three goals, a clean sheet, and Spongebob squarehead and his expensive side getting their arses kicked and sent packing.
By the way, the fabled 'feller behind me' of football folklore, is usually someone to be avoided, but the feller behind me is great. He rarely gets too worked up (never in that unhinged loon way) and seems a brilliant (sometimes almost psychic) reader of a game.
At one-nil, he says "We've got this today."
I pointed out it was probably too early to predict but he calmly said "Naar, these have already run out of ideas, they're getting nowhere, as long as we don't do nothing soft, we've got them." (As I'm one of those who only relaxes when we're 5-0 up in injury time, I thought: 'Bollocks').
Then at 2-0, about five minutes before our third, he says to me "We'll get another one here, these are now pushing too many forward." I nodded and mumbled 'Um... yeah', but I was thinking 'They'll get one and make us all sweat until the final whistle (the traditional Everton way)'.
Couple of minutes later, 3-0.
I have to say, I was very impressed.
Up the Toffees!
James Marshall
68
Posted 26/04/2015 at 17:58:34
Utd had 17 shots, only 4 on target and as I recall, they were all straight at Howard – I don't remember him making a save apart from the close-range Rooney effort.
We had 9 shots, 7 on target, 3 goals – now that's a quality return.
Alan Bodell
69
Posted 26/04/2015 at 18:02:18
Mark #40, ha ha – nice, mate.
Can't believe what I saw today, I can't wait for MotD where we won't be shown at the end for a change.
The noise and disrespect from the Utd. section with the silence for Sir Philip was disgusting and needs a mention in the media.

Shane Corcoran
70
Posted 26/04/2015 at 18:10:45
Great result and great to see the Cavan Toffees on Tour tricolour down by the corner flag on the Gwladys Street end. I'm not alone.
Jim Bennings
71
Posted 26/04/2015 at 18:13:49
I have given us loads of stick this season and rightly so but hey, one word for today, guys...
PHENOMENAL!!!!
Brian Foley
72
Posted 26/04/2015 at 18:22:53
Currently in Sharm El Sheikh on me oldees; saw the game in Xperience Hotel Zen Bar, just one Toffee (me) and about 10 or so plastics, two with their shirts on. I stayed to the bitter end and would have done regardless of the score.
One Man Utd fan from Derby shook my hand the other two who stayed said nothing then left quietly to join the other plastics at various pool locations no doubt. I had another half dozen beers though.
I love Egypt now I do. Laterzzzzz, Cheers TWebbers.
Phil Walling
73
Posted 26/04/2015 at 18:26:45
I bitterly regret not being at Goodison to share in the joy of the team's performance today but proud to be the lone Evertonian in a Cypriot bar full of Man Utd supporters with West Country accents. One even bought me an Ouzo!
Can it be that Martinez has relaxed his view that possession is everything and that his players have proved to him that you need to defend as well as attack?
I reckon Bainesy had even been practicing corners!
Paul Jeronovich
74
Posted 26/04/2015 at 18:39:26
I love these days when we put in a great performance. I thought Van Gaal was good in that he never blamed the ref or made any bullshit up. COYB
Iain Love
75
Posted 26/04/2015 at 18:45:26
Only thing I can add is, when Osman plays, he appears to knit the team together.
Dave Abrahams
76
Posted 26/04/2015 at 18:39:30
All those strangers came back to Goodison Park today, probably for the first time this season, I hope to see a lot more of them from now on: movement, energy, desire, aggression and inspiration. Well done all of you and well done the players and Martinez, but remember you all have got to keep it up.
Dave Ganley
77
Posted 26/04/2015 at 18:18:03
As with many others, I have given the team and manager lots of stick this season but today I thought they were immense. Apart from the awful miss by Fellaini just after Jimmy Mac scored, I never felt that United would trouble the scoreboard.
The defence was very disciplined and for all the Mancs' so-called talent, they huffed and puffed to little effect. Barry again played very well, entirely due to him that Fellaini was taken off at half-time... Will the real Gareth Barry please stand up as I'm not sure which is the real one: one that has played awfully for most of the season; or the one who has improved immeasurably over the last few games and looked at ease against some top players again today.
Seamus and Bainsey looked good again mainly due to having wide players to play off again. And fair play to Martinez too as, in the first half, he was pulling Lennon out wider instead of insisting they come inside, giving Seamus more support.
The only negative which I wasn't going to mention, but other posts suggesting that Barkley played well has forced my hand. He didn't have a good game, he was for large portions a passenger yet again. On several occasions, especially in the second half when we were on the break, he either kept the ball and went for glory when yet again other players were better placed for a simple pass that he didn't see, or he played either the wrong pass or mishit a pass straight to a United player. This notion that Barkley is a great passer, that he has great vision is total rubbish. He rarely sees the obvious pass and when you watch him closely, he gets the ball from deep and just runs until he is invariably stopped by the opposition.
Ironically the stunner he got against Newcastle last season is probably holding him back in the long term as it appears to me that he thinks he can do it again and again but blatantly can't. I actually like Barkley and would rather he stays but he does need to wise up if he wants to play in a central midfield role. He often gets caught out in no-man's land, just drifting when he should be picking up the opposition;for some reason he shies away from making any attempt at a tackle.
My preferred role for him would be just off the striker where he can shoot on sight without trying to be the playmaker that he definitely isn't. He certainly has the ability, look at the Man City goal at GP last season, letting instinct take over. Where he is being played at the moment he costs us goal chances due to his lack of vision and limited passing ability which may or may not be down to shattered confidence this season. I hope he comes back next season with a clean slate, uncluttered mind, fresh and raring to go because there's no doubt that a fully firing Barkley is an asset to us; however, he certainly isn't that at the moment.
Anyway, as I say, great result overall. I said before the game that I would like a performance to give us some hope going into the close season and the boys certainly gave us that. They made quality opposition look very ordinary and to be fair the scoreline I think ultimately reflected the game.
Colin Glassar
78
Posted 26/04/2015 at 19:12:08
When we have all our players fit and raring to go, we can beat anyone.
Shaun Lyon
79
Posted 26/04/2015 at 18:45:49
Living in the south-east (though not from there), I watched the game in my local. Surprisingly quiet and relatively free of southern Mancs, which was refreshing (until the final whistle, when it would have been very pleasant to have their company). That result has lifted the entire season, for me. Fantastic.
Eugene – always enjoy your posts, brilliant, mate, keep 'em coming.
Thomas Surgenor
80
Posted 26/04/2015 at 19:17:00
Did anyone notice Mirallas's celebration?
Charles Brewer
81
Posted 26/04/2015 at 18:47:37
Typical! First match in ages I couldn't watch, my daughter was doing her 3rd Dan examination, and not only is there a win, against one of the more repellent clubs, but it was comprehensive and with good style.
From a position of not having seen more than the excellent reports, there are several points which seem to stand out.
First, last year we were fortunate to win quite a few games which could have gone either way and a draw would have been a fair result. This year we've lost quite a few where a draw would have been fair. By contrast, Manchester United have been pretty much the opposite, grinding out fortunate wins when a loss could have quite easily been the result. So the teams today were probably much more equal than table positions might indicate.
Second, the Everton defence is back to its best. With Stones, Jagielka, Baines and Coleman back on form and working well together, and Howard showing a bit more confidence, the midfield doesn't think it has to be a supplement to the back four and get everything confused.
Third, it would appear that the myth of possession has been comprehensively debunked. It would appear that a few years ago the best teams (Barcelona for example) had high possession rates and success. However, this does not appear to be a causal relationship, and defences and teams became better at nullifying the effect of this by packing the last third of the pitch. The fast counter attack was deployed extremely effectively - notably by Rogers across the park, and Liverpool scored a ridiculous number of goals by very effective use of defence-into-attack tactics.
The reason possession doesn't work (for now) is that the slow moving attacking side with loads of possession (ie Everton in the first half of the season) are faced with 11 players, well drilled in nullifying attacks. The attackers will also have 6-8 players in the opposition half. However, a fast breakaway may leave just 2 or 3 players facing 2 or 3 fast attackers and running backwards or trying to watch opposition attackers is always slower than trying to keep up. This was how we were stuffed against the RS last year.
Richard Feynmann talked of Cargo Cult science, which looks like real science (you know, serious blokes in white coats and glasses held together with Sellotape), but which only resembles real science in terms of its appearance, and crucially lacks the intellectual approach which critically regards all results with scepticism and does its best to make sure the factors under consideration really are the ones than matter.
It is possible that Martinez has had a revelation that possession, in the state of today's Premiership is something you actually do not want much of, because it leaves your team strung out and vulnerable to a Sturridge / Sterling / Suarez style assault.
Matt Ridley wrote a book in the 90s about evolution called 'The Red Queen', which is about (amongst other things) the fact that even to stay competitive in nature, you have to evolve strategies and tactics at least as fast as your enemies.
Well, football, with all its money and the benefits of success, is a game where advances in fitness, changes in rules, and the manner of behaviour of your competitors need to be constantly monitored and your own approach modified to meet these changes.
Vinny Garstrokes
82
Posted 26/04/2015 at 19:22:04
Mark #40 – I think if it wasn't for Nigel Pearson he would be nailed on for Manager of the Month.
Mike Corcoran
83
Posted 26/04/2015 at 19:20:49
One thing I noticed is we constantly jockeyed them onto their weaker foot. A very effective schoolboy tactic
Jay Harris
84
Posted 26/04/2015 at 19:08:29
Agree with those who have pointed out possession football doesnt really work in the Prem. Just ask City who have some of the most expensive players in the world and are now coming unstuck.
Don't agree with those who blame the EL. We had a disgraceful preseason and a number of injuries mostly because the players weren't fit. We also replaced Delafeu with McGeady, Osman, Naismith, Eto or Barkley.
Our problems all season have been a lack of fitness, unbalanced team selection and poor tactics.
Now the players have had their "clear the air" conversation on tactics and Aaron Lennon has come in and added an extra dimension we are looking a different proposition.
The players are motivated, the team is relatively balanced (still need a left winger and creative MF player) and the defence is looking solid again instead of pitty patty (aka tikka takka) along the back 4.
I know we shouldn't get carried but for the first time this season I feel positive about the team.
Peter Mills
85
Posted 26/04/2015 at 19:19:35
Roberto got the tactics spot on, and every player did his job very well. Excellent stuff.
Man of the match? The referee, for allowing a proper English game to take place. What a tackle that was by Shaw on Barkley.
Jim Hillier
86
Posted 26/04/2015 at 19:32:42
Can we play you
Can we play you
Can we play you every week
Can
We play you
Every
Week
Tom Bowers
87
Posted 26/04/2015 at 19:30:09
A solid performance despite the scary moments early on. The quick goal really helped and kudos to those involved especially Coleman who has not been as effective this season with those great runs.
It was looking dodgy early, especially when Valencia was not being picked up by Osman but luckily they didn't manage to capitalize on that particular weakness; it's a situation that RM needs to address for next season without doubt.
The difference between Lukaku and Kone is so apparent and Lennon should be signed up as soon as possible.
Keith Magwood
88
Posted 26/04/2015 at 19:37:38
Tactics incredible today as, for once, we let the opposition have the ball and won on the counter. Perhaps RM needs to rethink this when the ball is in the other foot and we struggle the same especially at home.
Sam Higgins
89
Posted 26/04/2015 at 19:36:54
Mmmm. Too little too late for me. We should have been putting in this sort of performance against Leicester last August and then so on and so forth.
One great win against Man Utd does not make up for the utter fuck-up the season has been. If we had played like this all season, which obviously we can, then we'd be sitting pretty in 3rd or 4th right now.
Mads Kamp
90
Posted 26/04/2015 at 19:40:13
Cheers from Denmark!
COYB!!!
Jay Woods
91
Posted 26/04/2015 at 19:50:41
Two things:
1. This is nice payback for the shabby loss at Old Trafford earlier in the season, when United were all at sea and low on confidence; that one was a result that flattered them.
2. Martinez may have just redeemed himself with this turnaround. Which of course begs the question, why did it take us to be facing relegation before he changed tack? Hopefully he will view this season retrospectively as a near shave and not be so sloppy in pre-season again.
Sid Logan
92
Posted 26/04/2015 at 19:49:12
Sublime.
I feared the worst but the team delivered the best. Much been said but, if I were to pick out what the team did best, it was: they remained disciplined; they never stopped working; and showed determination to win the ball back in the right areas.
Osman not at his best otherwise no weak links. Barkley disciplined but not at his creative best. Overall great performances everywhere.
Hope it's not a temporary feeling but right now I'm so glad I renewed my season ticket yesterday. Tonight I feel a warm glow and know I must enjoy the moment and accept that I should not worry right now about the future.
Paul Andrews
93
Posted 26/04/2015 at 20:12:14
Great performance from the lads and the manager.
This performance confirms Martinez will be thankfully be our manager next season.

James Lauwervine
94
Posted 26/04/2015 at 20:17:40
Souness can fuck off - play to the whistle is a basic lesson that the (other) red shite forgot. One nice thing about MotD tonight will be that, with all the media darlings on show, it is the blue boys that will be providing the goals. Well done RM and the team.
Darren Hind
97
Posted 26/04/2015 at 20:24:03
I felt all week that we would beat them. Now we have, it feels very sweet indeed. Well done, Robbie and the Boys.
James Byrne
98
Posted 26/04/2015 at 20:20:57
Great win today and if I'm honest that performance goes down in history as one of the best Everton wins I've ever witnessed. Every department was 100% on their game today.
This was a game most of us couldn't quite predict because we were facing an in form United if you read the form guides.
On a slightly negative point, why has it taken so long for a performance like this to surface! A lot of people saying that Martinez has been redeemed over the recent good form but I disagree.
I feel Martinez has had some backlash from the players during and after our piss poor season and his shite tactics. I reckon that this recent run of form has been driven by the players to change our approach, particularly in defence.
Des Farren
99
Posted 26/04/2015 at 20:23:38
Could well be Phil (#73). When the facts change maybe he is astute enough to do so, ie, change his mind.
With the improvement in performances and results, dare I say you may likewise be inclined to relax your views?

Martin Mason
100
Posted 26/04/2015 at 20:17:00
Pretty surreal as United, like last week when Chelsea beat them, always looked pretty good. So many things that Everton did right tactically, though, such as effectively man-marking Fellaini and winding him up so that sending off would have been a certainty eventually, our centre backs and holding mids were nothing short of sensational.
Whilst McCarthy was judged MotM, what a performance yet again by Jagielka and of course Stones. I thought our 3rd goal shouldn't have been allowed as saying Lukaku wasn't interfering with play was nonsense. I pick Lukaku out for special praise as alone he bullied the United central defenders mercilessly and I'll also give praise to Lennon and desperately hope that we can buy him in the summer window.
An incredible win that must be flummoxing United. I'm glad to see Fellaini playing so well too, he's United's best player and if you stop him United have far less power and creativity. I have a soft spot for him and he is the ultimate modern footballer.
Possibly the most amazing game and result that I've seen in over 50 years of watching Everton and how soccer has changed in that time, by far for the worst unfortunately.
I may be going gaga but watched both games on Sky and found Jamie Carragher's input both knowlegeable and humorous as much as Souness's was the opposite.
Carl Peters
101
Posted 26/04/2015 at 20:02:27
The only thing I didn't like about the result today is it may have let the redshite back in the race for 4th.
Other than that, a superb performance all around.
Stephen Brown
102
Posted 26/04/2015 at 20:36:41
If we are 5-0 up v Burnley with a minute to go I'm still normally expecting the worse! But today I felt confident from the opening goal that we were going to win the game! Strange feeling v Man Utd
Great performance from 1-11 plus KM and a special mention to Roberto for getting the tactics spot on. Need to keep this going until the end of the season to convince Stones, Mirallas, Lukaku, Coleman, McCarthy that there is a positive future here for them. It could also help persuade players to join.
Important pre-season ahead!
Peter Mills
103
Posted 26/04/2015 at 20:31:46
Eugene (#67), after all this time wanting to wack the guy in front of me at match because he won't listen to me and just mutters incoherent nonsense, I discover it's you!
Dave Cooney
104
Posted 26/04/2015 at 19:39:58
Well done Roberto and your much maligned team. We've had many days of misery this season but many days of glory last season. I personally think the Mancs will do well the rest of the season and this was a pointer, but who's to tell?
I believe in Roberto and Ross. I do fucking hate anything to do with Disney. Big time.
Raymond Fox
105
Posted 26/04/2015 at 20:30:48
So you're all on first name terms with RM now! Calling him the worst manager in the world one minute, now because we string some wins together he's Robbie again!
You're more changeable than the bleeding weather, learn to take the rough with smooth for a change, it's always famine or feast on here. Try having some patience.
The Europa League undoubtedly affected our Premier League form, it doesn't take a genius to have realised that, ask all the teams of our standing that have played in Europe.
Andy Crooks
106
Posted 26/04/2015 at 21:05:39
Raymond, Everton were great today but have been shit for much of the season. The coach has been slated when he has been inept and praised when he has been good. Now that might sound utterly feckless to the more discerning supporter but it sounds fair enough to me.
Martin Mason
107
Posted 26/04/2015 at 21:02:28
Iain @75, absolutely correct. We're twice the side when Osman plays and the criticism of him at times has been disgraceful. He isn't bad defensively and he adds a real spark of creativity. This often means losing the ball but that is always remembered rather than the constructive outcomes. For me he's been a club legend as significant as any, other than the very best, such as Ball, Young, etc!
I have a feeling that our greatest legend may end up being Phil Jagielka, what a magnificent player from being a second rate midfielder at Sheffield United. I heard the Sky team rightly praising John Terry but everything they said applied equally to PJ.
Gavin Johnson
108
Posted 26/04/2015 at 21:14:59
Great result and good see that Roberto's flavour of the month again.
Andrew Presly
109
Posted 26/04/2015 at 21:20:47
That gets him to Christmas as opposed to the first 5 games next season for me. Show you learn / listen and I'll support you. Maybe even love you again.....
Dave Lynch
110
Posted 26/04/2015 at 21:31:35
Nah! One swallow does not make a summer.
Still not convinced by the fella, we will see early next season what he's made of and I'm convinced we are in for another bipolar season.
Chuffed with today's result though, thought Barry was immense along with McCarthy.

Sid Logan
111
Posted 26/04/2015 at 21:24:32
First of all, let me say Roberto is not flavour of the month. He got his tactics right today but it was the team's collective performance which did it for us. Roberto has a very long way to to get our belief in him back.
Marrin (#100). You're dead right about Jamie Carragher – always pretty decent and honest towards us (as is Steve MacManaman – both former Evertonians of course). Souness is a sour shit who, I think, hates Everton more than he hates Man Utd. He's incapable of giving an objective view because all his opinions are tainted by a fierce dislike of us and the truth is he's probably not fit to be a pundit because his pettiness on a range if issues forever shows through.
Peter (#103). That's pretty funny. I'm not sure everyone appreciates it. Having said that, I though Eugene's post was quite amusing. He seems to have mellowed of late as our win ratio if, not quite our performances have improved – but then again, it's probable that we all have.
Ross Edwards
112
Posted 26/04/2015 at 21:49:28
No one said Martinez was 'flavour of the month'. He did a great job tactically today and we complement him for that. He still has a lot of work to do of course but it's a huge step in the right direction.
Ross Edwards
113
Posted 26/04/2015 at 21:52:27
The frustrating thing is that it's too late. Why couldn't we have played like this earlier? We'd probably be knocking around the Europa League places now if RM adopted these tactics earlier.
Peter Mills
114
Posted 26/04/2015 at 21:49:36
Sid (#111), you are absolutely correct: Roberto Martinez is not suddenly Top of the Pops, certainly not with me. People are just giving him praise for today. Rightly so.
Eugene's post was, indeed, amusing, it tickled me, his posts usually do, and he is a true Blue.
Gavin Johnson
115
Posted 26/04/2015 at 22:08:14
Maybe not 'flavour of the month' but I'd echo Raymond's sentiments that it's kinda amusing when some of the 'Martinez Out' faction are suddenly calling Martinez 'Robbie'. It just made me chuckle.
The tactics were spot on and shows that Martinez is not a one-trick pony. It looks like Martinez was watching the United - Chelsea game the other week and took a leaf out of Chelsea's book, as we let United have the ball but we always looked strong defensively.
Graham Mockford
116
Posted 26/04/2015 at 22:02:24
Iain (#75); Martin (#107);
You are spot on about Leon. I'm a bit of a bore when it comes to his worth and have had numerous arguments on here about him.
But the stats are startling. He has started 11 games (I have excluded Swansea where he came off after 10 minutes but included Arsenal where he came on very early, it makes no difference actually.)
P 11 W8 D2 L1
I don't think it's a coincidence.
Nicholas Ryan
117
Posted 26/04/2015 at 22:10:22
1. OMG!
2. It has to be Lennon AND Mirallas for next season.
3. Hats off to LVG "...when you lose fair and square, that's just part of life..." or something similar!
Darryl Ritchie
118
Posted 26/04/2015 at 22:16:00
Hell of a game!
Everton's course of action over the summer is crystal clear to me now. Thirty or forty pre-season matches and we should win the league. It obviously takes us that long to get going, and once we do... unstoppable!!!
Howard looked to have a bit of a knock. Any word?
Tony Hill
119
Posted 26/04/2015 at 22:30:38
Great performance today in all respects but Ross (113), you are right.
Paul Hewitt
120
Posted 26/04/2015 at 22:31:57
Great result today and an upturn in the last 6 games. But the season is 38 games — we need to be more consistent.
Barry Jones
121
Posted 26/04/2015 at 22:16:06
I really don't believe that the display today was due to any tactical genius of the coach. We were forced to play the way we did by a very aggressive Manchester United team who were pressing high up the field. The possession stats show this and we were often second to the loose balls. Man Utd made it very difficult for us to settle on the ball but it was clear that we were trying hard to do so.
Fortunately, we have several pacey players who are capable of running at players at some speed with the ball, notably, Lennon, Coleman, Barkley and Mirallas, all of whom did excellent jobs on the counter attack today and caused United headaches. What was most impressive about our counters today was the accuracy of the passing at speed and the numbers that we managed to get forward. In fact we had several other promising counters besides the goals that were broken up by the tenacious United midfield.
I don't want to take away anything from a great result and a battling performance, but really all three goals came against the run of play. For the first, Jimmy Mac (who had a great game along with Barry) was fortunate with the bounce of the ball. For the third, the United defense stood still because Lukaku was in an offside position, obviously a bad mistake by them. Stones's header from the corner was outstanding. It's easy to get carried away because it was a fabulous result against a very strong United team, but I am still unconvinced about Martinez, despite the string of excellent results.
I have to say though that his team selection today was excellent as were his substitutions. They actually made sense. In fact considering the pace of Valencia down the right, it may have been better to start Mirallas wide instead of Ossie. Ossie is better centrally, but probably not at the expense of Barkley today, as his strong running through the middle caused problems.
Jay Wood
122
Posted 26/04/2015 at 22:13:39
Raymond @ 105
Where to begin with your very reactionary post..?
Was everyone calling RM the worst manager in the world, and is everyone now thinking he is the bees knees again because of this very welcome – and long over due – winning run? The answer is 'no' and 'no.'
For the overwelming majority of the season it has been rough and famine, not smooth and feast. The concerns of many for three-quarters of the season were justified and legitimate. Many have expressed relief in recent weeks that finally, a different and more pragmatic approach and tactics have yielded much needed points and a gradual rise up the table closer to where we should be in the league.
If, as you state, it doesn't take a genius to realise the Europa League "undoubtedly affected our Premier League form," perhaps you can explain how for 3 months and 16 games between the end of November and the start of February – with no EL distraction – our form read P 16 W 2 D 5 L 9, including a 1st round exit from the FA Cup?
I'm extremely happy with the upturn in form. Equally, I can understand if some still harbour doubts about RM's capacity as manager of EFC.
Ross Edwards
123
Posted 26/04/2015 at 22:41:58
It's the oldest argument in the book against RM but I'll say it anyway. At Wigan, RM always put a run together in the last 8 games of the season. For the other 30 they were absolutely piss-poor.
We've been piss-poor all season and only started to put a run together when it's far too late.
Mike T Jones
124
Posted 26/04/2015 at 20:39:22
Lukaku looks annoyed that Mirallas scored and didn't pass to him instead!
Gavin Johnson
125
Posted 26/04/2015 at 23:12:33
Ross, so If that's the case, why were we piss-poor in the last 8 games or so after the Arsenal home win last season?
Ross Edwards
126
Posted 26/04/2015 at 23:23:35
I think Gavin that was when teams were beginning to suss us out. But generally if you look at his Wigan tenure they always waited until the end of the season to put a run together after being terrible all season.
Jay Wood
127
Posted 26/04/2015 at 23:17:00
Wrong Gavin @ 125
We were 50-50 in the last SIX games after trouncing the Arse.
A Sunderland W 1-0
H Palace L 2-3 (RM trying to be too cute and sending out an unbalanced side - a tactic he repeated in the same fixture this season which resulted in the same scoreline)
H Manure W 2-0
A S'ton L 0-2 2 poor own goals
H Man City L 2-3 to champions elect
A Hull W 2-0
Far from 'piss poor,' considering up to the Arse game we won 6 games on the bounce.
Denis Richardson
128
Posted 26/04/2015 at 23:03:54
Great result... but, until that happens on a regular basis, I'm not going to be convinced this manager is the right one. Our players always gee themselves up against Man Utd so the performance was not too much of a surprise, scoreline another matter. Let's see that against the likes of Hull and Stoke when the pressure isn't off.
As said above, one swallow does not a summer make and it's far too late in the season to make a difference. Some people go on about a 'top-half finish'; however, whether we finish 9th or 12th is pretty much irrelevant.
Still, 3-0 against Man Utd is always great result and a big confidence boost for the players (we still need a squad overhaul in the summer though).
One thing's guaranteed, we certainly won't be having a change of manager in the summer now...
Gavin Johnson
129
Posted 26/04/2015 at 23:26:59
Maybe... maybe not, Ross. I'm just glad that Martinez seems to have taken his head out of his arse after the Europa exit and realised he needed to take heed of the populist opinion and has started to mix up the tactics. We are once again looking like a team that looks hard to score against.
Gavin Johnson
130
Posted 26/04/2015 at 23:38:04
Oh, Sorry Jay, let me rephrase that, we were relatively piss-poor in the final run-in last season.
Gavin Johnson
131
Posted 26/04/2015 at 23:44:15
And Jay, wouldn't you agree that our form was relatively piss-poor after the Arsenal home win when you even state yourself, we won 6 on the bounce prior to that game. So please enlighten me as to why I am wrong.
Jon Withey
132
Posted 26/04/2015 at 23:43:36
Wasn't expecting that!
The first bit of genuine hope for a while.
I'm glad Stones got a goal – he has to get a lot of credit, his return coincided with an improving defence.
Jay Wood
133
Posted 26/04/2015 at 23:44:07
Gavin @ 130 Last 12 games of last season:
P 12 W 9 D 0 L 3 F 24 A 12 Pts 27
To put it into context, just 1 point less than we had 6 short games ago this season when we had 28 points from 28 games.
Nothing 'relative' about it.
Gavin Johnson
134
Posted 26/04/2015 at 23:52:08
Sorry Jay, I must have missed all the posts on TW last season in the run-in after the Arsenal game that said Martinez was losing it and teams were sussing us out when we were losing fixtures like Palace and Saints, that most expected us to win based on results and form prior to Arsenal. So of course we were relatively poor like you can say there's been a role reversal this season.
I'm not sure you understood my original post Jay.
Jamie Crowley
135
Posted 26/04/2015 at 23:54:06
I think there are two common denominators with our good form v our poor form.
John Stones on the pitch.
First time in Europe for a hell of a lot of our players taking a toll.
Excellent result. Excellent game.
James Stewart
136
Posted 26/04/2015 at 23:58:50
If we can keep the Coleman, Stones, Jagielka & Baines fit for the majority of a season or bring in able cover. (Alcaraz & Distin are not able cover.)
Sign Lennon and keep Mirallas then we just might be back to the form of last season next season.
Today was more like it!
Tony Byrne
137
Posted 26/04/2015 at 23:44:17
It was a great performance today by the team & our manager who has frustrated me all season. Today, RM got it spot on & it was akin to the performance against Arsenal last season.
I have uttered my concerns on here quite recently about RM sucking the life out of me as an Evertonian, today he gave me a bit of belief back. I would eat humble pie all day long if he turns out to be a great manager for our club.
I've come to the conclusion that Everton mince your head as much as women! Trying to gauge what will happen next is the norm as an Evertonian & always has been! Same can be said for the opposite sex, the two are impossible to fathom out! Anyway a great result against a team whose bench was possibly the same value as our whole club.
Shame on the Man Utd fans for not respecting the minutes silence as we did at OT a few years back for the Munich air disaster anniversary.
Harold Matthews
138
Posted 26/04/2015 at 23:32:54
A happy thread till the well known know-alls started chipping in with their expert opinions.
Jay Wood
139
Posted 26/04/2015 at 23:58:08
Gavin @ 134
I understood your original post perfectly. I also understand you are attempting to shift your position without admiting you got it factually wrong.
Your original post categorically stated we were piss poor in the EIGHT OR SO games (implying even more than 8 games) as an attempted counter to Ross's claim about Wigan's late season form under RM.
I have not invented the results. 27 points from a possible 36 is not piss poor, relative or otherwise. It is title-challenging form.
Referring to your recall of TW posts from that time has absolutely zero significance to your erroneous original post. If anything, you should be thanking me for exposing the mistaken belief that the assumed (by some) 'melt down' of Everton under RM started well before the end of last season. It clearly didn't.
Gavin Johnson
140
Posted 27/04/2015 at 00:12:47
Harold, I'm having a déjà -vu from last Sunday, mate. I don't know why I bother even responding.
Jay Wood
141
Posted 27/04/2015 at 00:14:22
Now then Harold @ 138 ... that's unfair and ungentlemanly of you towards Gavin...
Gavin Johnson
142
Posted 27/04/2015 at 00:20:46
I'm just glad we've got rid of that Europa Albatross off our shoulders, eh Jay. Our form's absolutely soared.
Jay Wood
143
Posted 27/04/2015 at 00:23:41
We did that one to death last week, Gavin. The unanswered question is still begging: why the abysmal form for 3 months and 16 games from November-February with no EL distraction?
And please, try and refrain from casting yourself in the role of the persecuted victim whilst engaging in ad hominem attacks against other posters who are simply challenging your opinion, not attacking you as a person.
Gavin Johnson
144
Posted 27/04/2015 at 00:34:05
Ok Jay ;)
Ross Edwards
145
Posted 27/04/2015 at 00:42:10
I'm hardly a 'know all' Harold. If I was, I'd be in Martinez's job doing better than him... :)
Terence Leong
146
Posted 27/04/2015 at 00:45:24
Followed the match blow by blow, on podcast (a throwback to the days of sitting beside the radio). Thoroughly entertaining! (Darren and Snods totally biased broadcast, which was fantastic)... nailbiting too.
Looking forward to seeing us progress!
I concur with some of the posts here, that the bigger issue is not that we got to move away from the possession game, but the ability to go to a Plan B when we need to.
That though, goes beyond a counter-attacking game. When teams park the bus and wait for us to attack them, that's when the team play starts to slow down, because of the need to unpick the defence. Problem comes when we lack the guile to do so, and then it seems that the passing gets nowhere.
The other common approach is to keep putting balls into the box, go direct, play percentage football, wait for the knock off, which I am not sure how successful that will be. Not sure how that can happen with the current crop of players.
Still, that's for another day, and what a win!
Steve Barr
147
Posted 27/04/2015 at 01:33:09
This season has been abysmal.
If playing in Europe is the scapegoat, then I guess our aspiration is to finish around 7th each season!
The performances this season have not been anywhere near good enough... even if we win the remainder of our games.
The club has to find a way to keep a minimum standard and always look to be competing for every honour going.
The board we have at the moment is just not up to the minimum standards this great club deserves.
Is it too much to ask for more of what we saw today?
Gavin Johnson
148
Posted 27/04/2015 at 01:30:52
Had to watch MotD until the very end just to see the league table. It's great to us in the top half. I'm actually looking forward to next season. What a difference 6 games can make.
Jim Hardin
149
Posted 27/04/2015 at 01:40:40
The defense was stingy and nullified almost everything coming at them. What they couldn't, Howard did take care of. McCarthy was throwing himself all over in the box blocking everything like a madman. Barry marked Fellaini out of the game and Lennon was superb as was Baines.
My only question was once Everton went up 3-0 why didn't Garbutt and Besic get subbed in instead of same old Kone and Naismith? I would have subbed Besic for McCarthy and Garbutt for Baines to give them playing time. Why not sub Besic for Barry? Because I wouldn't want Besic and Garbutt together as two subs trying to find their rhythm versus Man Utd's strikers and Di MAria so would have left Barry between them.
Brian Wilkinson
150
Posted 27/04/2015 at 02:11:56
Just over 30 years ago, Kendall was hounded; we knew better than our late great chairman who ignored and stuck by his manager. Is History about to repeat itself by Bill ignoring fan reaction and sticking by his manager?
It's a big if, but if we can keep hold of our players, sign Lennon and a few others, offload Alcaraz, Distin, McGeady, Martinez abandon tippy tappy and instead hit teams with pace, next season could be a very interesting one.
Michael Polley
151
Posted 27/04/2015 at 02:35:39
I was on night shift, so only saw the last 10 minutes of the game. Christ! I couldn't believe the score when I switched on Sky Sports. Nearly choked on my tea.
Great result, and it's put some pride back into us. Full credit to all the players. Think I'll watch it on MotD over & over again.
Just a pity RM didn't adopt similar tactics at the start of the season. Let's hope this is a change in philosophy. He still has a lot of work to do over the summer though. Here's hoping for a good campaign next season. In the meantime, we are now 10th; let's see if we get 8th. COYB

Gavin Johnson
152
Posted 27/04/2015 at 02:28:47
Jay Wood
Without going all Columbo... 'Just one more thing'.
You are spot on if you want to be pedantic and be a 'stato man' by going out of your way to look up the number of games to correct so...
I think most people would read the 'poor run-in' of games from last season as meaning post-Gunners, from going on a 6-7 game run of wins, we then go to losing 3 in 6 against inferior opposition bar the exception of Man City. I think most would be in agreement that 50/50 in the remaining games is relatively piss-poor when you've gone from title winning run.
I'll happily concede that I made an error by saying 8 games rather than 6, but I don't always research my points with statistics before I post, nor look something up just to correct someone.. Please don't say you have the ability to pull such small details from the top of your head, Jay. If so, you must get in touch with your long lost brother and go counting cards in Las Vegas.

Derek Thomas
153
Posted 27/04/2015 at 01:23:22
It was a pleasure to watch, proper game in the 'English style', played by-and-large in an old style 'English way' with hardly any of snide, feigning, diving, complaining and Shawcross-esque, holding, push and shove in the box... or maybe there was and I've got so used to it as to not notice it any more (sad if that's the case). I don't know who the ref was and that's as it should be. Well done to all concerned.
Maybe we / I, well some of us, were a bit harsh and presumptive on Martinez, but until this time next season and these sort of performances and results are more the norm than the exception, I for one won't be waving 5-year contract extensions under his nose.
The fact remains we were under no pressure or outside expectation to get much from the over hyped, pale shadow of a none SAF aura of invincibility United team.
All we did – it still took a bit of doing mind, so fair play to them though as I said before – All we did was prove the old saying that 'A star team will beat a team of stars.'
Mr Martinez: That performance is the bare minimum, the baseline from which ALL Everton teams should function, not the one highlight of a piss-poor season.
You've bought yourself time, nothing else... What you do with that time will show whether or you deserve my mythical 5-year contract extension.
Anto Byrne
154
Posted 27/04/2015 at 03:29:25
Leon Osman is so under-rated and at times the whipping boy but today he was very good and did a lot of very important work that goes unnoticed. KM took his goal very well and the price tag must be at least 㾻M. With a further 12 points to play for, a top eight finish is possible.
Abhishek Saha
155
Posted 27/04/2015 at 03:06:42
I always believed we had a wonderful team and we really do not need any major additions, let alone an overhaul.
I guess we had pretty much the same team this season as compared to the last one (sans Deulofeu and plus the likes of Besic, Atsu and now Lennon). This unit has played together for quite sometime and have formed a cohesive unit. It is time to reap the benefits of the all months of playing together and sharing tough moments. Even an average team if it plays together for a long time is capable of doing wonders. This team has proved it that they can do it last season and can do it next season as well without the trauma of Europa League.
For me retain the same squad. Just add a natural and in-form centre-back to compensate the exits of Distin and Alcaraz.
Ernie Baywood
156
Posted 27/04/2015 at 04:28:32
The game was last night for me in Aus. Went to bed ecstatic, woke up the same.
During the day the thought keeps coming that this team was capable of so much more. There has been so much missing this year but a bit of application and effort would have made a massive difference.
Abhishek Saha
157
Posted 27/04/2015 at 04:47:01
Ross Hutchinson #32, couldn't agree more with you! COYB!!!
Pete Edwards
159
Posted 27/04/2015 at 06:48:15
Barry, so it's his fault when we lose but nothing to do with him when we win?! Staggering!!
Scored against the run of play well that's kind of what happens when the manager sets up the team to play counter-attacking football!
Jay Wood
160
Posted 27/04/2015 at 06:48:37
Gavin @ 152
So again, you resent my simple ability to do what any one is capable of: do my research to support my opinion.
You by contrast persist in being selective in your data and recall of our results last season in an attempt to undermine another poster's opinion, then resent being corrected, accuse me of being pedantic and imply I'm autistic.
Your agreement not to engage in ad hominem insults was short lived, wasn't it Gavin?
Gavin Johnson
161
Posted 27/04/2015 at 07:06:45
Jay, in my best Vic Reeves tone - "HE WOULDN'T LET IT LIE lol.
There's no selected facts, Jay. The point is about 90% of folk on TW, would know the point referred to post-Arsenal form - 6 games.. 8 games WTF?! The point still stands. Jay you try to appear as some intellectual heavyweight by using flowery language to appear clever. Why do you feel the need to do this? What's really going on for you?
It was indeed 6 games rather than 8. I said 8 games as round figure to Ross, because it was to counter his claim that Martinez does well in his last 8 game run-in for Wigan. Maybe you could look that statistic up, as your interests and use of time show signs of you being high up on the autistic spectrum.
Eugene Ruane
163
Posted 27/04/2015 at 08:06:46
Gavin - "I'll happily concede that I made an error by saying 8 games rather than 6, but I don't always research my points with statistics before I post"
Maybe you should.
Sorry but you appear to be castigating Jay for having done his homework rather than using your 'method' ('the fact-free what suits my argument' method).
Brin Williams
164
Posted 27/04/2015 at 08:13:57
Harold 138 - yes a good positive thread until it was taken over by the Gavin and Jay show, pity!
Gavin Johnson
165
Posted 27/04/2015 at 08:31:07
Eugene, I wouldn't take issue with someone using homework to support a point. I only take issue with with the tone and when it seems to be the only way they post anything on the forum.
I don't believe that the majority of people post on TW to get into these type of exchanges. but some people seem to thrive on them. and feel the need to feel superior to others with the use of high-falluting language. Of course people, are going to have different viewpoints but I don't think being pompous isn't a requisite requirement.
Ian Jones
166
Posted 27/04/2015 at 08:19:37
So, the day after what was a great result cheered most of us up hopefully. Perhaps not some on here from the point scoring going on. Be happy. We won.
I received a text from a friend who supports Chelsea saying it was a shame Everton hadn't played like that all season. I replied if sitting back and letting the opposition have the majority of possession and do nothing with it, and win 3-0, then perhaps that's the way to go.
If you go back to post 121 there is a good post putting yesterday's win into a little more perspective, although I would like to think it was more Martinez's tactics sitting back and counter-attacking that worked than us being forced to play like that by Man Utd. Perhaps a bit of both.
Also glad Ossie played from the start. Not sure if Mirallas would have offered the same protection.
Here 's a question: How many if us would honestly say they wouldn't mind seeing Everton play in the same way more regularly if it meant winning, perhaps against the better teams? Easier said than done.
Personally, I would prefer to see a little more creative stuff and us take the game to the opposition and play them off the park but needs must. We are what we are and where we are at the moment. But winning breeds confidence.
Going back to last year. Out of all the games against the top teams, I can only remember us really getting stuffed at Anfield.

Dave Lynch
167
Posted 27/04/2015 at 08:51:20
For those looking forward to next season, remember how optimistic we where going into this season.
At the end of this season this will be Martinez 2nd highest finish ever in the PL.
I'm not at all convinced...
Jay Wood
168
Posted 27/04/2015 at 08:23:41
And there you go again Gavin, resorting to
ad hominem
insults, simply because I engaged in exactly the same practice as you: offering a counter opinion to your own counter opinion to Ross.
Read our posts in this thread again. Only one of us is being personally abusive to the other. And it ain't me.
I have not used flowery language to appear clever or an intellectual heavyweight. I have not invented the data.
You, by contrast, display disdain and resentment at my legitimate posts and resort to personal abuse in a Vicky Pollard-like "yeah but, no but" buttery in an attempt to support your position by again inventing imaginary data.
Let's play the game your way. Let's take 4 games in isolation towards the end of last season when we P 4 W 1 D 0 L 3. Pretty 'piss poor' form, you might concede.
Or maybe "90% of folk on TW" would think it fairer and more just to view those 4 games within our final 12 games of last season - nearly a third of the season - which yielded the following: P 12 W 9 D 0 L 3 - title challenging form as I said previously.
Now contrast that to our form over 3 months in winter between EL games which reads P 16 W 2 D 5 L 9. That is 'piss poor' form in any one's book, yet last week you were seemingly excusing that and absurdly attributing it to 'the distraction of the EL' when we weren't even playing any games in the EL.
Go figure...
Try engaging in debate in a civil, balanced way Gavin, rather than consistently offering straw men arguments and ad hominem insults, simply because someone has the 'audacity' to offer a well-presented counter opinion to your own.
Brian Harrison
169
Posted 27/04/2015 at 08:51:49
Some excellent performances yesterday I think McCarthy is better suited to the 4-1-4-1 system it gives him more freedom to get forward. I think Jagielka has been immense over the last 3 months he is back to his very best, and Barry seems to be back to last seasons form.
I know some critics say that Mirallas is too inconsistent but his goalscoring record is only bettered by Lukaku and I think if it was judged on minutes per goal he would be our top performer. There should be no thoughts of him leaving the club.
I think United pushing on really helped us yesterday and our ability to hit on the break played into our hands. The problem we have is playing teams that sit back like we did yesterday. I thought considering neither Barkley or Lukaku shone it was an excellent result.
I was disappointed with the attitude of Lukaku when Mirallas scored, he should be the last person to complain about someone being selfish in front of goal. He should also remember it's a team game and it doesn't matter who scores.
Max Murphy
170
Posted 27/04/2015 at 09:11:10
Great win. I don't think the victory and the manner in which we played has anything to do with Martinez's tactics. I believe the players have decided on their own way to play, as the Martinez way was rubbish. We have to judge Martinez on the whole season, not on one game, and frankly he has been dross.
"Maybe just maybe Martinez is the man for Everton?" (#32) – you have to be joking! With our squad, we could have achieved so much more without Martinez, both in the league and the Europa. Even if we win the next 4 games, I still want this man booted out of our club.

Harold Matthews
171
Posted 27/04/2015 at 08:26:59
Yes Brin, the 3-0 win has certainly caused some fans to go into overdrive.
Earlier on we had the obviously intellectual Charles #81 lecturing on the thoughts of Richard Feynmann, Nobel Prize winning theoretical physicist. There are probably equations for this kind of reactive behaviour. In fact, there will be fans out there who are studying the curved geometry of the Baines corner and the subsequent trajectory and velocity of the Stones header.
Heaven help us if Jay and Gavin are into Mathematics.
Jay Wood
172
Posted 27/04/2015 at 09:12:34
Gavin @ 165
"...some people feel the need to feel superior to others with the use of high-falluting language. Of course people are going to have different viewpoints but I don't think being pompous isn't a requisite requirement."
Show me a single example in our exchanges that demonstrates that. And while you're at it, study closely the manner and language you use to address me, both directly and indirectly.
I have done nothing more than post my opinion with supporting data, in plain language. Your resentment seems to be borne out of the fact that you have been unable to effectively counter my opinion and so resort to personal abuse and attributing to me characteristics I have not displayed.
As I've repeated more than once Gavin, debate the differing opinions rather than resort to personal abuse as you consistently have with me.
Gavin Johnson
173
Posted 27/04/2015 at 09:17:20
Jay,
There were no 'straw men arguments' – anybody who presents stats too you is then accused of choosing selective facts.
It was my mistake to say 8 games, I was comparing the 6 games prior to Arsenal to the 6 games after, and I think 50/50 is less impressive and relatively poor to 100%. So there you go.. Thanks for looking up those stats for me! Just don't tell me what my argument is because it is a common argument on TW that form dropped post-Arsenal and you provided the stats to prove this, Jay.
Jay Wood
174
Posted 27/04/2015 at 09:32:49
Gavin @ 173
"anybody who presents stats to you is then accused of choosing selective facts."
Show me where I do this Gavin.
Colin Malone
175
Posted 27/04/2015 at 11:12:17
Good riddance to the tippy tappy from the back. Jags and Barry are more comfortable without it.
Paul Dark
176
Posted 27/04/2015 at 11:07:05
Really pleased for the team and RM.
However ... RM remains a doctrinaire and incoherent (his words and actions do not make a cogent whole) ideologue. He has a lot of good sides to him – especially when things are going in his favour.
An imaginative, ambitious and intelligent chairman would take this opportunity (while our stock is quite high in terms of the playing staff we have) to remove the manager and find a high-profile replacement of high quality and solidity (eg, Klinsmann). Kenwright doesn't even come close, of course.
On another note: Osman is useless, not a winner and should be retired now. I know almost everyone on ToffeeWeb loves this lightweight, ball-losing player. He has no place in the squad (like Alcaraz, Koné and the terminally ineffective McGeady). We must move on while TV money and our present squad allows.
I really hope we can keep Rom and Kev. For all their shortcomings, they are two of our best and most exciting players. Rom is going to be world-class; he sort of already is.
Gavin Johnson
177
Posted 27/04/2015 at 11:15:34
My apologies, Harold, Brin and anyone else who's been subjected to this. It's just ridiculous that a thread goes in this direction after a 3-0 thumping of one of our bitterest rivals.
Eugene Ruane
178
Posted 27/04/2015 at 11:34:59
Have a look at Duncan Ferguson's reaction to Stones' goal - very funny (not unlike my own actually)
Ernie Baywood
179
Posted 27/04/2015 at 11:35:28
Paul (#176), I'll admit to not being a fan of Osman (present day anyway) but yesterday showed his positives. RM picked him to do a solid disciplined job on Mata whenever he came infield. He did it perfectly. And the second Mata came off, Kevin stripped off; Ossie's usefulness had come to an end.
And I guess that's why successive managers have trusted him so much. He's simply trustworthy. Good pro, takes on what he's supposed to do. Yes, he lacks pace, strength and has the shooting power of that skinny guy in the Carry On films, but you always get what you expect of him.
Harold Matthews
180
Posted 27/04/2015 at 12:09:32
Thanks Eugene. Great stuff. Wish I could have been there. You must have gone wild.
Alan Brown
181
Posted 27/04/2015 at 12:34:54
The best team performance of the season. My observations, for what they are worth:
McCarthy pushing forward is making a critical difference – he was the link between defence and attack. At the risk of howls of derision, he's our Stevie G. Breaking up attacks and now surging forward.
Second, Barkley is being played in his best position – central and behind Lukaku. Yes, he made a couple of glaring errors... but the lad has undoubted talent.
Third, the Lennon - Coleman partnership is starting to tick – so I hope we sign him over the summer.
John Voigt
182
Posted 27/04/2015 at 12:46:38
Loved seeing the Blues have a big game go their way.
The Jagielka - Stones partnership is looking very good. The decision to have the less-than-speedy Barry man mark the less-than-speedy Fellaini in the first half really worked in Everton's favor.
Now that there aren't very many injury issues and there's more time between games we're seeing better results.
The back 4 with Coleman, Baines, Jag and Stones really is a solid unit when all are healthy. It makes a big difference.
Everton are now in the top half of the league in goals allowed. That's pretty hard to believe if you think back to the early portion of the season when Everton were either last or close to dead last in goals allowed.
Errol Stafford
183
Posted 27/04/2015 at 12:58:45
Shane (# 70). That was my pal Adrian's Cavan Toffees on Tour flag. (To be fair, I did help him put it there.) It was only when I got home and saw the recorded MotD2 that I realised it was the wrong way around, and it looks like we are from the Ivory Coast and not Ireland.
A few bright sparks have picked up on it on Twitter, saying only lads from Cavan could write on a Tricolour the wrong way around! To make matters worse, Adrian might already have sent a photo of four of us with the flag at the Dixie statue, into the local newspaper (as he likes to do). Besides, one of the lads is from Monaghan and the other is a QPR fan. So Shane, you are not alone, but you might want to distance yourself from the Cavan Toffees (Ivory Coast branch) muppets!
Fantastic day though. I asked Bobby Charlton for a photo before the game but he was a bit cranky, as his wife had walked on and left him. He got even crankier when Adrian couldn't get his camera to work (there is a pattern emerging here). So no photo. And no points for Sir Bobby. I'd say he was even crankier then!
Tony J Williams
184
Posted 27/04/2015 at 13:25:25
Tactics spot on.
Instead of going out playing the exact same way, we actually changed tactics according to the opposition.
McCarthy is now fully fit and this allows Barry more time and space as James is running his nuts off covering the rest of the space.
Stones and Jags are a brilliant partnership and Stones still making silly little mistakes but is way ahead of the curve for his age.
After ripping up the "Secure Your Seat" sticker on my chair, I enjoyed the whole game and was happy at the end... the first time this season (I missed the Newcastle game) in the league.
Sam Hoare
185
Posted 27/04/2015 at 13:28:56
Funny old game when this is essentially the same team (bar Lennon) who have looked so insipid all season. It's enough to give one hope for next season – and what a dangerous thing that is!
There are no doubts that we have some good players in this team. Most exciting among them is John Stones and I truly hope we see him playing for Everton and England for the next decade. Unlikely in this day and age sadly.
With no European distraction, we have a clear run next season. We need Lennon, a centre-back to back up Stones and Jags, and another central playmaker option. It's no coincidence our counter attacking has been much more lethal with no Naismith who lacks pace and precision despite his other qualities.
Brian Wilkinson
186
Posted 27/04/2015 at 17:19:54
Great team performance, a manager with balls to praise us instead of making excuses about his own team, topped by one of the best referees performance for a long time.
Well done Everton, what more could we ask for out of a game? Special mention to the majority of Man Utd fans who did their best to try to shush their fellow fans below the stands, unfair to slate all Man Utd fans for the few below.

Darren Hind
188
Posted 27/04/2015 at 17:59:53
Raymond Fox and Gavin Johnson.
What on Earth are you talking about ?
"Change like the bleeding weather"? ... "Flavour of the month"?
Let me make something very clear to you. If I was in charge at Everton, I wouldn't have booked a taxi, I'd have booked a Bleeding Cannon and Your hero Robbie would long since have been fired out of it. His performance this year has been nothing short of disgraceful and a few wins strung together cannot change that.
I laughed at your suggestion that anyone who wants him gone has now been won over. They haven't. They still want him gone. I called him Robbie because – wait for it – that's his name ... get it? it was not a term of endearment... Perhaps you want everyone to call him Brendan or Jose?
The only changes that resemble the wind around here is that the happy clappers who disappeared when "Robbie" was making us the ugliest team in the Premier League have now reappeared as if he has redeemed himself. He hasn't. The faithful have had to wait until now before they have been entertained.
Most people have given Martinez some credit for Saturday, but that doesn't seem good enough for you. You whine when he gets no credit and you bleat when he does.
Colin Glassar
189
Posted 27/04/2015 at 19:25:57
I hope I'm not considered a 'happy clapper', Darren. I've stood by Martinez all season (even though I've had my doubts) and I think HE WILL come out of this a stronger, better manager.
I don't expect the doubters to become fans after a few decent results and you are all quite right in expecting him to prove his worth next season. No free rides for anyone is my motto.
Gavin Johnson
190
Posted 27/04/2015 at 19:33:02
Darren, you were were the one who was calling Martinez, Robbie, hence – flavour of the month. I don't need to expand on this any further.
Darren Hind
191
Posted 27/04/2015 at 19:38:10
Gavin,
You accuse others of being selective, but you're all over the shop.
Martinez / Robbie / Bobby / RM are all names that are frequently used when talking about our manager. I have used them all and will probably use them again.
What do you think people should say on the rare occasion when he has actually warranted praise? Well done, Gobshite?
You seem hell bent on spoiling one of the few celebratory threads we have had the opportunity to enjoy this season
"Flavour of the month"? In your dreams, fella. The guy has ruined our season.
Steve Harris
192
Posted 27/04/2015 at 19:31:30
Well said, Darren, if the Martinez fan club think after one good performance that we're all going to eat humble pie and declare that us doubters had it all wrong about the clueless Spaniard, then they couldn't be more wrong. It will take more than that to make me forget how I've sat in my seat, week after week, bored shitless and frustrated with one inept and lethargic performance after another.
If, by some miracle, he turns us around next season and we start producing quick passing, high tempo football that makes it worth the price of my season ticket, then I will be the first to hold my hands up (and it would be a pleasure for me to do so) and admit I was wrong. But, from what I've witnessed, unfortunately, I very much doubt it.
Graham Mockford
193
Posted 27/04/2015 at 20:06:42
And here he is again: Paul Dark (#176) and his hatred, and I use that word unreservedly, of Ossie.
You never stop fucking banging on about how shit he is but unfortunately every single thing points to you being wrong. And here's why.
He gives us experience and know-how, he moves the ball quickly and he will always produce something in a game that unlocks a defence. He will never be a physical player, he's not built to be, but the stats this season speak for themselves.
Win percentage when he starts: 73% (8 from 11)
Win percentage when he doesn't: 13% (3 from 23)
Has he won it!
Steve Woods
194
Posted 27/04/2015 at 20:09:54
Darren and Steve @ 188, 191 & 192 – absolutely right and spot on. I could hardly agree more.
Scott Hall
195
Posted 27/04/2015 at 20:34:54
I'm sure, like me, most of you got home from Goodison and watched the extended highlights again. My favourite thing that I didn't notice whilst watching live? Big Dunc reacting to the first and second goals like every other one of us and dancing around like a little school girl pumping his fist in the air.
Made me smile and warmed my little blue heart seeing that. Sod all the negativity lads... And just watch Duncan when the goals go in.
Ross Edwards
196
Posted 27/04/2015 at 20:35:55
To those who think RM has truly learnt from this season, you can forget it. Clearly he didn't carry over any lessons from the end of every season at Wigan to the next, because after putting a run together and rallying to safety, you'd think he'd have carried those tactics that got results to the next season and avoid a similar situation. But no. They'd begin the new season as poorly as they started the last.
I would be extremely surprised if these present 'tactics' are used regularly next season. He'll revert to type now his skin's been saved.
Ross Edwards
197
Posted 27/04/2015 at 20:50:15
The best example of this is the end of the 2011-12 season and the beginning of the 2012-13 season. At the end of the 2011-12 season, Wigan won 7 out of the last 9 games, which conceivably is what we could end up doing ourselves.
However, at the beginning of the following season, Wigan won just 3 of their first 10 games, losing 5 of them. Lessons learnt? On paper clearly not.
Paul Dark
198
Posted 27/04/2015 at 21:19:35
It's sad that some people can't handle views different from their own.
How can you be a grown man/woman and not handle that?

Graham Mockford
199
Posted 28/04/2015 at 00:42:15
Paul
I can handle it, I just disagree violently with your continual slagging off of a true Evertonian. A player that came through the youth system, has only ever been a credit to our football club, represented his country, played over 400 times for us and actually despite your ill-informed bile has been a pretty decent player.
I don't get supporters like you; of course you can think whatever you like if that's what floats your boat. I'm just glad I have a more positive view of stuff and don't feel the need to denigrate the players of the team I support. It takes all sorts, I suppose.
Trevor Lynes
200
Posted 28/04/2015 at 00:57:46
Great report and I agreed with every comment. What I love to see is a fantastic defensive game with no-one getting booked. Jags in particular is a stand out in this respect and reminds me so much of the best centre backs we have had. Stones can only improve playing alongside him.
The result against the mega rich Man Utd was a superb performance all around in which every player shone.
Paul Dark
201
Posted 28/04/2015 at 13:09:23
Graham
You have a more positive opinion of Osman – and good luck to you. The other 'stuff' is mildly offensive ('violent' is your word for your own disagreement!), but vive la différence! I suggest you ignore my posts. I do yours (naturally) anyway, just because I have nothing to say. I'm happy to react to opinions counter to mine with equanimity – it isn't hard, mate.
Supporters like me? You don't know me from Adam.
By the way: I think Osman is really pretty useless – no more, no less – and has been for some time. Sure, he can play some good balls to the front players when he has time – but little else in my view.
Andrew Ellams
202
Posted 28/04/2015 at 13:20:45
For anybody who couldn't see the contribution that Osman made in the attacking third of the pitch on Sunday, I do wonder what you are watching. His ability to slow things down to bring others into play was excellent and his awareness of his team mates whereabouts equally good.
I just think when it comes to certain players some people are just myopic (that one's for you Harold).
Gavin Johnson
203
Posted 28/04/2015 at 15:17:17
I think anyone who doesn't recognise Osman's ability and contribution to the team is pretty blinkered. That said, I was hoping the manager would take him off around the hour mark. for all his attributes there's no denying that he runs out of gas before the final whistle these days.
Graham Mockford
204
Posted 28/04/2015 at 16:34:41
Paul,
Please 'mildly offensive', joining the legions of people who these days see fit to be offended about anything. Violently disagreeing does not mean I disagree then seek to use violence, it's just emphasis.
I choose to reply to your posts because you are relentless in your criticism and I seek to defend the player. It's how Internet forums work.
Just for my own amusement I googled 'Paul Dark Osman ToffeeWeb'
Fuck me I'd have got less hits googling 'free porn'
Eugene Ruane
205
Posted 28/04/2015 at 17:17:37
Graham - "Just for my own amusement I googled, 'Paul Dark, Osman, ToffeeWeb' - fuck me I'd have got less hits googling 'free porn'"
Gavin Johnson
206
Posted 28/04/2015 at 17:33:53
Paul, are you the Paul Dark who sings on YouTube just out of interest?
John Daley
207
Posted 28/04/2015 at 17:52:51
"Paul, are you the Paul Dark who sings on YouTube just out of interest?"
Sorry, but 'sings on YouTube' just brings this to mind for me:
He's a big 'Barry' fan from the sound of it. Not sure what his view on Osman is like.
---
Add Your Comments
In order to post a comment, you need to be logged in as a registered user of the site.
Or Sign up as a ToffeeWeb Member — it's free, takes just a few minutes and will allow you to post your comments on articles and Talking Points submissions across the site.
© ToffeeWeb