Poor half by Blues sees Kane win it
By Michael Kenrick
24/05/2015

Comments (160)
jump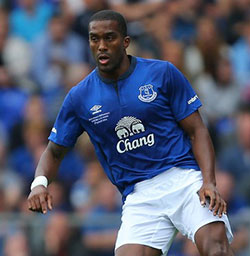 Sylvain Distin was given his chance to bid farewell to Goodison after all.
At stake in this final game was confirmation of a top-half finish for Everton, after a disappointing season that failed to carry forward the tremendous impetus set by Roberto Martinez in his record-breaking first season. One person who clearly won't be playing for Everton next season is Luke Garbutt, who played no part today, effectively confirming that he will leave the club after not accepting a new contract.
For Spurs, it was a question of playing for 5th, where Everton finished last season, with Eric Dier getting a rare start against the club where he was loan a few seasons ago.
It was fairly open stuff from the kick-off Spurs running at Everton, who tried to work the ball forward with pace to Mirallas down the right, but the game settled into a midfield tussle. Lamela was the first to have anything like a strike on goal.
Osman did give Mirallas a nice ball to run onto down the left but his cross was poor, straight to Lloris, with Lukaku lurking. Mason skipped through the middle of the Everton defence, and ran into Jagielka, as Spurs were playing the more adventurous football. Spurs started to edge things more noticeably Kane winning their first corner.
Barkley tried to pick out Lukaku with an ambitious crossfield pass but it was overhit and Spurs were running at Everton again. Barkley again tries to play the ball forward but it was ccut out too easily. Galloway's cross was also overhit as the Blues were not really clicking, as Galloway made a horrible mistake and Lamela came so close to scoring, Howard parrying the shot and scrambling back to stop the ball creeping inside the post.
Barkley played in an excellent ball for Mirallas to run onto with only Lloris to beat but his shot was weak and easily saved. Dier played in an inviting ball for Kane but the final touch was beyond him. At the other end Mirallas came so close to a brilliant goal, juggling a ball before firing a crisp half-volley
But Spurs had been threatening with every attack and Dier was given plenty of space on the right for a pinpoint cross that Kane scored from with consummate ease.
The crowd expected Everton to respond, but hesitancy by McCarthy was not what they wanted to see as the groans rang out and Spurs surged at the Blues again. Some rare Blues possession predictably went nowhere, ending with an overhit cross, and more poor play from McCarthy. Everton were simply not at the races.
The shocking game Everton were playing was summarized by a dreadful and completely unnecessary backpass by Barkley straight to Harry Kane. Luckily, he failed to profit. But whenever Everton had the ball, it seemed Spurs had 15 players on the field, such was their effectiveness in closing down space, and intercepting Everton passes. Mirallas got the ball out right but his early shot was very poor.
It seemed an age before Lukaku got his first touch but the big man lacked any confidence that he could beat Vertongen, and Spurs were back on the ball and threatening. Galloway was involved a lot but having something of a nightmare. Too many moments in the game summed up Everton's lack of commitment, Lukaku choosing to watch a ball forward from Howard without making any effort to attack the bouncing ball.
Galloway did better to play in Mirallas who drew Lloris out of his goal but then chose to play a difficult chip onto the roof of the net rather than pick out Lukaku. Stones was the only Everton player earning his crust with some imperious defensive play to keep the score down as the opponents seemed to run at will toward the Everton goal.
A better play, right on half-time saw Barlkely and Osman combine superbly to play in Coleman whose narrow angle shot was parried away by Lloris. It was not enough to stiffle a chorus of well-deserved boos for a largely inept half from Everton — not quite as bad as Liverpool, who were 5-0 down at Stoke!
Martinez reacted to the poor display by hauling off Barkley at the break, and putting Mohamed Besic on in his place. Besic was quick to fire in a potshot that curled away from Lloris and the Spurs goal. But Everton were doing better, Mirallas firing wide before Galloway tried to force his way through on Lloris.
Everton were putting in a lot more effort and now taking the game far more effectively to Spurs, forcing Pochettino to make an early change in Stambouli replacing Dembele.Stones was doing well, bringing the ball out of defence impressively. But a good move ended when Besic badly overhit his cross after some more accurate passing.
After a good 15 minutes from Everton, Spurs then put pressure back on the Blues defence, winning a corner that Fazio headed wide.
Everton won their first corner that was delivered in well but Lloris picked it out, as the pace of the game slackened in the warm sunshine, and the Blues mistakes crept back in. Galloway set Mirallas free and his mazy run ended in what looked like a foul just inside the Spurs area but Moss said No.
Lukaku did well to get to the byeline but then wasted his shot in Mirallas style, firing over Lloris the gaol, and all the other players. It was Mirallas who then made way for Steven Naismith. Jagielka was booked for a slightly late sliding tackle.
Sylvain Distin was given a tremendous cheer by the Goodison faithful when he came on for his final Everton appearance, replacing Galloway who had played very well despite making a couple of mistakes.
The game fizzled out with Everton being denied that top-half finish, Crystal Palace edging them out, a disappointing end to a very disappointing season.
Scorer: Kane (23')
Everton: Howard; Coleman, Stones, Jagielka [Y:81'], Galloway (84' Distin); McCarthy, Barry; Mirallas (73' Naismith), Barkley (46' Besic), Osman; Lukaku.
Subs not: Robles, Atsu, McGeady, Kone.
Tottenham Hotspur: Lloris, Dier, Vertonghen, Fazio, Mason [Y:83'], Benteleb, Dembele (53' Stambouli [Y:80']), Chadli (93' Soldado). Eriksen, Lamela, Kane (85' Townsend).
Used Subs not Used: Vorm, Yedlin, Winks, Onomah.
Referee: Jonathan Moss
Attendance: 39,365
---
Reader Comments (160)
Note: the following content is not moderated or vetted by the site owners at the time of submission. Comments are the responsibility of the poster. Disclaimer
Colin Glassar
1
Posted 24/05/2015 at 14:20:32
Goodbye Garbutt then.
Roger Sunde
2
Posted 24/05/2015 at 14:32:54
Yes, no Garbutt even on the bench can only mean one thing.
Richard Lyons
3
Posted 24/05/2015 at 14:31:51
Galloway is the future... let's believe it for now anyway. I'm glad McGeady isn't starting. That would have been my selection, given that he couldn't pick Lennon.
Paul Kossoff
4
Posted 24/05/2015 at 14:40:39
You just know Garbutt in the future will go for mega bucks to a top four side, and become England's full back.
Christy Ring
5
Posted 24/05/2015 at 15:59:09
The problem is not leaving Garbutt out now, it was Martinez leaving him out for most of the season. But he has a young lad called Alcaraz, one of his favourites.
David Harrison
6
Posted 24/05/2015 at 16:58:53
Ending with a whimper. We have become the soft touch Spurs always used to be. God help us next season. I fear the worst...
Ross Edwards
7
Posted 24/05/2015 at 17:02:24
Epitomises the season. Disappointing, with a shite first half. We ended up with no pace, no width, and FOUR centre-mids, the same old square pegs we've been used to all season.
And we didn't even get 10th either. We finished below Palace. Martinez said a few weeks ago that 10th would be a good achievement. He still found a way to mess that up.
Gerard Carey
8
Posted 24/05/2015 at 17:04:26
That was bad. More of the same next year with that clown in charge.
Geoff Evans
9
Posted 24/05/2015 at 17:03:02
All the gear, no idea, everybody's favourite opponents, complete and utter crap. Give me fucking strength, a shower of shite not fit to wear the shirt, and that's being kind.
Michael Kenrick
10
Posted 24/05/2015 at 17:10:18
Ross, you come high on the list of our 'negative' posters but I can't argue with a word of that... in fact, for me, today's dismal, heartless, at times idiotic display of some of the most incompetent football we have seen all season (and that is saying something!) – underlined by dropping into the bottom half of the Premier League table – leaves a really bad taste in the mouth.
Sean Patton
12
Posted 24/05/2015 at 17:01:27
An absolute fucking disgrace from start to finish full of poor disinterested casual players swanning about half-arsed making the opposition look like Real Madrid. I mean making a nonentity like Ryan Mason look like Xavi takes some fucking doing.
I don't know which is worse – those players having the nerve to expect an ovation after that performance and after that season, or the manager kowtowing to a portion of the fanbase by allowing Distin onto the pitch, taking off the best player in the process just so a bog average centre-half can have a wave and a run about.
I despair at this embarrassing club...
Stephen Brown
13
Posted 24/05/2015 at 17:14:11
I can't believe I'm thinking this let alone writing it but I'm glad I don't have to think about Everton for a few weeks!!
Horrible season with very few positives to take from it.
Ralph Basnett
14
Posted 24/05/2015 at 17:13:37
First time in many a year that we have bee booed off the pitch at the end of the last game of the season.
Shameful by all of the players......
No effort, could not be bothered!!!!!
A bit like our board really.....
Ross Edwards
15
Posted 24/05/2015 at 17:15:58
I'll take that as a compliment Michael! A little badge of honour! But seriously, this season has been unacceptable right from the word go.
I haven't seen any quotes from RM yet but I imagine he and the board are probably satisfied with the 'turn around' we've had since February. Considering where we were, 11th is probably the best they hoped for.
David Holroyd
16
Posted 24/05/2015 at 17:03:59
Why anyone is harbouring thoughts of keeping Martinez please think again. He is fucking useless and clueless, with home losses to Villa and now Spurs that have cost us around ٠M in prize money.
You season ticket holders, he will waste your hard earned money. Not renewing will maybe make the directors do the right thing. Today we had three defensive midfielders on, for a home game!
15 defeats tells its own story plus this is our lowest position for 10 long years. If as Martinez says he is not playing Distin for footballing reasons, why is he persevering with Howard? Big changes to be made this close season not least getting rid of that clown Martinez.
The only players worth keeping are Coleman, Stones, Baines & McCarthy. There is no creativity in the side at all as the squad is not at all balanced. Please, Kenwright, do us all a favour: go... and take Martinez with you.
Tom Cuffe
17
Posted 24/05/2015 at 17:16:04
Oh well, that's it. The pain is over for another season. 8 new players, new coaching staff, new medical staff & a new manager, and we should be in good shape for next season.
(Hopefully we're all wrong about Garbutt; it would be a real shame if he goes.)
Colin Glassar
18
Posted 24/05/2015 at 17:27:45
Terrible end to a terrible season.
Geoff Evans
19
Posted 24/05/2015 at 17:22:17
Come on you Martinez sympathisers, got ain't more excuses you can roll out to justify your mate.
Joe Clitherow
20
Posted 24/05/2015 at 17:23:43
Back from game now.
Disgusting, lacklustre performance that typifies everything about Everton under Martinez. Even slipped into the bottom half, so another ٟ.6M thrown away there.
I stayed to clap a good club servant in Distin. Refused to acknowledge clueless pulling up the rear.
Mike Powell
21
Posted 24/05/2015 at 17:24:24
Taxi for Martinez? Never mind a Taxi... I will drive him anywhere he wants to go as long as it's miles away from Goodison Park. This buffoon will get us relegated. He just hasn't got a clue. Please, Bill, do the right thing and get rid off this sorry excuse of a manager.
Patrick Murphy
22
Posted 24/05/2015 at 17:22:44
Eight weeks and it all starts again – what happened to those long pre-seasons? Mind you it felt as if this season never ever started for Everton. I have to agree that keeping Martinez in post will be a mistake if the players can't raise themselves to give a decent performance on the last day at Goodison I'm not sure how they lift themselves for games in other circumstances.
All season the majority of the first-team have cruised through games like they were pre-season games and that's not good enough for a squad that isn't blessed with outstanding individuals, it needs maximum effort by every player on the pitch at all times. The manager to me is not a big enough character to be the main man at Goodison and if we keep him for too long we could pay a very heavy price. I'm not even thinking of achieving a European berth next season no matter who arrives and who leaves the playing staff in the summer.
Cut your losses Bill and appoint a straight-forward straight talking manager who can get the most out of the current squad and get the crowd behind the team.

Jim Bennings
23
Posted 24/05/2015 at 17:30:57
First time in 15 years that I didn't stay behind for the lap of honour. I'd have just felt foolish acknowledging that appalling excuse for a Premier League football team and manager.
More of the same next season, mid to bottom, there is simply no excitement at all watching Everton anymore.
A total non entity of a club and basically justice was done by Crystal Palace pipping us for a top half finish.
We haven't and wouldn't have deserved it.
Colin Glassar
24
Posted 24/05/2015 at 17:31:27
No excuses from me, Geoff. Everyone from the manager down to the ball boys have been pathetic this season. We need major surgery in the summer but somehow I doubt we will have the balls to carry this out. I hope I'm wrong.
Eddie Dunn
25
Posted 24/05/2015 at 17:16:47
It's hard to process that game, as there were so much wrong with everything. The players have a nice new kit and strolled around like they were Brazil in a practice match. Too many of them were lazy, or making mistakes, and not making an average Spurs team get out of second gear.
Galloway had a good attitude, despite a couple of mistakes, and Stones showed up too. The midfield were AWOL and Mirallas far too greedy. Lukaku was starved of decent service, but when he did get on the ball, his offloads were under-hit or he fell over.
Poor all round really. We are so far off top seven. The set-up was so unbalanced once again, and Coleman is wasted with no one to fill-in on the right. So depressing. I really don't think that these people realise just how much they piss us all off. Still, most of them have got a nice holiday to look forward to before a nice clean slate (TIm) to start again next season.
On the Kane goal, I will ask once more, why Howard did not take two steps forward and gather the ball, which was played in at a modest pace, instead of hoping one of his centre-halves would clear it? The diagonal cross into our box has undone us so many times this season.
The game showed how much Lennon has brought to the team, and why didn't Martinez start with a right winger to continue along the same lines? We have gone backwards again. He doesn't learn, and we are bereft of creativity, intuitive play and our basic skills are letting us down. This will not change, and we will have to endure more of the same for the whole of next season.
Have a nice summer.
Jim Bennings
26
Posted 24/05/2015 at 17:36:05
If you want to see an Everton team that will get out on the pitch and show heart and passion then you'd sack Martinez and bring in Mark Hughes.
If you want more half arsed training session "walking statue" football then you stick with Martinez.
I know what I'd do!!
Can't sit through anymore of that next season, good luck to anyone mad enough to plough their hard earned cash into buying or renewing season tickets.
Andy Walker
27
Posted 24/05/2015 at 17:16:08
We need hope; I have none with Martinez in charge, if fact the total opposite, simply dread. The idea that this guy will get the chance to fuck around with our club for another season is simply appalling to me.
He has no track record of ANY success at a league level, just one lucky cup win when Man City and Everton failed to turn up. Last season's record points haul is continually brought up as some sort of validation of Martinez, raised like a false trophy. Let's get it straight, that season saw record low points for the teams in the bottom half of the league, as the league was full of shite teams that year, that were so much worse than the top 6. They were simply fodder to gain points from.
We were awful yet again today, nothing I watch on the pitch or hear off it gives me any hope that this dire team and manager will improve, in fact the total opposite.
Stones will probably leave in the summer, along with Lukaku and obviously Garbutt (well handled, Martinez... not). We will keep the shite bought by Martinez and the Wigan backroom staff. At what point will will the crowd and media latch on to the manager that wears the emperor's new clothes? Perhaps when we are in the bottom 6 at Christmas, or maybe wait until we are battling to survive in May 2016?
The debate about Martinez needs to be had, not swept under the carpet with a sigh of acceptance that nothing can change. This match was an exact replica of so many this season, players not comfortable with the setup, style of play and what appears to be random team selection. Can anyone predict what team we will put out?
Barkley has been terrible this season and Martinez must take responsibility for his failure to handle him and oversee him go backwards this season. Coleman not a patch on what we know he can do; Barry is past it – we can all see it... Martinez can't. I can't be bothered with the rest – it's just not good enough for our great club.
Ged Simpson
28
Posted 24/05/2015 at 17:48:22
And the reason Mark Hughes would come to Everton? Eludes me...
Dave Ganley
29
Posted 24/05/2015 at 17:41:10
Awful... if anybody has any half-decent reason for Martinez to stay then I'd like to hear it, because I can't think of a single one. Woeful from start to finish, Spurs taking the piss by playing keep ball and El Messiah having 3 defensive midfielders on the pitch while we are chasing the game.
I couldn't even enjoy the fact that the RS were getting a hiding due to our inept display... FFS the team have even taken away that enjoyment from me as well as sucking all the life and joy out of actually going to the game. The only positive is that the season has ended and I don't have to endure that shite for the next couple of months. However, with that idiot Martinez at the helm, then it's only delaying the inevitable misery that will start again come mid August.
I didn't stay for the lap of dishonour... a man can only take so much.
God help us for next season... Martinez, do us all a favour and fuck off now – and take Kenwright and his cronies with you.
Finn Taylor
30
Posted 24/05/2015 at 17:49:50
Martinez has to go, tomorrow.
The dross we have had to accept this season and the banal excuses just make me grit my teeth with disdain.
A lot of backroom staff are leaving after this season cause they can't stand Martinez... and anyway who stands up to him get's the boot. See Distin.
Tony Twist
31
Posted 24/05/2015 at 17:48:33
Embarrassing. This manager has to go. It ain't going to improve until that happens. Don't give him any money as he will only waste it. He needs to motivate the players he has got and he has proved this season time and time again that he can't.
Second season hoodoo, my arse, he is just not good enough. Get rid now!
Paul Jeronovich
32
Posted 24/05/2015 at 17:46:32
It's up to the manager and players to get off to a good start next season. On the way back from the match Martinez said on the radio at least four new faces are needed. That could be doubled depending on who leaves.
As shite as this season has been, I would give it 10 games and analyse the progress. If it is no better then the gun should be loaded.
Ray Said
33
Posted 24/05/2015 at 17:54:49
Compare our board's reaction to that of the two old pimps who run West Ham.
Our board tolerate a crap season with a bottom half finish and 47 points.
Their board fail to renew the contract of a manager who got them a bottom half finish and 47 points.
Ross Edwards
34
Posted 24/05/2015 at 17:55:27
No one can convince me that Martinez has learnt anything this season. We're still playing the same toothless way, and we're still making the same mistakes we made nearly 7 months ago.
He says we'll learn next season. Too late, señor. You should have done so months ago, I'm afraid. Or years ago actually in your case.
Patrick Murphy
35
Posted 24/05/2015 at 17:52:31
I was just thinking how many of our points came from the sides who finished below us in the table. More than a third (16) of our tally came from games against the bottom Three, 15 points from the top ten teams and 16 points from those who stayed up but finished below us. Not a sound basis to be dreaming of European football at the end of next season.

Paul Thompson
36
Posted 24/05/2015 at 17:55:33
He's not going, unfortunately, but we can't say the same for some the players. I hope we can keep Stones, but if we can get 㾻m for Barkley, let him go.
A significant shake-up of the playing staff is our only (slim) hope of it being different next season. Spurs were so much better, it was embarrassing at times.
Michael Patison
37
Posted 24/05/2015 at 18:02:37
Poor match really, as has been said by many others.
When is the Fair Play Europa League spot decided?
Jim Bennings
38
Posted 24/05/2015 at 17:46:28
Oh well guys at least Martinez "hasn't given up hope on Kone for next season eh?"
Fucking hell, how is next season under this endless comedy act going to be any different?

Ralph Basnett
39
Posted 24/05/2015 at 18:12:21
Martinez puts as much thought into his tactics and substitutions as our kit suppliers do to our kit!!!!
Really, has it changed? Saved me 㿞.
Tom Bowers
40
Posted 24/05/2015 at 18:01:56
Absolutely nothing changed as far as we could see from the first game to the last. RM didn't seem to have a clue what to do.
Some players just were not consistent enough except for one or two games at a time. Nessie had a spell where he looked lively then dropped off and so to did the likes of Barkley, Osman and Mirallas but generally all four of these players were big disappointments for most of the games which really contributed to the offensive side of Everton's games.
With these players underachieving, I ask Martinez why was Atsu not getting more time? Surely he wasn't that bad! Lennon added some spark and McGeady could have too except for injury.
One big key was the inability of Coleman and Baines to get forward like last season but maybe that was RM's tactics or the opposition had plans to thwart that threat this season. Whilst we all had our excuses to offer I think some people eventually lambasting Howard was off the mark. Sure he is now past his best but still one of the better Prem.keepers.
All-in-all, an awful season and I sure hope BK has formulated a blueprint for a big improvement next season.
Eric Owen
41
Posted 24/05/2015 at 18:10:49
"#RodgersOut quickly gained traction on Twitter with fans venting their anger at boss Rodgers"
Rodgers goes and Martinez stays? Please don't tell me this can happen.
Gareth Clark
42
Posted 24/05/2015 at 17:57:38
Enough with the negativity, we're all blues & Martinez will still be there next season! Get behind the lads!
The boss needs to make funds available to RM & we need to get a bigger squad with young talent, start competing with each other for places and get the best out of everyone!
I personally feel that we should try bring in a couple of players on frees – Andre Ayew for example (not so sure about Cleverly).
Other than that, I'd love to see Deulofeu back in blue! As well as Januzaj/Redmond, Sergi Roberto, Caulker/Evans & Austin/Martial to back up Big Rom. I'd love Begovic in goals (unlikely)...
I'd shift Baines into a CDM role just in front of the back four (Garbutt at LB).
I'd keep Pienaar, Barry, etc to help the youngster and play their part when needed.
It's time Everton invest in young quality! Yes it might be a lot for EFC's standards, but we will have another poor season next year without investment.
We are in desperate need of quality in all positions!
My dream starting team for 2015-16:
Begovic
Coleman Stones Jagielka(c) Garbutt
Baines
Deulofeu McCarthy Mirallas
Barkley
Lukaku
Howard, Caulker, Oviedo, Besic, Sergi Roberto, Januzaj, Naismith, Martial.
Trevor Peers
43
Posted 24/05/2015 at 18:17:36
All this "give him 10 games next season" is nonsense. If Roberto starts next season, he will finish it – no matter how bad it gets.
Will Jones
44
Posted 24/05/2015 at 18:19:31
What a load of bollocks! Last game of the season with Spurs, nothing to play for, and we don't give a flying fuck. Not even making top half of the table, disgusting. Why put so much energy and resources into the Europa League, play as crap as they did in Kyiv, and then put us through this? I'm hitting the vodka...
Jim Bennings
45
Posted 24/05/2015 at 18:18:04
It's ok Martinez going on about four new players being needed but it's no use just signing players similar to what we already have such as Cleverley.
The team is crying out for either a new manager (preferably) or at least four truly outstanding world class player's who can completely change the dynamic of how we play.
We are very unlikely to see "four outstanding world class player's" joining us so that leaves only option one... A new manager who can install some fucking passion in these players, a bit of pride in the blue shirt again and even more vitally important, rid us of this mind-numbing slow statuesque, pedestrian football.
John Keating
46
Posted 24/05/2015 at 18:22:24
Well thank God we finished we're we did! Horrendous season with a disgraceful climax.
I watched this idiot of a manager throughout and he sent "signals" in a fucking scientist couldn't have deciphered.
We were beaten by a better team today and we now have to go through the Martinez babies excuses of how we can improve.
Colin, I'm all ears.
Joe Clitherow
47
Posted 24/05/2015 at 18:31:10
Colin 24
I have to pull you up with your "Everyone from the manager down to the ball boys have been pathetic" as anyone who sits near the Paddock halfway line can tell you.
The ballboy there has more fight in him than the whole team combined and also provides more entertainment.
A proper Evertonian.
Paul Kelly
48
Posted 24/05/2015 at 18:31:35
Don't know why people are complaining, in a couple of years with Coco in charge, inevitable relegation looming, 11th will be seen as an achievement.
Joe Foster
49
Posted 24/05/2015 at 18:39:08
If we give RM until Xmas, like a lot of people have suggested, the damage will be done – if it's not already.
Will Jones
50
Posted 24/05/2015 at 18:31:31
So, regarding the way forward, whoever was in charge of the Garbutt situation, sack him. Reward Jageilka with a statue, reward Howard with a ticket to the US of A, flog Barkley to Man City/Utd, reward Osman with a last year salary 20% of Lukaku (pay rise right?).
I understand Mirallas being selfish if surrounded by shite, give Baines a pair of bollocks, provide Barry with a zimma frame, and buy a pint for Naismith
Jon Cox
51
Posted 24/05/2015 at 18:18:42
Finn Taylor
"A lot of backroom staff are leaving after this season cause they can't stand Martinez..."
After the season we've all had and a ball breaking day to boot either supply us all with the source of this statement or just keep quiet.
Graham Mockford
52
Posted 24/05/2015 at 18:24:33
Just got back and the only positive I can see is I won't have to go back for three months.
But for all the gnashing of teeth it's pretty certain Roberto will be in charge come August. Quality additions are key and based on this season I would be tempted to sell Barkley, rarely have I seen a player have so many bad games in one season. People talk about favourites but how he has maintained his place this season defies belief. His confidence is shot and he is constantly outplayed by the opposition. Every now and again he will produce a fleeting glimpse of quality but that doesn't cut it at this level.
Also it's time to say goodbye to Mirallas; again, the guy has some quality but I question his attitude and appetite for the fight. We desperately need another striker and an attacking midfield player along with defensive cover at centre half and right back.
The problem is Roberto has not shown any real ability in the transfer market being able to spot players who can fit into a system. Other than McCarthy and Lukaku who he spent over 㿔m on, every other player he has brought to the club has not been good enough.
As I said, at least it's three months off.
Kunal Desai
53
Posted 24/05/2015 at 18:45:30
5 home defeats this season. Whatever happened to Fortress Goodison?
Sadly the torture will be lifted temporarily for the next two months and full service will resume in August under this clown. I do not see or expect results to change next season.
John Ford
54
Posted 24/05/2015 at 18:45:55
One bad season? I'd probably give him the first third of next season to show he is able to improve. He banked a bit of credit in his first term, otherwise I'd have been calling too, but that does seem a long time ago now.
We know the real reason we are unable to compete. It's been on these boards numerous times. I do however expect better than this. Much better.
Tony Doran
55
Posted 24/05/2015 at 18:43:57
Surely Everton is a step up for Koeman, if not we are in the shitzer.
Patrick Murphy
56
Posted 24/05/2015 at 18:50:59
One and a half bad seasons, I would argue, John (#54). Don't forget, many of these same players have been at Goodison for a long spell, they know what the fans expect and mostly they have delivered during their Everton careers.
This season, the new players don't seem to have gelled with the older ones and that doesn't bode well, in fact we don't look like a team at all, just a bunch of odds and sods who once out on the pitch don't seem to care about the 'team' ethic and nobody out there who can lift them when things aren't going well or even when they are.
One common denominator is the manager and he's not good enough; he talks a good game, he's full of good intentions but he can't get the players at his disposal to run through brick walls for him. In fact, they don't look as though they could be arsed to walk through open doors for him.

Paul Jeronovich
57
Posted 24/05/2015 at 18:52:18
The only reason I look to the first ten games of next season is because of Martinez's first season. No matter what, that was some ride. With effectively the same squad, we had a go at Europe and the league did suffer, no matter what has been written.
With no Europa League and hopefully a few good signings, we will get back to winning ways. If not, he can fuck off, that's for sure.
David Lee
58
Posted 24/05/2015 at 18:52:31
Mr Clitheroe @ 47.
Ball boy is class, only bit of entertainment we have seen today. Shows more passion & spirit than any player on the pitch all season! Sign him up!
James Stewart
59
Posted 24/05/2015 at 18:56:53
Unfortunately I was at the game. A totally unacceptable and shameful performance from a team at war with itself.
Idiotic subs and tactics if you can even call them that from a dead man walking. The slow death of Martinez is well and truly underway.
The atmosphere was like a morgue until Distin came on. Half the team couldn't be bothered to even close down Spurs who won at walking pace. Embarrassing.
Paul Smith
60
Posted 24/05/2015 at 18:49:04
I was right behind that "Kenwright Out" flag at The Boelyn last week. It gave me hope that people are beginning to mobilise behind a proper movement, but it always seems to stall. End of season this time!
I wouldn't give RM another go, although I fear with the whole club being as it is, it's more than a change of manager we need.
As an Evertonian, I live with the slim hope of success and the ever present expectation of mediocrity or worse.
Mohammed Horoub
61
Posted 24/05/2015 at 18:52:55
RM is a glorified academy manager. He shouldn't be allowed anywhere near a senior squad. I don't even care who we buy or sell. Under RM, even Ronaldo and Messi would be asked to keep possession, pass back and avoid shooting at goal.
I've made a promise to myself. If Gareth Barry is in the starting 11 at the kick off of next season, I won't be watching Everton till RM is gone. I hope everyone has a stress free summer and recovers from this disaster of a season.
Two big thank you's before I switch off till August:
1) Every single supporter home and (especially) away who had to endure this crap for 9 months. I hope that next season brings us a better product on the pitch. (Not holding my breath...)
2) To the editors, contributors and posters on TW. This site is the only thing maintaining my sanity when it comes to Everton and your effort/entertainment is much appreciated.
Have a phenomenal summer! (Sorry, I had to do it!)
Patrick Murphy
62
Posted 24/05/2015 at 19:06:08
Moyes for the Hammers? I just saw him at Wembley watching his old club Preston North End where former Blue Jermaine Beckford has had a good day.

Geoff Evans
63
Posted 24/05/2015 at 19:06:13
Bloody hell... that grass must have been sticky today!
Paul Burns
64
Posted 24/05/2015 at 19:00:46
John Ford, why are you prepared to give the manager one third of next season to fuck up?
I fuckin' give up.
Gavin Johnson
65
Posted 24/05/2015 at 18:48:02
It's becoming blatantly obvious that the gulf between us and at least 7 other clubs is getting bigger – even West Ham will have more appeal and money to spend once they move grounds.
Elstone's announcement did it for me on Friday. We will never be able to compete until this board are ousted!! It's purgatory following this club.
On the topic of moving grounds – I remember having a rant to a fellow Evertonian at a student house party about Peter Johnson and the Kings Dock move and that was in 1997. I wouldn't have believed it if someone would have told me we'd still be at Goodison 18 years later in the state of limbo we find ourselves in.
The debate rumbles on whether Martinez should stay or go and is well worn ground now. But the real enemy of this club is at boardroom level, and we will endure mediocrity whoever's the manager until they're gone.
Names like Klopp wouldn't get us to where we were last season. People will hark back to 2004 but the league is a different animal now. We missed the golden ticket last season and, until we get rid of BK and Co, I don't see us being higher than 7th... and that's under any manager.
Jim Bennings
66
Posted 24/05/2015 at 19:00:16
Fortress Goodison is long gone. Didn't we lose two of our last three home games at the end of last season also?
We have won just 7 from 19 matches at Goodison this season, in what has been a poor quality league overall, that's a real embarrassment.
Martinez will never learn, he's too engrossed in this style of play and whoever he signs will purely fall victim to this mundane way.
He has spent too long hyping up the likes of Barkley, Lukaku etc. Barkley is what used to be known in years gone by as a "fanny merchant" – doesn't possess the hunger or fire in his belly to be a truly fantastic player. For Lukaku just read the above on Barkley.
Our goal return and creativity from midfield this season has been abysmal.
Barkley, Barry, Besic, McCarthy between them mustered just four goals and I have no idea how many assists, single figures surely?!
Ohhhh... by the way, did Christian Atsu ever catch fire?? Just asking like.
Ron Sear
67
Posted 24/05/2015 at 19:11:32
Best player for me was Galloway, showed aggression, drive and spirit. Now watch Martinez ruin the kid within the first ten weeks of next season. He will do to him what he has done to Barkley and Coleman.
Will Jones
68
Posted 24/05/2015 at 19:18:49
Not that I care much about his opinion, but he still has some weight (!), Gareth Crooks has NOT named any Everton player in his team of the season. What does that tell you? Probably nothing to me or you, but if any Everton players think they are god, or their agents do, take a good long hard look at yourselves.
Mike Hughes
69
Posted 24/05/2015 at 19:16:19
I think this will be the first time ever I'll be staying up to watch MotD for the Stoke match while hoping Everton are on last. The only reason our match won't be on last is that it's two of Lineker's old clubs.
I'm a passionate Blue – through thin and thin – but this club really does test you. Twenty trophyless years. And not much prospect of anything soon (including excitement) with the crap served up recently.
Oh well, happy holidays to all fellow sufferers.
Ken Finch
70
Posted 24/05/2015 at 19:24:21
Dreadful stuff today: no heart, no passion, no idea. Barkley hurt himself within seconds of the kick-off and lost interest then and there.
The players walk around the pitch at the end must surely say everything – I have never seen so few stay on and then more left as they passed by their part of the ground.
Nil Satis Nisi Optimum has seemed very hollow!
Ben Dyke
71
Posted 24/05/2015 at 19:21:11
It saddens me to think that I would actually prefer Mark Hughes now to Martinez BY A MILE. If a team represents the manager then I'm afraid we will never be the kind of physical team that fights for the right to play football first. That to me is THE big failing which means Martinez will never succeed in English football consistently. And it would be alright if he even began to hint at recognising it but he just spouts arrogant nonsense about not changing his philosophy!
If I oversaw a poor performance consistently over a year like we have seen and then said "It's my philosophy and I'm sticking to it", I'd get a P45 inserted up my bottom and kicked out on the street! But we are Everton – a nice club, with a nice manager, and a nice chairman, and we do things right (ie, we are happy to fail as long as we are nice to the world whilst we do it!).
Mark Hughes is the kind of player/manager that can be a complete tosspot but I don't care he would be our tosspot and get the team playing with no prisoners asked! I mean when was the last time we could beat the Reds 6-1 for Pete's sake!
So gutted that all the foreseen problems with RM have come true this year. It is so clear to me now that we succeeded in the first year because the players had been so well drilled by Moyes about defending the positions, as a team, set-pieces, physically robust and so fit etc. Yes it was dull and pragmatic at times but the evidence of the well defined defensive coaching is now so obvious now it's gone. This is all backed up by the players pronouncements this year, we have heard:
They don't practise corners;
They don't practise defending
Training is all ball-related and not fitness
RM's toughest training session was easier than any Moyes sessions....
And so on.
I'm prepared to be shouted down if anyone else has any alternative answers but I honestly believe I'm right and that is why we will NEVER be a better team again under RM and will be reduced to fighting (perhaps that's too aggressive) limp-wristing our way to survival at best with the odd cup run.
Get Mark Hughes NOW!
Geoff Evans
72
Posted 24/05/2015 at 19:23:08
Will
And that's in a league where none of its teams even troubled anyone of real class in Europe. Inflated wages paid for average players. The real shame is that none of them would even warm the bench at Stamford Bridge.
Let's face it, we've got a crap manager whose assembled a bunch of no hopers who would struggle to get a game in the Championship. Look at our Player of the Season if you don't believe me.
Will Jones
73
Posted 24/05/2015 at 19:32:29
My call would be to sell Barkley to Man City or Man Utd, sell Lukaku to Europe, sell Coleman to the Mancs, and McCarthy to Arsenal and then replace any of the stands (but just 1 for maximum effect) with the 'nothing but the best'. Then we are all happy with a cool progressive stadium and we are all close to our roots. Fuck this "oh well, err, we can move but, err, it will be like, err, shit value".
Michael Polley
74
Posted 24/05/2015 at 19:33:01
Shameful display that sympolises a shameful season.
Thank God for the summer, and a break from this horror show.
I hope everyone has a good summer because God knows what next season will bring. I'm dreading it already. Martinez is a liability to our precious club. We don't need major surgery... We need a miracle!!!
Brian Harrison
75
Posted 24/05/2015 at 19:32:48
Thank heavens the season is over. I, like many, left on the final whistle of yet another turgid performance from the charlatan's team. I have already renewed my season ticket and the thought of having to watch anymore teams sent out by the charlatan fills me with dread. I plead with the board: Please get rid of him before we really are in the mire.
His teams have no system, no passion, and he has no idea what he is doing. I hear some say give him 10 games... well, please tell me what you think he will do differently?
I don't know about Fortress Goodison... this season has more resembled going into a morgue than a football stadium. He has ripped out all our pride and passion, with this dire brand of football.
Under his stewardship, Barkley has deteriorated alarmingly, looking more like a Championship player than a candidate to start for England. Lukaku has become more immobile as the weeks have gone by, I would hate to play in midfield behind him he gives you no options with his static performances. He doesnt win his fair share in headed duels and is very easily knocked off the ball, I thought we sold Anichebe because he was very much like Lukaku.
I hear that BK is not a well man so maybe it maybe time for the other board members to step forward and act on his behalf and sack the charlatan before it is too late.
Kelvin Thomas
76
Posted 24/05/2015 at 19:25:41
A vacant left side again today! RM's biggest mistake in my opinion. Pienaar's fitness problems have seriously let us down on left. Barkley, Naismith and Osman have tried to fill the void but failed. In doing so, it has damaged any of the three having a run of games in the number 10 role and building their confidence. Barkley has had his chance at the end of the season bit all to late as his confidence is totally shot!
An onside Distin, fit Oviedo, fit McGeady, fit Gibson, fit Hibbert and a fit Kone would have provided good cover and competition for the first eleven. None of them have been available! I personally don't believe that Gibson, Hibbert, Kone or Pienaar will ever be fit for than a couple of weeks. Got to move them on. Add to that Atsu has been shite. That's the reason for RM's square pegs problems!
Paul Ferry
77
Posted 24/05/2015 at 19:39:24
Dave Ganley (29): 'If anybody has any half-decent reason for Martinez to stay then I'd like to hear it.'
Pop onto the Stay or Go thread, Dave, I think you'll find a string of 'half-decent' reasons and some better than that.
Karl Jones
78
Posted 24/05/2015 at 19:32:32
The passion and desire to not lose that was the norm under Moyes in the Premier League has dwindled away. There isn't a Cahill or Fellaini in order to give us some fight and something different in order to rescue games such as this and the Sunderland game etc.
That to me is the most worrying thing of this man's management. The players, despite all the brave talk, are accepting defeat far too easily. I havent seen that since the Walter Smith days and I fear for us next season with Martinez.
.
Barry Jones
79
Posted 24/05/2015 at 19:40:04
I agree with Jim Bennings (#26) and other posts on here. I have said it before on ToffeeWeb that I would love to see Mark Hughes in charge. Mark Hughes gives you that great combination of good football plus organisation and grit. His teams always dig deep. We could use a bit of that.
Why would he come to Everton? Well, it is close to his North Wales home... as is Stoke. You would have to convince him that Everton are a bigger team than Stoke with a bigger and better future. Can we do that?
Geoff Evans
80
Posted 24/05/2015 at 19:51:49
Re post 19:
Martinez's excuse makers... where are ya?
Ian Riley
82
Posted 24/05/2015 at 19:23:56
Mr Johnson, spot on. Sadly the club has never moved on to the next level. As a club, mid table will become the norm. Can we really expect more when teams like Tottenham have spent far more than us and finish 5th.
Sadly the disire must be questioned this season. I believe we should be in the top eight with the quality we have. The pace and reaction to losing has been my biggest concern this season. This can not be blamed on the chairman but the manager.
Staying in the league may become our aim in years to come. The club must find a way to move the club forward or fans will become bored and tired of spending thousands of pounds every year with no hope!
However, its not the football that kills you but the hope it will get better! Happy holidays to all!
Lee Gorre
83
Posted 24/05/2015 at 19:57:50
Two words to describe Everton this season – boring and unprofessional. I've never been so bored watching us in 45 years of watching than this season.
What sums up the unprofessional nature of this current set up is seeing Robles every half-time playing keepy ups and taking pot shots into the goal. Great preparation if he needs to come on. I don't really blame the players, the buck stops with the clueless manager.
Phil Walling
84
Posted 24/05/2015 at 19:44:26
Far be it for me to put 'the case for the defence' as I am now a long way away from the action and relying on mates to fill me in on happenings at Goodison Park.
However, one of these close friends has just rung me to say that if we only take into account the 11 matches played since the Europa exit, Martinez has garnered 19 points from 11 games - a record if extrapolated over the whole season would have seen us repeating last time's 5th finish and back in that competition he blames for all our woes!
Without checking his maths, I could only say 'stats can be used to prove anything', but that is probably the spin the Catalan will be putting on what has been a pretty crap nine months!
Roger Helm
85
Posted 24/05/2015 at 19:39:33
Just back from the match ... Bloody hell. 200-mile drive to watch that shite. I should get that money back. Even the manager wasn't trying. <
Chasing a point or even three, and his third sub (after hooking our most creative forward to put on a third defensive midfielder) was – a third CB! Who cares if it was Distin; he may have been "a good servant"; equally you could say we paid him millions and he spat his dummy out in a spat with the new boss.
Bloody footballers. I'm watching rugby league this summer. At least you get 80 minutes of non-stop action. And the players are trying, unlike these clowns dreaming of their summer holidays. (At the match this week play stopped because one of the players' heads had come off or something and one fan shouted "Get on with it, this is boring – like watching football.")
Unfortunately I have to come back next season as in a weak moment I renewed my season card. To a new manager? We can but dream. We'll still be in the same clapped-out stadium, however.
Have a good summer, ToffeeWebbers. Up the Castleford Tigers!
Geoff Evans
86
Posted 24/05/2015 at 20:01:05
Barry 81
Heard he's in talks with RS.
Brian Harrison
87
Posted 24/05/2015 at 19:54:13
I have just heard the charlatan's interview on the BBC website.The reporter asked what did he think was the big difference between his first season and this one. He said dropping points in the first 3 games when they were ahead.
So, in the remaining 35 games, he couldn't change what had happened in the first 3 games that set the tone for the season. I know all managers look for excuses as to why things have gone badly but to blame the results of the first 3 games is ludicrous.
The great thing about the summer break is I won't have to listen to this crackpot's inane ramblings.

Gavin Johnson
88
Posted 24/05/2015 at 19:57:06
Geoff – It's probably because there's a thread that's been running all week on the pros and cons of him staying or leaving. He's not going though, so let's all hope that we get the right players in this summer and get off the blocks next season.
Instead of going over ground that's been gone over to the point of tedium, why don't we all start a campaign to get rid of this board? Because we won't do better than 6th or 7th with Mark Hughes or any other manager until BK is gone.
Andy Crooks
89
Posted 24/05/2015 at 19:58:23
If there is any money available, it should be used to pay off the contract of Martinez. He is inept, uninspiring, bewildered and utterly out of his depth.
If we are really so skint I'd settle for the same squad with a new coach. Martinez has got just what it takes to relegate us and skulk off elsewhere.
Paul Kelly
90
Posted 24/05/2015 at 19:49:13
Posted an article last season about taking my lad to his first match titled "Everton's first game" (West Ham away) in which I stated that our play reminded me of when Mike Walker was in charge.
Apologies to Mike Walker, we have much worse in charge now.
Jay Harris
91
Posted 24/05/2015 at 19:52:34
Whoever coined the phrase "Home of the Blues" got that spot on. Another totally anaemic 45 minutes when we hardly got in their box let alone troubled the keeper.
And, to top it all, the babbling idiot comes on TV and says "We were Incredible in the face of adversity" this season.
The team selection, preparation and motivation is Championship standard and, if we keep this clown, that is where we will end up.
In less than a year, he has turned what was a top 4 defense into a shambles of a unit and turned a creative midfield into a negative backward-passing operation.
Phil Walling
92
Posted 24/05/2015 at 20:05:32
Roger Helm @ 87. Castleford? Bloody hell, Rog, you do espouse lost causes! At least I'm a Wigan Warrior..... even if we did get 'fiftied' by Catalan last night!
Barry Jones
93
Posted 24/05/2015 at 19:59:32
Another thing that I have mentioned on here before is how often we concede goals from crosses into the six-yard box. Another one today. Jagielka is a great player across the ground, but sadly, really weak on crosses.
He tends to watch the ball and looses the man. He did the same in the World Cup (especially the Uruguay game). This needs fixing by someone. Also, Howard needs to dominate the box more.
Micky Norman
94
Posted 24/05/2015 at 20:13:05
Today I made my decision not to renew my season ticket. Nuff said.
Jay Harris
95
Posted 24/05/2015 at 20:21:09
He wasn't making those mistakes 2 years ago, Barry.
It's up to the manager to point that out and eradicate it but he doesn't believe in defending crosses "cos they aren't proper goals".
Agree with you re Howard though. He had long enough to see that cross and handle it.
Barry Jones
96
Posted 24/05/2015 at 20:32:59
Jay, I like Jags a lot and still believe that he is a valuable asset, but we are conceding some weak goals. I think a goalie who wasn't shit scared to leave his line and take charge of his own space would make a big difference, taking pressure off the two lads in the middle.
Tom R Owen
97
Posted 24/05/2015 at 20:18:45
What a waste of time and money! Only got till midnight to secure your seat for next season? Anyone who wants to watch that next year are welcome.
I will always support Everton, but as long as we have a board that is clearly bleeding the club dry, nothing will change. The manager the chairman has brought in needs replacing now. It will not happen because it will cost too much in compensation.
Kenwright, Elstone, Woods, and Earl, all disgust me with their attitudes. We will remain at an ageing Goodison Park with an average squad and an off-the-field merchandising and marketing strategy a child could improve on.
I see a future where Everton will become similar to Sheffield Wednesday & Fulham. 20 years of hurt will soon be 25 unless the club immediately recruits an international quality manager and Kenwright and his leaches sell up.
Ross Edwards
98
Posted 24/05/2015 at 20:40:05
We only finished 6 points ahead of Leicester. 6 pts. If that doesn't show how bad we've been this season, I don't know what does.
Colin Glassar
99
Posted 24/05/2015 at 20:39:25
My apologies to the ball boys (#24), they have been above average this season. The toffee girl on the other hand.......
Roberto will be on a very short leash next season. He'd better be prepared.
Lee Gray
100
Posted 24/05/2015 at 20:45:20
Usual boring shite, whilst Roberto and daft Bill are there, what do you expect? BS
Jim Bennings
101
Posted 24/05/2015 at 20:43:59
We may not do better than 7th under Mark Hughes but at least you wouldn't see anywhere near the same half-arsed performances on a weekly basis that you get under Martinez.
There are ways to play and ways to lose, the fans can accept not having a great team and you can accept the odd defeat providing you see the players showing fight and hunger and a hatred of losing.
Under Martinez it's like as though "Oh well, we lost... but didn't we play some pretty passes in defence?"
Do Everton ever look like being hard to beat under Martinez?
Do we ever resemble a good fluent attacking team that looks capable of outscoring teams?
Do we have any characters in the team that can make a difference?
Where is the enthusiasm that we always got from a Tim Cahill or the niggly annoying moaning gnat factor the likes of Arteta or Fellaini had?
We just look a very plain, very boring bunch that accepts mediocrity all too easily.
Geoff Evans
102
Posted 24/05/2015 at 20:57:30
Jim
Can't agree, even mediocrity is out of reach for this passionless rabble of chancers.
Colin Glassar
103
Posted 24/05/2015 at 21:01:58
Jim, sounds like Sparky might be off to the dark side. The kopites will love him with his Man Utd/Everton past.
Patrick Murphy
104
Posted 24/05/2015 at 21:01:13
I've just watched Sylvan Distin's post-match interview where he praised Everton FC for being a special club and added that he reminded the players in the dressing room not to forget that. Distin was being genuine and meant what he said so why do so many of our players put in sub-standard performances so often?
It doesn't make sense to me when everybody says what a good club we are – and in many ways we are different to the corporate clubs – but the players can't seem to translate that feelgood factor onto the pitch, which is where it really counts.

Clive Rogers
106
Posted 24/05/2015 at 19:41:04
The club is rotten from the top down. All our problems are coming from an incompetent chairman who is only interested in holding on to power no matter what. He has failed at running the business of EFC, failed at moving the club forward and has now picked an incompetent manager who in turn has brought in second rate coaching staff and players. The club is in serious decline which will almost certainly end in loss of premier league status, possibly next season, judging by todays' display.
Patrick Murphy
107
Posted 24/05/2015 at 21:05:19
Colin - They'll be claiming that he is a world great as he inflicted their teams worst defeat since 1954. They will have eight weeks to make new banners for the new Messiah and forget that he ever played for Man Utd and Everton.

Colin Glassar
108
Posted 24/05/2015 at 21:11:57
Well they have a knack for changing historical fact, Patrick. Nothing they do surprises me. Poor old Shanks must be spinning in his grave.
Ray Griffin
109
Posted 24/05/2015 at 21:06:24
15 defeats says it all but for me there are two huge disappointments that really really stood out this season;
1. Barkley's total failure to kick on from his impressive form last season, this time out he has been a liability in every game I've seen – losing possession, ill-judged decision-making & general lack of idea of what it takes to be a top Premier League midfielder.
2. RM's disregard for the defensive side of the game. Goodison went from being a place where teams would be delighted coming away with a draw to becoming a soft touch for a bunch mediocre teams. Martinez seems to be auditioning for the Barcelona job, mistakenly believing that pass, pass, pass & going nowhere will enhance his CV.
35 years supporting this great club & this has probably been the most frustrating campaign ever – glad it's over.
Geoff Evans
110
Posted 24/05/2015 at 21:22:32
Couldn't get the job as Manager at Barcelona Tesco Express.
Joe Foster
111
Posted 24/05/2015 at 21:28:20
One of the things (one of many) that allways troubled my thoughts on RM was his comment about not being the person to help bring Wigan back into the Premier League. To me, this showed an insight into what type of person he really is.
Dave Abrahams
112
Posted 24/05/2015 at 21:29:12
Here's another fool who renewed his season ticket, I thought he couldn't be as bad next season as he has been this, but he will, because like Eddie Dunne, and a few more have said, he just will not learn, keeps playing the same way and making the same mistakes game after game.
We all think he will be here next season but that should not and would not if we had a chairman who ran the club properly and he is the reason we will remain lumbered with this poor excuse of a manager.
James Byrne
113
Posted 24/05/2015 at 21:30:52
Today's pathetic display summed up our season under this clown of a manager. Everton have become an experiment under Martinez as he continues to trail his fucking shite tactics and tippy tapppy bollox excuse for football.
How can he be allowed to get away with what he's doing to our great club, and where's the chairman! Where's the fucking leadership.
I won't be renewing my three season tickets for the first time in almost a decade – I've got better things to do than watch that crap.
Steve Harris
114
Posted 24/05/2015 at 21:35:39
Well, come on then you Martinez supporters after that shameless performance, tell me once again why this clueless twat should still be in charge and how it's gonna be any different next season?
Today totally summed us up completely and still some of you will come on here defending him! I couldn't even be assed to stay and shout abuse on the 'lap of appreciation', I'm just sick and tired of watching the same old shite week after week.
Dick Fearon
116
Posted 24/05/2015 at 21:48:34
My only consolation is to thank the lord I am not a Kopite.
That makes me a small minded miserable git.
Ray Griffin
117
Posted 24/05/2015 at 21:55:03
Insanity: doing the same thing over and over again and expecting different results. - Albert Einstein
Take note Mr Martinez....
Jamie Crowley
118
Posted 24/05/2015 at 21:47:49
Steve -
1. He believes he can get us in the top 4 under severe budgetary constraints
2. He wants to play attractive football
3. He wants to build a club from top to bottom
4. He doesn't fuckabout with the "knives to gunfights" bullshit - he's no regard for where poor little Everton should be in the grand scheme - and that's challenging at the top
Now all of that may seem pretty crap at the moment after one of the most turgid performances of the year, but it was a meaningless game and these are highly paid professionals who realize that. Kinda tough to motivate under the circumstances.
And yes, he does himself no favors with his "it's all rainbows and unicorns" press conferences.
But I'm willing to give the man till my American Thanksgiving to implement his vision.
Why?
Because for the first time in a long time, we have a manager who has a fucking vision that isn't "punching above our weight".
Despite this season's horrible finish and our inability to get out of the gates...
And yes you can say, "but Jamie, he DIDN'T get us to those lofty heights and HE'S part of the problem!"
Maybe...
But I'm willing to see out this rough ride to discover if there's a pot of gold on the other side of the rainbow.
If he gets what he wants and what he envisions, we'll see pretty football like last year and maybe shatter that proverbial glass ceiling.
If he's a charlatan, then by all means chuck his ass out by late Fall.
I'm willing to let him have a fresh start. I'll defend him, despite the evidence of this year, because if this guy gets it right the way he wants to do it?... It'll be fucking beautiful.
See you in August. Here's to a record points total - again - next year. Under the same man who brought us our record points total last year. That guy - without Europe and a summer to bed in his ideals and implement his style of play having put his "sophomore slump" behind him.
Andy Crooks
119
Posted 24/05/2015 at 22:03:27
Jamie, no game should be meaningless to a highly paid professional. If it is, then their highly paid coach is not managing them.I would guess it wasn't meaningless to the Evertonians who paid to watch that spineless disgrace.
Jamie Crowley
120
Posted 24/05/2015 at 22:02:43
The short term thinking of some is beyond comprehension. One year ago - just one year - we finished in 5th having knocked on the door of a CL spot all season.
One year! With a host of reasons to explain why - and no it's not because Roberto is shite!
Do you really want to be a Club without consistency, changing managers every time there's a hiccup, even if it's a season-long one?
Everton have been as conservative and non-knee-jerk reactionary of a club as the Premier League has ever seen.
I think that's a good thing. And yes, it may mean suffering through crap like this. But do you really believe Roberto forgot how to manage? The same man who worked absolute wonders last year while playing some of the most beautiful footy seen since the School of Science?
FFS, I agree there's a limit to patience. But does no one not think this man deserves the right to take the Club forward and a chance to return to the form we saw last season?
Let the man have his chance next year. Again, if he's shitting the bed professional football is a cruel world that demands results so oust him. But give the guy a chance to turn it around after a shit year. What the fuck are we? One of those reactionary Clubs that changes managers like underwear?
Maybe we are and this silly American just needs to be enlightened? No. We're Everton, we're loyal, this guy deserves another chance.
He rode in on an ass and most of you laid palms at his feet. Now you're the first ones to drive the nails in his hands and feet.
Mike Hayes
121
Posted 24/05/2015 at 21:48:54
The disappointment from the season has been expressed on here every week after every performance and the near silence from the crowd summed up their feelings but they still came – home games were practically sold out – and, as stated in this weekend's programme, 25,000 fans have renewed or got their season tickets so what does this say?
Did they watch an entirely different 38 league games or go to each match hoping the next would be better? Do they now think that the next season will produce better performances under the same manager, same players with minimal losses and fewer additions and hope that the World Cup was the root cause of the manager's distraction and lack of pre-season games and training?
The only thing that will make the board do anything like sack the manager is if the attendances start falling and revenue stops coming in from fans like myself (I buy 3 tickets) who can only get to certain games. I do not think Kenwright has the bottle to sack the manager, even if the club slides down to the Championship, as long as the fans turn up.
Correct me if I'm wrong but I don't recall the home gate falling below 38,000. That tells me that, no matter what shite goes on on the pitch, the fans will still turn up. I fully understand the urge and passion to go and watch your beloved team play week-in &week-out – I get that when I'm unable to attend and have to listen on radio or watch a bad link.
To sum up – only the written anger on these pages give air to the multitude of grievances we have with the club from top to bottom but actions speak louder than words and there's plenty of words!
Tom R Owen
122
Posted 24/05/2015 at 22:12:42
Dick (#116), You should not care what happens to any other club. It's OUR club in crisis.
Vent your frustration at our spineless useless chairman and the prick we have as CEO and a manager totally out of his depth
Dave Ganley
123
Posted 24/05/2015 at 22:03:56
Bless you Jamie for your positive attitude......have you actually witnessed the same rubbish we have this season? Have you sat through the mind numbing turgid pointless tippy tappy excitement free zone football that the rest of us has had the misfortune to witness week after week after week?
If Martinez gets his way, we actually will get relegated with his sloppy pointless possession-based so-called football. He has managed to turn decent footballers into players with little or no belief and constantly plays players out of position and players who are badly out of form.
Today typified his style of play... no intensity, no end product and an average team taking the piss out of us.....again!! Sorry mate absolutely no positives for me on this side of the Atlantic.....he needs to go as soon as because given time, his football has been anything but beautiful and its getting worse as time goes by.
There is no sign of anything better coming.... the warning signs were there for all to see last season but we chose to ignore them. In all my time if going to the game (40 years) I have never been so bored at games with such a talented squad. By next "fall" it will be too late to rescue another dead season.
Jamie Crowley
124
Posted 24/05/2015 at 22:29:09
Bless you Dave for your short-term thinking.
Did you actually witness the beauty of last year's football? The no-holes-barred attacking intent with fantastic possession we saw take us to lofty heights?
No, couldn't be? You've not been a fan for only one season have you?
I like the optimism on this side of the pond.
Roger Helm
125
Posted 24/05/2015 at 22:26:29
Our tactics; stand or jog around admiring other team - accidentally get possession - pass sideways, backwards, backwards, sideways, backwards - wait till opposition defence organised then long ball hopefully forward - lose possession - stand around watching other team - repeat as nauseam.
On no account practice set pieces or work on defensive organisation, physical fitness and strength.
We have at least another season of this.
Jamie Crowley
126
Posted 24/05/2015 at 22:36:51
So we want a manger that espouses set pieces and route 1 football? All hands to the pump defending? That'll be SO much more exciting than pass, pass, pass!
Which we really didn't do after the Holidays...
Ugh.
Declan Brown
127
Posted 24/05/2015 at 22:42:53
Any truth in the Hughes to Liverpool rumours or are you guys having a laugh?
I'll be gutted if he goes there, I'd have him here in a heartbeat to rid us of The Spoofer.
Chris Feeley
128
Posted 24/05/2015 at 22:25:51
Jamie - Try being one of the thousands that turn up week in week out, rain or shine, to be served up the same lethargic and error strewn rubbish under the impotent stewardship of Señor Martinez before you condescendingly preach about the School of Science.
It's very easy to be forgiving from the other side of an NBCSN stream, but I'm offended by a manager who can come out waving and smiling like a carefree fool 5 minutes after the final whistle when he's just overseen that tripe.
The man is out of his depth and he makes no attempt to even acknowledge or rectify the problems he's created. He's a smiling fool, and quite frankly he shouldn't even be trusted to operate a turnstile.
He's a disgrace and doesn't merit anybody's faith or support. Just like Kenwright, he knows that he will never get a bigger or better gig and is quite happy to kill all of our dreams so that he can live his own. He's a cancer in our club and should be removed before he causes any terminal damage.

Christine Foster
129
Posted 24/05/2015 at 22:35:06
Thank you Sylvain Distin, for the professional you have always been and the service you have given to our club. It's a shame you have been at the end of a tactical bullshit that RM asked a team to play to.
Roberts, your words today are an utter disgrace given your comments on "a footballing decision" last week. Your words are cheap and worthless, I am sure a few players thought the same...
Integrity is something people earn by their words and actions, sadly you have failed on both counts. Perhaps when you came to this club and met the board you felt you were in good company, people who think like yourself. But we are Everton. We are born, managers come and go.
Patrick Murphy
130
Posted 24/05/2015 at 22:40:56
Jamie - I don't think that's what the majority of the supporters want at all - but experience says that you have to win the battle out there on the pitch before you can start playing the good stuff, this current set-up seems to believe that passing the ball around and keeping largely meaningless possession is fine but it isn't not in the rough and tumble of the Premier League.
It's not as if we try and play like Arsenal and press the opponents into making mistakes which I could accept. The PL has changed mostly because of the money and its going to get harder in the next few years and if we can't battle like Chelsea or play like Arsenal we are going to struggle to get into the top-half and if in the process we gain a reputation for being an easy touch we will find ourselves in much deeper trouble.
I want Everton to play wonderful expansive football and pass the ball to death but it has to have a purpose, it has to result in an end product and mostly this season it hasn't.
If for example Lukaku had missed a bagful of chances in the six-yard box, I could accept that as eventually those chances would lead to goals, but that isn't happening and it is because we are playing a hybrid style which is neither one thing nor the other and the players don't know how to play the system and or what to do with the ball and that leads to silly errors which we invariably get punished for.
Scott Robinson
131
Posted 24/05/2015 at 22:46:30
FFS everyone, its the LAST game of the season after 45 games or so (including Europe) with nothing to play for. The team showed enough fight to pull away from the relegation pack with ease and picked off the Mancs...
Look at the RS at Stoke of all places. If they can't do it for Gerrard, then you have to ask yourself what is going on. These players are human too.
Sure, its not good enough, everything said on this forum over the season is accurate, but let's wait to see in the first ten games of the season before passing judgment. For me, it was pleasing to see Martinez express some rage for once over the player performance, refreshing!
Michael Smith
132
Posted 24/05/2015 at 22:45:12
Anybody confirm if there was a banner today aimed at Kenwright?
I hope so.
Trevor Peers
133
Posted 24/05/2015 at 21:51:32
When BK appointed Roberto it was in the fervent hope he could win us a cup, any cup. That would justify his decision, a slice of glory would be worth gambling our EPL position being devalued. And in so doing would appease the fans hostility, about stadium changes, big signings, new owners etc.
Now the reality must be dawning, he's backed the wrong man. When Roberto won the cup it was akin to winning the lotto. A never to be repeated feat. Many times this season the worst scenario has taken place, PANIC has set in, the worst of all options in football.
When nobody knows the plan, least of all the manager, your in big trouble, and that's exactly where we find ourselves now and next season.
Dave Ganley
134
Posted 24/05/2015 at 22:38:01
As I said Jamie the warning signs were there last season....the RS away, the FA cup demolition and the falling away when we gifted Arsenal 4th spot. Maybe being across the pond you can detach yourself from this seasons disaster but most of us can't.
I live and breathe Everton and maybe we are constantly unable win anything is down to the attitude that you and most probably the board, amongst others is that oh next season will be better. Hoping as opposed to doing anything about it. We are do far removed from a winning mentality as a club as its possible to be.
The RS have finished 6th and already the fall out has started....we finish bottom half for the first time in a decade and we get next season will be better.....backed up by hope rather than any realistic expectation. So whilst I accept your heart is in the right place regarding Everton.....last season was not all the thrills and spills you allude to.....and contrary to Martinez's propaganda....we actually didn't do that well against the top 4.
It appears that Moyes's organisation and defensive drills were more responsible for clean sheets last season than anything Martinez has put in place and that has been borne out this season. Defensively we are a shambles and offensively no better either. We shall have to agree to disagree on Martinez
Ross Edwards
135
Posted 24/05/2015 at 22:49:46
Jamie, last season has gone. This season we've been subjected to error strewn, toothless, turgid crap for the majority of the season. We can't just keep saying 'we finished 5th, look at the football we played' continously to defend RM.
Not like it'll happen but imagine if next season we did even worse, would we still be saying 'remember the football we played when we finished 5th' over and over in a defence of him?
Paul Nicholls
136
Posted 24/05/2015 at 22:48:57
I said on New Year's Day, after hauling ass up to Hull, that this clueless twat has to go. For anyone out there who still thinks otherwise, you just can't know your footy. Never felt less like singing the Blues.
Joe Clitherow
137
Posted 24/05/2015 at 22:32:35
Jamie
By your own admission you are a relative newcomer to our game. Let me try and give you the benefit of some of my own observations based on seeing quite a lot of football over several decades:
1. Our team plays the game too slowly under Martinez. An average Spurs side illustrated today how to play at tempo and as soon as we regained possession we tried to slow the game down. Straight away we were caught in possession again. This has happened all season and is part of Sr Martinez's vision apparently;
2. All season, the left back has been horribly exposed by the lack of a left sided midfielder disciplined enough to attack and defend. Many many times diagonal crosses have come in from this area which you compatriot (who I think has become possibly the poorest keeper of any top flight team) has watched, rooted to his line, while the ball is attacked. It happened again today;
3. Because the play is too slow for this division, we do not attack quickly enough, play backpass after backpass, allow the opposition to achieve their defensive shape, and consequently, for countless times this season and again today, we failed to test their goalkeeper AT ALL today.
This started last season not this one, and none of these most glaring of errors seem to have been addressed by your man. On the few occasions whether tempo has been upped, for whatever reason, the team has done well.
Martinez does not have a vision, he has dreams, which is a very different thing. He is a fantasist and a dreamer with no clue whatsoever how to realise his dreams. Worse, he is absolutely clueless in his ability to pick talent, starting with his backroom staff who are as clueless as him, and the appalling waste of money on players who would struggle to hold down a place in Championship or League 1 sides (I am talking about you Antolin Alcaraz).
As I have posted many times here, I don't want positivity, or at least I don't want that as the first attribute; I want discipline, hard work,application, fitness, managerial competence etc etc etc which then gives us grounds for optimism and positivity because on their own those things are completely unfounded and worthless.
Frank Thomas
140
Posted 24/05/2015 at 23:09:59
First sorry long post
I agree with Joe (137) but what has gone wrong this season can be put down to The Arsenal game we won last season, Europa league ideology, a worried manager who has lost confidence in himself and his own tactics and most importantly a manager who has forgotten that his first allegiance is to his club and fans and not to all the millionaire footballers who play for him.
Okay, why the Arsenal game? Because, up to that game, Martinez stayed true to his proposed tactics: "Let us play our style and let the rest worry about us". In that game he changed his own tactics and moved people out of position namely Lukaku and we won. All the MotD people and Press said it was brilliant tactics and from that point he has changed people and formations in almost every single game. Remember putting Alcaraz in against Southampton?? He has continued the same thing throughout this season with the same results spread as the last five game of last season remember we beat Man Utd then he changes the winning team why? He then lost all the team spirit and confidence that he had just built up.
Europe. For some reasons some managers believe you should change the teams radically for European games do you remember Rafa did it to LFC. Win or lose in Europe or the Premier League he changed the team to keep the players fresh all it did was to reduce the confidence and flow of the LFC team and that is what has happened to us this season. Rafa got sacked the following season. At the end of this season Arsenal kept the same team and formation and won 5 out of seven games and the changes prior to the last 7 games were enforced on him due to injuries not to keep the players fresh.
If you change the team selection and formation every week and also play players out of their usual position you are going to get unpredictable results. You are quickly going to doubt yourself and your tactics and that change suggest to the team that you are simply tactically clueless. Couple those actions with telling them to keep possession as opposed to pass for quick flowing football that gave us 5 poison last season and you may have some of the footballers having a quite chat with the manager. Look at Southampton and Stoke this season fast quick passing contrast that with LFC today 58% for Liverpool (look at the statshttp://www.liverpoolecho.co.uk/sport/football/football-news/stoke-6-liverpool-1-stats-9320931 ).
Finally build the confidence of the players but don't just play them because they have not had a a game for sometime play them because they are playing really well in the reserves and are raring to go. The players get paid even if they are not playing in the first team they are on long contracts if they cannot be bothered to get in and do more training in accuracy and fitness then that is up to them. However the fans who play good money are NOT millionaires and rightly expect to see good play and all out effort from every player and the manager. Todays lack of a goal combined with the team change after the Man Utd game has cost us ٠.4M and will cost us at least ٣M in TV money next year (http://www.totalsportek.com/football/premier-league-prize-money-table-2015/ look at the TV money earned by us and stoke compared with this seasons finish positions).
Martinez should be given one more season remember Moyes played zonal marking and we payed badly for that. Next season sell or release Kone, Alcaraz, McGeady and possibly Gibson but keep Garbutt and buy two fast strikers, finally stop changing the starting eleven every week unless someone has played badly or are injured. The best teams get rid of the badly performing players or the ones who are not trying. Finally remember it is the fans who pay you NOT the badly performing players and remember everyone who has screwed up at Everton have disappeared off the scene because if you cannot consistently get into the top 7 with the resources, money and time given by the EFC board then you are not going to get that much time or money anywhere else.

Peter Mills
142
Posted 24/05/2015 at 23:12:34
Joe (#137). Thanks. You saved me the bother of trying to compose the right words.
Barry Jones
144
Posted 24/05/2015 at 23:34:23
So we have the "lets give him a chance" bunch and the "he has to go now " bunch offering their two competing arguments. Normally, I am always in favour of giving someone a chance to prove themselves, especially after a reasonably successful season last year.
However, on this occasion I have to side with the "get rid of him now" lobby for all of the very valid reasons that the posters have laid out. I believe that Martinez has got it wrong. I don't believe that he knows how to make it right. I also believe that in no time he will lose the confidence of the dressing room. I also question his honesty.
It is very dangerous to give someone a chance when they don't have the necessary capabilities to use that chance and do something positive and constructive with it. I don't believe that he has the tools. He has to go.....and soon.
Barry Jones
147
Posted 24/05/2015 at 23:57:41
I thought that Joe's post was pretty much on the money, especially about the pace of play. It's OK playing tippy tappy at the back, but in the opponents half the ball has to be moved quicker. Players are making runs forward but we always seem to play the safe ball square or back and we lose the window of opportunity. We have to be more adventurous even at the risk of losing possession.
James Marshall
148
Posted 24/05/2015 at 23:54:33
He won't be sacked, so forget it. We finished 11th, which while it's not what we're used to, it's not as bad as some of us thought it might be and the board won't fire him for it. We know they're patient in that respect, and there was bound to be a tough time to come with a new manager at some point.
I was dead against him being appointed in the first instance, and I still don't like the guy (he actually gives me the creeps) as a man or as a manager. He's tactically inept, arrogant in both team selection and tactics, his teams lack any shape (what shape do we even play these days!?), defensively our midfield players lack the discipline to defend (I'm looking at the massively overrated Ross Barkley here in particular) properly, he's failed to sort out any cover for the isolated Lukaku, and we're relying on the 'ever such a nice bloke but massively limited' Steven Naismith which to me says it all about Everton.
Triers, but lacking the class to do anything of note.
We need more pace in the side, we need players who win the ball back when we lose it, not just James McCarthy on his own and we need some ball players who can pass the bloody ball forwards.
Forget the manager leaving any time soon, it simply isn't going to happen. Forget the new stadium, it isn't going to happen. Forget the rich investor, it isn't going to happen.
All we can hope is that Everton keep ticking over in the top division, and that's just about the sad reality of supporting a mediocre club these days. That's what Everton has become, and only just.
Derek Thomas
149
Posted 25/05/2015 at 00:24:01
I stayed up until 0200 to watch another episode of haven't got a clue, surrender monkey shite from the Catalan Mike Walker and his merry men.
If Bill was sick this should've caused a relapse.
If Bill IS in charge - are you fuckin blind or what.
If somebody else is - are you even blinder or are the returns from the BVI's loans enough to keep you happy until 2027 or whenever.
Fuck Off the lot of you.
Jamie Crowley
150
Posted 25/05/2015 at 00:19:56
Chris you say:
Jamie - Try being one of the thousands that turn up week in week out, rain or shine, to be served up the same lethargic and error strewn rubbish under the impotent stewardship of Señor Martinez before you condescendingly preach about the School of Science.
I'm scared to death of airplanes...
I love, absolutely love, the True Blue trump card of "try showing up every weekend".
I can't. So you know, the minute you say that, you've got me by the short hairs. But it's crap.
Let me be clear - just because I watch the game on "telly" here in the good Ol' USA on NBCSN does not invalidate my opinion that Roberto should be given more time.
Joe C - you offer some very wise and salient points as you always do. I rarely agree with you, but recognize you've got some very valid and true points. The one thing I'll say is this - I'm coming up on 9 years of support for our beloved Club. I may say I'm a relative newcomer - and to the men and women on this site who have followed the Blues for 50+ years I am. But how long does one have to follow Everton to no longer be considered a "newcomer"? I'm approaching a decade after next season...
I knew full well when I "stood up" for RM that I'd be taking a red-headed bastard's beating.
And I still say the man deserves a chance next season - see all my points above.
Now someone fetch me Harold Matthews! If he's abandoned the cause I will too. If the Blue Mage of Merseyside thinks there's no hope with Roberto, I will fall in line with the horde - such is my respect for his posts and viewpoints.
Until then - Viva Roberto - prove em wrong mate! Open, free-flowing winning football is the goal. And at least Roberto's gonna die trying!
Peter Laing
153
Posted 25/05/2015 at 01:04:39
I have followed Everton for over 30 years, proud to have brought up two Evertonians aged 10 and 12 who as season ticket holders have followed the blues for the last four years, but due to relocating to the South East this Summer have no hesitation whatsoever that we are doing the right thing as Everton under Kennwright are at best a parochial, also ran, and at worst a Club that will never taste the success that it such so richly deserves.
Chris Feeley
158
Posted 25/05/2015 at 01:22:13
Jamie
By your own admission, you've been a fan for 9 years. Unfortunately for you, you can only really compare 2 teams - the Moyes one and this Martinez one. I'm sure you know this already, but the last time we finished in the bottom half was 9 years ago. Hardly inspiring stuff after spunking 㿈million on a lazy lump who can't even muster 10 league goals despite apparently being undroppable. Would Moyes have stood for that if he'd been afforded similar backing?
You gush about the football in Martinez's first season. While at times it was entertaining, enjoyable and full of hope, this season has been as gutless, clueless and pointless as anything that Mike Walker or Walter Smith ever served up. Fortunately for you this was before your time.
Essentially, unless you have some insider knowledge about how Martinez intends to learn from his mistakes and right the wrongs of this season, please don't spout rhetoric about having blind faith. Neither the board or the manager has earned anyone's faith. The manager is half way into his original 4 year contract that came with a promise of Champions League football. We're so far away from that it's ridiculous.
Brian Wilkinson
159
Posted 25/05/2015 at 04:47:17
Forget Mark Hughes, we should have got Slavan Bilic before Roberto, now looks like Bilic will be heading to West Ham, screwed us as a player but managerwise would have done a decent job for us.

Paul Tran
160
Posted 25/05/2015 at 06:35:15
Jamie, I'm desperately trying to remember the 'no holds barred attacking football ' from last season.
Speaking as one who regularly praised and defended Martinez when he did a good job last season, I remember lots of functional football, punctuated with individual brilliance and the odd excellent team performance. I liked it because we were solid, kept the ball better and just needed better attacking players to kick on. But great football? Not for me.
This season, he's ripped last season up. Defensively poor, no shape or balance to the team. Slow passing that leaves us prone to defensive mistakes and renders us toothless up front. Lethargy has spread throughout the team. I'm sure he wants all of this as little as we do - he keeps delivering it and it isn't good enough.
And while I'm ranting, can we nail this 'not the right man to take this job forward' nonsense? That is a phrase often used in British business circles when you want to leave a job/client/contract. It is not an admission of incompetence. If you think that Martinez believed he was incapable of managing Wigan in that league, I'd suggest you're more deluded than he is. You might want to try replaying his interviews backwards and check for subliminal messages - or just stick to the truth on the pitch, which is damning enough for me.
Add Your Comments
In order to post a comment, you need to be logged in as a registered user of the site.
Or Sign up as a ToffeeWeb Member — it's free, takes just a few minutes and will allow you to post your comments on articles and Talking Points submissions across the site.
© ToffeeWeb