FK Krasnodar vs Everton
Europa League Preview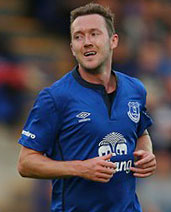 Aiden McGeady's experience of the Russian league could get him the nod to start against Krasnodar
In the thick of the first congested part of the fixture list, Everton have made the long trip to southern Russia to face a tricky Europa League match against FK Krasnodar looking for a result that would enhance their standing in Group H.
The 4-1 win over Wolfsburg, the stand-out result of the season so far, means that the Blues come into the second round of games as group leaders armed with the knowledge that a draw or a win would keep them on course for the second phase.
Though he will be forced into changes from the side that started the Anfield derby on Saturday by injuries to Kevin Mirallas and James McCarthy, this game will also give some indication as to how Roberto Martinez will approach the away fixtures in the Europa League and to what extent he will leverage his squad.
The sweeping changes he made at Swansea City in the League Cup last week met with fairly disastrous results so it's unlikely he will disrupt things too much. But with Ryan Ledson, Luke Garbutt and Tyias Browning all making the trip, there is scope to provide some of the younger players with valuable experience in Continental football.
McCarthy's absence, due to quad muscle fatigue according to his manager, points to another potential starting berth for Muhamed Besic, Darron Gibson, or both in central midfield, while Aiden McGeady will likely attempt to fill the void left by Mirallas with his experience of having played in the Russian League.
Christian Atsu and Bryan Oviedo are also in the mix for the wide positions, giving the manager a number of options when it comes to the forward areas of his line-up.
Samuel Eto'o, too, spent time in Russia with Anzhi Makhachkala and with Martinez more or less confirming that Romelu Lukaku will play in both of the next two matches before the international break in an attempt to get him close to 100% fitness, it does open up the possibility of the two strikers starting together for the first time.
Much will depend on how adventurous Martinez feels but Krasnodar's impressive record at home during the qualifying rounds suggests that the solid defensive performance from the weekend will need to be carried through if Everton are to come away from the Kuban Stadium with any kind of result.
The Russians are an attacking side boasting three Brazilians in the form of Ari, Wanderson and Joãozinho who scored 8 goals and conceded none on home turf, including a 3-0 victory over Real Sociedad that helped them qualify for the group phase. And their 1-1 draw at Lille a fortnight ago was also a statement of intent that they could be a dark horse in the group. Kick-Off is 8pm Moscow Time (5pm BST)
Full coverage: ToffeeWeb Match Reports
Reader Comments (33)
Note: the following content is not moderated or vetted by the site owners at the time of submission. Comments are the responsibility of the poster. Disclaimer
Mark Andersson
1
Posted 02/10/2014 at 06:41:19
Good article Lyndon a small miracle is needed by the sound of it to get a good result.
I think most fans will settle for a point.
Terry Murphy
2
Posted 02/10/2014 at 06:53:09
A point - injury free - will do me nicely
Jim Bennings
3
Posted 02/10/2014 at 07:39:47
The likes of McGeady and Atsu now need to really stake a claim as first team players with the injuries to our other wide boys. The time has really come to knock talking on the head and start producing some of the free-flowing football we saw last season; injuries or not, the reality is we have been pretty dreadful this term.
There is only so long fans want to read good talk, it's about time we saw better performances, not just from McGeady and the defence but the likes of Lukaku needs to start looking like a striker that's alive! For heaven's sake, it's October 2 now, we are no longer in pre-season so we don't want to keep hearing about a lack of fitness.
If Rom or any of the others are not fit then stick them in the reserves for a few games and tell them they don't play until they start looking capable of doing basic things, which in Lukaku's case is trapping a ball and then moving off the ball and looking interested. Too often with Lukaku, games pass him by, whether you're out of position or not. He's a young lad, he should be dragging himself into the game.
A point tonight would be deemed an okay result.
Keith Edmunds
4
Posted 02/10/2014 at 08:20:04
Anyone know the kick-off, Melbourne time?
Keith Edmunds
5
Posted 02/10/2014 at 08:32:44
I'm thinking it's 2am Melbourne time?
Brian Furey
6
Posted 02/10/2014 at 08:53:01
I see it's on Setanta Ireland at 5pm so the MIL was perplexed this morning to hear I'd be home from work early to collect the kids.
I'm usually positive but I'm afraid I can only see a defeat here. I expect RM to go very defensive in hope of frustrating their fans and getting a goal from set play.
3-1 I'm afraid with Atsu and McGeady getting loads of stick.
Craig Fletcher
7
Posted 02/10/2014 at 09:25:40
5am in NZ; so yes, Keith 2am in Melbers.
Dave Lynch
8
Posted 02/10/2014 at 09:31:49
Why do people think Eto'o is a bit part player?
From what I've seen of him, he looks a lot fitter and has more footballing nous than Lukaku and McGeady combined.
The later being a total waste of a shirt for the majority of the time.
James Morgan
9
Posted 02/10/2014 at 09:28:12
I would like to see a mix of youth and experience tonight, something like;
Howard
Browning Jagielka Stones Garbutt
McGeady Gibson Besic Atsu
Naismith
Lukaku
I would also like Oviedo, Ledson and Eto'o to get game time.
It will be tough but I think that team should have enough quality to win.
Nick Swallow
10
Posted 02/10/2014 at 09:54:17
Keith, it's live at 2am on Setanta in Melbourne
Steve Jenkins
11
Posted 02/10/2014 at 09:51:22
Interestingly, Martinez name-checked three midfield teenagers – Liam Walsh, Ryan Ledson and Kieran Dowell – of whom he has high hopes and would not want their pathway blocked.
"I will always be interested in Tom in terms of the experiences that I had with him. That will never change. Tom is going to be one of the best midfielders in the England camp," said Martinez.
9 Dave
Solely his age and that he needs to be used sparingly. If he plays 60 mins today and 30 at Man Utd, he's still playing a full game which is largely how I expect Martinez to use him – starting or coming on in 90% of matches but rarely doing a full 90 mins.
Interestingly, with regards to the youngsters and a quick google of Ledson, I just found this article.
http://www.express.co.uk/sport/football/509655/Roberto-Martinez-reveals-why-Man-Utd-rejected-Everton-s-bid-for-Tom-Cleverley. Extract below:
"I know the player inside-out but ten months in football is an eternity. Anything could happen in that time.
"I can't say we are going to be after him. We've got two or three young players at Everton who might come through and take their opportunity – Liam Walsh, Ryan Ledson, Kieran Dowell – and they would fit into the squad."
Walsh is due to sign a professional three-year contract when he turns 17 on Monday.
Referring to two players that Martinez has high hopes for in coming through in CM that we're all aware of in Ledson and Dowell.
Walsh I'll admit is one that I wasn't aware of as a potential player breaking through. Anyone seen anything of the lad and rate him?

Kevin Gillen
12
Posted 02/10/2014 at 09:58:08
Please play your best team Roberto and go for the three points and a strong position in the group. You can experiment and blood youngsters in a dead rubber when we've already qualified.
Phil Sammon
13
Posted 02/10/2014 at 10:13:09
You don't 'blood youngsters' in a wholesale manner playing away in Russia. Go for a strong line-up and see where we are at after 70 minutes.
That said, I'd like to see Atsu come in for Mirallas rather than Ossie or Naismith shifted out wide.
Another Melbourne-based Toffee here. I'm off to bed at 8pm to get up for this at 2. Better be worth it! Almost certainly won't be.
Colin Glassar
14
Posted 02/10/2014 at 10:51:00
Unfortunately, I will be working so I won't get home in time to watch it. I doubt it will be a classic and I'd be happy with, at least, a draw, no injuries, and some of the kids getting a few minutes to show their stuff.
Derek Thomas
15
Posted 02/10/2014 at 11:07:22
You're right, Phil, one or at the most two if the team is really fizzing and thus will be able to carry them...
So it's one max for us then... Browning.
James Morgan
16
Posted 02/10/2014 at 11:05:47
Colin, I don't know your work arrangements but I will also be working for the first half and back home for the second. However, thanks to unlimited internet, I'll be watching the first half on ITV player on my phone!
Don't you just love technology!
Barry Stevens
17
Posted 02/10/2014 at 11:34:03
We have to be careful with the youngsters. Having read up on them, and looking at there previous results, this Russian side are no mugs.
I still remember Coleman being thrown in vs Benfica. Out of position and torn a new one by Ze Maria. I know he had a serious injury after, but I always wonder if it held back Seamus before his breakthrough.
We're in a strong position at the moment in the group, so a draw would be a good result. Get qualified for the next round before we play the youngsters.
Phil Walling
18
Posted 02/10/2014 at 12:18:33
Just wondering what the excuses will be tonight if we don't fire on all cylinders. Jet lag or similar spring to mind as a possibility!
As mentioned above, it's now October and World Cup weariness should be long forgotten. Every club seems to have half their team unavailable so comes the time we should judge by results and not the verbals that accompany them.

Andy Crooks
19
Posted 02/10/2014 at 12:42:28
This muscle fatigue is a new one to me. In fact I'd never heard of it till Roberto came to Everton.
Adam Williams
20
Posted 02/10/2014 at 13:07:55
I would love see a number of youngsters come in here, but I think you need a balance when playing away from home, particularly in Russia, with what will no doubt be a hostile environment. We need a blend of youth and experience, and ultimately a win to build momentum and the majority of players coming through unscathed. Personally I'd go with the below:
Howard
Browning - Stones - Alcaraz - Baines
Besic - Barry
Atsu - Naismith - McGeady
Eto'o
I would like to see Garbutt or Oviedo for Baines, Gibson for Barry, ideally after 45-60 mins (score line depending). A win here would see us go clear at the top of the group and give us an opportunity to blood youngsters further down the line of the competition.
Cathal Naughton
21
Posted 02/10/2014 at 13:14:36
Hope the team do well tonight. I fancy a trip to the final, if Seville can do it why not us. Up the blues
Harold Matthews
22
Posted 02/10/2014 at 13:12:10
Dave L @9.....and in the minority of the time he helps us score a goal.
Peter Cummings
23
Posted 02/10/2014 at 13:08:24
By all accounts, the Russians seem to be a useful outfit so coming out with a point could be a good result; I just hope we don't give them the advantage to attack by parking the bus,
After watching the god awful game in Basel yesterday, I think a good display by us, win, lose, or draw, will go a long way in cementing an already excellent reputation on 'foreign fields'.
I will be watching the game here in Canada live at 12 noon. Best of luck, you Blues, both on and off the field, especially our travelling support, who I am sure will be warmly applauded by ALL of our players at the end.
Mark Andersson
24
Posted 02/10/2014 at 13:26:25
Phil, 19, you may well be right. As someone else has already pointed out, the trip is all first class, no mental fatigue as everything is done for the pampered prIma donnas.
Let's just see what phenomenal tactics the smooth talking Spanish barsteward unleashes.
Lewis Barclay
25
Posted 02/10/2014 at 13:33:52
Anyone know what their pitch is like!?
This link from 2012 seems to suggest it's "average":
http://www.psft.ru/content/pdf/Ranking_of_football_pitches_in_Russia_spring_2012_eng.pdf
I hope Martinez goes for the jugular and plays a strong side and then subs out the players who need the rest. If we can secure our place in the next round early then we can effectively play a B team in the remaining games.
Sam Hoare
26
Posted 02/10/2014 at 14:09:50
Krasnodar are a good team and will have a lot of the ball and play some decent football. A draw would not be a bad result. I'd go for:
Howard
Browning Stones Jagielka Oviedo
Besic Barry
Atsu Osman McGeady
Lukaku
Ian McDowell
27
Posted 02/10/2014 at 14:18:44
A point would be a good result here. I like the look of that team, Sam. Nice mix of experience and youth. It will also be nice to see Gibson get some time.
I don't know whats wrong with Kone. Are we ever going to see him get fit again and pull on the shirt?
Harold Matthews
28
Posted 02/10/2014 at 13:43:02
Listening to Souness and Gerrard last night, we can't afford to be timid, especially in midfield. Small fancy players like Coutinho and Markovic were absolutely steamrollered. Even Sterling had a nightmare.
This is a "men only" game where McCarthy will be sorely missed. Gibbo is tough but will surely not cope with the speed of their Brazilian attackers and I wouldn't want to start with Ossie.
To be honest, this match has arrived at a bad moment and we can only hope that Roberto successfully shuffles the pack.
Andrew Ellams
29
Posted 02/10/2014 at 15:11:51
Liverpool have got arrogant, not soft and they are not as good as they think they are.
Anyway, tonight. I think he'll mix the team up a bit but that doesn't necessarily mean loads of kids. Eto'o, Gibson, Osman and Hibbert hardly come into that category
Brian Cleveland
30
Posted 02/10/2014 at 15:24:14
Wow, a lot of doom and gloom here.... weren't we in pot 3 and them in 4? Doesn't that mean we should be stronger than them? In theory anyway!
I'm feeling more positive than many others, I'm looking for a win, not a draw.... hope Roberto is more positive than you lot!!
Harold Matthews
31
Posted 02/10/2014 at 15:30:43
I like your style, Brian. Roberto will definitely be positive but Europe is a place of unknown quantities these days and it's easy to understand why many fans are edgy. Not having a clue what we're up against doesn't help matters.
Peter Bell
32
Posted 02/10/2014 at 16:00:44
Howard, Hibbert, Stones, Jags, Baines, Gibson Barry, Atsu, Mcgeady, Osman, Eto
James Morgan
34
Posted 02/10/2014 at 15:32:18
Everton starting XI: Howard, Hibbert, Baines, Stones, Jagielka, Gibson, Barry, Atsu, McGeady, Osman, Eto'o. Subs: Robles, Oviedo, Browning, Alcaraz, Besic, Lukaku, Naismith
---
Add Your Comments
In order to post a comment, you need to be logged in as a registered user of the site.
Or Sign up as a ToffeeWeb Member — it's free, takes just a few minutes and will allow you to post your comments on articles and Talking Points submissions across the site.
© ToffeeWeb