Everton vs West Ham United
Match Preview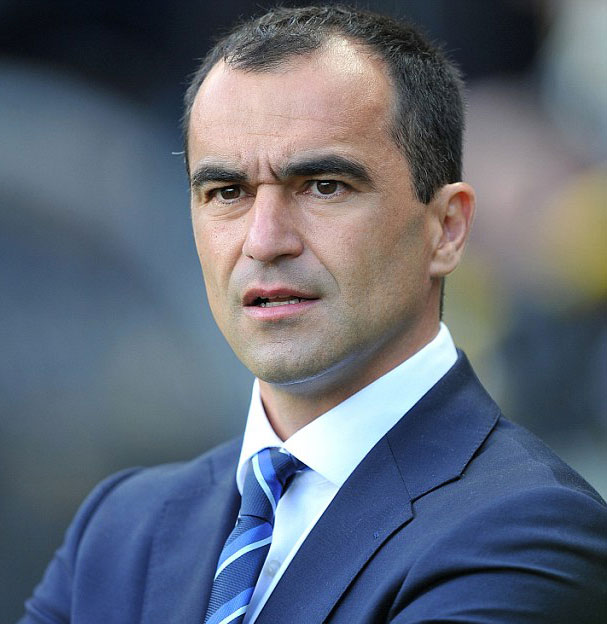 Roberto Martinez could have both welcome and unwanted selection headaches for the visit of the Hammers
With the last international break of the year out of the way, Everton return to Premier League action once more this weekend as West Ham, one of the surprise packages of the first quarter of the season, come to Goodison Park.
The Blues did not come through the last fortnight unscathed, though. In addition to seeing Gareth Barry and James McCarthy pick up injuries in the draw at Sunderland, Everton received Leighton Baines and Darron Gibson back early from their respective countries' training camps with minor complaints that threaten both players' involvement against the Hammers.
Baines suffered a grade one hamstring strain in training for England, while Gibson complained of pain behind his knee after playing an hour of the Republic of Ireland's narrow Euro2016 defeat against Scotland. McCarthy, meanwhile, didn't train at all with his country and although he has had a week longer to recover from a similar problem to Baines' injury, he is a doubt for Saturday, if only because it's a recurrence of the hamstring issue that sidelined him at the end of September and early October.
With Barry surely the least likely of the four to be available, it leaves Roberto Martinez facing the uncomfortable prospect of being without both of his defensive midfield anchors in what promises to be a difficult match-up with Sam Allardyce's much-improved side. Muhamed Besic would be an automatic replacement for one of them but with Gibson doubtful, the manager will be short-handed for natural defensively-minded midfielders.
Even Baines, whom Martinez earmarked as a potential central midfielder in the mould of Philip Lamm, could miss out, creating a void at left back. With Bryan Oviedo ruled out again, Luke Garbutt is the most likely candidate to deputise there, although, curiously, there has been talk in the past week of Tony Hibbert filling in as an emergency replacement.
In the forward areas, Steven Pienaar will undergo a late fitness test on a knee complaint while there is a chance that Kevin Mirallas could make his much-anticipated return from a hamstring tear of his own. He resumed full training last week but it remains to be seen if he would be risked from the start. Thankfully, Martinez has options in the attacking third, with Samuel Eto'o, Steven Naismith, Romelu Lukaku, Ross Barkley, Aiden McGeady and Christian Atsu all available.
Hammers boss Allardyce survived calls for his resignation last season as his team's form slumped but, on the back of renewed support from chairman David Gold and some astute business in the transfer market, he has overseen a renaissance in his side's fortunes. They start the day in fourth place, four points better off than the Toffees, thanks to home wins over the likes of Liverpool and Manchester City and a five-match unbeaten run since they lost at Old Trafford at the tail end of September.
The key to their success has been the rebirth as a creative force of Stewart Downing and the twin strike threat posed by Enner Valencia and top scorer, Diafra Sakho. Their robust presence up front will make stopping the cross an absolute must for the Blues this weekend. Crosses from deep areas were an Achilles heel for Everton early in the season so keeping Downing quiet and ensuring that Phil Jagielka and Sylvain Distin shackle the front two will be vital.
At the other end, Martinez will be hoping for a repeat from Romelu Lukaku of the performance he put in in the last home game. The Belgian was excellent against Lille but appeared to lapse into more erratic form at the Stadium of Light two weeks ago and his manager will no doubt be counting on him being fresh seeing as he was unused Belgium in their qualifier against Wales.
The question of whom to play with him is, of course, another dimension for Martinez to consider. Barkley is gaining match sharpness but Eto'o has been superb when played in the number 10 role and Naismith remains top scorer so there are no automatic choices.
Kick off: 3pm
Referee: Mark Clattenburg
Full coverage: ToffeeWeb Match Reports
Reader Comments (46)
Note: the following content is not moderated or vetted by the site owners at the time of submission. Comments are the responsibility of the poster. Disclaimer
Phil Roberts
1
Posted 21/11/2014 at 17:43:23
I know this is slightly off topic... but
Today is 21st November. 20 years ago today we played live on Monday Night Football. We had beaten West Ham at Goodison a couple of weeks earlier, but we were still bottom of the league and Joe Royle had just taken over as manager.
That night, two legends were born.
The first time we saw Ebbrell, Horne and Parkinson play together – the Dogs of War. The first time we saw Duncan Ferguson score in the Blue of Everton.
Between them, they battered that lot from the other side of the park and what a wonderful 40th birthday present for me.
Thanks all of the team and staff for the memory of that night – and my kids for the video so I never forget it.
Brian Harrison
2
Posted 21/11/2014 at 18:36:55
I do find it amazing of how many injuries there are to all teams in the Premier League. We have that many sports science guys at these clubs telling managers their stats that seem to dictate who plays and who doesn't. Either Chelsea and Southampton are lucky with injuries or could it be because these clubs by and large play their best 11 in every game. Yet clubs who constantly rest players seem to pick up injuries on a regular basis.
Maybe constantly resting players is doing more harm than good.
Ian McDowell
3
Posted 21/11/2014 at 18:44:55
Don't give away any needless free kicks. Sam Allardyce (Fat Roy Cropper) will have been working on set pieces all week and will use Downing to put crosses in from the half-way line.
I remember speaking to a friend who knew Dave Billows. He said after every match v Bolton, the players would come off with cut lips, gums, ripped shirts, broken shin pads. Hopefully we can stand up to Fat Sam, Nolan and their shithouse antics. COYB!!
Barry Stevens
4
Posted 21/11/2014 at 18:49:53
For tommorow's game, how about Naismith in midfield with Besic? He's always up for a tackle, ready to challenge for a header. He reads the game well and has a little bit of creativity. Not talking long term, just till injuries ease up.
Mark Frere
5
Posted 21/11/2014 at 19:02:39
Assuming none of our injured will be ready to return, I would play:
Howard
Coleman Jagielka Distin Garbutt
Besic Barkley
McGeady Naismith Pienaar
Lukaku
Declan Brown
6
Posted 21/11/2014 at 19:00:42
Some cracking responses on TW this week regarding Roy Keane, but Phil Roberts (1) you've won post of the week for me. What memories you've stirred.
Remember it well, Ablett (RIP Gary) scored the winner against West Ham a header from a corner then Walker was gone, we're bottom of the league going into the international break, Joe's just been appointed, didn't know much about him, I was in fear of where we were heading, in school the Reds were telling me for a fortnight that we were going to take a pasting etc. It was on the cards.
That night itself, my first ever watching a live match on Sky in my uncles (cousin and uncle were reds), Andy Gray and Ian Darke commentating, a battle in the first half, giving nothing away. Then the 2nd half, an endearing image of that scrag McManaman being upended from the front and side by Horne and Parkinson,
Then Ruddock going through the back of Duncan Ferguson in a rough cynical foul. The angry monster within Duncan awoke, he became unplayable after that. Around the 56th minute, Amokachi hits one that deflects narrowly wide... Andy Hinchcliffe sets himself, the crowd are singing "Evvvvverton, Evvvvvvvverton" and Ian Darke utters the immortal unforgettable commentary of "Hinchcliffe's corner... and a goal by Ferguson, Duncan Ferguson puts Everton in front, it's his first, Joe Royle, it doesn't show, but he must be full of emotion about that, Goodison goes wild." We know the rest. My only disappointment was that Limpar didn't bury the 1-on-1 to make it 3-0 at the end.
A week later, on a Monday night, we buried Leeds 3-0, just as sweet too, we had a real low-life bully in our class, a real waste of oxygen and human life, he supported Leeds. Those two Tuesday mornings were great memories.
Watching Roberto dealing with the Keane issue this week reminded me of the way Royle used to bat off snide remarks from Roy Evans about our style of play. Roberto was great this week, even Kenwright put a smile on my face.
And Phil, a year later on 18 November 1995, Andrei Kanchelskis gave me one of the best birthday presents ever, a double at the Kop End (the sight of the Evertonians dancing deliriously in The Kop End warms the heart), I can still see Ian Rush crying on Match Of The Day that night "We aren't direct enough, we need to be more direct like Everton were." Take that, you Redshite Spice Boys!
I would love 3 points tomorrow, especially as I can't stand Allardyce (aka Fat Cow Head, as my friend calls him).
Mike Corcoran
7
Posted 21/11/2014 at 20:00:13
I remember that Derby so well. I was working the bar in the Irish Haus in Leipzig. I gave away stacks of free pints to everyone but the Reds supporters afterwards.
Phil Walling
8
Posted 21/11/2014 at 19:44:45
Mark @ 5. I like your line-up bet suggest that 'Our Man' will prefer Hibbert for Garbutt and Eto'o for Naismith.
Of course, Keano may be right after all and Coleman and McCarthy may rise from the grave as it were.
Patrick Murphy
9
Posted 21/11/2014 at 20:12:39
Keano is not correct – even if both Coleman and McCarthy play for Everton tomorrow. Coleman played with half-a-dozen stitches and McCarthy couldn't make the Irish team as it takes a minimum of 10 days to recover from his particular injury; seeing as it is almost a fortnight since he sustained the injury, that would not appear to be a Lazarus-like recovery.

Phil Walling
10
Posted 21/11/2014 at 20:12:45
Oh! I just noticed you left out Ossie. Bobby never will!
Mike Childs
11
Posted 21/11/2014 at 20:28:37
Lineup I'd like to see:
Howard, Hibbert, Jagielka, Distin, Garbutt, McCarthy, Besic, Coleman, Barkley, Mirallas, Lukaku. A 4-2-3-1.
I wouldn't mind Eto'o in Romelu's spot. Coleman moves up to the wing instead of AM.
Stephen Brown
12
Posted 21/11/2014 at 20:57:15
Surely the season needs to kick into action at some point – why not tomorrow? Come on, lads... get on a run cos 4th and a cup is not beyond the realms of possibility (ambition is critical!).
Bobby, settle on our best team and stick with it until forced to change. That team in my opinion is:
Howard
Coleman Jagielka Distin (Stones when fit) Baines
Besic (Barry when fit) McCarthy
Mirralas Barkley Pienaar (?)
Lukaku
To the lucky fans going tomorrow – get behind the lads!!
Mark Frere
13
Posted 21/11/2014 at 20:53:13
Phil (8), I haven't got a problem with either Eto'o or Osman starting, I just don't want to see square pegs in round holes – which means Eto'o must play either striker or in the hole behind the striker. And if Osman starts, he must play behind the striker as that is by far his best position.
This game, I suspect, will be quite a physical battle; without McCarthy or Barry in the side, I would go with Naismith for his hard work and battling qualities.
I would be really disappointed to see Hibbert start at left-back. This would really be demoralising for Garbutt. If young Luke can't get a game in the absence of Baines and Oviedo, then they really is no hope for the lad. Might as well be out on loan gaining first team experience; he's 21 now and at an age when he needs to be playing more competitive games.
Colin Glassar
14
Posted 21/11/2014 at 21:20:02
I think we will win tomorrow as we always seem to beat WHU. I just hope after the stop-start season (International breaks every few weeks) we can get into our stride and get a few wins on board.
Stephen Brown
15
Posted 21/11/2014 at 21:23:57
I fully agree with Mark re Garbutt. If a 33-year-old right back gets picked before him with both left backs injured, he may as well forget it!
Harold Matthews
16
Posted 21/11/2014 at 21:31:30
Against Portugal U21s, Garbutt had a nightmare. Against France, the player he was marking was Man of the Match. Okay, Redmond didn't help him out but it was still a worry.
Going forward, he was impressive in both games, passing and moving at pace before crossing with power. If we play the lad, he should be fine with senior team-mates in attendance.
Mark Griffiths
17
Posted 21/11/2014 at 22:03:53
Am I missing something? Why are people putting KM in the team? He is still a while off, no?
Bill Gall
18
Posted 21/11/2014 at 22:33:39
I do not want to see Hibbert at left back instead of Garbutt as this will show that the manager has no faith in the young player who was included in the squad with a couple of other youngsters with the statement by the manager of how exited he is by the progress of the young players.
You can't get experience watching; you have to play... so, as spectators, we have to encourage young players and not scream at them if they make mistakes. There is not a player in the Premier League who has not made a mistake and the good ones learn by them.
We are not a club that can pay out for two or three top players every year so we have to rely on youth coming up through the ranks; having a manager that believes in youth, I hope he is willing to give them a chance when the opportunity comes along.
Peter Bell
19
Posted 21/11/2014 at 22:56:11
I was at Old Trafford the night Kevin Ratcliffe made his debut as an 18-year-old. He went on to be our clubs most successful captain.
I cannot see why RM cannot give a game to either Garbutt or Browning at home to West Ham. If he plays Hibbert, then I think all his talk about trusting the kids is just that — "All talk"!
Tom Bowers
20
Posted 21/11/2014 at 22:51:11
Injuries are a big problem to most teams especially when those teams and players also have other fixtures to complete outside of the Prem and internationals. The money clubs get by simply because they have deeper and better quality squads.
Everton are not yet one of those clubs although they do have some useful youngsters chomping at the bit to make a breakthrough. At the moment, it would seem that RM is reluctant to pursue that option at the expense of going with the old brigade as long as there is still something to aim for.
Too many injuries at once upsets whatever cohesion the team has and it seems like they are in that unfortunate position right now. They will need big games from the back four tomorrow as we know the Hammers will attempt the high ball a lot, much like Everton did when Big Dunc. was around. That's where good tackling and closing down will be required by the midfielders in general and if that doesn't happen then they will be asking for trouble.
Hopefully Osman won't be called upon until it's safe.
Andrew Presly
21
Posted 22/11/2014 at 02:15:08
Nice one Phil (#1)
West Ham at home should always be 3pts for Everton or trouble is brewing.
Gavin Johnson
22
Posted 22/11/2014 at 02:08:13
Mark, I'd align myself to that formation, I think Barkley could do a job in a deeper role like he did against the RS at Goodison last season. I thought it what was a mature performance when Roberto had to jig things around when Bainsey went off (he showed that he could sit deep and not just run with the ball).
I agree with Phil that Hibbo will probably get the nod ahead of Garbutt, but I hope Martinez is bold and plays a proper left-back.
To be honest, I've got a bad feeling about tomorrows game. West Ham haven't looked this good since the days of Cottee & McAvennie. Normally this game is a formality but I can see them breaking their hoodoo on their current form and our list of injuries.
Harold Matthews
23
Posted 22/11/2014 at 01:03:31
I agree about Osman, Tom. A good footballer but 50 minutes is his limit these days. I hate it when Roberto leaves him on too long.
Barkley needs to start. His reputation has suffered a bit of late but we know he usually plays well against the Hammers. Run right at them, Ross. They don't like it.
Injuries or no injuries, Martinez will have a plan and I hope the lads can carry it through. The whole squad is very talented and whoever is brought in will do a job. One or two key players need to improve their form but we remain a strong outfit.
Gavin Ramejkis
24
Posted 22/11/2014 at 03:03:05
Twattenburk is back, I see, usual all talk and lipservice action has seen his "just take a week off, soft buggers will forget it soon enough" punishment has now passed.
I can see the game as a serious test of the defence, balloonhead Allardyce (another twat) seems to have turned his team around and they are playing something more than his decades-old "hoof it long and run" game.
Ironically, Lahm is also out with an injury, so it's not just Everton that's feeling the pain of a decent player out.
Derek Thomas
25
Posted 22/11/2014 at 04:55:50
Much as I like him, playing Hibbo at left-back would be a backward step for all concerned... unless he has a blinder, then it will be an inspired masterstroke.
But in real terms, what sort of message is it sending to the younger fringe players?
To me, the different proportions and values of the pros and cons of playing Hibbert or Garbutt, will, in total, add up to the same overall percentage, swings and roundabouts, etc. The crowd and the players will be able to carry either of them through it.
So give the younger kid his chance, tell him at the last possible moment by all means, but get him on the field, to sink or swim.
Sin Miedo, Bobby, Sin Miedo.
Laurie Hartley
26
Posted 22/11/2014 at 05:16:38
This will be a dog fight. Sam will send them out to flatten us from the start. I wouldn't start Barkley or Lukaku in this game – I would bring them on later in the game (together).
One player I dislike immensely is Nolan (for what he did to Victor Anichebe). I would put Besic on him – no explanation needed.
I would start this game with a mixture of "Dogs of War" and footballing heads and experience. Therefore, in my view, given the injury situation, Hibbert, Osman and Pienaar could all have a part to play in this one. Eto'o must start.
Of all the doubtful starters, McCarthy is the one I am hoping will play – this is a game tailor-made for his particular set of skills.
This is a six-pointer – if we win this one we won't look back.
COYB
Peter Barry
27
Posted 22/11/2014 at 05:48:37
With Clutterbuck in charge, we will get nothing.
Tony Cheek
28
Posted 22/11/2014 at 08:57:42
What!!!!.....Kone ruled out!...thats the last straw!
Harold Matthews
29
Posted 22/11/2014 at 08:36:26
It will probably be the usual Goodison Park bore-fest with big Sam trying to hit us on the break. We've faced this situation so many times we should know how best to deal with it. Unfortunately, we slide into the slow build-up syndrome and make things more difficult. For once, please Lord, let's up the tempo and rattle their dodgy defence.
Neil Wood
30
Posted 22/11/2014 at 08:35:28
Morning everyone. Excited and nervous at the same time today.
This is one of those fixtures where the three points are almost expected and as such, it's all set up for disappointment !!
I think Barkley has to start today my team would be:
HOWARD
COLEMAN JAGIELKA DISTIN GARBUTT
BESIC MCARTHY
MIRALLAS MCGEADY
BARKLEY
LUKAKU
Injuries permitting of course!! ;-)
I don't think they will score today. I think if we score early it will be 3-0 or 4-0. I hope Besic does a job on Nolan today.

Chris Davies
31
Posted 22/11/2014 at 09:09:23
If anyone has a spare ticket, give me a call. I'll be in Liverpool around 1ish 07951486020
Mike Allison
32
Posted 22/11/2014 at 09:16:36
Peter, Clattenburg has been the best referee in the league for years now. He also tends to do okay for us as he knows it'll all blow up again if he doesn't and he's lucky to have got away with that derby and still have a career. He's also under scrutiny because of his breach of protocol the other week. Pre-moaning about a referee is pointless anyway.
Looking at our fixtures for the next six weeks or so I'd say don't risk anyone who isn't 100% fit. We have two games a week through til January and there's no way we're going to be able to keep the same XI in that time. If anyone plays today and aggravates an injury they're probably looking at missing a minimum of 4 or 5 games and and six week lay off will mean around 12 games.
Therefore I'd go with:
Howard
Hibbert - Jagielka - Distin - Garbutt/Oviedo
Besic - Barkley
McGeady - Eto'o - Pienaar
Lukaku
Maybe some of the 'doubtfuls' could be on the bench, as 20-30 mins would be unlikely to harm them, but I'd be looking at the bigger picture here.
Santosh Benjamin
34
Posted 22/11/2014 at 10:29:55
I agree, Mike.
Steven Jones
35
Posted 22/11/2014 at 09:45:08
I like that team Mike...
Think RM will be watching training and seeing who is up for it ..
May get a surprise selection eg Atsu who may have clicked in training
Or Mirallas is firing on all cylinders already
Ian Bennett
36
Posted 22/11/2014 at 10:46:43
Think some of the injured will make it, but concerned with the number of hamstring injuries and number of games over the next 6 weeks. The key for me is starting the right team and then bringing the weaker players on, rather than mixing too much. When fit Barry, Pienaar, Mirallas, Stones come in.
Howard
Coleman
Baines
Distin
Jags
McCarthy
Besic
McGeady
Barkley (has to be central)
Naismith
Lukaku
Kunal Desai
37
Posted 22/11/2014 at 10:52:05
Besic v Nolan could be the warm up fight before the main event tonight.
Trevor Lynes
38
Posted 22/11/2014 at 10:49:54
Sam's teams play a physical game and I think that is the reason that Hibbert is considered as a starter. He will not be intimidated whereas young Garbutt might.
Peter Barry
39
Posted 22/11/2014 at 11:07:15
Mike thats like asking why we take an instant dislike to Clutterfuck and the answer of course is because it saves time.
David Hallwood
40
Posted 22/11/2014 at 11:10:35
Agree with Mike(#32) about Twattenburg-that's why his 'performance' in the derby was so out of character. As good as he is, should have been banned for life after that disgraceful, bent performance.
Moving onto today, they're in a rich scoring vein of form so I cannot see us keep a clean sheet, I'll go for a 2-1 or 3-2.
Max Wilson
41
Posted 22/11/2014 at 11:24:20
It's always nice to stroll down memory lane, however it's match day, and my nerves are twitching with fearful anticipation. I like Mike A's team selection (32 next muck spreading) and the only change I might make is to try Oviedo baby in mid-field. We will need Distins height to-day for set pieces and corners. The appearance of Mirallas would be a tonic to all. Eto,o and Luke up front defo. This is going to be a hard match. They are quick and physical as has been pointed out by the brains above. COYB!
Our season needs to start soon.
Tim Greeley
42
Posted 22/11/2014 at 11:35:55
32 points. Everton accumulated 32 more points than West Ham did last season. Big Ol Sam has obviously improved his squad so fair play there, but we are still a superior outfit.

Too bad we are missing so many... but we should still get this win. Gotta start winning more home matches. 2-0 Toffees. Up to 7th by Tuesday. Party.
Ajay Gopal
44
Posted 22/11/2014 at 12:36:01
Good one, Mike. That is a sensible team, with most of them coming off quite fresh from the international break (except Jags who seems to be playing a lot of football nowadays).
The bench would have:
Osman, Atsu, Naismith, Browning, Ledson (maybe), Long (maybe), Robles
But I have a sneaky feeling that we will see some of so called 'injured' players playing – Coleman, Mirallas ?
Tony Twist
45
Posted 22/11/2014 at 13:08:50
Very tricky game today but if we perform we will win whether Wets Ham turn up or not. Not sure what the latest is regarding injuries, if it is worse case scenario then my team would be:
Howard, Browning, Jagielka, Distin, Oveido, McGeady, Besic, Barkley, Pienaar, Naismith and Lukaku. Barkley and Besic in central midfield.
I am presuming that Coleman, McCarthy and Baines won't be fit. If each player does their job then a win is on the cards, tight win but a win all the same. COYB.
Max Wilson
46
Posted 22/11/2014 at 13:21:47
Ajay! I love it when
Max Wilson
47
Posted 22/11/2014 at 13:26:31
Oops, sorry about that, Amanda Holden wearing her Everton shirt just sat on my knee and kissed me on the cheek. Where was I? Yeah, Ajay said he'd like to see LONG on the bench. I think we've got some great young strikers coming along and I hear Eto,o has been involved with them recently. G
Kev Johnson
48
Posted 22/11/2014 at 14:10:49
Team's in: Howard, Coleman, Hibbert, Jagielka, Distin, McCarthy, Osman, Barkley, Mirallas, Naismith, Lukaku.
Not sure if Osman's playing deep midfield or whether Ross will be tried out there...
---
Add Your Comments
In order to post a comment, you need to be logged in as a registered user of the site.
Or Sign up as a ToffeeWeb Member — it's free, takes just a few minutes and will allow you to post your comments on articles and Talking Points submissions across the site.
© ToffeeWeb