Everton top Group H with superb win in Wolfsburg
VfL Wolfsburg 0 - 2 Everton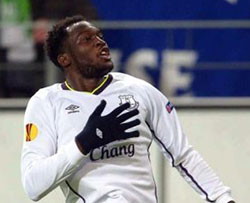 Everton booked their place in next phase of the Europa League with an almost perfectly-executed away performance on the Continent, completing a handsome double over Wolfsburg and securing the top spot in Group H in the process.
Romelu Lukaku played a pivotal role in the Blues' 2-0 win, rampaging through to break the deadlock shortly before half time and then sending his Belgian international teammate, Kevin Mirallas, away for the killer second goal to cap an excellent night's work in Germany.
Roberto Martinez made a number of changes to his line-up, drafting Samuel Eto'o in in place of the injured Steven Naismith and starting Tony Hibbert, Luke Garbutt, Muhamed Besic and Aiden McGeady in place of Seamus Coleman, Leon Osman and Ross Barkley, all of whom started on the bench.
And the Catalan was forced into another injury-enforced change after just half an hour when James McCarthy was forced off with another recurrence of his recent hamstring problems and Osman came on to reprise the more defensive role he fulfilled last weekend against West Ham.

By that time, the scoreline could have one apiece but Sylvain Distin passed up a gilt-edged chance in the 12th minute when he put a free header onto the crossbar at the back post and Ivan Perisic, a constant threat for the German side at the other end, had a legitimate goal chalked off for offside.
Everton were profligate in possession for much of the first half but with Garbutt displaying remarkable composure on only his second senior start and the rest of the back four similarly resolute, they were heading into the half-time break goalless when Lukaku struck.
The striker latched onto Mirallas's knock-on and recovered from a poor first touch to drive onward and then despatch it past Benaglio in the Wolfsburg goal. It was the archetypal smash-and-grab moment for an Everton side who had withstood a good amount of pressure in the first half in the face of the home side's tempo and urgency.
The Toffees improved markedly going forward after the break, though, and that increased energy released some of the pressure on the defence, although Tim Howard had to ad to an excellent one-handed stop he made in the first half to preserve the lead and Niclas Bendtner saw a second Wolfsburg "goal" ruled out, again for offside but correctly on this occasion.
1-0 should have been 2-0 just past the hour mark, though, and again it was Lukaku wreaking havoc in the Wolfsburg defence that created the perfect opening for McGeady. The Belgian's shot was parried into the Irishman's path by the goalkeeper but he somehow side-footed it wide of the post when it seemed easier to score.
Two more saves by Howard denied Perisic and Schäfer and a shot off the outside of the post by the Croatian kept the game tight going into the final 20 minutes but Mirallas made sure of the points with another superb break-away goal. The forward received Lukaku's pass, turned inside the last defender and buried a shot inside the far post to double Everton's lead.
Wolfsburg pressed in the closing stages and Howard palmed Arnold's shot onto the outside of the post before substitute Barkley had a goal struck off for a marginal offside call but the result was beyond doubt by that point.
A laudible victory for Martinez's Everton who had beaten the Bundesliga's second-placed team on their own turf and ensured that they will be among the seeded teams when the draw for the first knockout round is made on 15th December.
Full coverage: ToffeeWeb Match Reports
Reader Comments (104)
Note: the following content is not moderated or vetted by the site owners at the time of submission. Comments are the responsibility of the poster. Disclaimer
Mark Rankin
1
Posted 27/11/2014 at 20:52:41
Great result and 2 great goals, can't believe we kept a clean sheet though Wolfsburg must had about 50 shots
Graham Mockford
2
Posted 27/11/2014 at 20:54:31
Final game against Krasnodar, 㾻 adults, ٣ kids. Well done Everton Football Club.
Jim Bennings
3
Posted 27/11/2014 at 20:50:44
What a great win and what a great performance, best of the season by a mile.
Lukaku best display of the season by a mile.
Garbutt brilliant, could teach a Baines how to take a corner too!
I do love the Europa League, I got slaughtered last season for saying that European football of this ilk would be beneficial and enjoyable to the fans but can the naysayers and pessimists now say, hand on heart that they have not just had their best feeling of the season to date??
(Wolfsburg at home wasn't too bad either come to think of it)
Tommy Coleman
4
Posted 27/11/2014 at 20:57:30
Top quality goals, great result.
We are a great European styled football team.
Patrick Murphy
5
Posted 27/11/2014 at 20:59:25
Graham – I hope many Blues take the youngsters who often can't afford to be taken to most games, manage to find the cash for that game which is not important in the context of the competition. But it would be a good way to show the team that their efforts are appreciated – a sensible pricing policy should be rewarded with a decent turn-out.
Jimmy-Ã…ge Sørheim
6
Posted 27/11/2014 at 21:06:28
This has a special feel about it, I think we can go far and even to the final.
Michael Polley
7
Posted 27/11/2014 at 21:10:52
Great result. Two great breakaway goals. Well done, lads. Let's keep the momentum going for Spurs on Sunday.
Mark Dunford
8
Posted 27/11/2014 at 21:07:54
Great result. Really impressed by Garbutt who made his first start in a very hard fixture and Lukaku who – according to ToffeeWeb is just 8 days older than Garbutt – yet scored one and the made the other. He is a far more effective player with Mirallas in the side and I sometimes think people on this site look at the fee and forget how young he is.
All in all – excellent. Wolfsburg are an odd side who are clearly vulnerable to a counter attack and a player of Lukaku's ability. Scoring six over two games against them is impressive tally. Perisiic is also impressive.
Graham Mockford
9
Posted 27/11/2014 at 21:08:12
Oh and just a point for any Kopites you may meet tomorrow.
This season
Everton P17 W7 D7 L3 loss percentage 18%
RS. P17 W5 D3 L9 loss percentage 53%
He slipped on his arse, he slipped on his arse...
Brent Stephens
10
Posted 27/11/2014 at 21:18:11
Graham, he didn't slip, it was a foul.
Jay Harris
11
Posted 27/11/2014 at 21:16:54
Great performance by a much weakened team and special mention to Tim Howard, Mo Besic and Luke Garbutt who were exceptional today.
Lewis Barclay
12
Posted 27/11/2014 at 21:22:06
Do we even dare to think of CL football next season buy winning this!?
Joe O'Brien
13
Posted 27/11/2014 at 21:08:44
Great win against a very good side, and also without a number of key players. Clinical finishing by Rom and Kev and we looked stronger as the game went on. Our away support were fantastic. Now for 3 points at the lane on Sunday. Hopefully Jamie's hammy isn't too serious, only sour note on a great nite.
Sue Brown
14
Posted 27/11/2014 at 20:58:13
Brilliant result and all the sweeter for two well taken goals despite the pressure from Wolfsburg. Surprised McCarthy started, that's another long recovery in prospect.
I think all the team worked hard but it was good to see Rom getting stuck in there, and Garbutt looked calm and confident and did all that was required of him.
Brent Stephens
15
Posted 27/11/2014 at 21:19:11
Tough match away, excellent result. Generally solid at the back though a few hairy moments. Equally, very good up front with two excellent goals and close at other times.
I liked Romelu, Besic (fell in love with him pre-season and have been wiping drool since then), back four (well done that over-the-hill Hibbert and the new lad Garbutt), Mirallas (getting back into it) and Osman again in midfield.
McGeady had some poor touches but also some very good ones and put in a shift, worked very hard (was it his touch through for Lukaku's goal?). Not one of the best tonight but not a disgrace. But, heh!, if we can't bollock Osman tonight, then we have to turn to somebody.

Trevor Lynes
16
Posted 27/11/2014 at 21:13:37
I thought Besic and Osman played really well as makeshift defensive midfielders and Besic actually showed a lot of movement forward especially in the 2nd half. The defence were magnificent and both Hibbert and Garbutt slotted in seamlessly.
This German side are good and the amount of last-ditch tackles and blocks must have really frustrated them. Apart from Chelsea and perhaps Southampton, our defence is once again the best in the league.
McGeady really worked hard in helping Hibbert although he squandered the best chance of the game. Lukaku was virtually unplayable in the 2nd half and his strength in bursting through tackles and defence splitting pass for Mirallas's goal was top class. Osman is playing better than Barkley at present so deserved to come on for McCarthy. I just hope that Mac is not badly injured as with Barry out too it leaves us pretty thin in that area. In the present form, though, I have every confidence in this defence handling anything coming their way.
Oviedo and Kone must be close to fitness and Baines will soon be available along with Coleman so let's hope for the best. Tonight's result means eight games without defeat and I am feeling tentatively confident that we can beat Spurs on Sunday.
Paul Andrews
17
Posted 27/11/2014 at 21:29:01
This Soldado lad is having no luck in front of goal in the Spurs game. I hope he scores to be honest.
Brian Harrison
18
Posted 27/11/2014 at 21:26:03
Great result, and to go to the group's most in-form team and beat them says a great deal about us. Lukaku's strength is his ability to finish, so stop trying to make him something he isn't, get the ball to him early and let him run at the back four.
Looks like McCarthy has picked up a hamstring injury. I thought Besic played well, just wish he would stop thinking he is Franz Beckenbauer.
Peter Laing
19
Posted 27/11/2014 at 21:28:57
Excellent display from the boys, cap doffed to the senior pros and delighted with the performances of our young guns – Garbutt, Besic and Romelu's best game to date this season. Such a relief to have Mirallas back in the side and working his magic.
The togetherness, team spirit and camaraderie is there for all to see. Roberto will evidently only bring players with the right character into the squad and it's good to watch our lovable neighbours lurch from one bad performance to another whilst we go from strength to strength. Roberto and Rodgers – like chalk and cheese.
Joe O'Brien
20
Posted 27/11/2014 at 21:30:53
Who cares what Spurs do? This site is all about us blues, Paul, mate.
Wayne Smyth
21
Posted 27/11/2014 at 21:18:04
I thought the result was superb, but I felt Wolfsburg were the better side for virtually the entire game. As in the Goodison fixture, the scoreline doesn't do their performance justice.
I think Wolfsburg are a top quality side. I'm fairly sure they'll qualify for the Champions League this season, so to beat them away from home, without 6 first team players is a seriously good result.
I thought Garbutt was excellent. His corners were better than what we usually get served up, defensively he was solid, and provided an attacking threat too. I think he definitely deserves more game time. McGeady was frustrating at times going forward, but he worked really, really hard defensively which was required against a very good Wolfsburg attack.
We rode our luck with a couple of decisions which could've gone either way, but our defending was better than theirs and they were probably a bit too cavalier which left us the space for our goals.
It was superb to see Lukaku on the scoresheet again. 4 in 8 now that he's getting his fitness back? It's clear there is massive room for improvement in his play, so if he's scoring 1 in 2 now you can imagine him terrorising defenses in a few years time when he gets some matches under his belt and the team learn to play to his strengths.
Spragg Johnson
22
Posted 27/11/2014 at 21:35:09
Team vs Krasnodar?
Robles, Hibbert, Browning, Jagielka, Garbutt, Atsu, Besic, Osman, McGeady, Kone, Long.
Ledson and a couple of other kids off the bench?
Great to be in this position with a game to play.
Peter Gorman
23
Posted 27/11/2014 at 21:29:56
Very positive result and means hopefully we can blood the youngsters further in the last group match.
Garbutt was solid with great positioning and looked like he can begin to start some league matches. Little Mo Besic is an Evertonian now judging from his constant grab-ass antics with the other players; wears his heart on his sleeve.
Mirallas showed why he has been missed. He really is our most talented player. Sensibly taken off as we don't need yet another hammy.
Peter Laing
24
Posted 27/11/2014 at 21:35:14
Brian what's wrong with Besic trying to emulate the great Beckenbaur ? Would you rather he play like Lovren? Ha ha!
Paul Andrews
25
Posted 27/11/2014 at 21:37:09
Joe,
I know mate. It just seems like Soldado hasn't scored since Mr Kenwright was in the Boys Pen... And who do we play on a Sunday?
Nick Entwistle
26
Posted 27/11/2014 at 21:39:44
Great game.
We got the luck with the offside, but the goals were great. I'm not sure if it was hitting them on the counter or simply getting outplayed all over the park but it was all good stuff to watch. Howard's and Jagielka's (I think) arms went up at the whistle as if they'd just won the tournament.

Stephen Brown
27
Posted 27/11/2014 at 21:50:00
Special mention to Distin as most of us thought his days were numbered but he has been solid over the last few games. He really stepped up when needed. Great pro.
Oscar Huglin
28
Posted 27/11/2014 at 21:30:55
Fantastic. Bring on an occasion for the youngsters against Krasnodar and then the last 32... COYB!
The Europa League has been so important to our recent upturn in form. People will use our example as a success story of this competition for years.
Steven Jones
29
Posted 27/11/2014 at 21:49:06
It could have been 5-0 tonight with Mr Distin, McGeady and the Ross disallowed all front of goal real scoring situations ...
They could have scored 3 or 4 due to their brilliance - but our defending was superb ...
Special mention the fullbacks and not Seamus nor Leighton this time ...
Loved the collective energy and teamwork capped off by Mirallas ....
Steven Jones
30
Posted 27/11/2014 at 22:11:25
Agree Sprag ....
I would love to see Ledson play from the start against Krasnador ... and Garbutt and Browning .... even a Kone and Oviedo ....
Baines will need games again though ...
Eddie Tully
31
Posted 27/11/2014 at 22:10:13
Besicbaeur! MOTM
Keith Glazzard
32
Posted 27/11/2014 at 22:00:03
Great result. The game plan worked, hairy moments were expected, but over 90 minutes a top German side, Brazilians and all, were neutralised. Given that we had left so many in the treatment room, what a great club performance.
Just one observation. Wasn't Colin Harvey's first team debut in the San Siro? No comparisons intended, but Luke Garbutt's performance tonight on a very big stage promises so much, as I'm sure we all agree.
Mike Allison
33
Posted 27/11/2014 at 22:20:40
Besicbauer showed real class tonight. I don't understand why we've seen so little of him this season when he's got that ability and clearly fits with Martinez's way of playing.
Great to see Garbutt selected and playing so well as well. One moan though, why after he took two of our best corners all season did we change tack and get Mirallas to do it again? Martinez needs to be sat down with a video of Andy Hinchcliffe taking corners and told whatever theory or statistic he's going off is bollocks. Swing it in fast and you'll pick up goals.
Mike Hughes
34
Posted 27/11/2014 at 22:13:53
Great result and not to be under estimated.
Sends out a signal: don't mess with the Mighty Blues.
Tonight, Europe is shitting itself to sleep.
Grown men – professional athletes in Germany, Italy, Spain, Portugal – will be crying themselves to sleep.
"Not tonight, Josephine," will be uttered in fearful whispers in various languages as fear takes a hold.
You escaped us in 1985 onwards due to the actions of the red scum filth.
But the Toffees are coming.
You can run
but
you
can't
hide.
Lloyd Brodrick
35
Posted 27/11/2014 at 22:24:43
Delighted, everyone worked hard and performed, including our magnificent support. Looked like Besic tweaked his hamstring? Could we see Baines as DM and Garbutt LB on Sunday?
Spragg Johnson
36
Posted 27/11/2014 at 22:47:09
Lovin' the Besicbauer tag ... might have to get a named shirt!
Mike Keating
37
Posted 27/11/2014 at 21:49:02
Thought Distin was great at the back, Garbutt impressed and the two Belgians took their goals brilliantly.
Wolfsburg unlucky with the 'offside' and over the two games a 6-1 aggregate flatters us but do you give a shite?
Strachen claimed we can win it and he knows more about football than most of us.
COYB
Richard Lyons
38
Posted 27/11/2014 at 22:49:49
Amazing. I was very pessimistic before the game.... I think it might be a good idea to adopt a pessimistic attitude before the Spurs game...
Eric Holland
39
Posted 27/11/2014 at 23:06:22
No Phil Walling wonder why??

John Malone
40
Posted 27/11/2014 at 22:46:51
Really good result and performance – possibly the best of season for the fact it was away and so much riding on it against an in-form team.
The defence were immense, all five of them: Jagielka is by far the best English centre half, Cahill is not a patch on him – he's a carthorse. Terry might have the ability but hasn't got the speed of Jags, the fastest man in the Prem! Our captain is flying at the minute!
Up the Toffees!

Sam Hoare
41
Posted 27/11/2014 at 22:54:30
Fantastic match to watch and superb match to win. My ratings for what its worth:
Howard – 8. Clean sheet against a team that has a phenomenal scoring record at home. The stats will show a lot of saves although most were fairly regulation bar a top one in the first half.
Hibbert – 7. Some will see this as harsh and perhaps it is. Was mostly solid though allowed a lot of crosses in and lost Perisic for a very good early chance. Still prefer Seamus anyday but well played Tony.
Jagielka – 8. Continuing his very good form of late. Perfect man for a body on the line type scenario.
Distin – 8. Possibly even a 9. Was his best match in a long while for us though really should have scored that header.
Garbutt – 8. Was very impressed. Composed and accurate on the ball and was not particularly troubled by either Perisic or De Bruyne. More of Luke please.
McCarthy – n/a took a hit early on and off soon after.
Besic – 8. Often looks moments away from disaster and was caught out once or twice in first half but grew and grew. Was controlling the game by the end and I think looks to be a serious player given a run of games.
Osman – 7. Tidy and mostly effective. Never going to give as much protection as McCarthy but used the ball well when we had it.
McGeady – 6. Certainly not his best night. Missed a sitter but was not as bad as many on the live forum believed. Did a lot of work and gave some good defensive protection.
Mirallas – 8. Looked well off the pace for 90% of the match but ended up with an assist and a brilliantly taken goal. Mercurial as ever and still recovering from his injury.
Eto'o – 7. A quieter time for Sammy. Lost the ball a few times and did not have as much effect on the game as usual.
Lukaku – 9. Looked a 㿈M striker for perhaps the first time this season. The goal was power and pace with a tiny hint of fortune. The assist pleased me even more and was top class centre-forward play. His best game of the season and MotM for me just about.
Subs
Barkley – 6. Not on for long but still lost the ball a good few times. Shame the goal was offside as he could use a confidence boost. I'm sure we will see better from Ross soon.
Atsu – 6. Very little time but looked a little sharper in his brief cameo. Hopefully ready to have more of an impact in second half of the season.
All in all great stuff and lots to be excited by. Can we cap it off with a win against Spurs? Fingers crossed.
Brent Stephens
42
Posted 27/11/2014 at 23:12:44
Eric (#40), I'm sure said Phil will eventually appear with his considered views. Which will probably be more than why somebody hasn't yet posted.
Ross Hutchinson
43
Posted 27/11/2014 at 23:10:00
Terrific result. When I first saw this group drawn, I was worried about qualifying. It is in essence a Champions League group with very good teams, but to win the group with a game to spare and with a goal difference of +8 I am extremely happy and positive.
I think other teams would have noticed our results and have taken note. We are certainly a team which others hope to avoid for the knockout stages. COYB!
Colin Glassar
44
Posted 27/11/2014 at 23:16:10
Besicbauer? I like it. As for Phil Walling, well he's reconsidering his seventhish prediction I believe.
Patrick Clark
45
Posted 27/11/2014 at 23:13:48
Happily surprised. Great opportunity for younger players to get experience in the final fixture.
Nice to be seeded for the first knockout round. Though positioning is not finalized, the apparent disparity in the unseeded pot between seemingly lesser sides (Qarabag, Trabzonspor) and stronger sides (Champions League 3rd placers Ajax, Schalke) should make for an interesting draw Dec 15).
James Lauwervine
46
Posted 27/11/2014 at 23:45:04
I'm left feeling quite excited about the future after this one. Coleman, Stones, Garbutt, McCarthy, Besic, Barkley, Lukaku. There's 7 players who I would be happy to see as first team regulars and the average age is about 22.
Well done to the blue boys tonight; Wolfsburg threw everything at us and we taught them a football lesson.
Sam Hoare
47
Posted 28/11/2014 at 00:07:50
Yes, James, we just need to add some young wingers to that group. A certain Ivan Perisic is only 25 and cost Wolfsburg ٤M last season... looked a top player to me.
Kevin Rowlands
48
Posted 28/11/2014 at 00:16:15
Sam, ٤ mill? best player by a country mile we have played all season, my best Chrimbo present ever would be signing him in January.

Ben Jones
49
Posted 28/11/2014 at 00:17:21
I agree Sam.
A potential Pienaar replacement right there, he was very good. We've been linked with him before in the summer.
Kase Chow
50
Posted 28/11/2014 at 00:18:17
Super win COYB!
Harold Matthews
51
Posted 28/11/2014 at 00:05:26
Fantastic result. Hard to believe we went to Wolfsburg and won 2-0.
A great team performance with special mention to Howard, Distin and Besic. They were quite outstanding. Before kick-off I was a bit concerned about young Garbutt but he kept a cool head all night and looks to have a good future. A brilliant left foot but not afraid to use his right.
Wonderful to see Lukaku stripping leaner, fitter and enjoying his football. Still the big awkward gent for 91 of the 93 minutes but those brief moments when he sniffs a goal and becomes a beast are what he is all about. How people can say he got lucky with his goal is beyond me. He got himself forward at exactly the right time and his pace, strength and determination were never going to let the centre back to get the better of him. The finish wasn't bad either.
A tough match with one or two walking wounded at the final whistle. Let's hope they make a full recovery.
Peter Z Jones
52
Posted 28/11/2014 at 01:17:14
Nailed it! I love how Garbutt is like a Baines clone.
Breandan Clarke
53
Posted 28/11/2014 at 01:36:21
Great result but am I missing something regarding Garbutt's attacking talents? Can't remember him venturing into their half much apart from when he lost the ball and one good corner. I must say, though, him and Tony defensively were superb considering the little to no cover provided by McGeady and Mirallas. I don't even want to talk about how poor McGeady is.... Depresses me beyond belief seeing him pull on an Ireland shirt, never mind Everton.
Jags and Distin were both brilliant as well but Besic was my MotM, even though he made a fair few stray passes, he always wanted the ball and wanted to run with it. Seems very confident and could be key the next month with our other injuries.
Phil Smith
54
Posted 28/11/2014 at 02:18:33
Great positive about Luke Garbutt's performance. I seem to remember a young Seamus Coleman playing one of his first games (or was it his first?) away to Benfica a few years ago and he didn't do anywhere near as good. Perhaps that is an unfair comparison however... We were without a number of key players for that game too but that was a very, very good Benfica side.
Abhishek Saha
55
Posted 28/11/2014 at 02:29:28
Line up for Spurs game (4-2-3-1):
Howard
Coleman Jagielka Distin Garbutt
Besic Osman
Mirallas Barkley Eto'o
Lukaku

Ste Dodd
56
Posted 28/11/2014 at 03:07:29
@Mike Hughes #35, you absolute legend... Couldn't agree more.
Run, run, whoever you may be... We are the famous EFC!!
Julian Wait
57
Posted 28/11/2014 at 04:47:38
To go 6-1 over two games against Wolfsburg is no mean feat. I think we all feel now like there's a squad that can play, not just 11 or 12 players. We may not have the depth of Man City or Chelsea, but we're winning despite a long injury list, and I am really looking forward to the second half of the season.
Garbutt looked like he belonged – I can't compliment him any more than that. McGeady wasn't all bad, but that was a shocking miss from a pro footballer.
Martin Mason
58
Posted 28/11/2014 at 05:22:01
The only dampener about this competition is that the losers from the Champions League join the tournament and there'll be better sides to play than we have so far.
Great performance... but even better is the squad depth that has allowed us to absorb a terrible run of injuries.
Paul Andrews
59
Posted 28/11/2014 at 06:48:40
Looking at our goals against in Europa League, we have conceded 2 goals in 5 games.
The panic that was setting in amongst some of Martinez's detractors looks a bit foolish now.
Darryl Ritchie
60
Posted 28/11/2014 at 06:40:01
6-1 aggregate score against the #2 club in Germany. Not too shabby! I guarantee you, Wolfsburg can't believe they didn't win both matches.
After the drubbing we gave them at Goodison, they were going to come at us with everything they had, but RM's tactics were spot on. Counter attacking football at it's finest!
I know injuries are part of the game, but the long list of our injured players seems to grow longer with every match. Hopefully, one day the tide will turn, and we will have something close to a full squad for Martinez to choose from. Those we have available are outstanding, however. I'm very impressed with the depth of talent.
Bring on Spurs!
Peter Morris
61
Posted 28/11/2014 at 08:27:23
Can we play them every week please? Stats show us under the cosh on both occasions, but the score says otherwise.
Nathan Ford
62
Posted 28/11/2014 at 08:31:03
I'm a happy blue today!
Kevin O'Regan
63
Posted 28/11/2014 at 08:39:27
Might be risking my health here saying this... but I thought the defence still looks a bit shaky. I don't know any stats but I'm pretty sure we are one of the teams who pass to the keeper more times than any other. Fair enough if you're under pressure, play it safe... but it seems to be a default mindset with us in almost every game.
Everyone facing Howard makes it difficult to get forward, turn and use our attacking qualities. We keep our (improving) defence under pressure with this. So far, so good... but top teams will find us out.
Other than that, I was very pleased with Besic – he seemed to take responsibility and was everywhere. McGeady did track back on his side and worked hard but is struggling to fit in and should have scored.
I hope we can get a few fit very soon, bloody injuries. Still, happy days.

Kenny Pratt
64
Posted 28/11/2014 at 08:51:38
Perisic looking very friendly with a few of our boys last night too. He would slot nicely in to our team for 5 years time that is going to win the Premier League!!
Andrew Ellams
65
Posted 28/11/2014 at 08:47:41
So one game to go in the Champions League group stages and the teams currently in 3rd place are Olympiakos, Zenit, Liverpool, Anderlecht, Man City, Ajax, Schalke and Bilbao. Some tough opponents in there but the only scary one is Man City and I doubt very much whether they would take the competition very seriously.
Geoff Evans
66
Posted 28/11/2014 at 10:12:47
Talked about the team performance, brilliant everyone. Special word for supporters, unbelievable!
Charlie Dixon
67
Posted 28/11/2014 at 10:20:56
Are you watching, David Moyes....
This is why Martinez is the man. Europe is set up for us. Great effort from the fans and players last night. Feeling so so proud to be a blue.
Warsaw – here we come!
Ross Edwards
68
Posted 28/11/2014 at 10:22:23
We have won what was seen as the "Group of Death" – and really it's full credit to Martinez who is taking this competition seriously and getting it tactically spot on again last night. Absolutely brilliant, clinical counter-attacks for both goals, brilliant to watch.
Rom's best game since he signed permanently. He was excellent. He held the ball up well, took his chance brilliantly and his assist for Kev's goal was sensational.
I see no reason why we can't go all the way in this competition. The only thing that could stop us is even more injuries or if we fall to a team like Napoli or God forbid, the Redshite.
We are built superbly for European football and, under Roberto, tactically aware as ever; we can beat any team in this competition on our day.
Barry Sherlock
69
Posted 28/11/2014 at 10:32:17
Really good team performance!
Howard – solid 7. Held everything that came his way after a bit of a shakey start.
Hibbert – 6. Decent performance but didn't offer too much going forward.
Jags – very solid 7½
Distin – 7½ the same a Jags. Helped out with Garbutt and talked to him through the game.
Garbutt – 8½. An excellent performance. Must have been disappointed to not get the nod at the weekend but really took his chance here.
Besic – 8. Very good performance. Defensively and attacking play was very good. Played some very good link up play. Yellow carded.
McCarthy – 7. Only played 31 mins but he was important in that time!
McGeady – 6½. Who else shouted "GOAL!" and then went "Wha...??"? Played some good football but failed to deliver in the final third. Got caught on the ball a couple of times which let down some of his good play. Worked very hard. Chased everything.
Mirallas – 7½ We've really missed this lad! Subbed late on.
Eto'o – 6½. Not his best game. Caught in possession a few times and had a shot when passing seemed a better option. But overall still gave a good contribution to the team.
Lukaku – 8. His overall work rate is really improving and his ability with the ball is great. But it's his eye for goal that I really like. The thing is; he will only get better!
Osman – 7. Good solid display.
Barkley – 6. Unlucky to get his goal chalked off. Good work.
Atsu – 6. I really hope this lad can make a name for himself.
If Coleman comes back in on Sunday and Barry or Gibson can be fit to partner Besic in the midfield then I fancy us to get a result at Spurs. They are not all that. We look very composed going forward.
Phil Walling
70
Posted 28/11/2014 at 10:52:25
Immensely satisfying performance all round and a big 'well done' to Martinez for getting team and tactics almost spot on.
Great to see our call for Garbutt to get his chance so well rewarded but why, oh why, was he relieved of corner-taking duty after the best two we have seen all season??? I do realise that Bobby just hates it going wildly 'into the mincer' but Distin could easily have scored off one. Guess that wasn't in the plan, though!
Phil Walling
71
Posted 28/11/2014 at 11:04:36
...... and by the way, why in a great moment of victory do some TWers still persist in mithering about such trivialities as Moyes and RS?
Trevor Lynes
72
Posted 28/11/2014 at 11:10:55
I do not think that McCarthy was as good as usual before his injury and it was when Osman came on that we passed much better through midfield. The first half hour was pretty average at best and Wolfsburg were rampant during that period.
The goal certainly settled us down and we played far better in the second half. It was a very fine team performance which it had to be to get that result.
Drew O'Neall
73
Posted 28/11/2014 at 11:23:25
I thought it was a genuinely poor performance in possession and we were extremely lucky not to be punished by a strange team.
Anyone saying that was our best performance of the season is clearly blinded by the scoreline and a few excellent individual moments from Lukaku (got lucky after his poor first touch but showed strength and vision), Mirallas, Garbutt (positioning and corners), Besic, Osman and McGeady (work rate).
Howard was superb and the back four did OK but Wolfsburg were profligate in the extreme, a very funny old side.
They were beaten last week by Schalke and Chelsea smashed them for five so, while I'm delighted with the result and the chance to blood a couple of players, let's not get over-excited.
Sorry to be a wet weekend. COYB
Colin Williams
74
Posted 28/11/2014 at 11:26:36
Great result... fortunate result! Hibbo got taken to the cleaners on right side! Garbutt absolute class display. Jags was inconsistent (brill and poor) Distin, best display for years! Howard, same old! Top saves to basic mistakes.
Top performers: Garbutt, Distin, and Besic – 8/9 displays.
Poor performers: Eto'o, Hibbert and Osman – 5 displays.
Everyone else: average at best – 6.
By the way, we have the best away support in country! By a mile!! Our players should be privileged to perform for such great support.
Christopher Wallace
75
Posted 28/11/2014 at 12:00:36
Drew
It was clearly a ploy to lull them into a false sense of security, and invite them to come at us and then counter. Master plan.
Only half-joking here.
Perisic is very dangerous, but Bendtner is a donkey and De Bruyne is wasteful the majority of the time – always has been.
Dave Pritchard
76
Posted 28/11/2014 at 12:11:18
It was not how we usually play, probably due to the Barry/McCarthy axis not being there. Besic seemed to be doing the Barry role of picking the ball up deep and I thought he generally did well even though he did seem to take a few chances at times.
Great that Coleman got a rest and Mirallas looked loads sharper than against West Ham. Lukaku was brilliant twice but also frustrating at times again but I'll take that with him scoring one and creating one. Just shows what he can do.
Tim looked confident. Barkley still frustrates but the glimpses of quality were there as well.
James Flynn
77
Posted 28/11/2014 at 12:31:49
After watching them over both legs, I have to think Wolfsburg would be torn a new one regularly if you dropped their present squad into the Prem.
Peter Laing
78
Posted 28/11/2014 at 12:45:32
Phil, I wouldn't call it a triviality in that some of us Blues are currently revelling in the fortunes of our lovable neighbours when it looks like Everton are getting their act together. For those of us who live in the City of Liverpool, it doesn't get any better when we are doing well and they are struggling. "Long may it continue" is what I say... and for those that can remember the glory days of 1985, it feels as though our time is coming again.
Dave Pritchard
79
Posted 28/11/2014 at 12:57:13
I agree, Peter, that it is most enjoyable when we are doing better than them. I would just be cautious about your last sentence. Hope you are right though.
Steve Jenkins
80
Posted 28/11/2014 at 12:46:58
This performance left me feeling the most positive this season.
An all-around quality performance from the players, we were clinical. Fans were there in big numbers making plenty of noise.
After early season wobbles, Jags, Distin & Howard seem to be back to their best.
Stand outs:
Garbutt, I've been frustrated with his lack of games – I think he's proved tonight he can be relied upon when required, certainly gives us depth at LB/LWB with Baines & Ovideo.
When I've seen Garbutt for Enggland Under-21s, I've been very impressed with his attacking game; last night, I thought he was excellent defensively, he didn't have much opportunity to get forward but, on the basis of what I've seen, he seems to have an all around game.
For games where we need to be tight away from home, like top 4 matches, I think he's a better bet than Baines as he is a better more solid defender from what I've seen. As others have mentioned, great from dead ball as well.
Now we just need Browning to get some more games and some of the other youngsters and we'll start to develop some real depth. Hopefully Browning & Garbutt will get starts in the last Euro League Group game and Ledson might get some time off the bench.
Besic is pure class, and it's starting to show.
Rom was excellent, hopefully will get his confidence and continue goalscoring, and Kev M, I'd agree, is one of our most important players.
Eto'o, nothing needs saying. Hopefully we'll have the option of Kone in the second half of the season.
Phil Walling
81
Posted 28/11/2014 at 13:02:11
Peter and Dave, glorying in others' misfortune has never paid off, believe me. I've learned over 50 years that the only true glory time is when we've put them to the sword in a derby or won something.
Which means that the infrequency it happens has taught me to keep my trap shut. But if that's how you get your kicks, just remember – it works both ways!
Drew Shortis
82
Posted 28/11/2014 at 13:07:31
Very enjoyable match. Once Lukaku scored I felt confident we would get one or two more. Wolfsburg just didn't get any luck!
The Everton supporters were fantastic throughout and made it feel more like a home match. Did I hear the commentators say we had been allocated 2800 tickets but 5000 Toffees had ended up in the ground?
I'm glad to see Martinez taking this competition so seriously as it gives us an alternative route into the Champions League.
Krasnodar will be a great opportunity to give some of the fringe players a chance to show what they can do. It's not often we have games without any real pressure.
Tony Marsh
83
Posted 28/11/2014 at 13:23:47
Would it be fair to say that last night was our greatest ever performance in Europe, given the calibre of the opposition and being away from home? Martinez got it spot on and, considering the amount of injuries we had, it was a massive ask.
Looking at the knockout stages next, there is a good chance we could draw Celtic and that would be perfect for us. Celtic are poor at best and we would stroll into the last 16... Wouldn't we?
Kev Thomas
84
Posted 28/11/2014 at 13:26:13
Phil "Wiganer" Walling, I can't imagine you ever keeping your "trap shut"! You're always out with some crap.
I've got a lot of time for WUMs when they are funny or spark debate but your comments mostly evidence neither properties.
Kev Thomas
90
Posted 28/11/2014 at 13:54:04
www.wiganathleticsupportersclub.co.uk/message-boards/
Phil (W),
You're pretence at even-handedness is just that. When we win you glory in your 50 years of fan experience like that makes you the biggest blue, and when we don't you bang on about Robles, Alcaraz, Kone, and Martinez.
The link to your spiritual home is at the top. Don't fight it.
Dave Pritchard
91
Posted 28/11/2014 at 14:04:37
Kev, the thing about WUM is that they love attention. Don't give them what they want.
David Midgley
92
Posted 28/11/2014 at 15:27:27
Sam (#48),
Sam Allardyce bid ٧.5 mill. for Yevhen Konoplyanka a Ukranian winger 25 years old. Liverpool and Tottingham were reportedly interested, he could be available on a free this summer.
Kev Thomas
93
Posted 28/11/2014 at 16:39:25
You're right, Dave, but recently... grrr, it just gets a bit too much.
Anyway, I'm at peace now. (Not dead or anything, just Friday evening peace like!)
Phil Walling
94
Posted 28/11/2014 at 17:01:09
Hey Kev, I bang on about the names you mentioned whether we win or lose! And I don't need any lessons from you about how to be a Blue.
Jimmy Salt
95
Posted 28/11/2014 at 16:56:14
Great performance by Besic, looks like Roberto knew when to play Garbut after all (Phil). And by the way, I wait for the moment when you let go of the ginger apron strings ("for getting team and tactics ALMOST spot on")???? Honestly!, unbeaten, top of the group, qualified with a game to spare in what was widely regarded as the toughest group of them all. Its about time you started giving credit where credits due.
Anyway well done lads, and well done Mr Martinez.
Kev Thomas
98
Posted 28/11/2014 at 17:14:31
Fair enough, Phil, I wouldn't be as precocious as to offer such advice; I'm sorry if it came across that way. My point was simply that it gets a bit repetitive and clouds the good points that you do make when it is the same thing and the same names "win or lose".
Phil Walling
99
Posted 28/11/2014 at 17:31:03
Jimmy, I put in the 'almost' on account of Bobby apparently relieving Garbutt of his corner duties on account of aiming at the far post rather 'first defender' to set up a passing movement as he prefers it. He'd have looked a right tit if Distin's header had gone in so it wasn't going to happen again!
Tony Sullivan
102
Posted 28/11/2014 at 17:51:59
Sam Hoare (42),
Good ratings summary, particularly on McGeady and Eto'o, I think you got it just right.
Wayne Smyth
103
Posted 28/11/2014 at 18:04:49
For all the things about Phil that some of us don't like, I have to agree with his observation about Garbutt's corner. I thought the same thing myself when Mirallas took over after Garbutt's superb efforts nearly got us a goal.
Perhaps it was deemed that with the centre backs up for the corner, and two Wolfsburg players left up top, we needed someone with pace to guard against the counter.
I think the kid needs a lot more game time to improve his game and gain experience. If he can cope away to one of the best attacking teams in Europe and not look in the least bit out of place, then I think he has a very good chance of making it as a long-term first team regular. They also spent most of the game in our half, so I think he was kept busy enough.
I think the same applies to Browning who was equally as good away to RS and Man Utd, but has found himself with no opportunities since. I think there is no reason not to use them in the FA Cup as they don't seem far off the normal first team regulars in terms of quality.
Tony Sullivan
104
Posted 28/11/2014 at 19:27:37
Phil Walling (72) & (82),
Wise words I think, I remember rejoicing at half-time in the Istanbul European final, particularly towards the Reds fans in my family. Livid and red-faced in less than 75 mins.
On last night's game, congratulations to all who worked so hard, management, team and fans.
McGeady did have a number of poor touches but he worked his socks off defensively as many on here have recognised.
Same could be said about Eto'o, although many don't say it.
Phil Walling
105
Posted 28/11/2014 at 19:42:58
On the matter of corners, does anybody have a clue why those of Baines – a renowned free-kick merchant – have become so pathetic?
It can't really be a tactic, can it? Although Garbutt's removal from that duty after such a promising start makes me wonder. Or was it that Mirallas just 'claimed the right'?
Colin Glassar
106
Posted 28/11/2014 at 20:24:56
Phil, I think OFM placed a great amount on set pieces (which have always been the forte of British clubs) but Roberto, being continental, probably doesn't give a rats ass about set plays. He prefers beautiful goals like last night to headers.
Charles Cook
108
Posted 28/11/2014 at 21:17:13
Garbutt's corners were indeed a threat. There was a reference in the commentary about them leaving two up on our corners so I'm guessing Luke was pulled back for his pace / defensive abilities?
Tony Abrahams
109
Posted 28/11/2014 at 21:37:12
Whether Baines, or any other Everton player takes a good or bad corner, it's very poor the way we are set up to attack them. How many times do we put an attacker in front of the first defender? Never... otherwise, the first defender wouldn't clear every under-hit corner that we take.
Look at the goal Liverpool conceded the other night. A poor flat corner was flicked on at the front post and they scored.
Colin, the most important goal ever scored by a Martinez player was a header from a corner. How can you not care about set-pieces when they have won you an FA Cup Final at Wembley?
Philip Yensen
110
Posted 29/11/2014 at 01:13:07
Why is McGeady wearing an Everton shirt? Everything he did last night was a failure, even when he chased back, he ended up fouling.
I have not seen him have a good game yet. If you placed a plank on the pitch, he'd run up and fall off the end. No vision, no team skill, no positional sense.
Sorry, he is woeful and looks bewildered by getting a game. Back to Scottish or Irish football, friend.
David Greenwood
111
Posted 29/11/2014 at 08:28:21
Phil,
Am I reading your posts correctly? Are you suggesting that RM stopped Garbutt taking corners as he was worried that we were going to score from one? Really?
Maybe it was because Wolfsburg were leaving two up front at our corners and we needed a third defender back there. Mirallas or Garbutt as the third defender, I wonder why he chose Garbutt?
If I have misread this, apologies.
You also complain about the number of posters who feel the need to comment about the RS or OFM. Then your next post mentions the RS. Classic.
Maybe all the people who mention RS or OFM in their posts have got together and decided that when you stop mentioning Wigan in your posts they will stop...
Onto the Lane tomorrow, let's put this shower away. COYB
Gavin Ramejkis
112
Posted 29/11/2014 at 14:06:03
I took my niece for her first European away and first trip to Germany. We met a great bunch of lads getting the same flight as us out of Stansted; ironically they sit behind me in the Park End. Also on board was Bobby Elstone who they had met in the Hilton and he told them he had been chatting with the architect on the new stadium.
We flew into Hannover and then on to Berlin for the day, had a great time. Last time I was there, the wall was still up and, for my 23-year-old niece, the wall had never been up in her lifetime.
We spent time at the Gendarmenmarkt Christmas market, which was excellent, then headed back to the train out to Wolfsburg. The train was full of Blues from all points of the compass and some good banter going. We landed at Wolfsburg and a highly visible police presence but a sensible one with not an ounce of aggression or intimidation.
We then headed for the game, singing along with the swarms of Blues heading down the pedestrian route the short 15-20 mins to the ground. A bit of hassle getting into OST2, our entrance, with an over vigilant but painfully slow pad down of every single visitor which meant we missed the first 10-15 mins but we were in at last... Wow! Blues on three sides of the ground and loud as ever.
I had fallen ill in Berlin with a kidney infection so was worse for wear with a climbing temperature but even that didn't stem the shiver of a really cold night. Fortunately an on-tune Everton were able to snuff out what looked very predictable wave after predictable wave of Wolfsburg attacks and scored two great goals worthy of winning the game, the crowd went mental for both.
Leaving the ground and bumping into more familiar faces, like Billy Bradshaw and all his guys, and you just know you are part of some of the best and reliable travelling fans in the country. Sadly at this point my temperature was skyrocketting and I was fading fast, managed to get on the extra train that Deutsche Bundesbahn put on for Hannover and if anyone was on the train and saw a guy trying to sleep in a black fur coat with his niece holding his fedora then yeah that was me. Last time I had this type of infection, it put me in hospital on IV antibiotics for 5 days. Little did I know but shops in Germany aren't allowed to sell paracetamol, only chemists, so I was stuffed until I could get back to England on Friday morning.
We eventually got to Hannover airport around midnight and replicated all those Dortmund fans we had seen at Stansted on the day of our departure, crashed out wherever we could and grabbed a few hours sleep. Landed on Friday morning and was finally able to get paracetamol to hit the fever I had and then drive the 200+ miles home as carefully as I could.
Overall, the trip was magical – I was more than happy with a win against the team sitting 2nd in the Bundesliga and made for great memories for myself and my niece. I wish I hadn't fallen ill but now I have my painkillers and antibiotics so I'm hopefully on the mend.
Rob Halligan
113
Posted 29/11/2014 at 14:30:22
Bit of a fighter, then, Gavin!! You done well to see it through by the sound of things.
We flew from Liverpool to Amsterdam then took a 4.5 hour train trip to Hannover. I was a bit wary of time before we left Liverpool, bearing in mind how big Schipol airport is, because, had we missed the train, the next one was not due into Hannover until after 6. However, we made our train in plenty of time, stopping at a supermarket for few cans. I was surprised how many Blues were on our flight, and even more on the train, as loads had stayed in Amsterdam on Wednesday night.
Anyway, we arrived in Hannover with loads of time to spare, so, after a quick dash by taxi to our hotel then back to the station for the 4:30 train to Wolfsburg, we arrived in Wolfsburg at 5pm. Plenty of time to stop off for a pint.
Had a mega night back in Hannover afterwards which was just swarming with Blues. Done the same return journey, finally arriving back home about 11pm last night. An all-round boss trip!!
Gavin Ramejkis
114
Posted 29/11/2014 at 15:31:08
I was really impressed with our fans, Rob, there were two guys sat behind us on the train from Berlin, one was a German Wolfsburg supporter and with him his Danish Evertonian mate. They were sitting together in the home end, learned a lot about the Germans' view of each of the Bundesliga teams and stadiums and costs to stay over to see each – they baulk at anything over €20. Our supporters were on form. From the looks of Tony Bellew's photo on twitter, he was opposite us in the stadium.
---
Add Your Comments
In order to post a comment, you need to be logged in as a registered user of the site.
Or Sign up as a ToffeeWeb Member — it's free, takes just a few minutes and will allow you to post your comments on articles and Talking Points submissions across the site.
© ToffeeWeb