Crystal Palace vs Everton
Match Preview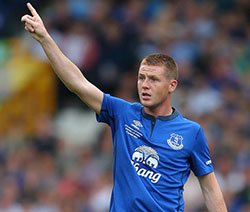 Will James McCarthy make his much-anticipated return to the side?
With the benefit of a week's worth of warm-weather training, team bonding and inward reflection, Everton return to action this weekend for a match that has assumed uncomfortable significance for the club's season as they hover over the escalating scrap to beat the drop at the bottom of the Premier League.
A trip to Selhurst Park to meet a rejuvenated Crystal Palace will not have been high on Roberto Martinez's list of optimal fixtures after the turgid stalemate against West Bromwich Albion in their last outing at Goodison Park, but it's chance for manager and players alike to show that they have the stomach to fight their way back to respectability in the League and then continue their fine form in Europe.
The Blues come into this fixture in 12th place in the table, a position that is deceptively comfortable if you ignore the four meagre points that separate them from the bottom three. Palace, like the Toffees' last opponents, West Brom, have already been forced into a change of manager this season and, yet, they will start the day level on points with Everton.
It brings into sharp focus just how poor Martinez's side have been this season and how urgent is the need to start putting points on the board, not least because the Merseyside derby and a trip to Chelsea loom around the corner.
With no new faces gracing a squad that is now a man lighter following Samuel Eto'o's departure from Sampdoria, the task of carving out what would be only a second win in 14 matches in all competitions falls to the same personnel whose bewildering underperformance has created such dire straits, albeit with perhaps one returning absentee.
Having been declared fit by his manager during the team's Qatar training camp, James McCarthy could make his long-awaited return to the team after missing the past month with a hamstring injury. The recurrence of the complaint and the stop-start nature of his season mean that the club's medical staff have been cautiously nursing him back to fitness but even if he doesn't make the starting XI, he will likely be in the squad.
Should he start, it throws up the question of who would make way in midfield given that Gareth Barry's place in the side seems impervious to form and Muhamed Besic has been growing impressively into his defensive midfield role playing in McCarthy's stead.
Given how willing and able the Bosnian was to get forward and link the play or take shots on goal where his teammates seemed shy, it would not be a surprise to see either Besic retain his place and be pushed slightly forward or for Barry to drop back into a central defensive trio between John Stones and Phil Jagielka.
In either case, Ross Barkley would be the likely casualty but there are plenty of Evertonians who feel the beleaguered midfielder could do with a break from the intense scrutiny that is visibly affecting his form at the moment. A chance to make an impact off the bench as he did against Manchester City eight weeks ago might be just what he needs.
Kevin Mirallas will also be assessed for inclusion after being withdrawn at half time against the Baggies for what his manager said was a hamstring complaint. The Belgian had also complained of pain in the ankle he injured against QPR in mid-December but he should be fit enough to play some part this weekend. Aiden McGeady would be the obvious candidate to deputise should he not make it.
The rest of the side will likely be unchanged, with Joel Robles continuing in goal in place of the injured Tim Howard, where he has been growing in confidence with each passing match, and Steven Naismith playing off Romelu Lukaku up front.
For their part, Palace, on their patch, will pose typically difficult opposition. Buouyed by the return of former player Alan Pardew as manager, the Eagles are unbeaten in six matches since losing at home to Southampton on Boxing Day and are in ominously impressive goalscoring form.
They put four past Dover in the FA Cup, beat Tottenham 2-1 and have won their last two games 3-2. In each of those last three games, they came from behind to win which suggests that even if Everton could get off to a quick start, their hosts will not be easy to to repress.
It is unquestionably going to be a difficult game but if the Blues can show the sort of spirit that almost saw them past West Ham with 10 men in the cup replay earlier this month, then a victory is not beyond them. Defeat, of course, would ratchet up the pressure on Martinez and further reduce his margin for error in a congested bottom half of the table.
Kick off: 3pm
Referee: Roger East
Full coverage: ToffeeWeb Match Reports
Reader Comments (119)
Note: the following content is not moderated or vetted by the site owners at the time of submission. Comments are the responsibility of the poster. Disclaimer
David Ellis
1
Posted 30/01/2015 at 06:07:48
Hopefully we will find it easier going (a) without a nervous crowd as at Goodison and (b) against a team that will probably have a go against us. A win would do wonders for morale however it is obtained.
Paul Andrews
2
Posted 30/01/2015 at 07:00:54
Hopefully we can get 3 points, although the main thing is to not get beat.
Can anyone recommend a good pub for before the game?
Darryl Ritchie
3
Posted 30/01/2015 at 06:53:42
I just hope that RM has come to the the same conclusion that everybody that doesn't wear brown shoes has come to. That conclusion is;
Multiple slow motion passes between our defenders and the keeper, near our own 18 yard box.....BAD!!!
Rapid movement upfield. Quick, touch passes in and around THEIR 18 yard box.....GOOD!!!
I also hope that while the squad was away, they worked on corners....at both ends of the ground. They better be up for it because Palace sure as hell will be.
Ian Bennett
4
Posted 30/01/2015 at 07:17:23
Bring me Sunshine, in your smile,
Bring me Laughter, all the while,
In this world where we live, there should be more happiness,
So much joy you can give, to each brand new bright tomorrow,
Make me happy, through the years,
Never bring me, any tears,
Let your arms be as warm as the sun from up above,
Bring me fun, bring me sunshine, bring me love.
Right they've had the sunshine, now give me the love.
Robles
Coleman
Baines
Jagielka
Stones
McCarthy
Besic
Mirallas
Naismith
Oviedo
Lukaku
Clive Mitchell
5
Posted 30/01/2015 at 07:33:23
Tough match. It will tell us a lot. I'm not sure RM can survive defeat.
Mark Andersson
7
Posted 30/01/2015 at 07:52:36
Nice preview, Lyndon, as always. I really can't see the hopeful light at the top of this dark hole we dug ourselves in. However, football is a funny old game.
I would still like to see another manager brought in as I don't believe Martinez is the right man. I was one of his biggest fans last year. His inability to change and the dire form of late plus his ridiculous match reports have revealed that Bill got it wrong.
Good luck to all you proper Evertonians who make the journey.
Ajay Gopal
8
Posted 30/01/2015 at 08:24:39
Ian, that is the team I would like, provided McCarthy & Mirallas are fit.
Subs: GK, Distin, Garbutt, McGeady, Barry, Barkley, Kone
Tony Hill
9
Posted 30/01/2015 at 08:33:30
I see Mirallas is still being linked with Tottenham.
Palace will obviously look to come straight at us and our defence will be key. I'd be tempted to play all 3 of Barry, Besic and McCarthy for at least the first hour to keep us as tight as possible in midfield, leaving Naismith out.
We can look to counter throughout and/or open things up a bit with Kone/Naismith after 60-70 minutes. 1-0 will do very nicely.
Adam Luszniak
10
Posted 30/01/2015 at 08:35:11
Do we even dare to hope we might get back to winning ways? I don't even care if we don't play that well, we need to start building momentum that will carry us up the table a bit.
Norman Merrill
11
Posted 30/01/2015 at 08:42:08
We enter a five-match period in which we need to be a 100% better than the 5 games ending 2014.
The time away in the Middle East hopefully, has helped the lads to start playing as a team. I hope Roberto, has decided his formation, because, we cannot go on with round pegs in square holes. It's time for change, before it's too late.
Richard Lyons
12
Posted 30/01/2015 at 08:49:55
If this were still the Moyes era, Distin, McGeady and Barry would all be definite starters... and we would probably lose the match. I have a horrible feeling that Bobby's hair is starting to turn red as well...
Phil Walling
13
Posted 30/01/2015 at 08:46:59
I suspect Mirallas will want offski but not before his fragile frame fails any kind of fitness test for this game.
BK may well have put a block on transfers pending decision on Roberto's fate so it will be left to those who have so disappointed to turn the tide.
Barry will, no doubt, return at the expense of Besic but Bobby's pleasure of the performance against Baggies will see us pretty much unchanged.
My gut tells me we are due at least a point – although, as ever, I've backed us to win! The downside of that, of course, would be another few weeks of Bobby's bullshit but the point(s) are more important!
Tony Abrahams
14
Posted 30/01/2015 at 09:26:27
If we score and they don't score, then Phil's score will be worth 㿞!
Looking forward to tomorrow, not much better than getting on the train at Lime St, and going to watch my team in the Capital.
A scrappy win will do for me, but it's more imperative we just don't lose.
Ray Roche
15
Posted 30/01/2015 at 09:35:04
Tony Hill, yes, that's been rumbling on for a week or so now, still, it's very decent of that Mr Levy to offer us a straight swap, Mirallas for Lennon, isn't it? He must be as nice a chap as that Nigerian Prince who's looking after all my money, and not charging me a penny to do it, either.
Max Wilson
16
Posted 30/01/2015 at 09:32:03
It's all been said above. Ian (#4) still wants a Championship player in attacking midfield, which may mean that once again Barkley is moved out of position to accommodate him. Both McGeady and Naismith should be on the bench until someone breaks a leg. We are tipped to draw by RS Lawro (Shit Shirts).
We're 4 points above the drop zone, 5 wins behind the RS. We are a top striker down with Kone mooted as just as good. So, it's gonna be difficult to feel optimistic.COYB
Denis Richardson
17
Posted 30/01/2015 at 09:49:27
An the count down begins... can we get one victory in the month of January?
Joe Clitherow
18
Posted 30/01/2015 at 10:01:30
Right, bollocks to Martinez, 3 pts are there to be taken. This is Crystal Palace and Pardew we are going against, not Barcelona and Guardiola. We have better players than them and the only ones who will decide if we win, lose or draw are the 11 we put out on the pitch. If their heads are right we will win, if they decide to lose, we''ll lose. Over to you.
Milos Milenkovic
19
Posted 30/01/2015 at 10:12:09
So Mirallas to win a penalty and Baines to score in the 90th minute ;)
Laurie Hartley
20
Posted 30/01/2015 at 09:50:18
What the club needs at the moment is fighters. That being the case Besic would be my first name on the team sheet. If he doesn't start it will be a disgrace.
Coleman,
Stones,
Jagielka,
Baines
Besic,
McCarthy,
Barry,
Oviedo,
Barkley
Lukaku
Mirallas, McGeady, Naismith, Distin, Kone.

Laurie Hartley
22
Posted 30/01/2015 at 10:29:12
Suppose I better put a goalie in - let me see
Robles
Bob Heyward
23
Posted 30/01/2015 at 10:26:55
Well said Joe! That's the spirit. I expect 3-points and a strong performance. Anything lower is sub-standard. We're playing Palace, not Barca.
John Keating
24
Posted 30/01/2015 at 10:31:15
Lyndon
regarding our "fine form in Europe"... We have 5 London games left this season and they should be the closest we actually get to Europe.
Hopefully after the Young Boys games, the remainder will be the nearest we get.
Dave Abrahams
25
Posted 30/01/2015 at 10:39:55
I'm relying on the fantastic away supporters to shout Everton to a much needed and vital win tomorrow.
Sam Hoare
26
Posted 30/01/2015 at 10:58:05
Team selection seems pretty clear to me presuming McCarthy and Mirallas are fit:
Robles
Coleman Jagielka Stones Baines
Besic McCarthy
Mirallas Barkley Oviedo
Lukaku
Lose this one and surely Martinez will be teetering on the precipice....
John Keating
27
Posted 30/01/2015 at 10:58:34
I think Roberto must have landed on his head. The spoutings out of his mouth so far this season have been phenomenally stupid, however, he's just uttered the first sensible thing he's said since the Leicester game.
Unlike a number of posters on this site, Martinez has refused to blame injuries on the shite we've witnessed thus far! I totally agree with him 100% – first time this season!!
Ross Edwards
28
Posted 30/01/2015 at 11:15:19
Sam, you know full well mate that Barry is a guaranteed starter no matter how badly he plays. Besic will be out, I guarantee it.
Ross Edwards
29
Posted 30/01/2015 at 11:16:52
Lose this and Martinez is a foot nearer that door.
Denis Richardson
30
Posted 30/01/2015 at 11:15:11
Sam - RM's not going to drop Barry, he'll play alongside McCarthy with Besic sitting on the bench.
If Oviedo starts on the bench with one of Barkley, McGeady or Naismith starting out wide again, I'll.....be very annoyed...
Phil Walling
31
Posted 30/01/2015 at 11:40:43
How does Barkley merit a place on recent form? Development is one thing. Points quite another.
James Stewart
32
Posted 30/01/2015 at 11:45:49
No Bolasie for them which makes them drastically weaker as he always kills us. Still I just can't see 3 points happening here. Draw written all over it.
Charlie Gibson
33
Posted 30/01/2015 at 11:25:34
This is the definition of a must-win.
Roberto could be out the door by Sunday morning. I still think he can turn this around, but fear I will lose all confidence in the man if we don't win this - particularly if it's another drab performance devoid of any creativity.
Come on Bobby. Now or never.
Nick Page
34
Posted 30/01/2015 at 12:03:45
This has got Middlesboro away 2002 all fecking over it for me. Expecting a totally rudderless performance by a confused team, with no shape gripped by fear. I refuse to succumb to the optimism.
Daniel A Johnson
35
Posted 30/01/2015 at 12:22:49
Bit worried about the "Ideal preparation" in Sunny Abu-Dhabi only to come back to a cold wintry Selhurst Park, with a cut-up pitch and a fired-up Palace managed by Mr "Anger Management" Pardew. It will be a bear-pit and Pardew will have ear-marked this fixture as 3 points in the bag.
Fingers crossed we won't get slaughtered.
Kevin Rowlands
36
Posted 30/01/2015 at 12:33:45
They're missing Bolasie and Jedinak which is good news for us. I hope and think we'll win this; we definitely owe them. In other news, I see Costa lost his appeal and will also miss our game... things are looking up already!
Ross Edwards
37
Posted 30/01/2015 at 12:54:26
But Kevin, remember Southampton? When we played them a few weeks ago they had 4 or 5 of their best players out and they still beat us.
I just hope by some miracle that the Everton of last season or the European version turns up tomorrow.
Palace seem to do well against us recently. The last thing we want is Pardew to beat us twice in 6 weeks with 2 different clubs.
Vinny Garstrokes
38
Posted 30/01/2015 at 13:22:11
I just happened to be at my mother-in-law's when Bobby's press conference was on Sky yesterday and she said "It looks like the sparkle has gone from those lovely brown eyes"!
John McKie
39
Posted 30/01/2015 at 13:12:19
Given our run of fixtures, which if memory serves me right is as per the below, we simply have to pick something up at Palace.
Palace (a)
Liverpool (h)
Chelsea (a)
Leicester (h)
Arsenal (a)
Stoke (a)
Honestly, and trying to be an optimist, I can only see draws tomorrow, against Liverpool and against Stoke. With a home win against Leicester. Costa or no Costa, don't fancy us against Chelsea and I think Arsenal have too much pace for our back line. That would put us on 27 points from 26 games. Not great but only 13 off the safety mark, with 12 games to play.
Right now, I think I would take that. Depressing to even say that, that I will accept 6 points from 18 and 2 wins out of 19 games in total (by that point) but reality is, we just need to stay up this season. Nothing more. Then rebuild in the summer, possibly with a new man at the helm (Howe? McClaren? Laudrup?).
Fingers crossed. Get at them tomorrow with pace and we really do have a chance, as their defence is just massive and slow. Natural width for me, so I would go with
Robles
Coleman Stones Jagielka Baines
Besic McCarthy
Mirallas Naismith Oviedo
Lukaku
Don't think Naismith has played particularly well but Barkley has been worse and in a game that will be a bit of a battle, I suspect Naismith will be more up for the fight.
That's my mental rant on a page over!
Colin Malone
40
Posted 30/01/2015 at 13:53:22
If Palace behave like West Brom, I know sounds nutty but I would put Distin on instead of Kone, purely for his height.
Bob Heyward
41
Posted 30/01/2015 at 14:40:07
It will be interesting to see if Kev plays – perhaps a signal to a late sale. I don't think anyone doubts that, under the current regime, he's going to walk.
As for the rest of the lads, I think the performance will be telling. A poor display with little passion will tell us a lot about their state of mind in playing for Martinez.
Finally though, let's not allow this game to be conflated by some into a Barca style encounter. It is Palace with Pardew. On paper, we should smash this. Anything less, even a one-nil win, is below par. After all, if this squad, one of the most powerful in decades, struggles against Palace, the game is up.
Brian Harrison
42
Posted 30/01/2015 at 14:41:59
Surely we have to start with a 4-3-3 formation with Besic, McCarthy and Barry in midfield, with Mirallas, Lukaku and Naismith playing in a narrow 3 and make then interchangeable. This would allow Baines and Coleman to get into wide areas when appropriate.
We cant afford to lose tomorrow so I would try and keep it tight and hit them on the break.
Steven Telford
43
Posted 30/01/2015 at 14:47:37
Positive Expectations. I can't remember what they look or feel like anymore.
What's it going to take for this clown to realize that, in terms of style and tactics, we are the most predictable team in the league?

Victor Jones
44
Posted 30/01/2015 at 14:17:36
It's no secret that I want Martinez out (never wanted him at Everton in the first place) and last season did not convince me much either. I can only speak for myself, but although we dismantled a few teams, we were also lucky to win a few games. Example being the wins over West Ham and Cardiff City at Goodison Park. Had those teams taken their chances, it would have been a different story. There were other games as well. I am maybe being too critical, but I want to see Everton play a certain way, and that has not been happening for almost a year (not just in recent months).
In saying all that, I want Everton to win tomorrow. And I want them to go on a run of wins that takes them clear off the rubbish at the bottom. That is not a conflict of interest. Everton come first at all times. And if that means that Martinez stays at Everton, then so be it.
Although like everyone else I want Martinez to be flexible and from somewhere deep down within him, I want him to change his style. Say when things go wrong, say that he will change things, stop talking crap about not defending and not practising set pieces, stop building up opponents. And just for once say it as it is, No more Bullshit. That stop now.
Time will tell on everything. Can Martinez change?? Here's really hoping that that break has worked. And that Everton can get back on track. As stated on here, we are only playing Palace, not Barcelona. Here's hoping that Martinez and Everton show them no respect, and go for them. No more crap. No more excuses.
Last comment, the team selection should be a guide to Martinez's thinking. We are all crying out for Oviedo to start and bring some balance to the team (and I actually like Oviedo). But does our Manager? Right now I think I would take a 1-0 win. The pretty football can wait until we are safe. Be tight, make no silly mistakes. COYBS.
Brian Hennessy
45
Posted 30/01/2015 at 15:24:28
Like many have posted here, I would like to see Besic, McCarthy and Oviedo play tomorrow, with Barkley dropping to the bench.
But knowing RM it will be Barry, McCarthy and he will probably stick with Barkley.
On another note some good news, I see Costa will be banned for our game against Chelsea.
Ross Edwards
46
Posted 30/01/2015 at 15:33:49
Let's be honest here, surely the fact that the fans could predict what the team is every week is an indication that we need a change? Doesn't it flicker in Martinez's mind that if a layman like me can name his teams correctly in most weeks, surely managers like Pardew can do the same. No?
Incidentally I will have a go:
Robles
Coleman Stones Jagielka Baines
Barry McCarthy
McGeady Mirallas Barkley
Lukaku.
Brian Hennessy
47
Posted 30/01/2015 at 15:39:29
I would second that preference Brent, the last 5 comments is usually what I go to first when there isn't a new headline since I last visited the site.
Mike Gwyer
48
Posted 30/01/2015 at 15:28:07
Getting pig sick of all the shite that Martinez is spewing out and just for a second can the guy stop being so fucking nice, I mean it's starting to get like an epidemic, as most of our team are playing like total bitches.
I want a hard bastard manager, a total twat in the middle of the park and some fucker up front who will kick the shit out of the likes of Skrtel. Chelsea paid 㿌M for Costa and we paid 㿈M for Lukaku, now tell me who got best deal.
I can't take much more of this club being so fucking good, we need to put it about on the pitch and our manager needs to start telling some of our players to fuck right off or start playing like they want to wear this jersey.
Karl Graham
49
Posted 30/01/2015 at 15:45:01
Team I would play assuming everyone who is expected to be fit is.
Robles
Coleman Stones Jagielka Baines
McCarthy Besic
Mirallas Barkley Oviedo
Lukaku
Griffiths Hibbert Alcaraz Barry McGeady Naismith Kone
I would then like him to be proactive with his subs by bringing Naismith and McGeady on at around the 60 minute mark to give us fresh impetus.
However I fully expect Barry and Naismith to start in place of Besic and Oviedo. Any subs will be too late if recent history says anything.
Mike Price
50
Posted 30/01/2015 at 15:45:48
Mike #53 Couldn't agree more. Lukaku, in particular, should hang his head in shame, he is much more physically imposing than Costa, but you're right, he's like every centre backs bitch!
He's supposed to watch 20 games a week or something, and study strikers. His touch is bad and he needs to work on that, even though I think that it should be there at his age, but his lack of aggression and nastiness is inexcusable for me. If he came out with Costa's attitude he'd be 10 times more effective.
Peter Barry
51
Posted 30/01/2015 at 16:06:13
Just how many 'pivotable' games can one team have.
Col Wills
52
Posted 30/01/2015 at 15:44:51
Hear, Hear, Mike Gwyer!
I want to see the players snapping and snarling, contesting decisions, closing down from the front, marking tight from corners and attacking the ball at corners.
Make no bones about it, we will need to show some mettle down at Palace. The captain needs to lead by example and get into the Ref's ear.
I have no fear about Besic and McCarthy doing it, but the likes of Barkley (too nice by far), Lukaku (ditto), Coleman, Stones and Mirallas need to show us more of their battling instincts from now until the end of the season.
Just talent isn't enough in the Premier League, its time for the 'team' to show big balls for 95 minutes.
Andy Meighan
53
Posted 30/01/2015 at 16:53:14
My heart says comfortable win, good performance, nice 3 points... but my head says Nick Page (#37).
Paul Kennedy
54
Posted 30/01/2015 at 17:54:19
He needs to go now!!!!

Colin Grierson
55
Posted 30/01/2015 at 18:15:41
If the players don't come flying out of the traps tomorrow, then the writing is on the wall. Eto'o, if he was a bad influence, has gone. The manager is under more pressure than Moyes ever was and NEEDS a performance from his players.
After his foolish comments yesterday, I can't see him surviving a defeat. 1 win in 14 is surely curtains for any manager. During my defence of him, I was asked by one of the staunch anti-Bobby brigade, "If not now, then when will you concede he has to go?" My response: "If he hasn't won a game after the Palace game then he MUST go as his record will then be indefensible."
I still want him to succeed. Last chance saloon for me though.
John Gee
56
Posted 30/01/2015 at 18:24:37
If we play players in their proper positions and prepare them properly, then we should get a proper result.
I hope I'm wrong but talk of this as his watershed moment is wide of the mark. We've had the same issues all season. If he could turn it around, he would have done it already.
I'd bite your hand off if you offered me staying up on goal difference. I can't see BK sacking him until it's too late.
James Marshall
57
Posted 30/01/2015 at 18:30:49
I haven't read the thread so don't know the general consensus, but I have a feeling we'll get stiffed again tomorrow.
Palace are flying under Pardew and we're unlikely to be radically different from recent games, IMO.
A nice holiday in the sun ain't gonna change much, is it?
Lee Boylan
58
Posted 30/01/2015 at 18:39:37
Ian, that's the team I'd go with. Give them a run of games and I reckon we'd start climbing up the table.
Colin Glassar
59
Posted 30/01/2015 at 18:43:00
Palace are our bogey team. I'll accept a draw, at least, tomorrow.
Dave Lynch
60
Posted 30/01/2015 at 18:41:19
Speaking to a Palace mate, he thinks we are made for their style of play.
They will push on hard and stifle us; he reckons we don't have the fight for their physical capabilities and high-tempo game.
Sorry I rang the bastard now... but can't argue with him on any point.
Steve Cotton
61
Posted 30/01/2015 at 18:51:44
I do the Sky Super Six predictions each week and have just realised that the reason I am not even getting close is that I always put us down for a win...
Or I could be the Jonah causing this, I will put us down for a 2-0 loss tomorrow to see if that helps...
Steve Cotton
62
Posted 30/01/2015 at 18:57:03
If Barry gets booked, he misses the next two, ie, Liverpool and Chelsea, as he will have 10 bookings already this season. I would save him for the Shite game then...
Kevin Rowlands
63
Posted 30/01/2015 at 18:59:48
I really hope we score early and dominate because, is it me, or is that singing they do through the WHOLE game annoying as hell? Let's shut them the fuck up early, please.
Plus I hate that smug twat, Pardew. Please, Everton, let us enjoy a fucking game tomorrow for the first time in months!
Eddie Dunn
64
Posted 30/01/2015 at 20:49:57
Hey, Wolfsburg are 3-1 up on Bayern, so maybe we ain't so bad.
COYBS

John Malone
65
Posted 30/01/2015 at 20:43:11
Just stop talking shite and find a way to win the fucking game, Roberto!
No-one gives a toss about style or possession at the minute – we just want to create chances and score goals and take three points every week... it's not rocket science!
I have lost total faith in this manager one win in 13 games is a disgrace a pub teams record!
With no Bolasie, I'd go 3-5-2 with:
Robles
Stones, Jagielka, Distin
Coleman, McCarthy, Barry, Baines
Naismith
Lukaku, Mirallas
Shit or bust!
Guy Hastings
66
Posted 30/01/2015 at 20:58:54
My lad writes the opposition analysis for the Palace fanzine 5-Year Plan. House divided etc but worth a look (says dad) for how other fans see us.
Keith Meakin
67
Posted 30/01/2015 at 20:56:52
Last three games v Palace has earned us a massive one point; they are playing well we, are playing crap. Martinez has no creative midfielders as Osman & Pienaar are injured and Mirallas is going (probably), leaving Boy Wonder who has lost his sparkle and needs benching.
I can't believe people still think we can easily beat Palace, I would've thought on recent form the Palace fans will be looking at this game as a banker. Everton are 25/1 to be relegated with PaddyPower and I think BK has staked all he's got on that outcome so he can finance the new stadium.
Mike Burns
68
Posted 30/01/2015 at 21:17:54
I remember in January 1997-98
winning at Palace 3-1
with Mick Madar scoring in Howard's last reign. That match came at a time of semi crisis, and if we hadn't won, we would have gone down as things panned out.
So here's to a win tomorrow – if the ramshackle class of 98 can do it, surely this team can!
Fintan Spode
69
Posted 30/01/2015 at 21:30:10
Need to win this but we can't do it by changing RM style of play. We made our bed when we chose RM so it is tippy tappy or nothing.
Will Firstbrook
70
Posted 30/01/2015 at 21:47:53
Guy @66 - I think that assessment is spot on, save for one observation: " ... often savvy Bill Kenwright".
Frugal, yes. Savvy?... eh, not so much.
Will Firstbrook
71
Posted 30/01/2015 at 21:54:08
I still believe that one thing we have going for us tomorrow is Pardew's arrogance. Knowing that soft bellend, he will be licking his smug lips at the prospect of giving us another "footballing lesson" by cutting his charges loose. That strategy would most definitely be to our advantage.
Here's hoping that fart sack doesn't disappoint!
Ross Edwards
72
Posted 30/01/2015 at 21:51:18
The only real barrier stopping Martinez going is the 5-year contract he signed. Now, obviously we probably can't afford to pay him off but as we know, contracts don't mean much, as Liverpool can testify re Suarez.
One possible theory is that BK and the board are reserving as much spare change as they can muster as compensation money for summer in case we do decide to get rid.
Just a theory. Probably utter rubbish. Who knows? No one knows what is happening at this club these days.
Colin Glassar
73
Posted 30/01/2015 at 22:03:25
Remember when he said, "we are in another league compared to Everton". Well? Payback time I think.
Laurie Hartley
74
Posted 30/01/2015 at 21:59:38
Phil @ 31 – you are quite right about Barkley: he doesn't deserve a start on current form. My thinking was, however, that he is the one person most likely to score from outside the box.
Somebody has to pull a rabbit out of the hat against Palace. He might just be the one to do it.
Ray Roche
75
Posted 30/01/2015 at 22:05:04
There are two managers I can't stand in the Prem... Pardew and whoever manages Liverpool. Pardew is the tool who declared, when Newcastle manager, that Newcastle "operate in a different league" to Everton.
Yeah... not so long ago it was the Championship. An arrogant bellwhiff who needs to remember what stone he crawled out from under. Twat.
Tony Abrahams
76
Posted 30/01/2015 at 22:15:03
Oh me darling Mick Maddar!
Also won 3-1 when Moyes went to five in midfield, that started our run into the Champions League places.
Put an extra flim on that, Phil, you might double your money!
Jim Hardin
77
Posted 30/01/2015 at 20:15:31
For those wishing for Besic to start since he is the new saviour of the squad, go to Squawka.com and go to the stats central and put in Barry, Besic and McCarthy for 2014-15 season.
If I am reading the stats right, it is clear that Besic is the least effective of the three. His defensive stats are not nearly as good overall as those of Barry. Offensively, again McCarthy and Barry individually are better overall, except for backward passes.
As a duo, Barry and McCarthy work well together and when you need cover and solid play should be started together. Besic can come in as a late sub when fresh legs are needed along with a probable yellow card. A suggested line-up of
Robles (no other choice)
Baines Jagielka Stones Coleman
Barry Barkley McCarthy
Oviedo (Left) Lukaku (Striker) Mirallas (Right), and Kone, Besic, Garbutt, Naismith, Browning, Gibbo, Stanek on the bench.
Having said all that, watch RM trot out a weird Wigan-like formation with players out of position and three backs.
Eddie Dunn
78
Posted 30/01/2015 at 22:37:43
Pardew is a wanker and I really hope the lads can get it sorted and screw that complete tosser in front of his neanderthal, constantly singing and drumming (a pet hate) fans.
Please Bobby, give us something to cheer about tomorrow.

Will Firstbrook
79
Posted 30/01/2015 at 22:51:18
A greying minge, Colin. Nothing I'd love to see more tomorrow than watching him choking on his lever lips! COYB!!
Brian Hennessy
80
Posted 30/01/2015 at 22:55:59
Jim@77 – I'm sorry but I don't care what the stats say, Barry has been utterly terrible for most of the season.
His pass stats might be better than Besic but only because Barry usually passes to the nearest player where Besic would be a bit more ambitious.
For me I think Besic has done enough to merit a start alongside McCarthy, plus Barry could do with being dropped for a few games and see if he improves when given his next chance, but I can't see RM doing so.
Ross Edwards
81
Posted 30/01/2015 at 23:08:19
Lies, damned lies and statistics. You could make up any stat to defend Barry. He has made 45% more teas and coffees for Roberto and Graeme Jones than Besic, therefore he should start tomorrow.
http://www.theguardian.com/football/2015/jan/30/Roberto-Martinez-Everton-battle-relegation?CMP=share_btn_tw
He's twigged it at last. He's finally realised that we're in trouble. Maybe he's been reading these threads!
Ross Edwards
82
Posted 30/01/2015 at 23:12:09
Although his quotes come across as very Moyes like in my view. It reeks of 'Let's get to 40 points and go from there' to be honest.
Mark Frere
83
Posted 30/01/2015 at 23:06:39
Jim(77), If you want rely on 'Squawka.com rather than the evidence of your own eyes then that's up to you! But don't try and impose your bullshit stats onto the rest of us! It's patently obvious to everyone with a bit of footie nous that Besic has been one of the few consistent performers this season. Surely all of the Goodison faithful couldn't have been wrong when booing Martinez's decision to substitute him against West Brom. We need characters like him who give their all and have a 'never say die' attitude. They're a dying breed in our side at present.
My team to face Palace:
Robles
Coleman Jagielka Stones Garbutt
Besic McCarthy
Mirallas Barkley Oviedo
Lukaku
Simon Temme
84
Posted 30/01/2015 at 23:10:15
Will@71 Fart Sack.................LOL. brilliant, Colin@73 Spot on mate.
Pardew is a total no mark of the first order, "Expansive football" my arse. As karma comes round and it does (however long it takes) he and his small London club will be back in the lower divisions where they belong.
Personal predjudices aside, as Peter@51 says "How many more pivotal games can we have?" Well, lose this one and we all know what awaits.
Firstly safety, then a new manager please; if not, then a new manager please.
Kevin Rowlands
85
Posted 30/01/2015 at 23:55:41
Got a good feeling about tomorrow, we are gong to spank them, you heard it here first!
James Marshall
86
Posted 31/01/2015 at 04:18:27
I must be the only Evertonian who likes Pardew! He has balls, and dares to piss people off unlike our dull-as-dishwater last two managers who are either dour as hell, or full of too much over inflated enthusiasm.
At least Pardew's teams have some balls in the mould of their manager. It's like hating Diego Costa for getting stuck into people, when all I see is a quality player who's a throwback to an age of proper footballers who rough up opponents, get under peoples skin, wind them up, scores goals and gets results – Evertonians want our players and managers to be mouthy, in your face types, but when others do it they all hate it? Huh?
Someone like Pardew is exactly what we could do with right now and he's just one of so many reasons I fear we'll get pumped again tomorrow.
As I so often say on here – I'm usually completely wrong about football results, so fingers crossed eh!
David Smith
87
Posted 31/01/2015 at 04:24:59
I've got a bad feeling about this one, I fear we'll get battered – did anyone see them beat Spurs the other week? They were superb. This could be the final nail in Martinez's phenomenaly poor season.
Laurie Hartley
88
Posted 31/01/2015 at 06:09:19
James @ 86, I don't particularly like Pardew but I will give him credit for one thing - he backed himself.
Leaving Newcastle for Palace when he did took a bit of nerve in my opinion. Let's hope his punt isn't further vindicated against us.
On the Barry v Besic thing - I would like to see them both in the team as well as McCarthy. The thing the three of them have in common is they can look after themselves and the rest of the team. That is what is required at the moment and that is definitely what will be required in this game.
John Keating
89
Posted 31/01/2015 at 07:18:14
Jim 77
I reckon if there is one thing we can take out of this season are that stats are phenomenally shite !
Unfortunately that's part of Martinez' problem as he only appears interested in fucking stats !
We would be top 4 if we won the stats league
It's pointless having 70% possession and hundreds of passes more than the opposition if you don't win - and don't we know !!
Mark Dunford
90
Posted 31/01/2015 at 08:37:24
As someone living reasonably close to Selhurst Park, I can say that there is a chance this match will be postponed. I've just got up to see quite a heavy snowstorm and it is fair to say that things tend to grind to shuddering halt round here when the snow falls. It is sticking and it is a question of how long it continues to fall. It may well stop, but the sky is very grey. I'd advise people to keep an eye on sites to see if this gets any worse and get to the ground as early as possible so allow extra time for delays on trains to Norwood Junction. The train service is dreadful at the moment with lots of cancellations.
Dave Abrahams
91
Posted 31/01/2015 at 09:04:27
Thanks Mark for the warning, I've just rang my son and two grandsons, too late they have already gone as I suppose have thousands of other Blues.
Mark Dunford
92
Posted 31/01/2015 at 09:24:44
Snow has now stopped but has stuck. Best to keep an eye on weather reports and allow time for delays on the crap local trains.
Looks like we're on. Tricky fixture. Palace fans are buzzing with optimism and - hate to say it - but they see this as an easy three points. We'll need to defend with more discipline than we've shown so far this season. Oh, and please play the ball in front of Lukaku......he'll score then!
Brian Waring
93
Posted 31/01/2015 at 09:45:12
Trying to find where I read it, but supposedly McCarthy didn't travel down with the squad.
Phil Walling
94
Posted 31/01/2015 at 09:25:09
So hope that the weather doesn't prevent this game being played as I see it as possibly the turning point as far as the present run is concerned.
Pardew has half a dozen of his squad unavailable and we are certainly due a win. Such a result would remove Roberto's head from the block but, more importantly, would take us nearer to safety.
So pile on the Blues with 2-0 in our favour the likely outcome.
Nigel Gregson
95
Posted 31/01/2015 at 10:50:44
There's no snow at the moment, but I live about 10-15 miles away.
Mike Childs
99
Posted 31/01/2015 at 12:46:13
I too don't understand the stick for Pardew anyways that aside I was leery when they said Jimmy Mac would be back this week. To bring him back is needed but if he isn't fully fit he will throw himself into an all out 50 yard challenge and be lost for the rest of the year.
I have felt more confidence against the likes of the money boys than I have today. Hopefully I will be surprised today.
As the saying goes even a blind squirrel finds a nut occasionally. The manager certainly has blind spots.
Colin Glassar
100
Posted 31/01/2015 at 12:58:43
I'm with you Phil, sooner or later we have to win a game, don't we?
Ray Roche
101
Posted 31/01/2015 at 13:30:13
Just checked the traffic cameras for south London, doesn't appear to be any snow at all.
Roman Sidey
102
Posted 31/01/2015 at 13:05:02
Jim Hardin, appreciate your research, but stats can be very misleading, and stats correlating to a player's contribution to a losing team aren't exactly tangible. What those stats don't show is how often Besic and McCarthy have partnered each other in midfield, or how terrible Phil Jagielka has been, or how our attackers have "done an Arsenal" and decided the most effective way to score is to pass it around the box.
Besic's stats aren't going to be pretty, but the mongrel he brings to midfield, for me, isn't something you can really measure.
What I know about today's match:
If Besic doesn't start, RM has lost the plot.
If Oviedo doesn't start, RM has lost the plot.
If Baines is still taking corners, RM has lost the plot.
If the fullbacks don't make runs and put in crosses, RM has lost the plot.
If Kone isn't sold and replaced with anything more animated than a mannequin, RM has lost the plot.
If Mirallas doesn't start, RM has lost the plot and the club is in a very bad situation.
More chance of getting a nine letter word on countdown than having all of the above pan out, I think.
Kevin Rowlands
103
Posted 31/01/2015 at 13:31:50
Brian, it's now on quite a few twitter timeliness that McCarthy hasn't traveled... Didn't we get told he was fully fit again the other day? Oh well it looks like Besic and Barry again.
Ray Roche
104
Posted 31/01/2015 at 13:57:06
Kevin, I wouldn't believe anything that Martinez says anymore.
McCarthy fully fit? But hasn't travelled? FFS, what's going on in our club..
Ray Roche
105
Posted 31/01/2015 at 14:04:12
Robles
Stones
Jagielka
Baines
Coleman
Besic
Barry
McGeady
Mirallas
Naismith
Lukaku
Ray Roche
106
Posted 31/01/2015 at 14:05:38
Subs: Barkley, Distin, Griffiths, Kone, Gibson, Alcaraz, Oviedo.
David Harrison
107
Posted 31/01/2015 at 14:08:45
How does Oviedo not get on in front of McGeady?
Phil Sammon
108
Posted 31/01/2015 at 14:12:13
Was just about to say the same, David.
Max Wilson
109
Posted 31/01/2015 at 14:08:23
Not happy, sorry. 9 good men and Barkley on the bench because he doesn't play well out wide to accommodate Naismith. If we win this, I shall be amazed. No McCarthy – not even on the bench.
James Marshall
110
Posted 31/01/2015 at 14:15:10
It's the right lineup apart from McGeady.
Oliver Molloy
111
Posted 31/01/2015 at 14:18:38
Ray Roche @ 106...
Maybe he's off to Spurs!
Colin Williams
112
Posted 31/01/2015 at 14:24:24
To start Naismith instead of Barkley in the No 10 position shows the manager is a fecking "top grade clown".
Ant Summers
113
Posted 31/01/2015 at 14:27:06
McGeady... WTF?
James Marshall
114
Posted 31/01/2015 at 14:28:22
Is there a live forum today? I'm in a bar in Bangkok watching Hull get pumped. Great news.
Clive Rogers
115
Posted 31/01/2015 at 14:32:02
Sticking with Plan A...
Mark Frere
116
Posted 31/01/2015 at 14:31:56
James, there's always a live forum... it's at the top of your screen. You can visit it any time you want not just on matchdays.
James Marshall
117
Posted 31/01/2015 at 14:35:04
That Hull result really puts us 5 points clear of the relegation zone with our goal difference.
James Marshall
118
Posted 31/01/2015 at 14:39:08
Mark, I'm on my phone and since the site update I can't see the live forum link. Can you post it here please?
Mark Frere
119
Posted 31/01/2015 at 14:42:45
http://ToffeeWeb.com/comment/live/
Ray Roche
120
Posted 31/01/2015 at 14:43:21
Oliver#111
Don't say that, not even as a joke.
Colin Williams
121
Posted 31/01/2015 at 14:42:12
Ross#123... Does that" technically inept "Naishit deserve his place??

James Marshall
122
Posted 31/01/2015 at 14:44:11
Cheers Mark
Mike Childs
123
Posted 31/01/2015 at 18:18:57
While Kevin has been one of our more valuable players if he moves on it would open up a spot for Oviedo which would be a good thing in my mind.
I'm getting a bad feeling that we do not know anything about Jimmy Mac's injury. He brought him back early twice.
Lesley Evans
124
Posted 31/01/2015 at 19:09:55
A great win.
---
Add Your Comments
In order to post a comment, you need to be logged in as a registered user of the site.
Or Sign up as a ToffeeWeb Member — it's free, takes just a few minutes and will allow you to post your comments on articles and Talking Points submissions across the site.
© ToffeeWeb