Everton vs Sunderland
Match Preview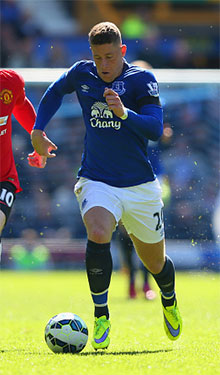 Ross Barkley could be recalled for the visit of Sunderland
(Photo by Alex Livesey/Getty Images)
Everton play their penultimate home match of the 2014-15 season this Saturday in the lunchtime kick-off against relegation-threatened Sunderland.
With eighth in the Premier League effectively out of reach — the Blues would need to win all three of their remaining games and hope Swansea lost all three of theirs — Roberto Martinez will be hoping his side can leapfrog over West Ham and Stoke into a respectable if unspectacular ninth-place finish over the last three games.
They will face a Black Cats team hoping to replicate their Houdini act of last season by escaping the drop to the Championship, with interim manager Dick Advocaat vowing to come to Merseyside to attack in order to secure what would be their first away win in the League since just before Christmas.
They will start the weekend in the bottom three and with the knowledge that they have a game in hand over the teams around them, although they must travel to Arsenal and Chelsea in their last two fixtures. In addition to their home clash with Leicester next weekend, Sunderland will likely view this trip to Goodison as their best hope to pick up a valuable result, particularly if they studied Everton's lethargic performance at Aston Villa last weekend.
Martinez his vowed to make amends for that display, particularly the awful first 45 minutes, and ensure that his team finish the season on a high so it will hopefully make for an entertaining encounter.
The manager will have the same squad from which to choose as he did at Villa Park last Saturday, with the addition of Luke Garbutt who has recovered from a bout of tonsilitis. Steven Pienaar is ruled out again with his latest muscle injury, joining Darron Gibson, Tony Hibbert and Bryan Oviedo — all of whom are out for the season — on the sidelines.
With Martinez intimating in his pre-match press conference that he did not see the last three games as a time for experimentation with his squad, he is likely to name a similar line-up to the one that started against Manchester United the weekend before last.
If so, that could mean a recall to the starting XI for Ross Barkley and Leon Osman, both of whom were named as substitutes last Saturday but came on to give greater purpose to the fightback that the Blues were trying to mount at 3-1 down. In that instance, Kevin Mirallas and Steven Naismith could make way and drop back to the bench alongside the likes of Aiden McGeady whom Martinez has suggested he wants to see get some playing time before the season is over.
Sunderland should be up for it as they look to build on an away draw at Stoke and a home win over Europe hopefuls Southampton in their last two games and Steven Fletcher's return from injury will give them a boost up front. They could be under-strength in defence, however, with both Wes Brown and John O'Shea set to undergo fitness tests on rib and knee injuries respectively.
Even given the visitors' dire need to win, a Blues side on its game should have too much for them but it remains to be seen which Everton shows up.
Kick off: 12:45pm
Referee: Lee Probert
Full details: ToffeeWeb Match Reports
Reader Comments (31)
Note: the following content is not moderated or vetted by the site owners at the time of submission. Comments are the responsibility of the poster. Disclaimer
Mike Hayes
1
Posted 08/05/2015 at 07:00:45
Guaranteed 3 points for the black cats then...
Rahul Sreekumar
2
Posted 08/05/2015 at 07:18:26
Got to start Osman! Call it superstition or strategy, the stats back him – we've won way more games this season when he has started when compared to when he hasn't.

Mark Andersson
3
Posted 08/05/2015 at 07:25:02
Nice one, Mike Hayes, you gotta laugh, eh? Indeed, which Everton turn up will also have the crowd behind them or on their lazy arsed backs.
Hope for the paying fans we give a good performance and a nice 3 points that could be worth millions.

Eddie Dunn
4
Posted 08/05/2015 at 08:01:10
This game will be a better indicator of whether we are progressing under Martinez. The result at Villa has been put down to a bit of complacency on our part, and good play from their highly motivated outfit.
Sunderland also have something to play for, and surely won't be gung-ho, so it will be a real test. Can we open up a team that parks the bus, and wants to hit us on the break?
I can't see the Goodison crowd putting up with the dross served up in the first half at Villa Park. It will be interesting to see if Roberto brings Ossie and Ross back into the starting eleven.

Ross Edwards
5
Posted 08/05/2015 at 08:45:08
Sunderland are going to try and nick a point aren't they? So as Eddie says, this is a test of whether Roberto is the 'flexible' genius who's learnt his lessons at last.
I think it'll be a 2-0 win.
Phil Walling
6
Posted 08/05/2015 at 08:45:22
For once in a while I am resisting the temptation to pile on Everton (5/6) on the grounds that as we are expected to win, we won't!
I can never quite bring myself to bet against us (Sunderland are 17/4) although Eugene recently put up a very cogent argument so to do purely on monetary grounds.
So my score goes onto a draw at 17/4 but having blown just short of 𧷤 on these bets this season, I have no real hope of getting it right.
Jim Bennings
7
Posted 08/05/2015 at 09:25:54
Sunderland will be bang up for this.
They have to play away to Arsenal AND Chelsea still so a point at Goodison probably won't be enough in reality especially with a potentially positive result for Hull who play Burnley.
Sunderland know that a win takes them above Newcastle and if that's not incentive then nothing will be.
You just wonder how arsed we are going to be really with a major lack of incentives ourselves, will our players really go in for those extra tackles tomorrow, will we run as much as Sunderland?
I agree, I think we will get done over 1-0 tomorrow.
Roger Helm
8
Posted 08/05/2015 at 09:36:33
No-one beats the bookies Phil!
Steve Carse
9
Posted 08/05/2015 at 12:06:12
What would Martinez be expecting to learn from giving McGeady playing time rather than giving a youngster a game? More crazy thinking from our bizarre manager. All we need now is for him to announce that he's giving Distin a game so that he's sharp for the start of next season.......
Jim Bennings
10
Posted 08/05/2015 at 12:15:05
Steve
I have quickly learned that nothing shocks or surprises me with Martinez anymore.
In his first 6 months here I thought every word he spoke made perfect sense and we had a man with more football knowledge than most but around the turn of last year, January 2014, he seemed to totally have a personality bypass.
It all started with the pursuit of the already crocked Lacina Traore and ever since then, he has made bizarre decisions followed by even more bizarre quotes.
Tony J Williams
11
Posted 08/05/2015 at 12:18:40
I am almost hoping we get done over because I can't stand Newcastle... almost.
I would love a repeat of the 2007 result with Ossie turning back the clock and scoring another dazzling mazey run goal.
0-1 it is then!!!!!!
Mark Andersson
12
Posted 08/05/2015 at 12:31:26
Positive post for a win then. Phil you should put a bet on us going down next season, after all sounds like you need the money.
I'm not going to bother renewing my Foxtel subscription after 9 years. I'm not prepared to waste money on watching the shite we have been subjected to this season. Based on the last 12 months I can't see anything changing.
Sorry Roberto has emptied my half glass full mentality.

Minik Hansen
13
Posted 08/05/2015 at 12:46:22
Let's show real intend from the kick-off. COYB.
Mike Allison
14
Posted 08/05/2015 at 13:17:57
Phil, you should only ever bet against your own team. That way, if you win the bet, you've got some money, if you lose the bet, you don't care because Everton won.
Nick Page
15
Posted 08/05/2015 at 13:29:35
Or you bet on the shite with an emotional hedge.
William Cartwright
16
Posted 08/05/2015 at 17:01:36
Jim Bennings (10) – "personality by-pass ..." I like it!
I thought Sin Miedo disappeared when he talked up Crystal Palace before the game at Goodison last year when we blew our top 4 run. Up to that game, his pre-match talk was focussed on how good his team were and nothing else. What happened? I don't think we will ever know.
I thought this year he was fooling around with the football system big time and focussing on the Europa League as the back door to the Champions League. The Alcaraz manoeuvre blew that strategy out of the water so what on earth are we left with now?
I'm totally confused and utterly deflated. Never had the experience before of supporting a team who blow hot and cold week by week. It's doing my head in, it really is!

Mike Childs
17
Posted 08/05/2015 at 17:40:52
Don't expect any hard tackling on our part with a chance to get into the European tournament via the fair play avenue. Cmon Blues let the fans go home happy with some inspired play.
Glen Garrett
18
Posted 08/05/2015 at 17:37:11
Sunderland will definitely have a real good go at Everton. They know that they need the 3 points.
I have become so bored with Martinez & the way Everton are playing; it's bollocks. After last season, like all Everton fans, I really thought Everton were slowly heading back towards the good old times of the eighties; we can all carry on dreaming.

Gerry Quinn
19
Posted 08/05/2015 at 18:11:52
Barry, McCarthy, Osman? Wait a minute, this fella looks impressive at passing forward - and he is available - for free!
http://www.dailymail.co.uk/sport/football/article-3073741/Everton-goalkeeper-Joel-Robles-shoots-impressive-trick-shot-garden.html?ITO=1490&ns_mchannel=rss&ns_campaign=1490

Eddie Dunn
20
Posted 08/05/2015 at 18:20:07
We will have to jump into the trenches and fight it out hand-to-hand with this lot. No room for passengers... Cattermole will be on heat.
Dave Abrahams
21
Posted 08/05/2015 at 19:26:21
Not much to interest any of us really, so if George Green has finished his loan spell at Tranmere Rovers put him in the squad and let's see how he does for half an hour or 20 minutes... give us something to get interested in.
Kunal Desai
22
Posted 08/05/2015 at 20:23:57
like Villa last week, Sunderland will want the 3 points more to stay up. I think they will get the points as well. 1-2 Mackems!
Tom Cuffe
23
Posted 09/05/2015 at 00:21:24
I'll go for 2-1 to the Blues, Barkley & Rom to give us something to cling onto for next season, we still need a point to be guaranteed safety,
Patrick Murphy
24
Posted 09/05/2015 at 00:42:10
Tom (23) Panic Ye not! Hull City can only achieve a maximum total of 43 points if they were to win their remaining fixtures, whilst QPR and Burnley cannot achieve above 40 points, therefore we are safe and have been since beating Man Utd.
Harold Matthews
25
Posted 09/05/2015 at 00:57:00
Eddie. Can't see us leaping into the trenches and risking hamstrings with surfing, snorkling and dancing coming up in Barbados, Greece and the South of France.
Derek Knox
26
Posted 09/05/2015 at 05:12:15
Playing against teams at this stage of the season, when we are all but safe, and with no prospect of European Football on the horizon, unless by backdoor Fairplay qualification. It is not a foregone conclusion a win is on the cards, they, (Mackems) will be fighting desperately for the three points,for their own survival in the Premier League.
What is worrying too, is that they have 'previous' in this situation, and have taken some high profile scalps in escaping the drop! We should be on our guard, but I don't regard this as an easy one.
Peter Barry
27
Posted 09/05/2015 at 06:53:05
I predict another boring lacklustre game where Everton's overpaid prima donnas just go through the motions supervised by a Manager who is not able to manage his way out of a wet paper bag.
Darren Hind
28
Posted 09/05/2015 at 06:59:19
It's disappointing that some are even contemplating defeat, there are few poorer teams than this Mackem one... I guess that's where we are now, but surely we will have too much for this lot.
Everton – by at least two goals.
Tom Cuffe
29
Posted 09/05/2015 at 07:16:35
Thanks, Patrick.
Trevor Peers
30
Posted 09/05/2015 at 07:55:17
We have an excellent record at home against this lot. Plus we virtually relegated them in a previous game at GP. So I think we will win comfortably.
James Marshall
31
Posted 09/05/2015 at 11:20:02
I hope we don't get the Europa spot for next season – we need a season without such a distraction to build a good league campaign.
West Ham and the RS are above us in that respect anyway, right? Although the Shite look like getting in through the league so hopefully West Ham are on best behaviour and take the spot.
Predictions aren't worth the paper they're written on, so I'll go with a decent display from us, against a team who will fight for everything.
---
Add Your Comments
In order to post a comment, you need to be logged in as a registered user of the site.
Or Sign up as a ToffeeWeb Member — it's free, takes just a few minutes and will allow you to post your comments on articles and Talking Points submissions across the site.
© ToffeeWeb