Another draw as chances squandered
By Michael Kenrick
12/12/2015

0 Comment [Jump to last]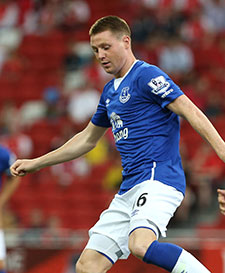 James McCarthy underwent another fitness test to determine if he is over his hip problem but did not play
Norwich City 1-1 Everton
Everton made only one change, with Leighton Baines returning at the expense of Brendan Galloway. A brilliant cross from Deulofeu saw Lukaku head in superbly at the far post on 15 mins but there should have been at least five more before the break, and Norwich predictably drew level immediately after the break, denying The Blues another two points.
Everton return to Carrow Road this weekend, the scene of Roberto Martinez's first game in charge, to face Norwich City looking to erase the frustration of Monday evening's draw with a victory over Alex Neil's men. Everton made only one change, with Leighton Baines returning at the expense of Brendan Galloway but Stones worryingly rolled his ankle in the warm-up and needed treatment before kick-off.
Everton started with a long spell of possession from a throw-in and it ended with a great run forward by Deulofeu, who was deemed to have fouled his defender before he could get his shot off.
After a Norwich corner, Everton advanced and Deulofeu tried an early long pass to Lukaku that did not come off. Norwich got to the byeline but Howard, in Black stretched upp to catch the cross with ease.
Redmond found a lot of space outside of Baines who could not track him but his shot was way over. But Everton were moving the ball with confidence, crisp and accurate passing, without too much pressing from the home side.
Kone got a lucky break on the ball that bounced to Lukaku whose first-time strike rolled wide. Baines took his first corner, straight to Kone, Everton winning back two clearances, the second to Deulofeu who crossed superbly to the far post where Lukaku was hanging, to power home the fist goal, outmuscling Bassong to head across Rudd into the other side of the goal. Sublime... his seventh in seven straight.
Deulofeu got free but failed to pass to Lukaku and ran the ball out instead. Kone then got behind the Norwich defence and should have scored but Rudd was out quickly to save. Another open ball to Deulofeu but his marker Olson tripped and was deemed wrongly to have been fouled. Deulofeu was livid.
Norwich had a little spell without really threatening as the game went into something of a lull before the half-hour. Everton were passing the ball around confidently Cleverly with a peace of a cross that deflects slightly off Martin and that was enough to faze the Big Man who missed an absolute sitter at the far post.
Norwich had another corner but direct threat came from it and Everton had plenty of space to move the ball forward, Deulofeu getting double-teamed into the corner flag. Everton had assumed complete control but Lukaku was far to casual on a superb ball from Cleverley, completely missing a simple ball to feet with his non-existent first touch.
Everton worked it again down the right through Deulofeu but Coleman strayed offside. The next attack down the right fizzled out but the rampant Blue shirts surged again, Lukaku completely missing a perfectly set-up volley (perhaps the defender coming in touched it away from him?) and behind him Baines lashed the ball goalward but hit the post!
Kone got free again, and Rudd again was out very fast to deny him but Lukaku was next to run forward, lashing the ball wide this time. Everton should have a cricket score but they were not finishing the slew of chances against a crumbling home side.
Baines delivered a superb corner to Stones at the near post but he got pushed and did his knee as he stumbled off the pitch past the camera pit, and needed a lot of attention before jogging along the touchline.
Another fantastic break, Barkley playing in Lukaku perfectly again and the Big Man this time drove a tremendous low shot inches wide of the far post. Everton went in at the break with a slim one-goal lead but there should have been at least five more.
From Everton restarting, somehow Norwich forced the pace and a corner, Headed goalward by sub Bennett parried by Howard, but Houlahan forced it against Barkley who blocked it but could not keep out the follow-up. Price paid for first-half profligacy!
Everton recovered with Deulofeu doing a brilliant Messi impression, dancing in from the right but Cleverly shanked the cutback. Deulofeu then collapsed as Bradley caught him in the face. Another attack, great position, but Lukaku's set-up for Deulofeu was poor.
Everton were no longer getting the run of the ball and Norwich were playing with a lot more confidence, surging forward to win another corner but Everton broke from it and almost created a chance for Barkley, but Norwich again bounded forward, a shot deflected over and another Norwich corner. Lots of pushing and shoving, two Norwich strikers got in each other's way at the far post and squandered a golden opportunity to go ahead.
Everton gave the ball away again and Norwich were scampering through them again in a total reverse of the first half, but the ball came through to Howard. Baines did well to get to the byeline but Cleverley appeared to be impeded and could not get onto his superb cross. Norwich bounded away on a break but played the ball nicely for Howard rather than setting up Redmond.
Everton tried to regain control with some extended forward possession but it was a lot harder to make chances, Kone's shot blocked; Coleman's driven wide. With Deulofeu fading, Mirallas came on but Norwich attacked against a clever backheel and Jerome, with the goal at his mercy, skied it over the bar.
Everton were really struggling to contain the home side as Gibson came on to replace Barkley, who had not been his normal self. But Kone did play in Barry who turned well and fired, Rudd saving well.
Without Deulofeu, Cleverly's crosses were not as good, but did win a corner, headed behind by Jerome, Martin and Funes Mori being spoken to for wrestling. The next corner from Baines came to nothing, Funes Mori trying an ambitious volley that flew wide.
As time ticked away, the quality of the game deteriorated, neither side capable of asserting themselves, Funes Mori needed to be sharp with a key interception. Stones and Barry contrived to give the ball away and a shot came in over Howard's bar as they played out 3 mins of added time, Gibson trying one from long range.
Everton pushed forward one last time but the ball wouldn't fall for Mirallas. The whistle blew to end a ridiculous 'game of two halves' as the cliche goes, with so many chances squandered by Everton in the first half.
Scorers: Hoolahan (47'); Lukaku (15')
Norwich City: Rudd; Wisdom (46' Bennett), Martin, Bassong, Olsson; O'Neil, Tettey; Redmond, Hoolahan (84' Howson), Brady; Jerome.
Subs: Ruddy, Grabban, Mbokani, Dorrans, Mulumbu.
Everton: Howard; Coleman, Stones, Funes Mori, Baines; Cleverley, Barry; Deulofeu (65' Mirallas), Barkley (76' Gibson), Kone; Lukaku.
Subs: Robles, Galloway, Osman, Lennon, Naismith.
Kick-off: 12:45pm
Referee: Martin Atkinson

Attendance:
27,027
---
---
© ToffeeWeb